Another Mamavation Mom campaign came to a close. Congratulations to our new graduates, Wendy and Hanan for crossing the finish line. These girls have done an amazing job – together they have lost over 43 lbs since the campaign started!
Wendy (WeightsOver): What a wonderful experience being a Mamavation Mom has been! I've not only lost 20 pounds and +24 inches, but I feel like for the first time I've had an eating plan that make sense. The exchange program has really clicked for me and made eating well, and eating to lose weight not only easy, but enjoyable. Yes, i did just say eating on a diet was enjoyable! I also conquered eating breakfast every morning, and drinking lots of water. I still struggle with eating a healthy lunch every day but I have the tools for eating well right in front of me. The exercise has already been a part of my life, and the commitment of 10,000 steps is one I can see keeping forever, but learning how to eat well so that it works for me has been priceless! In fat, we are implementing a "Mamavation Mom" summer- or maybe more of a "Fantastic Fit Summer – for our entire family using some of the tools I've learned from being a Mamavation Mom! I'm passing the info on!
Hanan (LilacCityMomma): These past seven weeks have brought me many lessons I will continue to use from here on out. Planning is key. It helps me keep on top of exercising daily and eating right. Don't be afraid to ask for help or advice. I know I am not alone in this and that there are always other women just like me who have gone through my experience. And of course, losing weight is not just about physical appearance. You have to deal with the whole mental side of it as well. Really figure out why you make the choices you do and learn to make better choices. I constantly ask myself now, "Is it worth it?"
Best wishes to Wendy and Hanan in their weight loss goals. Girls, you ROCK! Are you planning to apply for the next Mamavation Campaign? Ask these girls for their tips and tricks to success.
One of the biggest problems we face in weight loss is Food Cravings. Why do we crave unhealthy food? Do our cravings mean anything? How do we make it go away?
Special Guest:  YVONNE STAFFOR, author of " From Fast Foods to Slow Foods: How to Wake Up Laughing"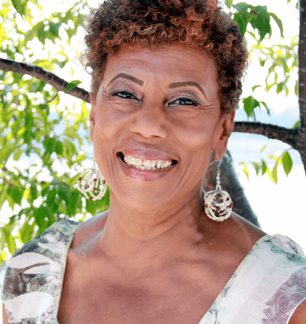 Yvonne Stafford is a welcome voice in the field of holistic lifestyle. She has worn many entrepreneurial hats including commercial real estate broker and writer, event planner, educator and actress and has a long list of accomplishments to her name.
Ms. Stafford brings a lifetime of practical experience to the table traveling, researching and studying with the best healers in the holistic field. She holds several certifications in natural living lifestyle coaching and, a Masters in Communications from New York University. More than thirty years of study and living the "talk" has culminating in her first book; From Fast Foods to Slow Foods How to Wake Up Laughing;
In 2010 she founded the Natural Living Institute, a comprehensive educational, healing and therapy center devoted to teaching people how to take responsibility in restoring and maintaining their health through detoxification, good nutrition and conscious living.
MAMAVATION TV: Join us Monday night at 7pm PST/10pm EST on Mingle Media TV.
BLOGGING CARNIVAL: This week's blogging carnival is sponsored by Dole.
Two blogging carnivals participants will receive a Dole product sample packs.
Include the following disclaimer in your weekly Mamavation blog post and link back to Mamavation site to qualify for the prize drawing:
"This post is sponsored by Dole and hosted by Mamavation – a community dedicated to obesity prevention & weight loss for women and I'm writing this to be entered into a giveaway" at the bottom of your post. Link up your post here.
WELCOME
Welcome Kelly (@dancingvalentin) and Pam (@Pamdemonium2) to Mamavation. Jody (@rantsnrascals) and Lorri (@lorrieloveable), we are thrilled to have you back
SISTAHOOD:
 If you are interested in pledging to the Mamavation Sistahood, Monday is the time to do it. Please go 
here
 for instructions. Invitations are done on Wednesdays over Twitter. (Or later if I get swamped)
GIVEAWAYS (You must attend Mamavation TV show to win):
Dole Products (2 winners)
To Enter (leave a comment for entry):
Hit the Linky
Tweet out this message "Giveaways LIVE on #Mamavation TV. This week sponsored by @DoleFoods. TOPIC: Why do we crave junk? w/Yvonne Sraffor http://bit.ly/LtiTli" (Unlimited Entries for tweets)
Extra Entries (leave a comment for EVERY entry):
Download the Alexa tool bar, http://www.alexa.com/toolbar (this will help your Alexa rating go up and will help Mamavation too!) (1 entry)
Comment on a Mamavation Monday post. (2 entries for each blog you visit)
Tell a Sista this week WHY she is special on twitter using the #mamavation hashtag (1 entry)
Subscribe to the RSS feed of this blog (1 entry)
Follow @InspiredRD on Twitter (1 entry)
Follow @DoleFoods on Twitter (1 entry)
Check out WWW.NATURALLIVINGPRESS.COM and let us know what you learned