PFAS chemicals or Per- and polyfluoroalkyl substances are clearly becoming a national problem. Not only are they polluting groundwater all over the United States, but they are also showing up in everyday products like Thinx Period Panties. The problem is these chemicals are linked to a smorgasbord of hormone-disrupting ailments no one wants. And now that Thinx period panties has been caught, they've dug in deeper by paying tainted chemical industry firms who are infamous for having undue influence defending other toxic chemicals. So which period panties should you purchase? You've trusted Mamavation to cover topics like best & worst organic mattresses, best & worst collagen, & best & worst probiotics, now join us as we cover the drama behind your period panties.
If you are here for the period panty investigation, scroll down to the bottom of the post for a list of brands available, our investigation, and tips on how to avoid PFAS in other products.
Disclosure: this post contains affiliate links.
Thinx Period Panties Caught With Their Pants Down–PFAS Found in Fabric
Women stopped what they were doing to gawk at Thinx Period Panties the other day when a reporter from Sierra Club sent new Thinx panties to a laboratory at the University of Notre Dame and they tested positive for fluorine indicating they had PFAS, a highly toxic chemical.
Thinx "organic" hip hugger briefs had 3,267ppm (parts per million) fluorine (a marker for the presence of PFAS) in the inside crotch area.
Thinx Shorty BTWN-brand briefs had 2,053ppm (parts per million) of fluorine (a marker for the presence of PFAS) in the inside crotch area.
Aisle (previously known as Lunapads), on the other hand, was completely free of PFAS at the lowest detectable levels

Thinx Hires Scientists Famous For Defending Other Very Toxic Chemicals  😳
As Thinx dug in deeper, they needed to find a way to assure the public that what they were doing was just fine. To do this they employed Dr. Chris Mackay, Sr. Managing Scientist at Intertox. Mamavation took a closer look at Mr. Mackay and Intertox and found some very interesting things we wanted to share with you.
First simply taking a look at Mr. Mackay's Linkedin profile helps you understand who this guy is. In his own words he brags he's "worked extensively in support of electronic, petrochemical, pharmaceutical, food, agricultural and other industries providing toxicological support in occupational, public health, and consumer safety." In other words, this is the guy you call when you need to convince the public (or during legal proceedings) they are safe.
But don't take our word for it. You'll want to read about Intertox from people who have worked with them.
Published in the journal Environmental Health Perspectives, public health officials have complained about Intertox's "inappropriate influence" on decisions made on other toxic chemicals. Some of the accusations Jennifer Sass from the Natural Resources Defense Council had are laid out below.
Employees from Intertox were used to manipulate the press to downplay the adverse health effects of perchlorate, a rocket fuel chemical found in drinking water around aerospace plants.
They created the Perchlorate Study Group (PSG), a self-described alliance of perchlorate users and manufacturers, including the military contractors Boeing, Lockheed Martin, Aerojet, and Kerr-McGee to produce studies and work with the press.
Intertox & PSG have a tendency to recommend chemicals far above what public health officials recommend. Intertox produced a study inferring 180–220 ppb of perchlorate (and possibly much higher) should be of no health concern in iodine-sufficient populations, whereas the State of California states the public health goal is 1 ppb and no higher on the basis of reduced thyroid hormone levels, abnormal brain morphology, and thyroid cancers in young rat pups exposed in utero and perinatally to perchlorate.
Intertox explained in their invoices that they were involved more espionage work: "Dr. Goodman gained the trust of the editor and, through a cooperative process entailing five or more drafts, provided substantial and critical improvements to the article".
References scrubbed from original versions had to do with recommendations from the Greer study and that the U. S. EPA as well as the funding sources to studies.
When you look at all the complaints, it seems just as Sass states "a deliberate campaign to undermine a health policy position taken by a sister agency."  Intertox has a reputation for stretching the confounds of science and using that to the benefit of companies that employ them.

Intertox Manufactures Doubt For Thinx By Saying Fluorine Testing Is Invalid But That's Clearly Not True
Thinx released a statement on Medium attempting to manufacture doubt about the validity of the testing done at the University of Notre Damn by Dr. Graham Peaslee by using Intertox Scientist Dr. Chris Mackay. Thinx quotes Mckay saying fluorine testing used by Dr. Graham Peaslee of the University of Notre Dame isn't valid because the chemical they are looking for is so common. And therefore, Intertox has decided that if they can get the public to doubt the validity of the testing that was done, their client can go back to selling period panties like normal.
"The testing methods Dr. Peaslee used are inappropriate and only indicate the presence of elemental fluoride — not PFAS. Fluoride is a common salt that's in everyday products like toothpaste. All of us carry fluoride around in our bodies and secrete it through things like blood and sweat. The presence of fluoride doesn't mean something contains PFAS; what it does mean is that some time in the history of the sample, it came into contact with one or more of any number of products containing fluoride. On its own, it has no toxicological significance."
Mamavation Investigates: According to Dr. Peaslee who specializes in the analysis of this chemical at the University of Notre Damn, testing for fluorine is enough to demonstrate a chemical is part of the PFAS chemical category. The amount of fluorine present would indicate whether that chemical was there on purpose or not, and the levels present for Thinx indicated it was there on purpose.
But there's more! Other industries use this testing to determine the presence of PFAS making it an industry standard in food packaging. Fluorine testing is used by Biogradable Products Institute to determine whether a product is "compostable" or not. Anything testing over 100 ppm of fluorine fails. It's not a stretch to allow fluorine testing to be a standard for testing textiles and fabrics for PFAS presence. In fact, if a standard is going to be created to test for the lack of PFAS in a product, it should be to look for the presence of fluorine.

Thinx Produces More Certifications With Questionable PFAS Testing Procedures But Opens Possibility They Could Have Short-Chain PFAS Inside Product
Thinx also mentions using Bureau Veritas as their testing standards to assure customers their products are safe. We were not able to identify certifications.
"Our products are tested by Bureau Veritas, S.A. an international certification agency with an accredited third-party lab that is recognized and respected around the world. This testing demonstrates that Thinx Inc. products meet the globally recognized standards of OEKO-TEX and comply with REACH regulations. Our testing with Bureau Veritas confirms that no detectable long-chain PFAS chemicals are present in Thinx Inc. products."
Mamavation Investigates: First of all, notice at the very end they said "no detectable long-chain PFAS." That's far more specific then they had claimed before. Because what they are NOW slipping in there is the possibility that they had short-chain PFAS this entire time. Some people would call that lying by omission, but you'd had to be the judge of that.
I want to say I told you so, but that's just stating the obvious at this point, right?
Also, when you dig into Bureau Veritas, they don't actually have their own standards. They use the standards of the trade group American Association of Textile Chemists & Colorists. So in other words, they are using the safety standards of an organization of people whose job is to look out for this long list of brands.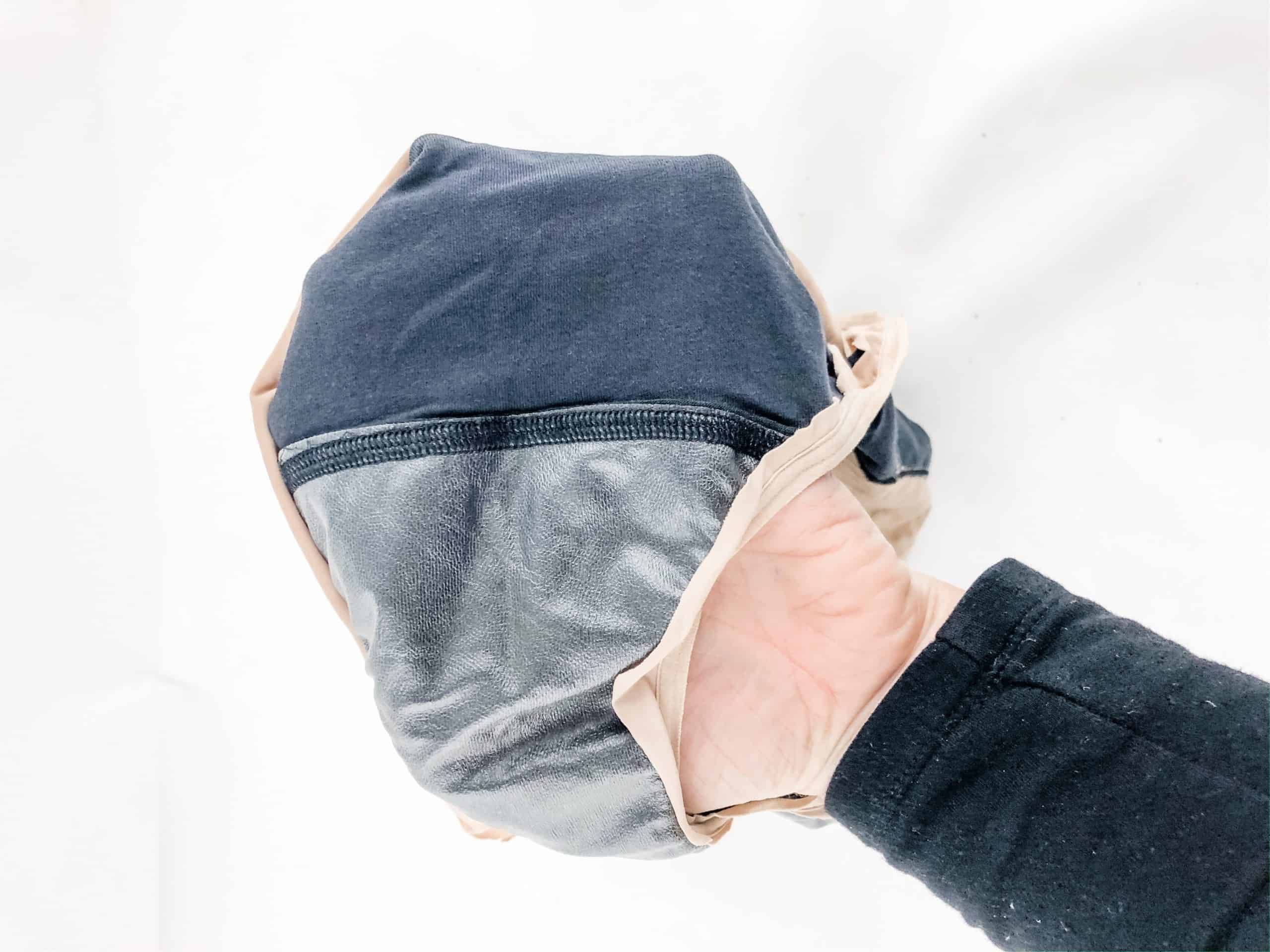 Let's Review Thinx Original Claims of Safety That Didn't Quite Hold Up to Scrutiny From Before
Thinx swiftly responded to claims weeks ago that their underwear tested positive for PFAS with denials and claims of certifications as soon as the story hit. However, we looked into their claims and found some really big problems with what they were saying.
Maria Molland, CEO of Thinx stated: "Our customers' health and safety is our number one priority, and we will always work to deliver the safest products available."  Then they went on to make the following claims:
Claim #1: "All our Organic Cotton undies are OCS and GOTS-certified, which means even the farms we buy our cotton from are meeting organic certification standards, and our supply chain is carefully monitored to make sure the integrity of our cotton products never changes."

Mamavation Investigates: We found the GOTS and OCS certification they were referring to, but they did not belong to Thinx. Instead, they belonged to a supplier, "Ocean Lanka."  GOTS & OSC certifies a supplier of raw materials only. Thinx does not have its final product certified. We checked. They are simply holding up someone else's certification and passing it off as their own. This means they are not bound by the standards of GOTS when producing this underwear at all. But they can say it's "made with organic cotton."
In fact, according to GOTS licensing agreement in section 4.4 it's clearly stated: "in order that there is no misrepresentation that a product is GOTS certified, the GOTS labeling conditions do not permit the use of GOTS logo or any reference to GOTS (certification) on final textile products if the GOTS certification is valid only for immediate stages (such as yarn or fabric stage) for the specific components of the product only."
Claim #2:
  "All Thinx underwear are 
REACH
 and 
OEKO-TEX
®
 certified (Standard 100 Certificate Number 12.HSL.09587 HOHENSTEIN HTTI), which includes 
testing for a range of toxic chemicals
 like PFAS (polyfluoroalkyl substances) that are linked to scary health problems like cancer and fertility issues."
Mamavation Investigates: We found the OEKO-TEX certification they were referring to, but it did not belong to Thinx. Instead, the certification belonged to a manufacturer named "MAS Intimates." Mamavation looked into the OEKO-TEX certified site to see what chemicals are allowable for treatments. We found lots of "fire retardant" chemicals and "chemicals with biological activity" acceptable to OEKO-TEX Standard 100. OEKO-TEX has more restrictive standards on chemicals in other certifications, but this product does not have those stricter certifications.
So technically they can't say they avoid all PFAS chemicals. Some of the chemicals approved by OEKO-TEX are proprietary so we don't know what they contain. Even in the OEKO-TEX certification standard, they restrict certain (not all) PFAS chemicals but do not ban them completely. It's very possible that very low levels of PFAS chemicals and other PFAS chemicals that are not specifically tested for could be sneaking into the product. (There are over 4,700 different kinds of chemicals in that category class of PFAS.)

Claim #3: "Our chemical testing is also done through a third party to ensure it's honest and objective, and we're proud of the fact that this testing has never detected any harmful chemical levels in Thinx underwear."
Mamavation Investigates: We called and emailed Thinx period panties and asked them specific questions about their testing and how it's done. We heard back from them asking for a delay in posting this article several days later. However, they did send us exactly what we reported about above in their statement. So let's take you through their own testing. After the first glance, it was evident that the laboratory was only testing for some PFAS chemicals and not any others. Here are the PFAS chemicals they were testing for.
PFOA, Perfluorooctanoic acid
PFNA, Perfluorononanoic acid
PFDA, Perfluorodecanoic acid
PFHxS, Perfluorohexane-1- sulphonic acid and its salts
APFO, Ammonium perfluorooctanoate
Henicosafluoroundecanoic acid
TFDA, Tricosafluorododecanoic acid
PFUnDA, Heptacosafluorotetradecanoic acid
PFTrDA, Pentacosafluorotridecanoic acid
GenX, 2,3,3,3-tetrafluoro-2-(heptafluoropropoxy)propionic acid, it's salts and its acyl halides (covering any of their individual isomers and combinations thereof)
Although this is quite impressive for PFAS testing, it's not enough to make a statement that there are no PFAS chemicals present in the product. There are many other PFAS chemicals inside the chemical category, which has about 4,700 chemicals total in the PFAS family. In order to put this to rest the presence of fluorine would need to be testing, instead of looking at each chemical one by one. But it's important to understand that all chemicals in the PFAS category (regardless if they are long-chain or short-chain) have these things in common:
They're all man-made.
They contain linked chains of carbon and fluorine.
They are extremely persistent in the environment making them "forever chemicals."
Testing for PFAS chemicals is complicated and if you don't utilize the most sensitive of testing, you'll miss most of them.
When you look at what Thinx says inside their FAQ (frequently asked questions) page and look into the claims, it's evident that the inner layer or gusset inside the panties has been treated with some sort of unknown chemical that is not disclosed.
Claim #4: "The only treatments we use on the fabric of the gusset are moisture-wicking and anti-odor, which are both OEKO-TEX certified. We consistently test for all known regulated restricted substance for textiles."
Mamavation Investigates: Again, OEKO-TEX 100 standard allows a myriad of  chemicals allowable for treatments. We found lots of "fire retardant" chemicals and "chemicals with biological activity" acceptable to OEKO-TEX. So technically you can't say they avoid all PFAS chemicals. Even in their own standard, they restrict certain (not all) PFAS chemicals but do not ban them completely.
Claim #5: How Does Thinx battle odor? "The wicking layer of our signature period-absorbing technology has an application of non-migratory silver, commonly used in performance wear and medical devices to control odor and the spread of bacteria. "Non-migratory" means it won't come off your undies and that it only responds to bacteria *on the fabric*, not on your skin (so your vaginal microbiome stays fresh and balanced!)."
Mamavation Investigates: In our research, we found that the use of nano-silver on clothing is mostly marketing in terms of preventing odor. But what we did find lots of information about nano-silver added to period panties being concerning when it came to vaginal health. Women's Voices for the Earth produced a report in 2019 to explain.
Silver can have an adverse impact on beneficial vaginal bacteria
Nanosilver can also be cytotoxic, particularly to vaginal epithelial cells.
Migration of nanosilver from period products into vaginal tissue and mucosa has never been studied.
Silver-treated athletic clothing has been implicated in several cases of thermal burns when worn during an MRI treatment.

Mamavation's Investigation of Most Period Panties
Because we got our hands-on laboratory results of two brands: Thinx & Luna, we figured it may be good for us to go over some of these other popular brands to take you through their materials. Based on what was said on their websites, we are making some judgment calls. It's very possible we could be wrong about some of these and we are still in the process of getting more information, but we will adjust this post as needed for future reference.
Brands We'd Prefer You Not Purchase
These brands either tested positive for PFAS, contain no "plastic" or don't look to be careful about toxic chemicals at all.
Amore/Ruby Love: This company avoids "Plastic, Polyurethane Laminate (PUL), plastic" but do not state what chemicals are used to treat fabric to make it leak proof. This leads us to believe they may be chemically treating the fabric with PFAS. (Update: This brand has responded they do not use PFAS chemicals and we have asked for them to disclose what chemicals they are using AND for laboratory testing results of several parts of the panties looking for the presence of fluorine. Will update this if and when they send that information.)
Anigan: We are uncomfortable with their use of "fluid-resistant" & "moisture-resistant" fabric on the inside.
Bambody Leak Proof: This company only sells on Amazon and doesn't give us a clear picture of what is inside.
Dear Kate: This brand brags having "three layers of breathable fabric make our undies leak resistant, stain releasing and moisture-wicking (NO plastic or films)" but unfortunately as you can see some plastic would do them some good here. We do not have proof their panties are PFAS treated but suspect they are.
EvaWear: This company says they use "breathable panty is made of a moisture-wicking, highly-absorbent fabric" with no mention of PUL

Hairbrained Design

: Panties are 95% cotton & 5% elastane. 

Made in China

.

Knix Thong Panties: This company doesn't explain what they do to create a period-proof panty at all.

Mondibodi: Does not contain enough information about the technology used inside their product for us to tell how it's treated or what it contains.

PantiePads: This brand does not really explain what the contents of the panties are in general.
Stelpa Period Panties: This company only sells on Amazon and other than saying they are "chemical-free and sustainable" we have no idea what they contain.
Thinx Period Panties: This entire post was dedicated to the laboratory results of this brand. We recommend you avoid them.
Better Brands But Without Testing We're Not 100% Sure About Them
Best Brand We Can Recommend
Want to know more about the best & worst menstrual products such as tampons, pads & silicone cups check out our feminine needs investigation.
Tips On How to Avoid PFAS In Your Home
The perfluorinated chemical category is all about making things grease-proof, water-proof and stain-proof. So think about stain-proof clothing & carpeting, nonstick pans & bakeware, fast food wrappers, contaminated water, etc. And here is a list of what you can do today to start avoiding these chemicals in your life.
Phase-out the nonstick cookware in your kitchen. Here are the best alternatives.
Make sure your tooth floss doesn't have PFAS. Here are the best brands.
Avoid foods with packaging and make things from scratch as much as you can from home
If you purchase disposable plates, make sure to purchase the ones without PFAS. Here's are those selections. 
Avoid fast food as much as possible, even the ones touting themselves as "better." Some wrappers and cane sugar fiber bowls like the ones at Chipotle contain PFAS chemicals to repel grease & water.
Purchase a reverse osmosis water system for your home, especially if you live close to a military base or airport.
When purchasing furniture or carpet, decline optional treatments for stain and dirt resistance. This is where you can find safer furniture. New good news: Home Depot phases our PFAS in Carpeting & Rugs
Avoid buying clothing that bears a label indicating it's water, stain or dirt repellant
Avoid buying personal care products with the phrase "fluoro" or "perfluoro" on the ingredient list. You'll find this inside lotion, pressed powders, nail polish, dental floss, and shaving cream.
Dust more!  PFAS chemicals stick to dust particles so the more dust you have in your home, the more likely you will have PFAS in the air you breathe. Click here for our FREE eBook on how to clean your indoor air.