Shampoo and conditioners can contain endocrine-disrupting chemicals that add to the toxic load in your body. After investigating conventional shampoos and finding so many endocrine-disrupting & toxic ingredients, we decided to share some homemade shampoo recipes you can make at home at your leisure containing ingredients that are easy to find online and made of natural ingredients with no harmful chemicals.
We've included ten natural homemade shampoo recipes for DIYers who would like to try making their own shampoo at home and skip out on ingredients that could potentially be harmful. You've trusted Mamavation to cover 10 homemade lotion recipes for DIYers, 25 ways apple cider vinegar can change your life, and which popular deodorant brands are toxic and safe, now join us as we explore shampoo, how to make it, and ingredients that are safe for your family.
Disclosure: This post contains affiliate links.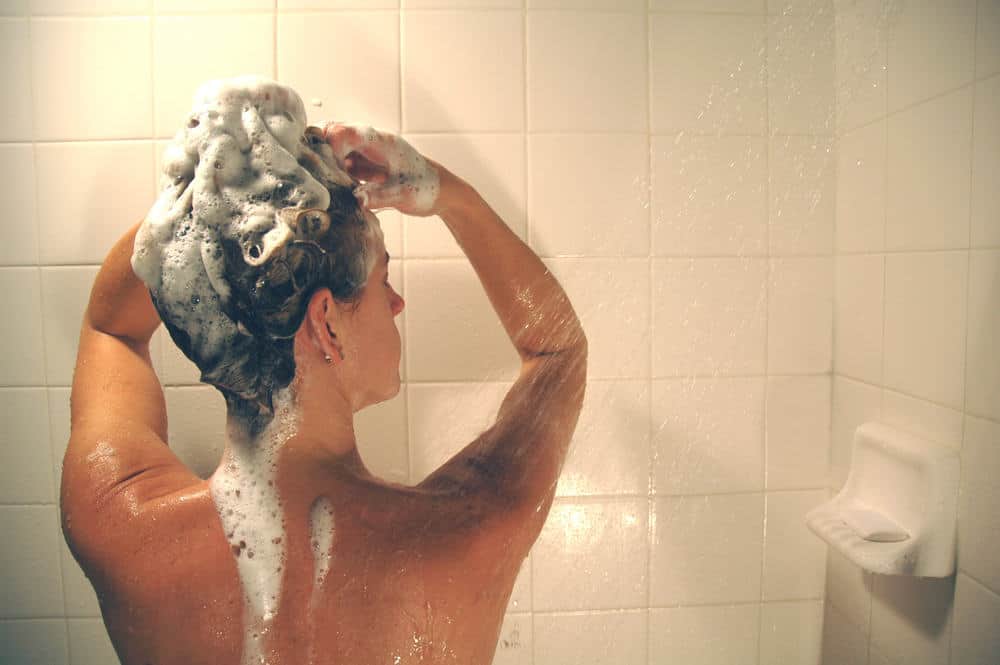 Chemicals in Shampoo that Are Problematic
Move over toxic chemicals. The best natural shampoo & conditioner will not contain these ingredients. This list goes beyond sulfate-free shampoo, to avoiding harsh detergents, synthetic fragrances, and other hormone-disrupting chemicals. These are the ingredients to avoid in a shampoo formula.
Surfactants
This is what makes your shampoo lather up with suds. We usually associate soap suds with cleaner hair, but that's not necessarily the case. Sudsing doesn't really occur much in nature, so it's often the result of a chemical reaction or agent of some kind. While these chemicals aren't necessarily toxic to humans, they can cause serious irritation and can be really harmful to aquatic life. Some examples inside hair products are Sodium lauryl sulfate (SLS) or sodium lauryl ether sulfate (SLES). Given the quantity of shampoo going down the drain every time we wash our hair, we'd prefer to avoid irritation and create a safer environment by choosing a shampoo without these ingredients.
Preservatives
Ever noticed the expiration date on your shampoo? Nope, neither have we. That's because commercial shampoos are full of preservatives to keep them shelf-stable. They'll last for a really long time without separating out or going "off". These preservatives prevent the growth of yeast, mold, bacteria, etc, but because they're literally designed to kill things, preservatives are tricky and can have a range of toxicity problems for both humans and the environment. They are also likely made of petrochemicals.
Fragrance
Watch out for that scent! This is definitely something to look out for on the ingredient list. The term "fragrance" can act as a backdoor for all kinds of chemicals to sneak into your products. It's often used as an umbrella term for up to 100 ingredients in a blend. Unfortunately, many of these ingredients can be toxic to human health, like phthalates (linked to reproductive and developmental harm) and synthetic musks (linked to hormone disruption and build up in our bodies).
Ingredients to Avoid*
Formaldehyde-releasing preservatives:

Quaternium-15
DMDM hydantoin
Imidazolidinyl urea
Diazolidinyl urea
Polyoxymethylene urea
Sodium hydroxymethylglycinate
2-bromo-2-nitropropane-1,3-diol (Bronopol)
Glyoxal

Sodium Laureth Sulfate
Sodium Lauryl Sulfate
Fragrance
*These ingredients are listed on the Campaign for Safe Cosmetics Red List, which is part of the MADE SAFE screening process for personal care products.
The "No Poo" Method
If you are looking to avoid chemicals in your shampoo, you may want to consider trying the "no poo" method. The "no poo" method revolves around the idea that less is more for healthy hair.
Your hair contains natural oil, called sebum, in its follicles. This oil is essential for keeping itself conditioned and healthy. When you wash your hair every day with harsh chemicals, it strips those oils away leaving your hair in poor shape.
Your hair can then overproduce more oil leaving your hair greasy at the end of the day and starting another vicious cycle of washing, stripping, and oily hair.
The "no poo" method is simple. Wet your hair down and wash with baking soda, then you rinse with apple cider vinegar and warm water once or twice a week instead of washing your hair every day. You can use an old shampoo bottle to make it easier to dispense the ACV. Your hair may go through an adjustment period and become greasy at first but it should go back to normal once it adjusts.
Basic Natural Ingredients in Shampoo that Are Safe to Use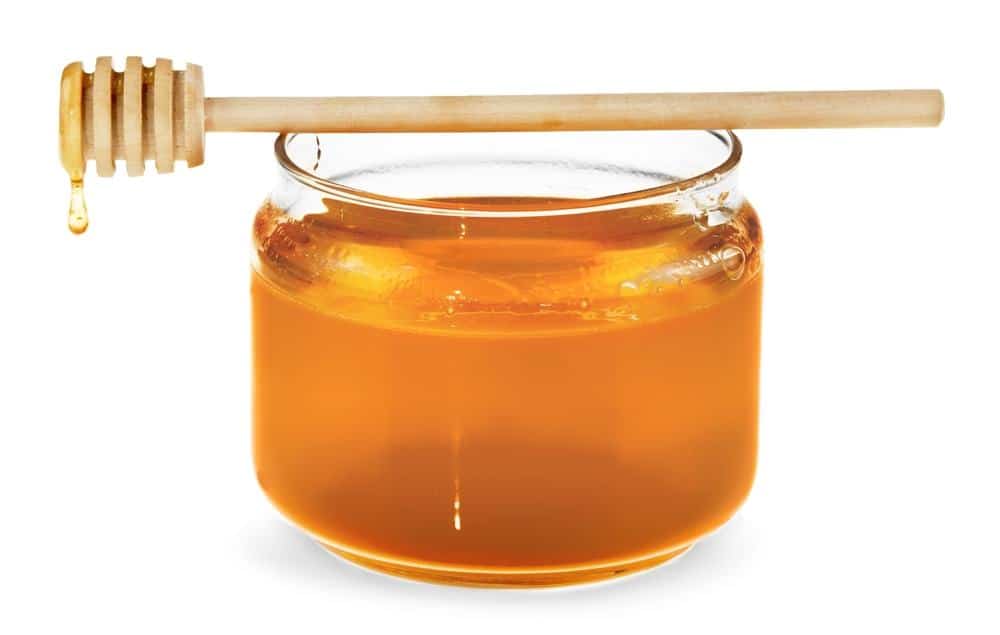 Raw Honey
Raw honey has been used for thousands of years as a medicine and natural ingredient. The Egyptians used raw honey quite frequently. Honey has high levels of monosaccharides, fructose, and glucose and also includes minerals such as iron, calcium, phosphate, sodium chloride, potassium, and magnesium. Honey also possesses antiseptic and antibacterial properties, which make it very useful as a medicine in wound care and as a cough suppressant. Honey is slightly acidic with a pH level between 3.2 and 4.5. This makes it good for preventing the growth of bacteria, while its antioxidant constituents clean up free radicals. The physical properties of honey vary based on what flora the bees were around, as well as the water content.
Our recommendation for honey:
Heavenly Organics is organic and "glyphosate-residue free" certified. Organic honey can still be contaminated with glyphosate because the farmer can't control where the bees go, which is problematic and not discussed as much as it should be. This brand allows a third party to lab test and certifies that there is no glyphosate residue in the honey. We like that!
Coconut Milk
Coconut milk is full of love for your hair. It's loaded with vitamins like niacin and folate which can improve the circulation of blood in your scalp. Coconut milk also contains vitamin E, a natural preservative, and fats that fight damage and deeply condition your hair. Making fresh coconut milk is actually very easy, which makes it a perfect natural ingredient. All you need to do is grate fresh coconut and squeeze the milk out with a cheesecloth. Then let it simmer in a pot for about five minutes and cool and freeze in the freezer. The following day it will be ready to use after thawing. When using coconut milk as a hair treatment, it penetrates your scalp and cuticles to nourish and condition your follicles and hair shaft. The extra moisture boosts the productivity of your follicles and can improve your hair texture and health so your natural beauty can shine.
Our recommendation for coconut milk:
Coconut Oil
Coconut is the best source of medium-chain fatty acids (MCFAs), which is a special type of fatty acid with antibacterial and antimicrobial properties. It's also very high in lauric acid, which is also naturally occurring in breastmilk. Coconut oil can penetrate the hair in ways that other oils cannot with amazing results, provided it's used correctly. When used on the right type of hair, it improves scalp health, fights infections and fungus, and supports hair growth. People with fine to medium shiny hair see the best results, while those with coarse and dry hair may not have the best results.
Our recommendation for coconut oil:
Olive Oil
Olive oil is rich in vitamins A, E, and antioxidants and is a wonderful natural ingredient. It also helps protect the keratin in your hair and seals in moisture while removing the buildup of sebum that impedes the formation of new hair follicles and hinders hair growth. It can also be used in the treatment of split ends and other things like dandruff. When dealing with dandruff, mix with lemon juice. Dandruff is typically caused by dry, flaky skin. The acidic properties in lemon juice help loosen dandruff while the olive oil moisturizes the newest layer of skin. Mix equal amounts of olive oil, lemon juice, and water to treat dandruff, just a few tablespoons of each will work. Massage into a damp scalp, leave for 20 minutes, rinse, and shampoo. Don't use this treatment more than once a week.
Our recommendation for olive oil:
Avocado Oil
Avocado oil has amazing health benefits for your hair. It has a high quantity of monounsaturated fats and lubricates the hair, thus making your hair shiny and stronger. Monounsaturated fat, when applied directly in a hair mask, nourishes and strengthens hair strands. Avocado oil is also rich in Vitamin E and B, allowing it to work deep into the epidermis and strengthen the hair. Vitamin B also supports hair growth, while Vitamin E works on repairing hair damage.
Our recommendation for avocado oil: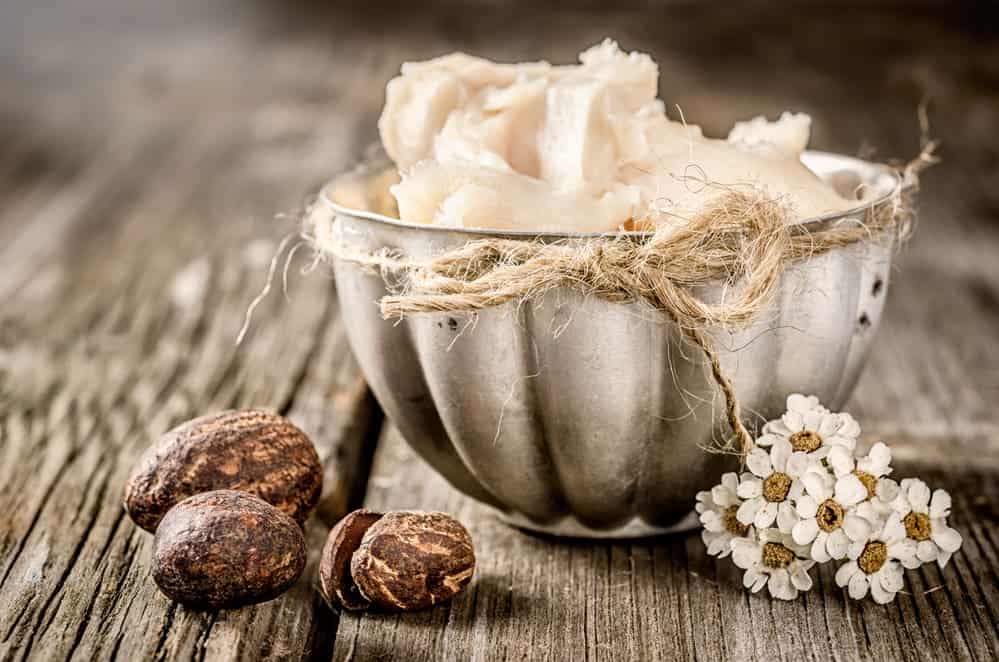 Shea Butter
Shea butter comes from the seeds of the fruit of the Shea (Karite) tree making it a natural ingredient. It's rich in Vitamins A, E, and F and offers UV protection from the sun. It also provides the skin with essential fatty acids and nutrients necessary for collagen production. It contains oleic, stearic, palmitic, and linolenic acids that protect and nourish the skin to prevent drying. Shea butter has been used in Africa for thousands of years as a moisturizer.
Our recommendation for shea butter:
Egg yolks
Eggs contain a large amount of protein, fatty acids, and vitamins, which can help boost hair with the added nutrients it needs. Vitamin A in egg yolk helps improve the hair's ability to produce natural moisture by stimulating sebum production—this helps control dandruff and prevent drying of the scalp. Vitamin E in egg yolk protects from environmental factors such as UV rays, and vitamin D improves texture and shine. Egg yolks also contain the fatty protein lecithin which helps reduce frizz and prevents breakage and brittleness. Biotin is also found in egg yolks and works to renew hair roots and follicles, improving your hair's overall health.
Almond Oil
Almond oil contains a variety of healthy ingredients for hair, including Omega-3 fatty acids, phospholipids, vitamin E, and magnesium. Using a few drops of pure almond oil in your hair routine nourishes and strengthens your hair, and is optimal for treating hair loss and damaged hair. Be sure to use pure almond oil, and avoid brands that contain fillers.
Our recommendation for almond oil:
Jojoba Oil
Jojoba oil is a natural ingredient extracted from the seeds of jojoba trees. The resulting product is actually not an oil, but rather a wax ester. Wax esters are very similar to our own oil produced by our bodies. Because of this, using jojoba oil can help with balancing the production of oil, because the body recognizes it as its own. Jojoba oil is rich in essential nutrients, vitamins E and B, and important minerals like silicon, copper, and zinc.
Our recommendation for jojoba oil:
Castor Oil
Castor oil has been widely used for medicinal purposes for thousands of years – with research finding castor beans in medicinal texts as far back as 1500 B.C. The anti-inflammatory, antibacterial and antifungal properties of castor oil can help reduce the effects of auto-immune diseases such as alopecia as well as help to treat folliculitis, dandruff, and scalp infections. Ricinoleic acid found in castor oil can help balance scalp pH, and the antioxidants in castor oil support keratin production in hair and help make hair stronger, smoother and less frizzy.
Our recommendation for castor oil:
Apple Cider Vinegar
Apple cider vinegar's antibacterial and anti-fungal properties help to get rid of dandruff, and the acidity of the apple cider vinegar rinse can help maintain the pH balance of your hair to create a hostile environment for fungus, bacteria, or yeast that cause dandruff to keep coming back. A natural ingredient ACV rinse can also help keep hair tangle-free.
Our recommendations for apple cider vinegar:
Essential Oils
Your favorite essential oils do more than just make your homemade shampoo smell amazing. They also have great benefits for hair including promoting growth, inhibiting dandruff, reducing hair loss, soothing the scalp, improving sebum production, and more. Some of the most beneficial essential oils include Lavender, Peppermint, Clary Sage, Tea Tree, Cedarwood, Ylang Ylang, Chamomile, Rosemary, Lemon, and Juniper. A little research will help you find the best oils for your hair needs.
Castile Soap
Castile soap is made from olive oil, water, and lye. Castile soap comes in bar form, but for cleaning hair, the liquid soap is easiest to work with. It's non-toxic, biodegradable, and great for cleaning hair. It's strong enough to clean hair all on its own, but most people want to cut it a bit with other ingredients to soften the blow.
Our recommendation for castile soap:
Baking Soda
Baking soda is a substance known for its alkalizing effects pH of 9. The "no poo" movement relies on baking soda shampoo rinse which takes an adjustment period before you start seeing results. Its chemical name is sodium bicarbonate, and when mixed with acid, it makes bubbles and gives off carbon dioxide gas causing bread to rise.
Our recommendation for baking soda:
Aloe Vera
Aloe vera is used in a wide array of beauty products for antiviral and antibacterial properties. It contains enzymes that directly promote healthy hair growth. These proteolytic enzymes are able to eradicate dead skin cells on the scalp. These dead skin cells could be clogging the hair follicle and not allowing penetration of nutrients. It also has the ability to alleviate itching and reduce inflammation on the skin.
Our recommendation for aloe vera:
You can also find ingredients like raw shea butter, tea tree oil, & argan oil to help with itchy scalp.
10 Homemade Shampoo Recipes
There are several homemade shampoo recipes you can make to minimize your toxic load. Most of these recipes come from simple ingredients that avoid dyes. One retailer we recommend that has fantastic DIY supplies is Mountain Rose Herbs. I've made several homemade hair care products with supplies from their store.
4-Ingredient Homemade Shampoo from Wellness Mama
Moisturizing DIY PH Balanced Shampoo from the pronounce skincare blog
DIY Shampoo Bar from It Takes Time
Chamomile Tea and Honey Shampoo Bar from The Nerdy Farm Wife
Easy DIY Shampoo from Raia's Recipes
Rye Flour as Shampoo from My Healthy Green Family
Homemade Coconut Milk Shampoo and Body Wash from Delicious Obsessions
Kid-safe Shampoo from Raia's Recipes
Homemade Shampoo with Essential Oils from Shalom Mama
DIY Dry Shampoo from Wellness Mama
Once you've gotten your hair squeaky clean with one of these great homemade shampoo recipes, don't forget to condition. Here are a couple of homemade conditioner recipes to get you started!
Bonus: Homemade Conditioner Recipes!
Rosemary Honey Conditioner from The Pistachio Project
DIY Conditioner from ScratchMommy.
No matter what hair type you have, you can benefit from using safe, natural homemade shampoo and conditioner. The myth that natural shampoo doesn't work is just that—a myth!
Store-Bought Shampoos & Conditioners that are Best for Your Health
Just in case, you still want something store-bought and non-toxic, we've hooked you up! These sulfate-free shampoo brands also do not contain added phthalates or parabens. They may contain preservatives, but not ones I'm concerned about. If you are looking for shampoo free of chemicals, you should feel comfortable using just about any of the products on this list. Most rely on natural ingredients like essential oils, coconut oil, argan oil, tea tree oil, shea butter, aloe vera, to provide cleansing and moisture to various hair types. In addition to being free of harsh chemicals, most of these brands are also cruelty-free and/or eco-friendly and most are made from organic ingredients. You'll find the best organic shampoo made from the best botanical extracts from this list. We also looked specifically for fragrance-free brands that were marked with a (*) and natural hair, curly hair, or coiled-friendly brands marked with (**) to help you find them.
100 Percent Pure Yuzu & Pomelo glossing shampoo (links directly to small biz, not Amazon)(Use discount code "MAMAVATION20" for 20% off)
100 Percent Honey & Virgin Coconut Shampoo (links directly to small biz, not Amazon)(Use discount code "MAMAVATION20" for 20% off)
100 percent Pure Kelp & Mint Volumizing Shampoo (links directly to small biz, not Amazon)(Use discount code "MAMAVATION20" for 20% off)
100 Percent Burdock & Neem Healthy Scalp Shampoo (links directly to small biz, not Amazon)(Use discount code "MAMAVATION20" for 20% off)
100 Percent Grow More Shampoo (links directly to small biz, not Amazon)(Use discount code "MAMAVATION20" for 20% off)
100 Percent Repair Shampoo (links directly to small biz, not Amazon)(Use discount code "MAMAVATION20" for 20% off)
100 Percent Moisture Drench Shampoo (links directly to small biz, not Amazon)(Use discount code "MAMAVATION20" for 20% off)
100 Percent Glossing Shampoo (links directly to small biz, not Amazon)(Use discount code "MAMAVATION20" for 20% off)
AnnMarie Sweet Sunrise Shampoo (links directly to small biz, use code "15forYOU" for 15% off full sizes)
AnnMarie Intensive Hair Mask with Murumuru Butter (links directly to small biz, use code "15forYOU" for 15% off full sizes)
Be Green Dry Shampoo
Billie Floof Dry Shampoo
Clean Kids Naturally Shampoo
Clevos
Conscious Skincare
Dr. Bronner's
Ein Love Natural All in One Shampoo
EO Sulfate-Free Tea Tree Shampoo
Farm Grain Organic Enzyme Shampoo
Farma Dorsh Go Organic
Hair Print Jasmine Silk Hair Masque
Healthy Nest Baby Shampoo
Henna Guys Color Enhancing Hair Mask**
Jason's Natural Products Normalizing Treatment Shampoo
Joe's Tree Tingle (Trader Joes) Shampoo
John Master's Organic Shampoo & Conditioner
Kinky-Curly Knot Today Shampoo**
Lemongrass Shampoo
LifeVantage Shampoo
Love Hair Shampoo
Lowen's Natural Skincare is Betta
Mielle Organics Detangling Co-Wash**
Moerie Shampoo
Morocco Method Volcanoic Dry Shampoo
Naturelle Fragrance-Free Shampoo*
Norwex Shampoo
Paul Penders Men's Shampoo
Paul Penders Women's Shampoo
Pleni Naturals Child Shampoo
PUUR Ingrid Wash Duet
Qet Botanicals Powder Shampoo
Radico Color Me Organic Hair Powder
Rejuva Minerals Hair Powder
Shea Moisture Adult
Soap For Goodness Sake Shampoo Bar
True Botanicals Shampoo*
VITA Cosmetics Shampoo
Wellnesse Cleansing Shampoo & Nourishing Conditioner (Use discount code "MAMAVATION10" for 10% off Wellnesse products till 3/31/22. link direct to small biz)
Wellnesse Soothing Shampoo & Enriching Conditioner for Curly & Wavy Hair** (Use discount code "MAMAVATION10" for 10% off Wellnesse products till 3/31/22. link direct to small biz)
Wellnesse Revitalizing Dry Shampoo (Use discount code "MAMAVATION10" for 10% off Wellnesse products till 3/31/22. link direct to small biz)
Wellnesse Revitalizing Dry Shampoo for Darker Hair (Use discount code "MAMAVATION10" for 10% off Wellnesse products till 3/31/22. link direct to small biz)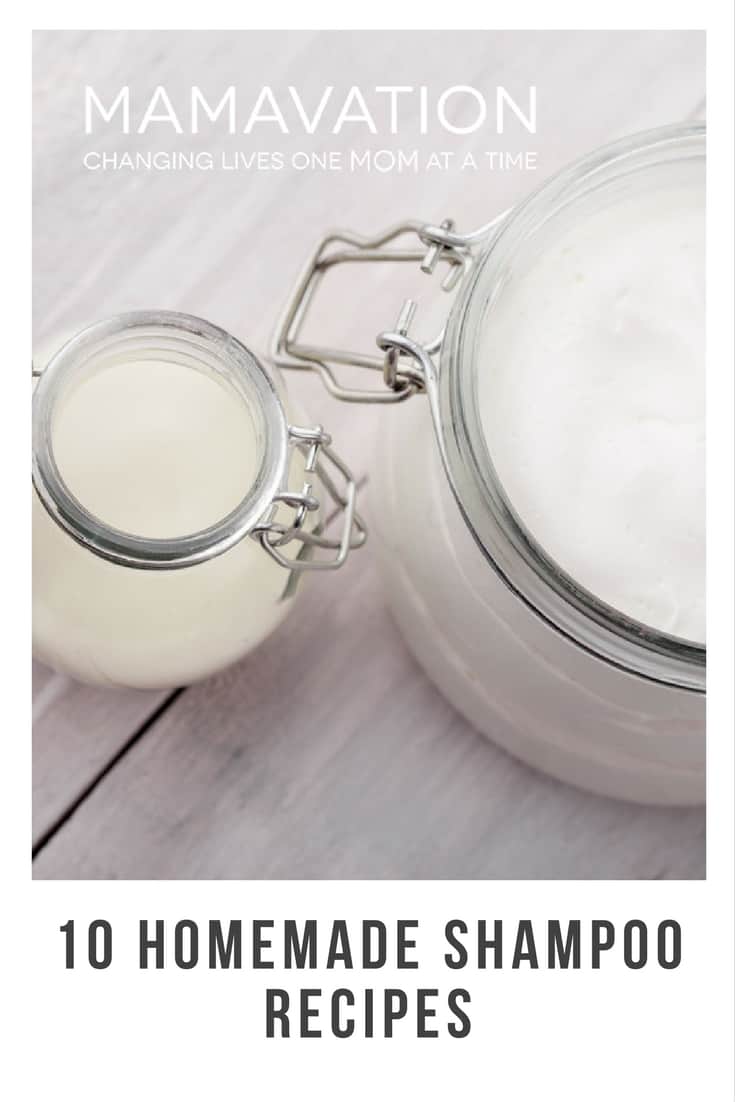 Save
Save
Save
Save
Save
Save
Save
Save
Save
Save
Save
Save
Save
Save
Save
Save
Save
Save