Are you looking for the best non-toxic bubble bath for the kids or for a skin-sensitive adult? You've come to the right place! After a long day, take a non toxic bubble bath! Mamavation has evaluated over 100 products to help you make that purchasing decision. You've trusted Mamavation to bring you topics like the best non-toxic shampoos, best non-toxic sunscreens, and best probiotics, now join us for the best (& worst) non-toxic bubble baths for kids & skin sensitive adults. To learn more, continue reading below, or scroll down to the very bottom to find our preferred lists.
Disclosure: This post was medically reviewed by Sondra Strand, RN, BSN, PHN. This post also contains affiliate links.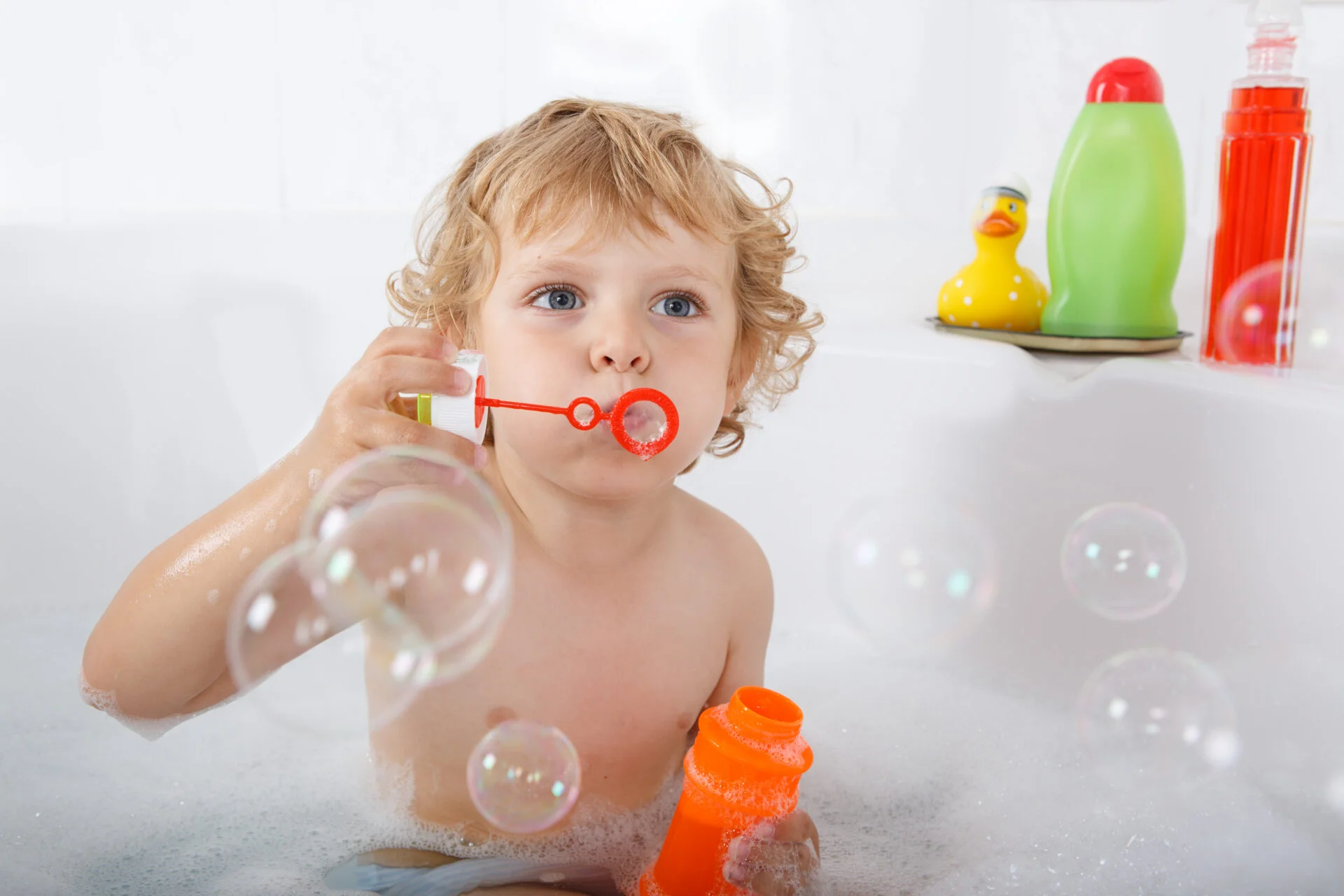 Watch Out For Big Bubbles Made from Toxins
Do you remember how big the bubble baths were when we were kids? Sadly, those bigger bubbles you and I were used to are made from chemicals like sodium laureth sulfate (SLS) and can be very harsh on your skin and can even cause allergic reactions. This is one of the main issues of bubble baths–outright problematic ingredients & a lack of transparency. But here are some top-line solutions and honesty about toxic exposure inside those bubbles.
Bubble Time Solution: We know. Everyone loves bubbles. If you are here because you have sensitive skin or children here is a solution. When using a more natural bubble bath, you can solve your bubble by pouring the bubbles closest to where the water is coming out of the spout, so there is more churning of water and soap, and that will create more bubble action. But I'm not going to lie to you, the safer bubble baths are less bubbly because they lack problematic chemicals used in conventional versions.
Bottomline on Exposure: If bathtime with bubbles is a common thing in your home OR you have children or sensitive skin, I'd find a better solution and we've done all that work for you down below in our product investigation. If you rarely take bubble baths and do not have sensitive skin, then this exposure is not as big of a problem for you in the grand scheme of things.

Better Ingredients Inside Bubble Baths
When you are wanting to relax, get the kiddos clean, or just need to soak your sore muscles, a bubble bath in your tub may be in your future. Mamavation looked at over 100 bubble bath products and found trends in ingredients used that were inside better bubble baths.
Here are some better ingredients to look for:
coconut oil (pro tip: organic coconut oil does not allow processing with hexane)
aloe vera
argan oil
essential oils
Epsom salts
shea butter
vitamin e
glycerin
oats
calendula
watercress
rosemary
any type of fruit extract
cedarwood
cucumber
lemon or lime peel
gingerroot
french lavender
anise
olive fruit oil
magnesium
dandelion

How to DIY Your Own Non-Toxic Bubble Bath
If you would like to try to make your own DIY bubble bath, here's a simple recipe you can use. Because we are talking about children, we've also left some tips on what types of essential oils to avoid around children via John Hopkins.
Basic Bubble Bath Recipe
This recipe should be enough for one bath and feel free to double or triple it to make more.
1 cups castile soap
1/4 cup glycerin
1/2 cup water
4-5 drops of your favorite high quality essential oil
Basic Rules on Diffusing & Using Essential Oils Around Children
Nothing is safe for infants under 3 months. Essential oils are not safe for children under 3 months old. PERIOD.
Don't use undiluted oils directly on skin. Essential oils in their original form can be harmful if applied directly to the skin. Oils can be added to carrier oils, distilled water and lotions. (Or your own DIY bubble bath!)
Don't add undiluted oils to bath water. Since oil and water don't mix, the concentrated form of essential oils can irritate the skin, so make sure to add to carrier oils first instead (or make your own DIY bubble bath).
Peppermint: consists of up to 55% menthol and up to 10% 1,8-cineole. In children aged 1-3, studies showed 1,8-cineole and menthol can cause serious, yet non-fatal reactions. Keep watch till children are over 6 years old.
Eucalyptus: Eucalyptus contains varying amounts of 1,8-cineole, with Eucalyptus globulus having up to 84%, Eucalyptus radiata having up to 65%, and Eucalyptus polybractea having up to 92%. The concern is seizures, however rare, but it's expected that approximately 2% of children will experience one after extensive exposure.
Rosemary: This oil is high in 1,8-cineole and can potentially cause respiration to slow in children. Avoid with children under 6.
Marjarom (Spanish): This oil is high in 1,8-cineole and can potentially cause respiration to slow in children under 6 years old.
Anise/Aniseed: avoid diffusing around children under 5 years old
Fennel (bitter), Fennel (sweet): avoid diffusing around children under 5 years old
Niaouli (cineole chemotype): avoid diffusing on children under 6 years old

Ingredients to Avoid When Purchasing Non-Toxic Bubble Bath
Inside personal care products like bubble baths, you'll find ingredients that make you wish you had a chemistry degree to decipher, but don't worry. Most of them are fine. However, there are several that you want to watch out for. Here's the list of those more problematic ingredients and where they hide.
Methylchloroisothiazolinone and Methylisothiazolinone: These chemicals are preservatives and we found them in a surprising number of glass and window cleaners. Some of the hazards they pose include being an irritant to skin and if lungs inhaled, skin allergies, especially when both are found in the same product, plus possible neurotoxicity and organ toxicity has been shown in lab studies. Most people don't know if they or their children are allergic to these chemicals, these are ones you'd want to avoid in your home.
Sodium Laureth Sulfate and Sodium Lauryl Sulfate: SLS and SLES are surfactants helping products to clean. Even when naturally derived, they can be harmful. The  Journal of the American College of Toxicology has shown that they can be an eye or skin irritant. There is also debate on whether or not SLS is a human carcinogen; other research indicates it may damage the environment. Both can be harmful to the environment.
Undisclosed Fragrance/Perfume: Fragrances are a problem because they can be formulated from thousands of available chemicals, many of which can be irritants, allergens or phthalates. Companies can legally hide ingredients in "fragrance" or "perfume" on the bottle because of laws protecting them from revealing their formulations. (Ironically, these things can be reverse-engineered in a lab, so there is no such thing as a "secret" formula anymore, but I digress.) Today, hiding ingredients in "fragrance" means they are just not being transparent. Most companies won't list the ingredients of their proprietary blends.
PEGs/Polysorbates: These chemicals are formed by condensing water and ethylene oxide. They can be contaminated with carcinogenic chemicals such as 1,4-dioxane. These are concerning because they can easily penetrate the skin. Look for "PEG-" followed by a number, or polysorbates.
Ethylene Glycol Monobutyl Ether (EGBE) or 2-butoxyethanol & other glycols: This is a chemical used to make antifreeze. It's a volatile chemical that evaporates into the air. The CDC lists it as relatively low harm unless ingested, but it can be absorbed through the skin. Animals studies suggest there may be a link to reduced fertility among females. Ingestion can also lead to poisoning. Exposure also can impair the development of organs in fetuses and impair the kidneys.
Ethoxylated Compounds: Ethylene oxide, a chemical that has been linked to different kinds of cancer, is added to these ingredients. (PEGs and SLS or anything ending with the prefix -eth are also ethoxylated.) They may also be contaminated with other hazardous ingredients, such as 1,4-dioxane.
Alkyl Dimethyl Benzyl Ammonium Chlorides and other "Quats": Quaternary ammonium compounds are widely used as surface disinfectants. These cationic detergents are synthetic derivatives of ammonium chloride. The EPA has listed some "quats" as having a high risk for human health, however, there isn't information on all of them. They are also linked to asthma, allergies, and skin irritation. Other ingredients you may see are things like polyquaternium, Benzalkonium chloride, Cetalkonium chloride, Cetrimonium chloride, Lauryl dimonium hydrolysed,  collagen, Stearalkonium chloride, Diethyl ester dimethyl ammonium chloride, Dialkyl dimethyl ammonium methyl sulfate, Hydroxyethyl methyl ammonium methyl sulfate, Chemical DTDMAC (ditallow dimethyl ammonium chloride); also called quaternium-18, Quaternium-26 and other numbers.
Coco-betaine or Cocamidopropyl betaine: According to the EWG database, these ingredients can be contaminated with impurity 3-DIMETHYLAMINOPROPYLAMINE, which can cause skin burns, eye damage, and allergic reactions when used in cleaners. It can also contain nitrosamines, which are carcinogens.
Parabens: These are very harsh preservatives used in many personal care products that may lead to hormone disruption because they mimic estrogen. The European Union banned these chemicals in 2012. The most controversial study found traces of five different parabens in the tumors of 19 out of 20 breast cancer patients. Make sure to avoid: methylparaben, propylparaben, butylparaben, ethylparaben, isobutylparaben, & isopropylparaben.
Artificial dyes: Artificial dyes are associated with ADHD when eaten, however, we don't know very much about what happens when they are used in bubble baths. But we do know that some of them are linked to cancer.
Petroleum products like mineral oil

Mamavation's Investigation of Non-Toxic Bubble Bath for Kids & Skin Sensitive Adults
Mamavation found close to 120 bubble bath products on the market and evaluated them for hormone-disrupting chemicals and carcinogens. We divided them into three categories based on what we saw in the overall industry to make it easier for you to purchase cleaner products. If you do not have sensitive skin or are bathing children, feel free to shop from the "better" category.
Not Our Favorite Bubble Baths: These products contain several problematic ingredients that were discussed in this investigation. You'll also find that most of these brands are hiding ingredients in the term "fragrance" or "perfume" so we really have no idea what is inside.
Better Bubble Baths: These products were not as bad as the "not our favorite" ones but they still contained some issues. You'll find 1-2 problematic ingredients here, but what we mostly found was non-disclosure of "natural fragrance" which can be very problematic to sensitive people. People who are not sensitive to chemicals or scents may be fine purchasing from this list.
Best Bubble Baths: These products do not contain any problematic ingredients we discussed in this post, yet can make a simple bubble bath. We recommend you purchase from this category if you have children or are sensitive. Made from mostly plant-based ingredients, just add warm water.

Not Our Favorite Bubble Bath
These products contain several problematic ingredients that were discussed in this investigation. You'll also find that most of these brands are hiding ingredients in the term "fragrance" or "perfume" so we really have no idea the totality of what is inside.
AVON Senses Orange & Honeysuckle Bubble Bath
Calgon Hawaiian Ginger Bubble Bath
Calgon Lavender & Honey Bubble Bath
Caprina Goat's Milk Bubble Bath Eucalyptus Mint
Caprina Goat's Milk Bubble Bath Original
Dove Kids Care Hypoallergenic Bubble Bath Cotton Candy
Dove Relaxing Care Bubble Bath Lavender & Chamomile
Dr. Teal's Foaming Bath Soothe & Sleep with Lavender
Dr. Teal's Kids 3-in-1 Sleep Bath with Melatonin
Dr. Teal's Super Moisturizing Foaming Bath with Avocado Oil
Hempz Koa & Sweet Almond Soothing Herbal Bubble Bath & Body Wash
Honeydew Kids Bubble Bath
Johnson's Baby Bubble Bath
Johnson's Bedtime Baby Bubble Bath
Joon X Moon Champagne Bubbling Bath Fizz
kai Bathing Bubbles
Kneipp Lavender Aromatherapy Bubble Bath
L'Occitane Creamy & Comforting Bubble Bath
Life Is Bliss Eucalyptus Spearmint Bubble Bath
Live Clean Baby Bubble Bath & Wash
Lush Big Bottle of Calm Bubble Bar
Maude Wash No. 2 Body Wash & Bubble Bath
Mr. Bubble Extra Gentle Bubble Bath
Mr. Bubble Original Bubble Bath
Mustela Multi-Sensory Bubble Bath
NAIF Relaxing Bath Foam
Nutribiotic Bubble Bath Fresh Fruit
Philosophy Raspberry Sorbet Shampoo, Shower Gel, & Bubble Bath
Philosophy Vanilla Birthday Cake Shampoo, Shower Gel, & Bubble Bath
Pure Romance Shower Gel & Bubble Bath Champagne Soiree
Raw Sugar Time to Detox & Restore Foaming Bath
Scrubbingtons Scrub A Dub Children's Bubble Bath
Soap Cherie Meditation Bubble Bath
Solimo Bubble Bath Lavender
Solimo Bubble Bath Milk & Honey
The Village Co Village Naturals Foaming Bath Oil & Body Wash
The Village Co Village Naturals Therapy Cold & Allergy Bubble Bath
Vitabath Cucumber & White Tea Bubble Bath
Vitabath Lavender Chamomile Bubble Bath

Better Non-Toxic Bubble Bath for Kids & Skin Sensitive Adults
Aleva Naturals Berry Bubble Bath
Babo Botanicals Calming Shampoo, Bubble Bath, & Wash
Babo Botanicals Eucalyptus Remedy Bubble Bath, Wash, & Shampoo
Baby Bum Bubble Bath
Hamilton Babies Lovely Lulu Bubble Bath
Hello Bello Berry Lemonade Baby Bubble Bath (Do, Re, & Mi)
Jack N' Jill Simplicity Bubble Bath
Loot Toy Bubble Whoosh Rasberry
Maude Wash No. 0 Unscented Body Wash & Bubble Bath
Rainbow Research Kid's Bubble Bath Relaxing Sweet Dreams
Rainbow Research Kid's Bubble Bath Unscented
REN Moroccan Rose Otto Bath Oil
Tubby Todd Bubble Bath

Best Non-Toxic Bubble Bath for Kids & Skin Sensitive Adults
These bubble bath products have 100% ingredient disclosure and do not contain any ingredients we warned you about above. This is our favorite category and encourage you to purchase from these products.
Alaffia Kids Bubble Bath Coconut Chamomile
Alaffia Kids Bubble Bath Lemon Lavender
Attitude Kids Bubble Wash Vanilla & Pear
BareBaby Organic Bubble Bath Blissfully Citrus
Bubble & Bee Lavender Bubble Bath
Carina Organics Lavender Bubble Bath
Carina Organics Sweet Pea Bubble Bath
Carina Organics Unscented Bubble Bath
Good Medicine Pink Bath Botanicals Rosy Glow Time
HeLi by Pure Romance Shower Gel & Bubble Bath
Hello Bello Fragrance-Free Premium Bubble Bath
Honest Company Bubble Bath Purely Sensitive Fragrance-Free
Loot Toy Bubble Whoosh Clear
Puracy Baby Bubble Bath Lavender & Vanilla (Use discount code "MAMAVATION20" for 20% off products)
Simple Truth Kids' Shakeable Suds Cotton Candy
TruKid Bubble Podz Watermelon
Wild Carrot Herbals Balsam & Grapefruit Bubble Bath
Wild Carrot Herbals Mandarin & Sage Bubble Bath