This summer, we seem to be plagued by pests. From my son's overreaction to a simple mosquito bite to a new case of the bubonic plague (yes, the "Black Plague" from the middle ages) and Lyme disease, pests have gotten more dangerous. At a time when most insects are on the decline, the type of insects that can cause harm to humans is on the rise. So where are all the DEET-free bug sprays that help you eliminate insects without the toxins? We've found them all! You're trusted Mamavation to cover topics like safer sunscreen, safer pesticides for the home, & safer cereals, now join us we uncover the best 40+ DEET-free bug repellants.
We know you don't have the time needed to investigate the bug repellant industry, so Mamavation has done it for you! Scroll down to the very bottom for our product recommendations and if you would like to say thank you, you can donate here. 
Disclosure: this post contains affiliate links and was fact-checked by Rebecca Elizabeth Sherrick Harks, Registered Nurse.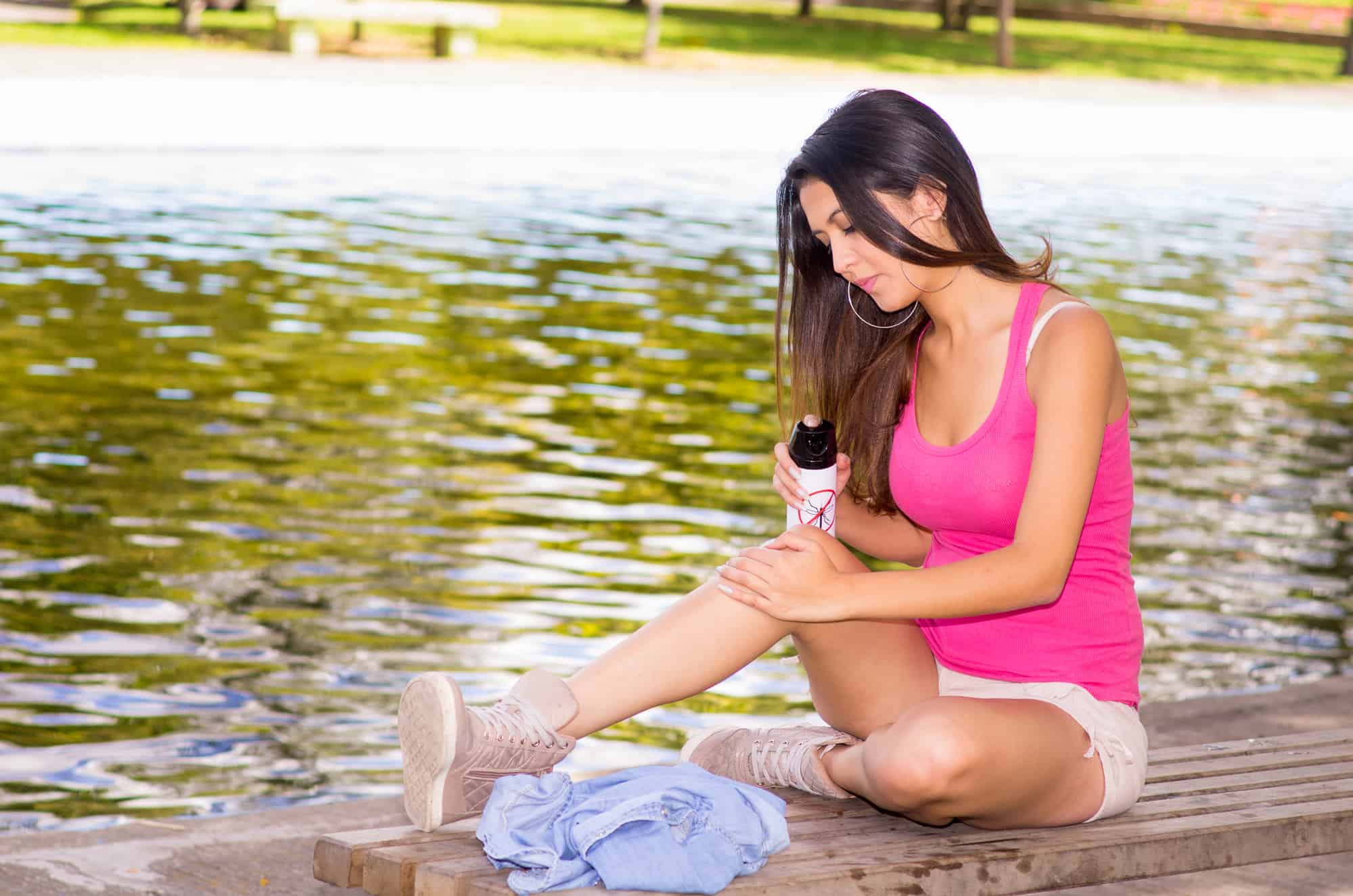 The Rise of Ticks Means You Need More DEET-Free Bug Spray
If you think you've seen more ticks on your family pets, you may be right. In the U.S., the Northeast has been plagued by a longer season, with an increase in the numbers of ticks. And the Centers for Disease Control is warning the public that ticks are getting more dangerous. As the seasons change, ticks are showing up sooner starting in May.
According to the Cary Institute of Ecosystem Studies, ticks can cause:
Lyme Disease: Symptoms include e fever, headache, fatigue, and a skin rash.
Babesiosis: Symptoms include fever, fatigue and hemolytic anemia, which happens when your bone marrow cannot create replace blood cells fast enough.
Anaplasmosis: Symptoms include fever, headache, muscle pain, chills, nausea, abdominal pain, cough, confusion and rarely, a rash.
Encephalitis, or brain swelling:  The Cary Institute reported in 2013 a rise in this rare but deadly disease can be caused by black-legged ticks.
All of these can be dangerous or fatal if not treated. The CDC lists a more complete list of tickborne diseases in the U.S.
A Plague of Fleas Requires More DEET-Free Bug Spray
These nasty bugs are impossible to get out of your home without extreme action – and are also on the rise in some areas. They multiply quickly and usually find one member of your household they move to feast on. While we generally think of fleas as a nuisance, these bugs may now be more resistant to treatment. In California, CBS Sacramento reports that the drought and warm temperatures may be to blame for the rise in flea populations. Diseases carried by fleas include:

Swarming Mosquitoes Means Grab The DEET-Free Bug Spray!
Mosquitoes also seem to be on the rise, in Iowa as well as Arizona and California to name a few problem areas. Warmer climates and the continuing drought crisis have brought a rise in both mosquitoes and diseases. Here are some of the problems to look out for:
West Nile Virus: This disease most commonly has no symptoms, however it can lead to brain swelling, which is more dangerous. The LA Times reported more cases of this kind were found in California last year, most likely due to the drought.
Dengue Fever: Usually found in South or Central American tropics, this is a flu-like disease ranges from simple to severe. There is no cure but most patients recover within 7 days, although there can be bleeding, dehyrdration, organ damage or death.
Unknown dangers? Debate has begun over the release of genetically modified mosquitoes in the Florida Keys. 10,000 of these genetically modified mosquitos were just released in Burkina Faso, a small landlocked country in West Africa to combat Dengue fever. Scientists say these mosquitoes are safe because they only have created male mosquitoes, which do not bite, and that they replicate a gene so that the next generation will die. However, the effect on the ecosystem is unclear, as is the question of whether another breed of insect will move into fill the void once this breed dies off.

Bug Repellant Chemicals like DEET & Picardin–Which to Choose?
The most effective repellent traditionally has been DEET, a chemical that has come under scrutiny in the last few years. In 2009, study in BMC Biology found that DEET inhibits an enzyme that keeps the nervous system functioning properly. Other studies have linked it to behavioral problems when combined with other repellents and reported rare reactions range from skin irritation to seizures and asthma attacks. The Environmental Working Group (EWG) actually recommends using DEET, when faced with the complications and effects of Lyme disease or West Nile virus, which can have long-term health effects. Are you better off using DEET-free bug repellent?
An article by Renee Sharp, EWG's Director of Research, claims that problems arise when using 100% DEET. You only need 20-30% to get a full day's benefit of DEET repellent and you'll have less exposure to the toxin. While EWG does not dispute that DEET can be a neurotoxin, they claim its benefits can outweigh the risks. You have to determine if exposure is worth the risk for your children and family.
Other DEET-free bug repellents we recommend include:
Picardin: Also recommended by the World Health Organization, this chemical doesn't have the neurotoxicity issues that DEET has but not as many long-term studies have been done.
IR3535: This chemical can irritate your eyes but no common, long-term safety risks have been found. (It's been in use in Europe for over 20 years.) Avoid sunscreens with this chemical, as it should not be applied every 2 hours.
Oil of Lemon Eucalyptus (synthetic version is PMD): This one is also recommend by WebMD. Most of these products are made by Repel®. This does not resemble eucalyptus tree oil, but is highly concentrated. Repel does not recommend using this when West Nile virus is a threat or as protection against no-see-ums. It is also recommended you do not use this on children under age 3 as it has not been tested.

Simple Tips for Families On How to use DEET-Free Bug Sprays
Before you start researching which treatment is best for your family, we recommend not using insect repellent on children under 6 months of age. Keep babies covered up and away from any exposure to pests. You should also know if your town or area is currently under threat from any of the diseases mentioned above.
When using bug repellent, read all labels carefully to understand the ingredients, risks, and proper usage to keep your family as safe as possible. Make sure there is no bug repellent in your sunscreen because you may be overexposing your child to these chemicals.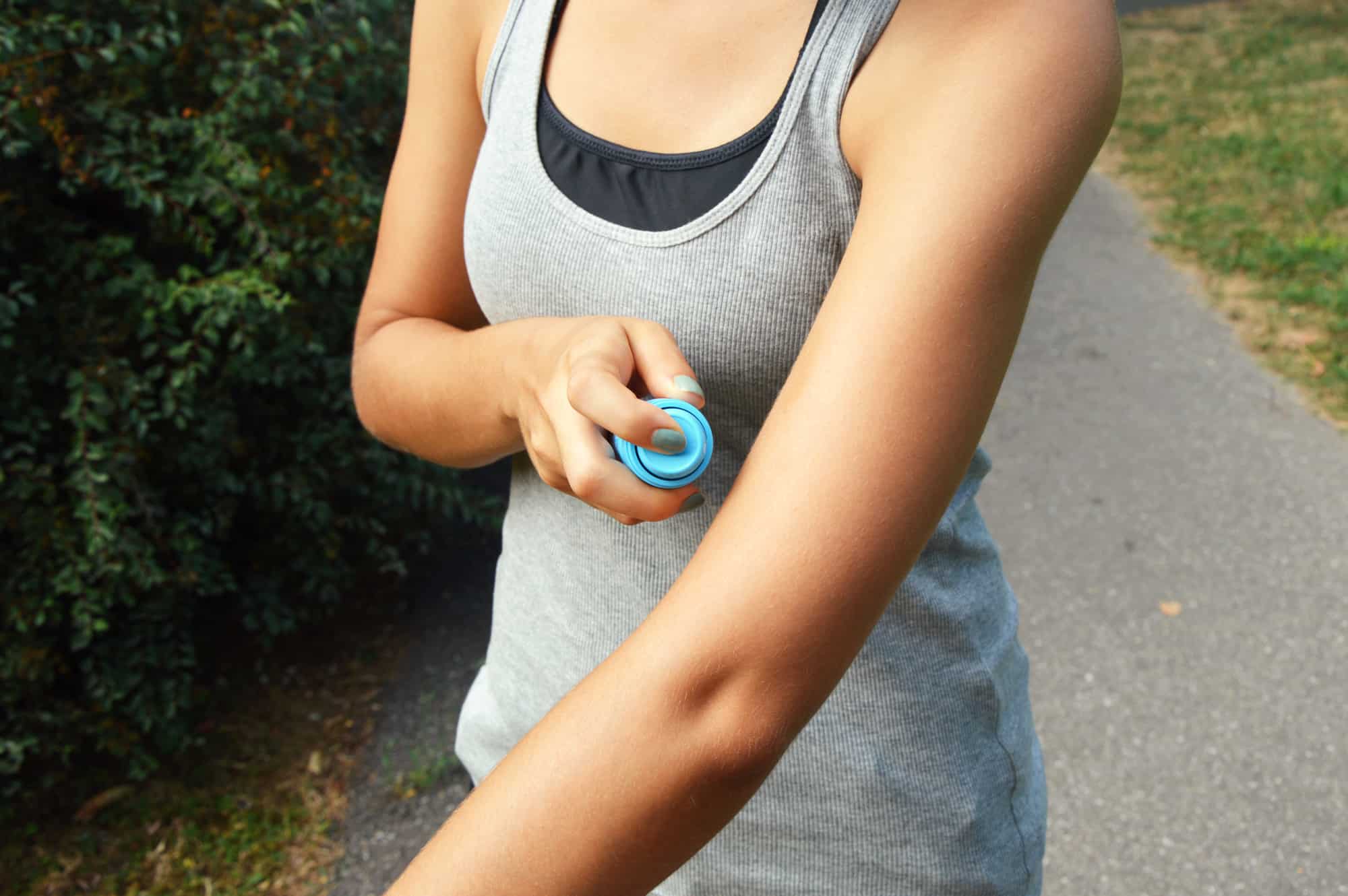 Mamavation's Investigation of Bug Sprays & Repellants
Mamavation combed through just under 70 brands and ranked them into categories of bad, better and best so you can make the best decisions for your family.
BAD Bug Repellent Brands
These repellents contain 100% DEET. Mamavation does not recommend these brands.
Coleman Max 100 Percent DEET Insect Repellent
Maxi Deet
Off Deep Woods Sportsmen II
Repel 100 Insect Repellent
Repel Insect Repellent Sportsmen Max Formula
3M Ultrathon Insect Repellent
10 Hour DEET Insect Repellent
Raid (no disclosure of ingredients)

BETTER Bug Repellant Brands
These brands contain 30% or less of DEET. If you are really concerned with effectiveness, try one of these brands. They do, however, still contain an endocrine disrupting chemical.
Avon Skin So Soft (original): Wears off in 2 hours, not designed as a bug repellent
Cutter All Family Pump Repellent: 7% DEET
Cutter All Family Insect Repellent Wipes: 7.5% DEET
Cutter Backwoods Repellent: 25% DEET
Off FamilyCare Smooth  & Dry: 15% DEET
Cutter Skinsations Spray: 7% DEET
Off Botanicals Insect Repellent IV 
Off Deep Woods Insect Repellent VIII Dry: 25% DEET

BEST Bug Repellent Brands
These brands do NOT contain DEET in their formulas. They all use safer ingredients, which vary from essential oils to things like picaridin. The quality of inactive ingredients also varies. The strongest ones contain picaridin, which is safe.
Alba Anti-Bug Spray: uses castor oil, lemongrass oil, and cedarwood oil to repel bugs.
Annie Oakley Natural Perfumery Don't Touch Me Spray: Uses lemon and eucalyptus oils to combat bugs.
All Terrain Herbal Armor Natural Insect Repellent: uses soybean, citronella, peppermint, cedar, lemongrass, geranium oils to ward away bug
Avon's SSS (Skin so Soft) Bug Guard Plus Picaridin shouldn't be confused with Avon's original Skin So Soft products. While many tout the amazing results of the original SSS, it is not an actual bug spray.
Babyganics Natural Insect Repellent: online and in stores. Mostly soybean oil along with other essential oils. Mixed reviews on effectiveness.
Badger Anti-Bug Balm – Natural Mosquito Repellent: online and in stores. All organic. Active ingredients contain castor oil and essential oils. Mixed results but seemed to have more positive reviews.
Bite Blocker: Contains soybean oil and geranium oil as active ingredients. Recommended as effective by WebMD and many positive reviews.
Buggins Insect Repellent, DEET-free Version:  uses geraniol, peppermint oil, lemongrass oil to fend off bugs.
Burt's Bees Herbal Insect Repellent: online and in stores. Made with citronella and other oils. Seems fairly effective in reviews, but difficult to remove from skin.
Buzz Away Extreme – DEET-free Insect Repellent, Essential Oil Bug Spray: Uses castor oil, geranium oil, soybean oil, cedarwood oil, citronella oil, peppermint oil, lemongrass oil to fend off bugs.
Buzz AwayExtreme DEET-free Repellent Towelettes uses castor oil, geranium oil, soybean oil, cedarwood oil, citronella oil, peppermint oil, lemongrass oil to repel against insects like mosquitoes.
California Baby Natural Bug Blend Bug RepellentTM: online. Made with all essential oils. Mixed results but mostly positive. Despite the name, this is not for babies under 6 months of age
Cedarcide Original Insect Control for People + Pets + Homes: Kills and repels fleas, ticks, ants, mosquitoes, and mites using cedarwood oil.
Coleman Botanicals DEET-Free Insect Repellent IV: uses oil of lemon eucalyptus to fight off black flies, gnats, no-see-ums, and mosquitoes that may carry the West Nile virus  This does NOT repel ticks.
Coleman SkinSmart Insect Repellent with 20% Picardin: effective against mosquitoes and ticks.
Cutter Lemon Eucalyptus Insect Spray: Cutter has launched a DEET-Free line of more natural insect protection.
DoTerra Terrashield: Outdoor protection defense acts as an effective, natural barrier. Can be used as diffusion or topical.
Dr. Mercola' Bug Spray: online. Contains naturally derived vanillin, citronella, lemongrass oil, and peppermint oil.
Dr Schulze's Bug Block: Uses organic eucalyptus, organic cedarwood, organic rosemary, organic citronella, organic lemongrass, organic lemon, organic tea tree, organic peppermint, catnip, organic cinnamon, organic garlic, organic plantain & echinacea oil, organic neem oil to fend off all kinds of bugs:mosquitos, ticks, files, gnats, bees, wasps and almost every other biting, stinging and annoying insect known to us.
EcoSmart Insect Spray: uses geraniol and rosemary oil to combat biting insects.
Fit Deet-Free Mosquito Repellent, All Natural Bug Spray, Organic Insect Repellent: Uses lemongrass oil to discourage mosquitoes from biting
Hello Bellow Natural Insect Spray: Kristen Bell and husband Dax Shepard  line of affordable, plant-based baby products, their bug spray is plant-based, vegan, and cruelty free.
HOMS Bite Blocker Insect Repellent & Clothing Treatment: uses different essential oils.
Honest Bug Spray: Contains soybean and castor oil and other essential oils as active ingredients. USDA organic certified. Worth a shot since soybean oil may be effective.
Lemongrass Spa Bug-A-Boo Insect Repellent: online
Lemongrass Bug-A-Boo Insect Repellent Stick: online
Max & Madeleine's Bug Off: sold online. Uses citronella to discourage bugs from biting.
Melaleuca Natural Insect Repellent: Found online, uses only essential oils to fend off insects
Natrapel Tick and Insect Repellent with Picardin (20%): kills mosquitoes and should be effective against other arthropods, including deer ticks.
Natrapel Eight Hour Wipes
Off FamilyCare Insect Repellent II With Picaridin( 5%)
Poofy Organics Pest Control Spray: online.This product has some essential oils that can cause reactions in young children under 5.
Primally Pure Nature Spray: Made only with essential oils, can be found online
Pure Haven Bug Off Spray (available seasonally): Made with essential oils. If using on children, apply to clothes but not directly on the skin.
Repel Lemon Eucalyptus Insect Repellent: online. Not for young children or those at risk of West Nile virus. Contains Oil of Lemon Eucalyptus.
Repel Lemon Eucalyptus Insect Repellent II: uses oil of lemon eucalyptus to ward off mosquitoes for up to six hours.
Sawyer Fisherman's Formula with Picaridin (20%): states that it provides eight hours of protection against biting flies, gnats, chiggers, and sand flies.
Terminix AllClear Mosquito Bait & Kill: online and in stores. Instead of worrying about coating your skin you can lure mosquitoes to their death with this trap. The ingredients are proprietary but the formula mimics a natural plant-sugar that mosquitoes eat. They are killed with garlic oil, which is toxic to mosquitoes but safe for humans.
Young Living Spray: online only repels mosquitoes and ticks,  prevent bug bites
Young Living Wipes: online only. Made out of essential oils, and works to repel mosquitoes, ticks, and helps prevent bug bites.
Wild Things Citrus Bug Spray: uses rose geranium, lemon eucalyptus, citronella to ward off bugs.
Wondercide Lemongrass Natural Insect Repellent uses cedar oil to repel bugs such as mosquitoes and should be effective against other arthropods, including deer ticks.

Other Ways to Get Rid of Toxic Pests
Proper Pet Care: Let's face it, mostly fleas and ticks are going to come from your pets. In addition, these human treatments may not be work for pets. For example, essential oils are not safe for cats, so consult with your vet. Daily brushing of your cat or dog is a good idea.
Flea and Tick Checks on Pets: Remember to keep your pets clean and brushed and check them for fleas and ticks manually if they get into unwanted or unknown areas. You should also regularly check your family in areas where these pests like to hide (ears, hair), especially if you have just returned from hiking or camping.
Eliminate Cool Dark Nooks & Crannies: Fleas and ticks tend hide in dark, cooler areas, like under your deck, so consider ways to prevent your kids and pets from getting into those areas.
Use Electric Fans: The American Mosquito Control Association actually endorses using fans outdoors o drive mosquitoes away. These bugs can't navigate the wind and the fan disperses the air that attracts mosquitoes. Oscillating fans are the most effective.
Eliminate Standing Water: Another easy way to avoid mosquitoes is to remove what they like best. Keep your deck, porch and yard free of standing water. That means keeping bowls and receptacles upside down or out of your yard and keeping gear like helmets in storage. I know my kids are always bringing out toys into the yard so I have to regularly do this!
What tips do you have safe and nontoxic pest removal? What pests and diseases worry you the most about affecting your children this year? Learn more or our tips for non-toxic pest control to help protect your family this summer.