In the summer, families take advantage of warm weather and longer days to hike, swim, travel and play outdoors. All of that extra time outside creates a risk for exposed skin to get sun damage. This issue is especially important to children who are so much more vulnerable to everyday risks. Sunscreen is important for everyday use in the summer and beyond. A lifetime of exposure and sunburn contributes to the one in five Americans who get skin cancer in their lifetime. Even one blistering sunburn can almost double the risk of melanoma, the most dangerous type of skin cancer. Unfortunately, we may get a false sense of security from using high SPFs. People forget that they must reapply even high SPF sunscreen regularly. The FDA has considered a ban of SPF over 50, and recommends SPF 30 or 50 for fair skin.
Sunscreen is an important part of daily summer life, helping keep skin healthy and you comfortable in the sun and afterwards. It's also important to know what ingredients are best for you and your family to avoid cancer-causing toxins, allergic reactions and more. What sunscreens are safe for your family's skin while protecting them from UV radiation and sunburn? Mamavation is coming to your rescue to bring you the best options for your family.
Disclosure: Bookieboo LLC works with hundreds of brands in the natural industry. Goddess Garden Organics is a client of ours, but we made sure to introduce to you 18 other brands that we do not work with to give you more options. This post contains affiliate links. Thank you for supporting Mamavation!

Toxic Sunscreen Ingredients
Nanoparticles and Spray Sunscreens
Spray Sunscreens contain smaller than microscopic particles. We can inhale these when applying sunscreen. Authorities generally view zinc oxide and titanium dioxide as safe. However, sunscreen manufacturers consider them too chalky for use in sunscreens unless broken down into nanoparticles. Nanoparticles are generally thought safe since they don't absorb into the skin, but a Friends of the Earth & Campaign for Safe Cosmetics study found out that titanium dioxide nanoparticles may cause damage, especially when inside a spray bottle.
Endocrine Disruptors and Carcinogens
Unfortunately, sunscreen can hold hidden risks, including endocrine-disrupting parabens and phthalates. These toxic ingredients can cause reproductive disorders, thyroid problems, immune system issues, metabolic disorders, neurological diseases and allergic reactions. For instance, dimethicone is a lubricant which has concerns regarding its bioaccumulativity. PEG chemicals and polysorbate -60 can be contaminated with dangerous carcinogens like dioxane and ethylene oxide.  Phenoxyethanol is a known allergen and skin irritant.
Sun Exposure Creates More Risk
One major ingredient of concern is retinyl palmitate. You can find retinyl palmitate as a Vitamin A supplement in food and skin products. It actually speeds up the growth of skin cancer tumors when it is exposed to light. The FDA has even stated the risks but decided the animals were susceptible to tumors, so still allows this toxin to be used. In chemical sunscreens, the chemicals that absorb into your skin to protect from UV light stay in your skin. If you have an allergic reaction, the reaction persists after the chemical responsible is gone. Allergic reactions to sunscreen will result in a rash, blistering, or worse in the areas covered by sunscreen where sunlight hits.
Chemical Sunscreen Kills Coral Reefs
Oxybenzone is one of the chemicals that absorbs into the skin and then absorbs UV rays. It has a high risk of allergic reaction and has been linked to low birth weight in girls. Oxybenzone is also dangerous for the environment and is contributing to coral reef death worldwide. There is a movement in Hawaii to ban chemical sunscreens to protect ocean life there.  And The National Park Service has warned against their use, recommending mineral sunscreens. The National Oceanic and Atmospheric Administration have also spoken against chemical sunscreen use as well. In response to the environmental threat, places like the Xel-Há resort in Mexico have banned the use of chemical sunscreens.
Best Advice For Safe Skin In The Summer
Use a mineral sunscreen to avoid toxic chemicals and allergic reactions to active ingredients.
To protect your children's skin, reapply sunscreen every two hours. Pick higher SPF rating for maximum protection during that time.
The term 'water resistant' just means it is still effective after about 40 minutes of exposure to water. No sunscreen offers all-day protection, so make sure to take the time to keep reapplying if you're out all day.
Choose an SPF under 50

—

any rating higher than that can give a false security about sun protection.
You should keep infants under six months in the shade and protect them from the sun with hats, umbrellas, or a canopy. They also should wear loose fitting clothing that will protect their skin from the sun.  The American Academy of Pediatrics says a small amount of sunscreen can be applied to the face and small areas when shade is not available. Read the directions on your sunscreen regarding infant use.
Minimize time in the sun between the peak hours of 10 a.m. to 2 p.m.
Mamavation's Bad, Better, and Best for Children's Sunscreen
The Environmental Working Group released a list of the top 19 brands of sunscreen according to ingredient safety. We looked into this list and divided it by "best" and "better" based on the safety of ingredients. Then we added our own list of brands to avoid for safety reasons inside a "bad" category.
Best Choices
These mineral sunscreens have no ingredients of concern and are safe to use on the whole family without worry over allergic reactions from chemical ingredients.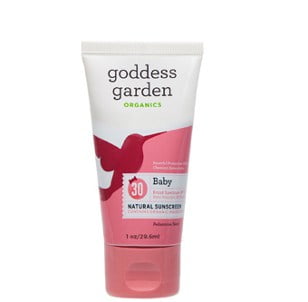 Goddess Garden Organics Baby Natural Sunscreen Lotion, SPF 30
Kiss My Face Organics Kids Sunscreen, SPF 30
Sunumbra Sunkids Natural Sunscreen, SPF 40
Badger Baby Sunscreen Cream, SPF 30
Bare Republic Baby Mineral Sunscreen Lotion, SPF 50
ThinkSport Kids Sunscreen, SPF 50+
Tom's of Maine Baby Sunscreen Lotion, SPF 30
California Baby Super Sensitive Sunscreen, SPF 30+
TruKid Sunny Days Sport Sunscreen, SPF 30
Adorable Baby Sunscreen Lotion, SPF 30+
All Good Kid's Sunscreen, SPF 30
Beautycounter Countersun Mineral SPF with non-nano Zinc Oxide
Better Choices
These better choices are all mineral sunscreens, meaning that the sunscreen blocks the sun's rays and do not absorb. Unfortunately, these products contain some ingredients of concern that can cause allergic reactions, irritate skin, or be contaminated with carcinogens.
All Terrain KidSport Sunscreen Lotion, SPF 30
Aveeno Baby Continuous Protection Sensitive Skin Lotion Sunscreen, SPF 50
Babytime! by Episencial Sunny Sunscreen, SPF 35
Blue Lizard Australian Sunscreen Baby, SPF 30+
BurnOut KIDS Sunscreen, SPF 35
Caribbean Sol Sol Kid Kare, SPF 30
Neutrogena Pure & Free Baby Sunscreen, SPF 50
Sunology Natural Sunscreen Kids, SPF 50
Worst Choices "The Bad" Group
These sunscreen products contain definite risks to your skin. These may include retinyl palmitate, which can damage sun-exposed skin and speed up tumor growth; Oxybenzone, which is a danger for coral reefs and humans; and chemical sunscreens, which absorb into the skin and are possible allergy triggers.
Avoid these brands like the plague:
CVS Health Children's Sunstick Sunscreen, SPF 55
Sun Bum Continuous Spray SPF 30
Neutrogena Wet Skin Kids Sunscreen Spray, SPF 70+
Coppertone Sunscreen Lotion Water Babies, SPF 70+
Coppertone Kids Wacky Foam SPF 70
Australian Gold Hello Kitty Body Mist Sunscreen SPF 50
Banana Boat Kids Continuous Spray Sunscreen, SPF 100
Up & Up Kids Sunscreen Lotions SPF 50
Hawaiian Tropic Island Sport Sunscreen Lotion, SPF 50
Equate Baby Sunscreen Lotion, SPF 50
We hope you have a great summer and get out to enjoy the sun and the vitamin D it gives you! Please let us know if you are using any of the sunscreens in this post. We would love to know how you would rate them in terms of usability, how long they last, etc.
Save
Save
Save
Save
Save
Save
Save
Save
Save