In just about every bathroom, bedroom, and car, people keep a tube of body lotion – generally to ward off dry skin or to smell nice. The beauty industry has turned into a well-oiled machine pushing out new products at an alarming rate. And they have every reason to because sales of body moisturizers have skyrocketed. You've trusted Mamavation to bring you topics like best & worst shampoos, best & worst facial moisturizers, and best & worst makeup brands, now join us as we explore non-toxic body lotions.
We know you don't have the time needed to investigate the lotion industry, so Mamavation has done it for you! Scroll down to the very bottom for our product recommendations and if you would like to say thank you, you can donate here. 
Disclosure: This post contains affiliate links and was researched by Rebecca Elizabeth Sherrick Harks, RN, BSN.
False Marketing to Watch Out For When Shopping for Lotions
Take a stroll down any grocery store "lotions" aisle or pull up a quick internet search and you'll see that the options available are limitless.  As sales and marketing crews learned ages ago that "science-y" sounding terms sells body lotion, they increasingly use terms that are not well defined.
Hypoallergenic: Many available body lotions are touted as being "hypoallergenic" or "allergy tested" — which SOUNDS nice even though there's no government standard in the US for making such a claim.
NonComedogenic: Other products claim they're "noncomedogenic" — a Thesaurus-style word that only means that the lotions won't cause pimples — which doesn't really set them apart. Why? Well, almost all body lotions we can buy today use ingredients that are noncomedogenic.
Vitamins: Another "scientific" trick advertising agencies do is to list out a ton of vitamins within the lotion. This is supposed to make us think that body moisturizers can add antioxidants and actually nourish our skin. Sounds pleasing, right? Unfortunately, most of the vitamins inside body lotions are unlikely to make a difference: the amounts of vitamins used are too small for an effect, or because vitamins do degrade with exposure to light and air.
Here's the bottom line: despite the long lists of obscure ingredients and the pseudoscientific hokum, all body moisturizers can with dry skin for an incredibly simple reason: they supply a little bit of water to the skin and contain a greasy substance that holds it in. That's about it.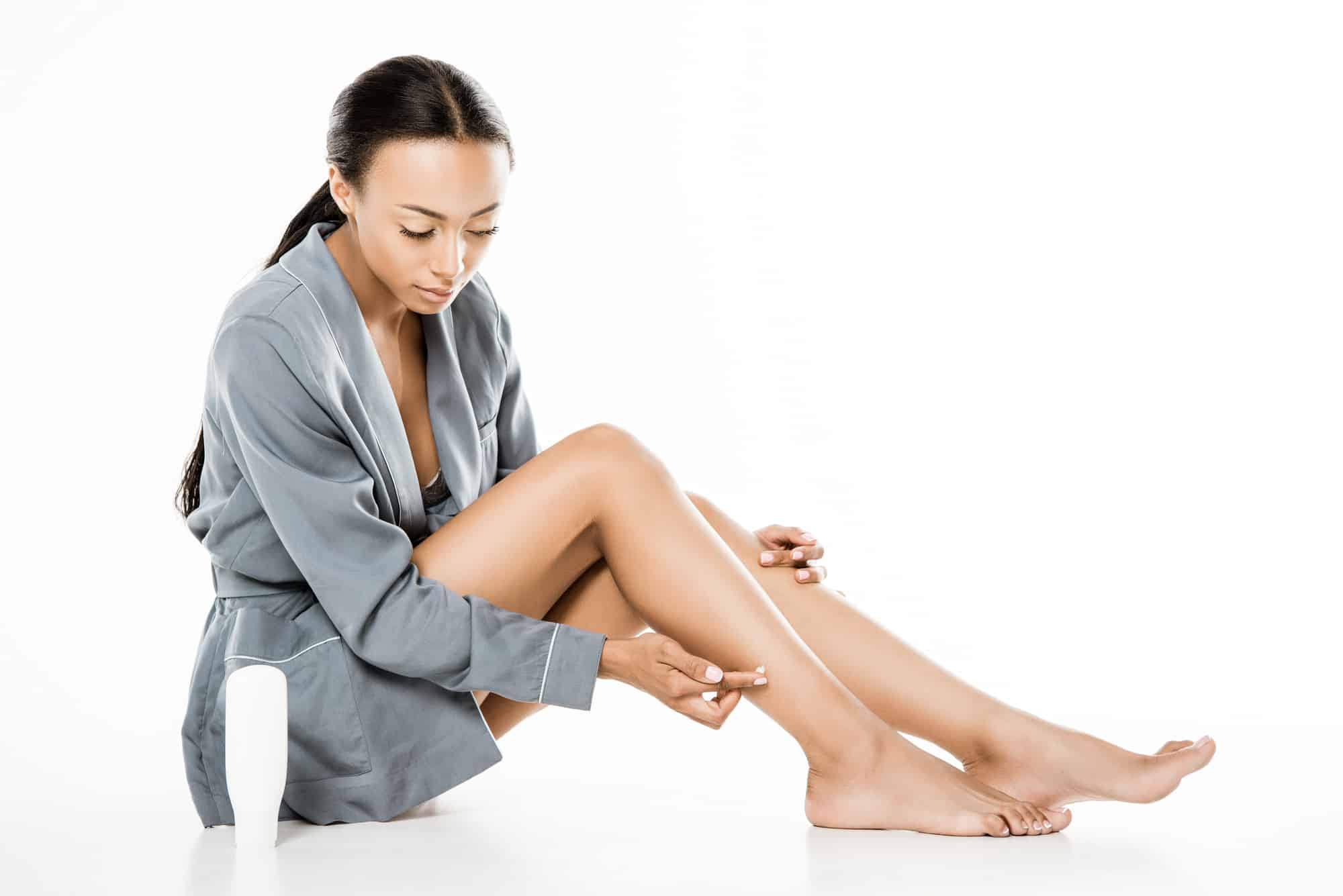 How to Combat Dry Skin Before Using the Lotions
A good lotion will make you feel less itchy and uncomfortable. It is important to remember that dry skin alone is not a medical condition; it's the problems it can cause, like cracks and fissures in the skin which may turn into open wounds. An ounce of prevention does equal a pound of cure, so let's take a look into dry skin and how to manage it.
Of course, finding a proper body moisturizer will absolutely help you avoid dry skin, but there are other things you can do as well if your dry skin is a big problem:
Use a humidifier – you can find these at just about any store and they disperse tiny amounts of water into the air and hopefully help you with your skin. Be careful to follow the instructions on your humidifiers, though, because many brands can actually grow bacteria in the inner-workings of the humidifier – which means that it's blowing bacteria-laden water into your house and into your body. Replace all filters on schedule and follow those instructions.
Watch the thermostat – hot air, as we often must pipe into the house during the cold months, has a nasty habit of drying things out. Including you and your skin. So turn it down – it'll save you money on electricity too!
Bundle up if you live in a climate in which cold air occurs (for at least part of the year) – windy, cold air is very drying to your skin. Use scarves, hats, and mittens as necessary.
Switch body soaps – some people are more sensitive to certain types of body soaps. Try going with a more mild soap in order to reduce any issues you may have – including dry skin.
Avoiding hot showers is going to be a hard one for a lot of us but unfortunately hot water is excellent at washing away the substances in your skin that protect it from drying out.

Ingredients to Avoid in Body Lotions
There are a zillion ingredients in body lotions and body butters – some of them good, some bad, some awful. With the massive list of ingredients within each pretty bottle of that lotion, it can be nearly impossible to ascertain what, if anything, is bad for you. What follows is a list of the worst ingredients in your body lotions and body butters.
*These ingredients are listed on the Campaign for Safe Cosmetics Red List, which is part of the MADE SAFE screening process for personal care products.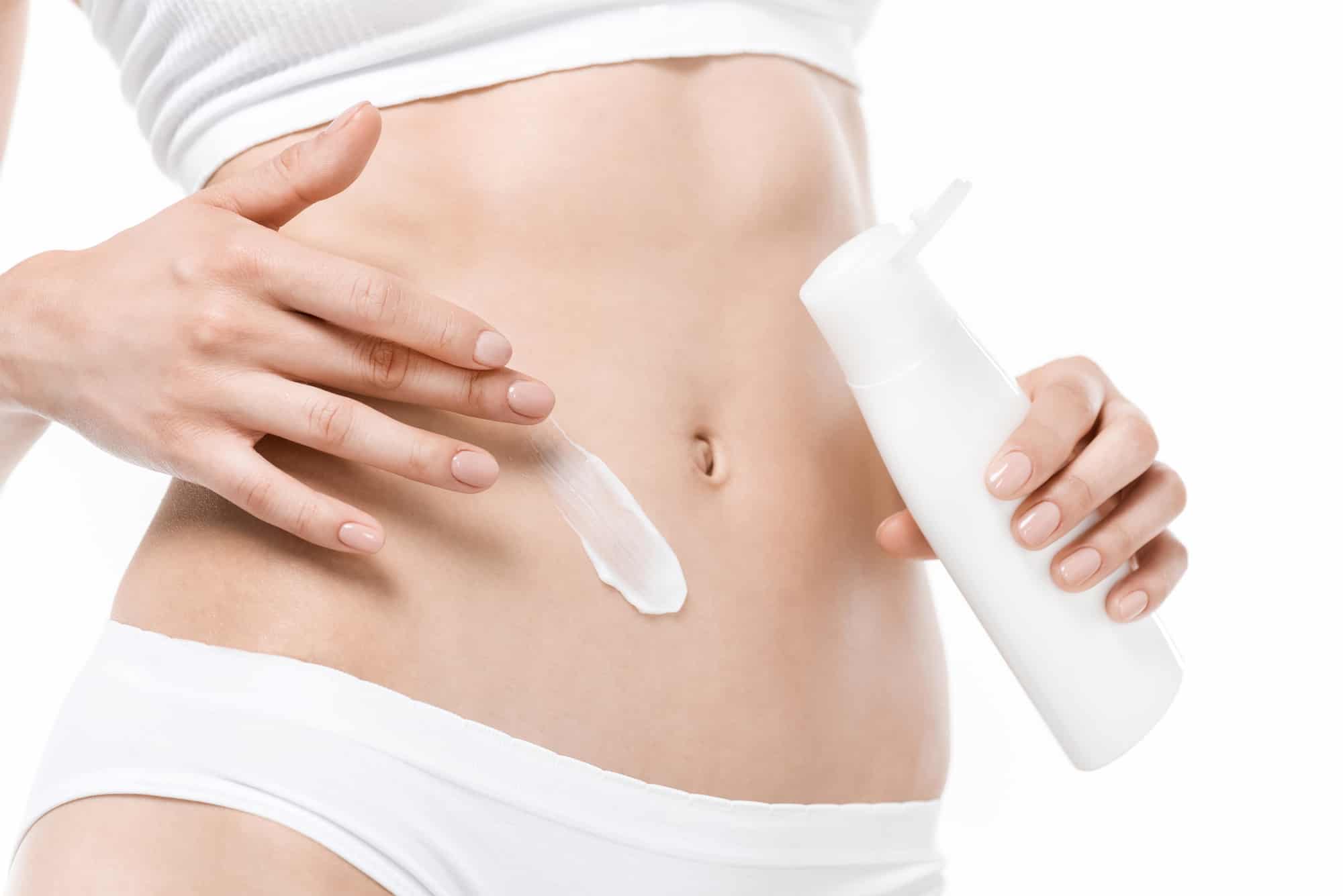 What About Preservatives in Lotion?
Anytime you add water or aloe vera to any formulation, it starts to collect bacteria and mold. This is the reason why lotions have preservatives inside–to stop the formation of mold in their products. And this is important to remember because we believe that light preservative use overall is good for you, but bad preservatives should be avoided.
Mold toxicity is no laughing matter. Some mold spores produce mycotoxins and they can build up in your body, and cause a multitude of symptoms. These mycotoxins are both microscopic and fat-soluble, and they often end up in your cells and mitochondria, disrupting health. Vulnerability to mold toxicity is present in 25% of the population, mostly with people who have a genetic predisposition that inhibits their clearance of biotoxins. According to Psychology Today, "some cases of chronic fatigue, fibromyalgia, mast cell activation disorder, histamine intolerance, irritable bowel, and leaky gut, multiple sclerosis and post-treatment Lyme syndrome, which do not respond to treatment, are due to a chronic inflammatory response caused by toxic mold."
I used to avoid all chemical preservatives UNTIL I received a bottle of lotion that was full of mold. This brand, in particular, was completely "natural" and didn't use any preservatives in their formulation. Well, once that happened to me, I started looking through my cabinet at older bottles of personal care products that had been sitting there and, sure enough, more mold.
So to make this easy on you, here are our acceptable and non-acceptable preservatives:
Bad Preservatives in Lotion:
methyparaben
ethylparaben
propylparaben
butylparaben
isobutylparaben
isopropylparaben
benzylparaben
Methylisothiazolinone
Methylchloroisothiazolinone
Quaternium-15
DMDM hydantoin
Imidazolidinyl urea
Diazolidinyl urea
Sodium hydroxymethylglycinate
2-bromo-2-nitropropane-1,3 diol
Better Preservatives in Lotion:
Sodium benzoate (Safe, provided it's not mixed with ascorbic acid or vitamin C. This ingredient is partially restricted by the Made Safe and EWG certifications in certain situations but not banned so some certified products have it.)
Potassium sorbate
Dehydroacetic acid
Glyceryl Caprilate
Phenoxyethanol (This ingredient is partially restricted by the Made Safe and EWG certifications in certain situations but not banned so some certified products have it. We allow it at less than 1 percent of the formulation; however, not within infant products. )
Vitamin C or ascorbic acid
We think it's fine if you want to avoid all preservatives. But what we would recommend you do is ask the manufacturer when those products were created and use them up within 6-12 months. You can also date the bottle at the bottom with the date you opened them up and discard when they get too old.
How To Avoid Preservatives All Together
There's a way you can avoid mold and preservatives and it's very simple. Switch to body oils instead. The reason most lotions contain preservatives is because they also contain water or aloe. When water or aloe is added, bacteria starts to accumulate. Simply opting for body oil instead of lotion is one way you can avoid preservatives, provided it's clean and non-toxic body oil.
Another way you can skip the use of preservatives is to make your own formulation of lotion. If you are used to purchasing lotion and really want something ultra-clean, the safest way to do that is by making your own non-toxic body lotion. Lucky for you, Mamavation has 10 natural homemade lotion recipes for DIYers to explore.
Small Biz Recommendation & Featured Lotion– 100% Pure French Lavender Body Butter
We've pulled 100% Pure out of this list to feature for you so you could take another look at this small business. 100% prides themselves on pure ingredients. This company is very unique because of the pigments they use in their coloring of other products. Whenever you see color in products in this brand, they always come from fruit, vegetables, tea, and cocoa instead of FD&C colorants and heavy metal dyes. This is one of their best body butters. (that's not colored)
Simple ingredients go a long way. This is all you'll see inside this bottle of body butter–creamy cocoa, shea, and avocado butters, with added hydration from organic aloe and rose hydrosol and other botanicals and natural ingredients scented with lavender flowers, leaves, and stems.
This product retails for $29 and can be purchased directly from this small business here and get free shipping on orders over $50.
(This link is for those of you wanting to give your money directly to a small business instead of Amazon.)
Mamavation's Investigation of Non-Toxic Body Lotions
We looked at over 200 different lotions to determine the safest types, but we are not able to tell you which are the most effective: everyone has different skin types and responds differently to different types of lotions and other personal care products. Our methods including analyzing the ingredients for safety, looking at their certifications, and the ways in which their ingredients are sourced.
Bad Lotion Brands
These brands have no organic ingredients, no certifications, and contain a number of toxic ingredients. There may be a couple of products containing organic ingredients but also containing problematic ingredients at the same time.
Aquaphor Healing Ointment

Aveeno Daily Moisturizing Lotion For Dry Skin 

Aveeno Positively Nourishing Comforting Whipped Souffle 

Baby Bum Everyday Lotion, Ultra Gentle 

Beekman 1802 HONEYED GRAPEFRUIT GOAT MILK LOTION

Beekman 1802 Meadow Lark Whipped Goat Milk Body Cream (Other scents available)

Beekman 1802 Pure Goat Milk Lotion

CeraVae Daily Moisturizing Lotion
CeraVae Moisturizing Cream
CeraVae Therapeutic Hand Cream
Consult Beaute Champagne Beaute Lift Firming Body Creme

Dove Cream Oil Intensive Body Lotion

Dr.Eckstein Beautipharm® Rich & Silky Body Butter

Eucarin Eczema Relief Body Cream

Eucarin Original Healing Lotion 

Gold Bond Medicated Body Lotion Extra Strength

Gold Bond Overnight Deep Moisturizing 

Gold Bond Ultimate Radiance Renewal for Visibly Dry Skin Lotion 

Hempz Herbal Body Moisturizer Original  

Hempz Triple Moisture Herbal Whipped Body Creme

JERGENS® Daily Moisture Dry Skin Moisturizer

JERGENS® Deep Restoring Argan Moisturizer

Josie Maran WHIPPED ARGAN OIL BODY BUTTER
Josie Maran WHIPPED ARGAN OIL ILLUMINIZING BODY BUTTER
Kiehls Deluxe Hand & Body Lotion with Aloe Vera & Oatmeal – other scents available
Kiehls Intensive Treatment and Moisturizer for Dry or Callused Areas
Kiss My Face Body Lotion Olive & Aloe® Fragrance Free
Lancome NUTRIX ROYAL BODY
Lancome TRÉSOR Body Lotion
Lubriderm Daily Moisture
Lubriderm Advanced Therapy
Melaleuca Renew Intensive Skin Therapy Lotion
Meyer's Clean Day OAT BLOSSOM BODY LOTION – other scents available
Nature's Gate Herbal Lotion
Neutrogena Body Oil
Neutrogena® Hydro Boost Body Gel Cream – Fragrance Free
O'Keefes Skin Repair Body Lotion
O'Keefes Working Hands Working Hands
Oil of Olay QUENCH BODY LOTION ULTRA MOISTURE SHEA BUTTER
Origins Ginger GINGER SOUFFLE™ Whipped Body Cream
 Perlier Agrumarium Body Cream

Seacrest Body Lotion

Skinn Hydro-Vital™ Deep Replenishing Body Butter
Vanicream Moisturizing Skin Cream for Sensitive Skin
Vaseline Intensive Care™ Essential Healing Lotion

Better Lotion Brands
These brands may contain some ingredients that are problematic or they don't disclose fragrances in their formulation.
Alba Botanicals Hawaiian Cream Deep Moisturizer 

Alba Botanicals Hawaiian Hand & Body Lotion 

Alba Botanicals Very Emollient™ Body Lotion 

Aveeno Eczema Therapy 

Baby Bum Natural Monoi Coconut Balm

Burt's Bees Orange Blossom Hand Cream

Burt's Bees Soothingly Sensitive Aloe & Buttermilk 

Burt's Bees Ultimate Care Body Lotion 

Avalon Organics Wrinkle Therapy Body Lotion

JR Watkins Coconut, Milk and Honey Hand Cream
JR Watkins Daily Aloe and Green Tea Moisturizing Lotion (many scents available)
Desert Essence Island Mango Hand and Body Lotion
Honey Skin Rose Organic Face and Body Moisturizing Skin Cream
Jason Age Renewal Vitamin E Moisturizing Creme
Jason Hand & Body Lotion Soothing Aloe Vera
Pacifica Body Butter Persian Rose

The Honest Company FACE + BODY LOTION Purely Sensitive, Fragrance-Free 

Shea Moisture RAW SHEA BUTTER HYDRATING BODY LOTION
Truly Beauty UNICORN FRUIT WHIPPED BODY BUTTER

Best Non-Toxic Body Lotion Brands:
These non-toxic body lotions avoid all problematic chemicals we called out in the post. Some are certified Made Safe, EWG Verified, and/or USDA Organic. All brands here are transparent about fragrance ingredients.
100% Pure French Lavender Hand Buttercream (direct link to small biz)
100% Pure Mangosteen Whipped Body Butter  (direct link to small biz) 

100% Pure Vanilla Bean Nourishing Body Cream

 

(direct link to small biz) 

100% Pure Blood Orange Whipped Body Butter (direct link to small biz)
AnnMarie Skin Care Palo Santo Body Butter – Made Safe Certified (links directly to small biz)
AnnMarie Skin Care Radiant Skin Silk Body Lotion – Made Safe Certified (links directly to small biz)
Anumati Naturals Moisturizing Body Milk – Made Safe Certified
Anumati Naturals Vanilla Body Mousse – Made Safe Certified
AROMATICA Lively Body Milk, Minty – EWG Verified
AROMATICA Lively Body Milk, Sweet Lavender – EWG Verified
ATTITUDE Sensitive Skin Body Lotion, Avocado – EWG Verified
ATTITUDE Blooming Belly Natural Nourishing Cream – EWG Verified
ATTITUDE Little Leaves Body Lotion, Vanilla & Pear – EWG Verified
ATTITUDE Natural Protective Ointment – EWG Verified
ATTITUDE Natural Soothing Body cream – Daily Moisturizer – EWG Verified
ATTITUDE Sensitive Skin Body Lotion, Argan – EWG Verified
ATTITUDE Sensitive Skin Body Lotion, Chamomile – EWG Verified
ATTITUDE Sensitive Skin Body Lotion, Fragrance-Free – EWG Verified
ATTITUDE Super Leaves Natural Body Cream – Energizing – EWG Verified
ATTITUDE Super Leaves Natural Body Cream – Energizing – Men – EWG Verified
ATTITUDE Super Leaves Natural Body Cream – Nourishing – EWG Verified
ATTITUDE Super Leaves Natural Body Cream – Regenerating – EWG Verified
ATTITUDE Super Leaves Natural Body Cream – Soothing – EWG Verified

Avalon Organics – Unscented 

Beauty Counter Body Butter in Citrus Mimosa-  uses The Never List, EWG Verified

BeautyCounter Countermatch Adaptive Body Lotion – EWG verified

BeautyCounter Melting Body Balm 

Be Green Bath & Body Herbal Miracle Balm – EWG Verified

Be Green Bath & Body Shea Butter Tin – EWG Verified

BLE DE FONTY CPEs Deep Moisturizing Lotion – EWG Verified

Blooming Belly Natural Cream For Tired Legs – EWG Verified

Carina Organics Botanical Therapeutic – Tree Essence Moisturizing Skin Cream

Carina Organics Unscented Daily Moisturizing Lotion 

C'EST MOI Vanilla Vibes Nourishing Body Butter – EWG Verified
Clary Collection All-Purpose Balm – Made Safe Certified
CODEX BEAUTY Skin Superfood – EWG Verified
CONSCIOUS SKINCARE Pure Hand & Body Lotion Fragrance-Free – EWG Verified
DOLPHIN ORGANICS Lotion Fragrance-Free – EWG Verified

dōTERRA Spa Hand & Body Lotion

Desert Essence Hand & Body Lotion (Has a number of scents) – Certified to NSF/ANSI 305 by QAI
Dr. Bronner's Lavender Coconut Organic Hand & Body Lotion – USDA Organic, Fair Trade Certified, NonGMO Project Verified
EO Essentials Body Oil French Lavender – USDA Organic

EO Essentials Rose & Chamomile Body Lotion –

USDA Organic

EVERYONE Lotion 3 in 1, Apricot + Vanilla – EWG Verified
EVERYONE Lotion 3 in 1, Cedar + Citrus – EWG Verified
FINALLY FOR .. Hand & Body Lotion for Pregnancy – EWG Verified
FINALLY FOR … Men's Herbal Hand & Body Lotion – EWG Verified
GAONDODAM Pure All-in-one Moisturizer – EWG Verified
INNA ORGANIC Pure Moisturizing Body Lotion – EWG Verified
JUST THE GOODS nut-free vegan body butter, unscented – EWG Verified
JUST THE GOODS Vegan Body Butter, Lavender, Bergamot + Ylang Ylang – EWG Verified
JUST THE GOODS vegan body butter, pink grapefruit & black pepper – EWG Verified
JUST THE GOODS vegan body butter, playful – EWG Verified
JUST THE GOODS vegan hand + body lotion, unscented – EWG Verified
Kate McLeod – Made Safe Certified
Kate McLeod Atelier Stone – Made Safe Certified
Kate McLeod Daily Stone – Made Safe Certified
Kate McLeod Mama Stone – Made Safe Certified
Kate McLeod Naked Stone – Made Safe Certified
Kate McLeod Sleep Stone – Made Safe Certified
Kosmatolgy Spruce'd (Pine Cedarwood Cinnamon) Lotion Bar – Made Safe Certified
Kosmatology Botanical Bliss (Lavender Eucalyptus) Lotion Bar – Made Safe Certified
Kosmatology Free & Clear (Unscented) Lotion Bar – Made Safe Certified
Kosmatology Goody-Goody Grapefruit (Grapefruit) Lotion Bar– Made Safe Certified
Kosmatology Herbal Fresh (Spearmint Rosemary) Lotion Bar – Made Safe Certified
Kosmatology Mint Your Feet (Peppermint Eucalyptus) Foot Balm – Made Safe Certified
LOLI Beauty- Made Safe Certified
LOLI Beauty Aloe Blueberry Jelly- Made Safe Certified
LOLI Beauty Carrot Brûlée- Made Safe Certified
LOLI Beauty Date Coconut Oil- Made Safe Certified
LOLI Beauty Grapeseed- Made Safe Certified
LOLI Beauty Nut Brûlée- Made Safe Certified
LOLI Beauty Rosehip Seed Oil – Made Safe Certified
LOLI Beauty Sea Buckthorn Seed Oil- Made Safe Certified
LOWEN'S NATURAL SKIN CARE Butter Ball – EWG Verified
LOWEN'S NATURAL SKIN CARE Rub it in Why Don't Ya! Hand and Body Lotion – EWG Verified
MADE OF Body Lotion – EWG Verified
MAKES 3 ORGANICS Organic Lavender Miracle Balm – EWG Verified
MAKES 3 ORGANICS Peppermint and Tea Tree Deep Tissue Balm — EWG Verified
Mamadirt Moisturizer -Made Safe Certified
Mamaearth Moisturizing Daily Lotion – Made Safe Certified
Nourish Organic Moisturizing Shea Butter – Organic. One ingredient.
OLIVARRIER Emollient Extra Comfort Cream – EWG Verified
ORIGINAL GOOD GOODS Vanilla Sweet Mint Body Cream – EWG Verified
Paul Penders Avocado & Cranberry Night Time Moisturizer – EWG Verified
Paul Penders Juniper & Yarrow 24 HOURS Moisturizer – EWG Verified
Paul Penders Lavender Body Lotion – EWG Verified
PIPETTE Belly Butter – EWG Verified

Poofy Organics Shea Butter 

Pure Haven Hand and Body Lotion (unscented)
Pure Haven Hand and Body Lotion (Aloe, lime & lemon)
QET BOTANICALS Lavish Serum Salve – EWG Verified
QET BOTANICALS Ultra Garden Serum for Body – EWG Verified

Root Pretty Magicalm Bright Tropical Deep Conditioning Body Cream 

Root Pretty XO Exotic Floral Silkening Lotion 

S.W. Basics Cream – EWG Verified
Sally B's Skin Yummies B Soothed – EWG Verified
Sally B's Skin Yummies EcoBody, Lavender – EWG Verified
SALLY B'S SKIN YUMMIES EcoBody, Unscented – EWG Verified
Sally B's Skin Yummies Luxe Body Butter, Citrus Vanilla – EWG Verified
Sally B's Skin Yummies Luxe Body Butter, Lavender – EWG Verified
SALLY B'S SKIN YUMMIES Luxe Body Butter, Sweet Lemon Ginger – EWG Verified
SALLY B'S SKIN YUMMIES Luxe Body Butter, Unscented – EWG Verified
SEA KIND Hydrate Body Lotion Lavender – EWG Verified
SEA KIND Hydrate Sea Plant Lotion, Ocean Breeze – EWG Verified
SEA KIND Hydrate Sea Plant Lotion, Sea Mist – EWG Verified
SILK THERAPEUTICS Body Enrich – EWG Verified
SOAP FOR GOODNESS SAKE Shea Butter Creme – EWG Verified
Soapwalla The Balm – Concentrated Repair Balm – Made Safe Certified
THE BIG GREEN Pregnancy Tummy Cream – EWG Verified
TROPIC SKINCARE Tropic Whipped Body Velvet Intensely Rich Buttermelt – EWG Verified
True Botanicals Nourishing Lotion – Made Safe Certified

Tubby Todd Everyday Lotion Fragrance-Free 

URANG Rose Ceramide Cream – EWG Verified
WHAMISA Organic Fruits Body Butter – EWG Verified
WHAMISA Organic Leaf/Root Lotion for Men – EWG Verified
YASOU Hydrating Body Cream, Aroma Free – EWG Verified
YASOU Hydrating Body Cream, Essential Oils – EWG Verified

Young Living's Coconut-Lime Replenishing Body Butter 

Zoca Lotion Thank You Salve