One of the best forms of relaxation is a long, hot, luxurious bath. More recently, bath bombs have become a favorite trend for bath lovers. But which ones are the safest for your health? You've trusted Mamavation to bring you investigations like best & worst organic mattresses, best & worst cookware, and best & worst soaps & body wash, now join us for the best and worst types of non-toxic bath bombs.
We know you don't have the time needed to investigate the bath bomb industry, so Mamavation has done it for you! Scroll down to the very bottom for our product recommendations and if you would like to say thank you, you can donate here. 
Content fact-checked by Rebecca Elizabeth Sherrick Harks, RN, BSN and contains affiliate links.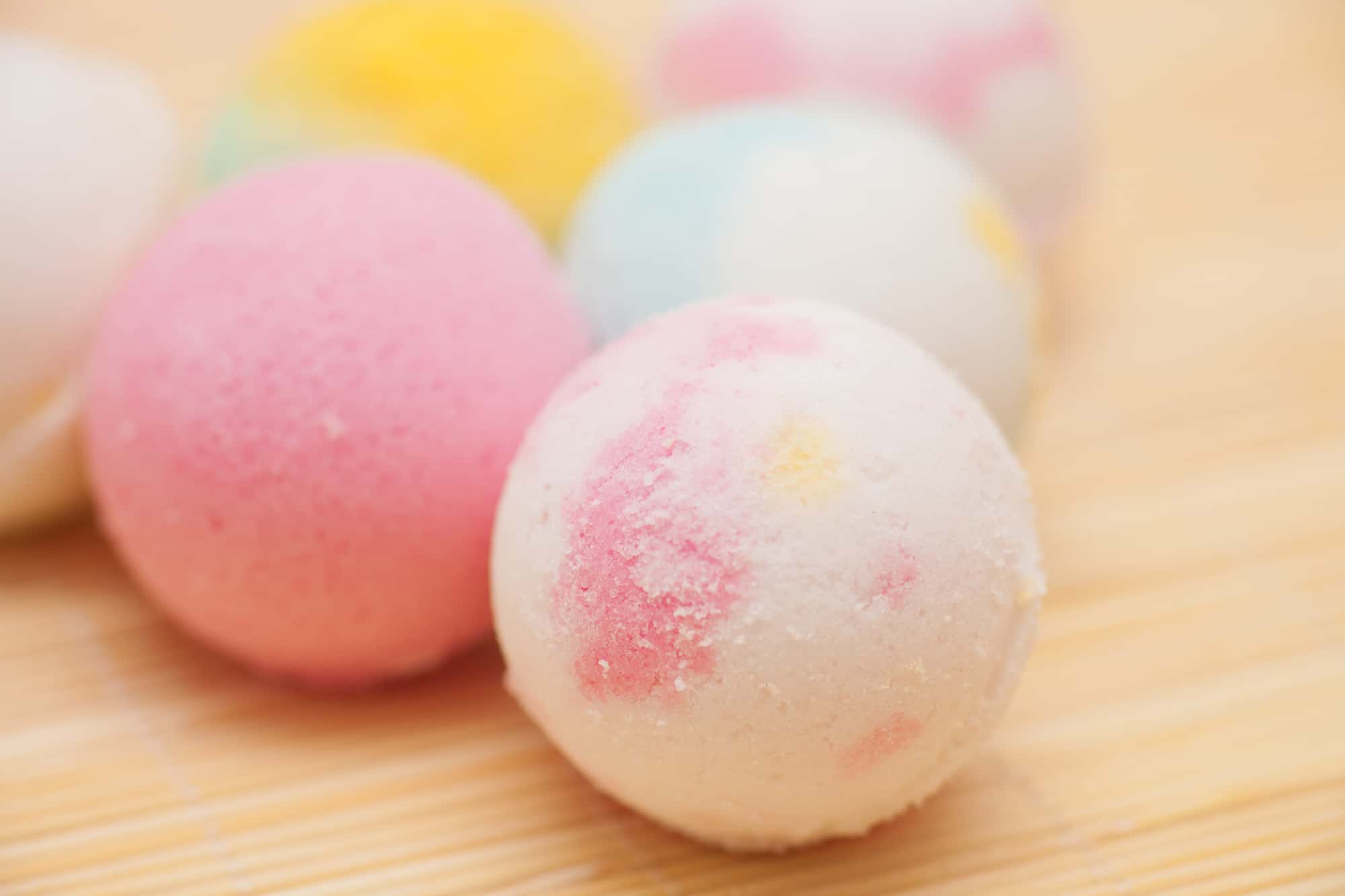 So What Exactly Are Bath Bombs?
Bath bombs become fizzy in your bath and deliver pleasant smells and sometimes other vitamins, minerals, & herbs to calm and soothe your bathtime. Once a niche market, bath bombs have become increasingly popular because the ingredients are designed to help with various different maladies, including stress, insomnia, and detoxifying your body.
Bath Bombs usually contain three main ingredients: citric acid, cornstarch, and baking soda, according to chemistry professor, Frankie Wood-Black of Northern Oklahoma College. Sometimes bath bombs also include colored dyes, perfumes, and epsom salt to make them extra fancy.
Ingredients Inside Bath Bombs
When you purchase a bath bomb, there are many varieties. But they will all come with some basic ingredients to make them fizzy and last during your bathtime. Let's discuss the main ingredients in bath bombs.
Epsom salt (also known as magnesium sulfate) is probably something you've heard of – it's composed of sulfur, magnesium, and oxygen.

Uses: For hundreds of years, it's been used to treat insomnia, fatigue, muscle pain, and fibromyalgia, but it's important to note that these benefits haven't been really researched as treatment.
While some people do drink it (not recommended), most people use epsom salt soaks as a way to manage stiffness, muscle pain, and swelling

Sodium bicarbonate is a combination of citric acid and baking soda. This is what gives the bath bombs that fizzy consistency when the citric acid and baking soda are introduced into the bath water.

Uses: The results of these ingredients hitting the water (through some amazing chemical reactions) is the release of carbon dioxide gas, which forms the bubbles in the water, eventually giving you that delightful fizzy feeling.

Cornstarch is another ingredient it's likely that you'll see listed on the label of your bath bombs and it serves a very important purpose.

Uses: to slow down the chemical reactions so that the fizz (carbon dioxide – a gas) last longer.
What Are Some of The Ingredients You Should Avoid?
We found a major problem when researching bath bombs. There's a ton of bath bombs that are sold online that do not share their exact formula of each bomb – even though there are ingredients in there that differ from bomb to bomb. We've been asking around and emailing companies, but so far, we've not gotten much of a response.
However, the bath bombs themselves often do list the ingredients within the individual bath bomb – trouble is, you'd have to buy it first. (So if you purchase ones that we don't list, tell us what the ingredients are in the comment section please.)
Here's a list of what ingredients to avoid in your bath bombs:
Are There Any Dangers Using Bath Bombs? Yes, For Your Vagina.
Whelp, here's the thing – the beautiful colors and smells of our bath bombs are what the biggest problem in using any type of in-bath products: bath bombs, bath fizzies, bubble bath – even the organic, vegan varieties.
As we know, bath bombs contain perfumes and dyes to achieve that brilliant color and smell combination, however, these products can mess with the pH levels of our vaginas. Just like douching.
Not only can these affect our vaginal pH, but it can also kill off the good bacteria living in your vagina while leaving your vagina prone to yeast infections and urinary tract infections.
And some of the more high-end bath bombs contain glitter, which are very abrasive in an area you don't want to scratch up.
So treat bath bombs like treats. If you're one of those people who are prone to yeast infections and/or UTI's, we suggest avoiding using bath bombs entirely.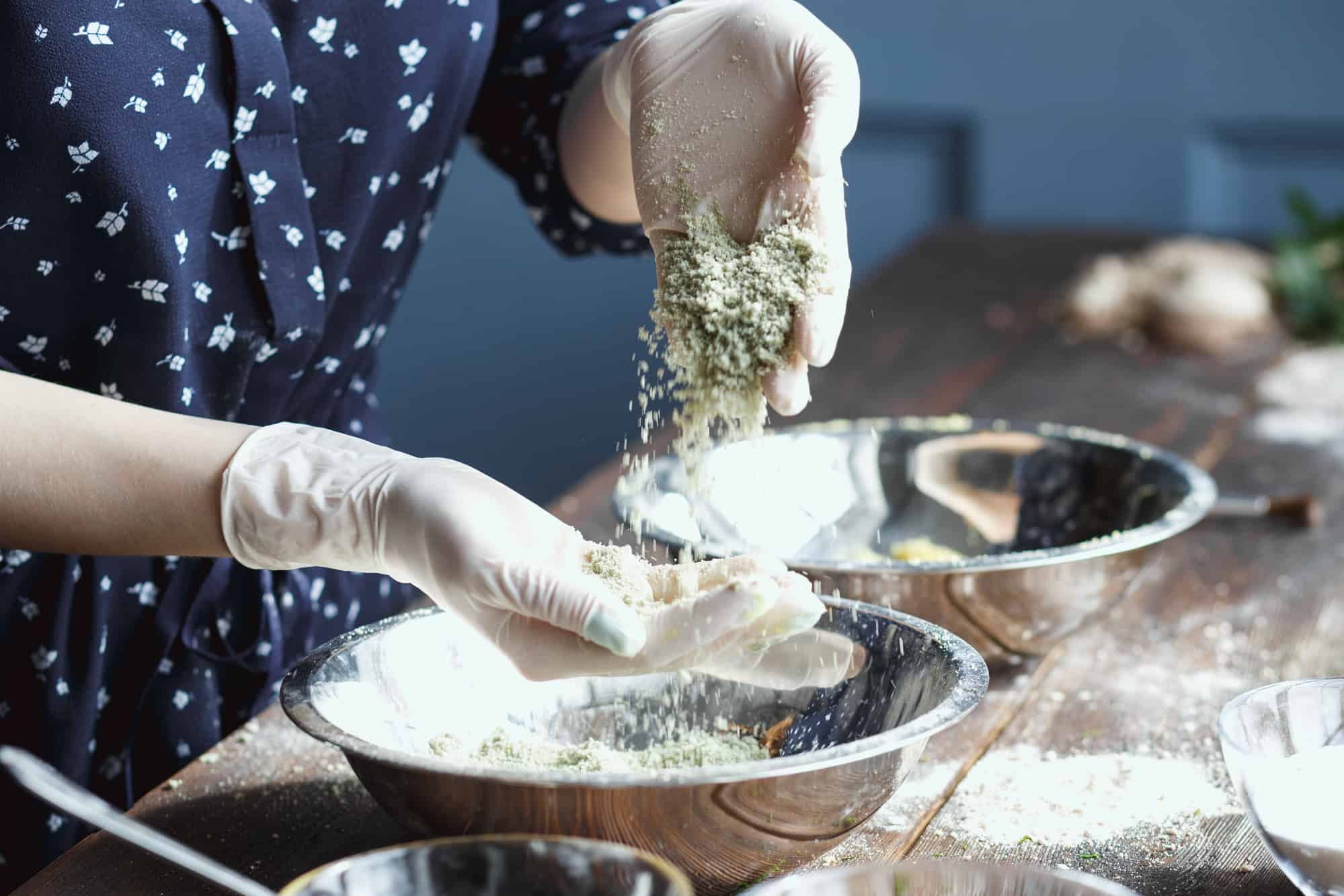 Mamavation's Investigation of Bath Bombs
We looked at over 100+ different bath bomb products. We found them through Amazon, asking the Mamavation community, and via Google searches. Brands that did not share ingredients or withheld fragrance ingredients did not make the top spot.
Not Our Favorite Bath Bombs
These bath bombs either contained ingredients that are harmful OR did not disclose their ingredients Lots of products in this list contained harsh preservatives that we recommend avoiding.
Aofmee Bath Bombs – Heart-shaped – Tickle Me Pink
Aofmee Bath Bombs – Candy Kisses Bomb
Bela Kids Fizzy Bath Bombs, Bubble Gum
Bela Kids Fizzy Bath Bombs, Grape Soda
Bodycology Kids Color Changing Bath Bombs
Brompton & Langley Bath Bombs, Rainbow Delight
Brompton & Langley Bath Bombs, Sweet Treats
Da Bomb Bath Bombs – all same ingredients listed

– huge line of bath bombs

Dr Teal's Moisture + Soothing Ultra Moisturizing Bath Bombs, Lavender
GBG Beauty Energizing Bath Bombs, Pomegranate Scented
Lush Blue Gardenia Salt Cube
Lush Temple of the Sky
Lush Rose Clay Salt Cube
Lush Floating Flower
Me! Bath Candy Cane Bath Bombs
Purelis Natural Bath Bomb Gift Set
Purelis – Rose Bath Bomb

Purelis – Ocean Bath Bumb

Relief Post Workout Bath Bombs, Menthol & Lavender
Sky Organics Bath Bomb
STNTUS – Ylang-Ylang Oil and Dried Lavender
STNTUS – Peppermint and Dried Calendula
STNTUS – Sweet Orange Oil
The Body Shop Mango Bath Bomb
Ulta Detoxifying Epsom Salt Treatment Bath Bomb Citrus Mint
Ulta Moisturizing Shea Butter Treatment Bath Bomb

Better Bath Bombs
These brands are better than the ones before, but we still found some issues. We allowed some additives in this category like polysorbate 80. These brands may also not be disclosing all their fragrance ingredients. They may be using "natural" fragrance, but we don't know what's inside and that may be bad for people with sensitive skin or allergies.  They also could be using artificial colors.

Best Bath Bombs
These were our favorite bath bombs containing only natural ingredients and disclosing their fragrances. These are the brands we recommend you purchase and we've linked up the ones available for purchase on Amazon for your convenience.
Beauty By Earth- 6 pack (Save 10% by using discount code "BEAUTYBYEARTH" on all your purchases from this small biz)
Beauty By Earth – Bedtime
Beauty By Earth – Energizing
Beauty By Earth – Get Well Soon
Beauty By Earth – Joint Relief

– link has all 6 of these

Beauty By Earth – Muscle Relief
Beauty By Earth – Relaxing Detox
Biggs and Featherbelle – Lavender and Vanilla Bath Bomb (2-pack)
Biggs and Featherbelle – Lemon, Coconut Bath Bomb (2 pack)
Dr. Teals Kids Bath Fizzies, Milk and Honey Reef
Hempworx – Lavender
Mega Hemp Bath Bomb – Bombshell
Mega Hemp Bath Bomb – Oatmeal, Milk, Honey
Poofy Organics – Garden of Dreams
Poofy Organics – Jersey Sunshine
Relaxus Bath Bombs, Chocolate
Rowe Casa Organics – Relax
Rowe Casa Organics – Revive
Rowe Casa Organics – Romance
Rowe Casa Organics – Sleep
Rowe Casa Organics – Wellness
Young Living – Lavendar Calming Bath Bomb
Young Living Stress Away Bath Bomb