I don't know anyone who likes doing dishes in the sink, but we all have to do it. Next time you are sudsing up those dishes, have you ever wondered what ingredients would be safest for your family and the Planet? Well, we found out for you! You've trusted Mamavation to bring you topics like best cleaning products, best non-toxic laundry detergents, & best non-toxic soap & body washes, now join us for the safest non-toxic dish soap liquid & bar soap brands for 2021.
For a full list of Mamavation's product investigations go here. (Here's dishwasher detergent if you are looking for it.)
Disclosure: This post was medically reviewed by Sondra Strand, RN, BSN, PHN. It contains affiliate links.
So Where Did Dish Soap Come From?
Somewhere, someone way back in the day we decided that hey – these things (meaning bodies and the like) need cleaning, and some brilliant ancient Babylonian fixed that by inventing soap in 2800 BC.
A bit far from what we use today, we're still using that knowledge to create the soaps and detergents we use to clean ourselves, our laundry, clean our dishes, and our homes.
Soap is, in fact, named after an ancient Roman legend of Mount Sapo and the first soap.
According to the story, rain washed down the mountain while mixing with both animal fat and ashes, resulting in a clay mixture found to make cleaning more simple.
And by the 7th century, soap-making was an established art in France, Spain, and Italy; they were early centers of the manufacturing of soap due, in some part, to their glorious supply of ingredients – like olive oil.
Life went on, people smelled better, and people were less prone to certain diseases.
Unfortunately, we got a lot grosser in the Middle Ages when cleanliness wasn't a big deal, but do not fear, by the 17th century, England had begun to make soap, bathing, and cleaning dishes, bringing it back into fashion.
In the 1950s, the world was introduced to laundry detergent and stain removers, and by the 1970s, we had dish soap!
Of course, as soon as it was available, industry giants bought up the patents and created a monopoly on the market.
Until recently.
The Harms of The Non-Specific Ingredients in Dish Soap
Before we launch into our known toxins (most of you know these by heart, but a few may surprise you.)
So, first this: as many of you are familiar with, there really is no set requirement or standard that forces companies to list every single ingredient in our household cleaning products, and like any old company trying to look their best, many of these companies use catch-all phrases for the worst of the chemicals.
We're all aware of "fragrance" which may make my soap smell like honeysuckle, but it could contain over 100 different chemicals that you'll never know about (unless you have your own lab).
The same goes for artificial flavor, though we at Mamavation really do hope that you don't eat your soap.
The household cleaning industry has, of course, their own types of jargon that they're not required to disclose – and just like fragrance, these names can account for hundreds and hundreds of chemicals that you wouldn't let in your house, even if they paid you.
Types of Ingredients in Your Dish Soap
The ingredient label on the back of your bottle may seem a bit intimidating to read. But we are here to make that all easier for you. When you are scrubbing those pans with your eco-friendly dish soap, you're likely doing this to avoid harsh chemicals while also wanting that product to cut grease and break up residue. Here are some of the main ingredients you'll find in dish soaps and why they are problematic:
Surfactants: Effects may include aquatic toxicity, respiratory effects, general systemic concerns, and organ damage.
PH Adjuster: Effects may include developmental, endocrine, reproductive effects, irritation, allergies, damage, respiratory damages
Buffer/buffering agent: Effects may include developmental, endocrine, reproductive effects, skin irritation, allergies, damage, and respiratory issues.
Foam booster/foaming agents: Effects of these can include cancers, and chronic toxicity to aquatic life.
Water softener/water-softening agent: Effects can include developmental, endocrine, reproductive effects, skin irritation, allergies, damage, and respiratory problems.
Preservatives: Major concerns can include cancer, general systemic organ damage, acute aquatic toxicity, respiratory problems, chronic aquatic toxicity, and skin problems.

The EWG Guide to Healthy Cleaning Drops Clues for Dish Soap
Our friends at the Environmental Working Group took a look at most of the popular cleaning products like dish soaps, cleaning solutions, and laundry detergents several years ago. They concluded the following, which drives home our need for safer cleaning ingredients:
53% of the brands they assessed contained ingredients that are known to harm the lungs.
22% of the brands they assessed contain ingredients linked to asthma symptoms in otherwise healthy individuals
Formaldehyde, a known human carcinogen, is sometimes used as a preservative
1,4-dioxane, a human carcinogen, is a suspected contaminant of widely-used detergent chemicals
Chloroform, a human carcinogen, can escape in fumes released by chlorine bleach.
As you can see, there is a need for safer products in the cleaning product world! If you would like our recommendations for cleaning products, click here.

Watch Out For These Specific Ingredients in Dish Soap
Not all dish soap is created equal in terms of health and the environment. Some formulas are better than others. When you wash dishes, make sure to avoid the following in your dish soap:
Fragrance or Perfume: Fragrance sounds wonderful, but it's actually a "catchall" term used to hide ingredients brands don't want you to know about. Fragrance can hide phthalates, a potent endocrine disruptor, and several other types of chemicals.
PEGs or Polyethylene Glycol: PEGs are used as penetration enhancers. They allow the other chemicals to penetrate more quickly into the skin. PEGs are typically followed by a number. The lower the number, the easier the penetration of other chemicals into the skin. However, the rub is the manufacturing process of PEG's may use ethylene oxide and 1,4 dioxane, which are known human carcinogens that may interfere with human development and can harm the nervous system.
Sodium Lauryl Sulfate & Sodium Laureth Sulfate: This is a surfactant that helps the oils bind with the water in the formulation. Surfactants work to weaken the defense mechanisms of our skin and that can lead to issues. Not only does it irritate the skin, but it can also penetrate the skin and that is what makes it problematic to certain people.
Methylchloroisothiazolinone, Methylisothiazolinone, & Benzisothiazolinone: These preservatives are very commonly found in dish soap in lots of bad and better brands. Rats exposed to these chemicals had neurological damage, but mostly they are very common skin allergens and are poisonous to aquatic life.
DMDM Hydantoin (Quanternium-15): This is a preservative and antimicrobial agent preventing the growth of fungi, yeast, and harmful bacteria that can make people sick or give them rashes. The problem is it slowly releases small amounts of formaldehyde over time. Formaldehyde is cancer-causing.
Polysorbates: This chemical starts out harmless, but then is processed with ethylene oxide. It's usually followed by a number to demonstrate how much ethylene oxide it's processed with. For instance, "polysorbate 20" means it's treated with 20 parts of ethylene oxide, which is a chemical contaminated with 1,4-dioxane, a human carcinogen. Animal studies have also demonstrated developmental and reproductive toxicity.
Dipropylene Glycol: This is a type of alcohol used as a solvent, viscosity-decreasing agent, masking agent, and fragrance ingredient. It helps to dissolve the other ingredients evenly in a formulation without chemically altering other ingredients. Clinical tests have determined that the glycols produce mild to severe ocular (eye) irritation. Other glycols like propylene glycol are problematic, but this one is milder.
Chemicals ending with -eth like Laureth-7: These chemicals may be contaminated with  1,4-dioxane which is a human carcinogen.
Cocamidopropyl Betaine: This is a detergent and surfactant. It is used to reduce static in the formulation and condition the skin & hair while increasing the foaming action of dish soap.  This chemical earned "Allergen of the Year" in 2004 by the American Contact Dermatitis Society. It's also a suspected environmental toxin.
Coal Tar Dye & Petroleum in Pretty Colors: In the case of dish soap, it's just silly that we need colors because they aren't really worth the hassle. The issues will vary with the color but may include cancer, organ toxicity, and aquatic destruction.
Mamavation's Investigation of Dish Soap Liquids & Bar Soaps
Mamavation took a look at over 120 different products and ranked them based on the safety of ingredients used. Brands that did not disclose their ingredients were automatically placed in the "Not Our Favorite" section for lack of transparency.
Not Our Favorite Dish Soap Liquid & Bar Soaps
These brands were problematic in terms of ingredient transparency and/or using ingredients that are linked to cancer, other diseases, or environmental disruption which were mentioned above.
Bon Ami Dishsoap
Ajax Antibacterial Dishwashing Liquid
Ajax Triple Action Dish Liquid Hand Soap
Boulder Clean Natural Liquid Dish Soap
Caldera Dish Soap
Citra Solv Citra Dish Natural Dish Soap
Clorox Sentiva Dish Soap
Dawn Free & Clear of Dyes Lemon Essence
Dawn Original Dishwashing Liquid
Dawn Ultra Dishwashing Liquid
Eco Buzz Dishwashing Soap Block
Everspring Mandarin & Ginger Dish Soap
Fairy Manual Washing Up Liquid
Fairy Pure & Clean Original
Great Value Ultra Original Dish Soap
Great Value Ultra Dish Liquid Soft & Smooth Pomegranate
Kirkland Signature Environmentally Responsible Ultra Liquid Dish Soap
Kirkland Signature Liquid Dishsoap
Modere Clean Dish Soap
Molly's Suds Dish Soap (scented: Lemon Burst or Lavender)
Mrs. Meyers Lemon Verbena Dish Soap
Mrs. Meyers Bluebell Dish Soap
Palmolive Ultra Pure + Clear Unscented
Palmolive Ultra Strength
Shaklee Hand Wash Dish Soap Concentrate
The Unscented Company Dish
Williams Sonoma Dish Soap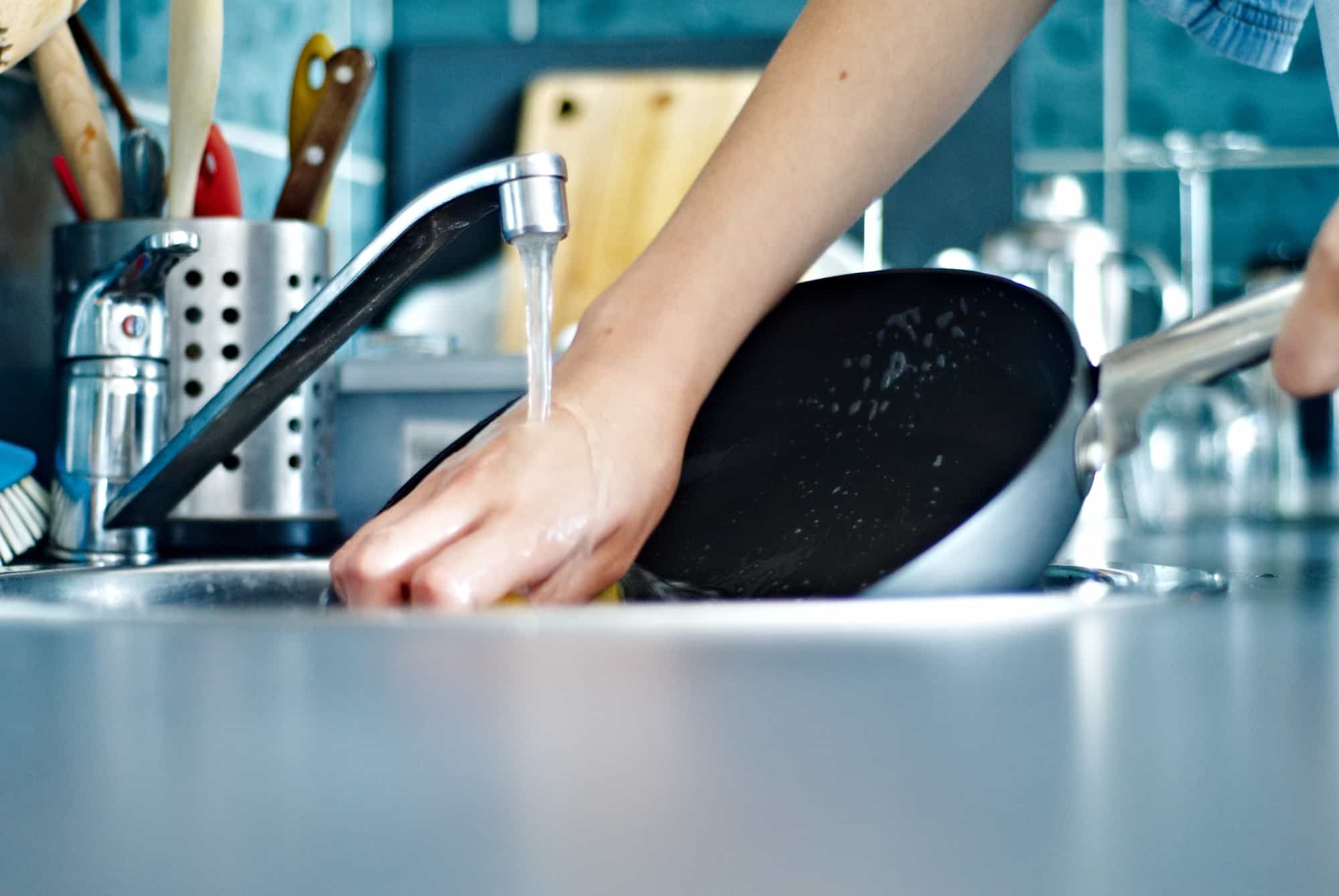 Better Dish Soap Liquid & Bar Soaps
These brands represented products that used better ingredients than the "not our favorite" brands, but still had ingredients of concern like surfactants, harsh preservatives, and/or no fragrance disclosure. These brands had less of the chemicals we mentioned above.
365 by WFM Dish Soap Lemon Peel
Common Good Dish Soap Bergamot
Common Good Dish Soap Lavender
Common Good Dish Soap Unscented
Eco-Max Hypoallergenic Ultra Dish Wash
Eco-Max Natural Tea Trea Ultra Dish Wash
Eco-Max Natural Orange Ultra Dish Wash
Etee Plastic-Free Liquid Dish Soap Pods Citrus
Grove Co Gel Dish Soap Free & Clear
Grove Co Ultimate Dish Soap Lavender & Thyme
Grove Co Hand & Dish Bar Soap Ginger & Lime
Nature Clean Natural Dish Soap Fragrance-Free
Nature Clean Natural Dish Soap Lavender & Tea Tree
Nature Clean Natural Dish Soap Mandarin & Grapefruit
Nellie's One Soap Water Lily
Norwex Dishwashing Liquid
Public Goods Dish Soap Mandarin Basil
Puracy Natural Dish Soap Organic Lemongrass (Use discount code "MAMAVATION20" for 20% off products)
Puracy Natural Dish Soap Green Tea & Lime (Use discount code "MAMAVATION20" for 20% off products)
Sensitive Home Dish Soap Free & Clear
Sensitive Home Dish Soap Lemon Zest
Trader Joe's Liquid Dish Soap Lavender Tea Tree

Best Dish Soap Liquid & Bar Soaps
These products represent the brands that are providing the least toxic option for your family. We recommend you purchase from these brands or at least try a new one today!
Aspen Clean Natural Dish Soap Unscented
Aspen Clean Natural Dish Soap Eucalyptus & Rosemary
Aspen Clean Natural Dish Soap Lavender & Lemongrass
Attitude Dishwashing Liquid Pink Grapefruit
Branch Basics Concentrate (Use discount code "MAMAVATION" for 15% off starter kits!)
Earthley Dish Soap BAR (Use discount code "MAMAVATION" for 10% off products!) 
Eco-Max Natural Baby Dish Wash
MamaSuds Castile Soap
Monterra Natural Dish Soap Lemon Lime
MyGreenFills truly free Dish Soap
Poofy Home Citrus Punch Dish Soap
PUR Home Dish Soap Mint
Pure Haven Home Dish Soap Lemon Peel, 16oz. (also available in 32oz refill)
rE: Dish Soap Bar Original
Truly Free Dish Soap (Use this link to save between 10-40% on dish soap from this small family biz) 
Young Living Thieves Dish Soap