What are the best natural organic & non-toxic dog food brands "free-from" things like growth hormones, fillers, and other problematic chemicals? You love your dog and want him or her to be healthy and happy, right? We can help you find the best food for your pup! You've trusted Mamavation to cover topics like best organic mattresses, best green beauty makeup without PFAS "forever chemicals," and best cookware without PFAS "forever chemicals" and nanoparticles, now join us as we cover the best non-toxic & natural dog foods and the glaring problems in the pet food industry.
Disclosure: This post was medically reviewed by Sondra Strand, RN, BSN, PHN. This post also contains affiliate links. 

Americans Spend Billions Because Our Pets Are Important to Us
Actually, they're not just pets, they're members of the family. 70% of U.S. households own a pet, which equates to 90.5 million homes. So much so that pet owners in the United States spent $50 billion on pet food in 2020 alone according to the American Pet Products Association. And that's just food!
Overall, we spent a massive $103.6 billion on our pets over the course of a year. Surprisingly, very little is known about pet food ingredients and accompanying laws, but there's a wave of awakened pet owners who are eager to become informed on the matter.
Mamavation is about to cover these topics to help you make better & safer consumer choices in terms of dog food. We will focus on product contamination, ingredient quality, and a shocking lack of oversight by the Feds. Then at the end of this investigation, we will share our rankings of all the most popular dog food brands.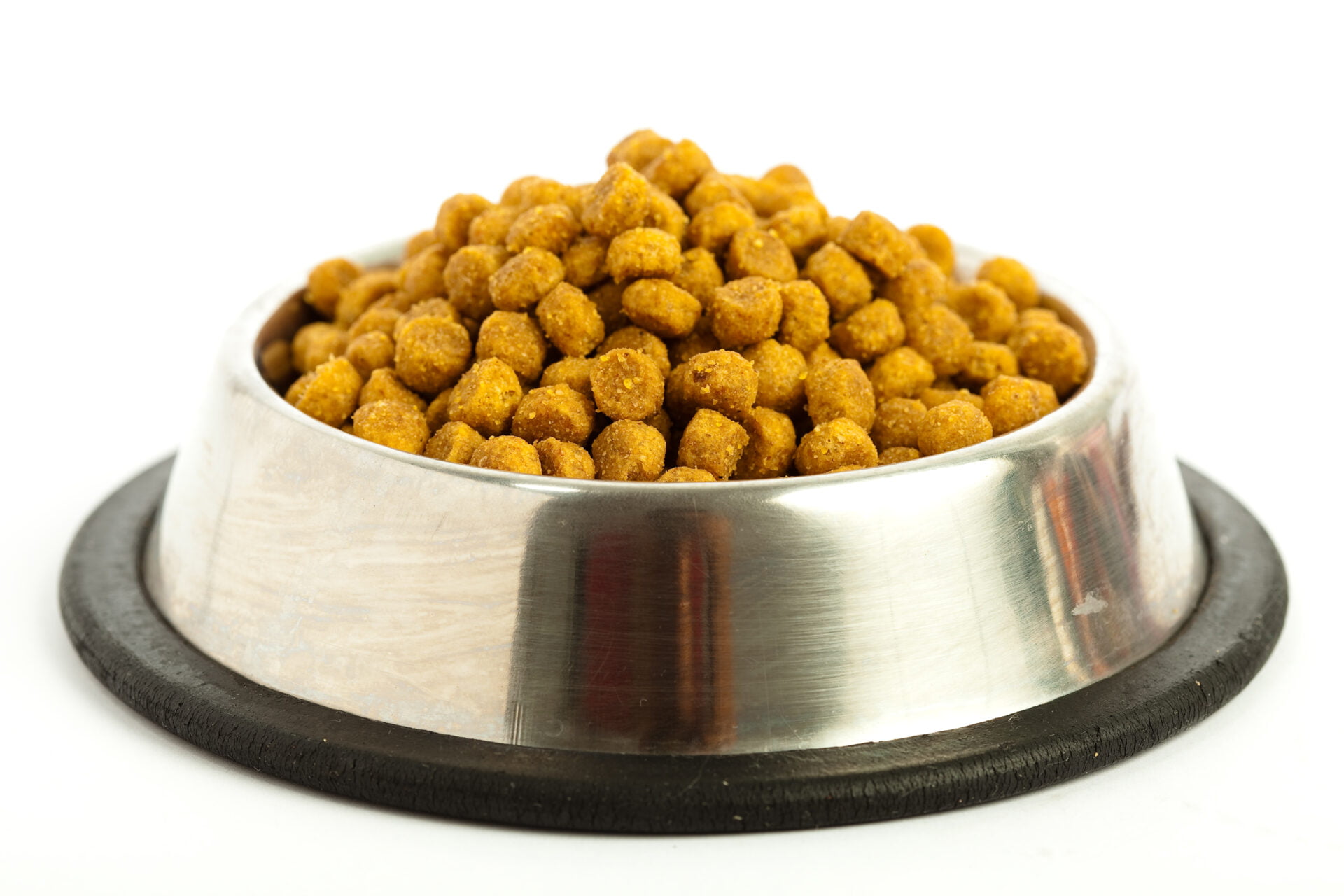 Environmental Working Group (EWG) Finds Toxic PFAS "Forever Chemicals" in Cat Food Packaging
The Environmental Working Group (EWG) released a pet food consumer study where they tested eleven bags of the most popular dog and cat food brands for indications of PFAS "forever chemicals" inside the packaging. They found indications of PFAS "forever chemicals" in the packaging and that is concerning because of its ability to leach into the cat or dog food and expose your pet to PFAS. PFAS is toxic and persistent and linked with numerous health problems like cancer, immune system dysregulation, and weight gain in humans.
The following dog food and cat food products were tested by EWG:
Dog Food Packaging Results
Blue Buffalo Life Protection Formula Puppy Chicken and Brown Rice Recipe — 140 parts per million (ppm) total fluorine
Iams Lamb and Rice Recipe — 12 parts per million (ppm) total fluorine
Kibbles 'n Bits Bacon & Steak Flavor — 590 parts per million (ppm) total fluorine
Pedigree High Protein Beef and Lamb Flavor — 15 parts per million (ppm) total fluorine
Purina Dog Chow — Non-detect total fluorine
Purina Puppy Chow High Protein Complete with Real Chicken — non-detect total fluorine
Cat Food Packaging Results
Blue Buffalo Blue Adult Indoor Health with LifeSource Bits — 71 parts per million (ppm) total fluorine
Iams Proactive Health Healthy Adult with Chicken — 60 parts per million (ppm) total fluorine
Meow Mix Tender Centers Salmon & White Meat Chicken — 630 parts per million (ppm) total fluorine
Purina Cat Chow Complete Chicken — 310 parts per million (ppm) total fluorine
Rachel Ray Nutrish Super Premium Food for Cats Real Salmon & Brown Rice Recipe — 77 parts per million (ppm) total fluorine
Mamavation has ensured these products and brands made it to our "not our favorite" category based on potential exposure to PFAS "forever chemicals" down at the bottom.
Dangerous Contaminants and Adulterated Ingredients in Pet Food
There are many examples of recalled pet food due to ingredient contamination. In a recent case brought by Purina, the United States District Court in St. Louis handed down a verdict on Wilbur-Ellis Feed and Diversified Ingredients ordering them to pay a whopping $7 million for their involvement in selling poultry feathers, heads, bones, feet, and entrails as high-quality poultry meal to Blue Buffalo and other pet food manufacturers.
There's a problem with toxic chemical contamination as well. According to research conducted by Cornell University, glyphosate (the active ingredient in RoundUp) is pervasive in the pet food industry. Scientists tested 18 different commercial cat and dog foods, and ALL of them contained detectable glyphosate. Their findings also connected the presence of glyphosate to the fiber content of the food which suggests a plant-based origin. This is not surprising because we already know that crops are often sprayed heavily from beginning growth to end harvesting, and this is just more proof that this toxic, persistent herbicide remains in the final product.
Surprisingly, the concentration of glyphosate in pet foods could very well result in exposures up to 12x higher than that of humans! Scientists also noted the limited available information about the effects on glyphosate on cats and dogs which means we really have no idea how bad this is affecting them. Unfortunately, the brands that were tested have not been released. Don't worry, we made sure to ensure all our "best" brands use only organic legumes.
In addition, there are other dangerous contaminants like pentobarbital, the drug used to euthanize animals. In fact, the FDA put out a report that says, "There appear to be associations between rendered or hydrolyzed ingredients and the presence of pentobarbital in dog food. The ingredients Meat and Bone Meal, Beef and Bone Meal, Animal Fat, and Animal Digest are rendered or hydrolyzed from animal sources that could include euthanized animals." This led us to an automatic demotion of any brand with products that contained any of these ingredients.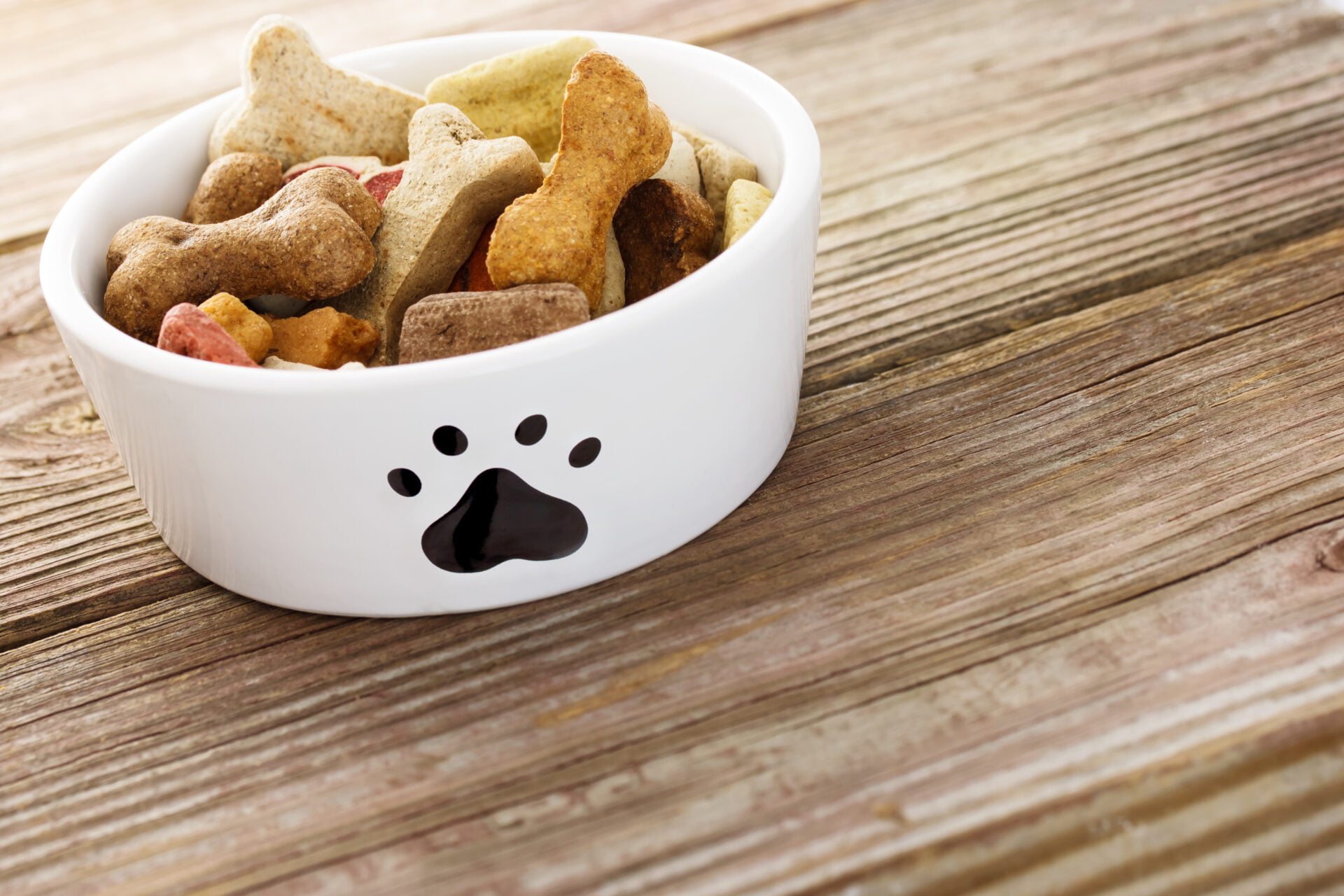 Dog Food Ingredients to Avoid
These are ingredients commonly found in dog foods across the board. Many of them are principal ingredients and originate from unknown sources which makes them inherently dangerous for consumption. The truth is dogs have sensitive stomachs and digestion and depending on what nutrients you feed them or whether they have food allergies or sensitivities, you can make them pretty miserable. Pay close attention to the breed of your dog and what types of health conditions they suffer from to give them the best food.
Here are some basic principles to guide you when you are looking for wet dog food, dry kibble, or whatever else you need for your dog. Please talk to your veterinarian about your dog's diet before making any changes.
All types of meat by-products, by-product meals, meat meals, and meat and bones meals can be sourced from any number of places including diseased animals, non-slaughtered dead animals, euthanized animals, or decomposing animals, which means they may also be contaminated with the euthanasia drug, pentobarbital. By and large, the source of the meat is a mystery and high-quality dog food will never include this.
Poultry and animal fat, animal digest, and porcine/pork plasma have unknown origins and can be sourced from diseased animals, non-slaughtered dead animals, euthanized animals, or decomposing animals, which means they may also be contaminated with the euthanasia drug, pentobarbital, and the porcine epidemic diarrhea (PED) virus. High fat diets can also cause pancreatitis in dogs.
BHA and BHT are toxic preservatives and endocrine disruptors and are reasonably anticipated to be carcinogenic as stated by the NIH National Toxicology Program.
Natural flavors is an umbrella term that legally hides an alarming variety of ingredients (some chemically distilled) through laws designed to protect trade secrets. By definition, it's any product of roasting, heating or enzymolysis, which contains the flavoring constituents derived from a spice, fruit or fruit juice, vegetable or vegetable juice, edible yeast, herb, bark, bud, root, leaf or similar plant material, meat, seafood, poultry, eggs, dairy products, or fermentation products thereof, whose significant function in food is flavoring rather than nutritional. That can include a LOT of different substances.
Carrageenan is irritating to the digestive system and can cause diarrhea
Garlic & Onions can be poisonous & toxic to your pup in larger quantities. Onions & garlic contain disulfides and sulfoxides (thiosulphate), both of which can damage red blood cells and cause anemia in your dog. Signs may include weakness, vomiting, and trouble breathing.
Yeast can cause digestive discomfort to dogs with lots of gas and farting. In severe cases, too much yeast can lead to rupturing the stomach and intestines.
Artificial colors and flavors should be avoided because they're synthetic ingredients that can come from anything that is inedible (even petroleum) and is processed to create chemicals of flavorings and colors.
Too Much Liver or other organ meats can be problematic too. You can give a little bit to your pup, but liver contains quite a bit of vitamin A, which can adversely affect your dog's joints and cause gastrointestinal problems. Unfortunately, this was too common in dog food to avoid, so we suggest you vary flavors when you feed your pup.
Too Much Pea Ingredients and other legumes can have other ingredients that interfere with glucose regulation and lead to intestinal irritation if eaten in large quantities over long period. Because of the "grain-free" dog food movement, this is impossible to avoid, so we again suggest you vary flavors. Also, make sure if you see legume-based ingredients, they are using an organic ingredient because glyphosate is high in legumes.
Lack of Oversight in Pet Food Manufacturing
Can you believe the FDA has actually admitted that they don't actively enforce the law with pet food? The United States law, Title 21, Chapter 9, Subchapter IV, Section 342 states that food (including animal/pet food) is considered adulterated if it is sourced from a non-slaughtered animal.
But in 2016, the FDA openly stated they will continue to "…allow animals that have died other than by slaughter that are further processed; we will allow those ingredients in pet food [because] processed pet food, including pet food consisting of material from diseased animals or animals which have died otherwise than by slaughter, goes through a kill step, such as heat processing, which is designed to kill harmful bacteria." Nasty.
Any pet food containing one of the following ingredients could contain diseased animal material, non-slaughtered dead animal material, euthanized animal material, and/or decomposing animal material, and there's no source requirement: chicken by-products, chicken by-product meal, turkey by-products, turkey by-product meal, meat meal, beef meal, lamb meal, venison meal, meat and bone meal, animal fat and animal digest.
Another problem is regulations do not require pet food to disclose what percentage of the total pet food is present. That information is considered a 'recipe' and would be proprietary. What they do mandate is that pet food ingredients be listed in order of pre-cooking weight, with the heaviest ingredient first.

What do "natural" and "organic" Labeling Terms Mean on Dog Food Labels?
According to the Association of American Feed Control Officials (AAFCO), the definition of "natural" means the following:
"a feed or feed ingredient derived solely from plant, animal or mined sources, either in its unprocessed state or having been subject to physical processing, heat processing, rendering, purification, extraction, hydrolysis, enzymolysis or fermentation, but not having been produced by or subject to a chemically synthetic process and not containing any additives or processing aids that are chemically synthetic except in amounts as might occur in good manufacturing practices."
Typically this really means the product is "free-from" corn, wheat, soy, food processing byproducts, and artificial colors. But because this marketing term is not regulated, it could really mean anything, so make sure to read the ingredients to be sure you understand what you are buying.
Organic to the rescue! In terms of "organic," there are very specific definitions and terms regulated by the USDA. AAFCO explains that to be labeled "organic," animal foods must meet the U.S. Department of Agriculture's production and handling standards for organic foods. This is primarily concerned with human-grade food, but in terms of dog food is the same.
USDA organic products must contain at least 95% organic ingredients to receive the organic seal. These ingredients must be grown without certain pesticides, artificial fertilizers, genetic modification, irradiation, or sewage sludge. Organic animal ingredients, including meat & eggs, must come from animals raised on organic feed, given access to the outdoors, and not treated with antibiotics or hormones.

FDA Has Concerns About "Grain-Free" and "Exotic" Dog Foods
There may be a problem with all this "grain-free" dog food. The FDA is looking into a possible link between DCM (dilated cardiomyopathy) in dogs and the ingredients in certain boutique and grain-free pet foods.
In a 2018 article in the Journal of the American Veterinary Medical Association, they explained the issue is not just grain-free diets, but rather, "BEG" diets (boutique companies, exotic ingredients, or grain-free diets). It's an entire movement of new ingredients.
"The apparent link between BEG diets and DCM may be due to ingredients used to replace grains in grain-free diets, such as lentils or chickpeas, but also may be due to other common ingredients commonly found in BEG diets, such as exotic meats, vegetables, and fruits," Freeman wrote.
Canine DCM is a heart disease in which the chambers of the heart become dilated and later the heart muscle becomes weakened and leading to heart attacks. Typically, this was only a genetic disease that was seen in Boxers, Great Dane, Newfoundlands, Irish Wolfhounds, Saint Bernards, and Doberman Pinschers, but now that isn't the case.
Grain-free diets are full of legumes, which are also known to have higher levels of glyphosate, an herbicide also used for the desiccation of crops. Therefore, do not change your dog's diet without a recommendation from your veterinarian.
Wanna Try DIY Dog Food?
Have you ever considered making your dog's food? You'll need to consider how many vitamins, like vitamin e or vitamin a, niacin, calcium, minerals, fatty acids, omega-3s, & calories they are eating. You'll also need to involve your veterinarian for additional monitoring and advice. However, when you make the dog food yourself, you won't need to worry about fillers or pesticides (if you are using USDA organic food). You'll be able to use some of the best ingredients like barley, brown rice, organic chickpeas, bison, lentils, and free-range chicken.
Maintenance Energy Requirement
The first thing to do is to confirm how many kilocalories your dog requires to be fed on a daily basis. This is referred to as the Daily Energy Requirement or DER. You then take the total calorie requirement and divide it by the number of meals (usually 2 plus snacks) fed to your dog daily. Make sure to include all treats and snacks in the total.
It is always recommended that before making changes to a dog's current diet you discuss this plan with your veterinarian.

Dog's Activity Level
Most pet foods come with feeding guidelines that are located on the packaging. It usually provides a large range of weight from "30 to 50 lbs." Other dog food companies ask about activity levels like "average or highly active" but what is the most important part of the scenario is not really all this, but two things:
How much your dog weighs.
Body Condition Score (scores from 1 severely underfed to 9 severely 0bese): The body condition score is a hands-on assessment of weight and the dog's physique. It's based on a dog's frame as opposed to body mass.
Obviously, a dog having a higher body condition score will not need as much food. Purina has a body condition score chart and scores the dogs in three groups of underweight, overweight, and ideal weight.
1-3 is considered underweight or too thin.
4-5 is considered ideal.
6-9 is considered overweight or too heavy.

Monitoring Dog While DIY Feeding to Ensure They Get Proper Nutrition
It's important to monitor your dog if you decide to DIY feed them. You'll need to stay in close contact with your veterinarian regarding changes you've noticed about your pup, good or bad. Here are some of what you will need to do:
Weigh your dog once per week
Give your dog a body condition score every week
Monitor closely for vomiting or diarrhea, which could mean your dog is sensitive to an ingredient. Contact the office with news about changes.
However, don't sweat it. If you are committed to this change, you'll work it out. But we do not recommend something like this unless you involve your veterinarian.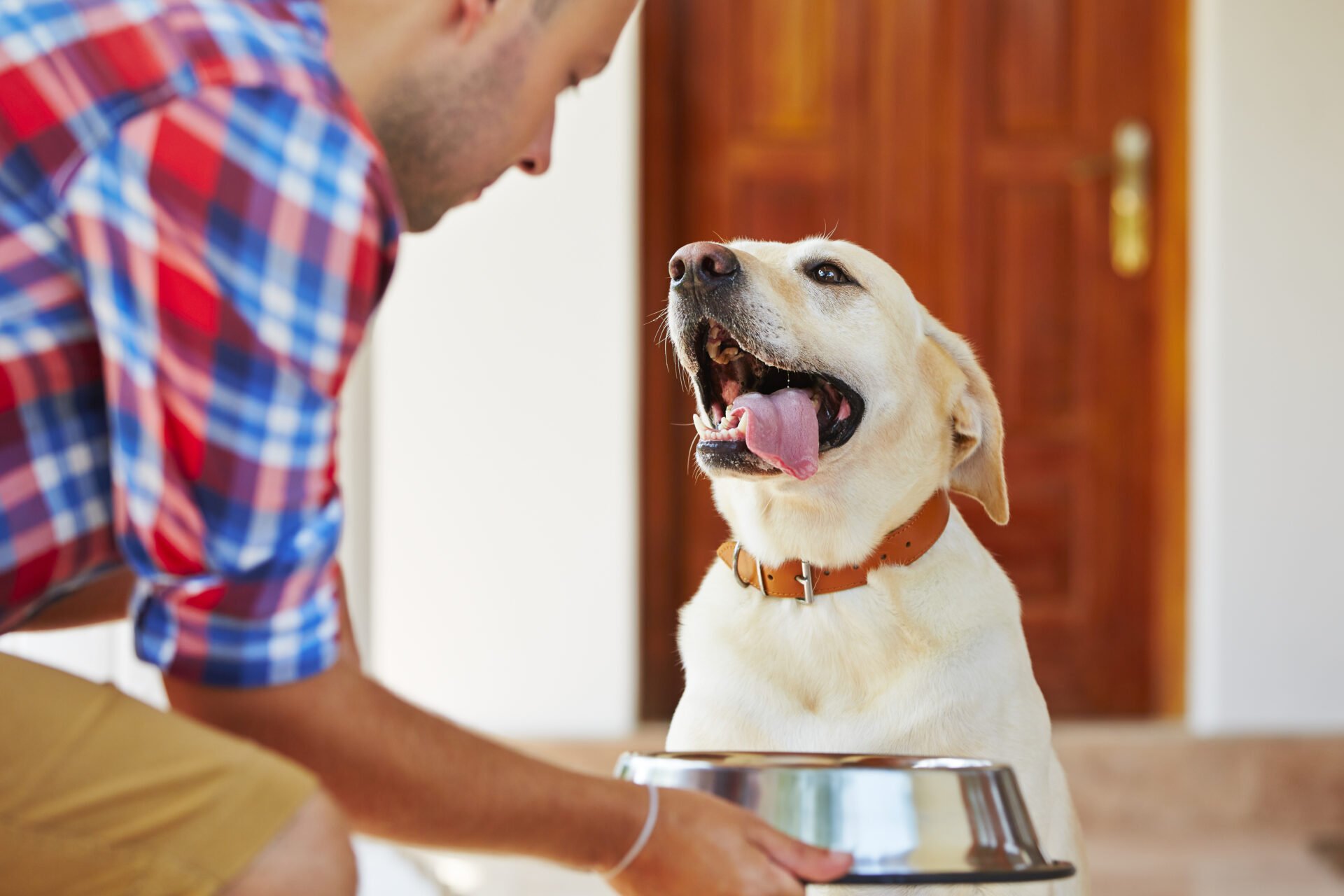 Basic Nutrition for Dogs — Dog Food 101
Just like us, dogs need certain types of nutrients each day to thrive. Human needs are very different than dog needs, so it's important for your dog to get his own food. Feeding an incomplete or imbalanced diet can lead to vitamin and nutrient deficiencies.
Each dog needs enough calories to meet its energy requirements. A dog's daily caloric need depends on the dog's life stage and activity level.1 Your veterinarian can help you determine how many calories your dog needs each day.
10% protein, such as chicken, turkey, fish, lean beef, salmon, bison, venison, or other such meat.
Up to 50% carbohydrates, such as rice, certain types of pasta, potatoes, sweet potatoes, and pumpkin. This also provides some fiber
About 2.5-4.5% fiber, which can come from vegetables like organic peas, green beans, carrots, spinach, squash, or other veggies. It's important to ensure the legumes are organic to avoid high levels of glyphosate.
Vitamins and mineral supplements are important to ensure dogs are getting everything they need. If this is not included, talk to your vet about what is needed to supplement.
If you are ready to get started cooking for your dog, the first step is to talk to your veterinarian. Your vet may have recipes for you to try. We've also collected some books for you here on how to get started.
Supplementation for Dogs
Dog may need additional supplementation when their dog food does not include it. Make sure to talk to your vet about what your specific breed needs. Some common supplements include:
Calcium
Vitamin E
Sardines in water or fish oil capsules daily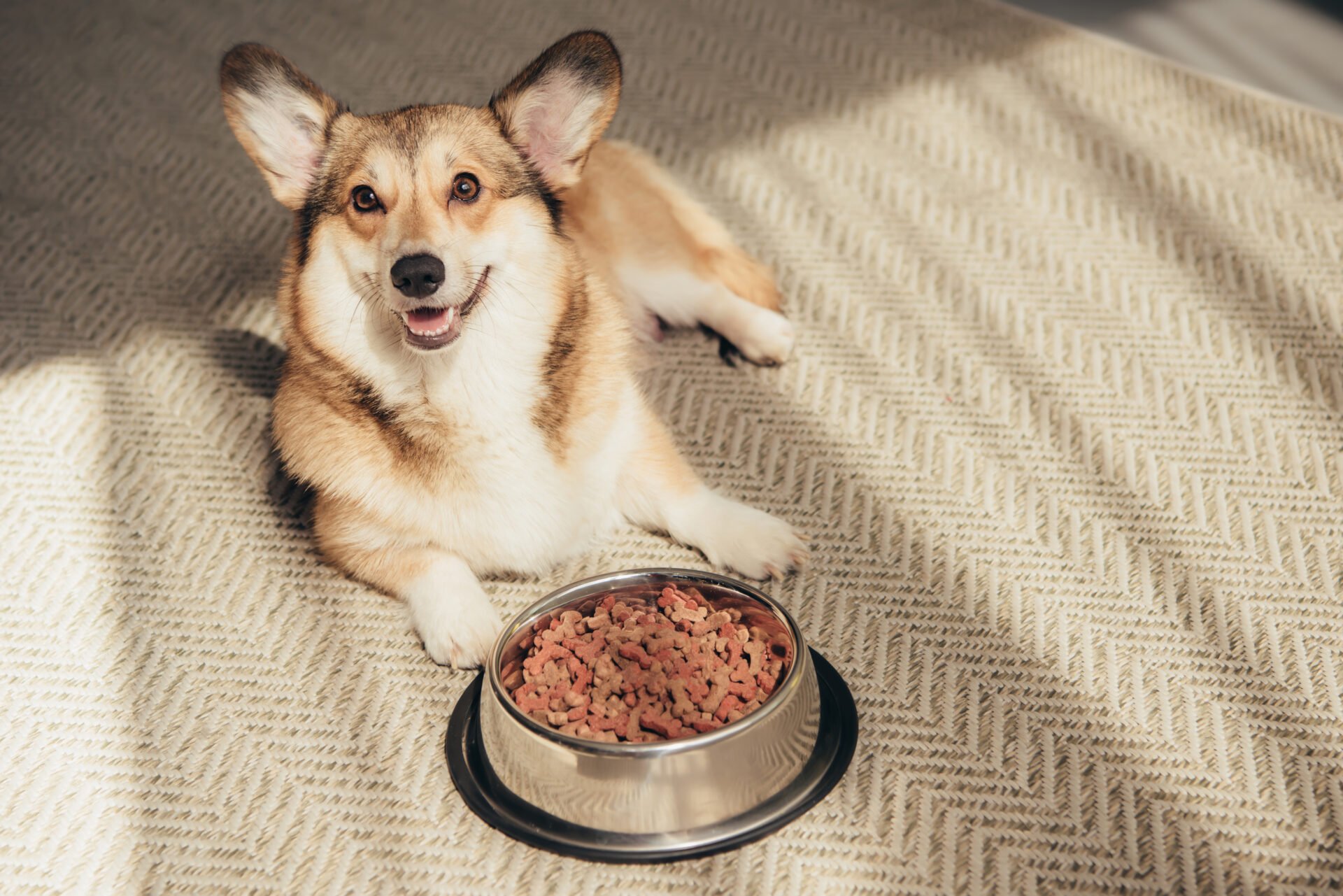 Overweight Dogs–Weight Management Tips
When dogs become overweight, they suffer from some of the following health conditions:
Diabetes – Carrying extra weight leads to insulin resistance, which is when the body doesn't normally respond to insulin.
Arthritis – Being overweight puts unnecessary stress on joints and discs in the spine, which can lead to joint degeneration.
Respiratory Issues – It becomes harder to breathe when our dogs have extra fat around their airways and chest. They have to work harder to breathe.
Obviously, no one wants their dog to suffer. There are simple tips and tricks to helping your dog maintain a more healthy weight.
Increase their activity level.
Measure their food on a kitchen scale.
Try to find additional ways you can treat your pup that don't include treats. Perhaps a long walk?
Instead of packaged treats, try substituting them with some real foods.
Stay clear of salt
Make sure the entire family is on board and isn't sneaking them treats.

Mamavation's Investigation of Dog Food Brands
Now we get to the nitty-gritty. We looked at over 260 different products and each one is assigned to one category: "not our favorite," Better, Best — according to ingredient content. Note that we looked at 1-3 samples of each brand's adult dog food formulas, both wet and dry when possible, however, there are other formulas offered by each company. Please note that some brands found products in several categories so please pay attention to products and ingredients.
Not Our Favorite Dog Foods
The massive list. This is the category for products that contain the worst ingredients. Every one of them has multiple ingredients from unknown and/or potentially contaminated sources including animal fat, animal digest, flavors, by-products and meat meals, toxic preservatives, added sugar, carrageen, and possible GMO ingredients including corn, soy, and canola. We found that many dry dog foods contain mysterious meat meals which automatically knocked them down to the bad category. We also added products that were tested by the Environmental Working Group and found to have indications of PFAS "forever chemicals." Unfortunately, this list includes the most affordable brands that you find in common pet and grocery stores around the country. Also interestingly, a convincing label that has phrases like 'all-natural,' 'ultra-premium,' and 'complete nutrition' had little to do with the quality of ingredients. Please note that some brands have products in each category, so pay attention.
4Health Grain-Free Puppy Digestion Chicken Dry Dog Food
4Health Untamed All Life Stages Grain-Free Buffalo & Lentils Dry Dog Food
4Health Wholesome Grains Lamb & Rice Adult Dry Dog Food
ACANA Limited Ingredient Duck & Pear Recipe Dry Food
ACANA Puppy & Junior Recipe Dry Dog Food
ACANA Red Meat Recipe Dry Dog Food
ACANA Wholesome Grains Small Breed Recipe Dry Food
ACANA Wild Atlantic Recipe Dry Dog Food
American Journey Active Life Puppy Formula (Salmon, Brown Rice, & Vegetables)
American Journey Active Life Wet Dog Food (Turkey & Vegetables)
American Journey Dry Dog Food (Salmon & Sweet Potato)
American Journey Grain-Free Dry Dog Food (Duck & Sweet Potato)
ASPIRE Chicken & Rice Formula
Authority High Performance All Life Stages -Turkey, Pea, Duck, & Salmon, Grain Free
Authority Sensitive Stomach & Skin All Ages Dry Dog Food – Lamb & Rice
Authority Tender Blends Small Breed Chicken & Rice
Black Gold Grain Free Game Bird with Turkey & Quail
Black Gold Mature 7+ Formula
Black Gold Puppy Formula
Blue Buffalo Life Protection Formula Puppy Chicken and Brown Rice Recipe — 140 parts per million (ppm) organic fluorine found in packaging.
Blue Buffalo Basics Limited Ingredient Grain-Free Adult Dog Food – Lamb & Potato (packaging concerns)
Blue Buffalo BLUE Wilderness Rocky Mountain Recipe Bison  (packaging concerns)
Blue Buffalo BLUE Wilderness Turkey & Chicken Grill Grain-Free Puppy (packaging concerns)
Blue Buffalo Freedom Grain Free Adult Dog Food- Chicken (packaging concerns)
Blue Buffalo Life Protection Adult Dry Dog Food  (packaging concerns)
Canadian Naturals Grain-Free Value Series Chicken Small Breed
Canadian Naturals Lamb & Rice Value Series
Canadian Naturals Sweet Potato & Venison Limited Ingredient Diet Grain-Free
Canadian Naturals Turkey & Salmon Senior
Canidae All Life Stages Chicken Meal & Rice formula
Canidae PURE Grain Free Limited Ingredient, Salmon & Sweet Potato
Cesar Rotisserie Chicken Flavor & Spring Vegetables Dry Food
Diamond Hi-Energy formulated for sporting dogs
Diamond Naturals All Life Stages Dog Chicken & Rice Formula
Dr. Gary's Best Breed Holistic All Breed Dry Dog Food
Earthborn Holistic Great Plains Feast Grain-Free
Eukanuba Adult Small Bites Dry Dog Food
Evangers Super Premium Chicken & Brown Rice Recipe Dry Dog Food
First Mate Cage-Free Duck Meal & Pumpkin Formula
FreshPet Vital Grain-Free Beef & Bison Fresh Dog Food
FreshPet Vital Grain Free Chicken, Beef, Salmon, & Egg Recipe
Fromm Puppy Gold Dog Food
Gentle Giants Adult Dry Dog Food – Chicken
Gentle Giants Dog Food – Salmon
Halo Elevate Grain-Free Chicken Recipe Dry Food
Hi Standard Premium Performance Puppy Food
Hi Standard Pure Grain Free Dog food
Hill's Prescription Diet Digestive Care i/d Low Fat Canine
Hill's Prescription Diet Gastrointestinal Biome Chicken Dry Dog Food
Hill's Prescription Diet Kidney Care k/d with Lamb Wet Dog Food
Hills Science Diet Adult Large Breed Chicken & Barley Recipe Dry Dog Food
Hills Science Diet Sensitive Stomach & Skin Small & Mini Adult Dry Food
Holistic Select Adult Health Lamb Meal Recipe Dry Dog Food
Iams Lambe & Rice Recipe — 12 parts per million (ppm) organic fluorine inside the packaging.
IAMS MiniChunks Chicken & Whole Grains (packaging concerns)
IAMS Proactive Health Pate' with Lamb & Rice Canned (packaging concerns)
Inception Pork Recipe Dry Dog Food
Instinct Raw Boost Whole Grain Real Lamb & Oatmeal Recipe Freeze-Dried Kibble + Raw
KASIKS Free Range Lamb Meal Formula
Kibbles 'n Bits Bacon & Steak Flavor — 590 parts per million (ppm) organic fluorine in packaging, which is indicative of PFAS.
Kibbles 'n Bits Savory Beef & Chicken Flavors (packaging concerns)
Kirkland Nature's Domain Signature Puppy Formula Chicken, Rice, & Vegetable
Life's Abundance Small & Medium Breed Puppy
Merrick Healthy Grains Freeze-Dried Raw-Coated Kibble Real Beef + Brown Rice
Merrick Healthy Grains Real Lamb + Brown Rice with Ancient Grains
Midwestern Pet Food SportMix Dog Food
Natural Balance Limited Ingredient Duck & Brown Rice Dry Dog Formula
Nature's Domain Beef Meal & Sweet Potato Dog Food
Nature's Domain Turkey Meal & Sweet Potato Dry Food
Nature's Logic Canine Turkey Feast
Nature's Logic Distinction Grain-Free Red Recipe
Nature's Logic Original Canine Lamb Meal Feast
Newman's Own Organics Grain-Free Chicken Dinner Canned Dog Food
Now FRESH Shredded Turkey Recipe with Bone Broth Gravy
Nulo Freestyle Grain-Free Kibble Turkey & Sweet Potato Recipe
Nutri Life Grain Free Beef Dog Food
NutriSource Adult Chicken & Rice Recipe
NutriSource Grain Free Lamb Meal & Peas Recipe
NutriSource Pure Vita Limited Ingredient Venison & Red Lentils Entree Grain Free
Nutro Hearty Stew Turkey, Sweet Potato & Green Bean Cuts in Gravy Canned Dog Food
Nutro Limited Ingredient Grain-Free Salmon & Lentils
Nutro So Simple Adult Chicken & Rice Recipe
Open Farm Wild-Caught Salmon & Ancient Grains
PawTree Real Turkey & Sweet Potato Recipe
Pedigree High Protein Beef and Lamb Flavor — 15 parts per million (ppm) organic fluorine in packaging which is indicative of PFAS.
Pedigree Adult Complete Nutritional Grilled Steak & Vegetable Flavor Dry Dog Food (packaging concerns)
Pedigree Chopped Ground Dinner with Chicken Canned Dog Food (packaging concerns)
Pure Balance Wild & Free Grass-Fed Beef & Wild Boar Recipe Grain-Free
Purina ALPO Prime Cuts Savory Beef Flavor Dry Dog Food
Purina Bella Pate
Purina Beyond Superfood Blend Wild-Caught Salmon, Egg, & Pumpkin Recipe Dry Food
Purina Dog Chow Dry Dog Food Complete Adult with Real Chicken
Purina Pro Plan Adult 7+ Complete Essentials Shredded Beef & Rice
Purina Pro Plan Bright Mind Large Breed Formula Chicken & Rice
Purina Pro Plan Sensitive Skin & Stomach Salmon & Rice
Purina Pro Plan Small Bites Lamb & Rice
Purina Puppy Chow
Rachael Ray Nutrish – Beef & Brown Rice
Rachael Ray Nutrish – Chicken & Brown Rice
Rachael Ray Nutrish Zero Grain Dog Food – Salmon & Sweet Potato
Rayne Adult Optimal Choice Dry Canine Bag
Simply Nourish Natural Chicken & Rice Adult Dry Dog Food
Solid Gold Star Chaser Chicken & Brown Rice with Vegetables Adult Dry Dog Food
Solid Gold Sunday Sunrise Grain-Free Lamb, Sweet Potato, & Pea Dry Dog Food
Stella & Chewy's Wild Red Raw Coated Kibble Wholesome Grains Read Meat Recipe
Taste of the Wild Southwest Canyon Grain-Free Dog Food
TLC Whole Life Dog Food
Trisha Yearwood All Natural Chicken & Vegetables Recipe
Wellness Complete Health Deboned Chicken & Oatmeal
Wellness Complete Health Grain Free Lamb & Lamb Meal
Wellness Complete Health Pate' Just for Puppy
Wellness CORE Digestive Health Puppy Chicken & Brown Rice
Wellness CORE Pate' Beef, Venison, & Lamb
Wellness CORE RawRev Grain-Free Wild Game + 100% Raw Lamb
Wellness CORE RawRev Wholesome Grains Puppy Food Formula + 100% Raw Turkey
Whole Foods Market Whole Paws Grain-Free Salmon & Pea Recipe
Whole Foods Market Whole Paws Lamb Dinner Dog Food
WholeHearted Grain Free All Life Stages Lamb & Lentil Recipe
WholeHearted with Whole Grains Pate' Beef & Brown Rice Recipe
Wysong Optimal Adult Dry Dog Food
Zignature Duck Formula Limited Ingredient Grain-Free Dog Food

Better Dog Food
The Better category contains products that have very few questionable ingredients. These foods aren't perfect, but they're far better for dogs than those listed in the "not our favorite" category and are nutritionally acceptable. Here's where we start seeing a sharp uptick in wet vs dry dog food. It's clear that wet foods have better quality ingredients, fewer additives and would seem to be overall healthier with the added water content. Please note that some brands had products in each category so please pay attention.
4Health Special Care Adult Sensitive Skin Grain-Free Salmon Dry Food
4Health Special Care Special Care Adult Sensitive Stomach Grain-Free Chicken Wet Dog Food
American Journey Grain-Free Wet Dog Food (Lamb & Sweet Potato)
B.A.R.F. Freeze-Dried Raw Beef Nuggets
B.A.R.F. Frozen Chicken Nuggets
B.A.R.F. Frozen Land & Sea Raw Meat Chubs
B.A.R.F. Frozen Raw Lamb Diet – Patties
Chippin Wild-Caught Silver Carp Dog Food
Darwin's Intelligent Design Joint & Muscoskeletal Formula
Farmina N&D Prime Lamb & Blueberry Canned Dog Food
First Mate Cage-Free Chicken & Rice Formula Pate
Gather Free Acres Organic Chicken Dry Dog Food
KASIKS Wild Caught Coho Salmon Formula Wet Food
Natural Balance Limited Ingredient Freeze-Dried Raw Chicken & Sweet Potato Recipe
Nature's Logic Lightly Cooked Frozen Beef Recipe
Nature's Logic Raw Frozen Chicken Feast
Nom Nom Chicken Cuisine
Northwest Naturals Chubs Beef & Trout
Northwest Naturals Dinner Bars Bison & Beef
Northwest Naturals Freeze-Dried Raw Diet
Northwest Naturals Nuggets Lamb
NutriSource Grain Free Lamb & Lamb Liver Protein
Rayne Kangaroo-Maint in Broth Wet Food
Rayne Kangaroo Meatballs
Sundays Everyday Food for Dogs Beef Recipe
Tucker's Raw Frozen Pork-Bison-Pumpkin
Best Dog Food
As usual, our Best category is the shortest list. These dog foods make the cut because they have more quality, whole food ingredients, no additives, and are meat-based. Some of them also contain organic meat and vegetables, but you'll not find meals or by-products. All legumes here are organic in order to avoid high levels of glyphosate contamination. You'll notice that there are no conventional dry foods in this section. We also wanted to warn you that most of these brands do not include additional vitamins & minerals. Some of them do, but not all of them. Please contact your Veterinarian to see if supplementation of additional vitamins and minerals are needed.
Answers Raw Beef Detailed Formula for Dogs
Answers Raw Duck Straight Formula for Dogs
Big Country Raw Pure Lamb
Big Country Raw Turkey Dinner
Big Country Raw Turkey Salmon Lamb Blend
Carna4 Quick Baked Air Dried Chicken Nuggets
Darwin's BioLogics Beef
Darwin's Intelligent Design Cancer Support Formula
Darwin's Intelligent Design Kidney Support Formula
Darwin's Natural Selections Lamb (Antibiotic & Grain-Free)
Dr. Marty Nature's Blend
Dr. Mercola Healthy Pet Essentials Dehydrated Raw Grass-Fed Beef Entree
Instinct Raw Cage-Free Chicken Recipe Patties
Instinct Raw Real Beef Recipe Bites
KOHA Limited Ingredient Diet Lamb Entree (Grain & Potato Free)
KOHA Pure Shreds Shredded Chicken Breast & Duck Entree
KOHA Raw Life Freeze-Dried Raw Bites Pork Entree
Ollie Dog Food
Nulo Freestyle Medalseries Chicken, Duck, & Kale in Broth
OC Raw Dog Lamb & Produce
Oma's Pride Lamb & Veggie Signature Canine Mix
Oma's Pride Woof Complete Canine Chicken Meal
The Farmers Dog Food
Steve's Real Food Lamu Recipe Raw Freeze-Dried