Last week on Mamavation TV we were joined by the one and only Dr. Jason Karp who educated us on best practices when exercising outdoors in the winter. If you missed the show, you will definitely want to check out the YouTube video – especially since at least one of Leah's one-liners will be a Mamavation inside joke for a while! Even if you're not into outdoor workouts in winter or you don't live in a cold climate, it's definitely a great show to check out. This week we're looking back at food once more to learn about sustainable ancestral foods and how these foods can impact our health.
Special Guest: Diana Rodgers, NTP of SustainableDish.com Follow @SustainableDish
Diana Rodgers is the founder of Radiance Nutritional Therapy – as a nutritional therapist and consultant, she works with people all over the country to restore their health through the integration of ancestral foods and lifestyle changes into their daily lives. As a child, she experienced health issues such as severe nosebleeds and low muscle tone, but the suspected culprit at the time was lactose. Despite drinking soy milk instead of cow's milk, she still had health issues. After college, she began eating healthier and attempting to make better choices, but it still wasn't the right solution. In her mid-twenties, she was diagnosed with Celiac Disease, but it wasn't until she was in her thirties and attempted the 30 Day Paleo Challenge that she really felt "cured" of the ailments that had plagued her from day one. Now she is a successful entrepreneur who runs cooking classes, teaches workshops, and works as a nutritional consultant. She lives on an organic farm in Massachussetts with her husband and two children, and also writes a blog at SustainableDish.com where she posts about exploring optimal foods for nutritional, ethical, political, and environmental implications. She is also the author of Paleo Lunches and Breakfasts on the Go which has some excellent choices for quick and easy gluten-free options.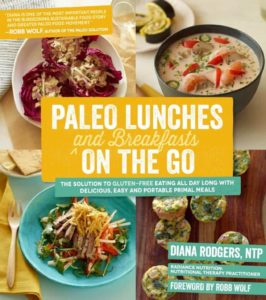 Join us here on this post on Monday, December 9th at 7pm PST/10pm EST for our live #Mamavation TV show. The show will be displayed in the YouTube box at the top of the post, and will also be available on this post via a YouTube video following the broadcast. You can connect with Diana Rodgers on her website, tweet with her on Twitter, learn more on her Facebook Fan Page, and follow her Pinterest boards.
SISTAHOOD:
NEW MEMBERS
We would love to invite you to join the Mamavation Sistahood! Because we're an online sorority, we call it pledging when you sign up to join our community. If you are interested in pledging to the Mamavation Sistahood, please go here for instructions.
WEEKLY TWITTER CHAT
Join us during the LIVE show for our weekly twitter chat! This is where we really get to hang out together as a community, and we'd love to have you join in the fun. Just follow along and tweet using the hashtag #mamavation. 2 giveaway winners are randomly selected from usage of the #mamavation hashtag during the LIVE show! The chat is on Monday night starting at 7pm PST/10pm EST.
MAMAVATION BLOGGING CARNIVAL
Each week, we hold a blogging carnival where we invite our community members to add links to their health related (health and fitness, weight loss, toxin-free living, etc topics are accepted!) posts that they'd like to have others read. We use the carnival to connect as a community and catch up with our members, so we do ask that if you add your link you also visit the blog posts of at least 5 other members – share the love! To join in the carnival this week, add your link to the Mr. Linky at the bottom of this post (past the Rafflecopter giveaway).
MAMAVATION SISTAHOOD LOVE BLOGGING CARNIVAL
Each week, we also host a love blogging carnival for our Sistahood members on our Mamavation Facebook group. Sistas can add up to 2 of their own posts per week to the link up, but we ask that they visit at least 5 additional posts for each post they add to the carnival. This carnival also starts on Tuesday and is pinned to the top of the Facebook group. When you sign up to join the Mamavation Sistahood, you will be added to the Mamavation Facebook group. Not added yet? You can request to join the Facebook group here.
Apply for January Mamavation Detox & Weight Loss Boot Camp
Applications are now open for the next Mamavation Detox & Weight Loss Boot Camp! We are expanding our coaching team to include our new dietitian, Corinne Dobbas, and Naturopathic Physician Dr. Jean Layton. Together with the personal training guidance from MrBookieboo and the support of our Mentor Team, our Mamavation Moms will lose weight and improve the health of their families during the 7 week boot camp. For more information and details on how to apply, check out this post.
#2WEEKCHALLENGE CONTINUES THIS WEEK
The #2WeekChallenge with Blue Nile began last week, and you're still encouraged to work out with us this upcoming week! For this challenge, we are teaming up with Blue Nile to bring you a little holiday cheer. 4 people who successfully complete the challenge will receive a $50 gift certificate to Blue Nile. Over 13 Challenges participants have lost 1404 pounds and 950 inches. We've had 226 individuals successfully complete at least one #2WeekChallenge and many have completed multiple challenges. A select few have completed over 10 challenges. Bottom line, the Mamavation #2WeekChallenge works and you can do it!  For more information, to download the workout, and to register for the challenge, visit this link: Mamavation #2WeekChallenge 14
GIVEAWAYS
This week we are giving away four 1-month memberships to BabyWeight.tv – a site with exercise videos targetted specifically to prenatal and postnatal moms. You can get fit during pregnancy with the prenatal videos and exercise with your baby (so you don't have to try to find time when someone else is watching the baby to workout!) in the postpartum videos. Post-postnatal videos are also available, so you can definitely still enter even if you've not recently had a baby or won't be having one soon!
Blogging Carnival