Salt is great for seasoning your food, but did you know certain varieties of the mineral can provide far more benefits than just flavor? Himalayan crystal salt is more than ordinary table salt.
It's all natural, with no anti-caking agents or fillers. Dr Edward Group III DC, NP, DACBN, DCBCN, DABFM writes:
Himalayan Crystal Salt contains the same 84 natural minerals and elements found in the human body. This form of salt has also been maturing over the past 250 million years under intense tectonic pressure, creating an environment of zero exposure to toxins and impurities.

Himalayan salt's unique cellular structure allows it to store vibrational energy. Its minerals exist in a colloidal form, meaning that they are tiny enough for our cells to easily absorb.
There are many claimed benefits of Himalayan crystal salt, such as reducing the signs of aging, stronger bones, and improved sinus health. Although there is little clinical research available,  there is science and an abundance of testimonials touting the long list of health benefits. I've pulled together the top five benefits of this pink salt, along with some additional information.
Top 5 Benefits of Himalayan Crystal Salt
Prevention of allergy symptoms and improved air quality
Increased serotonin levels to aid in healthy sleep patterns
Improved energy and mood
Decreased blood pressure
Supported immune system, respiratory function, and vascular health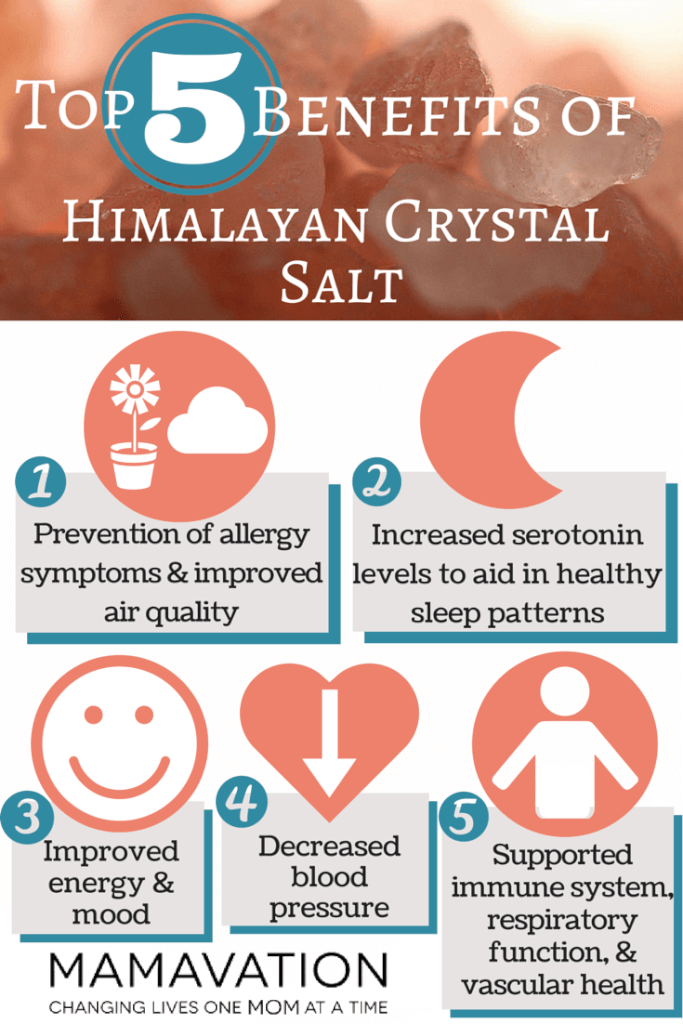 In the two clinical research studies about Himalayan crystal salt, test subjects who consumed Himalayan salt saw significant improvements in their respiratory healthy, sleep habits, energy, concentration, and more. Here are the findings of a 2001 medical study conducted by the University of Graz:
Subjects who drank water with our Original Himalayan Crystal Salt® sole added saw significant positive changes in respiratory, circulatory, organ, connective tissue, and nervous system functions. Patients also reported increases in quality of sleep, energy, and concentration levels, brain activity, weight loss, enhanced consciousness, and noticeable hair and nail growth.
According to Dr. Oz, the potassium levels in this crystal salt also aids in lowering blood pressure. This is a huge benefit, considering sodium consumption is typically associated with hypertension.
Consuming Himalayan salt is not the only way to reap the benefits, a Himalayan crystal salt lamp will also do the trick. It consists of a large piece of salt crystal, a light, and usually a wooden base. They let off a beautiful ambient glow, but the lamp also omits negative ions as moisture evaporates from the warmed crystal. These negatively charged ions aid in cleaning the air, improving mood, and reducing allergy symptoms. According to WebMd, once they reach our bloodstream, negative ions are believed to produce biochemical reactions that increase levels of the mood chemical serotonin, helping to alleviate depression, relieve stress, and boost our daytime energy.
[fusion_builder_container hundred_percent="yes" overflow="visible"][fusion_builder_row][fusion_builder_column type="1_1″ background_position="left top" background_color="" border_size="" border_color="" border_style="solid" spacing="yes" background_image="" background_repeat="no-repeat" padding="" margin_top="0px" margin_bottom="0px" class="" id="" animation_type="" animation_speed="0.3″ animation_direction="left" hide_on_mobile="no" center_content="no" min_height="none"]
As we enter the busiest time of the holiday season, less stress and more energy sounds like a wonderful thing. These lamps are fairly inexpensive, so it would be a great gift to help bring the jolly back to someone's holiday.
Have you tried Himalayan salt? What has been your experience?
Please seek the advice of your healthcare professional in regards to treating any illness or ailments. This is not meant to take the place of medical advice. This article is for informational purposes and does not make any medical claims.
Full list of Sources:
http://www.globalhealingcenter.com/natural-health/himalayan-crystal-salt-benefits/
http://www.ionicsalts.com/science.htm
http://www.himalayancrystalsalt.com/clinical-research.html
http://www.doctoroz.com/videos/two-alternative-medicine-secrets
http://www.webmd.com/balance/features/negative-ions-create-positive-vibes[/fusion_builder_column][/fusion_builder_row][/fusion_builder_container]