What types of sweeteners are safest for you and your family? There's lots of controversy behind sweeteners like sugar, stevia, monk fruit, erythritol & artificial sweeteners, but what have we found to be the ultimate truth beyond marketing? The acceptable daily intake of sweeteners should be lower than you think, even for low-calorie sweeteners. The research is pointing to the fact that you can't cheat sweet. So what sweeteners are "better" or "safer" than others in moderation? You've trusted Mamavation to bring you topics like best marinara sauce & tomato sauce without PFAS "forever chemicals," best collagens, and best non-dairy milk, now join us as we bring you the safest sweeteners and rank the most popular products & brands.
Disclosure: This post was medically reviewed by Sondra Strand, RN, BSN, PHN. This post also contains affiliate links.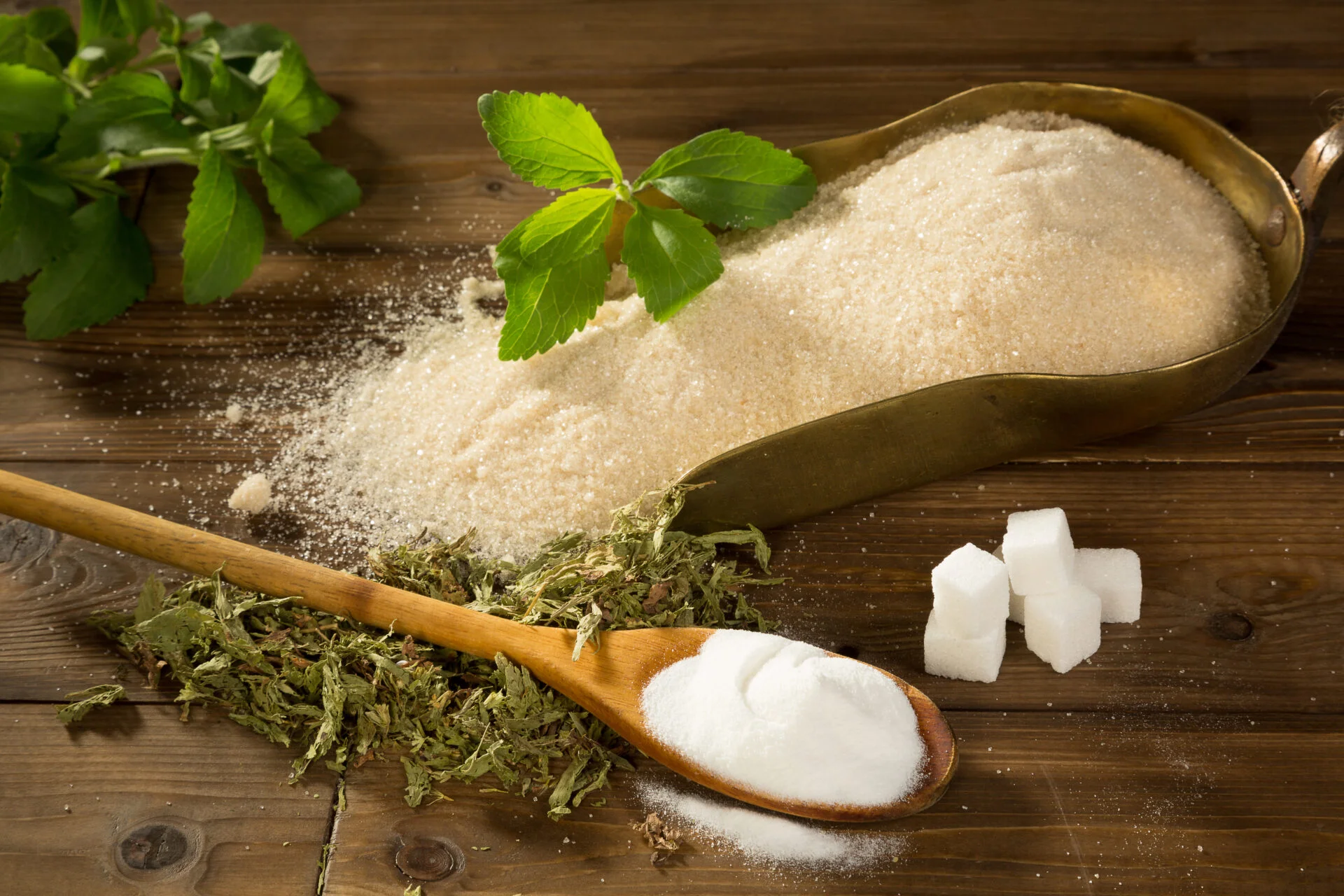 The History of Sweetness–From Cane Sugar to Saccharin
According to the National Museum of American History, Americans love sweet things. In fact, each year the average American consumes around 150 pounds of sugars and substantial amounts of artificial sweeteners.
The first type of sweetener hunters and gatherers ate was honey, but the origins of confectionery sweets can be traced back to ancient Egyptians about 2000 BC by making a combination of nuts, fruits, & honey. The Greeks, Chinese & Romans made sweet things out of sesame seeds, while the Aztecs in Mexico used the cocoa bean to make a bitter drink over 3000 years ago.
By the middle ages, sugar candies became popular but only the rich could afford them. However, the elites ate desserts like preserves,  jelly, dried fruits, and sugar wafers. Then doctors started to use sugar as a way to mask the taste of different medicines such as lozenges, gums, and pastilles that soothed your throat and made your stomach warmer.
By 1502 Cortez, the Spanish Conquerer of Mexico, brought cocoa back to Spain and within 100 years, Europeans were drinking sweet chocolate and eating chocolate ice cream. Then in 1875, Henry Nestle and Daniel Peter invented milk chocolate.
Today sweetness is mass-produced everywhere and you can even find artificial or nonnutritive sweeteners that are linked to cancers. Is that a good thing? For corporations that want to sell you more sweetness, it's great! For your family? Not really. Our palettes have been manipulated over the years and now it's harder to stay healthy eating the Standard American Diet.
Sweetness With Side Effects You Can't Avoid
The sensation of sweet on your tongue has somewhat shaped who we are today. Our basic need for sweet things harks back to a time when we were hunter-gatherers and sweetness was something that meant extra calories, weight gain, & those extra calories kept us alive. Today, we are overwhelmed with sugar and it's more important to avoid it.
When you look into the world of sweeteners, the one thing you notice if you are being honest is there is a price to pay for anything sweet. Just like in life, nothing comes for free. What we mean by that is NO SWEETENER IS PERFECT. Nada.
Let me repeat that so you understand. No sweetener is perfect.
Every sweetener can do at least one or more of these things:
Raise your blood sugar
Potentially disrupt your hormones
Cause gas & bloating if you are sensitive or over prolonged use
Possibly disrupt your gut health
Is linked with cancer in animals
Tastes disgusting
Increases your risk for heart disease, stroke, or diabetes
So there you have it. Bottomline: The best sweetener is no sweetener in terms of health.

Study Points to Non-Nutritive Sweeteners Like Stevia & Monk Fruit Not Being as Low Glycemic As Originally Claimed
I know most of us are looking for sweeteners that won't spike our blood sugar, but the body is a mystery and one study is pointing to a reality that "no sweetener is without issues." More studies on this subject need to be done, but here's what they found.
A study published in the International Journal of Obesity in 2016 looked at 30 "healthy male subjects" (sorry ladies!) finding that there is very little difference in sucralose (aka sugar) vs. other non-nutritive sweeteners after 3 hours have gone by. In other words, you can't really cheat sweet. No one in the "natural" industry likes to cover this story, but it's something to think about when you are looking for alternatives to the sugar that you are consuming daily. Could it be possible that those non-nutritive sweeteners like concentrated stevia and monk fruit (luo han guo) are not as "free from guilt" as they claim to be? Let's explain.
What this study found was the calories consumed later in the day were significantly higher for people who were consuming monk fruit and stevia than the ones that consumed old-fashioned sugar. Even though the sucrose-sweetened beverages led to large spikes in blood glucose and insulin responses within the first hour and are higher in calories, after 3 hours had gone by, the patients that consumed the non-nutritive sweeteners (like stevia and monk fruit being fewer calories) were significantly higher. Surprised? It's unclear if a delayed reaction inside the body was also part of it OR if it just causes people to eat more, so more studies need to be done. However, it goes to show you can't cheat sweet, especially when hunger is involved.
Popular Choices of Sweeteners Broken Down by Health Impacts & Marketing Claims
Now we attempting to break down the sweeteners one by one to show you the health impacts of each one.
Acesulfame K (Acesulfame Potassium): Acesulfame Potassium has a higher level of sweetness that is 200x sweeter than table sugar according to the Food & Drug Administration.  It's also considered GRAS (Generally Recognized as Safe) by the FDA, however, there are some concerns with its safety whereas it was linked with affecting cognitive function. It's found in sugar-free and low-sugar products, inside Spenda & Equal. Some diet sodas are sweetened with Ace-K and other artificial sweeteners.
Agave Syrup: Agave syrup is a popular alternative to sugar produced from the agave plant native to Mexico. This sweetener has become popular for its prebiotic capacity and low glycemic index compared to other natural syrups. However, because it contains high levels of fructose, it may cause liver damage over time with overuse. This is vegan-friendly and between 10-19 on the low glycemic index (GI). But if you like your liver, all fructose needs to be eaten in moderation. We are lukewarm to cold on this sweetener.
Allulose: Also referred to as D-psicose, allulose is a simple sugar found in several foods like brown sugar, figs, raisins, and maple syrup. Allulose is claimed to have no impact on glucose making it a low-glycemic food. However, some people get gas and bloating from this ingredient, while others never have any problems. It's also important to note that it's highly synthesized artificially by food scientists from fructose (fruit sugar) and can be sourced from "agricultural waste and dairy co-product streams." Did we mention it's highly processed? Just something to think about.
Aspartame: Aspartame is another high-intensity sweetener found in Nutrasweet & Equal and is 200x sweeter than sugar. Unfortunately, it's also linked to cancer via animal studies. Another observational study following people over 22 years found a link between aspartame and a rise in non-Hodgkins lymphoma in men. Even with all these issues, aspartame is recommended by the American Diabetes Association.
Cane Sugar: Cane sugar is considered a "natural sugar" just like any other sugar in that it's associated with adverse health conditions, including obesity, metabolic syndrome, and inflammatory diseases. In terms of children, it increases obesity risk and dental caries (like cavities) with emerging evidence supporting an association with insulin resistance. Cane sugar is also considered "empty calories" meaning there aren't additional nutrients associated with its use. However, when people ingest cane sugar, they are not using it as a "health food" and tend to be more mindful than with other sweeteners, so the psychological advantage of using it but in smaller amounts may be greater overall.
Coconut Sugar: Coconut sugar is a sweetener made from the sap of the coconut palm tree. This is not the same as "palm sugar." Some researchers have reported that the glycemic index of coconut sugar is lower than that of table sugar, about 35-40 for coconut sugar vs. 68 for table sugar. Coconut sugar is not considered "empty calories" like table sugar. It also includes minerals like Iron, Zinc, Calcium, and Potassium, along with some short-chain fatty acids, polyphenols, and antioxidants that may also provide some health benefits. However, coconut sugar supplies almost the same amount of fructose as regular sugar, gram for gram, so it's no miracle sweetener. Caution is still warranted when consuming just like with regular sugar, however, we believe it's a good alternative in moderation.
Date Syrup: Date syrup, from the fruit of the date palm tree, has a sweet flavor and is only 70% sugar. The other parts are mostly water and fiber. Beware, date syrup is denser than sugar, so one tablespoon of date syrup has far more calories and grams of sugar than regular table sugar. However, just like coconut sugar, date syrup does provide some additional vitamins and minerals, so it's not considered "empty calories," but those added nutrients are not enough to consider it a "health food" and ignore the fact that it's full of sugar. It will still spike your blood sugar and it is not recommended to consume lots of it, however, we believe it's a good alternative in moderation.
Erythritol: Erythritol is a low-glycemic food with zero calories. It's considered a sugar alcohol (just like Xylitol) and shares similar side effects of bloating and gas with certain individuals. It's important to understand that erythritol is also highly processed. Recent studies from the Cleveland Clinic have linked erythritol to heart disease, stroke, and diabetes. We've witnessed many sites refuting these claims, but when they do that they are basically throwing the precautionary principle out the window. Many other studies on other types of artificial sweeteners rely on similar types of studies. How can one be okay, but the other somehow is wrong? We don't know. What's true about nutritional science is it's always murky and paid for by marketing money.  No one really knows the "truth" and therefore we operate the precautionary principle because there are very few causes vs. effect relationships in nutrition science. (In other words, unless we are talking about situations like asbestos CAUSING mesothelioma cancer, there are very few causal relationships in nutritional science that are "proven.") We recommend you use caution until more studies are done on this subject because studies are pointing to one consistent reality — you can't cheat sweet.
Fruit Juice: Fruit juice is full of fructose at a concentrated level. Eating the fruit itself is far more "healthy" than drinking juice made from fruit because of the processing (which can concentrate things like heavy metals) and how other nutrients like fiber are absent from the juice making them far more problematic to your health. Fruit juice should be looked at more as a treat than something that is consumed daily because of its impact on your health. Therefore, don't get tricked by brands saying they are using "whole foods" to sweeten your food. It's still processed and spikes your blood sugar.
Fructose: Fructose is a monosaccharide that is present in foods that contain added sugar components and has been linked to the rising incidence of insulin resistance, obesity, and nonalcoholic fatty liver disease (NAFLD) in children. Most fructose is highly processed. According to researchers, its metabolism inside the body is similar to alcohol. Fructose consumption has increased by about 3000% in the last 20 years and has an addictive quality similar to other drugs.
Honey (raw): Raw honey contains antioxidants and has prebiotic oligosaccharides that help feed gut flora. Raw honey has the added benefit of vitamins E and C as well as minerals. Note: Honey should not be given to infants because it may contain botulism bacteria spores, a serious health hazard for babies. However, overall honey is a great alternative. It's important to understand that honey will spike your blood sugar and therefore overuse is just as dangerous as overuse of any other sweetener. One problem with honey is you can't control where the bees feed and it can contain trace amounts of the herbicide glyphosate depending on where the farm is located. Even organic honey has this problem. Therefore, we recommend using it in moderation.  For our ranking, we are also highlighting brands that are certified to be "glyphosate-residue free" by testing their supply 3x per year and are "free from" glyphosate at the lowest detectable limit which is 10 parts per billion (ppb). We are also recommending organic honey, but prefer the "glyphosate-residue free" honey for that reason.
Inulin: Inulin is a non-digestible carbohydrate and fructan naturally occurring in many plants like leeks, onions, garlic, wheat, & chicory. Inulin stimulates the growth and activities of health-beneficial microorganisms while inhibiting enteropathogenic bacteria. The beneficial microorganisms ferment inulin and produce acids including short-chain fatty acids that lower the pH in the colon and inhibit pathogens. The health-beneficial bacteria also produce other metabolites that positively influence human health. However, it's also linked to gastrointestinal discomfort when eaten in large quantities. It's uncommon for this to be used on its own and you are more likely to find it with other types of sweeteners and ingredients. This food additive may also show up in your probiotics, which is a good thing.
Maple Syrup: Pure maple syrup contains antioxidants and has prebiotic oligosaccharides that help feed gut flora. However, it's primarily made from fructose and which is linked with obesity, metabolic disorder, and inflammatory disease. Maple syrup is only safe between 10-20 grams per day. This is why we say this is "good within moderation" because it's not good to have up to 50 grams per day. Metabolic studies in rats showed that maple syrup produced significantly lower peak and global responses of glucose, insulin, amylin, and gastric inhibitory polypeptide (GIP) as compared to brown rice syrup, corn syrup, and pure dextrose. However, maple syrup is still a sweetener and overuse is just as bad as any other sweetener. We recommend this but in moderation.
Blackstrap Molasses: Blackstrap molasses is a byproduct of sugarcane production and has the consistency of thick dark syrup. This sweetener contains essential vitamins and minerals, like Iron, making it a bit better or more nutritious than table sugar. Researchers measured the total antioxidant capacity of blackstrap molasses by looking at the ferric-reducing ability of plasma (FRAP) and found that Dark and blackstrap molasses had the highest FRAP (4.6 to 4.9 mmol/100 g), while maple syrup, brown sugar, and honey showed intermediate antioxidant capacity (0.2 to 0.7 mmol FRAP/100 g). This makes blackstrap molasses a superior choice, but we still believe you should operate caution when consuming because it can still spike your blood sugar.
Monk Fruit: Monk Fruit, also referred to as luo han guo, is native to Southeast Asia and mostly dried and used in herbal medicines for centuries before it was approved by the FDA as a tabletop sweetener. It's about 150-200 times sweeter than table sugar. Because its stable at high temperatures, Monk fruit can also be used for baking. The best part about monk fruit is it has zero calories, zero sugars, and is a source of antioxidants. But the aftertaste is not easy to get used to. It may leave a bad taste in your mouth. However, it's not exactly a miracle sweetener. We found most Monk Fruit is mixed with erythritol, so we caution against that. But also, a study found that after 3 hours of consuming monk fruit, your blood sugar may be higher based on eating more. We still think this is a good alternative for diabetics or people needing to watch calories, however, caution is still needed.
Saccharin: Saccharin was the first chemically produced artificial sweetener known as "Sweet 'N Low," "Sweet Twin," or "Necta Sweet" and used in diet sodas, juices, and toothpaste for years. It's considered GRAS by the United States FDA and European Union. However, a few studies done on rats have linked it to bladder cancer. More recent studies have demonstrated issues with gut health throwing off the balance of gut bacteria.
Stevia: Stevia has recently become more controversial in the natural industry based on studies that point to it being a potential hormone-disrupting chemical in high concentrations in animal studies. Male rats were found to have a decrease in fertility when given stevia daily. Stevia is a sweet substance extracted from the Stevia rebaudiana plant which is native to South America. For centuries, people have been using the leaves of this plant to sweeten foods and drinks, but the FDA has only approved a highly refined form of stevia. Other forms have not sought approval for GRAS status yet. The result of the government-approved processes is a food additive substance called steviol glycoside which is 200 to 400 times sweeter than sugar. Today, stevia is available for purchase in a variety of forms and can be used in everything from hot drinks to baked goods. We recommend purchasing stevia leaves instead of using them as a concentrated sweetener.
Sucralose: First introduced and certified by the FDA in 1999, Sucralose (sold as Splenda) has become one of the most popular artificial sweeteners in the United States. This sugar substitute is actually made from sugar itself. By using a chemical process, sucralose becomes 400 to 700 times sweeter than sugar, meaning you need less of it in a cup of coffee to achieve the same effect. However, sucralose has been linked to an increase in blood glucose levels and a decrease of healthy bacteria in the GI tract. In addition, sucralose should not be used in baking as it may release harmful chemical compounds when heated.
Xylitol: Both xylitol is considered a sugar alcohol. This means they are created by combining a sugar molecule with an alcohol molecule, creating a new substance entirely. The body doesn't absorb sugar alcohol in the same way it digests sugar. Therefore, diabetics have found the use of xylitol to be helpful in maintaining consistent blood sugar levels. On the other hand, it should be noted that xylitol taken in large doses can cause diarrhea and gas. However, xylitol has been known to help with cavity protection, which makes it somewhat of a benefit if you can stand the gas and bloating. But it's also important to note that the FDA warned in 2016 that xylitol is toxic to dogs and should be avoided around pets. We are lukewarm to this sweetener.
Yakon Syrup: Recently, Yacon syrup has been gaining a lot of positive press thanks to several celebrities touting its effectiveness, including Daphne Oz. The syrup is extracted from the yacon, a potato-like vegetable grown in the Andes Mountains of South America. Unlike many artificial sweeteners that throw off the delicate balance of bacteria in the gut, yacon is actually prebiotic and high in fiber, so it helps to feed beneficial bacteria in the digestive tract. However, some users say that yacon syrup can cause stomach upset. Therefore, it's best to limit first-time consumption to one to two teaspoons.
Mamavation's Investigation of Sweeteners
Mamavation evaluated over 300+ sweetener products sold in the United States & Canada for ingredients and processing. Using the research on sweeteners and potential pitfalls, we ranked them accordingly.
Not Our Favorite Sweeteners
These sweeteners are not our favorite: regular "sugar," agave nectar, corn syrup, high fructose corn syrup, brown rice syrup, allulose, sorbitol, erythritol, sucralose, aspartame, stevia with additives, fruit juices, regular cane sugar, regular beet sugar, etc. This list has all the products that contain those ingredients.
Artificial Sweeteners
Amazon Brand Happy Belly Sweetener
Equal Zero Calorie Sweetener
Equal Plus Antioxidants
Equal Saccharin
Equal Sweetener Tablets
Equal Naturals with Stevia
Splenda Sweetener Packets
Splenda Granulated Sweetener
Splenda Sugar Blend
Splenda Brown Sugar Blend
Splenda Sweetener Packets with Fiber
Splenda Liquid Sweetener
Splenda French Vanilla Liquid Sweetener
Splenda Sweetener Minis
Sweet N'Low Liquid Sweetener
Sweet' N Low 400 packets
Other Plant-Based Sweeteners (Sweeteners with Additives & Junk & Erythritol)
We also included one product that is typically "best" but our lab found indications of PFAS "forever chemicals" inside when we had it evaluated.
Anthony's Confectioner's Erythritol
Anthony's Erythritol and Monk Fruit Powder
Anthony's Erythritol and Monk Fruit Sweetener
Anthony's Erythritol Sweetener
Anthony's Golden Erythritol and Monkfruit Sweetener
Better Body Foods Monk Fruit Blend
Better Body Foods Organic Monk Fruit Blend
Better Body Foods Monk Fruit Golden Blend
Better Body Foods Organic Agave
Birch Benders Keto Maple Syrup
Bochasweet Brown Sugar Replacement
Durelife Monk Fruit Sweetener- Golden
Durelife Monk Fruit Sweetener- Classic
Food to Live Organic Coconut Sugar — 35 parts per million (ppm) organic fluorine, which is an indicator of PFAS "forever chemicals" via our EPA-certified lab
Health Garden Organic Blue Agave Powder Sweetener
Health Garden Organic Raw Agave
Health Garden Erythritol
Health Garden Monk Fruit Golden Sweetener
Health Garden Monk Fruit Classic
Health Garden Monk Fruit Cubes
Health Garden Stevia
Health Garden Sugarless
In the Raw Stevia Packets
In the Raw Stevia Tablets
In the Raw Organic Agave Syrup
In the Raw Monkfruit in the Raw Keto
In the Raw All- Purpose in the Raw
Lakanto Classic Monk Fruit Sweetener
Lakanto Sugar-Free Cinnamon Maple Syrup
Lakanto Golden Monkfruit Sweetener Raw Cane Sugar Replacement
Lakanto Brown Monkfruit Sweetener Brown Sugar Substitute
Lakanto Powdered Monkfruit Sweetener
Lakanto Baking Sweetener
Lakanto Organic Monkfruit Sweetener White Sugar Replacement
Lakanto Sugar-Free Maple Syrup
Madhava Organic Light Agave
Madhava Organic Light Agave
Madhava Organic Fair Trade Agave
Madhava Organic Amber Agave
Madhava Simple Zero Calorie
Microingredients Stevia
Microingredients Monk Fruit Sweetener Granules
Microingredients Golden Monk Fruit Sweetener
Microingredients Natural Erythritol Powder
Microingredients Natural Erythritol Granules
Miss Jones Baking Company Smart Sugar Cane Sugar Blend
NOW Foods Organic Light Agave Nectar
NOW Foods Better Stevia Packets with Chromium and Inulin
NOW Foods Better Stevia French Vanilla Packets
NOW Foods Better Stevia Instant Tabs
NOW Foods Better Stevia Packets
NOW Foods Better Stevia Packets Organic
NOW Foods Organic Confectioner's Erythritol
NOW Foods Erythritol
NOW Foods Organic Erythritol
NOW Foods Monk Fruit with Erythritol
NuNaturals White Stevia Powder Packets
NuNaturals Monk Fruit 1:1 Sweetener
NuNaturals Organic Stevia and Monk Fruit Sweetener
NuNaturals Vanilla Syrup Stevia
NuNaturals Simple Syrup
NuNaturals Maple Syrup
Pure Cane Spoonable Canister
Pure Cane Baking Sweetener
Pure Cane Brown Sweetener
Pyure Organic Brown Sweetener
Pyure Organic Monk Fruit Sweetener
Pyure Organic Stevia Sweetener
Pyure Organic Powdered Stevia
Pyure Organic Erythritol
So Nourished Granular Monk Fruit Erythritol Sweetener
So Nourished Powdered Monkfruit Erythritol Sweetener
So Nourished Gold Brown Sugar Alternative
So Nourished Granular Erythritol Sweetener
So Nourished Powdered Erhtyritol
So Nourished Magic Baker Sweetener
Sweet Leaf Organic Monk Fruit Sweetener Granular
Sweet Leaf Stevia Sweetener
Sweet Leaf Organic Stevia Sweetener
Sweet Leaf Stevia Clear Sweet Drops
Swerve Allulose Blend
Swerve Granular
Swerve Monk Fruit with Erythritol
Swerve Brown
Swerve Confectioners
Swerve Organic Monk Fruit and Erythritol
Truvia Sweetener Stevia Leaf Packets
Truvia Monk Fruit Packets
Truvia Sweet Complete Granulated Stevia
Truvia Sweet Complete Granulated Monk Fruit
Truvia Sweet Complete Confectioners Sweetener
Truvia Sweet Complete Brown
Truvia Brown Sugar Blend
Truvia Cane Sugar Blend
Truvia Organic Liquid Sweetener
Truvia Organic Liquid Sweetener Vanilla
Whole Earth Sweetener Company Stevia Leaf and Monk Fruit with Erythritol Sweetener
Whole Earth Sweetener Company Erythritol
Whole Earth Sweetener Company Liquid Sweetener Stevia and Monk Fruit
Whole Earth Sweetener Company Granulated Allulose Baking Blend
Whole Earth Sweetener Company Allulose Baking Blend with Erythritol and other sweeteners
Whole Earth Sweetener Company Monk Fruit with Erythritol Blend
Wholesome Organic Erythritol
Wholesome Organic Stevia
Wholesome Organic Monk Fruit
Wholesome Organic Agave with Prebiotic Fiber
Wholesome Organic Fair Trade Raw Blue Agave
Wholesome Organic Fair Trade Blue Agave
Sugar (Non-organic Sugars)
Anthony's Belgian Pearl Sugar
C&H Dark Brown Sugar
C&H Light Brown Sugar
C&H Powdered Sugar
C&H Granulated Cane Sugar
Domino Dark Brown Sugar
Domino Light Brown Sugar
Domino Powdered Sugar
Domino Granulated Cane Sugar
Domino Golden Sugar
Florida Crystals Turbinado Cane Sugar
NOW Foods Fructose
Sugar in the Raw Granulated Sugar
Sugar in the Raw Liquid Cane Sugar
Wholesome Natural Cane Sugar
Better Sweeteners
These sweeteners were better than the last category, but they also presented issues: stevia, xylitol, non-organic honey, non-organic maple syrup, monk fruit with additives, organic fruit juices, organic cane sugar, organic beet sugar, etc. Remember, use your common sense and always consume sweeteners in moderation.
Honey (Non-Organic Honey)
Other Plant-Based Sweeteners (Organic Stevia, Xylitol, Maple Syrup, Allulose, Sweetener Mixes)
Sugar (Organic Cane Sugar)

Best Sweeteners
None of these sweeteners are perfect, but they are the best we have as of this moment in terms of safety: date sugar, date paste, date syrup, blackstrap molasses, glyphosate-free honey, organic honey (but with caution to look for more dessert than farmland honey to avoid glyphosate), pure monk fruit, etc. Remember, use your common sense and always consume sweeteners in moderation.
Coconut Sugar
Date Sugar
Honey (Organic & Glyphosate Residue-Free Certified)
100% Pure New Zealand Honey Kanuka Honey
ACTIVIST Surfer's Honey Raw Manuka Honey 50+MGO
ACTIVIST Raw Manuka Honey 100+MGO
ACTIVIST Raw Manuka Honey 300+MGO
ACTIVIST Raw Manuka Honey 850+MGO
ACTIVIST Raw Manuka Honey 1000+MGO
Bee Shepard Brand Honey Raw Honey with Lions Mane Mushroom
Bee Shepard Brand Honey Raw Honey with Reishi Mushroom
Bee Shepard Brand Honey Wildflower Raw Honey
Bee Shepard Brand Honey Raw Honey with Black Elderberry 
Bee Shepard Brand Honey Raw Honey with Golden Turmeric
Colorado Hemp Honey with CBD
Colorado Hemp Honey with CBD Ginger Soothe
Colorado Hemp Honey with CBD Lemon Relax
Colorado Hemp Honey with CBD Tangerine Tranquility
Colorado Hemp Honey with CBD Elderberry Support
Colorado Hemp Honey with CBD Tumeric and Black Pepper
Colorado Hemp Honey with CBD Raw Relief
Colorado Hemp Honey with CBD Mushroom Complex
Dabur Himalayan Forest Honey
Egmont Pure Honey
Egmont Manuka Honey
Manuka Mountain Honey New Zealand Manuka Honey 100+ MGO
Manuka Mountain Honey New Zealand Manuka Honey 250+ MGO
Manuka Mountain Honey New Zealand Manuka Honey 500+ MGO
Manuka Mountain Honey New Zealand Manuka Honey 830+ MGO
Manukora Manuka Honey MGO 850+
Manukora Manuka Honey MGO 850+
Manukora MGO 100+ Raw Multifloral Manuka Honey
Manukora UMF 10+ (MGO 265+) Raw Manuka Honey
Manukora UMF 15+ (MGO 500+) Raw Manuka Honey
Manukora UMF 20+ (MGO 830+) Raw Manuka Honey
Manukora UMF 24+ (MGO 830+) Raw Manuka Honey
Manukora UMF 20+ Naki Manuka
Manukora UMF 15+ Naki Manuka
Manukora UMF 12+ Naki Manuka 
Manukora Naki RewaRewa Honey
New Zealand Honey Valley – Hands: Clover Honey
New Zealand Honey Valley Multifloral Manuka Honey
New Zealand Honey Valley Manuka UMF 5+ Honey
New Zealand Honey Valley Manuka UMF 10+ Honey
New Zealand Honey Valley Manuka UMF 15+ Honey
New Zealand Honey Valley Manuka UMF 20+ Honey 
New Zealand Honey Valley Manuka UMF 25+ Honey
Primal By Nature Manuka Honey UMF 5+
Primal By Nature Manuka Honey UMF 10+
Primal By Nature Manuka Honey UMF 15+
Primal By Nature Manuka Honey UMF 16+,
Primal By Nature Manuka Honey UMF 18+
Primal By Nature Manuka Honey UMF 20+
Primal By Nature Manuka Honey UMF 22+
Primal By Nature Manuka Honey UMF 25+
PURITI Manuka Honey UMF 5+
PURITI Manuka Honey UMF 8+
PURITI Manuka Honey UMF 18+
PURITI Manuka Honey UMF 22+
PURITI Manuka Honey UMF 25+
PURITI Manuka Honey UMF 26+
PURITI Manuka Honey UMF 28+
PURITI Manuka Honey UMF 30+
PURITI Manuka Honey UMF 31+
Red Belly Honey (Use discount code "MAMAVATION10" for 10% off the product)
Organic Maple Syrup
Molasses
Monk Fruit