Are you a tea drinker? Tea is not only medicinal but also incredibly soothing, making it both physically and emotionally healing. Unfortunately, there is also a dark side to tea where you'll find hidden ingredients legally present without a label. Finding the right kind of tea is important because it's a daily consumption item. So how can you be sure you are giving your family the safest and healthiest tea to drink? You've trusted Mamavation to bring you topics like best & worst organic milk, most dangerous beers & wines, and safest cookware, now join us as we rank the safest tea companies for your family.
Disclosure: This post contains affiliate links and was fact-checked by Rebecca Elizabeth Sherrick Harks, Registered Nurse.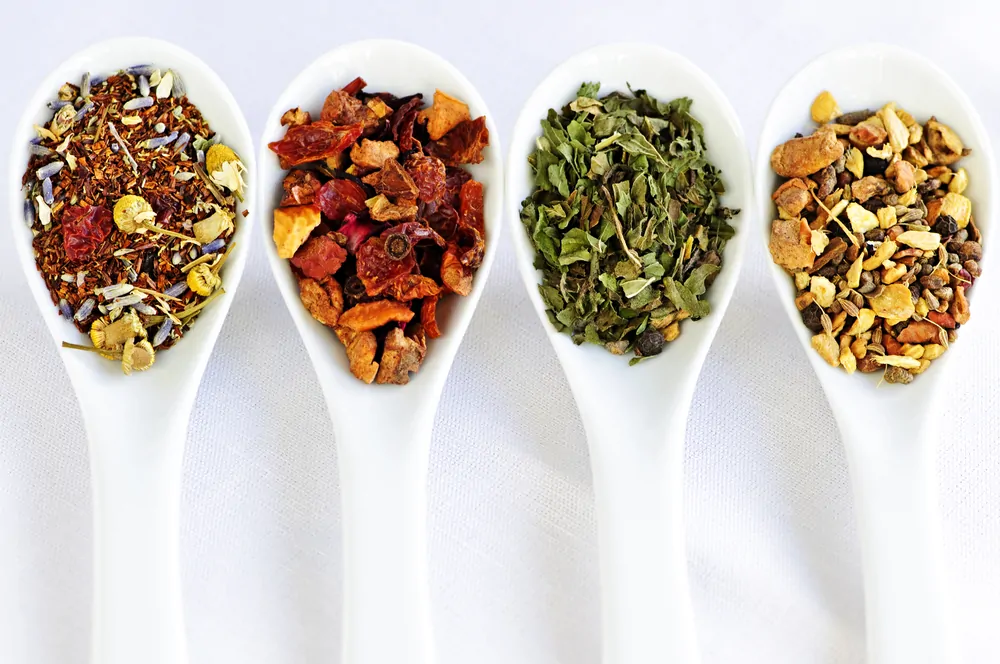 Not All Teas Are Created Equal
Not all teas are created equal. In fact, some teas that position themselves as "healthy" have been found full of pesticides, artificial or "natural" flavorings, and plasticizers. These issues become very important because tea is a daily consumption item. Daily consumption items are priority items to swap to a more non-toxic brand because of how often they are consumed. If you are drinking tea daily, it's very important to make sure it's the cleanest tea possible.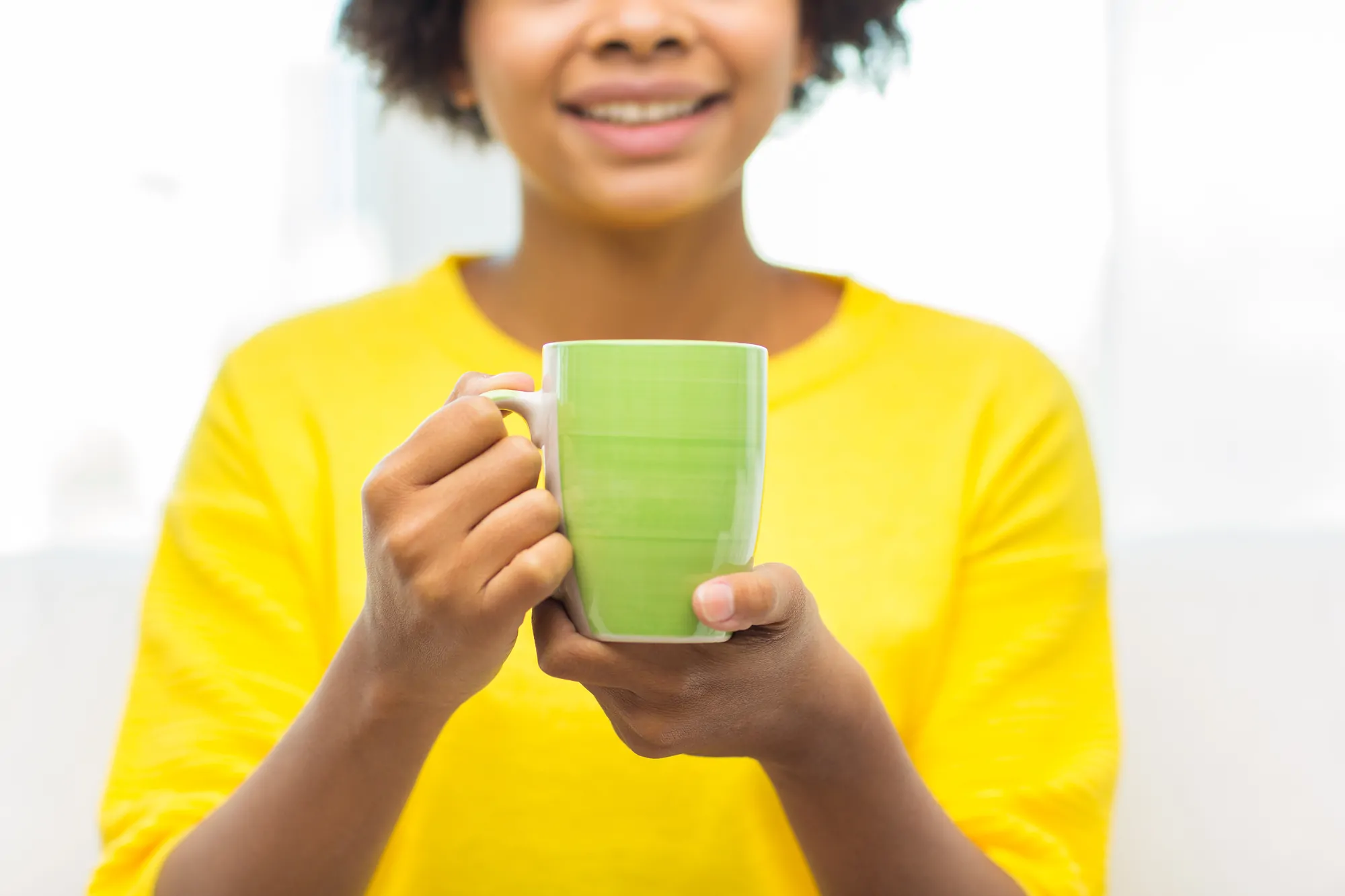 Health Benefits of Tea
From green tea to kombucha to teas extracted from herbs like holy basil, there really does seem to be something for everyone. In fact, one study suggested that tea rehydrates as well as water but with the added benefit of containing valuable antioxidants.
According to Harvard Medical School, drinking tea has many benefits like being rich in polyphenols, which are molecules that have antioxidant (EGCG) and anti-inflammatory properties. It's also linked to a lowered risk of diabetes and possibly cardiovascular disease. Additionally, different teas have been studied to have unique health benefits as well, so the type of teas you drink can be important.
Green Tea: Contains lots of antioxidants and may "interfere" with the growth of different cancers. Green tea may also help oxidative stress, preventing clogged arteries, reducing neurological disorders, burning fat and more
Black Tea: May protect your lungs (for smokers) and may reduce the risk of stroke
White Tea: A study showed that this may have anticancer properties but more research is needed
Oolong Tea: One study linked this to lower cholesterol but more research is needed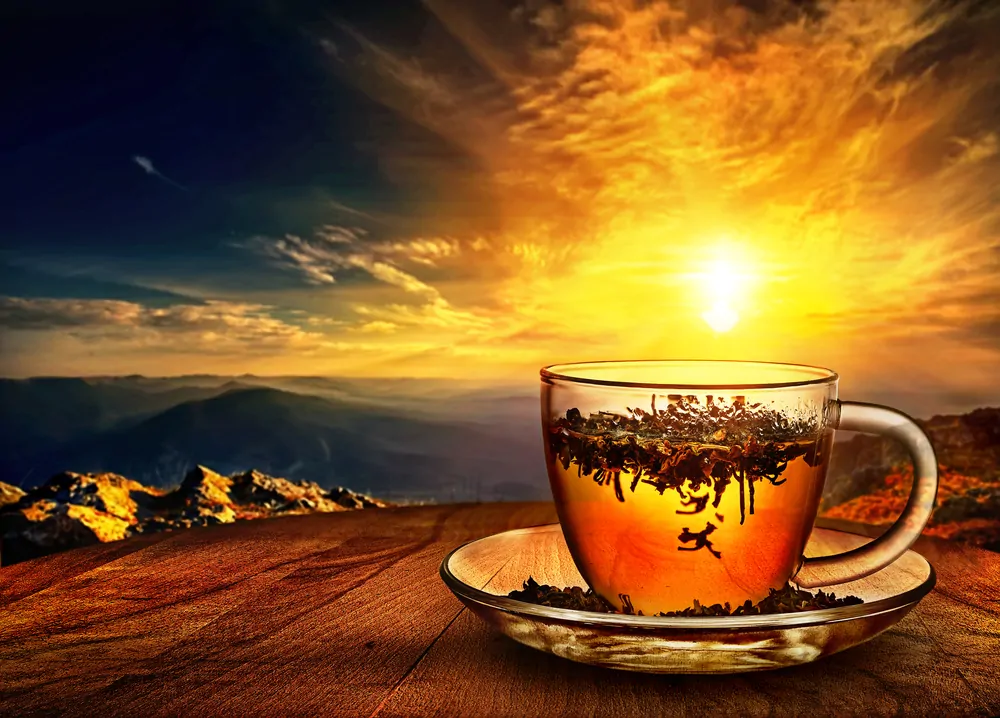 The Bad News About Tea Has To Do With How Hot The Beverage Is When You Drink It
Recently, a study on over 50,000 people in Iran revealed that some tea drinkers are more likely to get esophageal cancer. They found that drinking about 3 cups per day of tea at 140 degrees Farenheight was "consistently associated" with a 90% higher risk of the disease, compared with people who drank liquids at lower temperatures. So in other words, drinking tea on the medium to cooler side would be wise.
According to Coffee Detective "Coffee is best served at a temperature between 155ºF and 175ºF" so when you are getting tea its likely the same temperature. According to the American Cancer Society, the lifetime risk of esophageal cancer in the United States is about 1 in 132 in men and about 1 in 455 in women. Esophageal cancer makes up about 1% of all cancers diagnosed in the United States, but it is much more common in other parts of the world like Iran, China, India, and Africa. Iran was where this study was done where they also have higher rates of this disease. Long story short, this is a bigger problem for men than it is for women and they don't know why.
Pay Close Attention To These Four Categories When Selecting Tea For Your Family. 
Tea is a daily consumption item, so fixing this portion of your diet would be a significant improvement in your life. Unfortunately, this is a very complicated discussion but we are going unpack it for you before we make recommendations on our favorite – and cleanest – tea brands and products. But when it comes to evaluating tea, we looked at the following to rank brands.
Pesticides–Herbicides and pesticides disrupt hormones
Artificial flavoring–typically derived from petroleum
Natural flavoring–technically natural, but can be heavily processed or created using synthetic biology. Also a problem for people with allergies or food sensitivities
Indirect additives–found inside the sachet or tea bag
Pesticides In Tea
Historically, when conventional teas were tested for pesticides, they didn't fare well. According to an article in Mother Nature Network, in 2013, an independent lab tested two popular tea brands for pesticides. They tested Teavana and Celestial Seasonings and found disappointing results:
91% of Celestial Seasonings tea had high pesticide residue, prompting a class action lawsuit to be filed against them. (Read how Mamavation ALSO sued Hain Celestial for mislabeling baby formula organic and changed the law on false advertising in organic.)
77% of Teavana teas failed European Union standards and some even contained a long-banned pesticide.
In 2014, Canadian-based news outlet CBC conducted its own research and found levels higher than acceptable by Canada's standard in these four major brands:
Lipton
Tetley
Twinings
Red Rose
And finally, in 2012, Greenpeace tested 17 tea samples from Chinese teas (including some Lipton brands for Chinese consumers) and found 3 to 17 types of pesticides in all samples.
Most of these companies have also pushed back against these claims. Keep in mind, too, that these published findings are several years old and one hopes that these companies have made changes. That said, there is no true way to ensure that pesticides have been intentionally kept out of your tea unless they are certified organic.

Artificial Flavors Are Typically Made From Petroleum. Do You Want Petroleum In Your Tea?
When it comes to artificial flavors, I've got good news for you. Brands are starting to move away from artificial flavors, so there are lots more choices out there. However, some tea companies are still blending artificial and natural flavors together for consistency of taste and for cost savings. This doesn't necessarily mean the flavors are harmful, but they are not natural. Artificial flavors can be derived from petroleum and linked to cancer, so it's wise to avoid them inside your daily beverage. Here are some additional food additives to avoid ranked by how problematic they are. Not all artificial food additives are dangerous, but lots of them are as you will see.
Some Flavors May Be Kinda Natural, But They Are Still Gross. This is One of the Reasons Why Understanding Where Your Food Comes From Is Important to Consumers.
Sometimes the origin of flavors is something you wish you could forget. At least that what I thought about vanilla and strawberry flavors.
In 2006, Japanese researcher Mayu Yamamoto figured out a way to extract vanillin from cow poop. She also extracted coffee & cocoa flavors as well. Later she was awarded the Ig Nobel Prize at Harvard University for this tasty development.
Another disgusting origin story is castoreum, which can also pass as vanilla, strawberry or raspberry flavor.  Castoreum is a bitter, orange-brown, oily secretion found in the sacs between the anus and genitals of beavers. The discharge of the castor sac is combined with the beaver's urine and used during scent marking of territory. This natural flavor has been used for hundreds of years and is completely safe. However, it's not very appetizing.
Today if you are eating anything with artificial vanilla, you could be getting something derived from cow poop, wood pulp waste, coal tar, secretions from a beaver's anal glands, clove oil, pine bark, or fermented bran. The options are endless.
If you are wondering where this invention is hiding in your pantry, I can't tell you because it won't be on the label. This is why 100% transparency of flavors is important. It tells you what you are eating.
Good News! The Organic Certification is Becoming Stricter Around Use of "Flavors" So Some Brands Will No Longer Be Considered USDA Organic Soon. This is a Good Thing, But It Also Means That You Need to Be Watchful of Which Brand Is Changing.
This year some changes to the organic standards are happening around tea. Organic is getting stricter with the "flavors" used. In effect what this means is some USDA Organic brands will instead become "Made with organic ingredients" instead. When you see "made with organic ingredients" it means that they have at least 70% organic ingredients. Regular organic has at least 95% of organic ingredients.
Pay close attention to your tea this year because if they are organic and using flavors that are no longer acceptable, they will either have to switch to "made with organic ingredients" or they will need to reformulate to keep the organic seal. Mamavation was not able to ascertain which brands are going to have to switch, so we will revisit this later this year to help you understand who was impacted.
"Natural Flavors" Is a Legal Way to Hide Ingredients. This Doesn't Mean They Are Bad, But This is Very Problematic if You Have an Allergy Or Food Sensitivities
In my research, I was pretty surprised to find that most tea companies use "natural flavors," even certified organic brands. According to Lisa Lefferts of the Center for Science in the Public Interest, these natural flavors can contain a combination of some 2,300 possible substances. That's because many companies make proprietary blends and don't want their competition to know what's in their flavoring. Unfortunately, that means you can't know what's in those flavors either. This is especially concerning if you or your children have allergies or food sensitivities.
Natural flavorings are the 4th most common ingredient in our food supply and they are defined by the Federal & Drug Administration (FDA) as "the essential oil, oleoresin, essence or extractive, protein hydrolysate, distillate, or any product of roasting, heating or enzymolysis, which contains the flavoring constituents derived from a spice, fruit or fruit juice, vegetable or vegetable juice, edible yeast, herb, bark, bud, root, leaf or similar plant material, meat, seafood, poultry, eggs, dairy products, or fermentation products thereof, whose significant function in food is flavoring rather than nutritional."  Sounds yummy.
How "Indirect Additives" Get Into Tea

"Indirect additives" are chemicals that are used in processing, packaging, and farming and can get into your food without a label. There are thousands of these chemicals approved by the Federal Drug Administration (FDA) for food packaging, including the chemicals that can leach out of plastics. This is important to understand because the tea sachet and the chemicals used to produce those sachets would fall under "indirect additives" and may get into your beverage.
Tea bags can be made of several items but believe it or not, many of them are made of plastic. In our research we found companies avoiding bisphenol-A (BPA), but embracing other plastics as alternatives. Many brands are using "PET" plastics meaning they could contain phthalates, a potent endocrine disruptor linked to ADHD and infertility. But it's also important to keep in mind that plastics leach before they melt. So while the melting point of PET is 482 degrees Fahrenheit, the point by which it leaches is about 169 degrees. Water boils at over 200 degrees, so this a big issue.
The American Academy of Pediatrics (AAP) has determined that the FDA is putting pregnant women and children into danger by allowing unsafe food additives into the food supply. They are lobbying for change by asking Congress to get involved. Some of the chemicals they are pointing to as dangerous leach out of plastics and food wares making tea bags a prime example.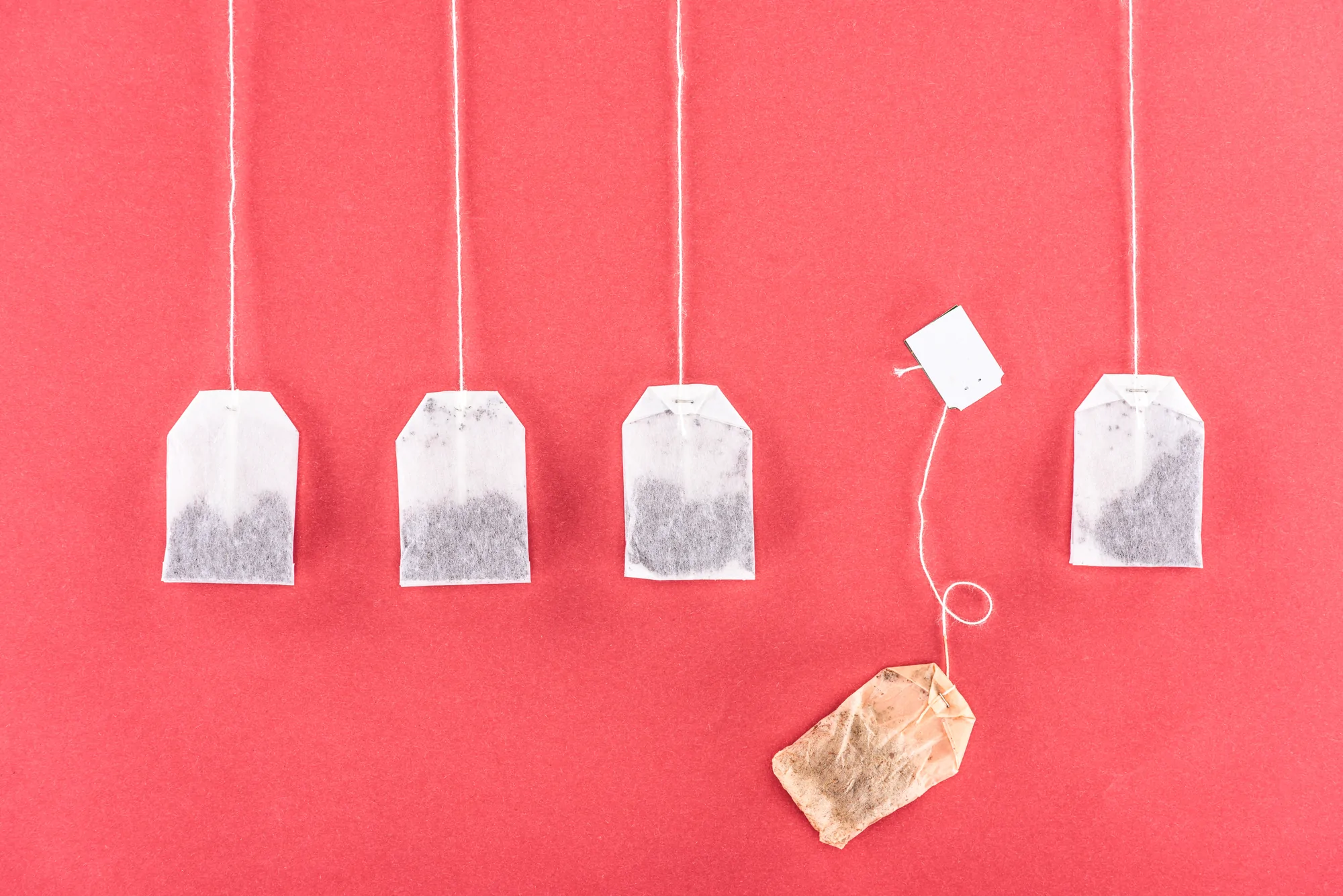 Different Types of Toxic Tea Sachets–Plastic or Paper?
Be on the lookout for tea bags that are made from plastic or recycled paper because they can disrupt your hormones based on the ingredients. Plastic when heated can leach chemicals into your tea. Those chemicals are largely unknown because different plastic manufacturers put different chemicals in their plastic. Paper can also be problematic, especially recycled paper. Recycled paper likely contains trace amounts of bisphenols (BPA or BPS) from thermal receipt paper contamination. Most receipts you handle every day have a coat of chemical bisphenol (BPA or BPS) on the top in a powdery form, which easily gets on your hands but also contaminates paper recycling. (You can join 50,000 others by signing our petition telling Target to reformulate to a safer receipt here.) But overall, we recommend staying away from plastic or recycled paper tea bags.
Types of Plastic Tea Bags
There are numerous kinds of plastics that tea bags can be made from: viscose rayon, PVC, thermoplastic, or polypropylene. However, PET is the most commonly used because it has a very high heat point. In other words, companies use this kind because they want to ensure that your tea bags can stand the temperature of your water.
Unfortunately, there is another issue with PET plastics. When heating up, PET can be vulnerable to leaching chemicals into your drink, according to research from Dr. Ray Fernando, professor, and director of polymers and coatings at Cal Poly San Luis Obispo.
Other "natural" plastics include Soilon®, which is a corn-based, so there is the additional issue of GMO corn. No longer labeled as biodegradable. Another "natural" plastic used is ReverteTM which is a biodegradable PET plastic.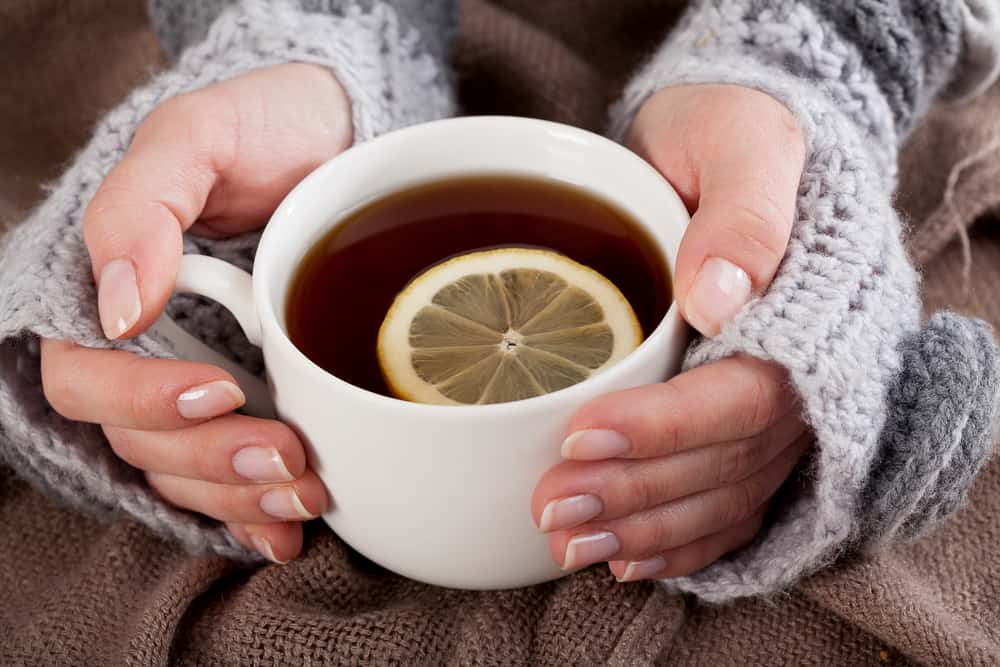 Problems with Paper Tea Bags
But not all manufacturers use plastic – some use paper. Unfortunately, many companies coat their paper mesh with a chemical called epichlorohydrin, which is an endocrine-disrupting chemical according to the Endocrine Disruption Exchange.
While you might also think recycled paper is a good choice, think again. A 2017 study showed the presence of BPA, BPS, and other chemical cousins in both recycled and virgin paper and board products. This is a concern because earlier research shows that contaminants like BPA can and do migrate from recycled paper packaging into foods.
What about paper sachets? Sadly, these are no better. They tend to be coated with PLA, such as NatureFlexTM. And according to Plastic Is Rubbish, even bags labeled "plastic-free" are not necessarily free of plastic. For example, they might be laminated with polyethylene. Ugh!
In addition, many bags are bleached with chlorine to get that pristine white color. And some tea bags use glue for sealing and that contains PVC.

Here Are Some of Our Recommendations On Teaware
Utilizing tea bags can introduce endocrine-disrupting chemicals into your tea. At Mamavation, our favorite tea is the tea you make yourself. We recommend you pick up loose leaf tea and strain it using stainless steel or glass yourself. Here are some of our favorite teaware products:
Healthiest Tea Brands (And Worst Brands to Avoid)  
So which are the healthiest tea brands to drink? Because there is so much conflicting information on pesticides in tea leaves, I'm going to recommend, as we normally do here at Mamavation, that you stick to buying USDA Certified organic teas and avoid K-cups altogether.
Worst Brands
All the products have at least two of these issues: (1) unsafe tea bags, (2) caught with high levels of pesticides, (3) have few organic offerings, (4) have no organic tea offerings, and/or (5) contain artificial flavors.
Adagio Teas: No organic options. Unclear if they use pesticides or not.
Art of Tea
Bigelow
Celestial Seasonings
David's Tea: Uses Soilon for tea bags.
Fit Tea: Not organic
Flat Tummy Tea: Not organic
Lipton
Mighty Leaf Organic Teas: Tea bags derived from corn but coated with PLA.
PG Tips
Pure Leaf
Rishi: Some contain natural flavors. They use PLA bags.
Sipology (Steeped)
Tazo
Tea Forte
Tea India
Teami: Not organic
Teavana
Tetley
Twinings
Better Brands–Pay Attention If You Have Allergies or Food Sensitivities
This category is mostly about "natural flavors" which can be very problematic for people with allergies. Additionally, some teas have bags that contain corn or cornstarch. Most people think about the top 8 allergens as the most troublesome, but to people who have food allergies outside the top 8, eating becomes even more difficult. My husband, who has adult onset allergy to garlic, finds "natural flavors" impossible to work around. We would love these brands to be 100% transparent about their flavorings. These brands are processed in *possibly* safe tea bags and are organic.
Adagio: Their naturally flavored teas come from essential oils so avoid these if you have allergies.
Frontier Organic Teas: Blueberry Green Kukicha Tea has natural flavors.
Good Earth: Avoid Matcha Maker, Sweet & Spicy, Berries & Roses, which have natural flavors.
Positively Tea: Avoid their natural flavors.
The Republic of Tea: All loose tea but some contain natural flavoring. Choose organic varieties.
Rishi: Avoid Peach Blossom, Chocolate Chai, Tropical Coconut, which have natural flavors. All other products are good.
Stash Organic Teas: Some contain natural flavors. Has safe tea bags.
TeaRunners: Some contain natural flavors. Buy individually or go for their "Pure Teas Only" subscription. Even though their teas are not yet certified, they are in the process.
Two Leaves Organic: Some contain natural flavors. The tea bags are from "cornstarch based" so avoid if you have corn allergies.
Yogi: Nearly all of their products have undisclosed natural and/or organic flavors.
Best Healthy Tea Brands
The following are the healthiest tea brands you can drink and buy for your family. We paid close attention to indirect additives here, so their teabags are free from recycled paper (because that would likely have trace amounts of bispenols), and any plastic. Heat can trigger leaching, so the contents of the teabag are important. We also favored brands that had loose leaf tea. All brands are certified organic, and most of them have Fair Trade or other sustainable practices.
Aveda Comforting Tea: Loose leaf only tea
Choice Organic Teas: All best except Peach and Blackberry Hibiscus which contain natural flavors.
Frontier Organic Teas: All loose leaf unflavored teas.
Good Earth: Unflavored teas.
Ito En Organic Ceremonial Powder Matcha Love
Kombucha Kamp: Hannah's Special Blend For Perfect Kombucha –all organic loose leaf unflavored teas and herbs with custom blends
Numi Organic Teas: All teabags are approved except the turmeric tea bags (Three Roots, Golden Tonic, Amber Sun, Fields of Gold) because it contains some plastic. Good news is they are looking into alternatives and will report back when it's done.
Pique: This brand, all certified organic, also triple tests for toxins. They responded incredibly fast to my inquiries, and only sell loose leaf to ensure they don't deal with toxic tea bags. They do contain a few with natural flavors.
Pukka: For this brand, you can also drink their natural flavors. Pukka is 100% transparent on their ingredients including natural flavors which we find clean. Read their FAQ for the details and for the list of teas that contain them.
The Republic of Tea: Choose organic, unflavored varieties.
Rishi: All unflavored
Runa Gauyasa Tea: All loose leaf unflavored teas.
Stash Organic Teas: Choose their unflavored teas.
TeaMi Organic Matcha: This is their only organic tea.
Pin it!