Are you having friends over soon? If you find yourself entertaining or wanting to hang out by the pool and have something alcoholic but light and refreshing, you may reach for a spritz or hard seltzer. So which brands don't have plasticizers or surprising chemicals inside? You've trusted Mamavation to bring you topics like the safest coffees, tea brands without plasticizers, & safest cookware without PFAS "forever chemicals", now join us for our investigation on the best spritzers & hard seltzers cocktails with superior ingredients, no plasticizers, and best processing.
Disclosure: This post contains affiliate links. 
What's Inside a Spritz & Hard Seltzer
Spritz typically contains three ingredients: wine, soda (like club soda or sparkling water) & ice. Some versions contain lemonade or tonic water when dry wine is used. But when it comes to commercialized spritzers, we noticed more can be added to keep them preserved on the shelves. Since the alcohol present is simply wine, the fermenting process of the wine and any additives used are also of concern, however, those details are pretty much never divulged.
Hard seltzers are carbonated water combined with alcohol and fruit flavoring, but again, when it comes to commercially sold hard seltzer, more ingredients can also be added for shelf stability. Yeast consumes the sugars present, which are typically from fermenting cane sugar, and then converts them to alcohol. Sometimes malted barley is used, but that is technically a "flavored malt beverage." The alcohol content ranges from 4-6% alcohol to as much as 12% alcohol by volume.
Are these drinks healthier than wine & beer? Not necessarily, but less alcohol typically means fewer calories.
Vast Majority of Alcohol Brands are Owned By Huge Corporate Conglomorates, Not Independent Processors
The biggest issue overall we found was the fact that 96% of the alcohol brands out there are actually owned and operated by corporate conglomerates. Once you learn this fact, it makes total sense why the category of alcohol is so problematic. They operate in secret, & don't disclose ingredients or processing.
In terms of spirits, you'll find only 3% are owned and operated by independent producers. You wouldn't be able to tell that based on walking down the alcohol aisle of the grocery store or Bevmo. Your eyes start to deceive you when you see brands acting like small producers.
The main corporations owning most alcoholic brands doing sales in the billions are the following:
Anheuser-Busch InBev does $52.3 billion in annual sales. Some examples: 10 Barrel, Bass, Beck's, Blue Point, Bud Light, Budweiser, Breckenridge, Busch, Craft Brew Alliance, Devils Backbone, Elysian, Four Peaks, Golden Road, Goose Island, Karbach, King Cobra, Landshark, Michelob, Natural, Platform, Rolling Rock, Shock Top, Veza Sur, Wicked Weed, Wild Series brands, and Ziegenbock brands.
Asahi Group does $19.4 billion in annual sales. Some examples: Asahi Super Dry, Peroni, Nikki Whiskey, & Sainte Neige wine.
Diageo does $16.8 billion in annual sales. Some examples: Tanqueray, Gordon's, Booth's, Captain Morgan, Ron Zacapa, Cacique, Don Julio, Smirnoff, Ketel One, Cîroc, ohnnie Walker, Crown Royal, Bulleit, Seagram's, George Dickel, Caol Ila, Talisker, Lagavulin, Oban, J&B, Bell's, Buchanan's, Cardhu, Baileys, Guinness, & Moët Hennessy (where they own more than 30% of company).
Constellation Brands does $8.6 billion in annual sales. Some examples: Corona, Funky Buddah, Modelo, Pacifico, Victoria, Local Buzz, Robert Mondavi, Ruffino, Ravage, Dreaming Tree, Crafter's Union, Cooks, Saved Mom Magic Maker, Simi, Spoken Barrel, Woodbridge, Kim Crawford, Copper & Thief, The Velvet Devil, 7 Moons, SVEDKA Vodka, & Black Velvet Canadian whisky.
Pernard Ricard does $10.6 billion in annual sales. Some examples: Martell, Beefeater, Seagram's, Plymouth, Havana Club, Malibu, Avion, Olmeca Altos, Absolut, Chivas Regal, Jameson, The Glenlivet, Ballantine's, Wiser's, Kahlúa, & Ricard.
Beam Suntory does $10.7 billion sales in annual sales. Some examples: Courvoisier, Terry Centenario, Larios, Gilbey's, Cruzan, Sauza, Hornitos, Tres Generaciones, Pinnacle, Effen, Vox, Jim Beam, Yamazaki, Maker's Mark, Canadian Club, Knob Creek, Teacher's, Kakubin, Laphroaig, Bowmore, Auchentoshan, the Ardmore, Hakushu, Hibiki, Kilbeggan, Alberta Premium, Tyrconnell, Skinnygirl, DeKuyper, & Midori.
Molson Coors does $9.65 billion in annual sales. Some examples: A.C. Golden, Atwater, Batch 19, Blue Moon, Colorado Native, Coors, Hamms, Hop Valley, Icehouse, Keystone, Killian's, Leinenkugel's, Mickey's, Milwaukee's Best, Miller, Olde English, Revolver, Saint Archer, Steel Reserve, Tenth & Blake, and Terrapin brands.
Barcardi Limited does $4.6 billion in annual sales. Some examples: Baron Otard, D'USSÉ, Bombay, Barcardi, Cazadores, Grey Goose, Eristoff, Dewar's, William Lawson's, Aberfeldy, Aultmore, Royal Brackla, Craigellachie, Angel's Envy, Martini, St-Germain, & Bénédictine.
Brown-Foreman does $3 billion in annual sales. Some examples: Herradura, El Jimador, Finlandia, Jack Daniel's, Woodford Reserve, Old Forester, Canadian Mist, Early Times, & Chambord.
Moët Hennessy does $4.3 billion in annual sales. Some examples: Hennessy, 10 Cane, Belvedere, Glenmorangie, Ardbeg, Grand Marnier, Dom Pérignon, Moët & Chandon, Krug, & Veuve Clicquot.
Gruppo Campari does $1.5 billion in annual sales. Some examples: Appleton Estate, Cabo Wabo, Skyy, Wild Turkey, Russell's Reserve, Glen Grant, Old Smuggler, Campari, Aperol, Cinzano, Cynar, Frangelico, Averna, & Irish Mist.
Thai Beverage does $5 billion in annual sales. Some examples: Meridian, Caorunn, Coldstream, Mekhong, SangSom, Phraya, Kulov, Old Pulteney, Balblair, anCnoc, Speyburn, Knockdhu, Chinese & Thai spirits.
E & J Gallo does $2.11 billion in annual sales. Some examples: Carlo Rossi, Barefoot Cellars, Barefoot Bubbly, Boone's, Turning Leaf, Alamos, Anapamu, André, Ballatore, Bartles & Jaymes, Bella Sera, Black Swan, Bridlewood Estate Winery, Cask & Cream, Clarendon Hills, Dancing Bull, DaVinci, Don Miguel Gascon, E. & J. VS Brandy, E. & J. VSOP Brandy, E. & J. XO Brandy, Ecco Domani, Frei Brothers, Frutézia, Gallo Family Vineyard Estate, Gallo Family Vineyard Single Vineyard, Ghost Pines, Hornsby's, Indigo Hills, Las Rocas, Liberty Creek, Livingston Cellars, Louis M. Martini, MacMurray Ranch, Marcelina, Martĩn Cõdax, Maso Canali, Mattie's Perch, McWilliam's, Mirassou, New Amsterdam Gin, Peter Vella, Pölka Dot, Rancho Zabaco, Red Bicyclette, Redwood Creek, Red Rock Winery, Sebeka, Starborough, Tisdale Vineyards, Whitehaven, William Hill Estate, Wild Vines, & Wycliff Sparkling
William Grant & Sons does $1.2 billion in annual sales. This brand is actually owned by an independent family, but it's HUGE so we included it here. Some examples: Hendrick's, Sailor Jerry, Milagro, Reyka, Glenfiddich, Grant's, The Balvenie, Tullamore DEW, Monkey Shoulder, & Drambuie.
Here are some additional companies doing annual sales in the millions:
Rémy Cointreau does $900 million in annual sales. Some examples: Rémy Martin, The Botanist, Mount Gay, Bruichladdich, & Cointreau.
The Edrington Group does $650 million in annual sales. Some examples: Brugal, Snow Leopard, The Macallan, The Famous Grouse, Cutty Sark, & Highland Park.
Anchor Distilling does $4.07 million in annual sales. Some examples: Tempus Fugit, Luxardo liqueurs, BarSol pisco, Kavalan, and Nikka.
Marie Brizard Wine & Spirits does $128.2 million in annual sales. Some examples: Belvédère, William Peel, Sobieski vodka.
Mast-Jägermeister does $691 million in annual sales. Some examples: Jägermeister.
Patrón Spirits Company does $69 million in annual sales. Some examples: Patrón tequila, Patrón Spirits Company, Patrón XO Cafe series, Citrónge, Ultimat Vodka, and Pyrat Rum.
Heineken USA does $386 million in annual sales. Some examples: Lagunitas Brewing Co., Dos Equis, Heineken, and Tecate.
Pabst Brewing Co. does $146 million in annual sales. Some examples: Ballantine, Lone Star, National Bohemian, Pabst, Pearl, Primo, Rainier, Schlitz, Small Town, & Stroh's brands.
Mark Anthony Brands does $5 million in annual sales. Some examples: Mike's Hard Lemonade, White Claw.
Sazerac Company does $3.26 million in annual sales. Some examples: Buffalo Trace, Pappy Van Winkle, Eagle Rare, W.L. Weller, Blanton's, Sazerac, Fireball, Peychaud's Bitters, Southern Comfort, & Tuaca.
Alcohol Companies Are Not Legally Required to Disclose Ingredients
One of the main problems with the alcohol industry is the secrecy of ingredients and a lack of transparency in processing. They are legally protected by laws that view their formulations as proprietary, but in this age, transparency is king.
Alcohol may be a beverage, but it's not regulated by the U.S. Food & Drug Administration (FDA). Instead, it's regulated by the Alcohol & Tobacco Tax and Trade Bureau (TTB) and strange exceptions are given to wine and beers. This happened after prohibition when Congress passed the Alcohol Administration Act of 1935, whereas congress assigned the regulation of alcohol to the Treasury Department because of its high potential for tax revenue.
However, over the years, the law has expanded to force the labeling of substances that other people may be sensitive to like sulfites and artificial colors like yellow No. 5, but they do not have to label any allergens used in any finning agents like fish bladders (isinglass), crustaceans (chitosan) or dairy.
Fining (& Finishing) Agents Used To Process Wines & Spirits
If you have allergy issues or are a vegan, fining agents may be a problem. Fining techniques (& finishing agents) are used to improve the color, odor, flavor, stability, and mouthfeel of the wine, beer, and other spirits. They are typically removed after this process.
Most fining agents work by attracting positively or negatively charged particulate matter suspended within the wine or beer. These particulates bind to the fining agent and fall to the bottom of the vessel so they can be removed later.
Here are most of the fining agents used by alcoholic companies that do not have to be labeled:
Bentonite
Chitosan (typically from the shells of crustaceans and other shelled microscopic sea life)
Kieselsol (Made of Silica Gel or Silicon Dioxide)
Insinglass (derived from the swim bladders of fish)
Polyclar (the brand name for PVPP plastic particulate)
Gelatin (Derived from hooved animals)
Sparkalloid (Made from diatomaceous earth, which is the microscopic fossil remains of shelled algae)
Super Kleer (combination of Chitosan and Kieselsol)
Irish Moss (Made from dried seaweed)
Glycerin
Egg whites (Typically mixed with a dash of salt and water and whipped smooth)
Activated Charcoal (sadly also typically used in conjuction with PVPP plastic)
Super Smoother (combines Glycerin with Liquid Oak Extract)

"Natural Flavors" Are Similar to "Fragrance" Whereas You See Lack of Transparency
One reason many brands were skipped over for the "best" category was because of lack of transparency.  The vast majority of wine spritzers and hard seltzers had undisclosed "natural flavors" and did not bother to label what those flavors were.
The truth is sometimes these brands don't even know what that "natural flavor" is. We ran across this same problem in the electrolyte drink industry–the "flavor" houses guarded the actual flavors so well that even the brands had no idea what they were.
"Natural" flavors can contain chemicals, carrier solvents, and preservatives, but when they are labeled "natural" it's just not derived from petroleum.
The FDA definition of natural flavor is quite a mouthful and read as "the essential oil, oleoresin, essence or extractive, protein hydrolysate, distillate, or any product of roasting, heating, or enzymolysis, which contains the flavoring constituents derived from a spice, fruit, or fruit juice, vegetable or vegetable juice, edible yeast, herb, bark, bud, root, leaf or similar plant material, meat, seafood, poultry, eggs, dairy products, or fermentation products thereof, whose significant function in food is flavoring rather than nutritional."
What exactly does that mean? There are over 2,500 chemically defined flavor substances used and they can comprise about anything and then lumped into one word "natural flavor." Heavy processes can be derived to pull flavors out of a substance such as distillation, extraction, roasting, heating, enzymolysis, hydrolysis, and fermentation. Anything derived from a natural source would be considered "natural" even if the process to get there is quite synthetic.
In contrast, you'll find in the European Union a "natural flavor" is quite simply stated "source material must be vegetable, animal, or microbiological. Must be produced by a traditional food preparation process."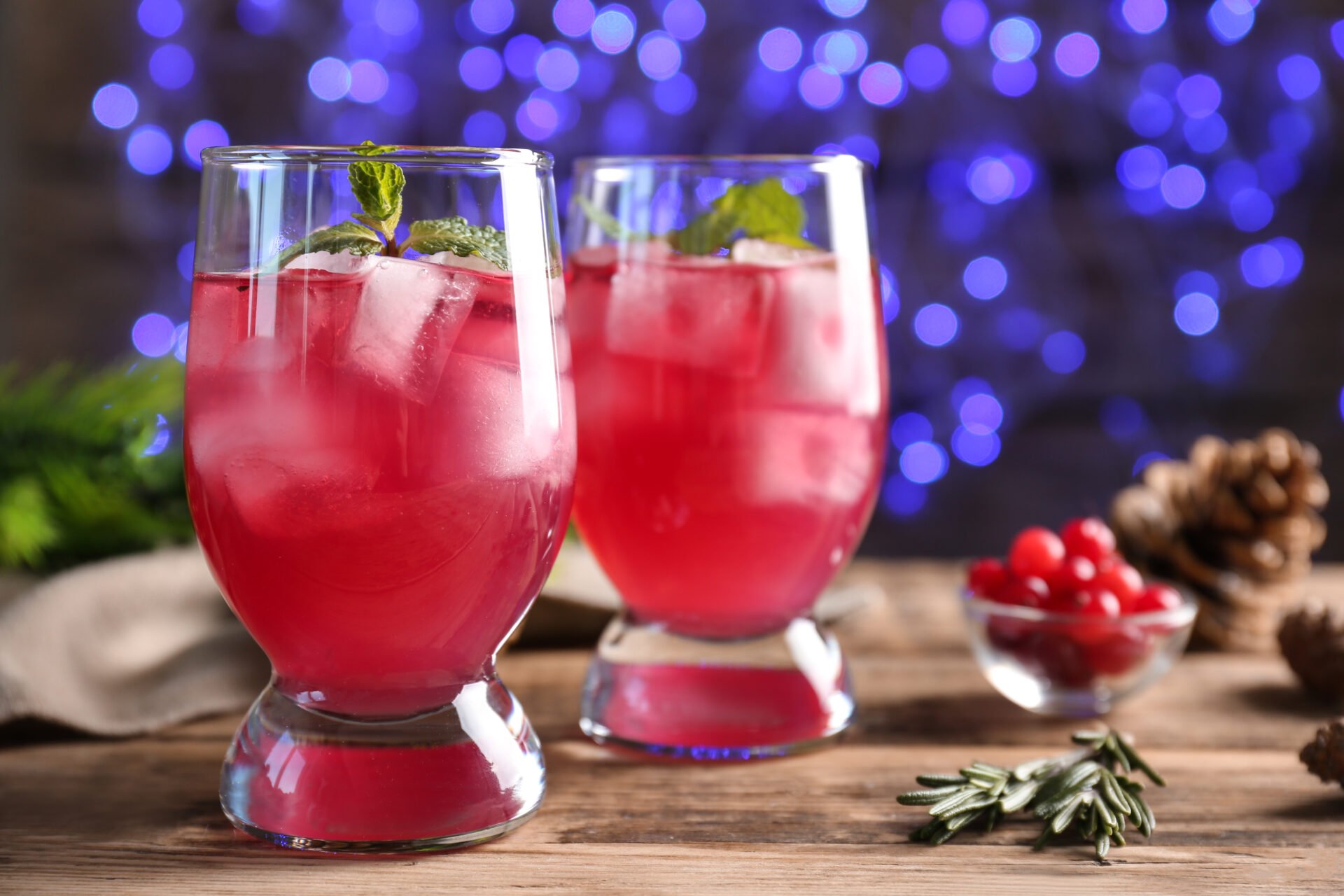 "BPA-Free" Cans Still Lack Safety Studies
According to the Can Manufacturers Institute, since the public started pressuring companies to drop BPA can linings, the industry responded. Today less than 5% of cans have BPA linings, so this is why you'll see so many advertizing "BPA-free" cans. It's true, most brands are using cans that no longer contain BPA. This same trade group claims linings are now made from non-BPA acrylic, polyester epoxies, or olefin polymers.
However, our scientific advisors at the Food Packaging Forum are still not convinced we have found safe options yet. So we are not recommending any of these linings because either they have not been proven safe OR the companies producing them are not forthcoming with the adjuncts and additional chemicals used to produce them and then stick them to the metal. What we DO know is that chemicals in the lining do not stay in the lining and end up migrating out into the contents of the can.
Here are the lining options inside cans:
Acrylic Resins: Acrylic resins may have a big toxic problem–polystyrene. According to the Buyer Beware study, 39% of the acrylic linings detected polystyrene, which is derived from styrene, a possible human carcinogen, and endocrine disruptor. This category has obvious biodegradability issues and environmental toxicity concerns as well.
Epoxy Coatings: In the past, most epoxy coatings were synthesized from BPA and epichlorohydrin, forming bisphenol A-diglycidyl ether epoxy resins. Many different blends of epoxy coatings were developed, with epoxy-phenolic coatings being the most important subgroup. Today only 5% of can linings are made from BPA, however, other linings made from other bisphenols do exist. The only non-BPA bisphenol registered for use in food packaging is B AF, which may impact a number of hormonal systems by being estrogenic at one concentration while anti-estrogenic at another concentration. It also has the ability to inhibit testosterone production. But that is not all. There are additional chemicals needed to bind them to the metals and that may be trimellitic acid, melamine, both problematic for human health.
Oleoresins: These linings are made from mixtures of oil and resin extracted from plants like fir or juniper trees. However, they do not adhere well to metal surfaces, so they need additional chemicals to bind them to the metal. What are those chemicals they are using? We have no idea. Furthermore, oleoresins may change the organoleptic properties of food, meaning the taste, odor, color, and texture. Bottom line: we don't know enough to call them safe.
Vinyl: Vinyl coatings are synthesized from vinyl chloride and vinyl acetate, making them stable. However, they do not adhere to metal very well and need plasticizers and other stabilizers to blend with the resin to stick. PVC is a known human carcinogen made from vinyl chloride, so there is some warnings here. According to the Buyer Beware coalition and CEH, PVC-based resin was discovered in 25% of the cans they tested. In other words, if you are going to avoid vinyl because it's toxic, why have it in the lining of your cans?
Polyester: Polyester coatings inside beverage cans are typically made from polyethylene terephthalate (PET). These coatings need adhesives to bind the PET to the metals. What adhesives are they using? We don't know. At least 19 chemicals are registered at the FDA as additives for polyester resins, but safety data is limited or not available for most. However, one possible combination is melamine and formaldehyde which has the potential to migrate into food.
Sadly, the vast majority of spritz and hard seltzers are in cans. After several interviews with different professionals in the alcohol industry, we can tell you with certainty that is because of three reasons:
Canned alcoholic beverages cost less to produce and are cheaper to ship because they weigh less, so canning is a huge cost saving.
Glass bottles break and need to be replaced thus adding to the cost again.
Some bars, restaurants, and hotels are asking for cans to prevent broken glass from becoming a weapon in fights, so there is a liability component to this as well.
For these reasons, you'll notice that the vast majority of spritz and hard seltzer brands did not make it in our "best" list.
Mamavation's Recommended Brand–Haus Apéritifs
After months of digging into the spritz and hard seltzer alcohol category, we finally decided to recommend Haus Apéritif to you. Here's all the perfection we found:
No added colors: Haus creates its flavors with real, natural ingredients – like lemon, elderflower, ginger, and cinnamon – allowing the fruits and botanicals to naturally color the liquid.
Low on sweeteners: Haus only adds a small amount of raw organic cane sugar – 1-2g of sugar per ounce – so you can actually taste the ingredients inside rather than masking them in sweetness.
No preservatives or anything artificial: Haus never adds preservatives or anything artificial to its products, which are made and bottled by the Haus team in Sonoma County, California.
Responsibly made: Haus is gluten-free, vegan, and made with ingredients that are responsibly sourced from trusted purveyors around the world.
No leaching plasticizers: Haus delivers their alcohol to you in glass bottles only, never cans! The bottle tops are even made of cork!
No added sulfites: Haus has no added sulfites (other than what is naturally in the grapes from the wine)
While
96% of the alcohol industry is owned by corporations
who tend to hide what's inside their bottles. Haus is setting a new standard for what consumers deserve to know, including nutrition info and complete ingredient lists for every product on its website. This is incredibly rare and should be celebrated.
So what is Haus, exactly? It's an apéritif, a type of low-ABV (alcohol by volume) spirit that's been popular in Europe for centuries thanks to their sophisticated flavor profiles and the relaxed drinking culture they evoke. At 18-20% alcohol by volume, it's lighter than hard liquor but boozier than wine, so you can enjoy a complex drink without too much booze. Haus is best enjoyed as the base to a spritz, with sparkling water, juice or tonic, but can also be enjoyed "on the rocks" as well.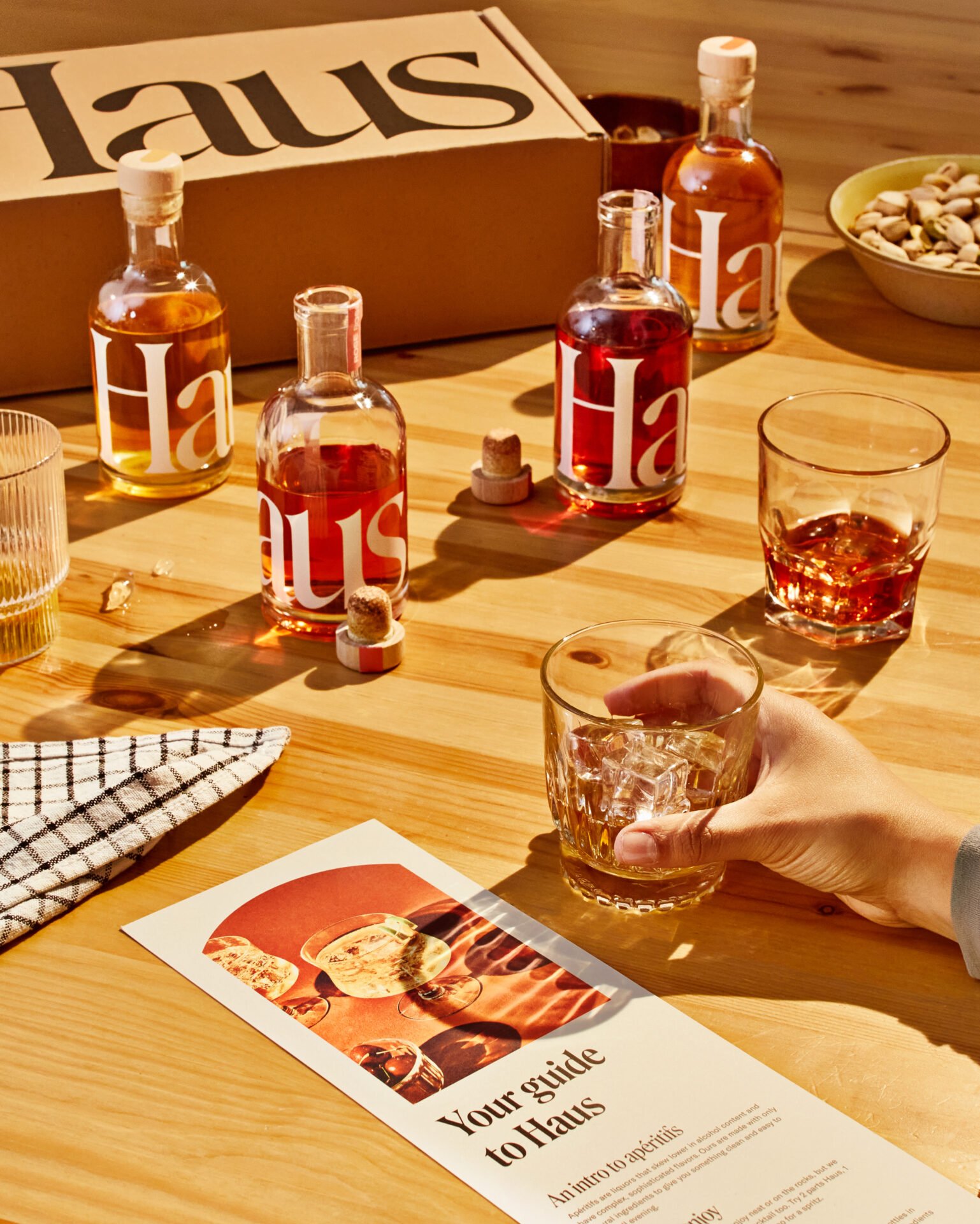 We recommend picking up a Haus sampler pack where you can choose four simple flavors. They are $50 with free shipping and taste great straight or with an addition of bubbly water. (Use discount code "Mamavation" for 10% off your first product.) We sampled them all for you already! Our favorite flavors were citrus flower and lemon lavender.
Citrus Flower Ingredients: Chardonnay grapes, grape brandy, elderflower, lemon, orange peel, Saigon cinnamon, chrysanthemum, grapefruit, hibiscus, & raw cane sugar.
Lemon Lavender Ingredients: Chardonnay grapes, grape brandy, lemon, lavender, chamomile, coriander seed, bay leaf, chrysanthemum, orange peel, dried Makrut lime leaf, lemongrass, & raw cane sugar.
Rose Rose ingredients: Chardonnay grapes, grape brandy, raspberry, rose, strawberry, dried cherries, vanilla, dried makrut lime leaf, dried wild rose, dried lychee fruit, & raw cane sugar
Ginger Yuzu ingredients: Chardonnay grapes, grape brandy, ginger, yuzu, lemongrass, orange peel, dried cherries, rooibos tea, ginger tea, & raw cane sugar.
Spiced Cherry ingredients: Chardonnay grapes, grape brandy, dried cherries, cherry bark, cocoa nibs, anise seed, coriander seed, ginger tea, orange peel, tellicherry pepper, orris root, gentian root, & raw cane sugar.
Bitter Clove ingredients: Chardonnay grapes, grape brandy, clove, ginger, Saigon cinnamon, gentian root, cinchona bark, hibiscus, angelica root, orange peel, cardamom seed, bay leaf, jasmine pearl tea, dried banana, & raw cane sugar.
Grapefruit Jalapeno Ingredients: Chardonnay grapes, grape brandy, grapefruit, dried makrut lime leaf, jalapeno, pink peppercorn (tree nut), dried morita cherry pepper, lemon peel, dried lychee fruit, dried banana, blue agave syrup, & raw cane sugar.
And if you are a content creator yourself and would like to be introduced to them, we would be happy to do that for you. Click here and fill out this application and they will get a hold of you.
Mamavation's Investigation of Spritzers & Hard Seltzers
Mamavation analyzed the marketing contents of 45+ brands and reached out to most brands via email to ascertain ingredients and processing methods. Sadly, most of the brands we contacted did not respond to us. So we tried again in other ways (like on Facebook) and had more luck but still did not hear back from most brands.
We made sure to take that into consideration when we did the rankings because if you have an allergy or any type of reason why you need to be careful of ingredients, these brands were not very forthcoming at all. And let's face it–that is why most of you are here.
Not Our Favorite Spritz & Hard Seltzers
These products either contained harsh preservatives, had suspect processing, or did not disclose any ingredients at all. We could not ascertain the fining agents in this category because they would not tell us when we asked.
Aperol
Arctic Chill Hard Polar Seltzer
Ashland
Barefoot Hard Seltzer
Brooklyn Spritz
Bud Light Seltzer
Bud Light Seltzer Lemonade
Bud Light Platinum Seltzer
Bud Light Seltzer Iced Tea
Coors Hard Seltzer (Black Cherry, Mango, Lemon-Lime, Grapefruit)
Corona Hard Seltzer (Cherry)
Corona Hard Seltzer Limonada
Cutwater Spirits Elderflower Vodka Spritz
Fulton Hard Seltzer
High Noon Hard Seltzer
House Wine Flavored Spritz
Loyal Light + Sparkling – Vodka Seltzer
Michelob Ultra
Nude Hard Seltzer (Raspberry Lemon, Classic Lime, Peach, Mango)
Smirnoff Seltzer Malt Beverage
Upslope Spiked Snow Melt Craft Hard Seltzer
Upslope Electrolyte Series Snow Melt Craft Hard Seltzer

Better Spritz & Hard Seltzers
This section contained mostly brands that either canned their product (which is not considered safe yet) OR had some sort of undisclosed "natural flavor." Some had organic ingredients while others did not. However, none of them contained any artificial preservatives. We could not ascertain the fining agents in most of these products because most would not tell us.
AMASS Faerie Fizz
AMASS Sun Sign Botanic Hard Seltzer
AMASS Surfer Rosso
Belching Beaver Hard Seltzer (REAL FRUIT)
Belching Beaver Hard Seltzer (BLENDER SERIES)
Bon Viv Hard Seltzer
Boochcraft Organic Hard Kombucha Ginger Lime (canned version)
Boochcraft Organic Hard Kombucha Strawberry Lemonade (canned version)
Canteen Vodka Soda (fruit varieties)
Corona Hard Seltzer (Tropical Lime, Mango, Blackberry Lime)
Crook & Marker Organic Supergrain Alcohol
Decoy Premium Seltzer
Dr. Hops Real Hard Kombucha
Ficks Real Fruit Hard Seltzer
Flying Embers Hard Kombucha
Flying Embers Hard Seltzer Black Cherry Rose
Funky Buddha
Great Divide Whitewater Craft Hard Seltzer
Hoxie Spritzer
Jiant Hard Kombucha The Original
Jiant Hard Kombucha Hicamaya
June Shine Hard Kombucha Acai Berry
June Shine Hard Kombucha Grapefruit Paloma
Kirkland Hard Seltzer
Kona Spiked Island Seltzer
Kyla Hard Kombucha Lychee Lemonade
Kyla Hard Kombucha Berry Ginger
Loverboy Spritz Blueberry Lemon
Loverboy Spritz Mango Peach
Loverboy Spritz Passion Fruit Guava
Luna Bay Booch Light Lychee Lime
Luna Bay Booch Ginger Lemon
Mighty Swell Hard Seltzer
NÜTRL Hard Soda Water
Ohza (Classic Mimosa, Cranberry Mimosa, Mango Mimosa, Classic Bellini)
Pacific Sparkling Craft Hard Seltzer
Press Premium Alcohol Seltzer
Ramona Dry Ruby Grapefruit Spritz
Ramona Wine Spritzes
Ramona Dry Sparkling Rose
Ranch Water Hard Seltzer (Original, Spicy, Prickly Pear, Grapefruit)
San Juan Spiked Seltzer
San Juan Seltzer Cocktail
Scout & Cellar Epic Pursuit Wine Spritzer
Spindrift Spiked Sparkling Water 1/2 & 1/2 Lemon & Tea
Spindrift Spiked Sparkling Water Lime
Spindrift Spiked Sparkling Water Mango
Spindrift Spiked Sparkling Water Pineapple
Sprezza Bianco Spritz
Sprezza Rosso Spritz
Squish Hard Seltzer
Straightaway Spritzer
Strainge Beast Hard Kombucha Blueberry, Acai, & Sweet Basil
Suzie's Organic Hard Seltzer (Berry, Citrus, Kiwi, Peach, Naked)
SweetWater Oasis Premium Hard Seltzer
The Shell House Sparkling Hard Seltzer
Vizzy Lemonade Hard Seltzer
Vizzy Hard Seltzer (Fruit Varieties)
Volley Tequila Spiked Seltzer
White Claw (Black Cherry, Mango, Ruby Grapefruit, Raspberry, Natural Lime, Watermelon, Tangerine, Lemon)
White Claw Iced Hard Seltzer Iced Tea
White Claw Surge Hard Seltzer
Wild Basin Hard Seltzer
Willie's Superbrew Ginger & Lemon
Willie's Superbrew Pomegranate & Acai

Best Spritz & Hard Seltzers
This category contains wine spritzers, hard seltzers, and some other options like hard kombucha for variety. It was VERY hard to find these products in glass bottles, which is why this category is so small. The trend of the industry, as you can see from above, is to put these products in cans for easier transportation, cost of shipping, and liability. However, these brands below have bucked the trends and decided to offer their products in glass containers, which we are very appreciative of. These brands also have been transparent with all their flavors–telling us what they are derived from. In other words, there are no "natural flavors" with these brands either.
Boochcraft

Heirloom

Kiwi Organic Hard Kombucha (bottled version) 

Boochcraft

Heirloom

Tangerine Organic Hard Kombucha (bottled version) 

Boochcraft

Heirloom

Peach Hard Kombucha (bottled version) 

Haus Bitter Clove Aperitif (Use discount code "Mamavation" for 10% off first order)
Haus Citrus Flower Aperitif (Use discount code "Mamavation" for 10% off first order)
Haus Ginger Yuzu Apertif (Use discount code "Mamavation" for 10% off first order)
Haus Grapefruit Jalapeno Aperitif (Use discount code "Mamavation" for 10% off first order)
Haus Lemon Lavender Aperitif (Use discount code "Mamavation" for 10% off first order)
Haus Rose Rose Aperitif (Use discount code "Mamavation" for 10% off first order)
Haus Spiced Cherry Aperitif (Use discount code "Mamavation" for 10% off first order)
Haus Sampler Aperitif Box (Use discount code "Mamavation" for 10% off first order)
Social Sparkling Wine Hibiscus Cucumber (bottles only)
Social Sparkling Wine Elderberry Apple (bottles only)
Social Sparkling Wine Strawberry Rose (bottles only)
Social Sparkling Wine Pink Grapefruit Ginger (bottles only)
Social Sparkling Wine Toasted Coconut Almond (bottles only)