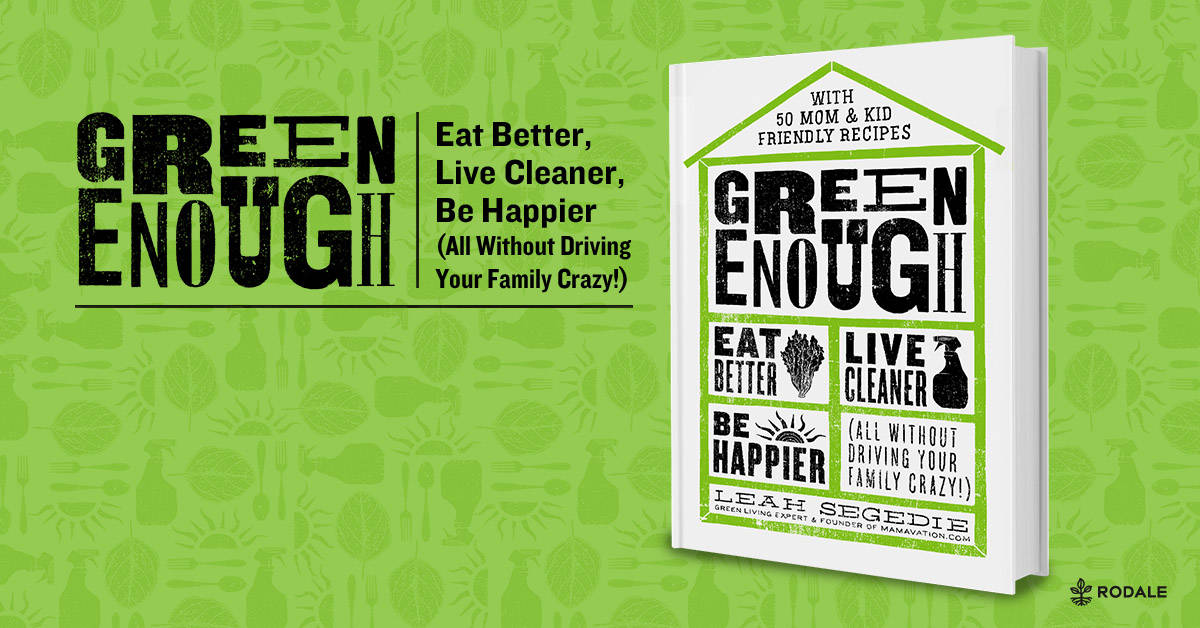 Does it feel like you need a degree in chemistry to be a good mom? Chemicals are everywhere! But which ones are safe vs. which ones are harmful? There is so much information out there it can get very confusing.
But don't worry, help is on the way! After years of research and hundreds of hours of interviews, I published Green Enough: Eat Better, Live Cleaner, Be Happier (All Without Driving Your Family Crazy!). Why? Well, being a mom is hard enough. Having to learn to scrutinize everything on par with TSA intensity is not what I believe most women should have to do to protect their families. This SHOULD be easier. So I wrote THE BOOK that makes it simple.
And a bit sassy too 😉
I've spent years interviewing hundreds of experts, researching topics, implementing solutions within my own crazy home and organizing women online under the umbrella of wellness for families. I also have an advanced degree that gives me the ability to clearly communicate complicated information in a way that is digestible for others. Do you need simple straight answers about how to detox your family from harmful chemicals and make your home safer? And would you like all this information delivered to you with humor, sass and fun? Well you've come to the right place! Mamavation has got your back!
Pick up a copy of Green Enough: Eat Better, Live Cleaner, Be Happier (All Without Driving Your Family Crazy!) by me! I'm Leah Segedie, Creator of Mamavation.com,  CEO of the first non-GMO blogger network and green blogger conference, ShiftCon Social Media Conference. Over the years, I've helped thousands of women detoxify their homes, simplify their lives and find the path to wellness. I've been there and done that and now I'm here to help you inside your home!
Ordering a Copy of Green Enough Has it's Benefits
You'll find that ordering a copy of Green Enough has it's benefits. I take the crazy out of "being green" for you. And here's some of things you'll get inside GREEN ENOUGH:
Step-by-step plans to help you with home detoxes including : (1) kitchen cabinet detox, (2) food container detox, (3) clean air detox, and (4) personal care detox
Get cooking quickly! 50+ family friendly recipes made from real wholesome good-for-your-family foods.
Save money with DIY recipes to make safe and simple homemade cleaning & personal care formulations.
Be informed! Learn from leading experts in science and children's health about what chemicals are safe vs. which are okay to have in your home.
Know what to buy! Exclusive product investigations covering food, personal care products, cleaning products, kitchen appliances, bake ware and much more!
Smile more! Learn about which parts of green living are most important for your family vs. which parts you can leave behind if you choose. This is all about your family's health and impact on your life. You choose how "green" you want to be.
So pick up a copy of Green Enough and let's get started!