Walk down the aisle of your local health food store or do a quick internet search and you'll come across an astounding number of children's vitamins and supplements all with different claims and reasons for use. It's overwhelming, to say the very least. So which ones should you purchase for your kids? You've trusted Mamavation to bring you topics like best & worst organic mattresses, best & worst probiotics, and our non-toxic holiday gift guide, now join us for an investigation on children's supplements & probiotics. And stick around for the end as we bring you all the brands ranked by ingredients and reputation.
We know you don't have the time needed to investigate the supplement industry, so Mamavation has done it for you! Scroll down to the very bottom for our product recommendations and if you would like to say thank you, you can donate here. 
Disclosure: this post contains affiliate links and was fact-checked by Rebecca Elizabeth Sherrick Harks, RN/BSN.
The Children's Supplement Aisle is Confusing, But Mamavation Has Got Your Back!
Remember those Flinstones Vitamins you took as a kid? There are now over 11 varieties to choose from. So, what exactly does your child need? Do they need it all? Do they need none of it? The answer is more puzzling the deeper you read into children's vitamins and supplements.
Personal care products for children, including vitamins, probiotics and supplements are a booming business, one that is expected to rise exponentially over the next decade. Dietary supplements (includes vitamins, minerals, herbs, probiotics, amino acids, and botanicals), are currently a $26 billion industry – up 27% over the past 5 years. Of the dietary supplement industry, children's supplements are nearly $260 million and expected to grow at rapid speed.
Are these children's supplements necessary? Are they helping children? If so, in what ways? How is the industry regulated? What's safe for your children and what's not?
We'll be answering this below and the results may shock you.
So What's The Deal? Does My Kid Need Vitamins or Supplements?
The answer to this question is somewhat nebulous, but we'll do our best to break it down.
Here's the point: the best way to get vitamins is not from a pill but from food. The body digests them better. And indeed, if your child is eating a varied diet that includes fruits, vegetables, whole grains, fortified dairy or dairy substitutes, meat, and seafood, chances are they are getting everything they need. That varied diet is always the goal — and always best.
According to The Journal of American Medical Association, a national study of American children and adolescents from 2013-2014 found that a third of children in the United States use dietary supplements. And between 2004 and 2014, the children's supplements use of herbal and non-vitamin supplements almost doubled – 3.7 percent to 6.7 percent in 2013-2014.
Fish oil, probiotics, and melatonin are the most commonly used dietary supplements besides vitamins.
Here's What The Experts Are Saying About Children's Supplements
If you or your doctor is concerned that your children aren't getting enough nutrients, many companies now offer an analysis of micronutrients in your child's body – this makes supplementing safer, as it will tell you exactly what your child needs and you can supplement for what their body actually needs. But here are what the experts are saying generally.
Dr. Tanya Altmann (Pediatrician & Mamavation Advisor): It's best to get all of your nutrition and supplements from food, but that isn't always possible.  After taking a thorough food diary history in my patients, I try to figure out if they are missing anything important based on their diet combined with medical issues or symptoms. I find most children do need extra vitamin D, omegas, and probiotics.  I also sometimes recommend Magnesium for patients with anxiety, headaches or trouble sleeping and micronutrients for my patients on the spectrum.  I also use low dose Melatonin short term for patients trying to establish a good sleep routine. Most of my patients need 1000 to 2000 IU of vitamin D a day.  And when kids are sick, I give 500 mg vitamin c and most gummies have 250 or less.
Mayo Clinic: According to Dr. Jay Hoecker of the Mayo Clinic, talk with your child's doctor if you're concerned about whether your child is getting the recommended level of vitamins and minerals. He suggests that taking a multivitamin might be helpful for your child if he or she:
Has a delay in physical and developmental growth (failure to thrive)
Has certain chronic diseases or food allergies
Has a restrictive diet, such as a strict vegan diet
He also warns to choose a child's multivitamin that is designed for your child's age group and doesn't provide more than 100% of the Daily Value of vitamins and minerals.
The US National Institute for Health: The National Institute of Health says that "nutritional needs should be met primarily from foods. Foods in nutrient-dense forms contain essential vitamins and minerals and also dietary fiber and other naturally occurring substances that may have positive health effects. In some cases, fortified foods and dietary supplements may be useful in providing one or more nutrients that otherwise may be consumed in less-than-recommended amounts."
American Academy of Pediatrics: The American Academy of Pediatrics maintains that "healthy children who eat a normal and well-balanced diet don't need vitamin supplementation over the recommended daily allowance (RDA), which does include 400 International Units (IU) of vitamin D for infants ages 0-12months, and 600 IU per day for children over the age of one."
Boston Children's Hospital: Children don't necessarily, actually need vitamins and supplements, states Dr. Claire McCarthy from Boston Children's Hospital. In fact, she goes on to say that most children don't need them – which makes vitamins an expensive – and possibly dangerous – waste of money. Because vitamins and supplements can be dangerous if children take too many, talk to your doctor or healthcare provider before starting any type of vitamin and/or supplement regime.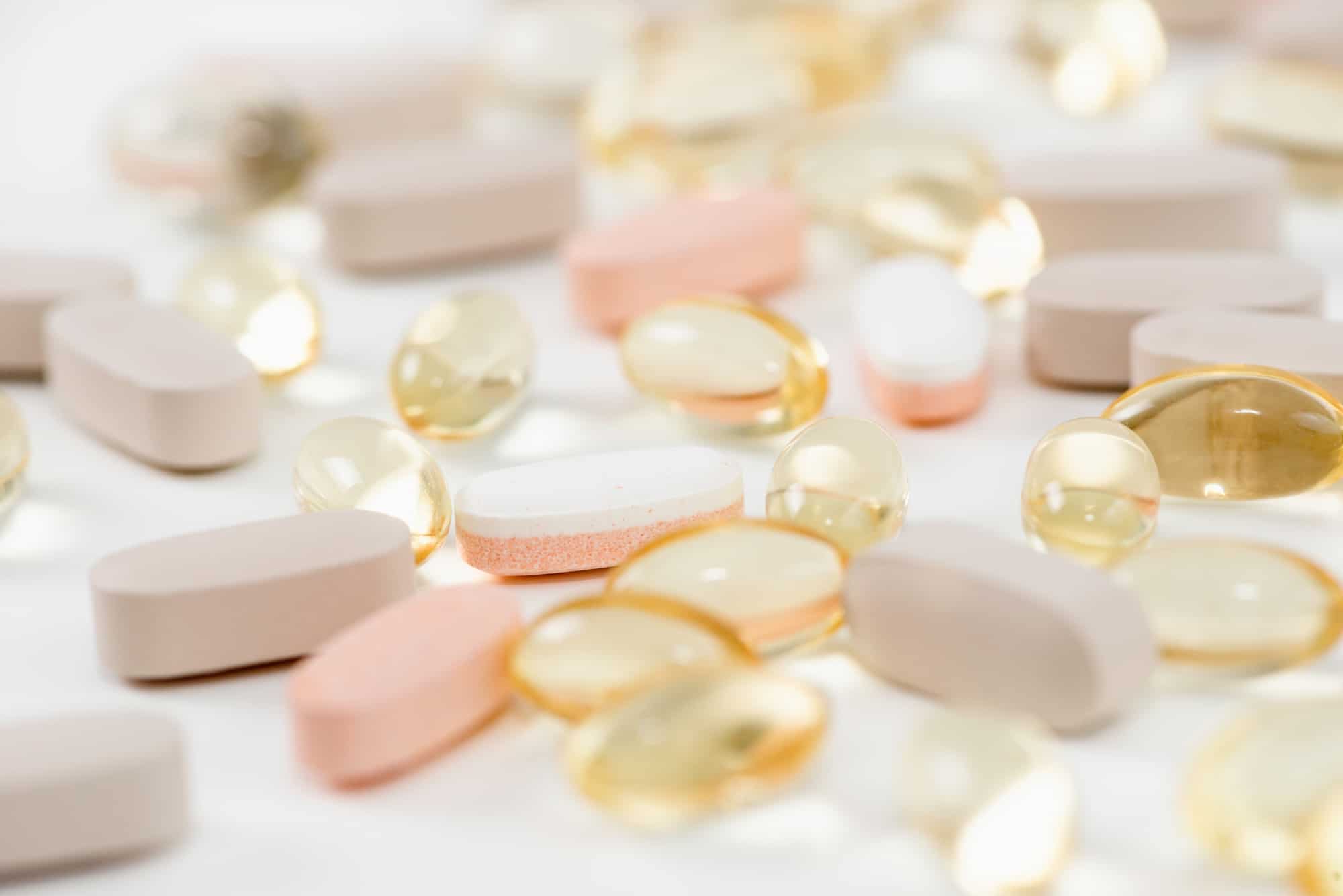 Are There Special Groups of Children Who Should Be Given Vitamins And Supplements?
Yes, in fact, there are several groups of children who should receive vitamins and/or supplements – still under the watchful eye of your children's doctor. These groups of children include:
Breastfed babies. Baby formula is fortified with vitamin D, which is important for bone growth and other body processes, while breast milk is not. To be clear: breast milk is truly the perfect food for babies and mothers should breastfeed whenever possible. See, vitamin D is a sunshine vitamin, so if all babies were out in the sun regularly, there would be no need for supplementation of vitamin D. The truth is that we don't get little babies out in the sun regularly, so your doctor can help you figure out the dosage and amounts to give to your breastfed baby.
Children with vegetarian, vegan, or other alternative diets. We're not saying that you can't get all your nutrients from diets that don't contain animal products or are otherwise different from the average diet because that's not true. However, it's not always easy to get kids to eat all the foods they need in the quantities they might need — and it could take quite a large quantity to get certain nutrients, like iron. Iron is very important for growing bodies and developing brains. Again, talk to your doctor about which supplements may make sense for your child.
Children with very restricted diets. Ah, these can be the children who flat-out refuse to eat a fruit or vegetable, the ones who could live on the "white diet" of pasta, rice, potatoes, bread and milk, the ones who refuse everything but chicken nuggets and french fries. Clearly, a vitamin is not the answer here: work with your doctor to find ways to expand your child's diet into something healthier. But in the meantime, a multivitamin with minerals may help prevent nutritional deficiencies.
Children whose conditions or medications put them at risk of nutritional deficiencies. Let's not forget that there are children have difficulty absorbing certain nutrients and that some take medications, like isoniazid or methotrexate, that may require vitamin supplementation. If your child has a chronic condition or takes medication regularly, ask your doctor if any vitamin supplements would be helpful.

The Children's Supplement Industry Has Some Issues You Need to Know About Before Purchasing a Bottle
Before you go traipsing after those delicious looking gummy worm vitamins, you need to know the risks as there are a number of clear-cut problems with the children's vitamin and supplement industry.
Problem #1: We Simply Don't Know How Children's Bodies React to Different Supplement Ingredients…Yet
There is one major problem with giving children supplements: we still don't know very much about each ingredient, which means we also don't know if and how dietary supplements can help or hurt our children. While there are a number of studies regarding herbal and homeopathic remedies, they usually have flaws in their design, and most products lack physical randomized trials. In other words, the latest craze may not be in your child's best interest.
Here are some of the ingredients that do not have recommendation amounts because we do not know how children's bodies react to them. That doesn't necessarily mean it's bad, but we demand studies on synthetic ingredients so we should also demand studies on natural ingredients. Natural doesn't necessarily mean safe. Asbestos, arsenic, and lead are natural and they can harm. We also included ingredients that are known to cause harm to children. Click here to see the full list.
Bifidobacterium is not well understood for babies under one year of age. Some studies say it's ineffective, one warns of danger, and new studies at UC Davis says it's beneficial.
Streptococcus thermophilis is linked to swelling and inflammation
B. coagulans not studied
Inulin only safe for children for 4 months
Astragalus Root not studied
Elderberry Fruit not studied
Xylitol is linked to diarrhea in children
Chicory is not safe for children
Rosemary extract not studied
DEA/EPA not studied
Astaxanthin not studied
Krill oil not safe for children because it's linked to excessive diarrhea
Cod Liver Oil is unsafe for children under 6 because it's linked to excessive diarrhea
Castor oil is unsafe for children under 10 because it's linked to excessive diarrhea
Rosemary leaf extract not studied
N-Acetyl L Cysteine not safe for children
Alpha-Lipoic acid is not safe for children
Digestive enzymes (protease, amylase, lactase, cellulase, lipase, invertase) not studied
L-Glutamine not studied
Silicon dioxide is not safe for children
Lo Han Fruit not studied
Pectin not studied
Tartaric acid not tested in children
Mannitol is linked to digestive upset in children
Quilaia not studied
Annatto is not safe for children
Malic Acid is not safe for children
The full list of ingredients we found that are either harmful or don't have studies can be found here.

Problem #2: The FDA Only Intervenes After An Adverse Reaction
Nevertheless, kids' use of herbal supplements continues to rise and so do the number of calls to poison centers. In fact, supplement related calls have been on the increase until 1994, which is when legislation took effect to have the Food and Drug Administration intervene only after products are already on the market, which in turn, allowed the supplement industry to run wild and free. Sounds charming until you realize they're talking about supplements we give to our children. In the years that followed, a modest 4,000 children's supplements quickly became over 80,000.
Problem #3: What You See Isn't Always What You Get
As is the case with most things we buy, what's listed on the bottle isn't always what you get. There was a case in which the FDA studied store-bought honey and determined that most of it wasn't actually honey – it was a hodge-podge of ingredients thrown together.
Gross, right?
If you think that's bad – and we do – those beautiful, neon-colored, glittery kids vitamins and supplements are often similarly faked. In fact, in a 2013 study by Kaiser Permantante, researchers took a look at 55 over-the-counter vitamin D supplements and determined, whoops! the amount of vitamin D inside ranged from 9% to 143% of what was actually in each bottle. They even significantly varied between each pill in the bottle.
In a real-life, real tragic study found in Pediatrics, 7 children experienced vitamin D overdose due to erroneous product labeling. It turned out that all 7 kids had been given a fish oil supplement. Analysis of the fish oil revealed that the vitamin D3 content was about 4,000 times the labeled concentration. Fortunately, the children recovered after a lengthy hospital stay.
In the spring of 2019, a study published in Hepatology Communications, researchers analyzed the ingredients of 272 herbal and dietary supplements that are associated with liver injury. A whopping 51% of them had ingredients that weren't listed on the label.
Researchers examined the FDA's database of unwanted side effects of supplements in children and teens – coldly and clinically called "adverse events." Between the years of 2004 – when the legislation took effect, researchers noted that of 977 events reported, about 40% involved extreme medical outcomes such as hospitalization, disability, or death.
This is a big problem, but another reason to avoid purchasing cheap supplements for the kids. You end up getting what you paid for–cheap quality supplements. But one solution to this problem is looking for NSF certification. When a company is NSF certified, what they state is inside the bottle is actually inside the bottle.
Problem #4: Companies have High Levels of Lead & Mercury in Their Products
Because most of these companies sell in California, they are subject to California's consumer safety laws that force them to tell warn customers about carcinogens in their products, such as heavy metals & bisphenols. This law is referred to as "Prop. 65" and when you see a warning on children's supplements, our recommendation is to throw it away. There are better brands out there.
The most common contaminant in supplements is lead that comes from the soil and mercury that comes from fish. Fortunately, every company HAS to tell you if a product contains high levels of lead or mercury provided they sell in California. ANY brand that avoids selling in California, I would avoid completely for obvious reasons.
Problem #5: New GMOs are Contaminating the Supplement Industry and Masquerading as "Natural"
There's a new source of genetically modified ingredients that are masquerading themselves as "natural" again. It's GMO 2.0 called synthetic biology or "synbio" and it's incredibly hard to spot because so many in the industry defend this practice and refer to the technology as "fermentation" instead of what it is. So pay close attention when a brand call something "fermented." One example of synbio in food is the Impossible Burger made from synbio heme.
Synthetic biology changes the genetic code of living entities by editing portions of their DNA. New genes are not introduced like with conventional genetically modified organisms (GMOs), but instead, their DNA is changed through a gene-editing technology called CRISPR. Genes are added, removed, turned on or off, or completely rewritten. What could possibly go wrong, right?
"This type of genetic modification is largely unregulated — not currently subject to special regulations or oversight, no testing is required in order to market — and it is not tested for safety," said Bethany Davis, Director of Industry and Regulatory Affairs for MegaFood.
Ingredients inside children's supplements & probiotics to watch out for:
Nicotinamide Riboside or Vitamin B3–brand TRU NIAGEN
Vitamin D2 and Squalane
Vitamin C or Ascorbic acid developed by Kraft, the food company
(veri-ti) Resveratrol by brand Evolva
Eversweet Stevia by Cargill
Vanillin (artificial vanilla flavor)
Algal DHA called "AlgaPrime DHA"
Cannabis/cannabinoids: this company & this company
Carotenoids (B-carotene AND astaxanthin, developing Spirulina), Carotenoids (Zeaxanthin AND Saffron Compounds Crocin AND Crocetin)

Fatty Acids

, unsaturated (Linoleic acids), & amino acids (L-Cysteine, Cystine, E921, L- Phenylalanine)

Blue dye made from Spirulina

Probiotics by brand Unibiome
Yeast Oil (TRIGLYCERIDES) & Yeast flour

Problem #6: Nanoparticles Are Frequently Used as Silica & Titanium Dioxide in Children's Supplements
According to the Center for Food Safety, "Nanotechnology is a powerful but novel platform for taking apart and reconstructing nature at the atomic and molecular level with important human and environmental health ramifications. Common food-related products that contain nanotechnology include candies (M&M's, Skittles), baby bottles, and plastic storage containers."
While scientists agree that nanomaterials create novel risks that require new forms of toxicity testing, very little testing and regulation of these new products exist, and consumers have almost no information.
CFS built a database as a step to fill the information gap, to alert consumers of just how widespread this technology is, and to improve transparency in our food supply.
Here are some ingredients we pulled from the database that are related to supplements.
Any ingredient containing the word "nano"
Nanoencapsulation, meaning the capsules themselves can contain nanomaterials
Titanium
Titanium Dioxide
Calcium
Magnesium
Silica
Silicon Dioxide
Zeolite
B12
Boron
Chromium
Magnesium
Copper
Iodine
Iron
Lithium
Selenium
Curcuminoid
Resveratrol

Problem #7: Too Many Brands Use Folic Acid Instead of Folate 
In the past decade, scientists have been really focused on genes and how they interact with the body and they've discovered one gene in particular that can impact health outcomes in children. It's called MTHFR gene mutation. People who suffer from this gene mutation MUST be given L-methylfolate as a vitamin instead of folic acid.
MTHFR or methylenetetrahdrofolate reductase is a very common genetic mutation. MTHFR is a gene that codes for how enzymes in the small intestine process folic acid. Folic acid, or vitamin B9, is an essential vitamin only obtained from food or supplements. When you consume folic acid as a supplement or folate in foods, enzymes in the gut work to turn them into L-methylfolate. This is the precursor or building block for serotonin, dopamine, and norepinephrine–the hormones that make us feel happy and give us energy. People with the inability to process folic acid into L-methylfolate also have trouble producing serotonin, dopamine, and norepinephrine, which can impact mood. In order to process folic acid in the body, it requires the presence of a specific enzyme named dihydrofolate reductase. Many people have less of this enzyme.
When a person with one of these gene mutations is given folate instead of folic acid, their mood, and energy level may improve. And that's because their body doesn't have the ability to fully change folic acid into the hormones needed, so when it's given in the form that they are able to handle, things change. When people who are sensitive to folic acid are given folic acid, it remains inside the body and can create side effects including changes in sex hormones, mood changes, trouble concentrating, inability to sleep, and deficiencies in certain nutrients like vitamin B12.
If you would really like to get tested, here are some resources:
MTHFR.com $150 (direct reporting)
23&Me $199 (you'll need to download "raw data")
Ancestry.com $89 (you'll need to download "raw data")
Another route is getting your testing done at 23&Me or Ancestry.com and downloading the "raw data" and then uploading it to another platform. Here's information on how to pull out your raw data from 23&Me. Once you have your raw data, upload it here for methylation analysis and interpretation:
What's With All of the New "Miracle" Supplements That Are Coming Out?
Have you noticed that vitamins and supplements are constantly changing their formulas? During this investigation, one manufacturer actually stopped making their supplement, which, in this growing industry, will hardly be missed. Here are some quick tips to help you identify false or misleading claims.
A very few diseases or conditions can be treated quickly, so be suspicious and cautious of any therapy claiming it as a "quick fix."
Be extremely wary of vitamins & supplements that claim to treat a huge, and often unrelated range of diseases.
So-called "miracle cures," which claim scientific breakthroughs or contain secret ingredients, are likely a hoax
Personal testimonials can be paid and are no substitute for scientific evidence.
If it seems too good to be true, it is.
Read the labels: as I found during this investigation there a lot of children's supplements & probiotics and vitamins that don't provide a look at the backside of the bottle, where the information is.
Be suspicious of websites that look like they're trying to sell you a Flowbee or another infomercial stuff.

Fat-Soluble Versus Water-Soluble Vitamins
Vitamins are divided into two categories: fat-soluble and water-soluble. So what's the difference?
The type of solubility – fat or water – has to do with how the vitamins are absorbed and transported, if they can be stored in the body, and how easily they are eliminated from the body.
Fat-soluble vitamins are A, D, E, and K. Fat-soluble means that they are absorbed in the lymph, are transported in the blood with carrier proteins, and they can be stored in the liver and fatty tissues. That these vitamins can be stored means that they can also build up to toxic levels when consumed in excessive amounts – generally a problem of over-supplementation. It is very important to stick to the guidelines on how much is necessary and how much is dangerous. It is also extremely important to remember that since these vitamins are stored in the fatty tissues of the body, losing a bunch of weight quickly can be dangerous.
Water-soluble vitamins are B and C. The B vitamins include thiamin, riboflavin, niacin, folate, pyridoxine, and B12. Because water-soluble vitamins are easily dissolved, they can be excreted in the urine, rather than being stored in the fat of our body. However, just because we can excrete water-soluble vitamins does not mean that we can simply take as much as we want.
This does not mean that you can take these in unlimited quantities. There can be problems with excessive amounts, so you must still be mindful of the limits for daily intake even in the water-soluble vitamins.
What Is The Recommended Daily Allowance (RDA) For Vitamins?
Also called dietary reference intakes (DRI), are documents are issued by the Food And Nutrition Board the Institute of Medicine, and the National Academy of Sciences. RDAs created by The Food and Nutrition Board are created to address the safety, quality, and adequacy of our food sources. This board also works to create both principles and guidelines of adequate dietary intake; and maintains authoritative judgments on the relationships among food intake, nutrition, and health.
DRI is the general term for a set of reference values used to plan and assess the nutrient intakes of healthy people. These values, which vary by age and gender, include:
Recommended Dietary Allowance (RDA): average daily level of intake sufficient to meet the nutrient requirements of nearly all (97%-98%) healthy people.
Adequate Intake (AI) are established when evidence is insufficient to develop an RDA. AI is set at a level estimated to ensure nutritional adequacy.
Tolerable Upper Intake Level (UL): this is the maximum daily intake unlikely to cause adverse health effects.
It's not mentioned prominently in this post, because it's rare, but most of these vitamins, however natural they may be, can interact with other serious illnesses, medications, and other afflictions that children may have. It's incredibly important to talk to your child's doctor before you even think about giving out vitamins.
Why Do Many Vitamins Have Over 100% of The RDI?
Everywhere you look, you see vitamin supplements that are over the daily recommended allowance which seems, well, bad.
Children who take supplements and ingest fortified food and drinks may consume some of the nutrients above – and over – the upper limit – which increases the possibility of adverse events. This means that you must carefully use multi-vitamins with nutrients below the RDA for your children as well as watch the amount of fortification that your child receives. Studies have shown that children are consistently overdoing it on several nutrients: Vitamin A, Vitamin B6, Niacin, and Zinc.
Too much Vitamin A in children can, for example, lead to serious side effects if used in the long-term (as you'd expect by taking a multivitamin) such as liver damage, skeletal abnormalities, peeling skin, brittle nails, and hair loss. 
High zinc intakes can impair the absorption of copper which negatively affects red and white blood cells and immune function
Niacin is less toxic than vitamin A and zinc, but excessive niacin intake can cause short-term symptoms such as rash, nausea, and vomiting.
The result of extremely high RDA values used on nutrition labels, and the FDA's lax, outdated, and unenforceable food fortification policy, means many millions of children are taking in potentially and unhealthy amounts of minerals and vitamins from the combination of fortified food and vitamin supplementation.
Understanding The Vitamin (Alphabet) Soup From A to K
Your doctor wants your kid to take a supplement, after careful conversations about nutrition from foods and the dangers of vitamins. What do all of these vitamins do? How do you know what's best? We've broken it down for you.
Vitamin A
Vitamin A is naturally present in many foods. Vitamin A is important for normal vision, the immune system, and reproduction; additionally, it also helps the heart, lungs, kidneys, and other organs work properly. Vitamin A is also found in many dietary supplements, such as multivitamins – often at higher doses than is necessary.
This is the recommended daily intake of Vitamin A from birth to age 18. It is imperative to note that at different ages and stages, boys and girls may need more or less of Vitamin A.:
Recommended Daily Allowance:
0-6 months = 400mcg RAE

7-12 months = 500mcg RAE

1-3 years =  300mcg RAE

4-8 years = 400mcg RAE

9-13 years = 600mcg RAE

14-18 years = boys -> 900mcg RAE / Girls -> 700mcg
There are two different types of vitamin A.
The first type, preformed vitamin A, is found in meat, poultry, fish, and dairy products.
The second type, provitamin A (also known as beta-carotene), is the most common type of provitamin A, is found in fruits, vegetables, and other plant-based products.
Overdose of Vitamin A:
A number of studies have shown risks of high intake of Vitamin A for infants, toddlers and children. Infants, for example, who receive very high amounts may develop intracranial and skeletal abnormalities as well as increased cranial pressure – swelling of the brain. Among the more common signs of vitamin A toxicity are brittle nails, hair loss, fever, headaches and weight loss. At high doses, vitamin A is also toxic to the liver, the body's main storage site for vitamin A.
High intakes of preformed vitamin A in pregnant women can also cause birth defects in their babies.
Overdose of Vitamin A can happen much more easily than previously thought because so many of the things we consider dietary staples are already fortified with Vitamin A..
Vitamins B1 or Thiamin
Vitamin B1 – also called Thiamin,  is a water-soluble vitamin that is found naturally in some foods, is added to foods, and is sold as a supplement. Only small amounts of B1 can be stored in the liver, so a daily intake of thiamin-rich foods is needed to maintain good health.
Because thiamin is involved in several basic cell functions as well as the breakdown of nutrients for energy, a deficiency in B1 can lead to various problems in the brain and heart that require a constant supply of energy.
Recommended Daily Intake (RDI)
0-6 months = 0.2 mg

7-12 months = 0.3 mg

1-3 years = 0.5 mg

4-8 years = 0.6 mg

9-13 years = 0.9 mg

14-18 = 1.2 = boys / 1.0 girls
Overdose of B1/Thiamin:
Our body excretes excess amounts of thiamin in the urine rather than storing it in the body. Even so, the FNB noted that despite the lack of reported adverse events, excessive intakes of thiamin could have adverse effects – especially to children.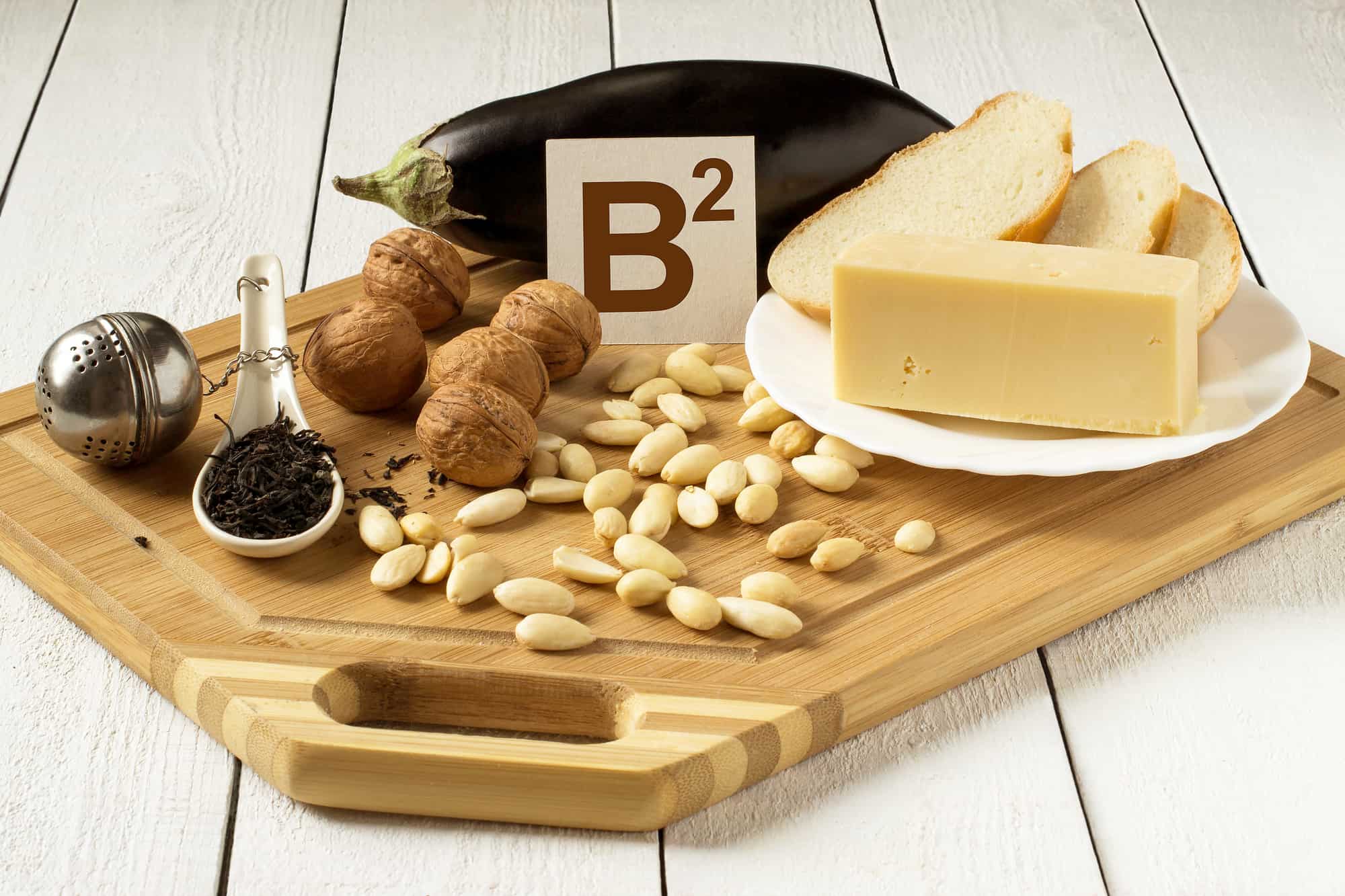 Vitamin B2 or Riboflavin
Riboflavin/Vitamin B2) is one of the B vitamins, which are all water-soluble. Riboflavin is naturally present in some foods, added to some food products and available as a dietary supplement. B2 is involved in many processes in the body and is necessary for normal cell growth and function. Riboflavin is frequently used in combination with other B vitamins in vitamin B complex products.
Found In:
Riboflavin is be found in certain foods such as milk, meat, eggs, nuts, enriched flour, and green vegetables.
Recommended Daily Allowance for Children:
0-6 months = 0.3mg

7-12 months = 0.4 mg

1-3 years = 0.5 mg

4-8 years = 0.6 mg

9-13 years = 0.9 mg

14-18 years = boys = 1.3mg / girls 1.0mg
Overdose of Riboflavin:
Intakes of riboflavin from food that are many times the RDA have no observable toxicity, but per the FNB: just because there is limited data on B2, does not mean that higher than normal doses of this vitamin have no adverse reactions. They urge us to be cautious about consuming massive doses of riboflavin – most especially in children.
Vitamin B3 or Niacin
Niacin (also called vitamin B3) works with your body turn the food you eat into the energy you need. Niacin is important for the development and function of the cells in your body. It's also commonly found in daily multivitamins and in B-complex vitamin supplements.
Found In:
Found naturally in many foods, niacin is added to some other foods. foods
Certain types of grains, nuts, and legumes
Enriched and fortified foods like breakfast cereal.
Animal foods, like as poultry, beef, pork, and fish
Recommended Daily Allowance For Children:
0-6 months = 2 mg

7-12 months = 4 mg NE

1-3 years = 6mg NE

4-8 years = 8 mg NE

9-13 years = 12 mg NE

14-18 years = boys = 16mg NE / girls = 14 mg NE
Overdose of Niacin:
The niacin that we find in our food naturally is considered to be safe. However, simply because we do not know what would happen to children who take too much niacin, the FNB warns us that children may have reactions to too much niacin and to be careful with the amount of Vitamin B3 we give to children.
Vitamin B5 or Pantothenic Acid
Vitamin B5 is important for our bodies to properly use carbohydrates, proteins, and lipids and for healthy skin. There are a lot of touted – not confirmed – medical uses for Vitamin B5, however, there is not much scientific data to confirm their efficacy and safety.

Found In:
Nearly all animal-based- and plant-based foods contain Vitamin B5  Some of the richest dietary sources are beef, chicken, organ meats, whole grains, and some vegetables. Pantothenic acid can be added to various foods, including some breakfast cereals and beverages (such as energy drinks).
Limited data indicates that the body only absorbs 40%–61% (or half, on average) of Vitamin B5 from foods.
Recommended Daily Allowance for Children:
0-6 months = 1.7 mg

7-12 months = 1.8 mg

1-3 years = 2 mg

4-8 years = 3 mg

9-13  years = 4 mg

14-18 = 5 mg
Overdose:
There is currently no toxic events associated with overdose of Vitamin B5, although overdose in children has not been scientifically evaluated. The FNB warns that just because we do not know what an overdose of B5 would entail, so use supplementation with care.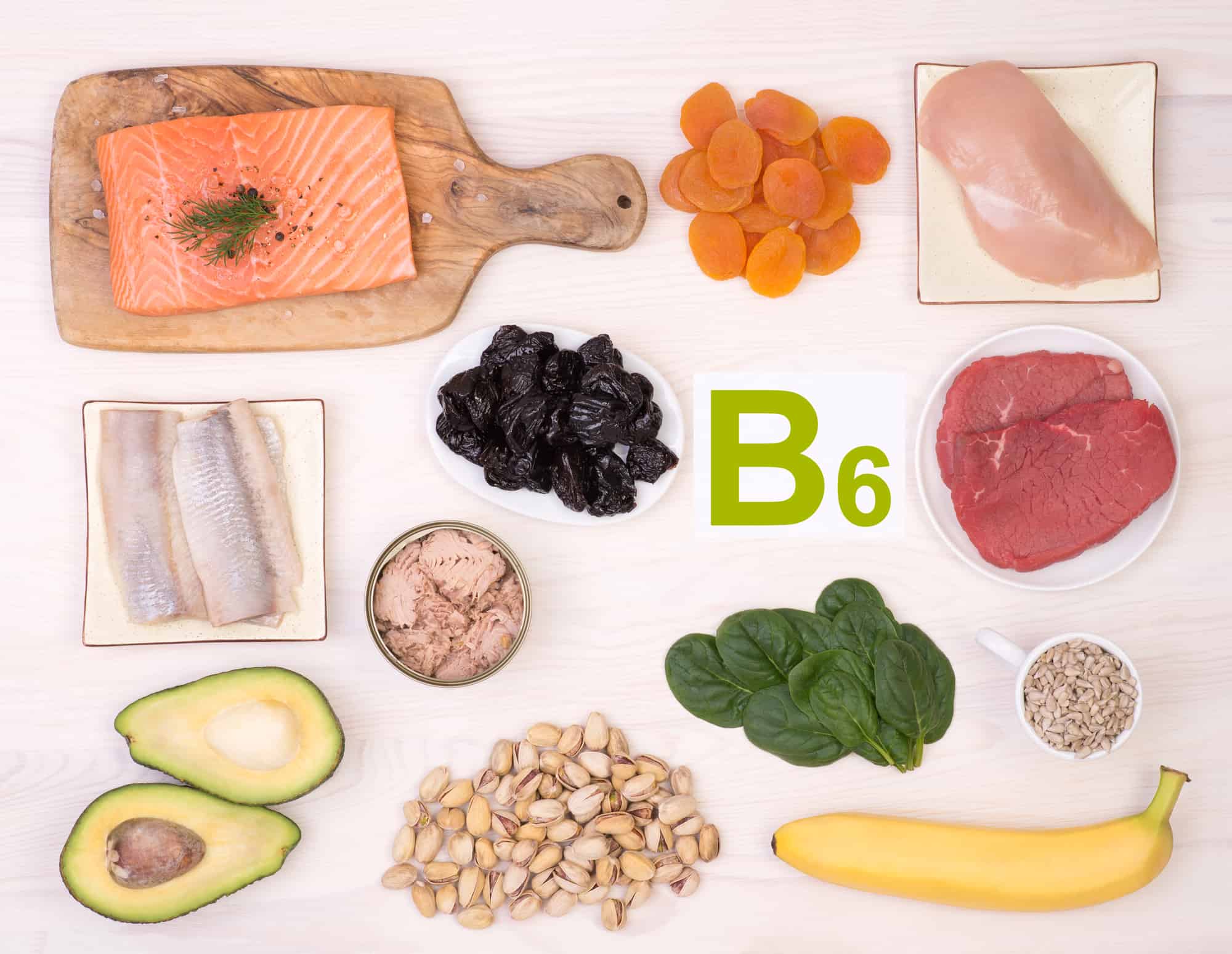 Vitamin B6 or Pyridoxine
This vitamin assists more than 100 enzymes to perform different types of functions, including the breakdown of fats, protiens, and carbohydrates, and fats, as well as supporting immune function and brain health. 
Found In:
Vitamin B6 is found in a variety of animal and plant foods including beef liver, salmon, tuna, cereals that are fortified, poultry, chickpeas, dark leafy greens, bananas, oranges, and cantaloupe.
Recommended Daily Allowance for Children:
0-6 months =  0.1mg

7-12 months = 0.3 mg

1-3 years = 0.5 mg

4-8 years = 0.6 mg

9-13 years =  1.0 mg

14-18 years = 1.2 mg girls / boys = 1.3 mg
Overdose:
High intakes of vitamin B6 from food sources have not been reported to cause adverse effects, but overdose on supplementary vitamin B6 has not yet been studied, especially not on children. Exercise major caution when giving supplements to your children because we simply don't know what can happen.
Vitamin B7 or Biotin
B7 helps turn the carbohydrates, proteins, and fats in the food you eat into the energy you need.
Found In:
This water-soluble vitamin is found in many foods. Those that have the most biotic are organ meats, fish, seeds, sweet potatoes, meat, nuts.  
Recommended Daily Allowance for Children:
Birth – 6 months, 5mcg

7-12 months 6mcg

1-3 8mcg

4-8 years 12mcg

9-13 = 20mcg

14-18 = 25mcg
Overdose:
Biotin reacts to a number of different things, so its usage in a supplement should be suggested and monitored by your doctor. Just because we currently have no evidence that an overdose in biotin can  harm the health of your child, we simply do not yet know what an overdose of Vitamin B7 would look like.
Vitamin B9 or Folate or Folic Acid
Folate, Vitamin B9, or Folic acid works in the body to help to form DNA and RNA and is involved in protein metabolism. Folate plays a major role in breaking down homocysteine, which is an amino acid that can exert harmful effects in the body if present in high amounts. Folate is also needed to produce healthy red blood cells.
Found In:
A wide variety of foods naturally contain folate, folic acid, a form added to foods and supplements is easier for our bodies to absorb. Common sources of folate include, beans, sunflower seeds, eggs, liver, sea food, fresh fruit, dark green leafy vegetables, as well as a number of different fortified foods and supplements.
Recommended Daily Allowance for Children:
0-6 months = 65 mcg DFE

7-12 months = 80mcg DFE

1-3 years = 150mcg DFE

4-8 years = 200 mcg DFE

9-13 years = 300 mcg DFE

14-18 years = 400 mcg DFE

19+ = 400 mcg DFE
Overdose:
While considered to be relatively safe, higher amounts of vitamin B9 can mask the symptoms of a more serious combination: a vitamin B12 deficiency. High folate intake can  "hide" the symptoms of B12 deficiency for a long time, which means that slow but irreversible damage to the brain and nervous system can occur. Overdoses of folate have not been studied in children.
Vitamin B12 or Cobalamin
Vitamin B12 is required for us to create and form DNA and red blood cells and is involved with in the function and development of brain and nerve cells.
Found In:
Vitamin B12 is found naturally in animal products, including meat, poultry, fish, milk, milk products, and eggs.
Vitamin B12 is generally not present in plant foods, but fortified breakfast cereals are a readily available source of vitamin B12 with high bioavailability for vegetarians.
Recommended Daily Allowance:
0-6 months = 0.4 mcg

7-12 months = 0.5mcg

1-3 years = 0.9 mcg

4-8 years = 1.2 mcg

9-13 years = 1.8 mcg

14+ years = 2.4 mcg
Overdose:
The Institute of Medicine states "no adverse effects have been associated with excess vitamin B12 intake from food and supplements in healthy individuals."
But a Vitamin B12 overdose has not been studied in children, and you must speak to your doctor before you start ANY high dose supplements.
Vitamin C or Ascorbic Acid
Vitamin C (ascorbic acid) is a vitamin necessary to create blood vessels, cartilage, muscle and collagen in bones, it's also vital to the body's healing process.
It is also one of the most studied of the vitamins. Vitamin C also helps your body absorb and store iron.
Found In:
Unfortunately, our body doesn't naturally produce vitamin C, so you need to get it from their diet.
Vitamin C is found in citrus fruits, berries, tomatoes, peppers, potatoes, and  cabbage, and green leafy veggies like Brussels sprouts, spinach, and broccoli.
Vitamin C is also available as an oral supplement, typically in the form of capsules and chewable tablets.
Recommended Daily Allowance:
0-6 months = 40mg

7-12 months = 50mg

1-3 years = 15mg

4-8 years = 25mg

9-13 years = 45mg

14-18 years = girls -> 65mg / boys ->75mg
Overdose:
As one of the most studied of the vitamins, we know that Vitamin C isn't considered to be toxic, but it does interact with a number of conditions, supplements, and other medications. Overdosage of Vitamin C in children hasn't been readily studied, so speak to your doctor before starting your kids on megadose vitamins.

Vitamin D (D2 as Ergocalciferol OR D3 as Cholecalciferol)
Vitamin D is found in two forms that you may see listed on the side of your supplements:
Vitamin D2 or ergocalciferol
Vitamin D3 or cholecalciferol
Vitamin D is a fat-soluble vitamin that is naturally available in very few foods, added to others, and available as a dietary supplement. It is also produced by our body when ultraviolet rays from sunlight strike the skin and trigger vitamin D synthesis.
Having the right balance of vitamin D, calcium and phosphorus is important for building and keeping strong bones.
Found In:
Vitamin D is created by the body when our skin is exposed to sunlight. Sunscreen, limited exposure to sunlight, and protective clothing can lead to Vitamin D deficiency. Foods that have a lot of vitamin D include fortified dairy products, sardines, cod liver oil, fatty fish, eggs, and chicken livers.
Breastfed babies, as human milk is a poor source of the nutrients should be given a supplement of 400 IU of vitamin D each day under the strict order of your doctor. Too much Vitamin D is very dangerous.
Recommended Daily Allowance For Children:
1-12 months: 400IU (10mcg)

1-18  years:  600IU (15 mcg)
Overdose:
When amounts of Vitamin D in the blood become too high, signs of toxicity occur, including, nausea, vomiting, weight loss, poor appetite, and weakness. By raising blood levels of calcium, too much vitamin D can cause confusion, disorientation, and problems with heart rhythm.
Excess vitamin D can also lead to damage to the kidneys.
Vitamin D toxicity almost always occurs from the overuse of supplements. Excessive sun exposure doesn't cause vitamin D poisoning because the body limits the amount of this vitamin it produces.
Vitamin E
Vitamin E is a fat-soluble vitamin that's found in many foods and plays a number of important roles in our body. Vitamin E acts as an antioxidant, helping to protect cells from the damage caused by free radicals.
Vitamin E boosts our immune system so that it can fight off invading bacteria and viruses, and helps widen blood vessels and keep blood from clotting within them.
Found In:
Nuts and seeds: almonds, hazelnuts, peanuts, and sunflower seeds are some of the best sources of Vitamin D
Green veggies, like spinach and broccoli
Vegetable oils: wheat germ, sunflower, and safflower oils are some of  the best sources of vitamin E.
It can be added  to some breakfast cereals, fruit juices, margarines and spreads, and other foods. Just check the label to see what's been fortified.
Recommended Daily Allowance:
1-6 Months = 4mcg/6 IU

7-12 months = 5mcg/ 7.5 IU

1-3 years = 6mcg / 9 IU

4-8 years = 7mcg / 10.4 IU

9-13 years =  11mcg /16.4 IU

14-18 years = 15mcg / 22.4 IU
Overdose:
In supplement form, very high doses of vitamin E may increase the risk of bleeding by reducing the blood's ability to form clots after a cut or injury. Too much Vitamin E can also lead to a hemorrhagic stroke – serious bleeding in the brain that may or may not be recovered from.
Vitamin K
Vitamin K is majorly important for blood clotting, helping prevent a major bleed. Vitamin K also helps us keep healthy bones in addition to other functions in the body. If you are taking a blood thinner such as warfarin (Coumadin®), it's very important to get about the same amount of vitamin K each day.
Found In:
Vitamin K is found naturally in many foods. You can get recommended amounts of vitamin K by eating a variety of foods, including the following:
Vegetable oils
Fruits like figs and blueberries
Green leafy vegetables
Meat, cheese, eggs, and soybeans
Recommended Daily Allowance:
Birth to 6 months = 2.0mcg
7-12 months = 2.5mcg
1-3 years = 30mcg
4-8 years = 55mcg
9-13 years = 60mcg
14-18 years = 75mcg
Overdose:
There have been no reported adverse effects of vitamin K seen with the levels found in food or supplements. Be mindful, though as this does not rule out the danger with high doses of Vitamin K. It's use and efficacy has yet to be determined for children.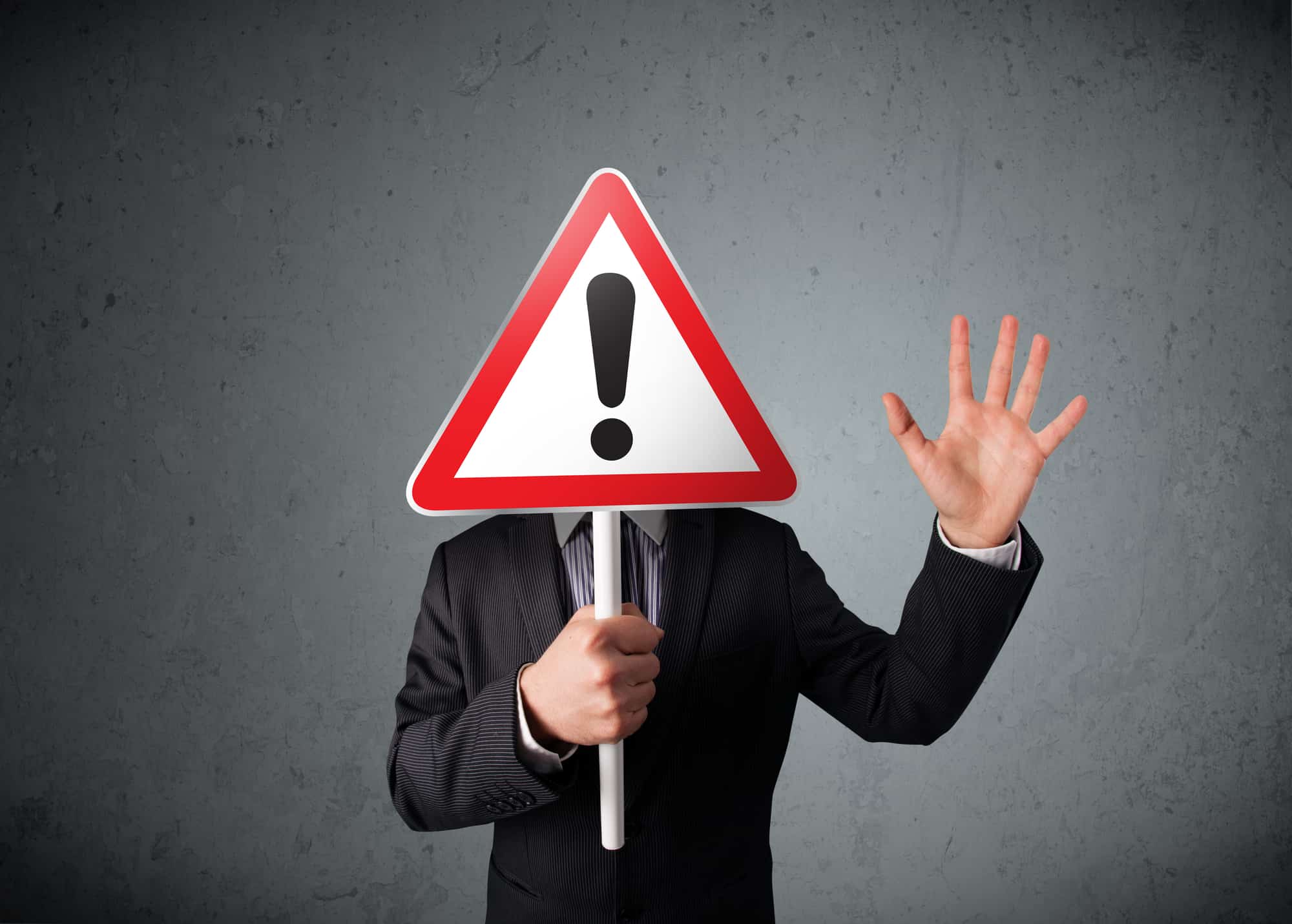 Specific Problems We Found While Researching Vitamins and Supplements for Children–The WTF Factor
Often the packaging is angled so that online, we're unable to find the exact ingredients and the right nutritional information.
Some companies, like DNA Miracles, refused to comment on this investigation.
Many of the percentages next to the RDI amount are wrong; making the vitamins appear to be within normal limits when they are not. Basic math people!
During each age and stage of a child, their nutritional needs change, which is why vitamins labeled for ages one to adult years of age are…..dumb. They don't provide the correct nutritional content for each stage of development.
Many of the supplements we found touted uses for the vitamins and supplements that aren't backed by any sort of research (or, the research is biased – such as study backed by the company's product).
Unfortunately, a lot of what's in the bottle isn't correct. While we couldn't test every single vitamin ourselves, we found several studies performed by Consumer Labs, which is an unbiased source to help us look to see what's within some of the vitamins, supplements, and probiotics.
There are a lot of unknown/untested products that sound safe for your child to take without any evidence of efficacy, safety in children (who are not small adults), or scientific evidence to back the products. Similarly, many of these unregulated products may be okay for a certain period of time for a child, but not longer. Examples:
Rose Hips
Bioflavonoids
Inositol
So What Now? How Can I Choose A Good Vitamin Or Supplement For My Children?
We know that a lot of this is overwhelming but there are a number of things we can do to make sure that our children's supplements & probiotics – and thus, our children, are as safe as possible. Don't go blindly buying children's vitamins and supplements before you know what to do and how to do it.
Talk To The Experts:
The American Academy of Pediatrics suggests talking to your pediatrician before starting any type of complementary medicine – including vitamins – because problematic behaviors, such as a child not sleeping, may be treated without any type of supplementations.
For example, many parents can relate to having a child who is a picky eater and the worrying that comes along with that. One of the things that we forget is that a lot of our food is already fortified with vitamins and minerals that we need. A doctor and/or nutritionist can help you choose the right supplement and vitamin for your children.
If you're already giving your children supplements or a multivitamin, make certain you tell the doctor, no matter how big your fear of your doctor is. A lot of children's supplements & probiotics interact with other medications and can lead to serious – possibly deadly, results.
Check To See If There's A Verification:
While the FDA doesn't oversee this market, there are a couple of nonprofit watchdog organizations that try to keep the industry safe.
The U.S. Pharmacopeial Convention is a US-based nonprofit organization that sets and maintains public standards for quality in food, drugs and dietary supplements. For a fee, the USP will independently audit the purity, potency, stability, and disintegration of supplements. This ensures that products contain the ingredients listed on the bottle and adhere to FDA guidelines. Currently, there is only one children's vitamin that has gotten the USP seal of approval. Here's the sidebar, and it's a doozy:  This organization will not say and cannot whether a product is effective.  
The NSF International is a favorite here at Mamavation as this company is a nonprofit that also tests products with stringent guidelines and only rarely gives its seal of approval. Dietary supplements that have been certified by the NSF meet the regulations for NSF/ANSI 173 to promote public health and safety. NSF/ANSI standards are created through a process that guarantees balanced input from industry representatives, public health/regulatory officials, users/consumer representatives, and other relevant interest groups.

Safety First:
Over and over in the literature, specialists who study children's supplements and vitamins warn this: do not overuse the supplements or vitamins. The NIH makes it entirely clear:
"Taking a basic multivitamin [Multivitamin] that provides nutrients approximating recommended intakes should pose no safety risks to healthy people. However, [children] who take MVMs and other supplements and who eat fortified foods and beverages might consume some nutrients at levels exceeding the [Upper Level of the RDI – Recommended Daily Intake}, increasing the possibility of adverse effects  This can also be a concern for people taking MVMs that contain some vitamins or minerals at doses approaching or exceeding the UL."
"Natural" Does Not Mean "Safe"
Everywhere you look, "natural" products are being touted as the way to go; a safe option. Think about it like this, arsenic is natural, too, and it can kill you. So avoid falling prey to the "natural" craze with children's supplements & probiotics
Remember this: a supplement's safety depends on many things, such as its chemical makeup, how it works in the body, how it is prepared, and the dose used. We are okay with some synthetics used provided they are a good use of a synthetic ingredient, not problematic to children,  and not just used as a cheap filler, harsh preservatives, or etc. (We feel the same way about personal care products as well.)
And this isn't a joke. Certain natural herbs (for example, comfrey and kava) can harm the liver, while others can lead to heart damage.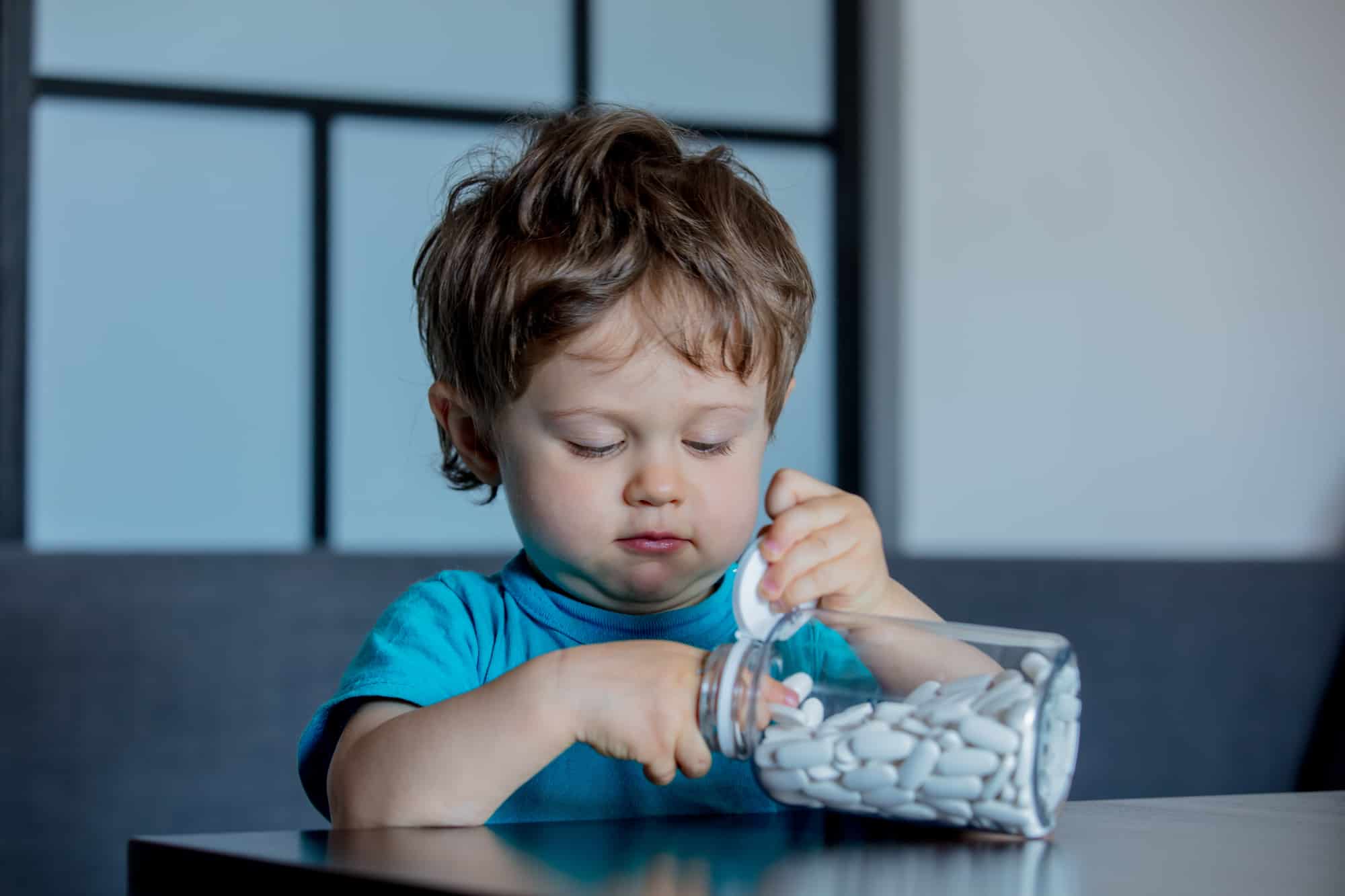 Be Wary of Any Touted Health Benefits of Children's Supplements & Probiotics:
Many types of dietary supplement labels boast of certain types of health-related claims: increase focus, energy, supports metabolism. Without any proof of claims such as (this manufacturers supplement), addresses a nutrient deficiency, claim to help a certain body system (such as immunity), or "supports health," supplement manufacturers can slap these claims onto the bottle without any issues or blowback from the FDA or other governing bodies.
Each claim must be followed by the omnipresent "This statement has not been evaluated by the Food and Drug Administration. This product is not intended to diagnose, treat, cure, or prevent any disease."
Vitamins Are NOT Candy:
Nowadays, deliciously flavored vitamins and supplements are everywhere. Why would I want an unflavored, unsweetened vitamin when I can take one tastes like peach mango? Simply put, I wouldn't. That said, vitamins are made appealing to kids (and easier for parents to get them down their picky gullet) and kids don't always listen. I know, I know, you're surprised.
So HIDE those vitamins and supplements as far away from prying child eyes. If your child does happen to get their grubby hands onto the supplement or vitamin bottle, go to your nearest ER immediately.
Also, just to have on hand, here's the US Poison Control number. Make SURE you keep it somewhere that you'll be able to find it if you're in a blind panic:
1-800-222-1222

Mamavation's Investigation of Children's Supplements & Probiotics
We investigated hundreds of children's supplements & probiotics. Most of these brands have vitamins levels above the Recommended Daily Allowances (RDA). This means you really need to discuss the supplements you decide on with your pediatrician to ensure your child is getting a safe amount. They will take into account food, beverages, other supplements, family history, and the environment before making a decision.
Bad Brands for Children's Supplements & Probiotics
Bad brands may have had the some of the following ingredients in excess: additives, preservatives, folic acid instead of folate, GMOs, ingredients made from synthetic biology, nanoparticles, high amounts of lead, high amounts of mercury, natural flavors, ingredients not studied in children, fat-soluble ingredients above the recommended daily amount, water-soluble ingredients above the recommended daily amount, & ingredients known to contain high levels of pesticides. We also marked brands down for not responding to our inquiries.
Amway Nutrilite™ Kids Brainiums DHA™ Supplement
Amway Nutrilite™ Kids Chewable Vitamin C
Amway's Nutrilite™ Kids Chewable Probiotic
Amway Nutrilite™ Kids Chewable Daily
Animal Parade® GOLD Children's Chewable Multi – Assorted Flavors
Carlson Kid's Vitamin C Gummies
Carlson Kid's Super Daily® K2
Carlson Kid's Super Daily D3
Carlson Kids Calcium plus D3 Natural Fruit Description
Carlson Kid's Chewable Calcium Vanilla
Culturelle Baby Grow + Thrive Probiotics + Vitamin D Drops
Culturelle Kids Complete Multivitamin Plus Probiotic Chewable
DNA Miracles Digestive Enzymes
DNA Miracles® Isotonix OPC-3
DNA Miracles® Isotonix® Multivitamin Plus
DNA Miracles Isotonix® Multivitamin
EMP Lightening Stiks
Flintstones Toddler Chewable Multivitamins
Flintstones Children's Complete Multivitamin Chewable Tablets
Flinstones Immune Support
Flintstones Children's Multivitamin Plus Iron Chewable Tablets
Genestra Brands – Children's Chewable Vitamins – Vitamin-Mineral Supplement
Genestra Brands – Pediatri Vite – Comprehensive Multi-Vitamin Supplement for Children and Adolescents
Hyperbiotics PRO-Kids® ENT Children's Oral Probiotics
Jarrow Formulations, Yum-Yum Dophilus, 1 Billion Organisms Per 2 Chewables, Intestinal and Immune Support for Children
Jarrow Formulas Baby's Jarro-Dophilus Drops, Supports Infant Intestinal & Immune Health
Jarrow Yum-Yum Dophilus, 5 Billion Organisms – Raspberry
Jarrow KidBear® Kids Multi Cherry
Kirkland Signature Children's Complete Multivitamin Gummies
Kirkland Labs CoQ10
Kirkman Labs: Children's Multi-Vitamin/Mineral – Hypoallergenic
Klare Labs MICELLIZED VITAMIN D3 LIQUID
Klare Labs THER-BIOTIC® CHILDREN'S CHEWABLE
Klare Labs VITATAB® CHEWABLE
Olly Kids Probiotic plus Prebiotic Just Peachy
Plexus X-Factor Kids
Probonix Newborn & Infants Liquid Probiotic
Pure Encapsulations: Immune Support Liquid
MetaKids™ Probiotic
Mommy's Bliss – Multivitamin Organic Drops
Natren Life Start Probiotics for Infants
Natural Factors Big Friends® Chewable Vitamin C Tangy Orange
Naturelo Chewable Multivitamin for Children
Nature's Alive, Multivitamin Chewables
Nature's Plus, Animal Parade, Children's Chewable Multi-Vitamin and Mineral
Nature's Way Primadophilus for Kids Orange
Nordic Natural's Baby's DHA
NOW Foods Kid Vits Berry Blast
Rainbow Light NutriStars® Multivitamin Delicious Fruit Blast
Rainbow Light NutriStars® Multivitamin Delicious Fruit Blast
Rainbow Light Probiolicious™ Probiotic Gummies Berry
Rainbow Light Kids One™ Multivitamin & Mineral Fruit Punch
Rainbow Light NutriStart Multivitamin Powder
Renew Life Baby Probiotic Ultimate Flora
Renew Life Baby Colic Drops
Renew Life Ultimate Flora™ Kids Probiotic Berry-licious
Renew Life Ultimate Flora™ Probiotic Gummies Probiotics for Kids Natural Fruit
Renew Life Kids Probiotic Ear Nose & Throat Orange Burst
Renew Life Kids DHA Omega-3 Fruit Punch
Renew Life Kids Digestive Enzyme – Digest Smart® Enzyme Supplement Berry Blast
Vitamin Friends Immune Probiotic Vegan Gummies Orange
Xymogen Kids Brain Sustain – Vanilla
Xymogen Kids DHA from Algae
Young Living KidScents MightyZyme Chewable Tablets
Young Living KidScents MightyVites Chewable Tablets
Zarabee's Natural Baby Probiotic Drops
Zarabee's Naturals Baby Multivitamin + Iron
Zarabee's Baby Immune Support Vitamins
Better Brands of Children's Supplements & Probiotics
Better brands also had some of these ingredients but in lower amounts: additives, preservatives, folic acid instead of folate, GMOs, ingredients made from synthetic biology, nanoparticles, high amounts of lead, high amounts of mercury, natural flavors, ingredients not studied in children, fat-soluble ingredients above the recommended daily amount, water-soluble ingredients above the recommended daily amount, & ingredients known to contain high levels of pesticides. Full disclosure of ingredients without the use of "natural flavors," response to our inquiries or certification will be looked at favorably and points deducted. Please note some of these children's supplements & probiotics are pharmaceutical grade and require a pediatrician to review before giving to a child. We will make note of which they are by using a *.
All-Star Nutrition Revolutionary Bio-heal Probiotic Powder*
Bio-Kult Infantis UK based but set to US standards
BioGaia Probiotics Drops With Vitamin D for Baby, Infants, Newborn and Kids Colic
Carlson – Kid's The Very Finest Fish Oil, 800 mg Omega-3s, Norwegian, Sustainably Sourced
Carlson Super Daily D3 for Baby
Carlson Norwegian Baby's DHA 1100 mg Omega-3s with Vitamin D3*
Dr. Mercola Liposomal Vitamin D3 for Kids 100IU
Dr. Mercola Liposomal Vitamin C for Kids
Dr. Mercola Krill Oil for Kids*
Dr. Mercola Complete Probiotics Powder Packets for Kids
Dr. Mercola Chewable Multivitamin for Kids*
Evivo Baby Probiotic*
Florajen Kids Refrigerated Probiotics
Florastor Kids 2+ months
Garden of Life RAW Probiotics Kids
Garden of Life Vitamin Code® Kids Cherry Berry*
Garden of Life mykind Organics Kids Multi Gummies Organic Cherry*
Garden of Life Oceans Kids® DHA Chewables™ Berry Lime*
Garden of Life Dr. Formulated Shelf Stable Probiotics Organic Kids plus Strawberry Banana
Garden of Life Dr. Formulated Probiotics Organic Kids Plus Berry Cherry
Genestra HMF Natogen*
GutPro® Infant Probiotics
Jarrow Formulas Baby's Jarro-Dophilus, Supports Infant Intestinal & Immune Health*
KAL Dinosaurs MultiSaurus® Children's Vitamins and Minerals Berry Grape and Orange*
Kirkland Labs Lacto/Bifido 8-Strain Probiotic
Kirkman Labs, Children's Multi-Vitamin/Minerals with 5-MTHF*
Mary Ruth's Organic Liquid Probiotics (Plant-Based)
Megafood MegaFood – Alpha-Teen, Multivitamin*
MetaKids® Baby DHA & D3
Mommy's Bliss Baby Probiotics Daily*
NATURELO Whole Food Vitamin Gummies for Kids*
NATURELO Whole Food Multivitamin for Teens*
NeuroNeeds*
Nordic Natural DHA Xtra
Nordic Naturals – Nordic Berries, Multivitamin Treats for Adults and Kids*
Nordic Naturals Nordic Flora Baby's Probiotic Powder
Nordic Naturals Probioitc Gummies, Kids*
NOW Foods Vitamin D-3 Chewable Natural Fruit*
NOW Foods Kid's Chewable DHA Fruit
Olly Kids Multi plus Probiotic Yum Berry Punch
OLLY Kids Super Food*
OLLY Teen Girl Multi Gummy Multivitamin*
Olly Kids Mighty Immunity Cherry Berry
Olly Kids Sleep*
Probonix Advanced Kids Probiotic for Children, Extra-Strength, UK based
Pure Encapsulations JR 120s*
Rainbow Light Gummy Vitamin C Slices*
Rainbow Light Teen Multivitamin Gummy Grape*
Rainbow Light Sunny Gummies™ Vitamin D3 Tangy Mandarin Orange
Rainbow Light Gummy Power Sours™ Multivitamin and Multimineral Sour Fruit*
Rainbow Light Bear Essentials® Multivitamin & Mineral Fruit*
Rainbow Light Omegalicious™ Omega 3 Gummies Sour Raspberry*
Simple Spectrum Supplement*
Smarty Pants Children's Probiotic*
SmartyPants Kids Formula & Fiber Daily Gummy Vitamins: Gluten Free, Multivitamin & Omega 3 Fish Oil*
UP4 Probiotics Kids Cubes Yummy Vanilla D*
Vitamin Friends Kids Vegan Sleep Gummies*
Vitamin Friends Kids Vegan Iron Gummy Pouches*
Vitamin Friends Iron Vegan Gummies Strawberry
Wellements® Organic Probiotic Drops
Zarabee's Naturals Baby Vitamin D
Zarbee's Naturals Complete Toddler Multivitamin
Zarbee's Naturals Children's Complete Multivitamin + Immune Gummies*
Zarbee's Naturals Children's Complete Multivitamin + Probiotic Gummies*
Zarbee's Naturals Children's Complete Multivitamin Gummies*

Best Brands of Children's Supplements & Probiotics
Best supplements have the least of the following ingredients: additives, preservatives, natural flavors, ingredients not studied in children, fat-soluble ingredients above the recommended daily amount, water-soluble ingredients above the recommended daily amount, & ingredients known to contain high levels of pesticides. Full disclosure of ingredients without the use of "natural flavors," response to our inquiries or certification will be looked at favorably and points deducted. This category will not contain GMOs, synthetic biology, nanoparticles or high amounts of lead or mercury that we could ascertain. Some of these children's supplements & probiotics have levels of vitamins above the recommended daily amount and will need to be evaluated by a pediatrician before taking. This doesn't mean it's bad, it just means your doctor needs to also take note of your child's daily routine and diet before they can approve said vitamin. We will mark these vitamins with a * at the end.
For Probiotics: We did an additional investigation on children's probiotics and have those results here, but have brought the best brands forward. These products did not have any issues with a lack of disclosure and use strains and species that are proven safe and effective in children. Some of these brands DO have unneeded fillers that have not been proven safe for children and we have marked those clearly with **, so you can decide for yourself. We wanted the focus here to be on the safe and effective research of probiotic strains, so brands that had exceptional studies to back up their marketing were bumped up here. Below this category, we have recommended one exceptional probiotic product for children with no fillers. Our EPA-certified laboratory did not detect any indications of PFAS "forever chemicals" in any of these brands.
Probiotics
Multi-Vitamins & Such
MegaFood Kids Daily Immune*
MegaFood Kids Daily B-Centered™*
Megafood Kids Daily Multi Nutrient Booster Powder
MetaKids™ D3 Liquid
Nordic Naturals Vitamin D3 Kids Vitamins
Probonix Kids Probiotic for Toddlers and Children, UK based
Pure Encapsulations PureNutrients Gummy*