Have you ever wondered what was inside the dishwashing detergent you've been using? Does this product contain any chemicals that are harmful to humans or the Planet? Mamavation took a look at the top 100 dishwashing detergents and evaluated them based on the ec0-friendly ingredients they contain, including dishwasher pods. You've trusted Mamavation to bring you topics like the safest non-toxic dishwashing soap, safest cookware sans PFAS & nanoparticles, safest laundry detergent, and the best collagen tested for heavy metals & phthalates, now join us as we bring you our investigation of non-toxic dishwasher detergent products and which are best for humans and the Planet.
Disclosure: This post was medically reviewed by Sondra Strand, RN, BSN, PHN. It also contains affiliate links. 
Dishwashing Detergents Have Improved Over The Years, Yet Most Still Contain Toxic Ingredients That Disrupt The Planet
Dishwashing detergents are made with chemicals that clean dishes, soften water, prevent spotting on plates, and add fragrance. They need to be strong enough to get the crud off your dishes, but gentle enough to not damage aquatic life and yourself.
Phosphates were once the main ingredient in most dishwashing detergents. In 2010, seventeen U.S. states implemented mandatory bans on the sale of phosphates in automatic dishwasher detergent because of the concern of it's adverse effects to rivers, lakes & streams. Those states were Illinois, Indiana, Maryland, Massachusetts, Michigan, Minnesota, Montana, New Hampshire, Ohio, Oregon, Pennsylvania, Utah, Vermont, Virginia, Washington, and Wisconsin. Excess phosphorus leads to harmful algal blooms that kill aquatic life and plant growth. Most dishwashing detergents have removed phosphates from their formulations so they don't have to produce different formulations for different states.
However, there are still lots of problematic ingredients used in dishwashing detergent. The major problems revolve around the following issues:
Toxicity to aquatic organisms: Everything you put down the drain ends up in wastewater where they may harm aquatic organisms if wastewater plants do not have the proper resources or decide not to remove them for whatever reason.
Bioaccumulation: When substances enter the food chain without being excreted, they may bioaccumulate in the environment and inside us.
Biodegradability: This is when ingredients don't break down in the environment.
Health issues (carcinogenic, toxic to reproduction, mutagenic, or has major allergic issues): Sometimes ingredients aren't necessarily toxic, but they can replace other "natural" and important substances in the body and cause disruption. Allergic reactions may happen when you are exposed to sensitizing substances.
Eutrophication: This is when there is an oversaturation of nutrients in the environment and that causes problems like algae blooms.
Because most of the chemicals used in dishwashing detergents are washed off with hot water, the primary concern is really toxicity to aquatic organisms and that feedback loop comes back to us in the food chain.
With the growth of the natural products movement, better options have arrived on the market. Most of the work is accomplished with super hot water and the angle of your dishes in the dishwasher. Since most products contain something that would be problematic, this category isn't perfect. For this investigation, we've done our best to rank products based on the amounts of problematic chemicals we noticed.
Ingredients of Concern to Avoid for Safer Dishwashing Detergent Around Humans & Aquatic Life
Most dishwashing detergents have at least one or two or perhaps a dozen chemicals that can harm aquatic life, potentially disrupt human hormones, and/or are linked with cancer. Within those dishwashing detergents are intense chemical concoctions including surfactants, emulsifiers, viscosity regulators, chelating agents, anti-scaling agents, artificial colors, preservatives, stabilizers of whiteners or oxidants.
Here are some basic categories to try to avoid OR lessen when purchasing dishwashing detergent:
Undisclosed Fragrances
When you see the word "fragrance" on an ingredient panel, it's basically telling you that they have decided to hide ingredients from you. That doesn't necessarily mean they are toxic, but if they weren't, wouldn't they use that as a marketing advantage? "Fragrances" can hide hundreds of chemicals some of which are toxic to humans and the Planet.
One example of a hormone-disrupting chemical that can hide in "fragrance" is phthalates, which are used as a solvent to extend the aromatic strength of fragrance. The Fragrance trade group International Fragrance Association (IFRA) decided one year to post a list of the potential chemicals that can be found inside the word "fragrance." Later, they took it down. You can go to their website here and see for yourself what a lack of transparency looks like. The link no longer works.
Polyacrylates
Polyacrylates are used as dispersing agents and for calcium complexation in washing and cleaning agents. They are nonsurfactant suspending agents that have film-forming and binding abilities that are used in dishwashing detergents. The concern around acrylates is the impurities that tend to coexist with them. Chemicals like acrylic acid, 2-ethylhexyl acrylate, and methacrylic acid, & acrylamide, have been linked to skin, eye, and throat reactions. The International Agency of Research on Cancer as well as the U.S. Environmental Protection Agency (EPA) have classified acrylates as a possible human carcinogen. They are also toxic to aquatic life.
Here are other serious health effects they are linked to:
Development issues
Neurological damage
Cellular damage
Reproductive toxicity
Organ system toxicity
Cancer
Examples of acrylates: ethyl acrylate; acrylic acid ethyl ester, ethyl propenoate, EA; ethyl methacrylate, ethyl ester, methacrylic acid, ethyl ester, ethyl 2-methyl-2-propenoate, EMA; methyl methacrylate; ethyl methacrylate; methacrylate monomer, methyl ester of methacrylic acid, methyl-2-methyl-2-propenoate, MMA; acrylic/acrylate copolymer, acrylic/acrylates copolymer
Isothiazolinone preservatives (i.e. Methylisothiazolinone)
You'll find isothiazolinone preservatives like methylisothiazolinone to be very common in dishwashing detergents. It is linked to inhalation toxicity, contact dermatitis, allergic reactions, and possible neurotoxicity. These chemicals are not a great thing to have around the house. They are also extremely toxic to aquatic organisms.
You'll also find these types of preservatives in a multitude of other "natural" products like
cleaning products,
lotions,
sunscreens,
shampoos & conditioners,
hair coloring,
body washes,
mascara,
shaving cream,
make-up remover,
liquid soaps, and
baby products (including wipes, lotions, and shampoos.)
Examples of isothiazolinone preservatives: Methylisothiazolinone, 3(2H)-Isothiazolone, 2-methyl-, 2-Methyl-2H-isothiazol-3-one, 2-Methyl-4-isothiazolin-3-one, 2-Methyl-3(2H)-isothiazolone, methylchloroisothiazolinone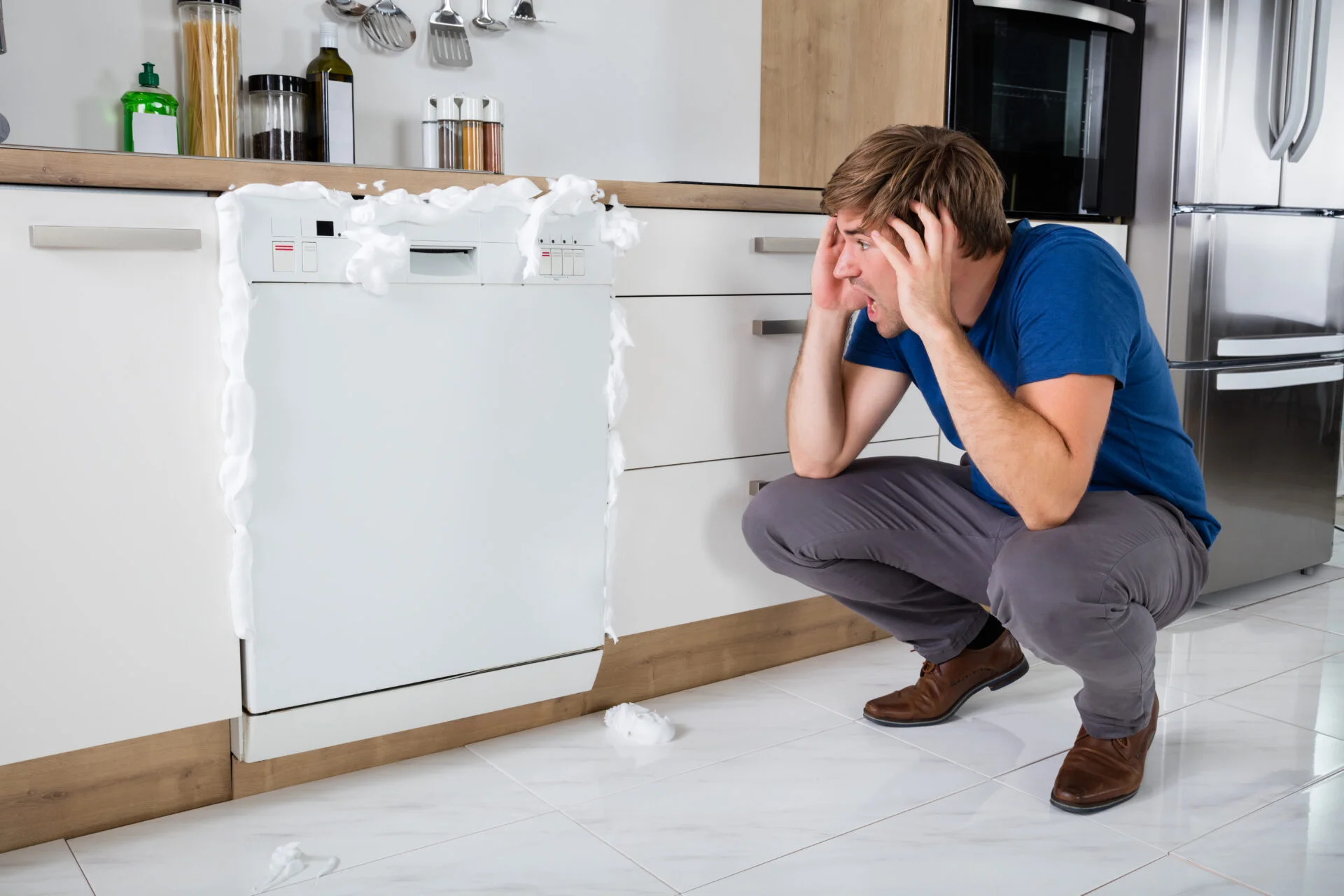 Benzisothiazolinone
This chemical is an antimicrobial agent found in cleaning products and some personal care products. It's most known as an irritant to the skin, eyes, and lungs. Benzisothiazolinone is a known sensitizer, meaning it causes the body to react. And unfortunately, it's also an environmental pollutant that is toxic to aquatic life.
Formaldehyde releasing ingredients
Formaldehyde is a big problem. The International Agency for Research on Cancer (IARC) also classifies it as a human carcinogen, which means exposure is known to increase cancer risk. Formaldehyde is linked to problems like respiratory irritation, headaches, runny nose, nausea, difficulty breathing, and asthma attacks, according to the American Lung Association.
You'll never see "formaldehyde" on a dishwashing detergent label, but that doesn't mean these chemicals aren't inside as a contaminant. Typically, it's being released inside certain preservatives in order to kill bacteria and extend the product's shelf life.
Examples of formaldehyde-releasing agents: 
Formalin
Bronopol
2-bromo-2-nitropropane-1,3-diol
DMDM hydantoin
Imidazolidinyl urea
Diazolidinyl urea
Sodium hydroxymethylglycinate
There is also a concern when formaldehyde-releasing preservatives are present in a formulation that also includes amines, such as triethanolamine (TEA), diethanolamine (DEA), or monoethanolamine (MEA). When this happens, nitrosamines can be formed, which are harmful substances that can potentially penetrate the skin and are linked to cancer.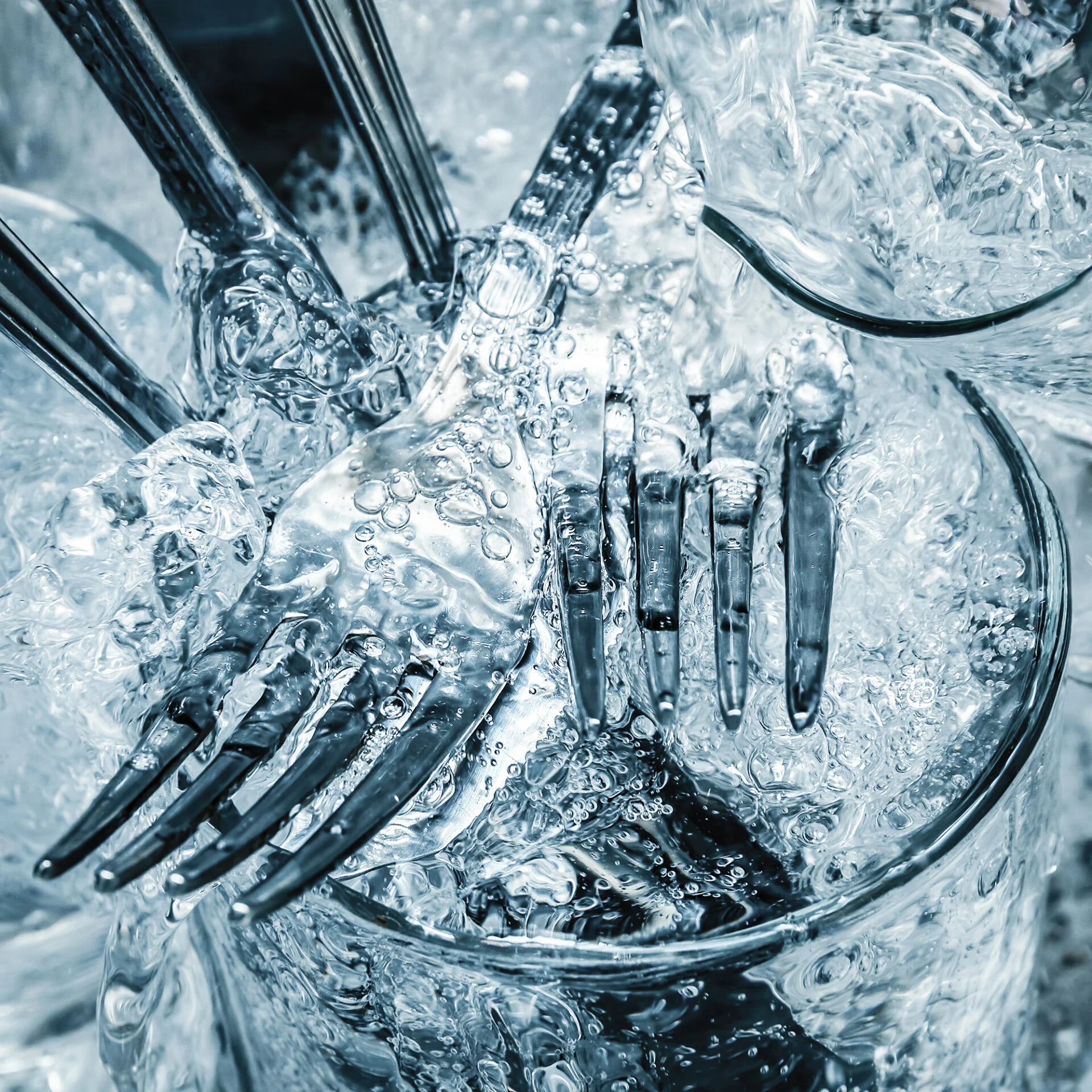 Ethoxylated ingredients
Ethoxylation is a chemical process using ethylene oxide (EtO) to turn alcohol, acid, or triglyceride oil into a surfactant. This makes products interact better with each other and make them more effective cleaners. The biggest problem with these ingredients is their process of ethoxylation because it produces traces of 1,4-dioxane, ethylene oxide, both known carcinogens. It also produces polyethylene glycol compounds (PEGs).
California Proposition 65 lists ethylene oxide as a known developmental toxicant, and it also lists 1,4-dioxane as a cancer-causing ingredient.
Examples of what to look for: sodium laureth sulfate, anything ending in -eth, like Ceteareth-20, Steareth-20, alcohol ethoxylates, Polyethylene glycol, PEGs, ethylene glycol, Sodium Laureth Sulfate (SLES), Polysorbate-20, and Polysorbate-40
Surfactants
There's a little bit of overlap here, but we wanted to go over surfactants because they are so important to understand. Surfactants are one of the main ingredients you'll find in dishwashing detergent. They are used to stir up activity on the surface that is being cleaned to help trap dirt and remove it from the surface.
Surfactants can either be anionic, nonionic, cationic or amphoteric, but in terms of dishwashing detergents, most of what you will see are anionic and nonionic surfactants.
Anionic surfactants: Dishwashing detergents have lots of anionic surfactants, which have a negative charge. Anionic surfactants create lots of foam when mixed and are excellent for lifting and suspending particulate soils, but they do not cut grease very well. These ingredients can be produced from a range of raw fats and oils, including soybean, palm, tallow, and coconut-type ingredients. Examples of this are sulfates, like sodium lauryl sulfate (SLS), sodium laureth sulfate (SLES), ammonium lauryl sulfate (ALS), ammonium laureth sulfate (ALES), sodium stearate, sulfonates, and gluconates like potassium cocoate.
Nonionic surfactants: When it comes to cutting grease, the use of nonionic surfactants are good at emulsifying oils and are better than anionic surfactants at removing organic soils. You'll find lots of formulations where the two are used together to create dual-action to lift and suspend particulate soils, but also emulsify oily soils. These surfactants have a neutral charge. Examples of nonionic surfactants include ethoxylates like fatty alcohol ethoxylates, alkoxylates, cocamides like cocoamide monoethanolamine (Cocomide MEA), cocamide diethanolamine (Cocamide DEA), amine oxides, sulfoxides, nonylphenols, and nonylphenol ethoxylates. These chemicals range in toxicity based on what they are made of.
Cationic surfactants: These surfactants have a positive charge and cannot be used with anionic surfactants because they lose their usefulness. You'll find these surfactants more in anti-static products, like fabric softeners, or antimicrobial agents, like disinfectants. An example is alkyl ammonium chlorides.
Amphoteric surfactants: These surfactants are both positive and negative and are more often used in shampoos and cosmetics and other personal care products. Examples are betaines and amino oxides.
One of the biggest problems with surfactants (anionic & nonionic) is their effects on aquatic life. So for the purposes of this investigation, the more and harsher surfactants used, the lower the product will rank.
Polyethylene glycol compounds (PEGs)
PEGs (polyethylene glycol compondss) are petroleum-based compounds that are widely used in cosmetics & detergents. The largest issue with them is they may be contaminated with measurable amounts of ethylene oxide and 1,4-dioxane, both of which are carcinogens.
Although 1,4-dioxane can be removed from an ingredient during manufacturing with a process known as "vacuum stripping," there is no way for a consumer to know if that has happened or not. A study was done on this issue years ago where personal care products marketed as "natural" or "organic" were analyzed at the lab and 1,4-dioxane was found as a contaminant in 46 of 100 products analyzed.
There are also some concerns about PEGs having some genotoxicity issues. So to be precautionary, Mamavation does not recommend any polyethylene glycol compounds.
Examples include PEGs, PEG polymers & polysorbates–PEG-4, PEG-6, PEG-7, PEG-8, PEG-75, PEG-100, PEG-40 hydrogenated castor oil, PEG-20 lauramine, PEG-10 Dimethicone, Polysorbate 20, Polysorbate 40, Polysorbate 60, Polysorbate 80.
Mamavation's Investigation of Dishwashing Detergent
Mamavation examined about 100 dishwashing detergent powder, gels, pouches, & packs looking specifically for hormone-disrupting or cancerous chemicals to humans and chemicals known to be problematic to aquatic life.
Unfortunately, very few brands would have passed our specs, but there are some additional complicating factors here. Some dishwashers cannot handle the "safer" brands without damaging parts of the machine. This is the reason why we do NOT recommend you go looking for DIY recipes for dishwashing detergent. While other dishwashers handle most of the "best" products just fine. Most of the commercial dishwasher detergents are made to not break your dishwasher, so this is why we recommend picking from this list and not going DIY.
However, we did not test them all out to be able to tell you which ones can be problematic for which dishwasher, so if you are switching, perhaps a gradual switch would be best. In other words, there are some compromises we must make to live in a modern world and perhaps the type of dishwasher detergent you have is one of them.
Featured Brand to Try: Pure Haven Dishwashing Detergent
Pure Haven has some of the simplest dishwashing detergent ingredients out there. After searching through the ingredients of over 100 brands, you'll see what I mean. This brand is always one of our favorites because they never use toxic ingredients and always have more control over the manufacturing processes than other brands. That makes you safer.  Most of the ingredients inside the dishwashing detergent are enzymes and essential oils to do the job safely, yet it's formulated not to corrode your dishwasher. So give it a try!
Simple ingredients: sodium carbonate, sodium percarbonate, sodium citrate, sodium gluconate, tetrasodium iminodisuccinate, protease, amylase, lipase, sodium chloride, silica
You can pick up a 1 lb. bag here for $19.95  to try out.
Not Our Favorite Dishwashing Detergents
These products contain a greater amount of problematic ingredients of concern to humans and aquatic life. The problematic ingredients were mostly listed in the post above. Some additional brands were teetering to better, but did not disclose fragrances or surfactants and were placed here. We do not recommend any products from this list.
365 Everyday Value Automatic Dishwasher Detergent, Citrus
Amway Home™ Automatic Dish Tablets
Attitude Dishwasher Tablets
Attitude Dishwasher Eco-Pouches
Biokleen Free & Clear Automatic Dish Pods
Cascade Free & Clear ActionPacs Lemon Scent
Cascade Free & Clear Dishwasher Detergent Gel Unscented
Cascade Platinum ActionPacs
Citra Solv Home Solv Dishwasher Detergent Pacs Free & Clear
Citra Solv Home Solv Dishwasher Detergent Pacs Valencia Orange
Dropps Dishwasher Detergent Pods Lemon
Dropps Dishwasher Detergent Pods Unscented
Professional Easy-Off Liquid Dish Detergent
Finish Gel Lemon Scent
Finish Gelpacs Orange Scent
Grab Green Automatic Dishwashing Detergent Pods Tangerine With Lemongrass
Grab Green Automatic Dishwashing Detergent Pods Thyme & Fig Leaf
Grab Green Automatic Dishwasher Detergent Powder Fragrance-Free
Great Value Automatic Dishwasher Pacs Fresh Scent
Kirkland Signature Automatic Dishwasher Pacs
Lemishine Dishwashing Detergent Lemon
Love Home & Planet Dishwasher Detergent Packets, Citrus Yuzu & Vanilla
Modere Dishwasher Gel
Mrs. Meyer's Clean Day Basil Automatic Dish Packs
Mrs. Meyer's Clean Day Geranium Automatic Dish Packs
Mrs. Meyer's Clean Day Lavender Automatic Dish Packs
Mrs. Meyer's Clean Day Lemon Verbena Automatic Dish Packs
Nature Clean Automatic Dishwasher Pacs
Norwex UltraZyme Dishwasher Powder
Palmolive PowerPacs (no added fragrance)
Safeway Automatic Dishwasher Detergent Powder Packs, Citrus Scent
Sam's Members Mark Automatic Dishwasher Pacs
Seventh Generation Dishwasher Gel Free & Clear
Seventh Generation Dishwasher Detergent Gel, Free & Clear
Solimo Dishwasher Detergent Pacs Fresh Scent
The Laundress Dish Detergent Unscented
Total Home Detergent Packs Fresh Scent
Trader Joe's Dishwasher Detergent Gel Lemon
Up & Up Advanced Dishwasher Packs

Better Dishwashing Detergents
This is the happy medium list of products that have some problematic chemicals but will do a pretty good job of cleaning your dishes. If you have major concerns about the dishwasher, this is the list I would purchase from. Some products fell into this category for nondisclosure of ingredients, such as not disclosing fragrance, enzyme, or surfactant ingredients. Also note: Amazon ingredients were not used. We used the ingredients directly from their website, so you may notice some differences if you are looking to Amazon ingredients.
Ecos Wave Dishwasher Packs Free & Clear
Grove Collaborative Pure Power Dishwasher Detergent Packs Free & Clear
Ingredients Matter Dishwasher Gel, Lemongrass
Public Goods Dishwasher Detergent Pods
Puracy Dishwasher Detergent Packs Free & Clear (Use discount code "MAMAVATION20" for 20% off products)
Sunlight with LemonOxi Complex Dishwasher Power Pacs, Citrus Rush

Best Non-Toxic Dishwasher Detergents
This list has the least amount of problematic ingredients that will do harm to people and the Planet. It's possible that these products may impact your dishwasher. We have not tested them all out to be able to tell you how they will work with the machine you have because some dishwashing machines are more sensitive than others. Again, this is not a perfect situation. Also note: Amazon ingredients were not used. We used the ingredients directly from their website, so you may notice some differences if you are looking for Amazon ingredients.
Blueland Dishwasher Tablets Fragrance-Free
Branch Basics Dishwasher Tablets (Use discount code "MAMAVATION) for 15% off Starter Kits!) 
Earthley Dishwasher Detergent Lemon-Thyme (Use discount code "MAMAVATION" for 10% off products! )
Fill Good Company (LAMiss Apple) Automatic Dishwasher Powder
Fit Organic Automatic Dishwasher Gel, Lemongrass Tangerine
Fit Organic Dishwasher Gel, Free & Clear
GreenShield Organic Green Shield Organic Squeez Automatic Dishwasher Liquid Detergent, Lemongrass
Grove Collaborative Total Clean Dishwasher Detergent Packs Free & Clear
Grove Collaborative Total Clean Dishwasher Detergent Packs Lemon & Eucalyptus
MamaSuds Automatic Dishwasher Powder
Nice! Dishwasher Packs Single Dose Detergent
Pardo Naturals Citrus Dishwasher Detergent
Sun & Earth Dishwasher Detergent Concentrated Pacs
Truly Free (My Green Fills) Dishwasher Soap (Click here for 10% off & other discounts on products)
Young Living Automatic Dishwasher Powder