Is your tea made with toxic ingredients or are your teabags full of plastic? Finding the right kind of tea is important because it's a daily consumption item. We evaluated the most popular brands and emailed most of them to discover those answers for you. You've trusted Mamavation to bring you topics like best & worst organic milk, best spritz & hard seltzer with safer ingredients, and safest cookware, now join us as we rank the safest tea companies for your family.
Disclosure: This post was medically reviewed by Sondra Strand, RN, BSN, PHN. This post also contains affiliate links.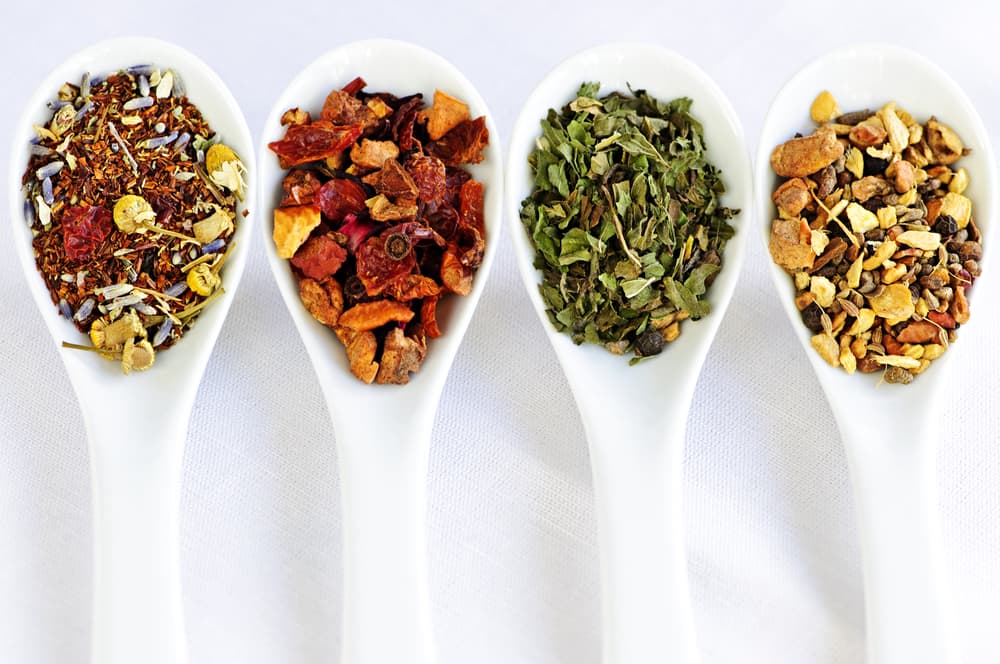 Not All Teas Are Created Equal–Some are Full of Plastic & Chemicals
Not all teas are created equal. In fact, some teas that position themselves as "healthy" have been found full of pesticides, artificial flavorings, and have plasticizers & other processing chemicals inside the teabag.
These issues become very important because tea is a daily consumption item. Daily consumption items are priority items to swap to a more non-toxic brand because of how often they are consumed. If you are drinking tea daily, it's very important to make sure it's the cleanest tea possible.
Health Benefits of Safer Tea
From green tea to kombucha to teas extracted from herbs like holy basil, there really does seem to be something for everyone. In fact, one study suggested that tea rehydrates as well as water but with the added benefit of containing valuable antioxidants.
According to Harvard Medical School, drinking tea has many benefits like being rich in polyphenols, which are molecules that have antioxidant (EGCG) and anti-inflammatory properties. It's also linked to a lowered risk of diabetes and possibly cardiovascular disease. Additionally, different teas have been studied to have unique health benefits as well, so the type of teas you drink can be important.
Green Tea: Contains lots of antioxidants and may "interfere" with the growth of different cancers. Green tea may also help oxidative stress, prevent clogged arteries, reduce neurological disorders, & burn fat.
Black Tea: May protect your lungs (for smokers) and may reduce the risk of stroke.
White Tea: A study showed that this may have anticancer properties but more research is needed.
Oolong Tea: One study linked this to lower cholesterol but more research is needed.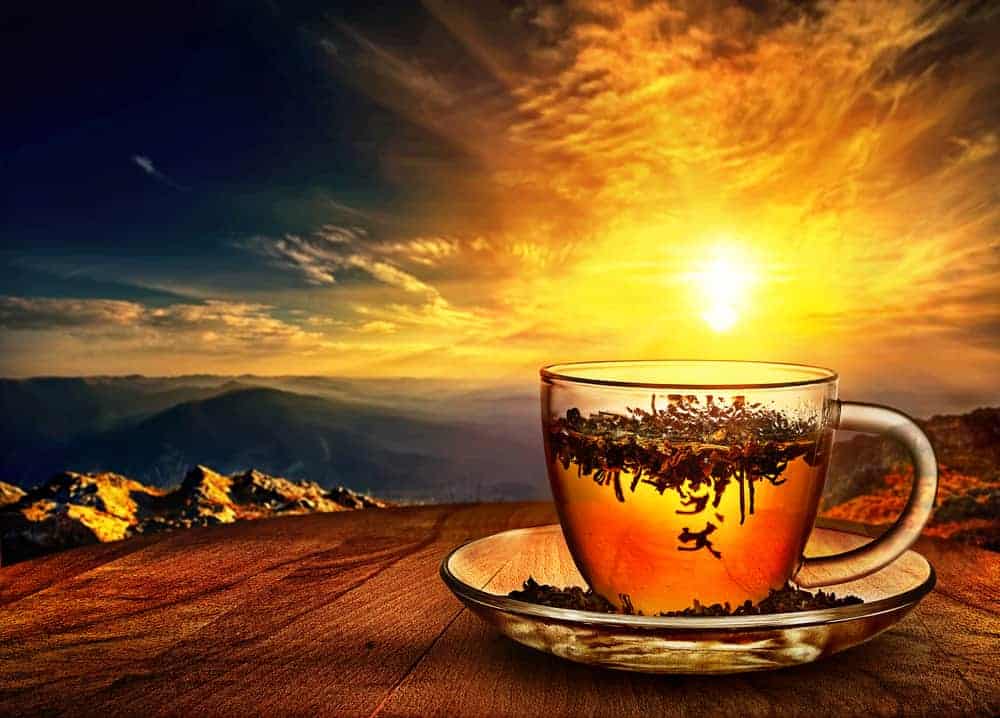 Pay Close Attention To These Four Categories When Selecting Safer Tea For Your Family
Tea is a daily consumption item, so fixing this portion of your diet would be a significant improvement in your life. Unfortunately, this is a very complicated discussion but we are going to unpack it for you before we make recommendations on our favorite – and cleanest – tea brands and products.
When it comes to evaluating tea, we looked at the following to rank brands for you later in the post:
Pesticides — Herbicides and pesticides disrupt hormones, so organic is always preferable.
Artificial flavoring — these flavorings are typically derived from petroleum and are linked to health concerns.
Indirect additives (plasticizers or chemicals used to process teabags) — chemicals found inside the bags can be released into your tea when the tea is inside hot water.
Fluoride — Don't give young children green, black, or oolong tea because of fluoride amounts. White tea has low levels of fluoride and herbal teas have no fluoride. We included all teas in "best" but just note that some teas may have trace amounts of fluoride. We will explain later in this post how to go about lessening that exposure based on your selections.

Toxic Persistent Pesticides Found In Tea
Historically, when conventional teas were tested for pesticides, they didn't fare very well. In 2013, an independent lab tested two popular tea brands for pesticides. They tested Teavana and Celestial Seasonings and found disappointing results:
In 2014, Canadian-based news outlet CBC conducted its own research and found levels higher than acceptable by Canada's standard in these four major brands:
Lipton
Tetley
Twinings
Red Rose
And finally, in 2012, Greenpeace tested 17 tea samples from Chinese teas (including some Lipton brands for Chinese consumers) and found 3 to 17 types of pesticides in all samples.
Most of these companies have also pushed back against these claims. Keep in mind, too, that these published findings are several years old and one hopes that these companies have made changes. That said, there is no true way to ensure that pesticides have been intentionally kept out of your tea unless they are certified organic.
Artificial Flavors Are Typically Made From Petroleum
When it comes to artificial flavors, I've got good news for you. Brands are starting to move away from artificial flavors, so there are lots more choices out there. However, some tea companies are still blending artificial and natural flavors together for consistency of taste and for cost savings. This doesn't necessarily mean the flavors are harmful, but they are not natural.
Artificial flavors can be derived from petroleum and linked to cancer, so it's wise to avoid them inside your daily beverage. Here are some additional food additives to avoid ranked by how problematic they are. Not all artificial food additives are dangerous, but lots of them are as you will see.

Toxic Chemicals Categorized as "Indirect Additives" Can Get Into Tea From The Teabag

Plastic when heated can leach chemicals into your tea. Those chemicals are largely unknown because different plastic manufacturers put different chemicals in their plastic. These chemicals are known as "indirect additives" and are used in processing, packaging, and farming. The FDA recognizes they can get into your food and are not labeled. In fact, there are thousands of these chemicals approved by the Federal Drug Administration (FDA) for food packaging, including the chemicals that can leach out of plastics.
This is important to understand because the teabags and the chemicals used to produce those sachets (or teabags) would fall under "indirect additives" and may get into your beverage, especially when the beverage is hot. 
In our research we found companies avoiding bisphenol-A (BPA), but embracing other plastics as alternatives.
It's important to keep in mind that plastics leach before they melt. So while the melting point of PET is 482 degrees Fahrenheit, the point by which it leaches is about 169 degrees. Water boils at over 200 degrees, so this is a big issue.
Carcinogen Epichlorohydrin & Possibly Other Toxins Are Used to Process "Natural" & Organic Tea Bags
Unfortunately, many companies coat their paper mesh with a chemical called epichlorohydrin, which is an endocrine-disrupting chemical according to the Endocrine Disruption Exchange. Epichlorohydrin is used in the processing of tea bags to keep paper from breaking down when getting wet and hot. This chemical is also categorized as a carcinogen and is linked with throat cancers. However, the FDA does not consider the amounts you would consume in a teabag to be problematic. And neither do the brands.
We emailed several organic and natural tea brands about this chemical. When most brands were questioned about epichlorohydrin, they got defensive and said the exposure was minimal. Brands also tried to be evasive about this chemical by saying it not "detectable" in lab results to avoid saying it was processed with it.
In addition, many other teabags are bleached with chlorine to get that pristine white color. The alternative safer method used to bleach teabags uses the TCF (totally chlorine-free) method that uses oxygen and hydrogen peroxide and has no chlorine byproducts. While other teabags use glue for sealing the bags and some of those glues contain PVC.
Fluoride Found in Black, White, Green, & Oolong Teas
For some tea leaves, the amount of fluoride is higher than others.  The important part to understand is the type of tea and quality of tea will impact how much fluoride is present.
Black, green, oolong, & white tea comes from the Camellia sinensis plant. When the tea plant grows, the roots absorb fluoride from the soil and it uptakes into the tea leaves, which is what is boiled for tea. Because older, more mature leaves have more time to uptake fluoride, it can contain up to 20 times more fluoride than younger leaves.
According to the Linus Pauling Institute, here are the differences in different types of tea:
Green Tea–High fluoride content and mature tea leaves
Black Tea–High fluoride content and mature tea leaves
Oolong Tea — Medium to high fluoride and mature tea leaves
White Tea — Low fluoride and mostly buds and young leaves
Herbal Tea — No fluoride and not made from a pure tea plant
Another way you can ensure you get tea with lower fluoride is the quality of the tea you purchase. Looking for organic loose leaf tea is what we recommend you purchase and stay away from brick tea or bottled tea.
Loose leaf tea— Lowest level of fluoride
Tea in tea bags — Lower level of fluoride
Bottled tea — Medium level of fluoride from fluoride in the water and fluoride in the tea
Brick tea — Highest level of fluoride from oldest leaves formed into brick shape
Because of the link of fluoride chemicals in water and a loss of IQ points in children, it's not recommended to give children green, black, or oolong tea. However if you do give children those types of teas, it's best to give it to brew them from loose organic tea leaves.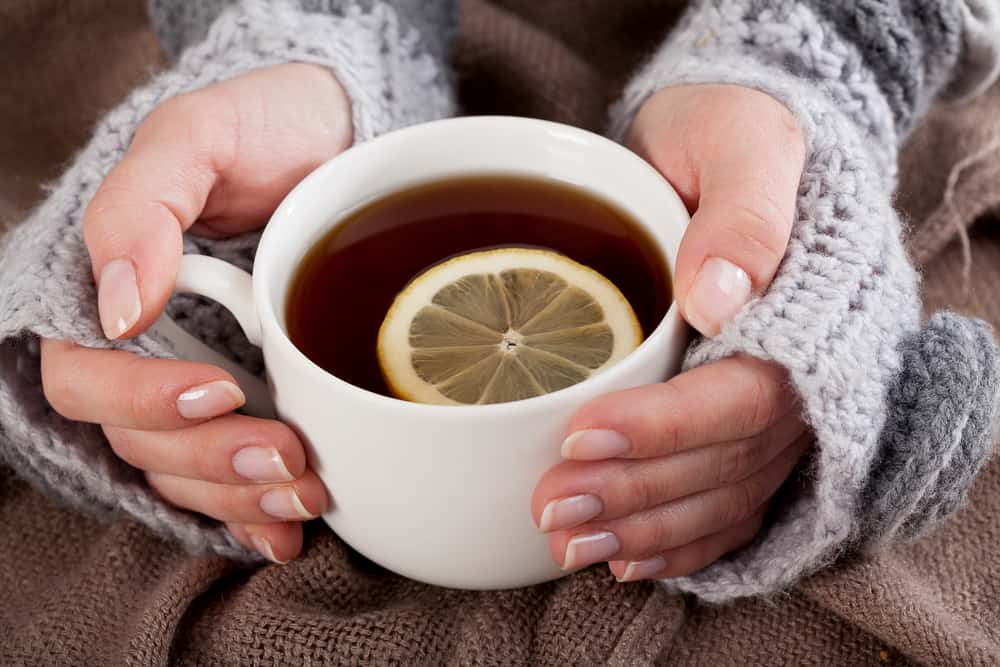 Here Are Some of Our Recommendations On Teaware 
Utilizing tea bags can introduce endocrine-disrupting chemicals into your tea. At Mamavation, our favorite tea is the tea you make yourself. Although we have some brands have good quality teabags (that will be recommended in our list below), we recommend you mostly pick up loose leaf tea and strain it using stainless steel or glass yourself. Here are some of our favorite teaware products:
Tilevo Tea Infuser
Z Metal diffusers
Mamavation's Investigation on Safest Tea Brands (And Most Toxic Brands to Avoid)  
Mamavation studied the website and emailed close to 70 tea brands. We were looking for organic ingredients, plasticizers in their tea bags, use of chemical processing agent epichlorohydrin to process tea bags, and artificial flavors.
Because there is so much conflicting information on pesticides in tea leaves, I'm going to recommend, as we normally do here at Mamavation, that you stick to buying USDA Certified organic teas and avoid K-cups altogether.
Not Our Favorite Tea Brands
All the products have at least two of these issues: (1) tea bags containing some type of plasticizer, including a plant-based PLA, (2) may have detectable levels of pesticide residue since they are not organic, (3) have few organic offerings, (4) uses Epichlorohydrin, a carcinogen, to process tea bags, (5) contains artificial flavors, (6) claimed that materials and chemicals processes that made up their tea were "proprietary", or (7) did not respond to any of our consumer inquiries.
English Tea Store
Good Earth
Hain Celestial
Harney & Sons
Honest
Lipton
Luzianne
Paul Newman's
Prince of Peace
Salada
Taylors of Harrogate
Tazo
Teavana
Tetley
Twinings
Vahdam
Yorkshire
Zest Energy Teas
Better Tea Brands
This category had some issues but is better in other areas. The following possibilities comprise this list: (1) Organic tea but use Epichlorohydrin, a carcinogen chemical, to process the tea bag, (2) organic but use some type of plasticizer, mostly likely plant-based PLA plastic, (3) not organic but don't use any plasticizer inside teabags, or (4) not organic but doesn't use Epichlorohydrin to process the tea bags. Please note that some of the teas listed below will also be found in the "best" category, but here we take issue with their tea bags, and in the "best" category we are listing them as organic loose leaf teas only. 
Asheville Tea Co.
Bigelow
Fred
Tiesta Tea & loose leaf filters
Twinings (organic line)
Best Healthy Tea Brands
The following are the healthiest tea brands you can drink and buy for your family. We paid close attention to indirect additives here, so their teabags are free from plastic. Heat can trigger leaching, so the contents of the teabag are important. We also favored brands that had organic loose leaf tea. All brands are certified organic, and some of them have Fair Trade or other sustainable practices. And if they are listed below, the teabags have no plastic, including no plant-based PLA, or use Epichlorohydrin to treat teabags. Please note that some brands below are also listed above in "better" and the differences are if they had problematic teabags but also had organic loose leaf tea, we split that up. Most of what you will see listed below is organic loose leaf tea and some companies that had safe teabags as well. 
365 Whole Foods Market (organic loose leaf tea)
Allegro Tea (organic loose leaf tea) — Pomegranate Green Tea, Serene Green Tea, Vanilla Rooibos Tea, Coconut Mate Tea, Assam Banaspaty Tea, China White Silver Needle Tea, Darjeeling Seeyok Tea, Earl Grey Black Tea, Jasmine Fragrant Cloud Tea, Floral Earl Grey Black Tea, Ginger Peach Rooibos, Phoenix Oolong Tea, Four Seasons Jade Oolong, Crimson Hibiscus Berry,
Arbor Teas (Loose Leaf Organic Teas)
Choice (Except for Peach & Blackberry Hibiscus, which contain natural flavors)
Eden (Organic Loose Leaf Teas) — Kukicha Twig Tea
FGO (Organic Loose Leaf Tea) — Raspberry, Nettle, Lavender, Hisbiscus, Gunpowder Green Tea, English Breakfast, Earl Grey, Dandelion Root, Chai, & Calendula
Frontier Co-op (Organic Teas Loose Leaf) — Chai Tea, Asam, Darjeeling Black Tea, Irish Breakfast, Orange Pekoe Tea, Jasmine Green Tea, Gunpowder Green Tea, Earl Grey Black Tea, English Breakfast, Chai Green Tea, Decaf Earl Grey
Gardenika (Organic Loose Leaf Tea) — Slim Loose Tea, Digest Loose Leaf Tea, Laxative Loose Leaf Tea, De-Congest Loose Leaf Tea, Anti-Inflammatory Loose Leaf Tea, Immunity Loose Leaf Tea, Detox Loose Leaf Tea, Sleep Loose Leaf Tea
Golden Moon (Organic Loose Leaf Tea) — Moroccan Mint Green Tea, Vanilla Jasmine Green Tea, Lapsang Souchong Black Tea, Vanilla Mint Green Tea, Keemun Black Tea, Irish Breakfast Black Tea, French Breakfast Black Tea, Green Dragon Well Tea, Golden Monkey Black Tea, Coconut Pouchong Tea, Darjeeling Black Tea, Madagascar Vanilla Black Tea, Herbal Detox Tea, Masala Chai Tea, Pu-erh Tea, Jasmine Pearls Green Tea, Earl Grey Tippy Black Tea, Rooibos Tea, Mint Medley Herbal Tea, Jasmine Tea, English Breakfast Black Tea
Hain Celestial (Organic line) —
Harney & Sons (Organic line) — Roobios Tea, Green Tea with Citrus & Ginko, Assam Tea, Peppermint Tea, Green Tea
Heavenly Tea (Organic Loose Leaf) — Peppermint, English Breakfast Black Tea, Organic Sleep Herbal Sampler, Ginger Tea Sampler, Organic Detox Tea Sampler, Organic Wellness Tea Sampler,
Hugo (Loose Leaf Organic Line) —
Mountain Rose Herbs (Organics Loose Leaf) —
Numi (Organic Loose Leaf) — Earl Grey Black Tea, Jasmine Green Tea, Moroccan Mint Tea, Breakfast Blend Tea, Gunpowder Green Tea, Emperor's Pur-erh Black Tea
Organic Positively Tea Company (Organic Loose-leaf) — Assam Black Tea, Acai White Tea, Pumpkin Spice Black Tea, Masala Black Chai Tea, Irish Breakfast Black Tea, Ginger Orange Black Tea, French Breakfast Black Tea, English Breakfast Black Tea, Cinnamon Apple Spice Black Tea, Avongrove Estate Darjeeling Black Tea, Butterscotch Black Tea, Caramel Black Tea, Pomegranate White Tea, White Peony Tea, White Mimosa White Tea, White Champagne Raspberry White Tea, & Paradise Black Tea
Pique –This brand does not use any teabags. (Use discount code "MAMAVATION" for 5% off your order)
Proganics — Organic LooseLeaf Herbal Tea Cleanse, Organic Looseleaf Herbal Tea Dreamtime, Organic Looseleaf Herbal Tea Serenity, Organic Looseleaf Herbal Tea Sunrise, Organic Looseleaf Herbal Tea Tummy
Republic of Tea  — Biodynamic Tumeric Cinnamon, Peppermint Bark Cool Winter Mint Tea, Biodynamic Heirloom Chamomile, Peppermint Super Herb Tea, Double Green Matcha Tea, Japanese Matcha Immunity Tea, Mint Field Eternal Mint Tea, Blueberry Green Superfruit, Tumeric Stackable Tea Tins, Organic Assam Breakfast Tea, Honeybush Vanilla Tumeric Tea, Elderberry Herbal Tea, Reishi Cocao Herbal Tea, Korean Woojeon Tea, Golden Pumpkin Seasonal Spice Herb Tea
Rishi Tea & Botanicals (Organic Loose Leaf) — Earl Grey, English Breakfast, Jasmine Green, Masala Chai & Ginger Tumeric
Sipology Tea (organic loose leaf only)
Stash Tea (Organic line) — Moringa Mint, Green Tea, Lemon Ginger Tea, Chocolate Orange Herbal Tea, Rainforest Chai Black Tea, Chai Black Tea, Matcha Mate Tea, Very Berry Herbal Tea, Breakfast Blend Black Tea, Mint Herbal Tea, Lemon Ginger Herbal Tea, Earl Grey Black Tea
Stash Tea (Organic Loose Leaf) — Jasmine Green Tea, Breakfast Blend Black Tea
Strand Tea Company (Organic Loose Teas)
Steep by Bigelow Organic Line — Green Tea with Pomegranate, Sweet Cinnamon Black Tea, Chamomile Citrus Tea, English Breakfast Tea, Lemon Ginger Herbal Tea, Earl Grey, Mint Herbal Tea
Tea Forte (Organic loose leaf tea) — Bleu Blush Herbal Tea, African Solstice Herbal Tea, Cherry Cosmo Herbal Tea, Mango Melange Herbal Tea, Green Mango Peach Herbal Tea, Bleu Mint Herbal Tea, Radiance with Rosemary & Citrus Herbal Tea, Ginger Guru Chai Black Tea, Lemon Lavender Herbal Tea, Citrus Mint Herbal Tea, Invigorate with Beetroot, Ginger & Ginseng Green Matcha Tea, Purifying Root & Dandelion Root Herbal Tea, Hibiscus Bloom Herbal Tea, Serenity Lavender Herbal Tea, Orange Jasmine Green Tea, Ginger Lemongrass Herbal Tea, Belgian Mint Herbal Tea, Defense Green Tea, Vanilla Veda Chai Black Tea, Earl Grey Black Tea, White Ginger Pear Herbal Tea, Jasmine Green Tea
TeaLeaves (Loose Leaf Organic line)
Teathara (Loose Leaf Organic Line) — Authentic Thai Oolong Tea, Green Oolong Tea
The Tea Company (Organic Loose Leaf) — Rose Chamomile Lavender Herbal Tea
Traditional Medicinals — Echinacea Plus Herbal Tea, Healthy Organic Cycle Herbal Tea, Everyday Detox Herbal Tea, Belly Comfort Herbal Tea, Ginger Green Tea, Weighless Cranberry Women's Herbal Tea, Nighty Night Tea, Rose Hips Black Tea, Ginger with Chamomile Tea, Raspberry Leaf Herbal Tea, Smooth Move Herbal Tea, Gas Relief Herbal Tea, Ginger Aid Herbal Tea, Peppermint Delight Probiotic Herbal Tea, Stress Ease Cinnamon Relaxation Tea, Lemon Balm Herbal Tea, Throat Coat Herbal Tea, Roasted Dandelion Root Herbal Tea, Breath Easy Tea, Gypsy Cold Care Herbal Tea
Yogi — Bedtime Goodnight Sleep Tea, Berry Detox Antioxidant Tea, Blackberry Apple Cider Digestive Herbal Tea, Breath Deep Herbal Tea with Liquorice Root & Ginger, Calming Soothing Tea, Chai Roobios Tea, Cold Season Herbal Tea, Comforting Chamomile Herbal Tea, Detox Tea, Echinacea Immune Support Herbal Tea, Egyptian Liquorice Herbal Tea, Egyptian Liquorice Mint Herbal Tea, Elderberry Lemon Balm Herbal Tea, Ginger Healthy Digestion Herbal Tea, Blueberry Slim Life Green Tea, Green Tea Kombucha, Green Tea Passion Fruit Matcha, Green Tea Super Antioxidant, Honey Chair Tumeric Vitality Herbal Tea, Honey Lavender Stress Relief Tea, Honey Lemon Throat Comfort Herbal Tea, Kava Stress Relief Herbal Tea, Mango Ginger Herbal Tea, Orange Clove Herbal Tea, Peach Detox Herbal Tea, Pumpkin Spice Tea, Sweet Clementine Stress Support