Need the best laundry detergent? The thought of clean laundry brings to my mind fresh clothing and crisp linens with a snuggly bear touting a particular brand of fabric softener. But what about the harsh chemicals used in most laundry detergents? It's no wonder so many kids suffer rashes or eczema from detergent! You've trusted Mamavation to bring you topics like safest cookware, safest kitchen appliances, & safest shampoos, now join us as we explore the best (& worst) non-toxic laundry detergents for sensitive skin and tips for what ingredients to avoid.
Disclosure: This post contains affiliate links and was fact-checked by Rebecca Elizabeth Sherrick Harks, RN, BSN. 

What is Non Toxic Laundry Detergent?
Mamavation is looking for eco-friendly laundry detergent that is
Non-toxic to the touch for people with sensitive skin & eczema
The fragrances are safe to inhale from clothing the entire day
Using ingredients that are safe for the environment.
Because we use so much washing soda for dirt and stains and it eventually makes its way into streams and other water systems, it's important to consider purchasing from brands that prioritize green and non-toxic ingredients for our washing machines. We want to get those grease stains or other tough stains out while still using less water in high-efficiency washing machines. Are these laundry formulas out there? Yes, and they are available in both liquid form and powders.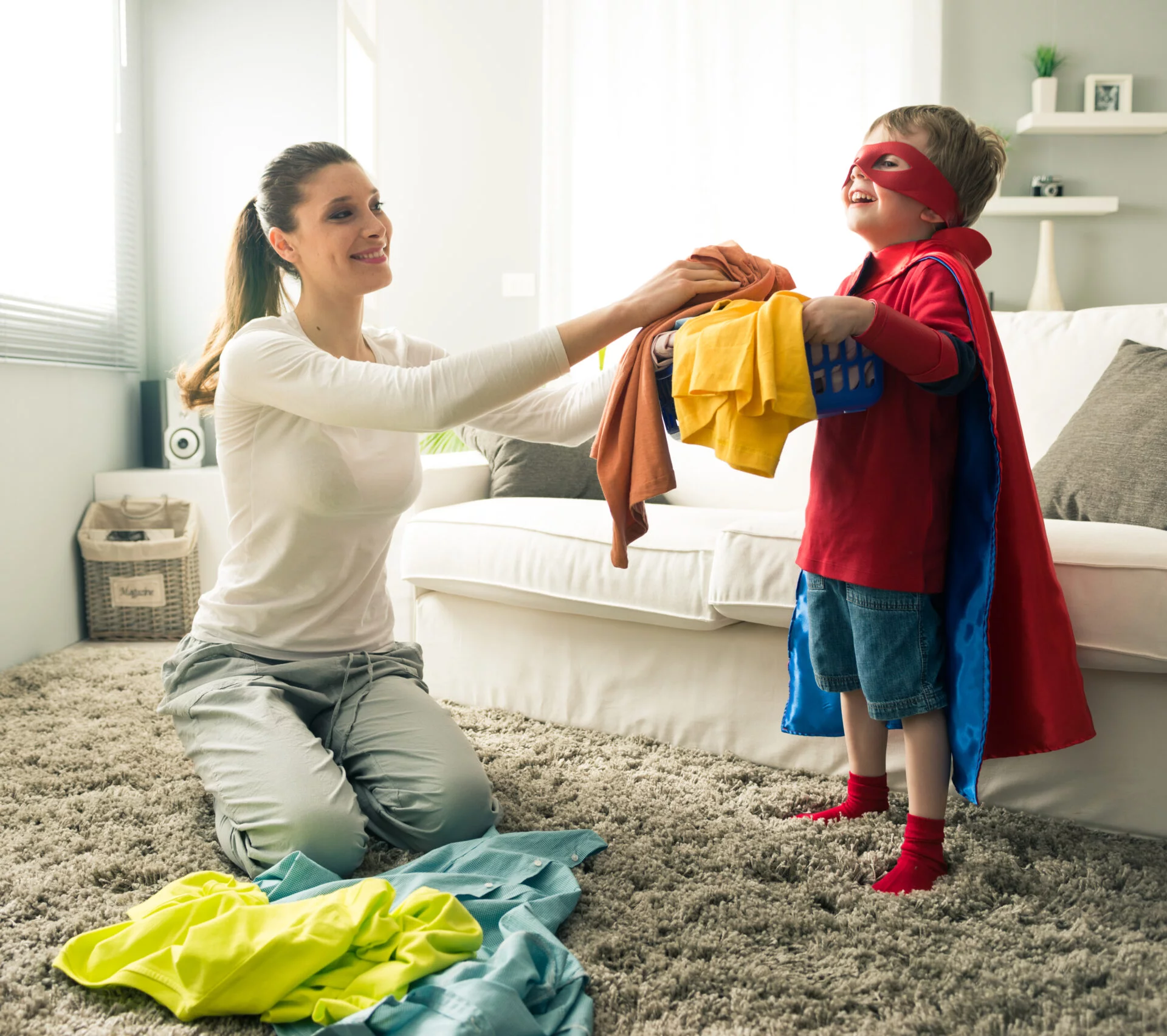 14+ Toxic Chemicals Commonly Found in Brand Name Laundry Detergent
We looked at the most popular brands of laundry detergents and found that the amount of problematic ingredients is vast. This list includes everything from mild irritants and allergens to endocrine disruptors and cancer-causing agents that can be found in your local laundromat or in your home:
Fragrances
Although fragrances give you that sense of things smelling clean, they do more to trick you than actually help you. Your brain is hard-wired to associate certain scents with clean, but did you know that those scents can also contain hormone-disrupting chemicals? Sadly, they can trick your brain into thinking they are good for you in that regard.
Phthalates are plasticizer chemicals used to make scents carry longer around inside your indoor air and in the bottle. But they come with some health risks. Prenatal exposure in utero to phthalates are linked to attention problems in children. Phthalates are also closely linked to risks to children like attention deficit disorder (ADD), and other behavioral disorders.
However, phthalates are rarely on the label, so good luck finding them. But they are typically found in the ingredient "fragrance" on the label. Technically, thousands of chemicals are approved to list under the ingredient "fragrance." But here's more:
"Fragrance" and the ingredients included in that label are considered trade secrets and, therefore, companies are not required to disclose their components to the general public.
If you see "fragrance" or "perfume" on the ingredient list, the product may also contain chemicals such as acetone or ethanol, just two of thousands of possible ingredients you'd also want to avoid.
Only brands disclosing ingredients in their fragrance made our "best" list down below for washing machines.
Nonylphenol Ethoxylates (NPEs)
Nonylphenol ethoxylates (NPEs) are endocrine-disrupting chemicals that mimic estrogen and are linked to both hormonal problems and cancer. According to the Environmental Protection Agency (EPA), NPEs have been associated with reproductive and developmental effects in lab studies on rodents and are highly toxic to aquatic life. They have been found in human breast milk, too. While the EPA is starting to take action on NPEs, they have not yet banned them.
1,4-Dioxane
Although this chemical is not supposed to be used in "eco-friendly" products, studies have discovered it in a number of laundry detergents anyways. 1,4-dioxane isn't added directly to your laundry detergent, it's a contaminant that gets in during a process called ethoxylation when ethylene oxide is added to other ingredients to make them less harsh in processing.
Ingredients like sodium laureth sulfate are ethoxylated because they are harsh on the skin. This process is what creates the contamination of 1,4-dioxane.
The EPA has determined that this chemical is a probable human carcinogen.
Synthetic and Petroleum-Based Surfactants
Surfactants help to clean your clothes, but when they are synthetically derived or petroleum-based, they are the most harmful. Surfactants can be divided into three categories:
Natural surfactants: Derived from vegetable or animal fats and they are the safest, however, some are still toxic to aquatic life.
Naturally derived surfactants: made by modifying coconut oil or other fatty acid plant-based ingredients. They may sound natural and safe, however, they are mostly known to be toxic and are known carcinogens.

Sodium Laureth Sulfate (SLES) and Sodium Laurel Sulfate (SLS) are examples of naturally derived surfactants but we will discuss. SLS and SLES are naturally derived surfactants but that doesn't mean they are not harmful. Both have been shown to be a skin and eye irritant by the Journal of the American College of Toxicology. There is debate over whether SLS is a carcinogen, and some research indicates it may damage the immune system. Both are harmful to the environment.

Synthetic or petroleum-based surfactants: These surfactants are typically the worst and potential for contaminated ingredients is higher. Examples of synthetic surfactants are ammonium Laureth Sulfate (ALES) and Ammonium Lauryl Sulfate (ALS).

Ammonium laureth sulfate (ALES), which can cause moderate to severe skin and eye irritation, can also be contaminated with 1,4-Dioxane, which is a suspected carcinogen. The severity of the irritation will increase with the amount you are exposed to, but when combined with other chemicals, they can create nitrosamines, which are a potent class of carcinogens. ALES may also damage the skin's immune system by causing skin layers to separate, inflame and age.
Polyethylene glycol (PEG), may be contaminated with measurable amounts of ethylene oxide and 1,4-dioxane. 1,4-dioxane is persistent, meaning it doesn't easily degrade and can remain in the environment long after it is rinsed down the drain.
Phosphates
Phosphates are difficult to remove, even in wastewater processing systems, and can pose a threat to the environment. According to the EPA, they promote algae growth that decreases the oxygen that many aquatic life forms need to survive. Studies also link them to cardiovascular disease, osteoporosis, and death in animals.
Chlorine Bleach
Chlorine bleach, such as Clorox, can burn the skin, and can cause eye damage and respiratory issues. It is classified as a hazardous chemical in its initial state.
Ammonium Quaternary Sanitizers (Quats)
Lab studies have shown this chemical to harm fertility, cause miscarriages, and cause severe birth defects in animals. According to Chemical of the Day, they can also trigger skin and respiratory irritations as well as allergies. Some quats are also EDCs and some are toxic to aquatic life. Not much is known about its effect on humans, but this is definitely a chemical you don't want around your children.

Benzyl Acetate, and Other Benzene Ingredients
According to its own material safety sheet, this benzyl acetate is toxic if inhaled or ingested. It's also irritating to eyes, lungs, and skin. Benzene-based ingredients are often toxic.
2-Butoxyethanol
The EPA states that this chemical can irritate your throat, skin, or eyes and may have even more serious health effects. In animal lab studies, it has also been associated with harmful effects during pregnancy, neurological effects, and more.

Optical Brighteners
These chemicals create the "optical illusion" of brighter whites. They "coat" your clothing and remain after washing, meaning that your family's skin is constantly exposed to them. According to the material safety sheet, they are extremely toxic to aquatic life. They are also an irritant to skin, eyes, and lungs, and can be harmful if ingested.
Quaternium-15 & Formaldehyde
Quaternium-15 releases formaldehyde. Additionally, some companies add formaldehyde to their products. Formaldehyde is a known carcinogen and toxicant.
Artificial Colors and Preservatives
We know that artificial dyes are associated with ADHD. And artificial preservatives, like BHT and BHA, may be carcinogenic or an endocrine disruptor. You should avoid these as much as possible.
A Word About Silver Nanoparticles
More manufacturers are adding silver nanoparticles to clothing to combat odor-causing bacteria. These can seep back into wastewater, in this case, from your washing machine. They are harmful to ecosystems and can damage fish and other animals as well as their embryos, according to research. They can also prevent wastewater treatment systems from functioning properly. You may want to limit how many "odor-reducing" clothing articles you buy for your family.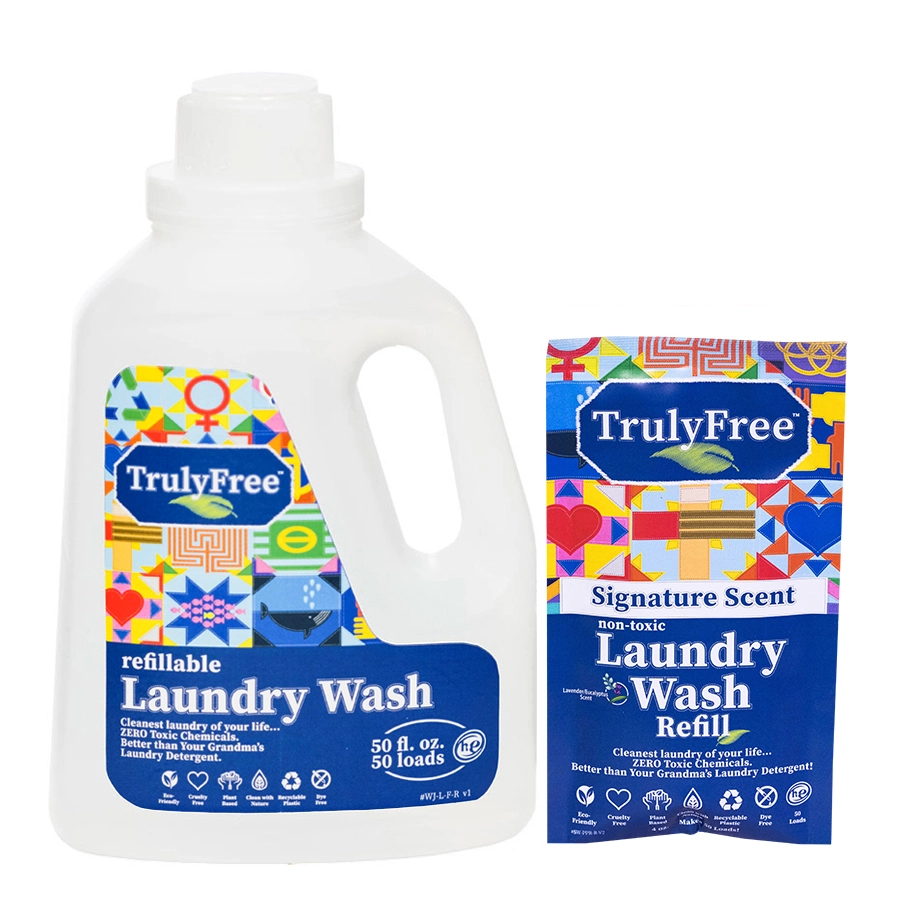 Mamavation's Recommended Laundry Detergent — Truly Free
Mamavation is recommending you try out Truly Free laundry detergent if you would like a non-toxic brand that works on tough stains. This brand reduces your exposure to immune-impacting toxins that are typically found in laundry detergents, so you can confidently wash everyone's laundry, including your infant, with this product.
Benefits of Truly Free Laundry Detergent Products 
Natural and free of harsh chemicals that irritate and cause skin reactions
Safe for infants
Free of all Thickeners, Dyes, Optical Brighteners
Uses Milled salts and Plant-Based Cleansing Ingredients (100% Vegan)
Helps Washer Clean More Efficiently
Better packaging — Uses reusable jug to help you save on plastics
Special Discount for Mamavation Fans
Truly Free has offered special discounts on their products for being a fan of Mamavation. Click here to automatically get a discount on Truly Free laundry detergent products. Here are some details and options:
Starter Kit Choice: Refillable Forever Laundry Wash Jug & 150 Loads of Signature Scent Laundry Wash Loads. Normally $54, but Mamavation discount makes it $48.
Buy 5 Get 2 Free: Refillable Forever Laundry Wash Jug & 350 Loads of Signature Scent Laundry Wash Loads. Normally $129, but Mamavation discount makes it $79.
Best Value Buy 6 Get 6 Free: Refillable Forever Laundry Wash Jug & 600 Loads of Signature Scent Laundry Wash Loads. Normally $219, but Mamavation discount makes it $99.
Washing Machine Cleaners: These cleaners will get the mold and gunk out of your laundry machine.
Mamavation Investigates Laundry Detergents 
Mamavation combed through 200+ Laundry Detergents online. Brands offering no or incomplete ingredient disclosure were deemed not our favorite. So were laundry detergents that cleaned with an abundance of ingredients harmful to the Planet and the humans on it.
Here are some additional investigations we thought you'd be interested in:
Worst Laundry Detergent Brands (i.e. Not Our Favorite) 
These brands contain many of the chemicals from our toxic ingredient list above. We specifically were looking for brands that had Sodium Lauryl Sulfate (SLS), benzisothiazolinone, and methylisothiazolinone. Please take note that some brands have other products in other categories.
365 Whole Foods Market Powdered Laundry Detergent Unscented
365 Whole Foods Market Liquid Detergent Laundry Packs Unscented
365 Whole Foods Market Lavender Citrus Concentrated Laundry Detergent
Ajax (all products)
All (all other products)
All Free & Clear: Contains surfactants and brighteners
Amway Home SA8 Liquid Laundry Detergent
Amway Home SA8 Powder Laundry Detergent
Arm & Hammer Clean & Simple Laundry Detergent
Arm & Hammer Liquid Detergent Perfume & Dye-Free
Babyganics 3X Laundry Detergent Fragrance-Free
Biokleen Free & Clear Laundry Liquid
Biokleen Free & Clear Laundry Powder
Biokleen Citrus Essence Laundry Powder
Biokleen Baby Laundry Liquid
Biokleen Citrus Essence Laundry Liquid
Biokleen Lavender Lily Laundry Liquid
Biokleen Sport Laundry Liquid
Biokleen Cold Water Laundry Liquid
Botanical Origin Laundry Detergent Orange Blossom & Citrus Leaves
Cheer Free & Gentle
Cheer (all products)
Cosy House Collection Detergent Pacs Unscented
Cosy House Collection Detergent Pacs Fresh Scent
Dr. Bronners Sals Suds All Purpose Cleaner
Dreft Stage 1 Newborn Liquid Detergent
Dreft Baby Laundry Detergent Powder
Dynamo (all products)
EcosNext Liquidless Laundry Detergent Free & Clear
EcosNext Liquidless Laundry Detergent Lavender Vanilla
Ecover Zero Laundry Detergent Fragrance Free
Ecover Laundry Detergent Lavender Field
Era (all products)
Fab (all products)
Gain
Just The Basics (CVS) Laundry Detergent Fresh Scent
Kirkland Signature Ultra Clean Premium Laundry Detergent Free & Clear
Lazy Coconuts Eco-friendly Detergent Strips
Method Laundry Detergent Packs Free + Clear
Method Laundry Detergent Packs (with fragrance)
Method Laundry Detergent Pour Free + Clear
Method Laundry Detergent Pour (with fragrance)
Modere Laundry Detergent Clean (liquid)
Norwex Liquid Laundry Detergent
Persil Sensitive Skin Laundry Detergent
Persil ProClean Discs
Planet Ultra Powdered Laundry Detergent Free & Clear
Planet Ultra Laundry Detergent Free & Clear
Purex Free & Clear for Sensitive Skin
Purex for Baby Laundry Detergent
Purex 4-In-1 Packs Mountain Breeze
Purex Powder Detergent
Seventh Generation Ultra Plus Power Free & Clear
Seventh Generation Free & Clear for Baby's Sensitive Skin
Seventh Generation Ultra Power Plus 3-In-1 Fresh Citrus Scent
Tide (rest of brands)
Tide Purclean Plant Based Liquid Unscented
Tide Pods
Ultra (all products)
Wisk (all products)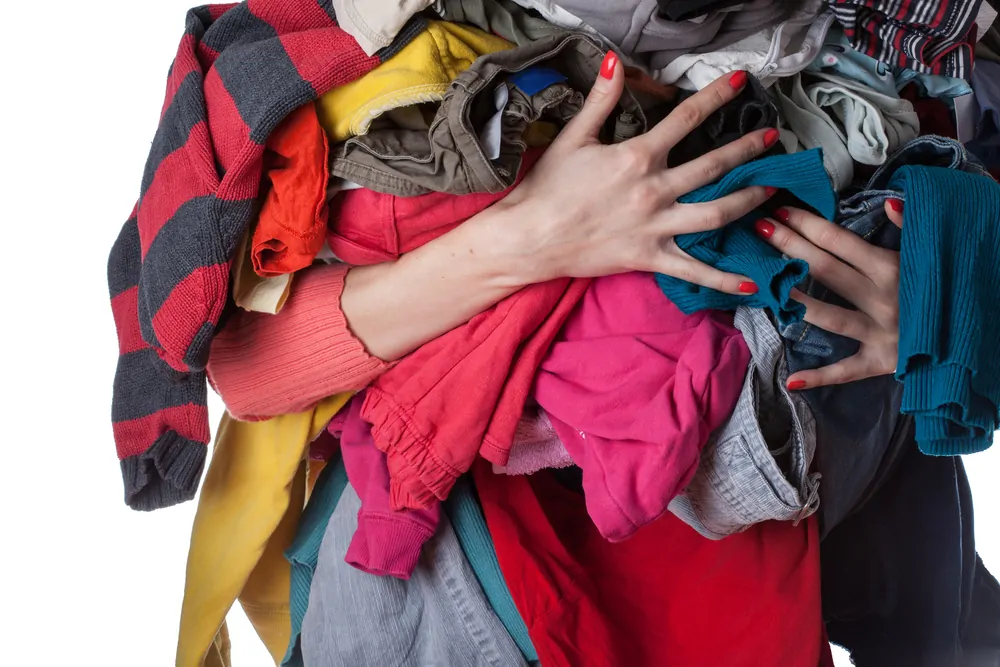 The Better Brands
These brands are better but may contain 1 or 2 of the above ingredients. Most have naturally derived versions of certain chemicals and derive their scents naturally, and are clear of the worst of the "bad" chemicals. However, these are better products than those listed above and do not contain the worst offenders on the above list. That said, these chemicals do not pose a high risk but maybe something to avoid if you have sensitive skin, allergies, or are autoimmune compromised. One more thing to note about this section is it contains ALL additional "natural" brand that did not offer 100% fragrance disclosure. If we didn't know what the fragrance was, we added it here.
Biokleen Premium Stain Fighter Laundry Powder
Ecoegg Laundry Egg + Pellets
Ecos Disney Baby Free & Clear Laundry Detergent
Ecos Laundry Detergent Packs Free & Clear
Ecos Lemongrass Laundry Detergent
Ecos Lavender Laundry Detergent
Ecos Honeydew Laundry Detergent with Enzymes
Enviroklenz Laundry Detergent Powder (Take 10% off products by using "MAMAVATION" at checkout!) 
Honest Company Baby Laundry Fragrance-Free
Indigo Wild Zum Lab Aromatherapy Laundry Soap Frankincense-Lemongrass
Mama Suds Laundry Soap
Melaleuca MelaPower 9x Detergent Scent Free
Modere Laundry Powder
Molly's Suds Super Powder Lavender
Public Goods Laundry Detergent Pods
PUR Home Laundry Detergent Pacs Lavender
Puracy Natural Laundry Detergent (Use discount code "MAMAVATION20" for 20% off products) 
Puracy Natural Laundry Detergent Fresh Linen Scent (Use discount code "MAMAVATION20" for 20% off products)
Rockin' Green Classic Rock (Unscented AND Scented option)
Simple Truth Laundry Detergent Free & Clear
Simple Truth Laundry Detergent Sweet Olive Blossom
Simple Truth Laundry Detergent Wildflower
Trader Joe's Liquid Laundry Detergent Free & Clear
Trader Joe's Liquid Laundry Detergent Lavender Scent
The Best Non-Toxic Laundry Detergent Brands
We are happy to announce that this list is long enough to provide you with plenty of options! All of these products are either MADE SAFE certified, do not contain the ingredients listed above, or are naturally/organically grown with no added chemicals. Pay attention to products because some brands have products in different categories.
Aspen Clean Laundry Detergent Unscented
Aspen Clean Lavendar Lemongrass Laundry Detergent
Attitude Nature + Technology Baby Laundry Detergent Extra Gentle Fragrance Free
Attitude Nature + Technology Baby Laundry Detergent Soothing Chamomile
Attitude Baby Sensitive Skin Care Natural Laundry Detergent
Attitude Sensitive Skin Care Natural Laundry Detergent w/ Oatmeal
Attitude Nature + Technology Pink Grapefruit Laundry Detergent
Attitude Nature + Technology Baby Laundry Detergent Sweet Lullaby
Better Life Naturally Dirt-Demolishing Laundry Detergent Lavender Grapefruit
Blur Laundry Detergent Powder Calming Cleanse
Blur Laundry Detergent Powder Restorative Cleanse
Blur Laundry Detergent Powder Soothing Cleanse
Branch Basics Laundry Kit
Celadon Road Unscented Laundry Detergent
Celadon Road Orange Laundry Detergent
Celadon Road Lilac Laundry Detergent
Celadon Road Cedarwood Laundry Detergent
Celadon Road Jasmine Laundry Detergent
Celadon Road Lime Laundry Detergent
Celadon Road Lavender Laundry Detergent
Christina Maser Vegan Laundry Detergent
Cleancult Laundry Detergent Sweet Honeysuckle
Common Good Laundry Lavender
Corewash Laundry Powder
Dansoap Laundry Soap Citrus
Dansoap Laundry Soap Lavender
DoTerra On Guard Laundry Detergent
Eco Nuts Natural Liquid Laundry Detergent Fragrance-Free
Eco Nuts Soap Berry Laundry Detergent
EcoMe Laundry Whitener Brightener Fragrance-Free
Enviroklenz Liquid Laundry Enhancer (Use discount code "MAMAVATION" for 10% off products!)
Enviroklenz Liquid Laundry Enhancer (Use discount code "MAMAVATION" for 10% off products!)
Enviroklenz Powder Laundry Enhancer (Use discount code "MAMAVATION" for 10% off products!) 
Enviroklenz Washing Machine Deodorizer & Cleaner (Use discount code "MAMAVATION" for 10% off products!) 
Greenshield Organic Baby Laundry Detergent Free & Clear
Hello Bello Concentrated Organic Laundry Detergent Fragrance-Free
Hello Bello Concentrated Organic Laundry Detergent Sweet Baby
Indigo Wild Zum Lab Unscented Clean Laundry Soap
Meliora Lemon Laundry Powder
Miessence Organic Platypus Laundry Liquid
Miessence Happi Earth Laundry Liquid
Nature First Laundry Pods
Pardo Naturals Natural Laundry Detergent Unscented
Pardo Naturals Natural Laundry Detergent Citrus
PUR Home Laundry Detergent Free & Clear
The Simply Co. Laundry Detergent Unscented
The Simply Co. Laundry Detergent Lavender
Truly Free Laundry Wash Unscented (discounts applied when you click, small business) (Save 72% on laundry detergent and get a FREE limited edition Laundry Tote & 50 FREE loads of laundry wash automatically on this link here.)
Truly Free Laundry Wash Signature Scent(discounts applied when you click, small business) (Save 72% on laundry detergent and get a FREE limited edition Laundry Tote & 50 FREE loads of laundry wash automatically on this link here.)
Young Living Detergent
Laundry Aides
If this list of toxic laundry detergents surprised you, I'm sorry to say that it gets worse. Almost all laundry aides – dryer sheets, fabric softener, and stain remover – use toxic chemicals. Most fabric softeners, for example, contain quats but they also have fragrance, or artificial preservatives and colors. Dryer sheets fare even worse.
If you want to use these products, here are some of the safest choices:
So what can you use in your high-efficiency washer and is laundry detergent toxic? Many brands are but you don't have to stop washing your clothes. (Bad news for your teenager!) There are a lot of brands you can choose from to keep your family safe and freshly laundered. Or, take the plunge and DIY your laundry cleaners. You won't regret it!