The spraying of herbicides in parks, athletic fields, schools, sidewalks, public spaces, & HOAs is an environmental and public health nightmare. Glyphosate, the most common herbicide in the world, has been deemed a "probable human carcinogen" by the World Health Organization and added to California's Prop. 65 List of chemicals that cause cancer, birth defects & reproductive harm. It would be wise to look into other ways of managing parks, schools, & public spaces without using these chemicals. Fortunately, there is a solution–organic land care. You've trusted Mamavation to bring you topics like best & worst pest control products, best & worst organic mattresses, & best & worst cookware, now join us as we bring you the ins and outs of organic land care and how it can help your family.
If You Eat Organic, Pay Attention To This
A couple of years ago, my family participated in a study on glyphosate and how much was inside normal everyday Americans. I collected urine samples from everyone in the family and sent them to a University to be analyzed.  Several months later I got the results of how much glyphosate we were being exposed to.
That's when this puzzling situation started.
Most of the family had results similar to what "organic eaters" would expect to have except for my middle son. His numbers were so high, they were concerning. Most of the family was around 1 part per billion, but his results were 7.6 parts per billion.
These results didn't make sense to me so they started me down the path of trying to figure out how they were possible. It was tricky to figure this out because my children were young enough that they were doing everything the same including eating the same meals, going to the same school, and having the same extracurricular activities. We also don't purchase synthetic herbicides so nothing was sprayed on our property. And when I questioned the neighbors on their recent herbicide use, none of them had sprayed Roundup in a very long time.
How the heck did ONE CHILD get an exposure level that high?
So I started looking into the calendar and noticed that he had a playdate with a friend at a local park a couple of days prior. BINGO. That's what was different. My son may have been exposed to glyphosate at a local public park.
That's when the realization sunk in–I can be doing all this work to protect my children at home and ONE INVISIBLE EXPOSURE can ruin it all. 
That exposure must have been so high that it canceled out any preventative measures we took at home to keep him safe from glyphosate by eating organic food. So this year, I sent a Freedom of Information Act Request (FOIA) to the parks district asking about pesticide use in my city. They sent me back pesticide use reports to say that Roundup ProMax, an herbicide containing glyphosate, was sprayed at least 162 times in parks within my city that same year.
This is a BIG problem, but there are emerging solutions I want to share with you.
That solution is organic land care and I hope you can join me in making it a reality in public spaces and supporting legislation in California that aims to put it into practice to protect ALL our children.
Organic Land Care: Treating Grass Like an Organic Farm Has Tons of Benefits
Organic land care is something, if adopted, would be of benefit to your family. It's the idea that public spaces with landscaping, athletic fields, parks & schools can be just as safe from toxic herbicides as an organic farm. Organic land care focuses on bringing life back to the soil by creating a thriving microbial environment underneath our feet. The benefits for this style of turf management are great including:
Healthier community–avoiding herbicide use around pregnant women, children & autoimmune compromised
Saves water–soil rich in microbes hold water more efficiently
Captures carbon–rich microbes in the soil help grow long root shoots, giving the grass the ability to capture carbon
Shields city from liability–Protects cities, counties, & schools from future liability after glyphosate was added to Prop. 65 list of carcinogens
Protects workers–thousands of lawsuits have been filed across the US stating that glyphosate caused cancer
Builds public trust–gives cities, parks & schools something to focus efforts on
Cost savings–has the ability to save money in the long-term as chemical inputs lessen
Protects the environment–only uses chemical inputs approved by OMRI organic certification, which do not pollute rivers & streams
Herbicides like glyphosate & 2,4-d are hormone-disrupting chemicals with the ability to impact the health of pregnant women, children, & people with comprised immune systems. This form of turf management brings with it the protection of residents and the environment.
How Organic Land Care is Different Than How Turf Management & Landscaping is Done Today
The model of organic land care is similar to organic farming. Whereas conventional farmers can use up to 900 different chemicals that are mostly toxic persistent pesticides to manage pests and weeds, organic farmers use several other methods before considering organic chemical pesticides.
Organic land care looks for symptoms of imbalance of the soil and uses a series of preventative steps to bring balance back into the ecosystem.
These techniques promote ecological balance, but are an entirely new systems approach to natural lawn and turf management. Most of the differences I've found I've put below:
More mowing, hand weeding & patrolling property
Testing and analyzing soil samples to determine the nutritional needs of soil microbes
Use of cover cropping, planting buffers and hedgerows
Use of humic based fertilizers that are naturally based
Using more preventative measures like building up soil health to a more alkaline state to repel weeds instead of using herbicides. (Yes, the soil likes to be more alkaline naturally and synthetic chemicals make it more acidic. Weeds don't like alkaline soil.)
Keep pests and diseases away by using OMRI certified products & other preventative measures
Sharpening of motor equipment
More aeration to bring oxygen to the soil
Use of compost & compost tea
Avoiding overseeding & overwatering
Use fertilizer injectors at night for natural pest control (All OMRI certified products)
Encourages use of wildlife to control pest population like hawk poles & owl boxes
Use of animals like goats for large scale weeding efforts
Use of OMRI certified herbicides as last resort. (Note: There are organic herbicides you can use. They are used more in the first 1-2 years before the soil has the chance to change. Once it changes, you should not be relying on them very much because they should not be as prevalent.)
Conventional means of turf and landscape management deplete the soil of natural bacteria & nutrients which make them more dependent on chemicals. But once these chemicals are removed and the soil is fed with organic compost, compost tea, and other organic materials, less chemical application is needed. The entire process takes between 1-3 years depending on how much chemical residue was left behind in the soil and how often the property is used.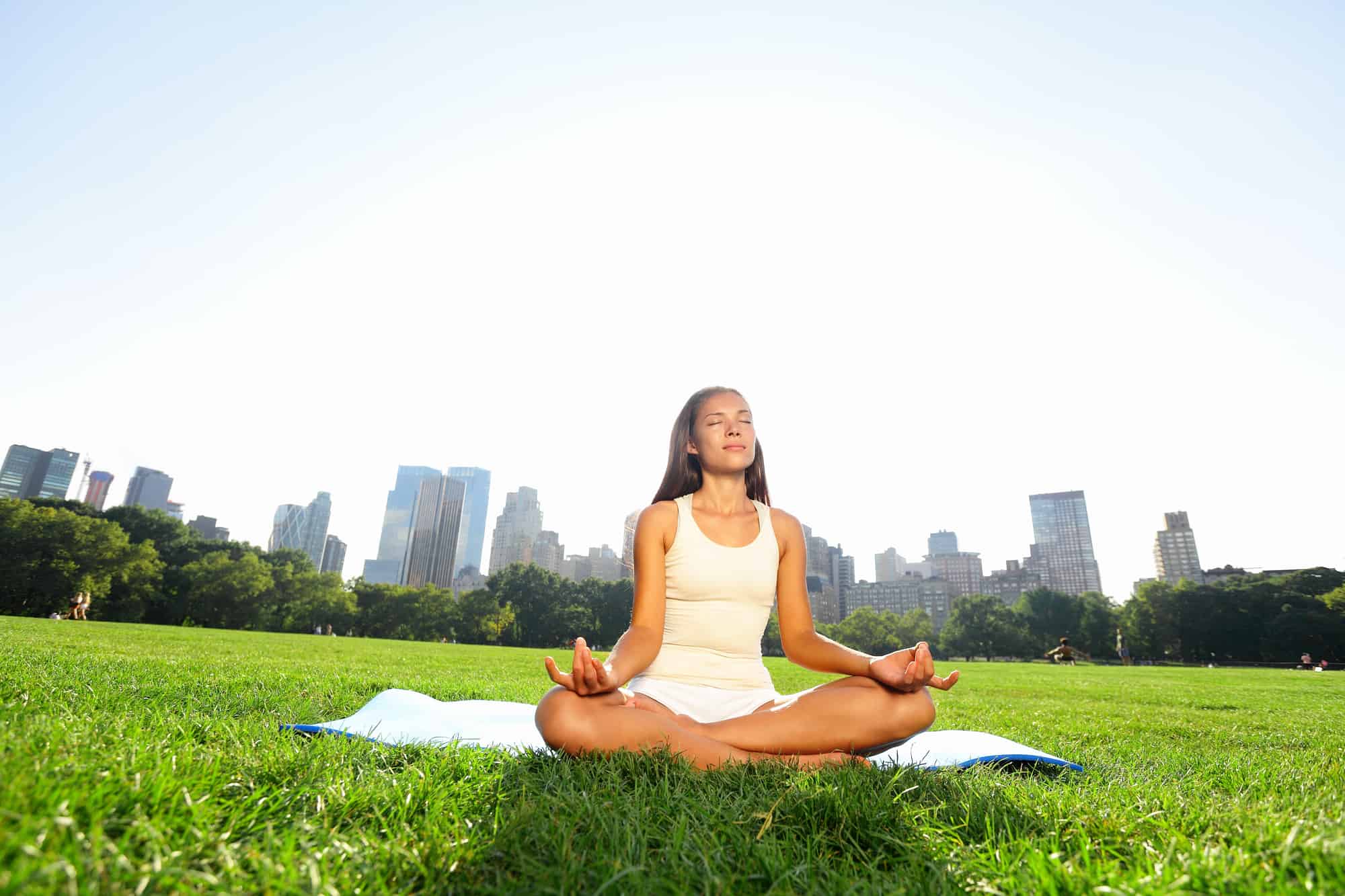 Soil is Alive & Captures Carbon When It's Happy
Soil is alive & captures carbon when it's happy. To keep the soil happy is to keep the living creatures happy. The living things inside the soil outnumber humans. It's the ever-present eco-system desiring to be in alignment but deterred by chemicals. These living organisms are needed to maintain healthy soils around urban and suburban areas.
Depending on what part of the United States you find yourself in there will be a range of what is found inside the soil under your feet. The amount of clay, silt, and sand ranges from region to region. And an increase in developments have brought with it engineered dirt.  But there's a symphony of creatures under the soil that are teeny tiny varying from region to region and they assist the Earth in capturing carbon and making things green & lush.
Here are some of the living things you'll find under your feet that you want to keep alive inside the soil:
Bacteria–beneficial organisms in terms of water dynamics, nutrient cycling, and disease suppression for soil that help decompose organic matter & help bring nutrients up into the roots of the plant
Fungi–beneficial organisms receiving food from the plant and improves nutrient and moisture transfer to the plant root
Protozoa–bacterial feeders making nutrients available to the plants and build soil structure
Nematodes–helps make nutrients available to plants & feeds on bacteria, fungi, plants, insects, and other nematodes.
Microathropods–stimulates prey and distributes the biomass and helps make nutrients available to plants
These microbes beneath the soil allow the plants to produce it's own food and at a faster and more consistent rate than what can be given by artificial "plant food." That means, when grass fields convert to organic and the soil changes back into a living environment, they are producing their own fertilizers to sustain themselves throughout the year underneath the ground. No more need for nitrates in fertilizer when the living organisms produce it themselves in a way that does not disrupt the environment. These lifeforms give everyday grass the ability to carbon capture.
Herbicides Are a Public Health Nuisance–This is What Your Children May Be Exposed To.
Pesticides are linked to health conditions like attention deficit hyperactivity disorder (ADHD), autism, Parkinson's disease, infertility, birth defects, cancers, childhood cancers, among other health issues.
They are commonly found in parks, schools, and public spaces and are both toxic to humans and the environment, especially pregnant women and children in trace amounts. These chemicals are commonly applied several times per year and can be very persistent, meaning they don't go away. In fact, I found lots of these chemicals inside the report submitted to me by my own city parks district. Here are some of those chemicals that likely are left behind some residue from spraying in public spaces:
Glyphosate
2,4-D
Dicamba
Permethrin (Astro)
Bifenthrin (Allectus, Talstar)
Cyfluthrin (Tempo)
Cypermethrin (Demon)
Thiamethoxam (Meridian)
Imidacloprid (Merit, Lallet)
Dinotefuran (Zylam)
Dlothianidin (Arena, Aloft)
Organophosphate (OP) (e.g., acephate [Orthene]
Chlorpyrifos [Dursban]
Trichlorfon [Dylox]
Carbamate insecticides carbaryl [Sevin]
Methiocarb [Mesurol]
In addition to using toxic herbicides, synthetic turf management also has heavy use of fossil fuels, releases greenhouse gasses, disturbs the soil ecosystem, has high salt content, upsets the balance of microbes and leaches contaminants back into the environment. Why are we doing this when they are other options?
Researchers Conclude Organic Land Care Costs The Same As Conventional, Or Maybe Less, And Is More Beneficial To The Soil
Grassroots Environmental Education released a report comparing the costs of maintaining a typical high school football field both with a chemical-intensive program and with an organic land management program over a five year period. This report was prepared for members of the New York State legislature who later voted in favor and passed an organic land care program statewide. The report concludes that the annual cost of maintaining a field using natural products and techniques can be as much as 25% lower than the cost of conventional programs using chemical fertilizers and pesticides.
What they found was the cost of an organic land care & natural turf management program is incrementally higher in the first two years, but then decreases significantly as soil biology improves and water requirements diminish. Total expenditures over five years show a cost savings of more than 7% using natural turf management, and once established, annual cost savings of greater than 25% can be realized.
Harvard Yard Soil Restoration study compared chemical-intensive programs to organic land management programs and found significant benefits to organic land management. The organic land management program areas had great progress:
developed healthier and longer root systems,
improved moisture retention,
required less irrigation and
improved available nitrogen in the soil to a healthy range because of beneficial fungi, bacteria, and beneficial predators.
required about 50% less water
Harvard was so impressed, they are continuing the program!
California City Irvine Started a Trend By Banning Herbicides
The City of Irvine became the very first city in California to ban the use of synthetic pesticides on city property. The Council adopted an organic land care policy that limits the use of synthetic pesticides, which includes 570 acres of parks, 70,000 trees, 800 acres of right-of-way, and nearly 1.5 million square feet of facilities. Today they have been under organic land care for four years!
Since then, a restriction of herbicides has swept through the globe. We pulled the cities & counties from California as an example:
Alameda County, California – The East Bay Regional Park District, a special district operating regional parks in Alameda and Contra Costa Counties, banned glyphosate around picnic and play areas effective July 2019. EBRPD plans to formally ban Roundup use in its parks by the end of 2020. EBRPD manages 73 parks and 55 miles of shoreline.
Albany, California –Passed ordinance for Integrated Pest Management program that restricts toxic pesticide use and urges pesticide use as last resort.
Arcata, California – Initiated a pesticide reduction plan that urges pesticides to only be used as a last resort.
Belvedere, California –  Passed municipal ordinance initiating Integrated Pest Management program that restricts toxic pesticide use and urges pesticide use as last resort.
Benicia, California – City decided to go glyphosate-free following the verdict in Johnson v. Monsanto Co.
Berkeley, California – Implemented pest management program to minimize or eliminate the use of pesticides. The city has not used glyphosate since the 1970s, according to spokesman Matthai Chakko.
Burbank, California – City Council members voted to discontinue the use of Roundup in city parks for one year, and Burbank Unified School District will no longer use the herbicide due to cancer concerns.
Cambria, California – North Coast school board trustees formally proposed a ban on glyphosate for all school properties.
Carlsbad, California – The City Council voted unanimously to adopt a policy that makes organic pesticides the preferred method for killing weeds. "Asked to choose between aesthetics and public health…I'm going to choose public health every time," said Councilwoman Cori Schumacher.
Clayton, California – Banned the use of Roundup on city property.
Concord, California – The Mount Diablo Unified School District unanimously voted to ban glyphosate use on school property.
Contra Costa County, California – The East Bay Regional Park District, a special district operating regional parks in Alameda and Contra Costa Counties, banned glyphosate around picnic and play areas effective July 2019. EBRPD plans to formally ban Roundup use in its parks by the end of 2020. EBRPD manages 73 parks and 55 miles of shoreline.
Corte Madera, California – Passed ordinance calling for Integrated Pest Management (IPM) program restricting highly toxic pesticides, while also urging for pesticide use to be a last resort.
Costa Mesa, California — On January 15, 2019 Costa Mesa City Council approved an organic IPM policy.
Davis, California – Passed ordinance implementing Integrated Pest Management (IPM) program designed to reduce the use of pesticides. Some city parks do not allow the use of glyphosate.
Encinitas, California — IPM policy in place, banned neonicotinoids and pesticide-free park pilot program.
Fairfax, California – Passed municipal ordinance restricting use of toxic pesticides on public property in favor of alternative methods.
Fresno, California – After hearing from concerned parents and employees, Fresno Unified School District is investigating the use of alternative herbicides that do not contain glyphosate, citing health risks.
Greenfield, California — Stopped Roundup use in 2019, looking to put a comprehensive policy in place restricting the use of all toxic pesticides.
Irvine, California — The City Council voted unanimously to eliminate the use of toxic pesticides in 2016. Irvine was the first city in Southern California to adopt an organic program.
Laguna Hills, California —  An organic-only pilot program for two city parks will be started in 2019.
Lodi, California —  Roundup banned within 25 feet of the city's 17 playgrounds in February 2019.
Long Beach, California – Citing the landmark $289 million verdict in Johnson v. Monsanto Co., Long Beach Parks & Recreation Director Gerardo Mouet announced an immediate halt on the spraying of Roundup in Long Beach Parks.
Los Angeles County, California – The Los Angeles County Board of Supervisors issued a moratorium on glyphosate-based herbicides, including Roundup weed killer. In July 2019, the LA County Board of Supervisors formally banned Roundup.
Malibu, California —  ​The city adopted an Earth Friendly Management Policy (EFMP) in 2018. It would eliminate the use of synthetic fertilizers, organic or toxic chemical pesticides, irradiation, and genetically engineered products and ingredients, including fungicides, herbicides, insecticides and rodenticides. An updated policy passed in 2019.
Marin County, California –  The county stopped using glyphosate, the active ingredient in Monsanto's Roundup weed killer, on all county-maintained parks, landscaping, playgrounds, walkways and parking areas.
Manhattan Beach, California — ​City council voted unanimously in May 2019 for all-organic landscaping practices.
Mill Valley, California – Passed ordinance initiating Integrated Pest Management program that restricts toxic pesticide use and urges pesticide use as last resort.
Morgan Hill, California – Instituted a pilot program at a city park to assess the possibility of eliminating the use of herbicides.
Napa, California – A policy announced in March of 2019 banned glyphosate use on city property, completing a phase-out campaign that started three years ago.
Novato, California — Novato joined other Marin cities and local governments in eliminating the use of glyphosate in 2018.
Oakland, California – Passed ordinance initiating Integrated Pest Management program that restricts toxic pesticide use and promotes pesticide use as last resort. On Sept. 1, 2018, the city formally halted the use of Roundup. Alameda County is reviewing its chemical spraying practices.
Orange County, California – OC Parks banned the use of glyphosate on and around playgrounds, picnic shelters, trails and campgrounds. However, glyphosate remains in use on off-trail invasive weeds.
Oxnard, California – The Oxnard School District board voted to ban Roundup use on campuses.
Palo Alto, California – Pest management program calls for Integrated Pest Management that restricts pesticide use in favor of less harmful methods.
Petaluma, California – City officials are considering a ban on glyphosate for use in public parks.
Richmond, California — City Council adopted a resolution in 2015 to ban all pesticide use from public parks and fields and is working with school districts, city departments, and citizens to encourage a move to organic field maintenance.
San Anselmo, California – Passed city resolution promoting an Integrated Pest Management program restricting the use of toxic pesticides. The program only allows pesticide use as a last resort.
San Clemente: ​San Clemente City Council approved a policy that will prioritize organic practices in September, 2018.
San Diego County: In 2020 the Board of Supervisors unanimously voted to direct the chief administrative officer and related staff to identify a plan that includes organic alternatives to herbicides.
San Francisco, California – Restricts the use of toxic pesticides on public property in favor of alternative, organic methods.
San Juan Capistrano, California – Implemented an organics-first policy to control weeds in city parks and open spaces.
San Lorenzo Valley, California – The San Lorenzo Valley Water District voted 4-1 for a permanent ban of glyphosate pesticide use by the district.
San Luis Obispo, California – San Luis Coastal Unified School District banned all pesticides, including Roundup, on school properties in 2018. Coast Unified School District banned Roundup in the summer of 2019.
Santa Barbara, California – The Santa Barbara Unified School District Board of Education voted to ban glyphosate spraying at all district schools.
Santa Rosa, California —  ​In 2018 the City Council approved the use of organic-only methods for landscape maintenance services in parks, medians and around office buildings throughout most of the city.
Sonoma, California – Banned glyphosate use on all city-owned property.
Sonoma County: Sonoma County is the fourth local government agency in the country to restrict use of synthetic pesticides on public land. The regulation applies to lands maintained by county agencies, including water, parks, roads and the open space district, requiring them to eliminate use of synthetic herbicides, insecticides and fungicides.
Thousand Oaks, California – City instituted a ban on glyphosate use on public golf courses.
Watsonville, California — Glyphosate ban, effective July 1, 2019. IPM pilot program to implement alternatives being considered.
Woodland, California — In 2018 the Woodland Joint Unified School took the first steps towards a comprehensive reform of its pest management system and suspended Roundup use on school campuses.
California Bill Starts Pilot Programs in School Districts Across State & Needs Your Support!
This year the California legislature has introduced "The Healthy Schools Act" which is AB 2491 with Assemblymember Choi. This bill groups several school districts together in the first state-wide pilot program for organic land care! Several schools across California will be initiating a pilot program to adopt organic land care and the State of California will provide training and costs going above their budgets in years prior. The bill states:
The Healthy Schools Act of 2000 requires that the preferred method of managing pests at schoolsites, as defined, is to use effective, least toxic pest management practices and requires schoolsites to maintain records of all pesticides used at the school site for a period of 4 years. Existing law requires schools to provide all staff and parents or guardians of pupils enrolled at a school site written notification of, among other things, expected pesticide use at that school site.
This bill requires the State Department of Education to establish a 5-year pilot program to provide funding to school districts implementing organic land care programs.  The bill would require a participating school district to conduct soil testing, as provided, and to submit an annual report to the department and the Legislature.
THIS IS THE BEGINNING OF A MOVEMENT: Getting this bill passed would be huge because it will grow resources for the industry, train workers so they are not exposed to these harmful chemicals, support new jobs in a healthy alternative, & provide other school districts with countless mentors that can share their knowledge with other schools afterward.
This bill needs your support to pass, so please consider contacting your local assemblymember or State Senator. If you live in California, you can find your representative here and tell them to support this bill.
Resources to Get You Started Implementing an Organic Land Care Program In Your Local Community
If you are reading this post, you are a pioneer and thank you for being part of this movement! There are people all over the United States working in their local communities to make this a reality nationwide. Mamavation is also involved in this movement in Ventura County, California. If you would like to get started, here are some of the best resources you'll need to learn more.
Non-Toxic Communities: find groups close to you, sample letters to schools, HOAs & elected officials, sample handouts, sample media kits, list of what other cities are doing...you'll find your tribe here.
Herbicide Free Campus:this organization started as a way to organize college students and athletes. It was founded at UC Berkeley and is spreading across the US. If you are at a college campus and want to start a program, start a chapter!
Organic Landscape Association: is a trade organization that advances the knowledge and practice of organic landscaping. They do education and advocacy, support the landscape professionals, establish and maintain professional standards, and coordinate and support efforts of local organizations seeking to reduce the use of chemical lawn pesticides on public and private property. (This means they can help you!)
StonyFIELDS PlayFree Athletic Parks Campaign: Organic yogurt brand Stonyfield has created the most amazing program where they partner with cities and park districts all over the US and help them make convert public property to organic land care! They may be able to help a public space near you! So go get some Stonyfield Yogurt and take a pic of yourself consuming it and share online to say thank you using #playfree. 
Detox Project: Get the family tested for herbicides so you know exactly how much you have been exposed to!
If you would like to find out exactly how much herbicides are sprayed in your community, you can! Send Freedom of Information Act Request (FOIA) to your local government agencies to get this started. I've put mine here as an example. Feel free to adjust them for your own needs:
Next, you'll want to find some friends who can help you so look at the organizations I linked above to see what is happening around your community. There may be a group already organizing and you can help them. OR you may need to start a chapter on your own.
Then you'll want to start meeting with your local elected officials to let them know about these options and encourage them to pass an organic land care resolution and start a pilot program.
This is where I'm at and I've had really good success educating local leaders about this issue and getting support. No pilot programs yet thought. But as I'm covering this, I'll keep you updated here and on Mamavation's Facebook Group. Wish me good luck!
If you are a resident of Simi Valley, I'd recommend you join the Safer Simi group on Facebook.