Are you looking for a non-toxic natural leave-in conditioner without all the parabens, undisclosed fragrances, sulfates, and other junk? Regardless of your hair type, Mamavation knows you want to look your best, but struggle to find non-toxic products to lessen split ends & breakage. We are here to help you find the safest non-toxic leave-in conditioners that will leave your hair healthy and beautiful. You've trusted Mamavation to bring you topics like safest natural detanglers, safest natural hair spray, & safest collagen, now join us for best (& possibly worst) non-toxic natural leave-in conditioners.
Disclosure: This post was medically evaluated by Sondra Strand, RN, BSN, PHN. This post also contains affiliate links.
Non-Toxic Natural Leave-In Conditioners Are Necessary Hair Products
If you are looking for something to help you strengthen your hair and cut down on dandruff, frizziness, tangles, breakage, and split ends, a leave-in conditioner is a great product to use. Leave-in conditioners are also heat protectants and will protect your hair from heat from the blow dryer and other harsh environments.
In order to get the benefits of a leave-in conditioner, it's important to do it consistently. Therefore, getting into a good routine after you shower is important. After using shampoo & conditioner, work leave-in conditioner into towel-dried hair while brushing with a comb or wooden brush. Your damp hair will be easier to comb out and have fewer tangles as well.
The problem is most leave-in conditioners are full of hormone-disrupting, carcinogenic, and irritating ingredients. This is why Mamavation ranked over 160+ leave-in conditioners in order to find the safest formulas for you to try. Not all products are vegan or cruelty-free, but most can be used with color-treated hair, frizzy hair, curly hair, fine hair, or damaged hair.
Problematic Ingredients Found Inside Most Leave-In Conditioners
Mamavation evaluated the ingredients of over 160+ leave-in conditioners looking for hormone-disrupting chemicals, carcinogens, and irritants. We found most products that are marketing themselves as a "leave-in conditioner" had some issues with ingredients. Most of the time, we found undisclosed fragrances and different types of "quats." But here is also what we found when evaluating over 160+ products.
Undisclosed Fragrance —  "Fragrance" is either made from petroleum (synthetic fragrances) or botanical raw materials (natural fragrance) or both. It can also contain ingredients like solvents, stabilizers, UV absorbers, preservatives, phthalates, and dyes. These types of chemicals vary in toxicity. But there is lots of mystery surrounding "fragrance" in personal care products. Companies that make perfume buy chemicals from other companies called "fragrance houses." This means it is possible for a brand to not even know the fragrance chemicals inside their own product. However, as companies and states are moving toward fragrance ingredient disclosure, this is slowly starting to change. (You can make a difference here by only purchasing from brands that are doing 100% ingredient dislosure to help!) The biggest problem is the mystery because no one has any idea what is inside the word "fragrance." Unfortunately, this was consistently the largest problem with the hair sprays we ranked.
Phthalates: Phthalates are another class of ingredient that is also hormone-disrupting and found in most conventional skin-aging products. Phthalates are commonly used as a solvent (a liquid that can dissolve other substances) and fixative (a substance that can help the fragrance last longer on the skin) inside fragrances.  The most common phthalate inside fragrance is diethyl phthalate (DEP) and it's considered toxic by the Toxic Substances Portal of the Agency for Toxic Substances and Disease Registry (ATSDR). The trade name of this chemical is also known as neantine, peilatinol A, and solvanol, but you are very unlikely to see these names on an ingredient panel. Phthalates are linked to health impacts like obesity, and hyperactivity in children, and the kicker is infertility in men by degrading sperm quality. (In other words, wearing fragrances with phthalates around young boys is a problem.) In fact, phthalates are so problematic to male fertility, they are being restricted in places like China. Phthalates, although worse for men, is also problematic for women.
Parabens: These are very harsh preservatives used in many personal care products that may lead to hormone disruption because they mimic estrogen. The European Union banned these chemicals in 2012. The most controversial study found traces of five different parabens in the tumors of 19 out of 20 breast cancer patients. Make sure to avoid: methylparaben, propylparaben, butylparaben, ethylparaben, isobutylparaben, & isopropylparaben.
Formaldehyde Releasers: In personal care products, formaldehyde can be added directly to the product OR it can be released from preservatives inside the product. Chemicals that release formaldehyde over time are referred to as formaldehyde releasers. These chemicals prevent microbes from growing in water-based or aloe vera-based products, but are also linked to cancer and allergic skin reactions. Formaldehyde releasers are chemicals like quaternium-15, DMDM hydantoin, imidazolidinyl urea, diazolidinyl urea, polyoxymethylene urea, sodium hydroxymethylglycinate, 2-bromo-2-nitropropane-1,3-diol (bromopol) and glyoxal.
Quaternary Ammonium Compounds aka "Quats" —  These are chemicals that contain quaternary ammonium compound (QAC) in their chemical makeup and are used in a variety of hair products like conditioners, shampoos, hair spray, mousse, hair spray, and detanglers. They are used as preservatives, surfactants, germicides, and conditioning agents. The Association of Occupational and Environmental Clinics classifies quats as "asthmagens," meaning they can trigger asthma attacks and cause new cases in asthma-free individuals. Not all "quats" are considered asthmagens, but many release formaldehyde or are linked to hormonal effects. Examples of "Quats" you will find in detanglers are Behentrimonium Chloride, Cetrimonium Chloride, Cetalkonium chloride, Stearalkonium chloride, Cinnamidopropyltrimonium Chloride, Quaternium-18, ditallow dimethyl ammonium chloride (DTDMAC), Olealkonium chloride, & Behentrimonium Methosulfate. Quats that are not concerning inside hair sprays are  Guar Hydroxypropyltrimonium Chloride, starch hydroxypropyltrimonium chloride, hydroxypropyltrimonium honey & Cocamidopropyl Hydroxysultaine.
Harsh synthetic scents: Butylphenyl Methylpropional (also known as Lilial) & hydroxymethylpentylcyclohexenecarboxaldehyde are harsh synthetic scents that are linked to moderate to high toxicity concern in humans, irritability, developmental toxin, and endocrine disruption.
Harsh Preservative Combos — Although sodium benzoate and potassium sorbate are safer preservatives used by lots of natural products, when you combine them it's excessive in personal care products. Our advisors do not recommend this specific mixture of preservatives. It's okay to have sodium benzoate or potassium sorbate by themselves. We are also approving phenoxyethanol in small quantities for adults, but not for children.
Ethoxylated Ingredients — Ethoxylated ingredients are generally of low concern on their own. However, they can be contaminated with ethylene oxide, a known carcinogen, and 1,4- dioxane, reasonably anticipated to be a human carcinogen. They may also be linked to organ toxicity and reproduction toxicity.
Polysorbates: Polysorbates are another type of ethoxylated ingredient we wanted to tell you about. They are widely used surfactants in biopharmaceutical formulations and also used as an emulsifier in cosmetic creams, lotions, hair sprays, & skin-aging creams, etc. In other words, it is used to help mix oil and water. Polysorbates are not problematic on their own, but when they used for cosmetic reasons, they are treated with ethylene oxide. Products treated with ethylene oxide frequently have traces of 1,4 dioxane which is a carcinogen.
Silicones — There isn't anything dangerous about using silicone products in your hair, however, it's been reported that it builds up over time from overuse and can make your hair, dry brittle, and weighed down.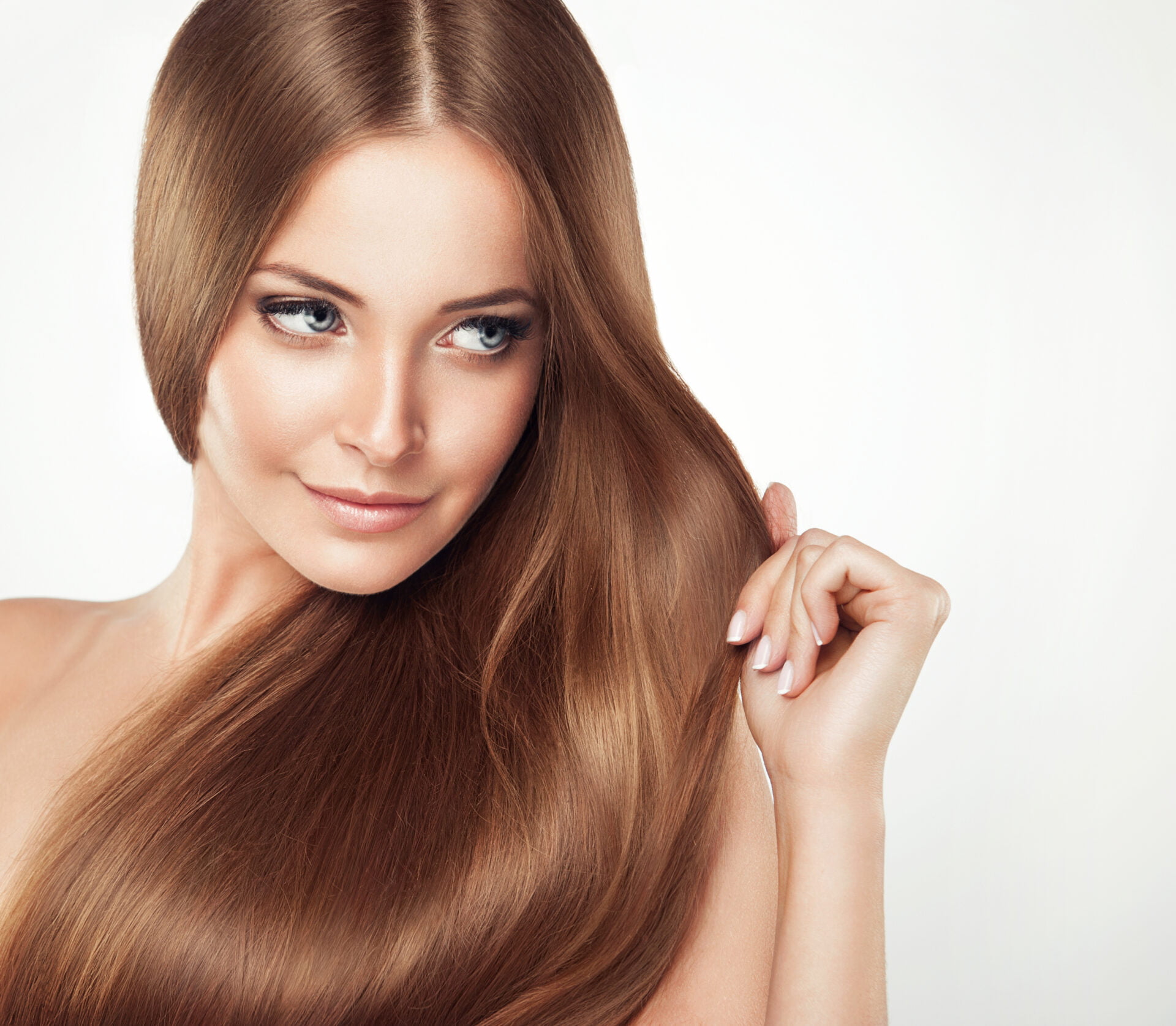 Safer & Natural Leave-In Conditioner Ingredients
As we ranked over 160+ leave-in conditioners, we also found several types of natural ingredients that are great in a commercial formula and for DIY leave-in conditioner recipes. These ingredients are also good in natural hair products. But we do have some caution for you to recognize about most leave-in conditioners, most of the products that contain these ingredients ALSO contain problematic ingredients side by side. Even though this is happening, we wanted to include ingredients that are perfectly fine.
Argan Oil
Olive oil
Avocado oil
Jojoba oil
Sweet almond oil
Lavender essential oil
Distilled water
Shea Butter
Coconut Oil
Vitamin E
Aloe Vera
Tamarind Seed Extracts
Lemon
Aloe vera gel or aloe vera juice
grapefruit seed extract
Ylang-ylang
Glycerin

Other Personal Care Investigations That May Interest You
Mamavation has evaluated the ingredients of thousands of products in the personal care aisle. After you find a good leave-in conditioner, make sure to come back and check out these investigations as well.
Face
Body
Hands
Hair
Dental
Eyes
Feminine Care

Mamavation's Investigation of Leave-In Conditioners
To recap, Mamavation ranked over 160+ leave-in conditioners for hormone-disrupting, carcinogenic, and irritating ingredients. After evaluating the ingredients, we placed them into 3 different categories based on the ingredients we found. We recommend shopping from either the "better" or "best" category based on your comfort between clean ingredients and effectiveness in detangling. Some people may need to use products from the "better" category because their hair just needs more. While other people will prefer a lighter formula in the "best" category to ensure they are avoiding the most problematic ingredients. Do you what suits your family and your lifestyle. We are just providing you with that information.
Not Our Favorite Leave-In Conditioners
This list of products contains problematic ingredients such as parabens, phthalates, undisclosed synthetic fragrances, Quats, Ethoxylated ingredients, harsh synthetic scents, or silicones.
Africa's Best Hair Rinse Out and Leave-in Deep Conditioner
Alaparf Milano Nutritive Leave-in Conditioner
Aluram Coconut Water Based Leave in Conditioner
Amika Hydro Rush Leave-in Conditioner
Amika Vault Color Lock Leave in conditioner
ApHogee ProVitamin Leave-in Conditioner
ArtNaturals Argan Oil Leave-in Conditioner
As I Am Leave in Conditioner
As I Am Dry & Itchy Scalp Care Leave in Conditioner
Aunt Jackie's Curls and Coils Quench Moisture Intensive Leave in Conditioner
Aussie Hair Leave-In Conditioner
Aveda Nutriplenish Leave-in Conditioner
Aveeno Hydrating Oat Milk Leave-In Hair Treatment
Barrel and Oak Rinse Out and Leave in Conditioning Cream
Better Natured Hydrating Leave-in Conditioner and Detangler
Bevel Leave in Conditioner
Biolage Daily Leave in Tonic
Biolage Smooth Proof Leave-in Cream
Biosilk Hydrating Therapy Pure Moisture Leave-in Spray
BioSilk Miracle 17 Original Silk Therapy
Blue Magic Carrot Oil Leave-in Styling Conditioner
Botanic Hearth Leave-In Conditioner
Briogeo Superfood Avocado and Kiwi Moisture Leave-In Conditioner
Briogeo Farewell Frizz Rosarco Milk Leave-in Conditioning Spray
Cantu Argan Oil Leave in Conditioner
Carol's Daughter Born to Repair Curl Defining Cream
Carol's Daughter Goddess Strength Divine Leave-in Hair Milk Spray
Carol's Daughter Black Vanilla Leave in Conditioner
CHI Keratin Leave-in Conditioner
CHI Aloe Vera Humidity Resistant Leave in Conditioner
CHI Black Seed Oil Leave-In Conditioner
Coco and Eve Like a Virgin Leave in Conditioner
Creme of Nature Coconut Milk Detangling and Conditioning Leave-in Conditioner
Curls Blueberry Bliss Reparative Conditioner
Curls So So Smooth Vitamin C Leave-in Conditioner
Curlsmith Leave-In Conditioner
Daily Dose Miracle Moisture Spray Leave-in Conditioner
Design Essentials Almond and Avocado Leave in conditioner
DevaCurl Leave-In Curl Conditioner
Dr. Miracle's Leave In Conditioner
EDEN Bodyworks Coconut Shea Leave-In Conditioner
ENJOY Leave in Conditioner
Garnier Fructis Sleek & Shine Leave-In Conditioner
Garnier Whole Blends Moroccan Argan and Camellia Oil Leave in Treatment
Garnier Coconut Oil and Cocoa Butter Leave-In Conditioner
Garnier Fructis Air Dry Butter Cream Leave in
Gisou Honey Infused Leave in Conditioner
Hair Chemist Biotin Leave-in Conditioning Spray
HnP Super Strength Placenta No-Rinse Instant Hair Repair Treatment
Infusium Repair Renew Leave-In Treatment
It's a 10 Miracle Leave in Product
Jhirmack 10 in 1 Leave in Conditioner Spray
John Frieda Frizz Ease Daily Nourishment Leave in Conditioner
Kenra Daily Leave-In Conditioner
L'Oreal Paris Elvive Total Repair 5 Protein Recharge Leave-in Conditioner Treatment
L'Oreal Paris Elvive Dream Lengths No Haircut Cream Conditioner
L'Oreal Dream Lengths Curl NonStop Dreamy Curls Cream
LOMA Leave-In Conditioner
Luseta Biotin and Collagen Leave-In Conditioner
Lusti Argan Oil 4 in 1 Leave in Conditioner
Maple Holistics Leave in Conditioner
Marc Anthony Grow Long Super Fast Strength Leave-in Conditioner Spray
Marc Anthony Coconut and Shea Nourishing Leave-in Conditioner
Marc Anthony Argan Oil Leave in Conditioner
Maui Moisture Heal + Hydrate Shea Butter Hair Mask
Mielle Organics Rosemary Mint Strengthening Leave-in Conditioner
Mielle Organics White Peony Leave-in Conditioner
Mielle Organics Hawaiian Ginger Moisturizing Leave-in Conditioner
Mielle Organics Mango and Tulsi Nourishing Leave in Conditioner
Mielle Organics Oats and Honey Soothing Leave-in Conditioner
Mielle Organics Pomegranate and Honey Leave-in Conditioner
Mielle Organics Sea Moss Leave-in Conditioner
Milkshake Leave in Conditioner
Milkshake Incredible Milk
Miss Jessie's Leave In Condish
Mixed Chicks Leave in Conditioner
Mizani 25 Miracle Leave-in Conditioner
Moroccanoil All in One Leave-in Conditioner
Naturtint CC Cream Leave-In Conditioner
NEXXUS Humectress Leave in Spray
NEXXUS Curl Define Leave In Conditioner
Not Your Mother's Way to Grow Leave-in Conditioner
Not Your Mother's Leave in Conditioner Royal Honey and Kalahari Melon
OGX Coconut Curls Styling Milk
Okay Black Jamaican Leave-In Conditioner
OKAY Coconut and Hibiscus Conditioner
Original Sprout Leave-In Conditioner
Ouai Leave in Travel Conditioner
Ouidad Moisture Lock Leave-In Conditioner
Pantene Moisturizing Leave-in Conditioner
Pattern Leave in Conditioner
Paul Mitchell Tea Tree Hair and Body Moisturizer Leave In
Paul Mitchell The Conditioner
Paul Mitchell Full Circle Leave in Treatment
Paul Mitchell Clean Beauty AntiFrizz Leave-in Treatment
Pravana Intense Therapy Leave-In Treatment
Pure Brazilian Leave In Conditioner
Pureology Color Fanatic Leave-in Hair Treatment Spray
R+Co Vitamin C Leave-in Conditioner
Redken All-in-One Leave-in Conditioner
Redken Bonding Leave in Conditioner
Redken Extreme Length Leave In Treatment
RenPure Coconut and Vitamin E Replenish Leave-in Conditioner
RUSK Sensories Smoother Passionflower and Aloe Smoothing Leave-In Conditioner
Sachajuan Leave-In Conditioner
Saints and Sinners Velvet Devine Leave-in Conditioner
Salerm 21 Leave in Conditioner
Scotch Porter Leave-In Hair Conditioner
SoCozy Detangler and Leave-In Conditioner
Sol De Janeiro Milky Leave-in Conditioner
Sun Bum Revitalizing 3 in-1 Leave in Conditioner
Taliah Waajid Moisture Strengthening Leave-In Conditioner
Sustainable Glam 13 in 1 Epic Leave-In Conditioner Hair Detangler Spray
Tgin Green Tea Super Moist Leave-In Conditioner
Tgin Miracle Repair Protective Leave-in Conditioner
The Good Hair Complete Repair Balm
The Mane Choice H2Oh! Hydration Therapy Moisturizing Conditioner
The Mane Choice Prickly Pear Paradise Leave-In Conditioning Cream
TreLuxe Untie the Knot Leave-in Conditioner
TXTR Cantu Leave in and Rinse Out Hydrating Conditioner
UNITE hair 7 Seconds Detangler Leave in Conditioner
VERB Curl Leave in Conditioner
Virtue Leave-in Conditioner

Better Leave-In Conditioners
This category of products is the happy medium. Most leave-in conditioners are very hard to formulate without at least a few "quats." This category can contain some problematic ingredients but not many, but you may find harsh preservative combos of potassium sorbate & sodium benzoate, natural undisclosed fragrance, 2-3 problematic ingredients, & undisclosed natural or "phthalate-free" fragrance.

Best Non-Toxic Natural Leave-In Conditioners
This category represents the safest non-toxic natural leave-in conditioners. There are no undisclosed fragrances, natural or synthetic. There are also no parabens, silicones, phthalates, undisclosed fragrances, ethoxylated ingredients, or harsh synthetic scents. But because this category is so difficult to formulate without at least one "quat," we did allow some of those formulations that were mostly clean. We have marked those brands with a * so you can find which ones they are.