We know you are too busy to peel back the layers of mystery behind the different varieties of peel-off face masks (including K-beauty face masks), so we rolled up our sleeves and got to peeling for you. This may have involved some latex-free gloves and scrutiny, but it was fun! You've trusted Mamavation to bring you topics like best & worst collagen for beauty, best & worst non-toxic shampoo, & best & worst non-toxic hair products, now join us for the best & worst non-toxic peel-off sheet masks (& K-beauty face masks too!) 
Scroll down to the very bottom for our product recommendations, and if you would like to say thank you, you can donate here. 
Disclosure: This post contains affiliate links.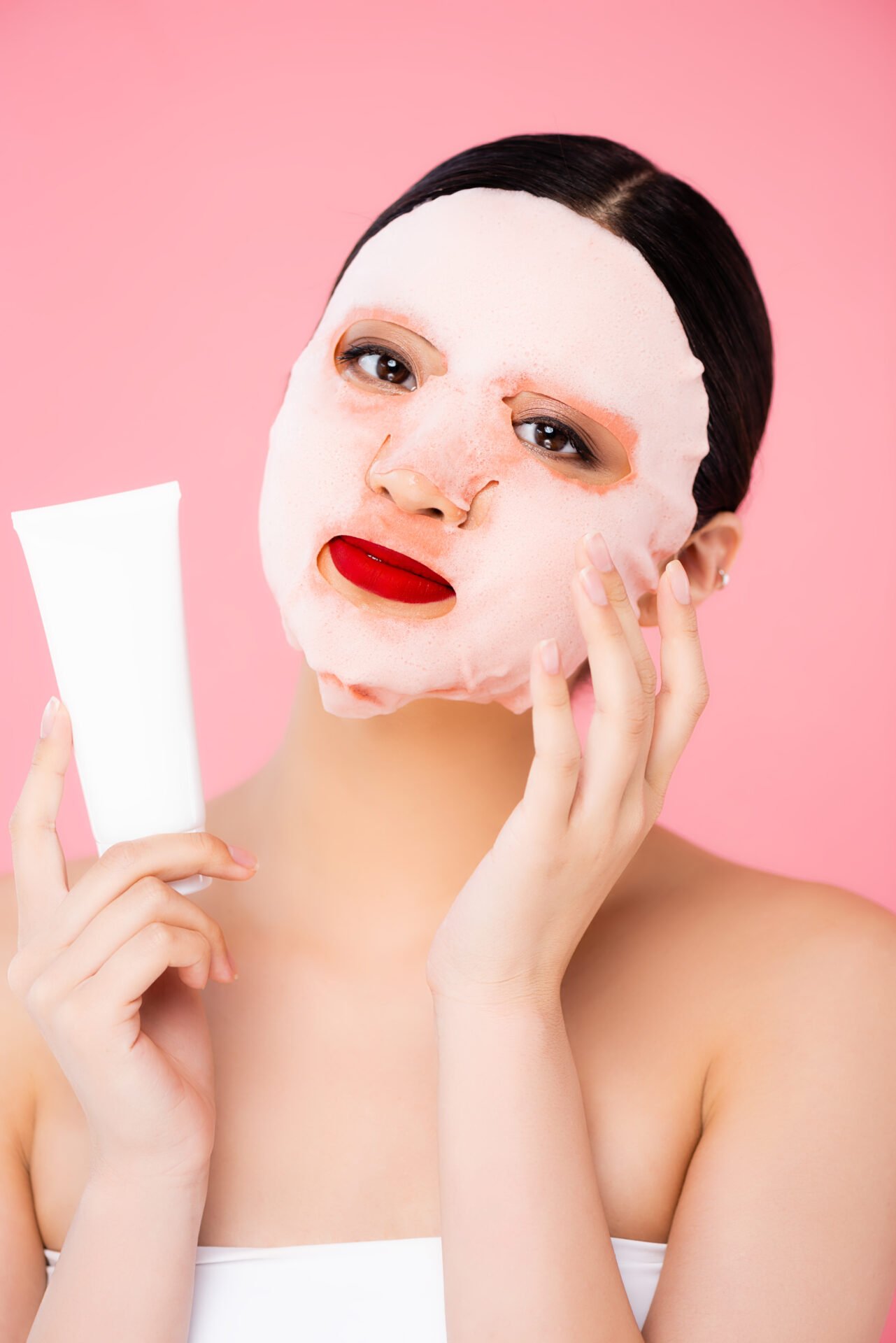 Peel-Off Face Masks (& K-Beauty Face Masks) Are All The Rage in 2021
This year, we've been asked quite a bit to do an investigation on peel-off face masks and K-beauty face masks, so we hear you loud and clear and thank you for all that feedback!
We love the idea of peeling off the bad things and letting go of whatever it is that no longer serves you, however, we have some cautions about that in terms of your skin. But before we get to that, let's discuss what we included in this investigation.  
Mamavation is ready to do all that dirty to find for you which peel-off face mask doesn't contain ingredients that would disrupt your hormones or harm waterways or wildlife.
We also included peel-off sheet masks you might be familiar with as Korean and Japanese "K-Beauty" favorites in our investigation. These would be included a sheet of fabric which is what is used to press the mask ingredients onto your face. You then pull off the sheet, discard it, and massage any of the remaining mask remnants into your skin or wash off. 
If you are interested in other investigations check our product investigation page to see what else you are missing. 
Sensitivity or Dryness of Skin Can Affect Your Outcome
Something you should keep in mind when looking for a peel-off face mask is the sensitivity and dryness level of your skin.
If you have sensitive or very dry skin, you may want to reconsider the idea of using one of these masks to begin with and look into either a clay mask that you rinse off, or look up some of the DIY options out there that will be more gentle, add moisture, and allow you to choose what you are placing on your precious skin.
And regardless of your skin type or sensitivity level, the one thing we strongly suggest before using any mask is to do a patch test on a smaller area of skin to make absolutely sure you don't react. Then Proceed with caution and awareness so there are no unpleasant surprises.
Caution: Some Products May Be Removing Healthy Parts of Skin Not Meant to Be Removed
When we looked at what is commercially available to you, we found most of the products are full of ingredients that are too harsh for your skin, especially when done frequently.
So we wanted to caution you about the side effects of removing not just the ick from your pores but also some of your very delicate skin cells and vellus hair.
Sadly, since most of the brands are selling peel-off masks that are nowhere close to being "clean" in the ingredient department, what's happening? Perhaps you are not just peeling back those blackheads and rejuvenating, but you are also adding toxic junk to your skin and ripping off healthy parts that aren't meant to be removed. 
Some Warnings on Charcoal Based Face Masks
There is a similar theme with charcoal, which you will find in many of the peel-off masks. Charcoal does a fantastic job of eradicating all that is evil and possibly lurking in our bodies and skin. But charcoal does not discriminate with what it is detoxifying. It gets rid of the good AND the bad.
If you have ever taken charcoal orally, you might recall the instructions to not take within a certain time frame of medications or supplements because while it might be helping you cancel out food poisoning or other ingredients you regretfully ingested, it also will be nullifying the effect of any good stuff you put in your mouth, too.
It's not that we don't think you should use charcoal, we think you may want to use it more sparingly.
Ingredients to Avoid Around Peel-Off Face Masks (& K-Beauty Face Masks)
As we were evaluating the ingredients of the most popular peel-off masks and K-beauty face masks, we noticed some patterns of problematic ingredients that we recommend you avoid. Look out for the following ingredients:
Aluminum

Blue 1
Disodium EDTA
Mica

Parabens (Methyl, Butyl, Ethyl, Propyl)

PEG (Polyethylene glycol) and other PEGs

Polysorbate 20, 60, 80 which have contamination concerns

Propylene Glycol (PG) & Butylene Glycol

Steareth 2, 21 composed of PEG and alcohol
Synthetic Fluorphlogopite also known as synthetic mica

Synthetic Fragrance/Parfum

Titanium Dioxide
Yellow 5

Mamavation's Featured Brand of Peel-Off Facial Masks–100% Pure
100% Pure is pretty consistent as a clean beauty brand. We found their sheet masks (among other things) were so popular that they are hard to keep in stock, but from the time we created this post these masks were still in stock.
We are hoping these additional products come back into stock soon, so check them out too and you can ask to be notified when they are back in stock.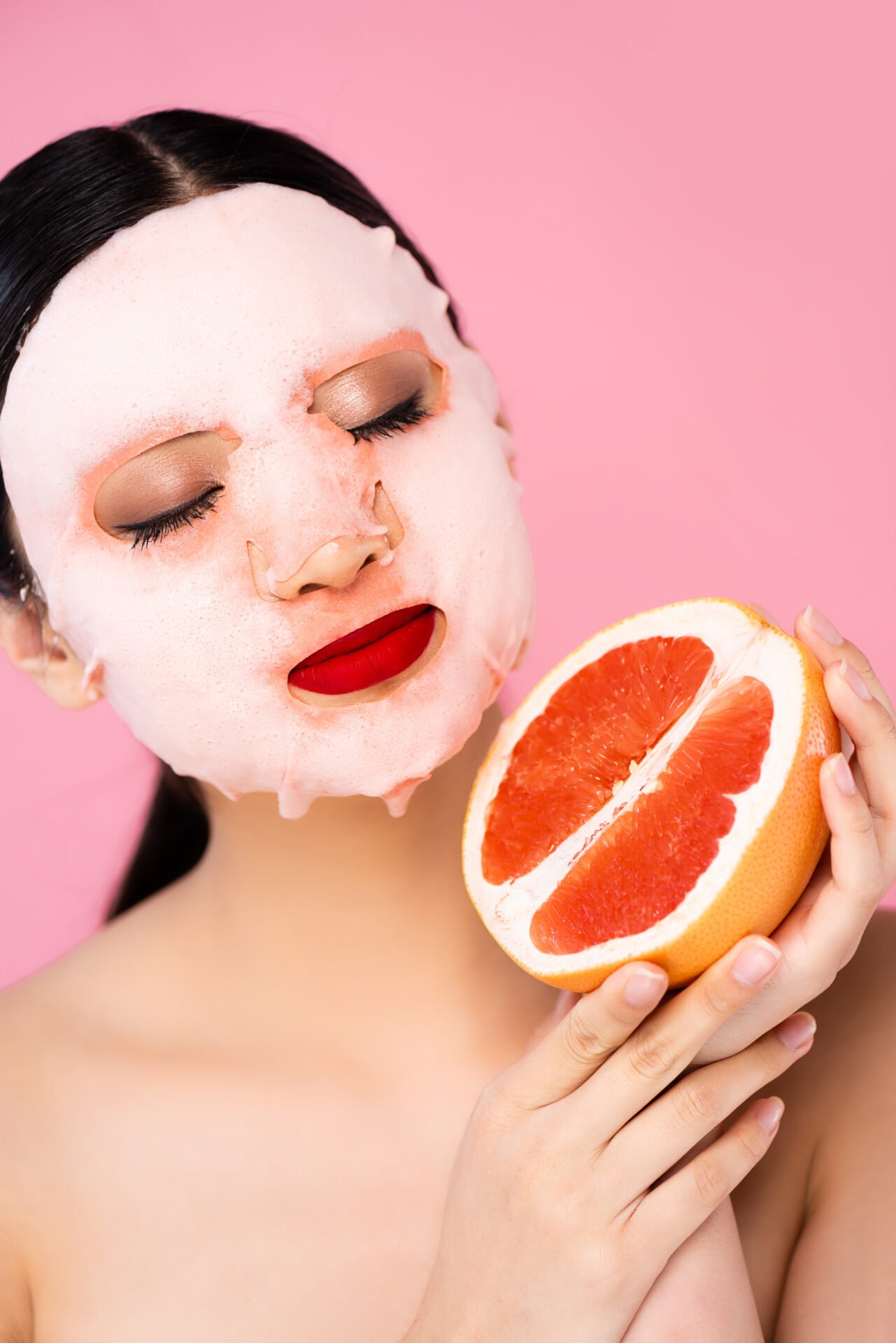 Mamavation's Investigation on Peel-Off Face Masks & K-Beauty Face Masks
Mamavation investigated and ranked over 60 peel-off facial masks, K-beauty face masks, & sheet facial masks to help you get a better idea of which products are best for your body and situation.
If you remember our Face Wash and Moisturizer Investigation we discussed greenwashing and lack of regulation. This also applies to other skincare products like these masks. Your best protection from unsavory ingredients involves looking at the label yourself and becoming familiar with any red flags.
Unfortunately, you cannot rely on buzz words or product descriptions that boast they are clean, natural, or green. Confirming exactly what is in that product is going to be your best guide. 
Here are some additional skincare & haircare investigations you may find yourself looking for soon:

Not Our Favorite Peel-Off Face Masks & Korean Face Masks
What were the worst masks? There were quite a few that likely will peel like nobody's business, but we aren't a fan of putting them on our faces because of the ingredients they are using. You'll find synthetic fragrance, harsh preservatives, and all sorts of other junk in these face masks. This was the zone where you either had a number of problematic ingredients that were overwhelming like parabens, or you had 1-2 ingredients that were bad enough to get into here like synthetic "fragrance" that could potentially have phthalates. This category was generally not one we would purchase from personally at all. 
Azure Rose & Collagen Hydrating Sheet Face Mask

Dermal Korea Aloe Collagen Essence Face Mask

Epielle Purifying Model Rubber Peel-Off Mask

Glam Glow BUBBLESHEET™ Oxygenating Deep Cleanse Mask
Glam Glow GLOWLACE™ Radiance-Boosting Hydration Sheet Mask
Glam Glow THIRSTYSHEET™ S.O.S. Intensive Hydrating Cream Sheet Mask
I Dew Care Disco Kitten
I Dew Care Space Kitten
I Dew Care Sugar Kitten
Lapcos Derma Sheet Mask Hyaluronic
Mediheal N.M.F Intensive Hydrating Sheet Mask
No B.S. Charcoal Detox Peel-Off Mask
Sulwhasoo First Care Activating Mask
Tatcha Luminous Dewy Skin Mask
Too Cool For School Egg Cream Mask
Yes To Coconut Energizing Coffee Peel-Off Mask
Yes To Grapefruit Brightening Peel-Off Mask
Yes To Tomatoes Charcoal Peel-Off Mask
Yes To Tomatoes White Charcoal Peel-Off Mask
Better Peel-Off Face Masks & Korean Face Masks
Here are some better options that may include a few things we aren't super keen on but don't raise as many red flags. In terms of peel-off face masks and K-beauty face masks, these brands are fine if you are not using them daily. This category includes brands that may include some of the following: mica farmed with child slave labor, natural "fragrances" that are not labeled so we can identify them, polysorbates, perhaps one harsh preservative but everything else is okay, etc. We identified the brands that just have "natural fragrance" with a * so you can find them easily. Ultimately, this is the zone you go to for a compromise. 
Advanced Clinicals Collagen + Hyaluronic Peel-Off Mask
Beauteani Because, Life
Beauteani I.D. Please
Beauteani SRSLY SOAK'D
Boscia Green Tea Oil Control Mask
Lacfin Revive Facial Sheet Mask
* Pacifica Stress & Rehab Coconut & Caffeine Face Mask (links directly to biz, not Amazon, only problem here is "natural fragrance" we can't identify)
* Pacifica Pollution Fight Blue Algae Urban Defense Facial Mask (links directly to biz, not Amazon, only problem here is "natural fragrance" we can't identify)
* Pacifica Disobey Time Rose & Peptides Facial Mask (links directly to biz, not Amazon, only problem here is "natural fragrance" we can't identify)
* Pacifica Mattify Prep Pineapple & Hyaluronic Facial Mask (links directly to small biz, not Amazon, only problem here is "natural fragrance" we can't identify)
* Pacifica Super Green Detox Kale Facial Mask (links directly to small biz, not Amazon, only problem here is "natural fragrance" we can't identify)
* Pacifica After Sun Cool & Glow Facial Mask (links directly to small biz, not Amazon, only problem here is "natural fragrance" we can't identify)

Best Peel-Off Face Masks and Korean Face Masks
The following list entails the best of what we could find and would recommend weighing the benefits and risks along with knowing the sensitivity and health of your own skin. This category does not contain any of the problematic ingredients we warned you about in this post. 

About the Author
Leah Segedie is a consumer watchdog, author, entrepreneur, environmental activist, and mother of three boys. 
She wrote Green Enough: Eat Better, Live Cleaner, & Be Happier (All Without Driving Your Family Crazy!) in 2018. She's consistently been featured in the media for the past 15 years in media outlets like ABC, CBS, CNN, Yahoo, Chicago Tribune, USA Today, Reader's Digest, Ladies Home Journal, Shape Magazine, Fitness Magazine to name a few.  
Follow Mamavation on Pinterest, Facebook, Instagram, or Twitter or join the Mamavation Community Group. 
Did you like this post? Subscribe to our weekly newsletter and don't miss another investigation! 

Pin it for later!