Learning about human encroachment, global warming and habitat destruction is important if we want to raise our children to be good global citizens. It's even more important if we want them to have compassion for animals.  This year, Nature's Path EnviroKidz is giving away an EnviroTrip to Belize to experience conservation first hand! Keep on reading for ten ways to teach children compassion for animals. You'll also learn more about this amazing opportunity!
Disclaimer: This is a sponsored post with Nature's Path. Nature's Path is a brand we have been proud to stand next to for the past four years. We love organic brands at Mamavation and recommend Nature's Path as a better option for your family.

 Show Them The Effects of Climate Change
It's important for our kids to understand humanity's effect on the earth. Practical examples are a great way to explain this. A good example to use is polar bears. Their lives are made more and more difficult by climate change. Every year, there is less ice for them to travel on and hunt seals, and they are often left hungry as a result. Teaching children about habitat loss shows them that we need to be stewards of the earth. Moreover, we must preserve the environment more aggressively to conserve future experiences with wildlife.
Teach Them How To Handle Animals Gently
Animals have natural instincts that kick in for their protection. Consequently, they have areas where they feel safe being touched, and places that feel threatening. For instance, cats can react defensively when having their belly rubbed. Dogs may not like being touched on their head, where they can't see what you're doing. Teach your children the practice of allowing an animal to smell them first before touching as a greeting. This will make aggressive encounters significantly less likely.
Give Them Responsibility
Have a family pet (or three)? Set aside pet-related jobs for your children, such as changing and cleaning water, feeding, and making sure that their place to sleep is clean. Teaching them to be responsible for their pets brings awareness of their pet's reliance on them to provide for their needs. In time, this realization will teach them to have compassion for animals.
 Volunteer At A Shelter
Millions of dogs in community animal shelters rely on volunteers for walking, as well as social engagement and comfort. Why not take some old blankets or towels to a shelter? Perhaps you could give them toy donations or walk shelter dogs once a week?
Watch a Nature Documentary
Netflix and other streaming sources, as well as certain cable channels, offer many nature documentaries. Seeing animals in their natural habitat and the struggles they face can be eye-opening to the greater natural world. It also shows the consequences of our modern life. If watching with small children, screen documentaries first to make sure that any predatory action is comfortable for your child to view.
Learn About Your Local Habitat
Growing cities push animals into smaller territories and force them to survive in growing urban areas. Go to a local nature museum, park or conservation area to learn more about local animals and how urban encroachment has affected them.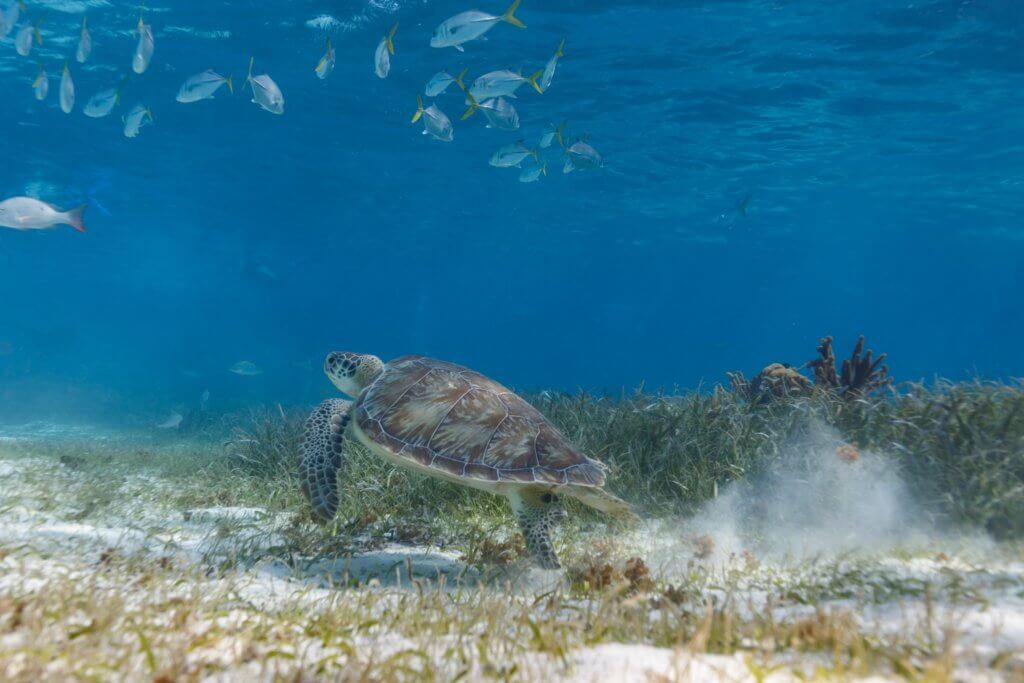 Trap, Don't Kill
Spiders, lizards and other creatures may sneak into your house, but we need not kill them. Not only are they living beings, but they're useful for helping control insect population. Therefore, teach your kids to have compassion for animals. Catch and release non-harmful animals outside and let them continue with their lives, hunting flies and other bothersome bugs.
Read More Stories About Animals
There are many animal stories, including the children's classic "Ferdinand the Bull", which show animals in a compassionate setting. A great story about human impact on animals is "Gamba: An Optimistic Gorilla Tale," but there are many more. Ask your local children's bookstore for recommendations.
Make Your Backyard Nature Friendly
Grow local windflowers in your yard and provide a water source. This supports local pollinators, birds and other animals, many of which are threatened due to pesticides, urban encroachment and colony collapse. Teach your children to observe rather than interact to keep the critters coming back to your yard!
Take an EnviroTrip with EnviroKidz
What better way to teach your children about having compassion for animals than experiencing those conservation efforts personally?
Every year, EnviroKidz holds a contest that allows families to experience the work their partners do under the support of their 1% for the Planet membership. The EnviroTrip for 2017 is to Belize, known for amazing coral reefs, tropical rainforests and beautiful sea life.
Unfortunately, Belize's sea turtles are at risk due to natural predators, human encroachment on their nesting grounds, being caught in fishing nets and plastic pollution. The SEE Turtles organization is an EnviroKidz partner. They work to ensure the safety of sea turtle eggs from predators and also educates about sea turtles. The organization visits classrooms and provides educational resources. Their goal is to save as many baby tortoises as possible through their Billion Baby Turtles initiative. They have already helped save over 800,000 from human and predator threats.
The grand prize trip includes:
Meeting sea turtle experts and scientists to learn about conservation efforts to save the Belize sea turtles, dolphin and manatees.
Visiting Hol Chan Marine reserve and exploring reefs
Conducting surveys on sea turtles, dolphins and manatees
Zip-lining in rainforests and exploring water caves.
Prizes also include winning one of 1,000 EnviroKids products or one of 30 EnviroKids sea turtle adoption kits.
The EnviroZidz boxes features animals that are supported through partnerships with non-profits. This includes koalas, lemurs, gorillas and more.
To read contests rules, see prizes and enter codes from participating products, visit EnviroKidz's contest page.  The contest runs from March 1st- April 28th, 2017. 

Save
Save
Save
Save
Save
Save