Most retail stores have made big promises to take BPA out of their cans, but have they actually done it? A new study is demonstrating that promises have been broken — toxic endocrine disrupting chemical BPA use in cans has dropped slightly, but not at the levels promised. It looks like some chains are starting to listen to consumers advocating for food safety. However, they are now using replacements that are considered just as bad as BPA, if not worse! What is a family to do when shopping for canned food? We already know just how perilous canned soups can be. Read on, because Mamavation has got your back.
In 2011, the FDA found that 90 percent of canned foods contained bisphenol A and that these chemicals were finding their way into food during canning and storage. This can be especially problematic when foods have a high acidic quality, like canned tomatoes, because they are more likely to leach into the food. And that means we have a big problem.  Canned foods are eaten by over half of Americans and 40 percent of Americans use canned milk. BPA is a known endocrine disruptor. It mimics estrogen when inside the body and has been linked to some pretty serious health problems like breast and prostate cancers, diabetes, obesity, heart disease and other serious health problems.  And to make matters worse, It has been detected in 93 percent of Americans. And brace yourself here because exposure is estimated to be higher in small children and infants.
The dangers of BPA have been known for decades, and yet it is still used in canned food products. Why are these retail stores still using BPA in their cans? Well, we don't know why, but what we do know is BPA can be dangerous and it's not something we recommend around pregnant women, small children or adolescents. These are times when your hormones are vulnerable. This is where you as a mother can make the biggest impact by educating yourself and your family and taking action to protect those around you.
Reports on BPA-Lined Cans Are Pointing to Danger in Retail Stores
Looking at BPA lining in canned foods isn't new. In 2015, Buyer Beware: Toxic BPA & Regrettable Substitutes in the Linings of Canned Food by Breast Cancer Prevention Partners, Campaign for Healthier Solutions, Clean Production Action, Ecology Center, and the Mind the Store Campaign tested store bands cans from several major grocery stores as well as some leading canned food companies and found that 67 percent of cans tested still contained BPA.
In this year's report Kicking The Can? Major Retailers Still Selling Canned Food With BPA, researchers tested cans from four major retailers: Kroger, which operates under several business names including Ralphs and Fred Meyer (Kroger); Albertsons and Safeway; Dollar Tree; and 99 Cent Only stores. The results were 38 percent of the cans tested contained BPA.
 
Regrettable Substitutions: Replacements Are Just As Hazardous
The lower the amount of cans containing BPA doesn't necessarily mean shoppers are any safer. Companies are using 'regrettable substitutions' which means they are substituting those chemicals with ones that are just as bad and sometimes worse. And then they are taking the marketing buzz around "BPA-Free" to profit off of products that really aren't any safer. This is the case with retail stores and BPA.
One of the replacements for BPA is polyvinyl chloride (PVC). 19% of the can linings contained PVC. PVC is made from carcinogenic vinyl chloride. This potentially cancer-causing substance is well-known to leach from plastic bottles. There are no studies that have been done to show if it leaches from canned foods, but that doesn't mean that it doesn't. What we DO know is there isn't any study yet. Saying their isn't any study proving harm doesn't make shoppers any less safe. It just means we know this cancer causing substance is lining the can. When you have a family to protect, caution is the best remedy. I'd avoid until we have studies to prove you are safe.
For instance, the Center for Environmental Health has found that thermal receipts that don't contain BPA are still a major health hazard. They tested receipts from 100 businesses including major fast food and clothing retailers.  Although only five still contained BPA, the rest contained bisphenol S. BPS carries the same risks as BPA, including diabetes and obesity, asthma, birth defects and cancer. (I'm just waiting for the grocery unions to get a hold of this one!)
 
Retail Stores And Their Cans — The Hall of Shame
Albertsons — 36% of the cans tested (25/69) contained BPA. 17% of the cans tested (12/69) contained PVC.
Kroger — 33% of the cans tested (24/73) contained BPA. 16% of the cans tested (12/73) contained PVC.
Dollar Tree — 33% of the cans tested (19/55) contain BPA. 25% of the cans tested (14/55) contain PVC.
99 Cents Only — 52% of the cans tested (27/52) contain BPA. 17% of the cans tested (9/52) contain PVC
If you are interested in Trader Joes, we did our own investigation on their cans and it can be found on this post on BPA in cans here.
What Products To Avoid from Private Selections at Retail Stores
Kroger
Cans containing BPA:
Beef Ravioli
Corned Beef Hash
Cream of Mushroom Soup
Garden Variety Sweet Peas
Mixed Vegetables
Seasoned Black Beans
Spaghetti Rings Pasta
Spaghetti with Cheese and Tomato Sauce
Sweet Golden Corn
Sweet Peas and Carrots
Cans containing PVC:
Asparagus Spears
Chunk Light Tuna
Evaporated Milk
Wild Caught Chunk Light Tuna
Albertsons Signature Kitchen
Cans containing BPA:
Chili Beans
Cream of Mushroom Soup
Cranberry Sauce
Garbanzo Beans
Mixed Vegetables
Kidney Beans
Pinto Beans
Reduced Sodium Chicken Broth
Ripe Chopped Olives
Whole Green Beans
Cans containing PVC:
Chunk Chicken Breast
Chunk Light Tuna
Sauerkraut
Tomato Paste
Dollar Tree
Cans containing BPA:
Campbell's Beef Gravy
Campbell's Healthy Kids Awesome Shapes Pasta
Lady Liberty Asparagus
Asparagus Spears, Pampa
Pampa Mackerel
Pampa Ripe Olives
Red Gold Sloppy Joe Sauce
Ruby Kist Cranberry Sauce
Southgate Corned Beef Hash
Cans containing PVC:
Armour Potted Meat
Bumble Bee Chunk Light Tuna
Caribbean Joy Coconut Milk
Libby's Green Beans
99 Cents Only
Cans containing BPA:
Andersons Split Pea Soup
California Healthy Harvest Sweet Peas
Campbell's Bean with Bacon Soup
Campbell's' SpaghettiOs with Sliced Franks
Carey Chipotle Peppers
Chef Ernesto Minestrone Soup
Del Monte Mixed Vegetables
La Costena Whole Pinto Beans
Cans containing PVC:
Haggen Chunk Light Tuna
Paradiso Taco Sauce
Ro Tel Diced Tomatoes and Green Chiles
Underwood Deviled Ham
California's Prop. 65 and BPA
California has placed BPA on their Prop. 65 list, meaning it's a chemical that does reproductive harm. This is the strongest regulation against BPA in the country. In spite of this, there have been delays in getting this information to the consumer.
Canned foods containing BPA were supposed to get Prop 65 label warnings, however, companies complained they needed more time to label their products, so it was pushed off until the end of 2017.  Therefore, current regulations allow for generic warning signs at registers rather than warning labels on cans until the time has ended. That allowance has hindered consumer's rights in getting information.
Unfortunately, in the 157 cans purchased in California for the "Kicking The Can?" report, researchers have found discrepancies in the database that serves as a guide for consumers until labeling is finalized. Out of the 157, 22 are not in the database at all, and another eight are ambiguously labeled, making it difficult for consumers to get accurate information.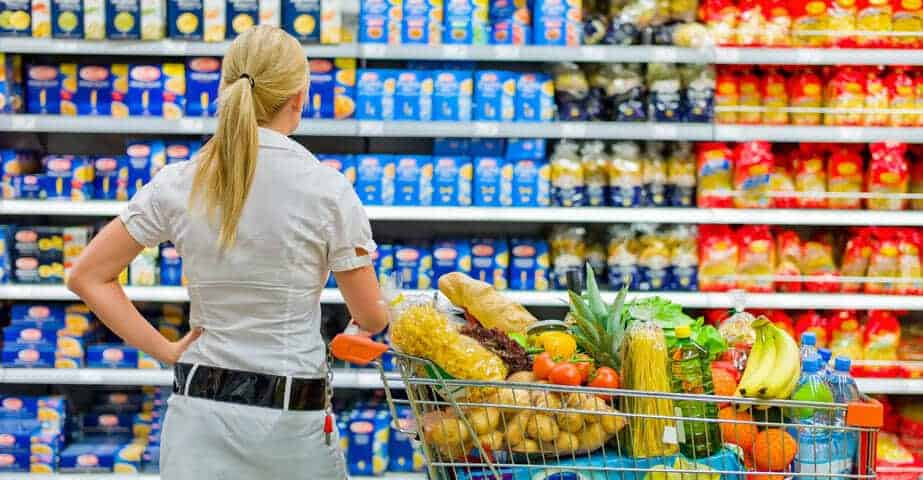 What Does This Mean?
The easiest way to avoid BPA in canned food is to simply stop using canned food, especially any of the labels that had BPA in the study. We have found that Tetra Paks are better, so look for those items where you can find them. But at the end of the day, our best advice is to use fresh or frozen produce as much as possible. But for those who don't have ready access to fresh or frozen foods, and those who do not know about BPA risks, BPA is difficult to identify and avoid.
There is definite evidence that consumers are not getting accurate information regarding the presence of BPA in their canned foods. Even if they are actively looking for it, California's passive labeling stance paved the way for inaccurate information and delay.
Low-income families in food deserts are especially at risk of exposure to BPA as a result of the prevalence of endocrine disruptors in canned and packaged foods.  They have little choice but to buy this type of food, which is what's most readily available at the convenience stores and gas stations available to them. The fact that canned food use is prevalent with low-income families was one of the reasons that California's labeling laws were delayed — there was concern that people would be afraid of eating canned foods and might avoid eating canned vegetables.
Canned food donations to food banks are popular during the holidays since they need to stock non-perishable items for distribution. This year, avoid cans containing BPA or PVC, or write a check instead so they can buy desired items to help low-income families.
One thing to note: BPA transfer happens most in pastas and soups, as they often require a longer heating time to get all contents sterilized. The heating of the can may contribute to more BPA transferring into those foods than canned fruits and vegetables.
If you would like to pin this post for later, we've created an infographic to help you out with that here.
How often do you eat canned foods? Moreover, do you shop at any of these stores? If you have any good recipes that help you ban the can, please provide them to us in the comments!
Save