Dannon Yogurt has earned some respect. They've made some changes. And they've managed it by doing something you wish your kids would do more often…listening.
Dannon has been listening to us. Really listening. Not the kind of listening where you are just thinking about what you are going to say while the other person is still talking. I mean actively listening.
They wanted to know what you wanted in a yogurt company. And you told them. Thank you for not holding back.
And then Dannon did something surprising, they started making your desires a reality. And they are doing it by breaking with industry practice to create a new world. Now they are leading by pioneering a new way of doing dairy for a conventional brand. And I think we should support them for making the following changes:
You told them you wanted non-GMO ingredients. They heard you loud and clear and are reformulating to use non-GMO ingredients.
You told them you wanted natural ingredients. They heard you loud and clear, and are reformulating their flagship brands (Oikos, Daninals and Dannon) to be made with natural ingredients and no synthetic additives, preservatives or artificial food dyes.
You told them you are what you eat and you wanted the cows to eat non-GMO feed. They heard you loud and clear, and changed everything on the farms to accommodate that. Cows producing the milk that makes their flagship brands (Oikos, Daninals and Dannon) will be eating non-GMO feed by the end of 2018.
You told them it was important to you to know who your farmer was. Dannon agreed with you and created a personal relationship with each of their farmers. You inspired them.
You told them animals should be treated with care and respect. Dannon heard you loud and clear and improved standards to include getting Validus certified.
You told them you were tired of non-fat or low fat yogurt and wanted whole milk instead. They listened and are now offering 11 different flavors in whole milk yogurt.
Disclosure: This post has been sponsored by Dannon Yogurt, part of the Danone company. Danone is the parent company of Stonyfield, Dannon, Evian & Nutricia North America. Danone is making changes such as this all over the world as part of their commitments to be more sustainable and healthier. The opinions expressed in my blog are my own.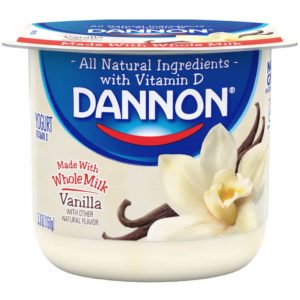 Fewer, More Natural Non-GMO Ingredients in Dannon Yogurt
Dannon has been listening to you. You told Dannon you wanted more natural and non-GMO ingredients and they heard you. Dannon is reformulating many of their products to be made with fewer, more natural ingredients, and all of their dairy cows producing milk for their three flagship brands (Dannon, Oikos & Danimals) will be fed non-GMO feed by the end of 2018. This is big, because 70-90 percent of the GMO harvest goes to animal feed.
Supporting farmers who are producing non-GMO feed is huge for the industry. This means more options for farmers that want to go non-GMO. Dannon is leading the pack by being the first non-organic yogurt manufacturer to source directly from farms they know. Because of this, they are able to work directly with their farmer partners to plant non-GMO feed for the cows on their farm.
Dannon Connects with Farmers and Happier Cows
You told Dannon that you thought it was important to know your farmer. Dannon completely agreed with you on that and found that it was a baseline way to help them make other changes. In order to make this happen, Dannon had to completely rework the "playbook" on how to do business. They broke industry practice and developed a working relationship with each of their farmers. And after they got to know them all, they realized how quickly they could institute changes.
Relationships are everything. When you have a relationship with someone, you can get things done quicker. Farming is the same way. That relationship they started lead to all sorts of additional changes. It allows them to be more effective. They now are working directly with their farmers to ensure the milk comes from more sustainable practices and healthier cows.
Dannon Yogurt Improves Animal Standards with Validus

You told Dannon it was important to treat animals with care. They agreed with you. And because they knew all their farmers, it was easier for them to improve animal standards. Transparency is important to Dannon. They didn't want to be all talk, they wanted to prove to you they meant what they said. Part of that transparency is essential as more than 90 percent of the milk Dannon uses in their yogurt production comes from farms that are certified under the Validus Certified System.  The Dairy Animal Welfare Review Program, which covers the VCS, assesses animal handling practices, health and hygiene, feed and water access and quality and employee management. The certification creates a benchmark standard and improves life on the farm, as standard require isolating away sick animals and, ultimately, giving herds less need for antibiotics.
Dannon Now Has Whole Milk Yogurt

Dannon has been listening to you. You told Dannon that you wanted more whole milk yogurt selection in the grocery store because fat isn't the enemy anymore. Dannon listened and is now providing eleven flavors of whole milk yogurt. Each one contains live and active cultures, is packed with calcium, has all natural ingredients with Vitamin D and is made with non-GMO ingredients.* (*Learn more at www.Dannon.com/Ingredients). Dannon is sweetened with non-GMO cane sugar.  You can also get the plain whole milk yogurt tubs, which are my preference and have less sugar. I love to do yogurt parfait bars at home with the kids, adding our own fruit, granola and nuts.

Dannon Yogurt Pledges Transparency In Its Labeling
You told Dannon that labeling of GMOs was important to you and they listened. Labels are often confusing for consumers to read. And they are another place where Dannon is going above and beyond what it has to do. They pledge to label all their products as "Partially Produced with Genetic Engineering" if they may contain more than 0.9% of GMO ingredients. For additional information visit www.dannon.com/ingredients. Dannon is happy to make this change to prove to you that transparency is important to them as well.

Purchasing Dannon Yogurt Means Voting With Your Dollar
No matter who you are, you have a vote at breakfast, lunch and dinner. And some of you snack, so that's even more votes. Your money and who you give your money to directly impacts your life. If you decide to support Dannon, the rest of the industry will take notice. They will have to take notice because they may lose market share. And right now, there is no reason to avoid them if you ever purchase non-organic yogurt.
As a non-organic brand, Dannon is a great option. They are affordable, use high quality ingredients, and are leading the pack in sustainable practices. Let's reward the good guys.  That means if you are purchasing non-organic yogurt, choose Dannon. And if you normally purchase organic yogurt, choose Dannon when organic or grassfed yogurt isn't available. I did this just the other day when I was at the airport. I picked up a peach flavor Oikos Greek Triple Zero Yogurt sweetened with stevia. Oikos is a sister company of Stonyfield, and both are owned by the Danone Company. And I smiled because It was an important vote – a vote for better yogurt and ingredients that are better for our families.
Discussion: Are you excited about the changes Dannon is making? How do you think this will impact the industry? Do you think the impacts will be positive for the consumer? Share.