Hummus is a gift from the Middle East linking us to places like Israel and Jordan. As vegan cuisine, it can be eaten by all religions in a metropolitan city like Tel Aviv with Muslim, Jewish, Buddhist & Druze. Currently, the world's largest consumers of hummus are the United States and the Middle East. But how healthy are all these ingredients used? And would glyphosate be found in your hummus? When you are looking to purchase hummus from a company, the quality of ingredients vary. You've trusted Mamavation to bring you investigations like best & worst chips & salsa & safer cookware, now join us as we investigate hummus and rank each of the 70+ brands by ingredients at the very end.
Disclosure: This post contains affiliate links to Amazon and was fact-checked by Rebecca Elizabeth Sherrick Harks, Registered Nurse. 
Hummus is a Popular American Side Dish
Thanks to amazing new hummus companies, today, you can buy anything from avocado hummus to red velvet flavored hummus if you know where to look.
Hummus is now stocked in as many grocery store deli's as the crowd-favorite, potato salad.
And why not?
Hummus is an incredibly versatile food: you can dip tortilla chips in it, you can put it on a sandwich, it can be used as a dipper for your favorite fruits and veggies, put on a salad, and as a favorite bread & bagel spread.
For those of us hiding under a rock, what is hummus?
Generally speaking, hummus is a thick spread created using a combination of chickpeas, olive oil, garlic, tahini, and lemon.
What's All The Hype About Hummus?
We all know that hummus is good for you – that's a given.
But why?
It turns out that real, fresh hummus is an amazing source of B Vitamins, protein, and fiber as well as phosphorous, folate, and iron.
In a single serving, you receive 7% of your recommended daily value for dietary fiber.
A whole cup of hummus contains 14.5 grams of protein, and in fact, may help to stabilize blood sugar levels for diabetics and those looking to lose weight.
Hummus is also helpful to vegans and vegetarians who are looking to replace protein and other vitamins in their diet.
When making the switch to healthier and better foods, snack options can be some of the hardest to change.
It's easy to pick up a heavily processed snack, a bag of chips, or a succumb to the wonders of a vending machine.
Even after switching to fresher snacks like fruits, veggies, and hummus, there are still things to consider. Not all "healthy" foods are created equal.
These companies will vary in ingredients.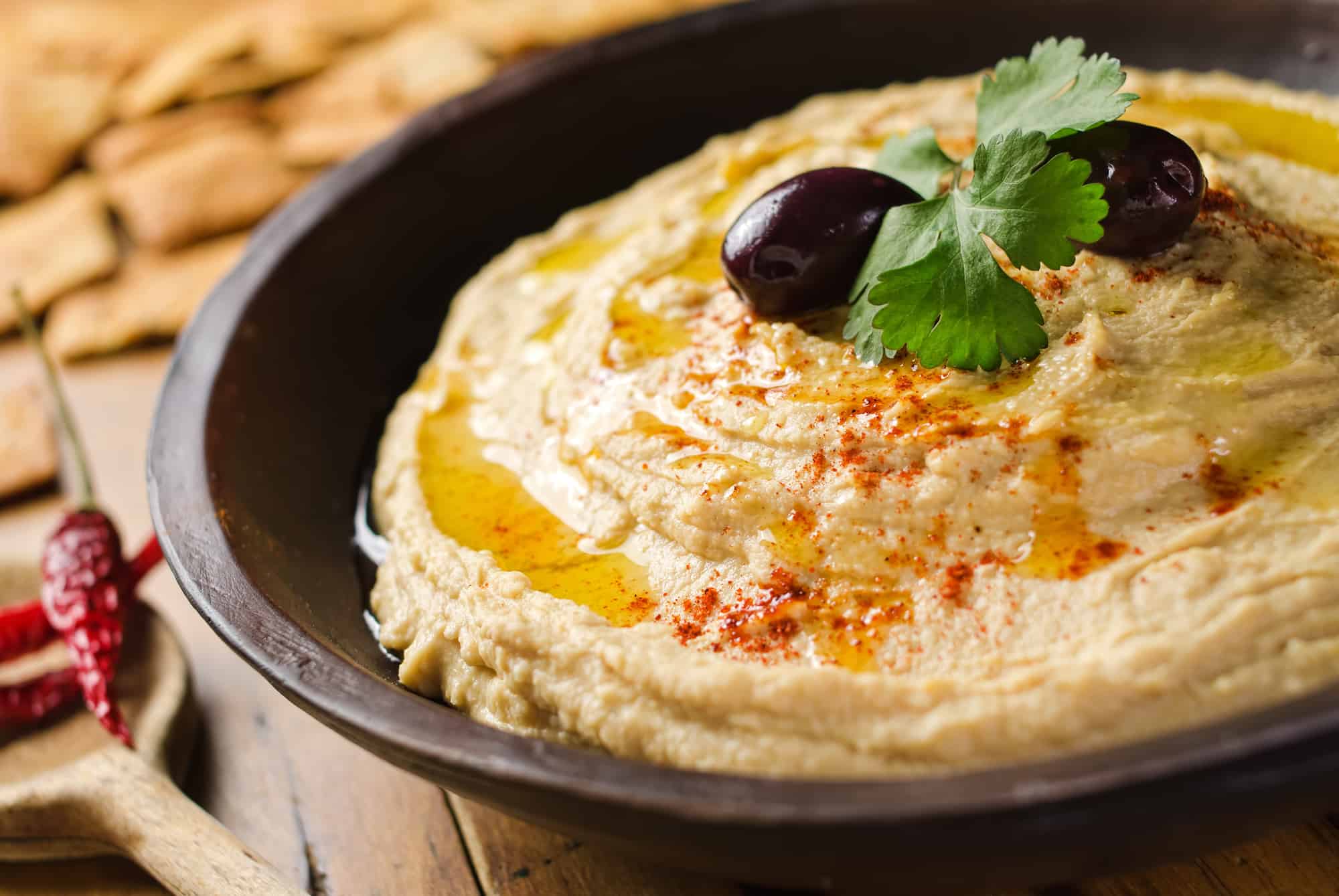 Potential of Higher Rates of Pesticides Like Glyphosate Inside Hummus
Chickpeas are mostly farmed in the Pacific Northwest.
But this is a crop that harvests late in the season, so there are some complications as climates are changing.
Because of that two problems are starting to arise: (1) the use of glyphosate as a desiccant to speed up harvest AND (2) a move to replace toxic old tobacco farms with chickpea farms.
Canadian farmers were the first ones to desiccate legumes with glyphosate in North America.
This practice started in Scotland and made it's way to Canada and it was encouraged by Monsanto.
Spraying glyphosate on the crop at the end of harvest sped up the time it took to dry out the crop and became a way to save the crop from damage.
Chickpeas are legumes so this is relevant to hummus.
When glyphosate is sprayed at the end of the harvest, it's likely to contain trace amounts by the time the consumer eats them in their hummus.
And more chemicals could be present in hummus coming from a particular region–Virgina.
As harvest seasons are getting squeezed and demand for hummus is rising, certain companies sought refuge in land that recently laid fallow from disuse.
As Americans become more health conscious, they are quitting smoking and now tobacco farmers are needing something else to plant.
So the hummus industry swooped into Virginia and turned old tobacco fields into chickpea fields.
The problem with this idea is the potential toxic problems left behind because of the chemical pesticides used in tobacco production.
Giving Hummus to Your Dog May Cause a Problem
I know we all love hummus, but did you know that giving hummus to your dog could make them sick?
According to experts, the garlic and lemon juice inside could cause them a range of problems.
Garlic and onions belong to a group of foods that contain thiosulfate which causes oxidative damage to red blood cells resulting in hemolytic anemia.
Symptoms of this form of anemia include pale mucous membranes, weakness, jaundice, dark urine, and rapid breathing.
When dogs have garlic toxicity they get symptoms like an upset stomach, vomit, diarrhea, loss of appetite, dehydration, and depression.
Death is very rare, but can happen.
Lemon juice can also cause digestive problems in dogs.
Chickpeas on their own would be a great thing for dogs to eat, but if you are also looking for more information on safe dog food, check our dog food investigation here.
How You Spell Hummus? There's Disagreement. Also Some Problematic Ingredients. 
Deciphering what's in hummus can be almost as difficult as deciding which way is the right way to spell humus hommos houmous hommus hummus.
(FYI, wikipedia says they're all right).
The ingredients may all seem healthy, but there are some things to be concerned with.
If you go shopping and pay close attention to the ingredients before you buy, you'll notice some patterns.
There are additives, preservatives, problematic oils, hidden ingredients, and pesticide residue can be lurking about.
But here's are the details of what we looked at in this investigation.
Stick around to the end and we will rank all the brands via ingredients.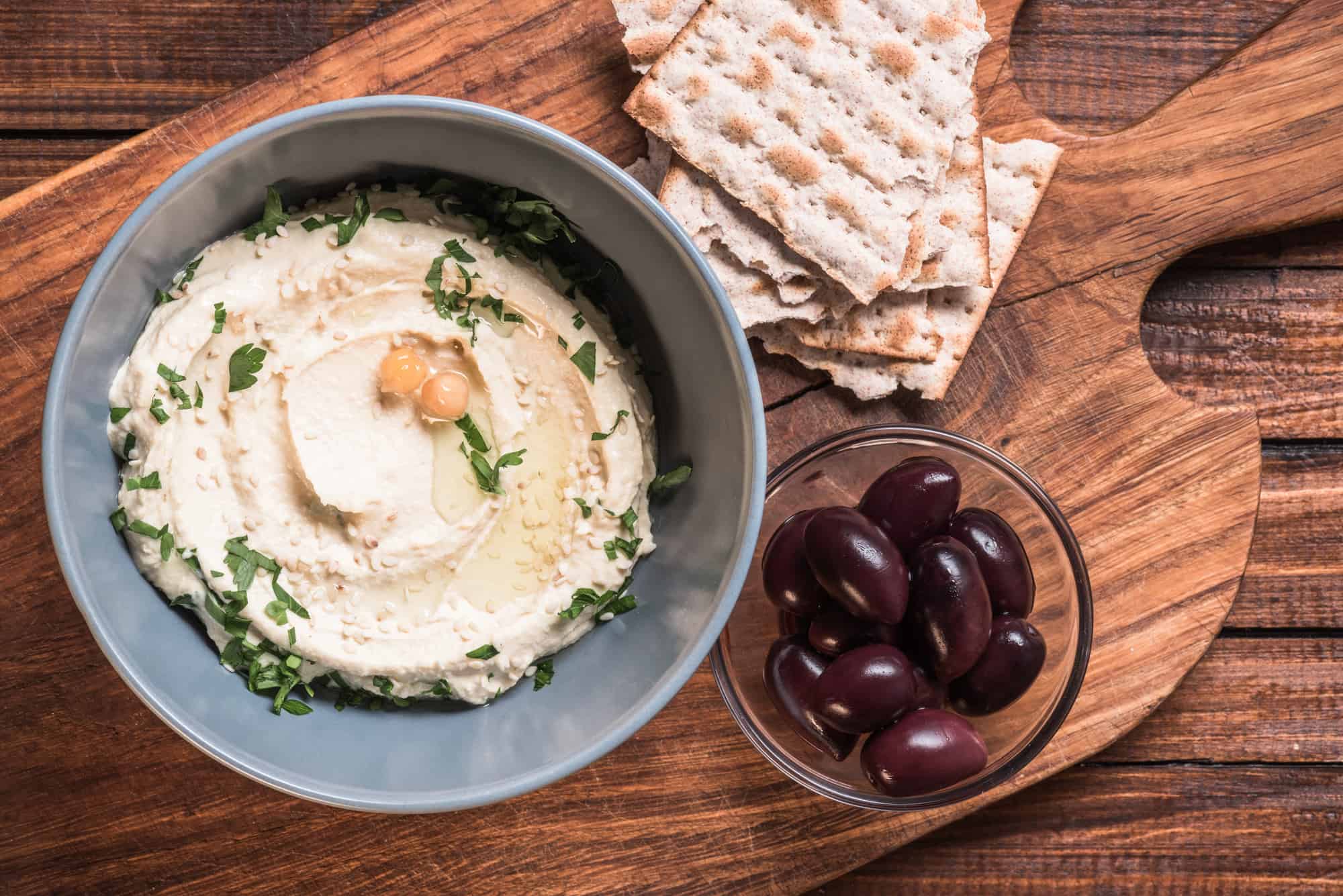 Objectionable Oils Inside Hummus
Traditional hummus is made with tahini, a paste from ground-up sesame seeds.
Many store-bought hummus brands contains tahini, in addition to added oils.
Canola oil (rapeseed oil) and soybean were found in some of the brands.
These oils are ones to avoid because they're not only likely derived from GMOs, unless verified as GMO free, but canola oil is produced using solvents.
These solvents leave toxic residues behind in the oil that we then ingest.
Even if you choose an organic product, which prohibits the use of such solvents in the oils used and doesn't allow the use of GMO crops sprayed with synthetic pesticides, the omega 6s are something to be cautious of.
Why?
We all have heard that omega 3 fatty acids are good for us, but it's about balance.
The body needs an equal balance of omega 3s and omega 6s.
Vegetable oils are high in omega 6s.
Consuming too high of an amount of omega 6 fatty acids can lead to a number of health problems, such as inflammation, cardiovascular disease, arthritis, and even cancer.

Problematic Preservatives Inside Hummus
Homemade hummus usually has lemon juice to act as a preservative.
In the store-bought brands, there were three main preservatives I found: sodium benzoate, phosphoric acid, & potassium sorbate.
There are some problems with each of them.
Fortunately, there are plenty of brands to choose from that do not use these preservatives.
Sodium benzoate, for one, can cause hives, allergic reactions, and asthma attacks to people who are extremely sensitive.
But that's not the worst part.
What's really the problem with sodium benzoate is the mixture of sodium benzoate, citric acid, and ascorbic acid, which combined creates benzene, a deadly carcinogen.
Another swap out for lemon juice is phosphoric acid.
A diet high in phosphorus is associated with a higher risk of osteoporosis and a greater break down of bones.
Moving on to the third preservative, potassium sorbate.
This is linked to DNA damage, allergic reactions, and nausea.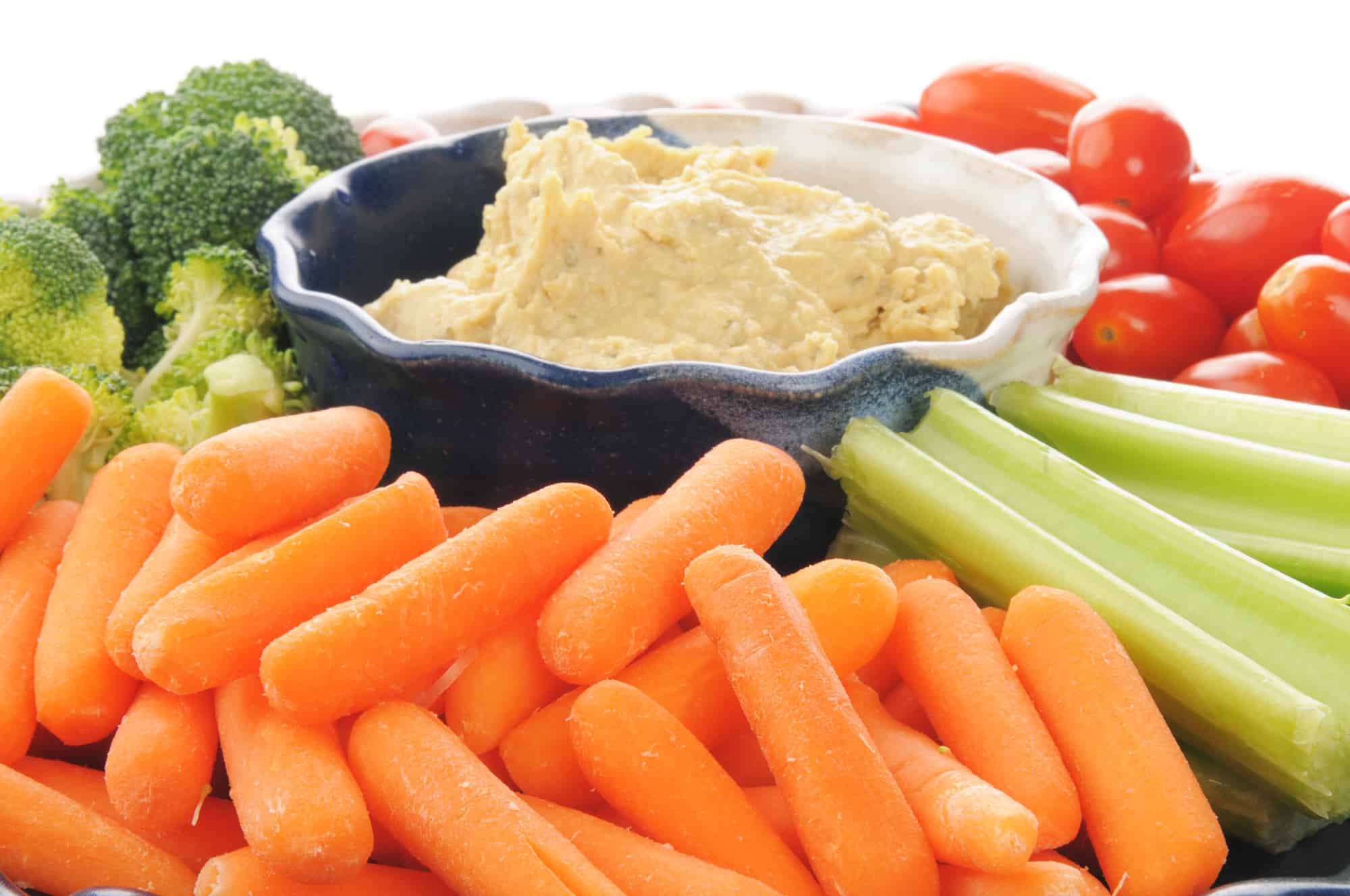 The Hidden Ingredients Inside Hummus
Like many foods, manufactured hummus often contains ingredients such as "natural flavor" and "spices." Sounds delicious, right?
Not so much.
In the US, the precise requirements for what can be called a "natural flavor," an "artificial flavor," or "spices" are laid out in Section 501.22 of the Code of Federal Regulations, the results of which you may find surprising. Spoiler alert…it's vague and doesn't sound appetizing.
Artificial Flavors
The term "artificial flavor" or "artificial flavoring" refers to any substance used to add flavor that's not from from a spice, fruit or fruit juice, vegetable or vegetable juice, edible yeast, herb, bark, bud, root, leaf or similar plant material, meat, fish, poultry, eggs, dairy products, or fermentation products, including these substances 
Spices
The term "spice" or  "spices" refers to any aromatic vegetable substance in the whole, broken, or ground form, except for things that are traditionally regarded as foods, like as onions, garlic and celery. Onions, celery, and garlic have an important role in seasoning food rather than nutritional, that are as they are stated, and from which no portion of any volatile oil or other flavoring principle has been removed.
The problem is that the term "spices" doesn't really tell you very much about the contents of the hummus as they don't actually list which spices or combination of it contains. It's intentionally vague.
Spices include the following: Allspice, Anise, Basil, Bay leaves, Caraway seed, Cardamon, Celery seed, Chervil, Cinnamon, Cloves, Coriander, Cumin seed, Dill seed, Fennel seed, Fenugreek, Ginger, Horseradish, Mace, Marjoram, Mustard flour, Nutmeg, Oregano, Paprika, Parsley, Pepper, black; Pepper, white; Pepper, red; Rosemary, Saffron, Sage, Savory, Star aniseed, Tarragon, Thyme, Turmeric. But paprika, turmeric, and saffron or other spices which are also colors, shall be declared as spice and coloring unless declared by their common or usual name.
Natural Flavor
The term "natural flavor" or "natural flavoring" means the essential oil, oleoresin, essence or extractive, protein hydrolysate, distillate, or any product of roasting, heating, or enzymolysis, that contains the flavoring of a spice, fruit, fruit juice, vegetable, vegetable juice, edible yeast, herb, bark, bud, root, leaf, similar plant material, meat, seafood, poultry, eggs, dairy products, or fermentation products serves for flavoring only. This is also vague information that doesn't really tell you what's in your food.
So basically, all three types of ingredients have to be there primarily for flavoring only.
"Spices" are whole or ground pieces of plants; "natural flavors" are extracted from plants or animals and "artificial flavors" are everything else.
Mamavation's Investigation of Hummus Ingredients
Mamavation reviewed close to 70 hummus brands based on ingredients on the label. Brands that did not label their ingredients online were not included in this list.
Bad Hummus Brands
These brands contain lower quality oils such as soybean oil or canola oil. Both of these oils are likely to be made from GMOs, unless organic. May contain additional additives such as xanthan gum or harsh preservatives like potassium sorbate.
Athenos Original Hummus
Nasoya Super Hummus Classic Original
Sadaf Traditional
Otria (Marzetti) Classic Hummus Veggie Dip
Sadaf Mix Dip Mix
Holyland Hummus With Roasted Red Pepper
Garden Fresh Gourmet Original Hummus
Publix Deli Classic Hummus
Hannah's Food Hommus Duo/Classic And Roasted Pepper
Wegmans Hummus
Strauss Humus Strauss Achla Hummus
Peloponenese Hummus Spread
Wild Garden Traditional Hummus Dip
Sonny & Joe's Hummus Spread
Better Hummus Brands
These brands are non-GMO but may have other issues. Chickpeas are a legume, so that means they are more likely to be desiccated with glyphosate at the end of the harvest by farmers. This means they may contain trace amounts of glyphosate because close to the harvest would be when they did the spraying. But we commend them on using better ingredients in general.
Little Salad Bar – Aldi Brand – Original Hummus
Abraham's Traditional-Style Hummus
Eat Well Embrace Life Roasted Garlic Hummus
Joseph's Mediterranean Foods Original Recipe Hummus
Tribe Classic Hummus
Nature's Healthy Gourmet Original Hummus
Boar's Head Traditional Hummus
Lantana Roasted Garlic Hummus
Majestic Garlic Original Hummus
Sam's Club Member's Mark Classic Hummus
Cool Hummus Light Garlic Hummus
Dr. Hummus Classic Hummus
Root's Original Hummus
Fresh Nature Green Chickpea Hummus
Go-Go Dipperz Traditional Flavor Hummus
Haig's Classic Hummus
Ithaca Cold-Crafted Fresh Lemon Garlic Hummus
Sprouts Original Hummus
The Farm at the Red Hill Jalapeno Hummus
Best Hummus Brands
These brands are organic, non-GMO, and have better ingredients. We've linked as many of them up to Amazon for your convenience in purchasing.
Fontaine Santé (Fountain of Life) Organic Roasted Garlic
Oasis Natural Original Classic Hummus
Sunflower Hummus Organic Spinach And Roasted Garlic Hummus
Sabra Organic Simply Traditional Hummus
Inspired Organics Organic Original Hummus
Kirkland (Costco) Original Hummus
Cedar's Organic Original Hummus
Hope Original Recipe Hummus
Trader Joe's Organic Hummus
The Hummus Guy Organic Original Hummus
Simply Balanced (Target Brand) Original Organic Hummus
Nature's Promise Original Hummus
Pita Pal's Organic Line – Original Flavor Hummus
Tribe's Organic Line – Organic Roasted Garlic Hummus
Yorgo's Organic Original Hummus
Emerald Valley Kitchen Organic Hummus