There are hundreds of options of cookware, so which do you choose? Every brand makes claims to be healthy, non-toxic, and safe, but are they really? The answer to that question is NO, they are not. So what are the safest & best non-toxic cookware brands? You've trusted Mamavation to bring you topics like best & worst probiotics, best & worst organic mattresses, & best & worst air purifiers, now join us for our cookware investigation. We've looked into every category of cookware and bakeware so you can rest easy.
This investigation has been our most challenging so far, so we updated it for 2020 and included more new brands. When it comes to answering the question "is this safe for my family?" we encourage you to think about: (1) migration & toxic fumes, (2) safer materials, and (3) the precautionary principle.
We know you don't have the time to dedicate 40+ hours investigating this industry, so Mamavation has done it for you! Scroll down to the very bottom for our product recommendations OR click right here to go to a simple product list.
This post has been fact-checked by Rebecca Elizabeth Sherrick Harks, RN, BSN. Disclosure: This post contains affiliate links. Make sure to do your own research before purchasing because brands and products can change without warning. California's AB 1200 cookware disclosure law has forced many brands to disclose materials, however, not all brands are in compliance, so these ranks may change as new information comes out.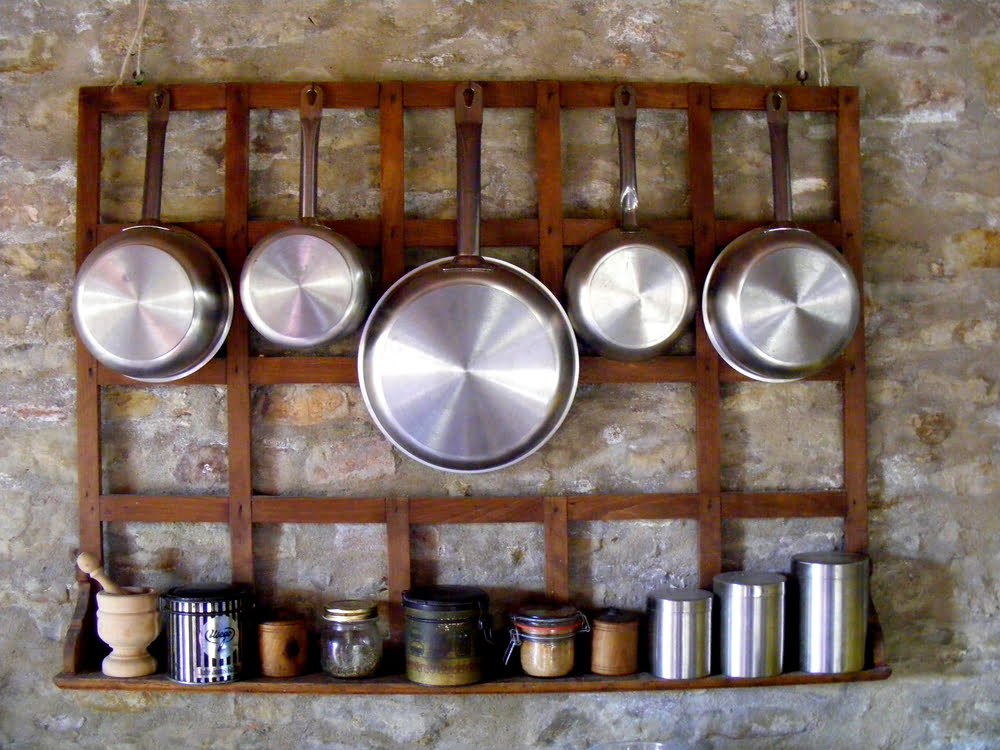 The Challenges of Cookware–Nothing is Perfect!
There are problems with nearly every type of cookware on the market. Non-intentionally added substances (NIAS) are a deciding factor in the safety failure of many lines of cookware. The other two main things that determine the safety of cookware are the base material and the coating. Here are some important things to remember when you are looking for a sauté pan or nonstick fry pan.
There are no safe coatings and they should all be avoided because of the inevitable wear down and crumbling that happens over time, exposing bare base materials that aren't meant for food contact. That especially goes for nonstick coatings that contain perfluorooctanoic acid (PFOA) or other polyfluoroalkyl substances like polytetrafluoroethylene (PTFE).
Heavy metals leaching has been found in virtually all cookware, even when it's not metal-based.
We recommend you rotate between different categories to minimize constant exposure to any one material, preferably stainless steel pans, cast iron pans, and ceramic pans without non-stick coatings.
Cooking with acidic foods, like tomato sauce, exacerbates leaching, so pay close attention to what your saute pan or saucepan.
Careful breaking down your cookware. We all want scratch-resistant and non-stick pans, but sometimes those types of pans come with chemical exposure over time. If you end up deciding to go with those types of pans, it's best to be careful when using metal utensils like spatulas. The polymers may break down easier when scratched. When you see scratches in the pans, toss them.
We were surprised too that only a select few pieces of cookware meet the criteria of having relatively stable base materials and uncoated cooking surfaces while using high heats. In fact, we only found one single truly toxin-free line, Visions uncoated glass cookware. Unfortunately, it's not a practical solution for most people because of glass' finicky and brittle nature, so we recommend you rotate oven-safe pure ceramic cookware, cast iron cookware, stainless steel cookware, & uncoated glass cookware.  
Toxins in Cookware to Be Wary Of
California Proposition 65 is a useful tool that identifies an extensive list of naturally occurring and synthetic chemicals that are known to cause cancer or birth defects or other reproductive harm. These chemicals include additives or ingredients in pesticides, common household products, food, drugs, dyes, or solvents.
Listed chemicals may also be used in manufacturing and construction, or they may be byproducts of chemical processes, but overall, if a line of cookware passes the Prop 65 leach test, we can at least have some assurance that the products are relatively safe to use.
Here are the most toxic chemicals found in cookware that are hazardous to human health, and should always be avoided on your stovetop for types of nonstick cookware:
lead
non-stick coatings (PFAS)
cadmium
nickel (if you have an allergy)
chromium
nanoparticles
aluminum
AVOID: Lead in Cookware
Lead is a constant headache for those of us looking for safe cookware. Nearly every brand of cookware claims to be lead-free, but it's been repeatedly shown that there are actually low levels of lead (below Prop 65 standards) in many cookware products.
This is problematic because lead is bioaccumulative, damages the body easily, and is extremely difficult to detox and recover from, and when we're exposed on a daily basis. Lead exposure causes anemia, weakness, and kidney and brain damage. Very high lead exposure can even cause death.
Be careful when you are pregnant. Lead can cross the placental barrier, which means pregnant women who are exposed to lead also expose their unborn child. Lead can also damage a developing baby's nervous system. Even low-level lead exposures in developing babies have been found to affect behavior and intelligence.
When it comes to fertility it's bad too. Lead exposure can cause miscarriage, stillbirths, and infertility (in both men and women).
AVOID: Non-stick Coatings aka "Teflon" & Teflon WannaBees in Cookware
Non-stick coatings have become well known for their toxicity, and they're also bioaccumulative. These chemicals have been dubbed "forever chemicals" because of their inability to break down in the environment. Fluoropolymers used in non-stick coatings were found to increase the incidents of tumors of the liver, testicles, mammary glands, and pancreas in lab animals. The EPA has also categorized perfluorinated compounds (PFCs or PFAS) as likely carcinogenic.
A study by the Centers for Disease Control and Prevention (CDC) discovered a shocking statistic — 98% of Americans have detectable levels of PFAS or PFCs in their bodies. Mamavation has been studying PFAS contamination closely in cookware, food packaging, and water.
These chemicals are linked with the following diseases and symptoms:
The problem here is marketing. Many "PFOA-Free" claims have other types of PFAS present in their coatings.
AVOID: Cadmium in Cookware
Cadmium is another commonly used heavy metal in the cookware industry used to achieve bright colors in ceramic cookware. It's not supposed to be used in food contact surfaces, however, that's not always the case. Cadmium is bioaccumulative and primarily toxic to the kidney and skeleton causing renal dysfunction and bone demineralization.
We recommend you don't use any kitchen items that are red, orange, or yellow as those colors tend to have intentionally added lead and/or cadmium.
AVOID IF ALLERGIC: Nickel (Possible Allergy) in Cookware
Nickel is present in stainless steel cookware to prevent corrosion (rust) and heat damage. People who have a nickel or chromium sensitivity, or those whose bodies are heavy metal toxic, are the most at risk for negative health effects.
Animal studies have found increases in newborn deaths and a decrease in newborn weight after ingesting nickel which may be an indicator that human children and babies are likely more sensitive to nickel exposure than adults.

AVOID: Chromium in Cookware
Chromium is another metal used in the manufacture of stainless steel. Less than 10% of ingested chromium is absorbed, but absorbed chromium is distributed to nearly all tissues, with the highest concentrations found in kidneys and liver. Bone is also a major depot and may contribute to long-term retention.
Much the same as nickel, certain types of industrial chromium have caused miscarriages, low birth weight, and changes in the development of skeleton and reproductive system in lab animals which may be an indicator that human children and babies are likely more sensitive to chromium exposure than adults.
AVOID: Nanoparticle Coating on Ceramic Pans
Nanoparticles have been recently discovered as a leaching byproduct of ceramic coatings. Nano titanium dioxide is the most prevalent substance found and is hazardous because it's been shown to cause immune system disruption and pre-cancerous lesions in the gut.
Nanoparticles themselves are problematic because their tiny size allows them to enter most areas of the body and wreak havoc in the most pervasive ways.
For example, asbestos is a carcinogenic nanoparticle that has taken many people's lives.
Mamavation has taken a hard stance against nanotechnology in ceramic glazes.
AVOID: Aluminum in Cookware
Aluminum is ubiquitous in cookware, meaning you'll find it everywhere. Aluminum is bioaccumulative and a known neurotoxin that can cause neurological disorders like dementia. Aluminum cookware is an obvious culprit, but it's also been found present at lower levels in ceramic and stainless steel cooking products, even high-quality aluminum.
Aluminum can also cause slow growth in children, speech problems, seizures and eventual system toxicity that causes serious problems including anemia, nervous system trouble, and bone and brain diseases.
We wanted to clear up some misrepresentations you may have found online about "aluminum-free" cookware. I'm sorry to tell you that technically "aluminum-free" isn't a real thing. The vast majority of cookware out there has some aluminum. When it comes to stainless steel cookware, they all have an aluminum core. When you see "aluminum-free" cookware recommended, they are actually talking about stainless steel cookware with additional metals covering the aluminum core. This protects you from the aluminum leaching out of the core and into your food over time.
Cookware and Bakeware Categories to Avoid
Best cookware and bakeware are one of the hardest categories to navigate as a consumer. We understand how complicated this is so we created a list for you to run by when you are planning your purchases. As a rule of thumb, here is a list of the cookware to avoid.
Non-stick cookware–PFAS chemicals
Aluminum cookware–Heavy metals
Enameled aluminum cookware–Nanoparticles
Hard-anodized aluminum cookware–Heavy metals
Enameled hard-anodized aluminum–Nanoparticles
Enameled cast iron–Nanoparticles
Soapstone–Trace asbestos
Unlined copper cookware–Heavy metals
Stoneware and porcelain bakeware–Heavy metals
Silicone bakeware–it's not been proven safe yet
Keep reading and you will learn what is safer. Or scroll to the bottom to see our list of recommended brands. We recommend instead that you rotate oven-safe pure ceramic cookware, cast iron cookware, stainless steel cookware, & uncoated glass cookware. We will explore this more below.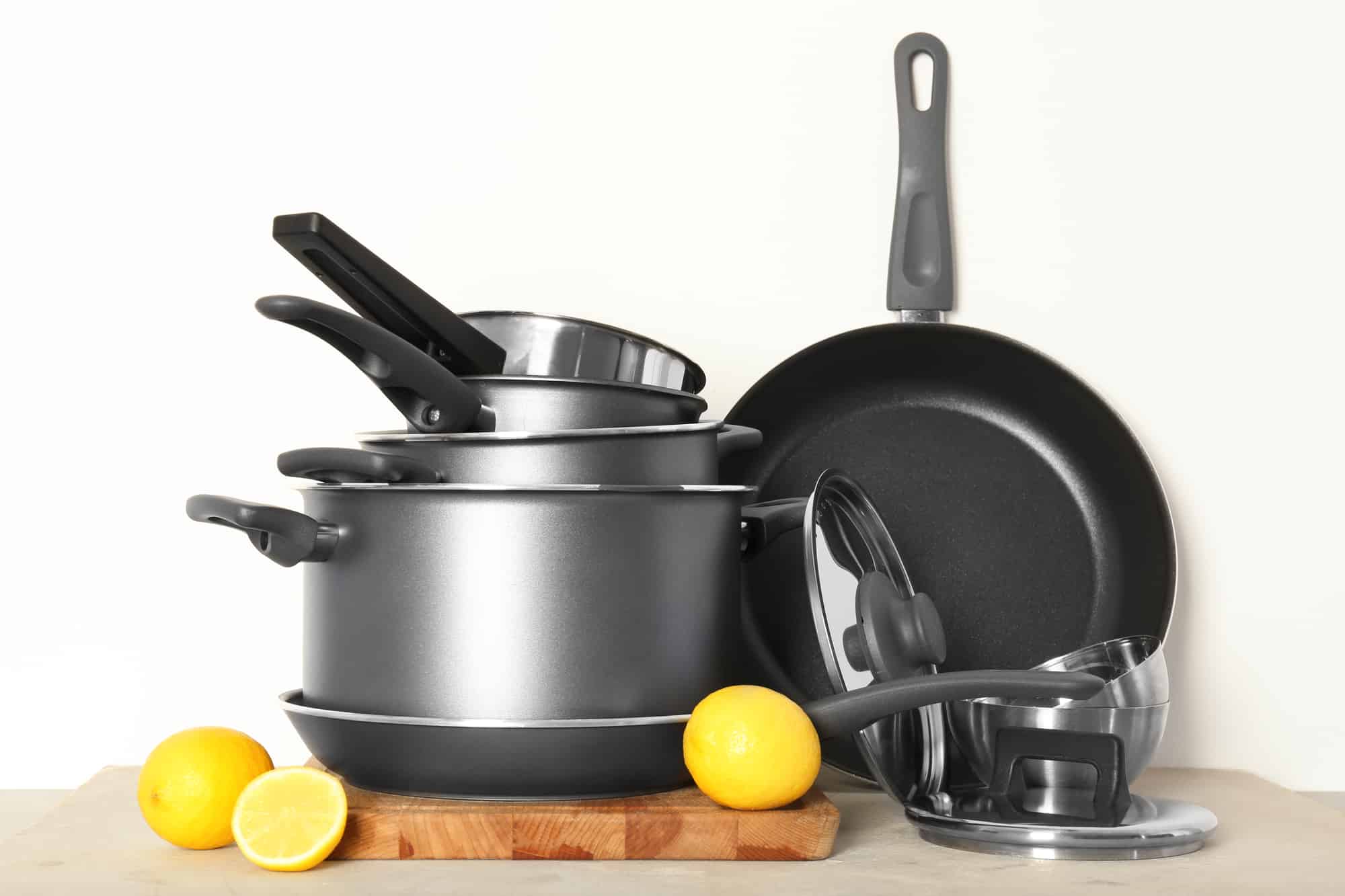 Ceramic, Stoneware, & Porcelain Cookware & Bakeware
Glazed cookware has been our biggest challenge. As a whole, ceramic appears to be very problematic due to the glazes used on food contact surfaces. As previously stated, coatings of any kind are bound to wear down and chip away into food, and ceramic glazes are no different. Ceramic coatings are too fragile for long-term use and tend to scratch and chip away leaving bare base materials that immediately start contaminating your food.
We've also uncovered information about nanoparticle coatings on quasi-ceramic brands marketing themselves as "green and healthy" cookware. We also found well-known brands of ceramic enameled cast iron and stainless steel coating their products with nanoparticles as well. And because third-party independent lab testing is virtually non-existent (and certainly not made readily available to the public online), we can't recommend any ceramic-enameled products at all and only one ceramic cookware line.
At this time, it's extremely difficult to confirm any independent test results that prove the safety of any types of ceramic, stoneware, and porcelain cookware and bakeware.
Therefore, our recommendation is to select pure ceramic cookware & bakeware instead. There is one brand we recommend, Xtrema.
BUMMER: Nanoparticles Found in Most Quasi-Ceramic Cookware Coatings
Nanoparticles also have the potential to inflict great damage because they can translocate to many parts of the body once inside including the brain, heart, lungs, and other organs, and can be easily ingested, inhaled, and absorbed through the skin because of their tiny size.
When it comes to nonstick pans & other cookware, the scientific peer-reviewed journal Food Additives & Contaminants: Part A reported on the discovery of titanium dioxide nanoparticles leaching from quasi-ceramic non-stick coatings into food via low and high-stress testing and degradation of the coating itself which consists of a silicone polymer matrix with embedded micro and nanosized titanium dioxide particles and quartz silicium dioxide.
It was found that thermal degradation (cooking up to 350° F) had a negligible effect on nanoparticle release, but mechanical degradation studies showed that when the surface begins to scratch and wear and become damaged during normal use, the release of titanium-containing nanoparticles becomes significant.
Chronic oral exposure to titanium dioxide nanoparticles can result in immune disruption and pre-cancer lesions in the gut, however, such little is known about nanoparticles as a whole, we certainly don't understand the extent to which they can and do negatively affect the body.
Therefore, our recommendation is to select pure ceramic cookware & bakeware instead. There is one brand we recommend, Xtrema.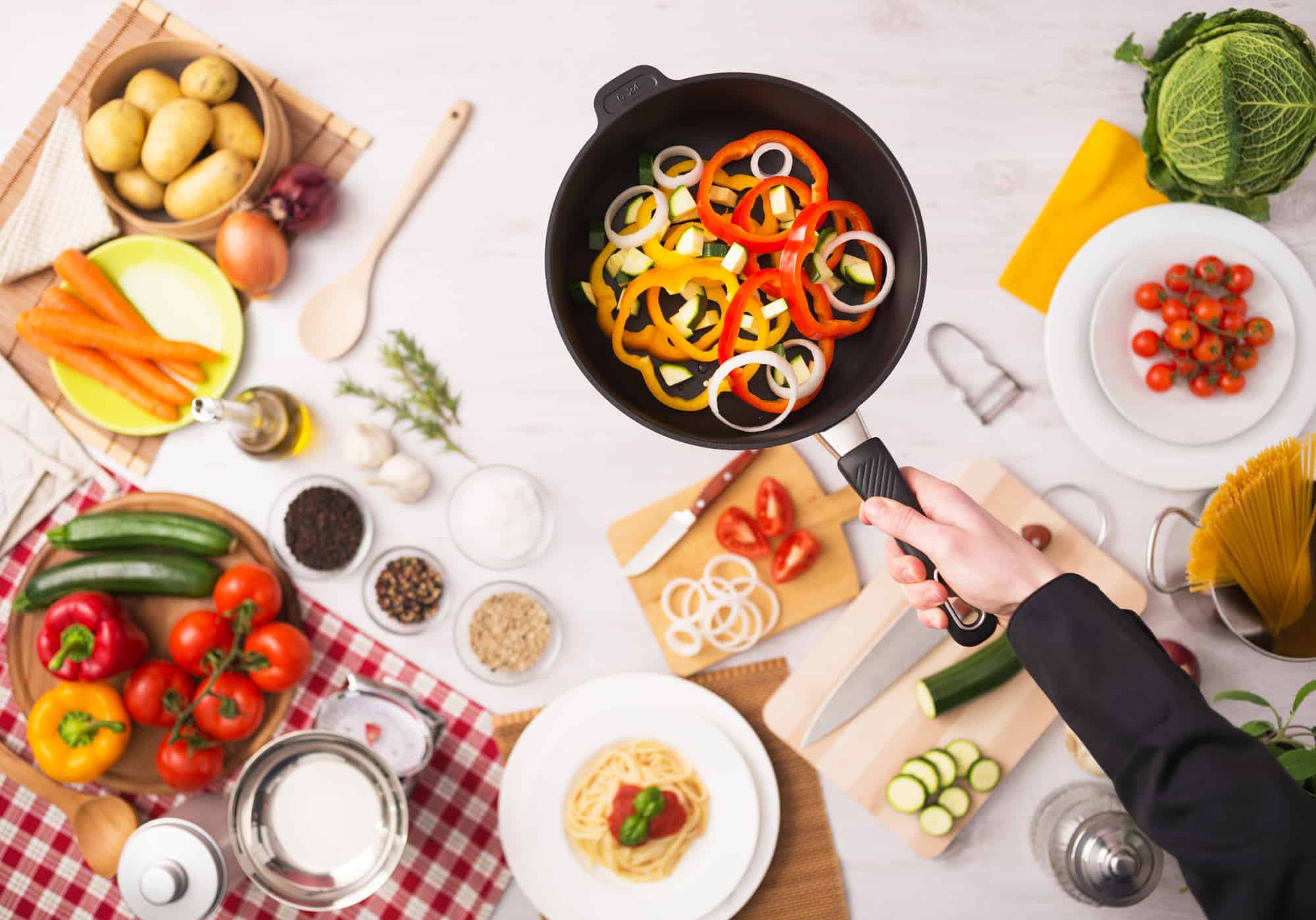 Le Cruset is Breaking Our Hearts about Cadmium
We ran into some issues with one of the most popular brands–Le Cruset. Toxic metals have been found in Le Cruset. Here's what Le Creuset had to say about the presence of lead and cadmium in their pans & lids. (colorful designs)
Cadmium and lead are two elements under strict control in the cookware industry. Our position today for the entire production process is to be in compliance with California Proposal 65 which is the most rigid standard in the world for these elements (approx. 10 times lower than "acceptable" limits). Lead is NOT used in our recipes and for cadmium a special anti-acid enamel fritt is used which will not release the cadmium pigment during cooking. Cadmium is used for coloration purposes in achieving bright exterior colors such as Flame and Cherry. The interior enamel which makes contact with food is either sand, white, or black.
However, when independently tested, there was both lead and cadmium found in measurable amounts in Le Creuset food contact surfaces, although levels appear to be below Prop 65 standards for toxicity. And strangely, high levels of aluminum were discovered in three Le Creuset products when used to cook acidic foods like tomatoes in a normal kitchen scenario. While one round of tests doesn't provide a definitive answer, the levels are alarming and it's still unclear why the aluminum was present at all, which may point to yet another problem with ceramic cookware.
It's also been shown that aluminum leaches from enameled cast iron as well. Buyer beware.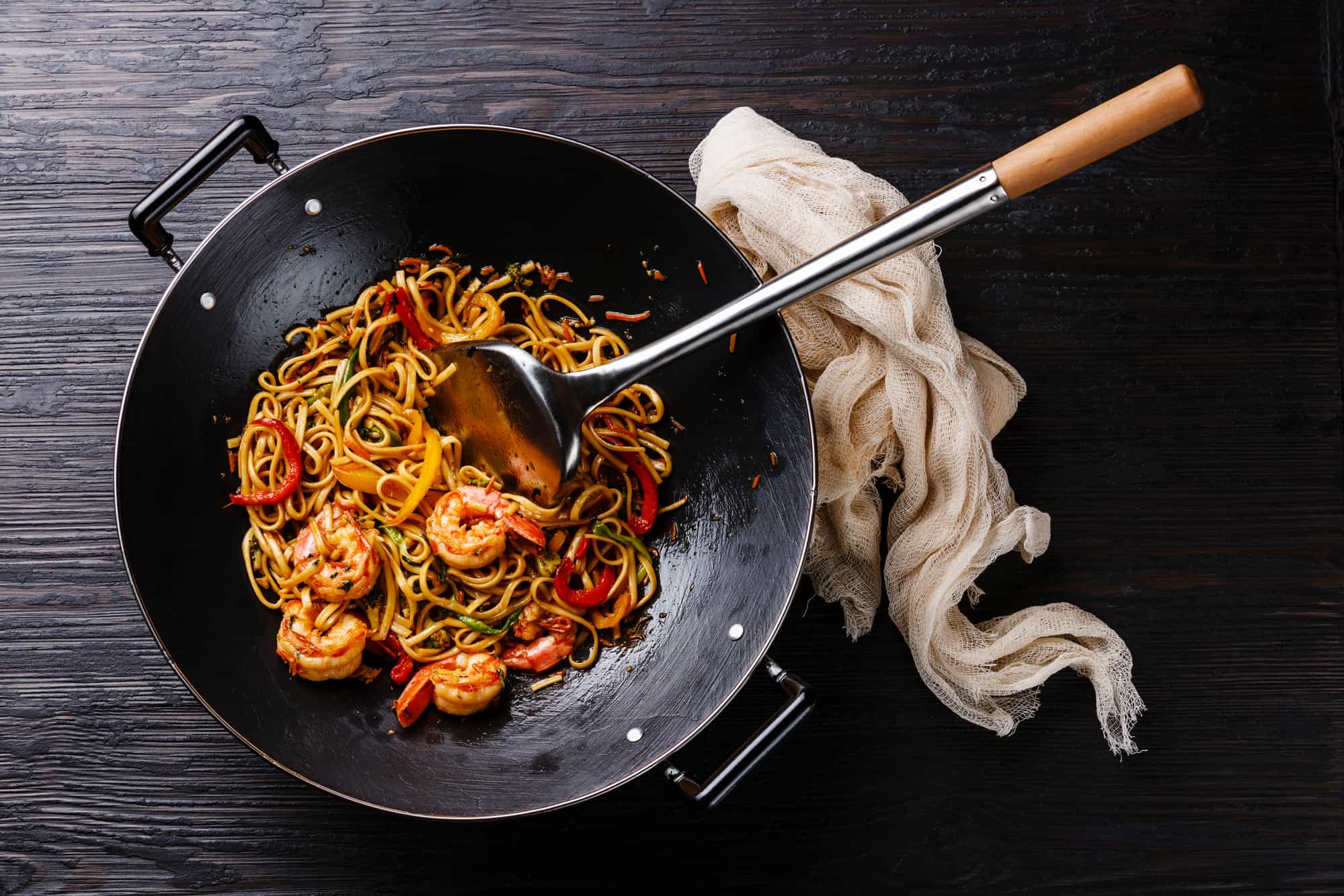 The Bad Stuff: Types of Aluminum Cookware to Avoid
It's important to avoid aluminum-based cookware because aluminum leaches easily when exposed, and based on our research, there's no aluminum cookware coating that's been proven safe and durable enough to protect from aluminum exposure. (Be sure to read through our findings on ceramic-enameled aluminum below to learn why we can't recommend it either.)
Most of the following brands offer multiple types of cookware, so be sure to shop carefully and choose only non-aluminum pieces:
AVOID Cast Aluminum (uncoated aluminum) Cookware
Masterclass (AVOID)
Neoflam (AVOID)
Starfrit (AVOID)
AVOID Non-stick Aluminum Cookware
All-Clad (AVOID)
Ballarini Parma (AVOID)
Berndes (AVOID)
Calphalon (AVOID)
Circulon (AVOID)
Epicurious (AVOID)
Farberware (AVOID)
Finnhomy (AVOID)
Fox Run (AVOID)
Graniterock (AVOID)
KitchenAid (AVOID)
Le Creuset (AVOID)
Oster (AVOID)
Pampered Chef (AVOID)
Rachael Ray (AVOID)
ScanPan (AVOID) (check out recent testing confirming PFAS by Ecology Center)
T-Fal (AVOID)
Zwilling (AVOID) (check out recent testing confirming PFAS by Ecology Center)
AVOID Ceramic-enameled Aluminum Cookware
Bialleti (AVOID)
Blue Diamond (AVOID)
Calphalon (AVOID)
Cook N Home (AVOID)
Cuisinart (AVOID)
Farberware (AVOID)
Food Network (AVOID)
Fox Run (AVOID)
KitchenAid (AVOID)
Oster (AVOID)
Ozeri (AVOID)
Pioneer Woman (AVOID)
Rachael Ray (AVOID)
T-Fal (AVOID)
Tramontina (AVOID)
Trisha Yearwood (AVOID)
Vremi (AVOID)
WearEver (AVOID)
AVOID Copper Ceramic-enameled Aluminum Cookware
BulbHead (AVOID)
Concord (AVOID)
Cooksmark (AVOID)
Copper Chef (AVOID)
Culinary Edge (AVOID)
Cuisinaid (AVOID)
Deik (AVOID)
Gibson (AVOID)
Gotham Steel (AVOID)
Red Copper (AVOID)
"Best" Ceramic Cookware: Xtrema — Uncoated Ceramic Cookware & Bakeware
Xtrema by Ceramcor is an all-ceramic line of cookware that passes the stringent CA Prop 65 leach testing, and is the only brand of non-coated ceramic cookware Mamavation recommends.
There are no nanoparticles used in production and each batch is third-party tested for lead and cadmium migration. Although Xtrema is made in China, the company's factory is dedicated to their cookware and is under close supervision.
Please note that independent testing using an XRF instrument found chromium, nickel and cobalt in the substrate clay material of Xtrema products which the company states is naturally occurring in clay, however, the cookware still passes all Prop 65 leaching tests which means the substances are unable to migrate out of the product. In other words, just because something is present doesn't mean it's going to get into your food provided you care for the cookware. 
Here are some of the most popular pieces:
"Better" Ceramic Cookware–Safer Ceramic Coatings
In 2020, Mamavation did an investigation on all the ceramic cookware companies and found several in the "better" category that did not use nanomaterials or PFAS in their coatings, but were not open to disclosing what those coatings were. When we drilled closer into the technology that was needed to create solgel coatings made of silicone and/or polyvinyl alcohol (PVA) on cookware, we realized it was possible to do without nanomaterials. Here are the brands that fit into that category.
Here are all the "better" ceramic cookware brands that do not contain PFAS, or nanomaterials, and pass California consumer markers for safety in heavy metals. The Ecology Center released cookware testing of Green Pan, Bella Basics and confirmed they were coated with silicon dioxide ceramic and we stuck them here. We also received more communication from Caraway claiming their products are not made from nano-materials and we placed them here too.
Here are the "better" non-stick pans with coatings containing silicone and/or polyvinyl alcohol (PVA)
Bella Basics Cookware
Green Pan Cookware (Use discount code "MAMAVATION" for 30% off products)
NOT OUR FAVORITE — AVOID Nano & PFAS Ceramic Coatings
AVOID Anolon Ceramic Cookware
AVOID BulbHead Ceramic Cookware
AVOID Calphalon Ceramic Cookware
AVOID Caraway Ceramic Cookware (newly disclosed nano)
AVOID CookLover Ceramic Cookware
AVOID Cook-n-Home Cookware
AVOID Cooksmark by Americook Cookware
AVOID Cuisinart Ceramic Cookware
AVOID Equal Parts Cookware
AVOID Farberware Ceramic Cookware
AVOID Gotham Steel Cookware
AVOID Hexclad Cookware
AVOID Kenmore Arlington Nonstick Ceramic Cookware
AVOID Le Creuset Ceramic Cookware
AVOID MICHELANGELO Kitchen
AVOID Neoflam Retro Ceramic Nonstick
AVOID Nutrichef Nonstick Cookware
AVOID Shineuri Diamond Hard-Anodized Cookware
AVOID Staub Ceramics Cookware
AVOID T-Fal Cookware
AVOID Vremi Cookware Set
AVOID WearEver Ceramics
AVOID Williams Sonoma Ceramic Cookware
AVOID Deane and white cookware
The Safest Stainless Steel Cookware Brands Available
Stainless steel cookware releases low levels of nickel and chromium, especially when cooking acidic foods like tomatoes. The biggest concern for people who have nickel sensitivity is cookware with nickel, however most people do not have this allergy. The National Institutes of Health report that metal leaching decreases with sequential cooking cycles and appear to stabilize after the sixth cycle, though significant metal contributions to foods were still observed over the lifetime of the product.
Damaged stainless steel pots and pans should be discarded and replaced to reduce potential heavy metal exposure, especially with cookware that has an aluminum core because it leaches so badly when exposed. Overall, all stainless steel cookware is safe to use, but the amount of metal migration is dependent on stainless steel grade, cooking time, and cookware usage, so we encourage the use of high quality, surgical-grade stainless steel cookware whenever possible, and even the purchase of nickel-free cookware.
Best Stainless Steel Cookware Brands
These brands consist of 5-ply 304 stainless steel cookware (with nickel) and 403 stainless steel cookware without nickel. If you are sensitive to nickel, choose the 403 stainless steel selections. If you have no sensitivities to nickel, chose the 304 versions.
Best 304 Stainless Steel (with Nickel)
360 Cookware (Made from American Steel) (Use discount code "COOKWARE15" for 15% off products not already on sale)
All Clad D5 Polished Stainless Steel Cookware
Demeyere Atlantis with Silvinox Stainless Steel Cookware
Demeyere Industry Stainless Steel Cookware
Healthcraft 7-Ply 4-SQUARE DELUXE Waterless Cookware Set 17 Pcs Magnetic T304s
Henckels RealClad Stainless Steel 5-ply 10-piece Cookware Set
Made In Stainless Steel Cookware (NOT one in TARGET store. Brand in Target store are made of lower quality stainless steel.)
Best 430 Stainless Steel (without Nickel)
Non-stick Stainless Steel–AVOID BRANDS WITH NON-STICK!
It's important to avoid stainless steel cookware with non-stick coatings. Most of the following brands offer both uncoated and non-stick stainless steel, so be sure to shop carefully and choose only uncoated stainless steel cookware. The brands below offer non-stick stainless steel versions to avoid:
All-Clad (AVOID Non-Stick Stainless Steel Options)
Black + Decker (AVOID Non-Stick Stainless Steel Options)
Circulon (AVOID Non-Stick Stainless Steel Options)
Cristel (AVOID Non-Stick Stainless Steel Options)
Cuisinart (AVOID Non-Stick Stainless Steel Options)
Deik (AVOID Non-Stick Stainless Steel Options)
Farberware (AVOID Non-Stick Stainless Steel Options)
Fissler (AVOID Non-Stick Stainless Steel Options)
KitchenAid (AVOID Non-Stick Stainless Steel Options)
Lagostina (AVOID Non-Stick Stainless Steel Options)
Magma (AVOID Non-Stick Stainless Steel Options)
Mr Rudolf (AVOID Non-Stick Stainless Steel Options)
Pampered Chef (AVOID Non-Stick Stainless Steel Options)
Princess House (AVOID Non-Stick Stainless Steel Options)
Rosle (AVOID Non-Stick Stainless Steel Options)
Viking (AVOID Non-Stick Stainless Steel Options)
Ceramic-Enameled Stainless Steel–AVOID BRANDS WITH CERAMIC ENAMEL
Ceramic-enameled stainless steel is another category to avoid. Most of the following brands offer more than one type of cookware, so be sure to shop carefully and choose only uncoated stainless steel. These brands offer ceramic-enameled stainless steel we want you to avoid:
Cuisinart (AVOID ceramic enameled!)
JA Henckels (AVOID ceramic enameled!)
T-Fal (AVOID ceramic enameled!)
Todd English (AVOID ceramic enameled!)
ScanPan (AVOID ceramic enameled!)
Zwilling (AVOID titanium ceramic enameled!)
Better Option: Stainless Steel Lined Copper Cookware
This is safer cookware as lined out in the stainless steel section above, and because the copper is a non-food contact surface, we aren't as concerned with migration.
Here are the brands Mamavation proudly recommends:
Better Option: Cast Iron Cookware
Cast-iron pans and a cast-iron skillet are something you should have in the cabinet! Cast iron and carbon steel both contain ferric iron (non-absorbable) vs ferrous iron (natural form in foods). They're safe to use, but be sure to rotate your pans as recommended because too much ferric iron uptake is bad for the body and can deplete vitamin C levels. Note that cooking acidic foods in iron cookware increases the release of iron.
Here are the brands Mamavation recommends:
Cast iron is a great option unless it's ceramic enameled.
Ceramic-enameled Cast Iron–AVOID
Ceramic-enameled and non-stick cast iron should be avoided. Most of the following brands offer more than one type of cookware, so be sure to shop carefully and choose only uncoated cast iron. Here are the brands that offer ceramic-enameled and non-stick cast iron:
Aidea (AVOID Ceramic-Enameled!)
Bruntmor (AVOID Ceramic-Enameled!)
CrockPot (AVOID Ceramic-Enameled!)
Cuisinart (AVOID Ceramic-Enameled!)
Essenso (AVOID Ceramic-Enameled!)
Hamilton Beach (AVOID Ceramic-Enameled!)
Kenmore (AVOID Ceramic-Enameled!)
Landhaus (AVOID Ceramic-Enameled!)
Le Chef (AVOID Ceramic-Enameled!)
Le Creuset (AVOID Ceramic-Enameled!)
Le Cuistot (AVOID Ceramic-Enameled!)
Lodge (AVOID Ceramic-Enameled!)
Martha Stewart (AVOID Ceramic-Enameled!)
Staub (AVOID Ceramic-Enameled!)
Tramontina (AVOID Ceramic-Enameled!)
Zelancio (AVOID Ceramic-Enameled!)
Carbon Steel Cookware
Carbon steel is the sister of cast iron, but despite its name contains more iron and less carbon than cast iron. It's lightweight, versatile and convenient to use, but still releases ferric iron so it should be rotated regularly between your other cookware options. Remember to avoid cooking with acidic foods in these pans. We have not done a complete investigation on this category but can make these recommendations.
IKEA Vardagen Carbon Steel Frying Pan
Better Option: Glass Bakeware & Cookware
Glass is an inert substance if there are no coatings or decorations on the product. As we've seen, coatings, in general, are a huge problem, and we found that non-stick nanofilms are being developed for glass bakeware so be sure to purchase only uncoated glass products.
Here are the brands we recommend:
Safe Ceramic Bakeware–Better Option
It's very hard to find real ceramic that isn't coated with nanoparticles or PFAS chemicals. But Xtrema, the same brand that offers safe ceramic cookware, has come out with bakeware options as well. All bakeware passes California Prop. 65 standards so do not require any warnings. No bakeware at Xtrema has any coatings. We reached out to Xtrema to get you a discount in case you would like to purchase some of their non-toxic products. Use "mamavation" at checkout for an extra 15% off. Here are those options:
Bakeware Options with a Silicone type Coating
Although these bakeware products are not considered "best," they can be used sporadically if you are rotating your cookware. These bakeware options do not contain PFAS or nano-ceramic coatings.
Clay Bakeware & Small Kitchen Appliances
Clay can be very hazardous when the geographical origins are unknown. We could locate only two brands of clay cookware that conduct testing for heavy metals commonly found in clay and glazes. Both companies do not glaze their products, so the testing reflects the makeup of the clay itself. Here are the brands we recommend: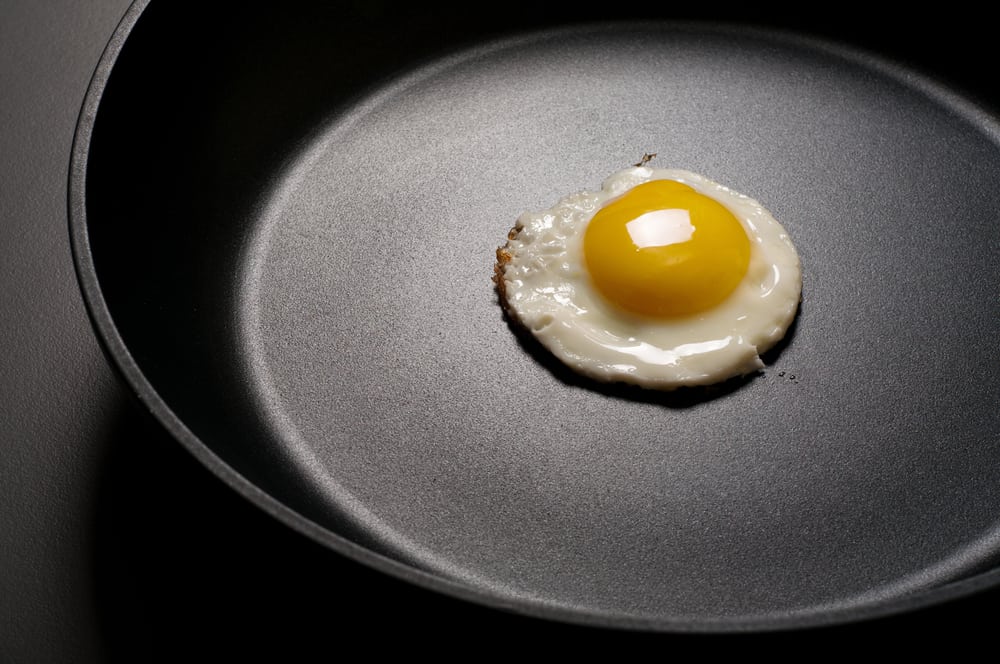 Final Notes on Cookware & Bakeware
Unfortunately, there is very little perfection here. So the best rule of thumb is to get several of these pots and pans and rotate between them. That will minimize the problems you want to avoid.
Ceramic glazes have been disappointing because of nanoparticle glaze leaching into food. So be cautious about any "new" model of ceramic that promises the world to you. And remember if you purchase cast iron, don't cook acidic foods in it.

About the Author
Leah Segedie is a consumer watchdog, author, entrepreneur, environmental activist, and mother of three boys. 
She wrote Green Enough: Eat Better, Live Cleaner, & Be Happier (All Without Driving Your Family Crazy!) in 2018. She's consistently been featured in the media for the past 15 years in media outlets like ABC, CBS, CNN, Yahoo, Chicago Tribune, USA Today, Reader's Digest, Ladies Home Journal, Shape Magazine, Fitness Magazine to name a few.  
Follow Mamavation on Pinterest, Facebook, Instagram, or Twitter or join the Mamavation Community Group. 
Did you like this post? Subscribe to our weekly newsletter and don't miss another investigation!