Israel is a country of extremes and beauty. The second you touch down on the ground and walk off the plane, you can feel that you are someplace special. It's instantaneous and amazing – almost like a jolt of energy and intensity. One of my favorite places in Israel is also an extreme in terms of geography and location. The lowest place in the world is The Dead Sea. And because of the unique qualities and benefits of the dead sea, it's sought after by millions of people seeking better health. And for good reason.
Disclaimer: This post is a collaboration with Vibe Israel. Vibe Israel funded a trip in which Leah Segedie, Founder of Mamavation, attended and toured the country for eight days. She visited organic farms, restaurants, farmers markets, religious sites, etc. and visited with local celebrities, small business owners, and everyday people. In exchange, she agreed to create content on Mamavation.com about wellness topics interesting to this community.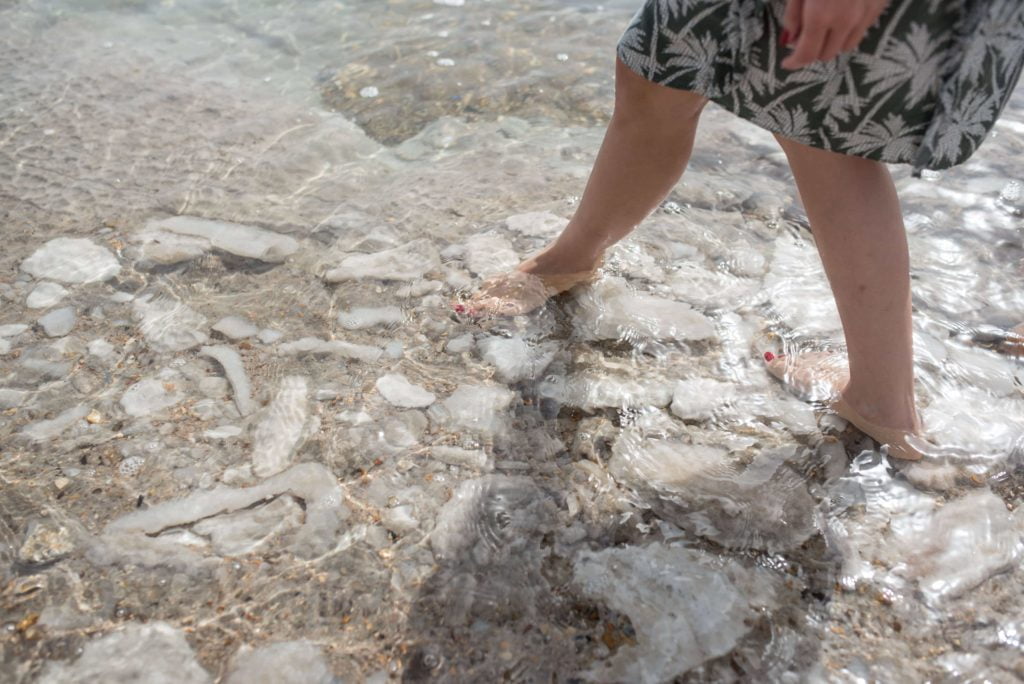 The health benefits of The Dead Sea have been known about and used since ancient times, some of which apply to even the herbs that grow in the area.  The mud holds over 48 minerals in the salts, which have mixed with protein and algae fossils to create the best beneficial mud bath on earth. I had an opportunity to cover my entire body in this mud, which is unlike anything I've ever experienced before. The picture above is of me bathing in "sweet water" and rubbing mud everywhere.
The rare combination of high barometric pressure, higher oxygen levels and even the pollen-free atmosphere all add to the benefits of The Dead Sea which are sought after by those who visit for therapeutic reasons. Even the air is seen as a benefit to visitors, as the amount of bromide in the air means that it is found in  higher levels in outdoor workers in the area. When I was down there, I couldn't stop smiling. It felt impossible to do. That's because there is literally happy gas in the air.
The Dead Sea Is Salty In The Best Way
Situated between Jordan, Israel and the West Bank, the Dead Sea is named because of its high salinity – fish and birds cannot thrive in it. The water in the Dead Sea is vastly higher in salt than sea water, which is comprised on average of 4 percent salts. The Dead Sea, however, is about 30 percent salt, comparable to Utah's Great Salt Lake. It's so salty, in fact, that barely anything can flourish in its waters. The salt prevents macroscopic aquatic organism such as fish and plants from living, but doesn't prevent minuscule quantities of bacteria and microbial fungi from being present. So it looks like a sea with nothing living in it, and feels very thick when you bath in it. It's also difficult to walk in even in lower levels, so wear your sandals to avoid getting cut on the jagged salt rocks, don't shave your legs for 48 hours beforehand (*ouch*) and go slowly.
The composition of minerals in the dead seal are also vastly different to ocean water. The salt in most oceans is about 85% sodium chloride, which is what is used in saline solutions for medical reasons including IV drips, eye drops and wound cleaning. The salt in the Dead Sea is only 12-18% sodium chloride, so instead contains larger concentrations of things like magnesium and potassium.
And I can attest to the fact that one of the benefits of The Dead Sea is its ability to heal wounds. I was actually cut really badly on the beach when I was there. The salt rocks can get very sharp and they are everywhere. When I got off the boat and stuck my foot onto the shore and my foot sunk down into the mud. My foot ended up sinking down until the mud came up to my knees and there was a jagged salt rock in the mud that cut my foot so deep it would have needed stitches. But I took a gamble and didn't go to the doctor because I didn't want to shorten my time at The Dead Sea, so I put my foot directly into the water and let the salt water and minerals seal the wound. Now it did hurt a great deal, but afterward the wound was sealed and no stitches were ever needed. In fact, by the time we were ready to float, I was fine and wasn't feeling any pain.
All The Minerals
Many of the benefits of The Dead Sea come from its mineral content. Researchers have been fascinated by it for years, studying the benefits of these minerals at length.
Results of the mineral composition of the Dead Sea are as follows:
These minerals are also hydroscopic – meaning they attract water instead of that dried-out feeling you get after the beach – so they pull water and nutrients to the epidermis from the body. So when you get out of the Dead Sea, you feel moisturized and soft. The combination of water pulled to the epidermis and the minerals in the water means better absorption and benefits – including reducing acne, eczema, lowering stress levels, and detoxification.
Not only are the minerals very high, but the air around it has a very low concentration of pollens and other allergens that would drive someone with hay fever crazy. The reduced ultraviolet component of the solar radiation also means you don't need sunscreen while you are there. I'm very fair and forgot to bring my favorite sunscreen with me. I never burned while I was there and I was in the sun the entire time. The area also has a higher atmospheric pressure, which helps with blood and oxygen circulation in the body.
Benefits of Some of the Minerals In the Dead Sea
Bor – Helps to correct skin function and hormone levels.
Bromide – Sedative and relaxing properties, helps calm central nervous system.
Calcium – Strengthens bones and teeth, regulates skin cells and regeneration.
Iodine – Helps with acne and hair loss, thyroid and metabolism.
Magnesium – Improves circulation, muscle aches, joint pain and headache relief, it also helps with wound healing. Magnesium also is a soothing agent for allergic skin reactions.
Manganese – Helps create a healthy skin layer and is involved in the process of repair after oxidation and radiation.
Phosphorus – Essential for creation of new cells and metabolism, it is also needed for cells self-repair ability after radiation or oxidation.
Potassium – It supports water retention and cell nourishment, and also normalizes the pH of the upper skin layer.
Sodium – Detoxifies, relieves stiffness and muscle cramps.
Strontium – Prevents itching, irritation and skin infections.
Sulfer – Helps with collagen manufacturing, digestive disorders, and detoxification. It also helps cure dandruff, psoriasis, eczema and more.
Zinc – Antioxidant that helps prevent creation of free radicals after sun exposure, helps with acne and other skin issues and is essential in the creation of elastin and collagen.
How To Get The Best Experience and Benefits of The Dead Sea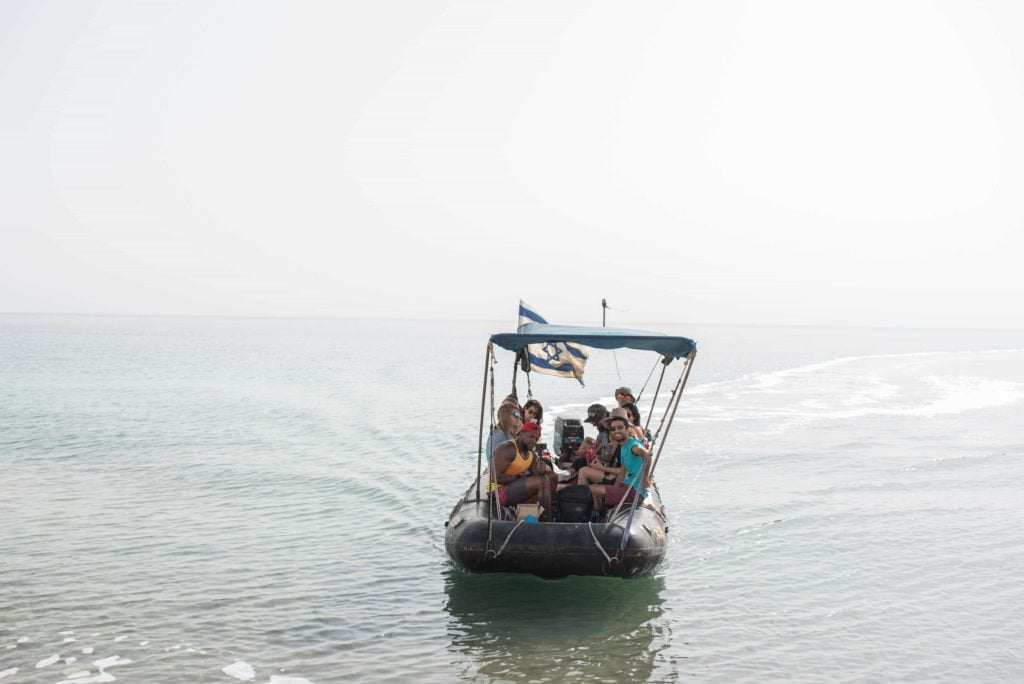 One of my favorite benefits of the Dead Sea is that it's gorgeous, and one of the best ways of seeing it is by boat. A trip by boat will allow you to see the formations, rising up in statue-like forms, 'pearls' and crystals. You will be able to view the beautiful landscape, as well as partake in the famous Dead Sea Mud, which has absorbed the sea salt's minerals over thousands of years. The mud will penetrate the skin and improve blood circulation, making the skin soft and smooth.
Watch this video for a chance to see Leah covered in mud! (Courtesy of TheDeadSea.com)

The density of the salt content in the Dead Sea makes it possible to float without any effort in as little as a foot of water. In fact, it's impossible NOT to float. There is NO sinking at the Dead Sea. Floating is easy even if you can't swim. And this type of floating can be therapeutic. Floating is currently being research as a treatment for stress disorders, as many suffering from PTSD or issues with stress have found the therapy calming.
Heliotherapy, the use of the sun to cure skin conditions, is used at The Dead Sea in combination with the therapeutic effects of the sea itself with thalassotherapy for psoriasis, acne, boosting the immune system and more. It's believed the ozone layer, created from the bromide in the air, creates a unique sun environment that is a natural cure for skin ailments, in conjunction with immersion in water for therapeutic benefits.
It should be noted that heliotherapy should be done in carefully measured amounts to avoid sun damage from the therapy attempt. But your body is getting less UV rays at The Dead Sea, so this is less of an issue.
All of these health benefits of The Dead Sea have have created a medical tourism industry in the area, with many spas, excursions and tourism choices to explore The Dead Sea's benefits.
Spas have created artificial pools on their beach fronts, piping in water from the more plentiful north end and keeping the sea healthy and vitalized. There are also many spa products that include Dead Sea mud and salts that can be purchased online.
But, to get the full experience and benefits of The Dead sea, from the clear dry air, mineral-rich water and mud to the amazing local foods available, visit deadsea.com to learn more about tourism offerings and how to experience it for yourself.
This is part one of a three part series of the health and wellness benefits in Israel. To be continued…
Save
Save
Save
Save