Most rinse aids are toxic to humans and the planet. So which dishwasher rinse aids contain ingredients that are not as problematic? Do you need some better cleaning products without all the ingredients that are linked to problematic health conditions? You've come to the right place! You've trusted Mamavation to bring you topics like best non-toxic dishwasher detergents, best non-toxic dish soap, and best non-toxic laundry detergents, now join us for the best (& worst) non-toxic dishwasher rinse aids.
Disclosure: This post is medically evaluated by Sondra Strand, RN, BSN, PHN. This post also contains affiliate links.
Most Dishwasher Rinse Aids Contain Problematic Ingredients
Now that you are using more natural & less toxic dishwashing detergent, you may have noticed more water spots, mineral deposits, or water droplets on your dishes. We understand this can be the annoying part of being more sustainable and healthier–sometimes things are more difficult. So now you may be wondering what type of rinse aids to use that will help with those spots while not impacting the health of your family. The best non-toxic dishwasher rinse aids will help your dishwasher prevent these issues while also keeping your family safe.
No matter what dishwasher you've purchased, most manufacturers recommend using a rinse aid to prevent these issues. Rinse aids work by breaking the bond at the surface tension of water and thus making the water and food slide off those dishes easier. This will leave fewer spots and streaks.
But problems arise with the ingredients. Most rinse aids may work like magic to do this, but they leave a residue behind that is linked to serious health conditions we will explore below.
Ingredients Inside Conventional Rinse Aids Linked to Chronic Inflammatory Diseases
The Journal of Allergy and Clinical Immunology published Gut epithelial barrier damage caused by dishwasher detergents and rinse aids in late 2022. This study looked at the role of dishwasher detergents and rinse aids and their impact on gut health. The details on how this simple everyday product is linked to poor gut health is downright shocking.
They found the increased prevalence of many chronic inflammatory diseases linked to gut epithelial barrier leakiness is partially linked to the role dishwasher detergents and rinse aids have on gut health. Researchers concluded  "The expression of genes involved in cell survival, epithelial barrier, cytokine signaling, and metabolism was altered by rinse aid in concentrations used in professional dishwashers. The alcohol ethoxylates present in the rinse aid were identified as the culprit component causing the epithelial inflammation and barrier damage."
Mamavation found alcohol ethoxylates in most rinse aids we evaluated in commerce. We also found this ingredient inside many dishwasher detergents.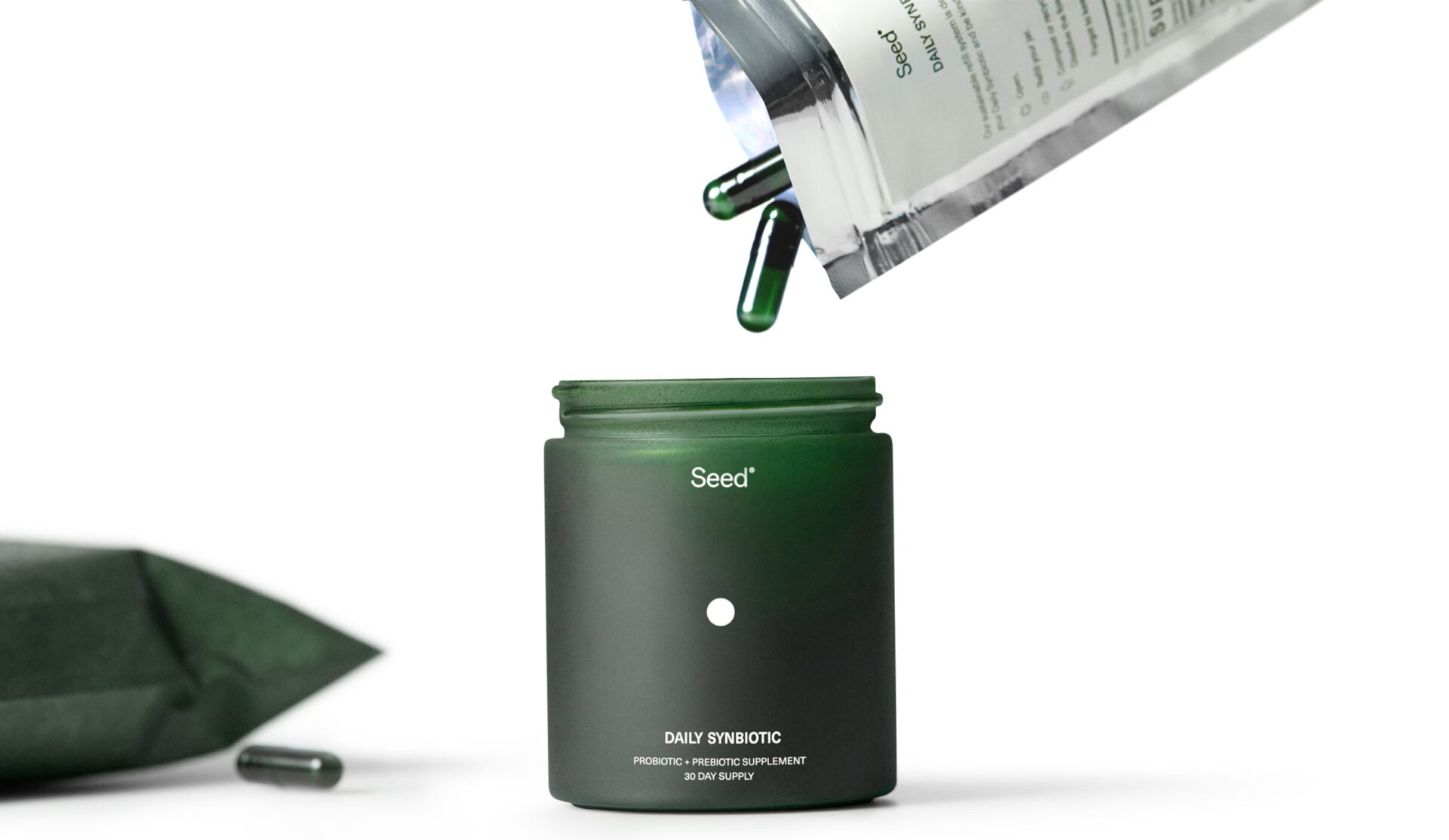 Mamavation's Recommended Probiotic to Help Ease Gut Issues
Because we are discussing gut health, we wanted to take this opportunity to introduce you to our favorite probiotic brand — Seed. (If you are an influencer who wants to learn more, go here.) In addition to helping honey bees improve immune resilience to the effects of pesticides, here are the amazing probiotics they created for humans backed by clinical studies:
Adults: Seed Daily Synbiotic DS-01 — Seed's probiotic is a synbiotic, combining 24 DNA-verified human-based probiotic bacterial strains with a prebiotic, protected in a dual-staged capsule. It's also biofermented in Europe and free of all 14 allergen classes as defined by the European Food Safety Authority (EFSA). If you would like to test them out, you can sign up for a monthly membership and delivery for $49.99 per month. Click here to get 20% off your first month. Use discount code "MAMAVATION" for 20% off your first month. 
Children: Seed PDS-08 Prebiotic + Probiotic for Kids — This bacterial + prebiotic combination has been shown in a clinical study to help children who experience low bowel movement frequency to increase the amount of bowel movements they have. In other words, this product may improve occasional constipation in children and is well tolerated with no adverse events reported in the clinical trials. As a special promotion for Mamavation readers, Seed is offering 20% off your first order of PDS-08 Prebiotic + Probiotic for Kids when you click here and use discount code "mamavation" at checkout.
Not only do they have really good probiotics backed by clinical studies, Seed goes above and beyond to make sure they are pure and clean. Mamavation also verified and tested products for you in the lab for indications of PFAS. Here's what we were also able to verify for you:
No detectable glyphosate (toxic herbicide)
No detectable heavy metals (arsenic, lead, cadmium, & mercury)
No detectable pesticides or biocides (400+ chemicals tested)
No indications of PFAS "forever chemicals" (according to independent testing via Mamavation)
Clinical study on the actual formulation of specific strains of bacteria + prebiotic, showing safety and effectiveness
Strong clinical studies backing individual and combinations of bacterial strains used demonstrating health benefits in gut health, gastrointestinal immunity, respiratory health, and dermatological health.
For Kids: Comes in packets with powder that is easily put in cereal or milk (instead of via supplement form)
For Adults: Capsule is made from Indian pomegranate
Gluten-free, soy-free, egg-free, peanut-free, & vegan
Rinse Aids & Dishwasher Detergent Used to Contain Phosphates
We are about to tell you how toxic dishwashing detergents and rinse aids are, but they used to be worse. Phosphates were once the main ingredient in most dishwashing detergents & rinse aids. In 2010, seventeen U.S. states implemented mandatory bans on the sale of phosphates in automatic dishwasher detergent & rinse aids because of the concern of its adverse effects to rivers, lakes & streams. Those states were Illinois, Indiana, Maryland, Massachusetts, Michigan, Minnesota, Montana, New Hampshire, Ohio, Oregon, Pennsylvania, Utah, Vermont, Virginia, Washington, and Wisconsin.
Excess phosphorus leads to harmful algal blooms that kill aquatic life and plant growth. The vast majority of dishwashing detergents & rinse aids have removed phosphates from their formulations so they don't have to produce different formulations for different states.
However, there are still lots of problematic ingredients used in dishwashing detergent. The major problems revolve around the following issues:
Toxicity to aquatic organisms: Everything you put down the drain ends up in wastewater where they may harm aquatic organisms if wastewater plants do not have the proper resources or decide not to remove them for whatever reason.
Bioaccumulation: When substances enter the food chain without being excreted, they may bioaccumulate in the environment and inside us.
Biodegradability: This is when ingredients don't break down in the environment.
Health issues (carcinogenic, toxic to reproduction, mutagenic, or has major allergic issues): Sometimes ingredients aren't necessarily toxic, but they can replace other "natural" and important substances in the body and cause disruption. Allergic reactions may happen when you are exposed to sensitizing substances.
Eutrophication: This is when there is an oversaturation of nutrients in the environment and that causes problems like algae blooms.
Because most of the chemicals used in dishwashing detergents are washed off with hot water, the primary concern is really toxicity to aquatic organisms and that feedback loop comes back to us in the food chain. However, now that we know that alcohol ethoxylates are linked to poor gut health and chronic inflammatory diseases, there are more concerns with these types of ingredients now.
Ingredients to Avoid Inside Dishwasher Rinse Aids
Mamavation found the top rinse aids sold in the United States and here are the ingredients that we recommend avoiding based on human and planetary health.
Undisclosed Fragrances: When you see the word "fragrance" on an ingredient panel, it's basically telling you that they have decided to hide ingredients from you. That doesn't necessarily mean they are toxic, but if they weren't, wouldn't they use that as a marketing advantage? "Fragrances" can hide hundreds of chemicals some of which are toxic to humans and the Planet. One example of a hormone-disrupting chemical that can hide in "fragrance" is phthalates, which are used as a solvent to extend the aromatic strength of fragrance. The Fragrance trade group International Fragrance Association (IFRA) decided one year to post a list of the potential chemicals that can be found inside the word "fragrance." Later, they took it down. You can go to their website here and see for yourself what a lack of transparency looks like. The link no longer works.
Alcohol Ethoxylates: Alcohol ethoxylates are a class of nonionic surfactants composed of a long-chain fatty alcohol with an ether linkage to a chain of ethylene oxide (EO) units. In other words, these chemicals can also be contaminated with carcinogen ethylene oxide and have recently been linked to epithelial inflammation and barrier damage in the gut.
Other Ethoxylated Ingredients: Ethoxylation is a chemical process using ethylene oxide (EtO) to turn alcohol, acid, or triglyceride oil into a surfactant. This makes products interact better with each other and make them more effective cleaners. The biggest problem with these ingredients is their process of ethoxylation because it produces traces of 1,4-dioxane, ethylene oxide, both known carcinogens. It also produces polyethylene glycol compounds (PEGs). California Proposition 65 lists ethylene oxide as a known developmental toxicant, and it also lists 1,4-dioxane as a cancer-causing ingredient. Examples of what to look for: sodium laureth sulfate, anything ending in -eth, like Ceteareth-20, Steareth-20, alcohol ethoxylates, Polyethylene glycol, PEGs, ethylene glycol, Sodium Laureth Sulfate (SLES), Polysorbate-20, and Polysorbate-40
Polyethylene Glycol Compounds: PEGs (polyethylene glycol compounds) are petroleum-based compounds that are widely used in cosmetics & detergents. The largest issue with them is they may be contaminated with measurable amounts of ethylene oxide and 1,4-dioxane, both of which are carcinogens. There are also some concerns about PEGs having some genotoxicity issues. So to be precautionary, Mamavation does not recommend any polyethylene glycol compounds.
Formaldehyde Releasing Ingredients: Formaldehyde is a big problem. The International Agency for Research on Cancer (IARC) also classifies it as a human carcinogen, which means exposure is known to increase cancer risk. Formaldehyde is linked to problems like respiratory irritation, headaches, runny nose, nausea, difficulty breathing, and asthma attacks, according to the American Lung Association. You'll never see "formaldehyde" on a rinse aid label, but that doesn't mean these chemicals aren't inside as a contaminant. Typically, it's released inside certain preservatives in order to kill bacteria and extend the product's shelf life. There is also a concern when formaldehyde-releasing preservatives are present in a formulation that also includes amines, such as triethanolamine (TEA), diethanolamine (DEA), or monoethanolamine (MEA). When this happens, nitrosamines can be formed, which are harmful substances that can potentially penetrate the skin and are linked to cancer.
Methylisothiazolinone (Isothiazolinone preservative) & Methylchloroisothiazolinone: You'll find isothiazolinone preservatives like methylisothiazolinone to be very common in dishwashing detergents. It is linked to inhalation toxicity, contact dermatitis, allergic reactions, and possible neurotoxicity. These chemicals are not a great thing to have around the house. They are also extremely toxic to aquatic organisms.
Benzisothiazolinone: This chemical is an antimicrobial agent found in cleaning products and some personal care products. It's most known as an irritant to the skin, eyes, and lungs. Benzisothiazolinone is a known sensitizer, meaning it causes the body to react. And unfortunately, it's also an environmental pollutant that is toxic to aquatic life.
Artificial Colors: These ingredients are made from petroleum and can be toxic. FD&C Blue 1 and FD&C Green 3 are carcinogenic. FD&C Red 3 and FD&C Yellow 5 can cause allergic reactions and are weak carcinogens in animal studies.

More on Surfactants in Rinse Aid & Other Dishwasher Detergents
There's a little bit of overlap here, but we wanted to go over surfactants because they are so important to understand. Surfactants are one of the main ingredients you'll find in dishwashing detergent and rinse aids. They are used to stir up activity on the surface that is being cleaned to help trap dirt and remove it from the surface.
Surfactants can either be anionic, nonionic, cationic or amphoteric, but in terms of dishwashing detergents, most of what you will see are anionic and nonionic surfactants.
Anionic surfactants: Dishwashing detergents & rinse aids have lots of anionic surfactants, which have a negative charge. Anionic surfactants create lots of foam when mixed and are excellent for lifting and suspending particulate soils, but they do not cut grease very well. These ingredients can be produced from a range of raw fats and oils, including soybean, palm, tallow, and coconut-type ingredients. Examples of this are sulfates, like sodium lauryl sulfate (SLS), sodium laureth sulfate (SLES), ammonium lauryl sulfate (ALS), ammonium laureth sulfate (ALES), sodium stearate, sulfonates, and gluconates like potassium cocoate.
Nonionic surfactants: When it comes to cutting grease, the use of nonionic surfactants are good at emulsifying oils and are better than anionic surfactants at removing organic soils. You'll find lots of formulations where the two are used together to create dual-action to lift and suspend particulate soils, but also emulsify oily soils. These surfactants have a neutral charge. Examples of nonionic surfactants include ethoxylates like fatty alcohol ethoxylates, alkoxylates, cocamides like cocoamide monoethanolamine (Cocomide MEA), cocamide diethanolamine (Cocamide DEA), amine oxides, sulfoxides, nonylphenols, and nonylphenol ethoxylates. These chemicals range in toxicity based on what they are made of.
Cationic surfactants: These surfactants have a positive charge and cannot be used with anionic surfactants because they lose their usefulness. You'll find these surfactants more in anti-static products, like fabric softeners, or antimicrobial agents, like disinfectants. An example is alkyl ammonium chlorides.
Amphoteric surfactants: These surfactants are both positive and negative and are more often used in shampoos and cosmetics and other personal care products. Examples are betaines and amino oxides.
One of the biggest problems with surfactants (anionic & nonionic) is their effects on aquatic life. So for the purposes of this investigation, the more and harsher surfactants used, the lower the product will rank.

Additional Help — Best Dishwasher Detergents
Before we looked at Rinse Aids, we evaluated dishwasher detergents. We pulled this list from our investigation for you and it has the least amount of problematic ingredients that will do harm to people and the Planet. It's possible that these products may impact your dishwasher. We have not tested them all out to be able to tell you how they will work with the machine you have because some dishwashing machines are more sensitive than others. Again, this is not a perfect situation. But if you would also like to view the "better" products, click here.
Blueland Dishwasher Tablets Fragrance-Free
Branch Basics Dishwasher Tablets (Use discount code "MAMAVATION) for 15% off Starter Kits!) 
Earthley Dishwasher Detergent Lemon-Thyme (Use discount code "MAMAVATION" for 10% off products!)
Fill Good Company (LAMiss Apple) Automatic Dishwasher Powder
Fit Organic Automatic Dishwasher Gel, Lemongrass Tangerine
Fit Organic Dishwasher Gel, Free & Clear
GreenShield Organic Green Shield Organic Squeez Automatic Dishwasher Liquid Detergent, Lemongrass
Grove Collaborative Total Clean Dishwasher Detergent Packs Free & Clear
Grove Collaborative Total Clean Dishwasher Detergent Packs Lemon & Eucalyptus
MamaSuds Automatic Dishwasher Powder
Nice! Dishwasher Packs Single Dose Detergent
Pardo Naturals Citrus Dishwasher Detergent
Sun & Earth Dishwasher Detergent Concentrated Pacs
Truly Free (My Green Fills) Dishwasher Soap (Click here for 10% off products & other promotions from small biz)
Young Living Automatic Dishwasher Powder

Mamavation's Investigation on Rinse Aids
Mamavation evaluated over 20 different brands of dishwasher rinse aids. We first looked for ingredients that were linked to human health problems and then at chemicals that are linked to damage to the environment as well.
Not Our Favorite Rinse Aids
These brands have either poor ingredient disclosure and we have absolutely no idea what is inside OR they contain many ingredients from our no-no list.
365 by Whole Foods Market Rinse Aid
Cascade Rinse Aid Power Dry 3-in-1
Cascade Platinum Rinse Aid
Cleanomic Liquid Sparkle Dish Brightener Rinse Aid
Excelsior Dishwasher Rinse Aid
Finish Jet-Dry Rinse Aid
Finish Jet-Dry Ultra Rinse Aid
Great Value Dishwasher Rinse Aid
Lemi Shine Rinse + Dry Rinse
Miele Care Rinse Aid
OxiClean Triple Action Booster
Plink Rinse Aid
Rinse All Quality Chemical Rinse Aid
Up & Up (Target Brand) Dishwasher Rinse Aid

Better Rinse Aids
These rinse aid products are in the middle of the road. You may notice that they do better with hard water than the products listed in "best." However, they have some problematic ingredients.

Best Rinse Aids
These plant-based formulas have product ingredients that are the least problematic to your health and the Planet. However, this category may not be as effective around hard water, and in that case, you may want to move to our "better" category.

More Consumer Studies on Mamavation
Mamavation has been working hard to discover where to find PFAS "forever chemicals" inside food & other products we purchase and bring inside our homes. This is why we have decided to commission our own consumer studies on indications of PFAS in different consumer categories and share that information with you. Here is what we can offer you today!
We also have other non-toxic investigations on products for your children or the rest of your family. Here are some that we thought you may like.