Do your period panties contain toxic chemicals called per- and polyfluoroalkyl substances (PFAS)? Last week, Jessian Choy from the Sierra Club posted about how she sent Thinx underwear to a lab that frequently tests for PFAS to see if her menstrual underwear was problematic to public health. The results and aftermath were shocking, but Mamavation is going to break all this down for you to so you don't fall for any more marketing spin. You've trusted Mamavation to bring you topics like best & worst organic mattresses, best & worst makeup, & best & worst cookware, now join us for an explosive story about the period panties we've all grown to love.
Disclosure: This post was fact-checked by Hannah Gardener, Epidemiologist at A Green Slate. This post also contains affiliate links. The pictures displayed are Thinx panties from Leah Segedie's personal drawer. She was sent Thinx underwear in 2019 for consideration of a review and wore them only once. They were not comfortable so they were not worn again, but she cut them apart and took pictures for the purposes of showing what the inner liner looked like.
Jessian Choy Had a Hunch About PFAS & She Was Right
Jessian Choy had been wearing Thinx menstrual underwear since 2016 and had a sneaking suspicion that it wasn't as magical as it was marketed to the public. So she purchased several extra new pairs of menstrual underwear from the website and sent them directly to the University of Notre Dame to investigate. In other words, she never handled the product herself and sent them directly to the lab. After a couple of months, Dr. Peaslee returned with some very serious results–Her Thinx menstrual panties that she sent them were contaminated with PFAS, a very toxic hormone-disrupting chemical. The same brand she had been wearing for about 3 years could be disrupting her hormonal health. It WAS too good to be true.
She sent the lab at Notre Dame two different brands–Thinx and Lunapads. Dr. Graham Peaslee, a fellow at the American Chemical Society and professor of Applied Nuclear Physics, volunteered to test her panties for toxic chemicals. Peaslee has been researching PFAS for the past few years and was the scientist that discovered the presence of PFAS in fast-food wrappers in 2017. He's also served as an ambassador for newly debuted film staring Mark Ruffalo about PFAS called "Dark Waters," in which he led a discussion about PFOA at Notre Dame University.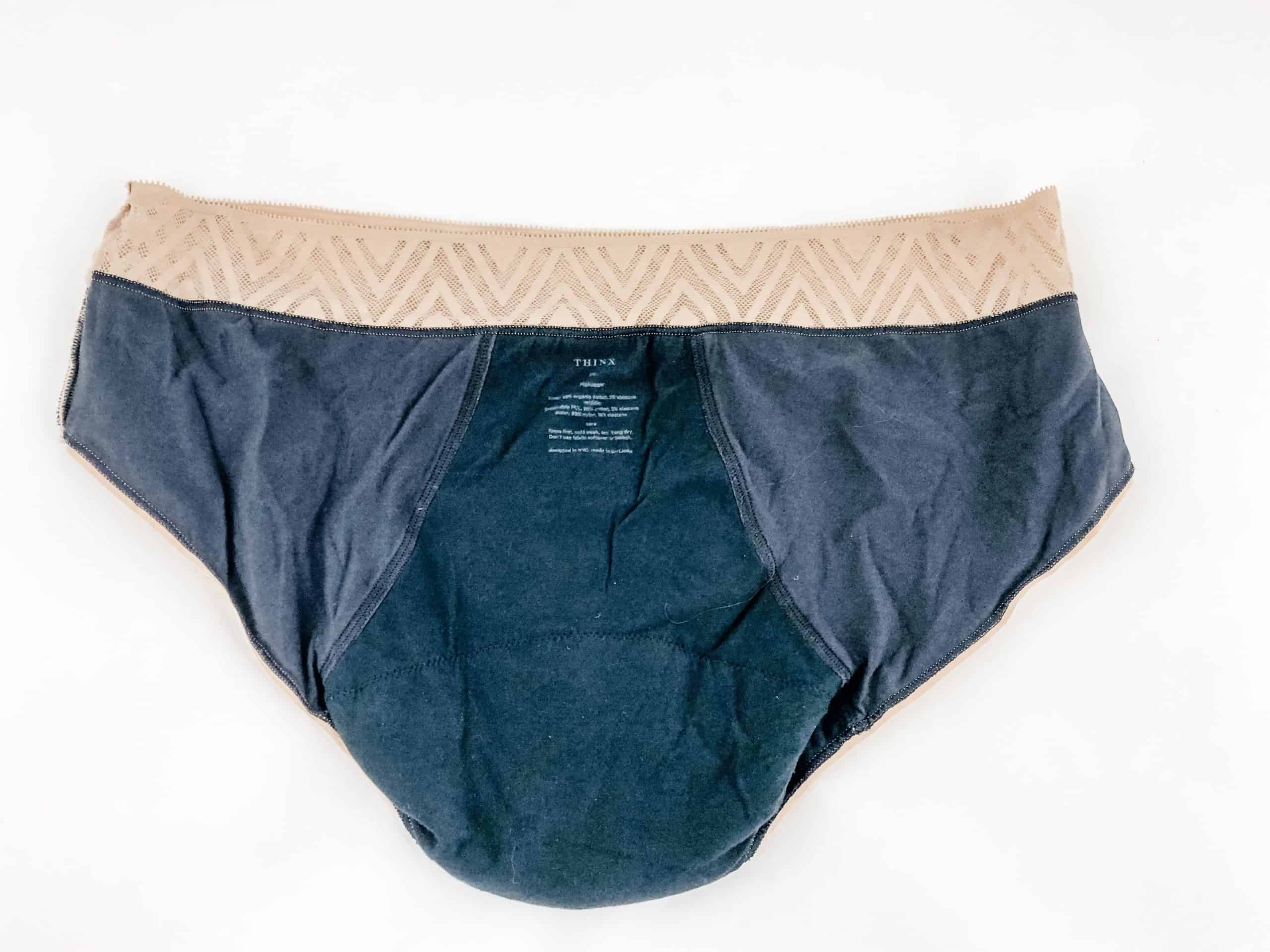 The Results of the Notre Dame's PFAS Tests From Dr. Graham Peaslee
Jessian Choy shared with us the original laboratory results she got from Dr. Graham Peaslee at the University of Notre Dame, so we could verify this is, in fact, true. We sent a request to Dr. Graham Peaselee asking for permission to share the raw data from that report. If he grants us permission, we will make sure to share it here. But until then, we wanted to give you the most pressuring results from the study.
Thinx "organic" hip hugger briefs had 3,267ppm (parts per million) fluorine (a marker for the presence of PFAS) in the inside crotch area.
Thinx Shorty BTWN-brand briefs had 2,053ppm (parts per million) of fluorine (a marker for the presence of PFAS) in the inside crotch area.
Lunapads, on the other hand, was completely free of PFAS at the lowest detectable levels
Why PFAS Is Problematic to Human Health & The Environment
PFAS (aka PFCs or perfluorinated chemicals, including PFOA and PFOS) are added to many products we purchase to make them "stain-resistant," "grease-proof," and "water-resistant." In food packaging, they are used in popcorn bags, pizza boxes, fast food canisters & wrappers, and the flat dish on the bottom of cakes. They are also in carpeting, furniture, & clothing as "stain-proof" agents like Stainmaster carpets, Gortex and Scotchguard.  You can also find them on non-stick pans, some tooth flosses, and cosmetics.
But these chemicals are extremely problematic to human health and the environment. And the worst part is they are persistent, meaning they build up and don't go away. They resist degradation in the environment and they remain in our bodies for YEARS after exposure. In other words, they are not quickly excreted from our bodies like other hormone-disrupting environmental contaminants.
Here is the list of health problems (PFAS) perfluorinated chemicals are linked with.
metabolic diseases like obesity & diabetes
reduced vaccination response
affect the growth, learning, and behavior of infants and older children
lower a woman's chance of getting pregnant
interfere with the body's natural hormones
increase cholesterol levels
increase the risk of cancer like testicular, prostate and breast cancers
Based on the persistence of this chemical inside the body, it's incredibly dangerous to be exposed throughout a lifetime because it will continue to build up. Therefore, it's important to avoid these chemicals as much as possible. Avoiding PFAS inside your menstrual panties would be beneficial for your health.
Thinx Response to Claims of PFAS in Their Product Wasn't Exactly Truthful Or Necessarily "Healthy" At All
Thinx swiftly responded to claims by Jessian Choy that her underwear tested positive for PFAS with denials and claims of certifications. However, we looked into their claims and found some really big problems with what they were saying.
Maria Molland, CEO of Thinx stated: "Our customers' health and safety is our number one priority, and we will always work to deliver the safest products available."
They went on to make the following claims:
Claim #1: "All our Organic Cotton undies are OCS and GOTS-certified, which means even the farms we buy our cotton from are meeting organic certification standards, and our supply chain is carefully monitored to make sure the integrity of our cotton products never changes."

Mamavation Investigates: We found the GOTS and OCS certification they were referring to, but they did not belong to Thinx. Instead, they belonged to a supplier, "Ocean Lanka."  GOTS & OSC certifies a supplier of raw materials only. Thinx does not have its final product certified. We checked. They are simply holding up someone else's certification and passing it off as their own. This means they are not bound by the standards of GOTS when producing this underwear at all. But they can say it's "made with organic cotton."
In fact, according to GOTS licensing agreement in section 4.4 it's clearly stated: "in order that there is no misrepresentation that a product is GOTS certified, the GOTS labeling conditions do not permit the use of GOTS logo or any reference to GOTS (certification) on final textile products if the GOTS certification is valid only for immediate stages (such as yarn or fabric stage) for the specific components of the product only."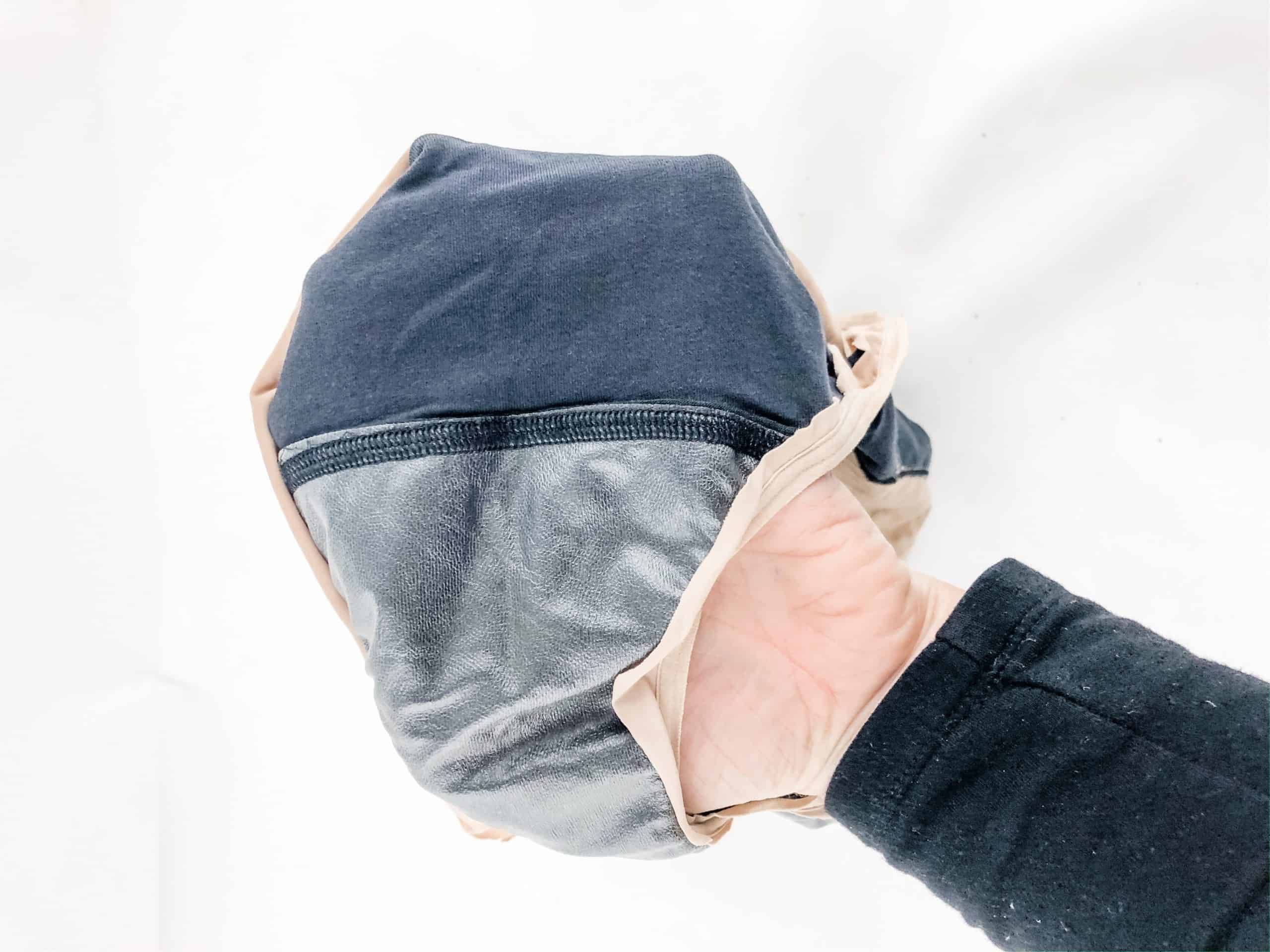 Claim #2:
  "All Thinx underwear are 
REACH
 and 
OEKO-TEX
®
 certified (Standard 100 Certificate Number 12.HSL.09587 HOHENSTEIN HTTI), which includes 
testing for a range of toxic chemicals
like PFAS (polyfluoroalkyl substances) that are linked to scary health problems like cancer and fertility issues."
Mamavation Investigates: We found the OEKO-TEX certification they were referring to, but it did not belong to Thinx. Instead, the certification belonged to a manufacturer named "MAS Intimates." Mamavation looked into the OEKO-TEX certified site to see what chemicals are allowable for treatments. We found lots of "fire retardant" chemicals and "chemicals with biological activity" acceptable to OEKO-TEX Standard 100. OEKO-TEX has more restrictive standards on chemicals in other certifications, but this product does not have those stricter certifications.
So technically they can't say they avoid all PFAS chemicals. Some of the chemicals approved by OEKO-TEX are proprietary so we don't know what they contain. Even in the OEKO-TEX certification standard, they restrict certain (not all) PFAS chemicals but do not ban them completely. It's very possible that very low levels of PFAS chemicals and other PFAS chemicals that are not specifically tested for could be sneaking into the product. (There are over 4,700 different kinds of chemicals in that category class of PFAS.)
Claim #3: "Our chemical testing is also done through a third party to ensure it's honest and objective, and we're proud of the fact that this testing has never detected any harmful chemical levels in Thinx underwear."
Mamavation Investigates: We called and emailed Thinx and asked them specific questions about their testing and how it's done. We heard back from them asking for a delay in posting this article several days later. However, they did send us exactly what we reported about above in their statement. So let's take you through their own testing. After the first glance, it was evident that the laboratory was only testing for some PFAS chemicals and not any others. Here are the PFAS chemicals they were testing for.
PFOA, Perfluorooctanoic acid
PFNA, Perfluorononanoic acid
PFDA, Perfluorodecanoic acid
PFHxS, Perfluorohexane-1- sulphonic acid and its salts
APFO, Ammonium perfluorooctanoate
Henicosafluoroundecanoic acid
TFDA, Tricosafluorododecanoic acid
PFUnDA, Heptacosafluorotetradecanoic acid
PFTrDA, Pentacosafluorotridecanoic acid
GenX, 2,3,3,3-tetrafluoro-2-(heptafluoropropoxy)propionic acid, it's salts and its acyl halides (covering any of their individual isomers and combinations thereof)
Although this is quite impressive for PFAS testing, it's not enough to make a statement that there are no PFAS chemicals present in the product. There are many other PFAS chemicals inside the chemical category, which has about 4,700 chemicals total in the PFAS family. In order to put this to rest the presence of fluorine would need to be testing, instead of looking at each chemical one by one. But it's important to understand that all chemicals in the PFAS category (regardless if they are long-chain or short-chain) have these things in common:
They're all man-made.
They contain linked chains of carbon and fluorine.
They are extremely persistent in the environment making them "forever chemicals."
Testing for PFAS chemicals is complicated and if you don't utilize the most sensitive of testing, you'll miss most of them.

When you look at what Thinx says inside their FAQ (frequently asked questions) page and look into the claims, it's evident that the inner layer or gusset inside the panties has been treated with some sort of unknown chemical that is not disclosed.
Claim #4: "The only treatments we use on the fabric of the gusset are moisture-wicking and anti-odor, which are both OEKO-TEX certified. We consistently test for all known regulated restricted substance for textiles."
Mamavation Investigates: Again, OEKO-TEX 100 standard allows a myriad of  chemicals allowable for treatments. We found lots of "fire retardant" chemicals and "chemicals with biological activity" acceptable to OEKO-TEX. So technically you can't say they avoid all PFAS chemicals. Even in their own standard, they restrict certain (not all) PFAS chemicals but do not ban them completely.
Claim #5: How Does Thinx battle odor? "The wicking layer of our signature period-absorbing technology has an application of non-migratory silver, commonly used in performance wear and medical devices to control odor and the spread of bacteria. "Non-migratory" means it won't come off your undies and that it only responds to bacteria *on the fabric*, not on your skin (so your vaginal microbiome stays fresh and balanced!)."
Mamavation Investigates: In our research, we found that the use of nano-silver on clothing is mostly marketing in terms of preventing odor. But what we did find lots of information about nano-silver added to period panties being concerning when it came to vaginal health. Women's Voices for the Earth produced a report in 2019 to explain.
Silver can have an adverse impact on beneficial vaginal bacteria
Nanosilver can also be cytotoxic, particularly to vaginal epithelial cells.
Migration of nanosilver from period products into vaginal tissue and mucosa has never been studied.
Silver-treated athletic clothing has been implicated in several cases of thermal burns when worn during an MRI treatment.
What's Inside Thinx Period Panties?
Thinx discloses what each period panty material is made of minus the chemicals used to treat the inner gusset. You can find this information in the FAQ under the question "I have sensitive skin. What is Thinx made of? Will it irritate me?"
For Thinx Classic — Gusset: innermost layer is 95% Cotton, 5% Elastane; Middle layer is 95% Cotton, 5% Elastane, and the outermost layer is Breathable PUL (poly jersey).  Body: Outermost layer is 85% Nylon, 15% Spandex and the innermost liner is 95% Organic Cotton, 5% Elastane.
For Thinx Air — Gusset: innermost layer is 95% Cotton, 5% Elastane; Middle layer is 95% Cotton, 5% Elastane, and the outermost layer is Breathable PUL (poly jersey). Body is 78% Polyamide, 22% Elastane.
For Thinx Super — Gusset: 100% Polyester and the outermost layer is Breathable PUL (poly jersey). Body: 95% Organic Cotton, 5% Elastane.
Polyurethane Laminate (PUL) VS. PFAS Treated Fabric
When it comes to polyurethane laminate (PUL) versus PFAS treated fabric, PFAS chemicals are far worse. We visited page after page of period panty sites and lots of them brag about not having PUL or using any plastics, but that's a misleading health claim. When it comes to chemicals of concern, polyurethane laminate (PUL) is far less problematic to hormones and the environment than PFAS chemicals. We recommend you look for brands that use PUL.
Mamavation's Investigation of Period Panties & Period Underwear
Mamavation tested the most popular period panties (some up to 4x) looking for fluorine, the chemical that unites all PFAS chemicals. This is important to understand–because there are thousands of PFAS chemicals in commerce and most are not even possible to find because we do not have the tests available, we are testing for fluorine instead. This is exactly what the food packaging industry does to determine whether PFAS was "intentionally added" and can be composted or not. So this standard already exists in other industries and can be a valuable tool to period underwear companies when testing their own products for PFAS.
Because testing for fluorine is the only standard that is out there, we've adapted this to fabrics and are using it for this investigation on period underwear. BPI Industries uses the standard of 100 ppm of fluorine to determine if PFAS was intentionally added, so we've done the same.
Brands with over 100 ppm of fluorine go into the "not our favorite" category, while brands that test between 0-100 ppm will be in the "better" category, and brands that don't have any fluorine residue will be in the "best" category.
Results From Mamavation's Study on Period Panties
Mamavation sent 17 pairs of period underwear from 14 brands to an EPA certified laboratory that used determination of total fluorine by oxygen flask combustion and ion-selective electrode analysis. The level of qualification (LOQ) was 10 parts per million. Here are the major findings:
About 65% of the products tested had detectable levels of fluorine present in either the outer or inner layer of the crotch. Of the 17 pairs of period underwear tested, 11 pairs had detectable fluorine present.
35% of the products tested did NOT have detectable levels of fluorine present in either the outer or inner layer of the crotch. Of the 17 pairs of period underwear tested, 6 products did not contain detectable levels of fluorine.
57% of period underwear brands tested had detectable levels of fluorine present in either the outer or inner layer of the crotch.  Of the 14 period underwear brands tested, 8 brands had detectable levels of fluorine present.
3 brands of period underwear had levels of fluorine over 100 ppm, with one as high as 940 ppm.
2 brands of period underwear had products with various levels of fluorine detected so they are found in different levels of the investigation.
7 brands of period underwear had products with lower levels of fluorine present suggesting they may have been exposed unintentionally from processing or from the packaging.
6 brands of period underwear out of 14 brands were completely free of detectable fluorine, suggesting PFAS chemicals are not needed in period underwear at all.
The good news is 6 brands were completely free of detectable fluorine at 10 parts per million, which leads us to believe that PFAS is not a necessary chemical to use when producing period underwear. If there are other options, why use something so toxic and problematic to humans and the environment?
Not Our Favorite Period Underwear Brands
These brands tested at over 100 ppm of fluorine. We tested several types of brands and retested different types of underwear for some brands that ended up here. The 100ppm standard is the same standard used to determine if food packaging is compostable. It's not a perfect standard, but this is what we have. However, we make no claims as to how much fluorine is dangerous vs. safe for dermal exposure in your vaginal area. We simply do not know.
Thinx Bayshort–619 ppm fluorine
Thinx High Waist–940 ppm fluorine
Thinx BTWN–132 ppm fluorine
Knix High Rise–373 ppm fluorine
Proof Hipster–234 ppm fluorine

Better Period Underwear Brands
Fluorine was found but under 100 ppm. That specific level is the same standard to determine whether food packaging is compostable, so we are using it here for similar purposes. However, we make no claims as to how much fluorine is dangerous vs. safe. We simply do not know.
Knix Boyshorts–43 ppm fluorine
Joyja–18 ppm fluorine
Red Ruby Box–27 ppm & 22 ppm fluorine
Saalt Wear–10 ppm fluorine
Sustain Natural–71 ppm & 17 ppm fluorine
Victoria's Secret–20 ppm & 12 ppm fluorine
Thinx Speak High Waist–10 ppm fluorine

Best Period Underwear Brands
Mamavation used an EPA-certified lab to do this testing. No fluorine was detected in any of these products sent to the lab in 2020 and 2021. The Level of Qualification (LOQ) for testing was 10 parts per million, therefore if products had fluorine at lower levels, the test would not find it. We cannot guarantee these brands will continue to test the same. This was only a snapshot in time to help guide you in purchases.
Tips On How to Avoid PFAS In Your Home
The perfluorinated chemical category is all about making things grease-proof, water-proof and stain-proof. So think about stain-proof clothing & carpeting, nonstick pans & bakeware, fast food wrappers, contaminated water, etc. And here is a list of what you can do today to start avoiding these chemicals in your life.
Phase-out the nonstick cookware in your kitchen. Here are the best alternatives.
Make sure your tooth floss doesn't have PFAS. Here are the best brands.
Avoid foods with packaging and make things from scratch as much as you can from home
If you purchase disposable plates, make sure to purchase the ones without PFAS. Here's are those selections. 
Avoid fast food as much as possible, even the ones touting themselves as "better." Some wrappers and cane sugar fiber bowls like the ones at Chipotle contain PFAS chemicals to repel grease & water.
Purchase a reverse osmosis water system for your home, especially if you live close to a military base or airport.
When purchasing furniture or carpet, decline optional treatments for stain and dirt resistance. This is where you can find safer furniture. New good news: Home Depot phases our PFAS in Carpeting & Rugs
Avoid buying clothing that bears a label indicating it's water, stain or dirt repellant
Avoid buying personal care products with the phrase "fluoro" or "perfluoro" on the ingredient list. You'll find this inside lotion, pressed powders, nail polish, dental floss, and shaving cream.
Dust more!  PFAS chemicals stick to dust particles so the more dust you have in your home, the more likely you will have PFAS in the air you breathe. Click here for our FREE eBook on how to clean your indoor air.