Where can you find the safest non-toxic dishes that don't harbor harmful chemicals for your entire family? Mamavation has produced the ultimate dinnerware guide for this year to help you better navigate non-toxic dinnerware options. Would you like to see the best brands? You've trusted Mamavation to bring you topics like the safest cookware, safest air fryers without PFAS, & safest toasters & toaster ovens without PFAS, now join us as we bring you the best (& worst) non-toxic dinnerware for everyday use.
Disclosure: This post was medically reviewed by Sondra Strand, RN, BSN, PHN. This post also contains affiliate links. 
What to Look Out For When Searching For Non-Toxic Dinnerware
For most people, your dinnerware alone is not going to pose a significant health risk. Most of the time, when people are exposed to dangerous contaminants, the dinnerware is not the main culprit. For children, lead in paint from an older home and lead in soil is far more problematic exposures. So you can breathe a small sigh of relief here.
However, in some cases, lead in tableware can be a serious health threat. Some dishes contain enough contaminants to cause severe poisoning in children. Even dishes with lower lead levels may contribute to a person's overall lead exposure over time. So it's important to be mindful of what we are using for dinnerware, especially if you are pregnant, can become pregnant, or have small children in the home.
Lead is not the only issue in terms of dinnerware, when searching for non-toxic dinnerware options, this is what Mamavation is avoiding for you:
Cadmium
Lead
Bisphenol A (BPA) & Bisphenol S (BPS)
Polyvinyl chloride (PVC)
Per- and Polyfluoroalkyl Substances (PFAS) "Forever Chemicals"
Phthalates
Melamine
Silicone (This is okay for cold food items but not hot)
Mystery plastic

The Dinnerware No-No List
So make sure to avoid the following types of toxic dinnerware. This is the No-No list:
Glazed terra cotta from Mexico or states from the Southwest like Arizona or California. (lead and cadmium) Terra cotta coming from these areas are higher in lead.
Damaged or excessively worn dinnerware. This is the point by which it's leaching contaminants, especially if it's ceramic.
Hand-painted dinnerware or any decorated dinnerware with painting over the glaze of food contact surfaces.  (lead) This would include anything purchased from flea markets or street vendors or if you are unable to determine whether the pottery is from a reliable manufacturer.
Traditional decorated Asian Dishes with decoration on food contact surfaces (lead and cadmium)
Antique china or bone china made before the 1970s (yes, that means your grandma's china because it may have trace amounts of lead and cadmium). To check, pick up one of these swabs to look for lead, and also please make sure to check the decorative rims as well.
Anything bright red, orange, or yellow (cadmium)
Melamine dinnerware (melamine & cyanuric acid)

More Questions to Ask Yourself When Looking For Safe Dinnerware
When evaluating what type of dinnerware you're going to purchase, these are the most important questions to ask yourself before you make that purchase of non-toxic dinnerware:
What materials is the dinnerware made of?
Are these materials known to disrupt hormones OR typically have high amounts of heavy metals like lead and cadmium?
Has this company ever been forced to comply with the State of California by utilizing a Prop. 65 warning?
If this company has materials that are known to be high in contaminants, can they demonstrate their dinnerware is safe for heavy usage for at least two years through testing? In other words, just because there's lead in there doesn't mean it's leaching out in problematic amounts. But can they prove that?
Has there been any independent testing done on the products of this company?  
The truth is, no dinnerware is perfect and there's no way to be sure about every brand and every cup and saucer. How do we know? This investigation took over two years to complete. We've been going back and forth with these companies for years and all is still not very clear. But we can start by giving you some very solid tips of what you want to prioritize.
You want dishes that exhibit durability and don't chip or break easily.
You want dishes that are a safe color like whites, off-whites, blues, greens, etc. You do not want red, orange, and yellow colors because it takes cadmium to make those bright colors.
Most dishes will say they are "dishwasher safe" or "microwave safe" or "oven-safe" but are they really? What dishes are safe to put into the dishwasher or microwave without having fears of leaching later?
We are also looking for any toxic chemicals that may be lurking in the glazes or food contact surfaces of your dishes.
Other than that, it's all about your preference and budget. I know I just threw a lot at you but we will go over everything for you and then end with recommendations of the best dishware.

Types of Dinnerware Materials
A toxic dinnerware set can be a huge problem, so it's important to pay attention to the materials that make up your dinnerware. Dinnerware sets typically include bowls, mugs, dinner plates, and salad plates. But you can also find dessert plates, soup bowls, cereal bowls, special pasta bowls, some platters, saucers, and many other specialty items. For this investigation, we've included brands that just sell dinnerware sets and just plates as well. We didn't focus on tableware, so we won't be discussing any silverware for the dining room. The selections feel endless, but here you'll find a variety of materials. Each set of materials comes with its own pros and cons.
Stainless Steel Dinnerware
I'm starting with the safest selections. Stainless steel is one of our favorite material, especially for children. It also lasts forever as long as you are getting high-quality stainless steel.
In India, most people still prefer stainless steel as a dinnerware material. Americans haven't warmed up to this safe trend yet, but as kids' dinnerware, Ahimsa is very popular. Ahimsa also makes Purposeful Plates as regular dishes for dinnerware for the entire family in several shades. (Use code "MAMAVATION" for 25% off Ahimsa products)
The manufacturing process of stainless steel sets is always free of animal cruelty, i.e. It doesn't harm any animal or make use of bone ash. Stainless steel dinnerware is very easy to use and clean. The food doesn't stick to the plates and requires hassle-free maintenance. It also doesn't break or bend easily and therefore is very good for daily use.
Vitrified Glass Dinnerware
Dinnerware made of clear borosilicate glass without decorations whenever possible is one of the safest solutions. This type of glass is durable and nonporous and almost indestructible even when dropped on the floor. In addition, certified lead-free glass doesn't need a Prop. 65 warning because it has lower incidences of lead. This type of dinnerware looks like ceramic, but it's glass.
Look for dinnerware manufactured in the USA is safer in terms of regulations. Sticking to clear or white dishes is also safer because cadmium hides in bright red, orange, and yellow pigments. Avoid anything produced before 1970 because that's when the laws became more restrictive of heavy metals. Products manufactured after 1970 would be safer.

Bamboo Dinnerware
Bamboo dinnerware is becoming more popular, but pay close attention when you are dealing with bamboo. As Mamavation was evaluating bamboo dinnerware, we noticed lots of brands use melamine to bind the bamboo fibers together. Melamine is problematic and we will address its issues further on down.
We also noticed that some brands (not all) are using toxic glues or wood stains as well, which is also not recommended.
This dinnerware is also not safe for the microwave or the dishwasher. Bamboo fibers can catch fire in the microwave, and when you put them into the dishwasher, you run the risk of degrading the glues that hold them together and it falls apart over time. In other words, you'll need to care for them more carefully if you are getting non-toxic bamboo dinnerware.

Ceramic Dinnerware
This category can also be referred also to as "earthware" or "stoneware" and is mostly made of clay that has been heated to high temperatures and hardened and then cooled. Sometimes additional materials like silica are also present.
Lead compounds, such as lead oxide, have been used for many years in glaze formulations for ceramic dinnerware. This serves to regulate the melting properties of other glaze components and enables the use of a broad firing temperature range in the production process. In other words, it's cheaper and easier to manufacture dinnerware with lead.
When fired at inadequate or uncontrolled temperatures, the lead becomes a free agent, so to speak, and is not fully incorporated into the glazing structure. Therefore, at that point, it can leach into the food in quantities that may pose a health hazard to consumers.
Today most dinnerware is made from lead-free glazes (NLG) to protect consumers. However, not all manufacturers that use NLG pottery are doing it in a way to safeguard consumers. Sometimes there is contamination with lead during the manufacturing process. If this happens, companies are not supposed to refer to themselves as "lead-free" although it does happen. In some situations that contamination is from old equipment from before the 1970's when laws were passed to protect consumers from heavy metals.
California Prop 65 standard has a leachable lead limit of 0.226 parts per million. Not all ceramic dinnerware that exceeds those levels will have a warning, but they are supposed to if sold in California. It's safe to assume that lead may be leaching from most ceramics in trace amounts, but those levels will vary. We recommend replacing your ceramic dinnerware every two years just in case.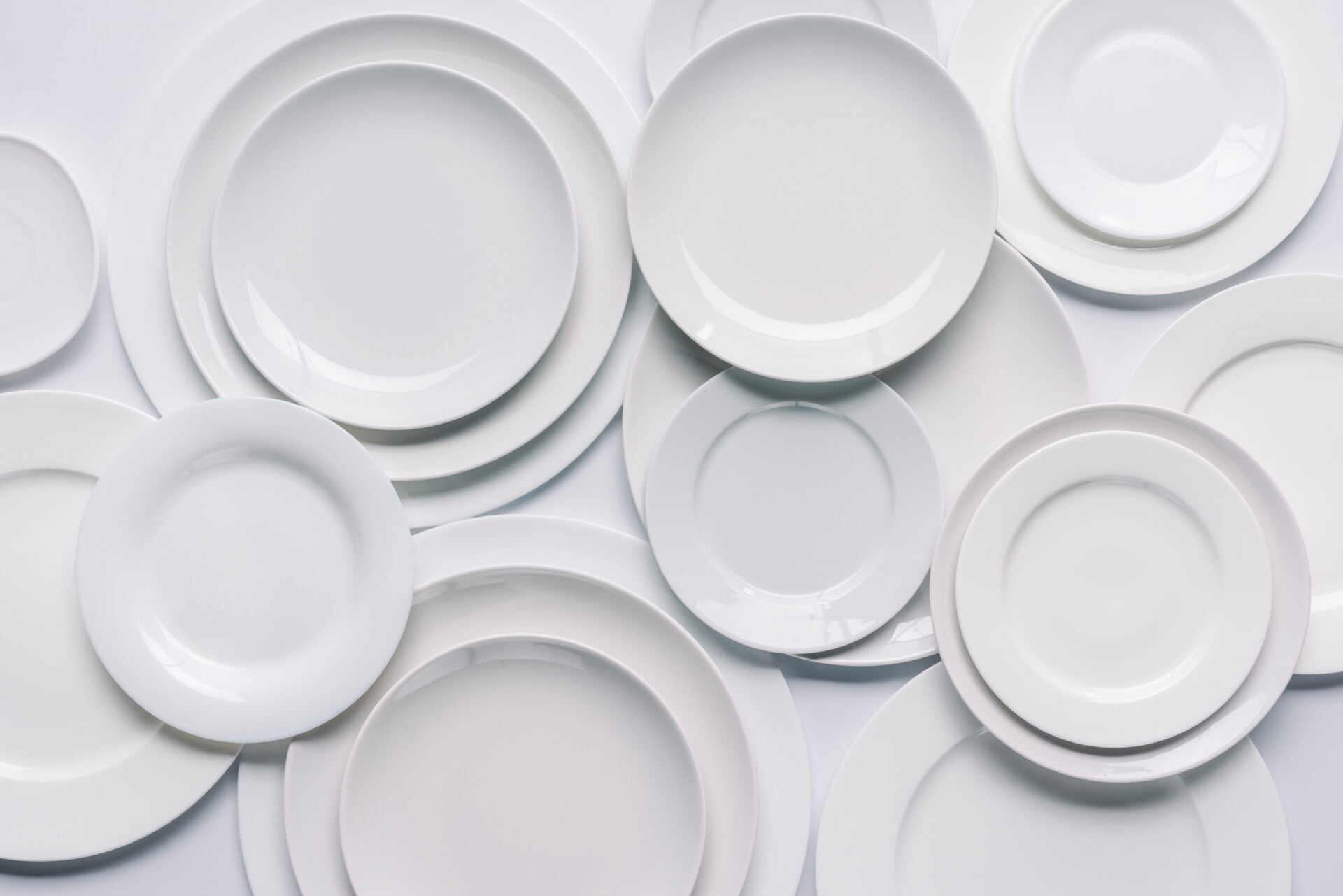 Porcelain Dinnerware
Porcelain is also referred to as "fine china" and is made from a lump of clay mixed with various stones like kaolin, quartz, and feldspar. The Chinese have perfected porcelain over 2,000 years. It's a type of ceramic but very distinct from ceramic. To create porcelain, It's placed into a very hot furnace and heated to a very high temperature to create some of the strongest ceramics on the market.
Porcelain is known for its milky white appearance and ability to be molded into different dinnerware. It's used more for formal dining or special occasions instead of everyday use. The same issues around ceramic brands sometimes using old contaminated equipment from before the 1970s is also true of porcelain and that may impact how much lead is present in the porcelain.
But if your porcelain is decorated and is older than the 1970's chances are it's going to contain lead or other types of heavy metals at levels that are unsafe. To check to make sure your grandma's porcelain is safe, pick up one of these swabs to look for lead, and also please make sure to check the decorative rims as well.
Another downside of porcelain is how brittle and very easy to chip and crack. Drastic temperature changes are also very harsh on porcelain and may cause it to crack. Also, watch out for putting it into the microwave. They may have metallic decorations along the rims that may start to spark and could cause a fire.
Bone China Dinnerware
Bone China or bone porcelain is another type of ceramic that uses bone ash, clay, feldspar, and kaolin as the basic materials for this dinnerware. Bone china is fired at least twice but sometimes 3-5 times at different temperatures — once at high temperatures (1250℃) and then at lower temperatures (1150℃).
The contents of the bone ash vary based on what country produced your dinnerware. In China, the percentage of bone ash is about 36%, but for the United States it's only 25%. The higher the bone ash, the more difficult it is to create the dinnerware but the brighter they will become. The highest level of bone ash comes from Tangshan, where bone ash is about 40% making it the most famous place to purchase bone china in China.
The amount of lead left over depends on the processing. The same rules apply for the age of the machinery used to make bone china. Equipment older than 1970's in the United States means there could be some contamination issues with heavy metals.
How to tell if your porcelain is made from bone ash? Hold the dinnerware piece up to a light and check and see if it's translucent and light shines through the piece and if it does you have bone china.
To check to make sure your grandma's bone china is safe, pick up one of these swabs to look for lead, and also please make sure to check the decorative rims as well.

Melamine Dinnerware
Melamine is a nitrogen-based compound that has been used by manufacturers to make several plastic products, adhesives, and industrial coatings. When this chemical is combined with formaldehyde, melamine becomes melamine resin. This resin can be molded to create dinnerware. Melamine is also very lightweight, break-resistant plastic, and is sold as "dishwasher safe" but not "microwavable safe."
Studies have shown that melamine, along with another chemical called cyanuric acid, which is a byproduct from manufacturing, is found to leach into food when on melamine dinnerware. It also found that highly acidic foods – such as spaghetti sauce, orange juice, & grapefruit juice — tend to leach these chemicals out of the dinnerware at higher levels.
Too much melamine over time can cause serious health problems. A study in 2013 measured the level of melamine in healthy people before and after they ate hot soup in melamine bowls. The researchers found melamine in participants' urine and that level peaked 4 and 6 hours after eating the soup. The long-term consequences of using melamine dinnerware are unknown but concerning because of the amount of melamine present in the body after exposure from leaching.
"Although the clinical significance of what levels of urinary melamine concentration has not yet been established, the consequences of long-term melamine exposure still should be of concern," wrote Dr. Chia-Fang Wu, a researcher at Kaohsiung Medical University in Taiwan who led the study.
Melamine is linked to kidney dysfunction at low doses over time for adults. Children can be harmed in similar ways because melamine increases the risk of kidney stone formation and kidney injury.
Recent Melamine Poisoning Events
In 2007, pet food manufactured in China was contaminated with melamine and that caused the deaths of over 1000 household pets.
In 2008, infant formula was contaminated with melamine coming from China. The children exposed to this melamine-laced infant formula developed kidney stones, and 6 children died. Sadly, over 294,000 children were affected.
Even with all these problematic issues surrounding melamine, the FDA has determined that melamine is safe to use. The tolerable daily intake is 0.063 milligrams per kilogram of body weight per day.

Wheat Straw Dinnerware
Most wheat straw dinnerware sets are made from wheat straw, which is a very sustainable material, but then they add other materials that are basically bioplastic and unknown additives. Although biological materials are better than fossil fuels, it's still made of plastic. Mamavation has found some indications of PFAS inside some straws made from wheat straw, so we are not putting this material in the "best" category out of precaution.
Food-Grade Silicone Dinnerware
Most people believe silicone is "safe" or "inert" but unfortunately, our partners at the Food Packaging Forum, who are comprised of scientists from around the world working on "safety" around food packaging & cookware, have not cleared silicone as safe yet for dinnerware. No study has been done to mirror this sentiment. But the absence of studies does not mean something is "safe." It just means we don't know the presence or extent of the danger. It's more about a lack of studies FPF is worried about to demonstrate safety. Therefore, we do not have any links to give you, but the thought was that silicone is similarly constructed to other chemicals that leach into your food. Because of this, we do not recommend you use silicone in ways that would encourage leaching. The situations to avoid leaching are the following:
using hot food on dinnerware because heat increases leaching
using acidic foods like spaghetti sauce or orange juice because acid increases leaching
using foods with high-fat content like oils or fats because high-fat increases leaching
We noticed more silicone in dinnerware around children's plates. Because it's very difficult to use silicone dinnerware without encouraging leaching, we are simply downranking silicone for simplicity. We put these plates into "better" as opposed to "best" based on this issue.
The Rule of Leaching
Companies don't purposely produce toxic dinnerware. Toxic dinnerware is typically an accidental problem arising out of the leaching of chemicals and contaminants over time. Most of the issues that arise out of dinnerware have to do with the leaching of chemicals or contaminants, mostly heavy metals or plasticizers.
To avoid leaching, it's important to understand the conditions that encourage it to happen, mostly heat and other ingredients that encourage chemical reactions. Here are those instances:
Putting hot contents on the dinnerware
Microwaving dinnerware
Putting high-fat contents on the dinnerware
Putting acid-rich foods on the dinnerware like spaghetti sauce or types of citrus.
These types of scenarios will increase the likelihood of leaching so it's best to avoid those scenarios if you are using dinnerware that may leach.

California Prop. 65 Warning on Dishware
California residents are given more information about the safety of the products they purchase.
When we reached out to different manufacturers to ask about contaminants, we were mostly ignored by brands. This was concerning. Brands were also cutting and pasting quotes telling us they are complying with laws in California, but were very evasive about details. Swimming through all these details looking for toxins was challenging, but Mamavation was up for the challenge.
So what is the best non-toxic dinnerware? The answer to that question was very challenging for us because of the lack of details available and how guarded brands were.
How Much Lead Is In My Food?–Big Picture Comparison of Food
Because lead occurs naturally, it's also found in the soil. Certain plants uptake heavy metals and concentrate lead in their flowers, petals, and fruit. While other times, the lead contaminates plants (or water) and an animal eats them and those heavy metals are now part of your meal. Heavy metals like arsenic and lead are also found in the soil from the overuse of pesticides.
The Food and Drug Administration monitors the number and amount of contaminants in food and lists their findings here from 2006 to 2014. Here are some foods from your everyday life to give you a comparison.
Avocados – 4.5 mcg
Brussel Sprouts – 7.9mcg
Cucumbers – 3.4 mcg
Dry Roasted Nuts – 10.2 mcg
Peaches -3.4 mcg
Red Apples – 2.6 mcg
Shrimp – 23.8 mcg
Spinach – 7 mcg
Strawberries – 2 mcg
Sweet Potatoes -7.2 mcg
Wine – 6.8 mcg
According to the EPA, lead in the soil can range from 50 to 400 pm with higher concentrations near mining sites. This is why it's unusual for dinnerware to be the sole culprit of lead poisoning. It's also important to understand that even though we are told "no amount of lead is safe for children" it's still a fact that we are exposed to it in places we would not expect. Our food is also delivering it to us. Do we stop eating these foods? Our advisors recommend varying your diet so you are never eating too much of one thing. 
Mamavation's Investigation on Safest Non-Toxic Dinnerware for the Home
Mamavation evaluated over 100 dishware products to be able to rank the most popular brands for you this season. For your convenience, we've linked up as many "better" and "best" brands as we could for you on Amazon so you can fill up your cart. We were also able to get some discounts from some "best" brands.
Not Our Favorite Dinnerware Brands
This section is the one we don't recommend you shop from. There are several things going on here including the following: products have been independently tested for heavy metals and failed, needs a Prop. 65 warning to sell to California residents, has received a Prop. 65 warning letter, unresponsive to customer questions, is a retail store and some selections and has been found to have high levels of lead in the past, is a retail store and doesn't have strict enforcement of heavy metals in dinnerware, sells bright red, orange, or yellow dinnerware, or is made from plastic, etc.
Corningware (anything older than 2005 is considered unsafe, today's modern versions have no dinnerware)
Crate & Barrel Terra cotta, ceramic stoneware collections
Crate & Barrel Sculpt Black Dinnerware Set
Crate & Barrel Crisp Matte White Dinner Plate
Danny Kaplan Dinnerware
Departo Hand-Glazed Ceramic
Earth's Dreams Dinnerware
Fiesta (Red, Green, & Orange) Dinnerware
Fiesta Tableware (Teal & Pink) Dinnerware
Fiesta USA Dinnerware Direct
Gibson Home Stoneware
Grow Forward Bamboo Bowls for Kids
Hasami Porcelain Plates & Bowls
Kaloh Stoneware Dinner set (West Elm)
Magnolia Dinnerware
Mercer Collection (Pottery Barn) Dinnerware
Mikasa Potters Art Ben Seibel Ceramic Dish
Mikasa Vintage Dishes
MUD Australia Dinnerware
MUD Australia Recycled Clay Collection
Muji Acacia Bowls/Plates
Noritake Cher Blanc Fine Porcelain Plate
Pickard Dinnerware
Pottery Barn Dinnerware
Sur La Tab Dinnerware
Toben Collection (Crate & Barrel)
Villeroy & Boch Artesano Original Set
Villeroy & Boch Color Loop Stone 12 Piece Starter Set
Villeroy & Boch New Wave Place Setting for 4
Villeroy & Boch GEO Ceramic Saucer
Williams Sonoma Dorset Serving Bowl
Williams Sonoma Mottahedeh Tobacco Leaf Dinnerware Collection
William Sonoma Famille Rose Dinnerware Collection
Better Dinnerware Brands
There dinnerware brands are mosly safe and would be fine for your family. These brands are considered "lead safe" whereas they likely have some exposure to heavy metals, but they are not at levels where they would require a Prop. 65 warning to California customers. That's probably because they use lead-free glaze (LFG) which is very common now, and are not using an older kiln to fire those ceramics. This is the realm of safer ceramics, porcelain, bone china, etc. You won't find those categories in best.
Bennington NewLine Stoneware Dinnerware
Canvas Home Shell Bisque
Canvas Home Tinware Setting
Canvas Home Evora Dinner Plate
East Fork You're-All-Set Set
East Fork Shallow Dinner Set
Fable Base Dinnerware Set
Fable Classic Dinnerware Set
Fable New York Mixed Dish Set
Felt & Fat Dinnerware Set
Haand Ripple Dinner Setting
Haand Skali Coupe Salad Plate
Haand Hestia Nesting Set
HF Coors Dinneware Set | Della Terra
HF Coors Dinnerware Set Striped | Acapulco
HF Coors Dinnerware Set White | American Bistro
HF Coors Dinnerware Set Matte Black
HF Coors Dinnerware Set Turquoise | Aztec Pattern
IKEA OFTAST Brand Glassware (White Plate)
IKEA FÄRGKLAR Dinnerware Set
IKEA 365+ Dinnerware Set
Kate Spade New York Charlotte Street Place Setting
Material Kitchen The Place Setting
Oogaa Silicone Divided Plate (Kids)
Our Place Tableware (Midi Bowls & Full Plates)
Parachute Stoneware Dinnerware Set
Parachute Ceramic Coupe Dinnerware
Pfaltzgraff Alexis Collection Dinnerware
Public Goods Dinner Plates (set of 4)
Rigby Dinner Plate Set
Rigby Breakfast Bowl Set
Stone Lain Glassware
Target Hearth & Hand Stoneware Mini Bowl (one piece)
Target Hearth & Hand (with Magnolia) Dinnerware
Year & Day Palm & Canyon Ceramics Plates
Year & Day Palm & Canyon Ceramics Bowls
Year & Day The Core Set

Best Dinnerware Brands
These sets of dinnerware are our favorites. They are mostly made of stainless steel, glass, & bamboo. These types of materials are the safest. Lots of the glass selections were found to be safe via independent testing. You'll find other types of materials like ceramic & porcelain in the "better" section.
Additional Mamavation Investigations To Help Your Family
Mamavation has been working hard to discover where to find PFAS "forever chemicals" inside food & other products we purchase and bring inside our homes. This is why we have decided to commission our own consumer studies on indications of PFAS in different consumer categories and share that information with you.
We also have other non-toxic investigations on products for your children or the rest of your family. Here are some that we thought you may like.
Click here for a complete list of product investigations.