What's it like to forgo living in a house or apartment and instead live in a van? People across the United States are doing for several reasons like to save money, enjoy traveling, and be able to pick up and move when they please. But there are some couples, like Ashlee Rowland and her husband who are also ensuring their lifestyle is more sustainable and non-toxic. You've trusted Mamavation to bring you topics like best & worst organic mattresses, best & worst makeup, & best & worst cookware, now join us for a special guest post on non-toxic van life living with Ashlee Rowland of simplholistic.org.
Disclosure: This post was written by Ashlee Rowland of Simplholistic.org and contains affiliate links. 
When we decided to do van life, people definitely thought we were crazy. They didn't expect anything less but it didn't take away from their questions about how we will make money or how we will shower. Haha, all of a sudden people become very interested in your not-so-interesting parts of life. I knew I wanted to do van life differently though because of my dedication and involvement with holistic living.
I decided to build our entire van with NON-TOXIC & EARTH FRIENDLY at the forefront of my mind. It added hundreds of hours of research on top of the already hundreds of hours. Finding chemical-free products and flicker-free lights seemed nearly impossible. But I made it work and now have a tiny home on wheels that I am very proud to say that I am living a non-toxic life in.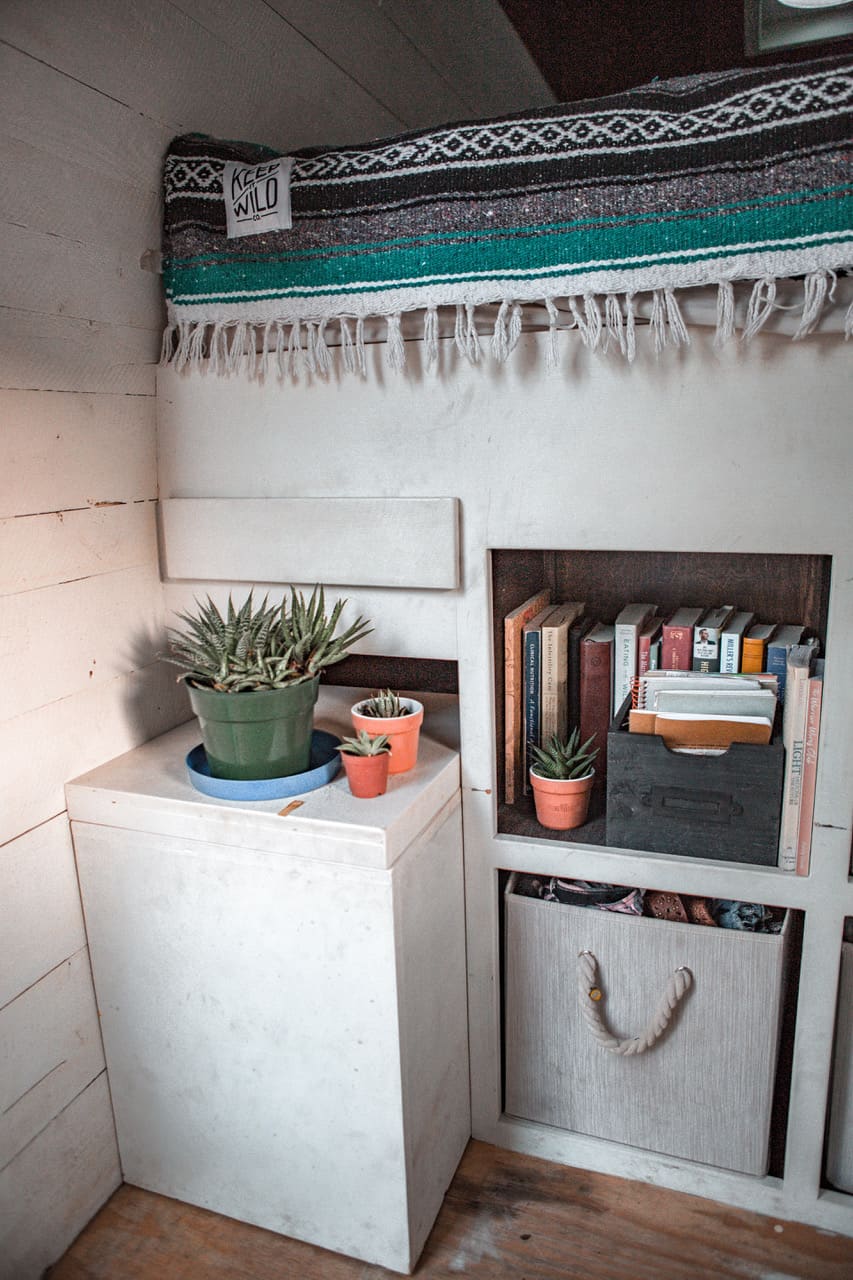 How to Find Sustainable & Non-Toxic Building Materials for Your Van
When it came to the materials, I had to think of things I hadn't really thought of before as a renter. One big feat I wanted to take on was a plastic-free van build and I must say, we are pretty dang close. My Duck Duck Go engine became filled with words like "non-toxic wood", "untreated wood" and "no VOC paint". Let me just tell you I am glad I did the research so you don't have to, it was a beast. I found a fantastic supplier of almost every building supply I needed. Here are some examples of clean swaps for common building supplies:
Raw untreated pine wood VS treated and sealed wood

Acrylic VS polyurethane 

No VOC water-based paint VS conventional paint 

Wool insulation VS spray foam or other poly- insulators 

No VOC wood stain VS high VOC stain
Then, on the hormone focused side, we built our van to be an EMF-free safe zone. It's grounded and contains low kelvin lights with no flicker. This became a 4-day research party!
The Best Clean & Organic Features For Your Van
After the build was complete, we had to add features like a mattress, drawers, bedding and so on. Here are some of the items we have in the van that are non-toxic, organic and/or sustainable. Click here to see ALL Ashlee's Amazon Recommendations. 
No VOC (no off-gassing) blackout curtains

Hemp seat covers

Wool and leather dog bed for Gill

Wool hanging fruit baskets

Lead-free hanging hooks

Choosing Non-Toxic Cleaners & Products For Your Van
Non-toxic cleaning products have come a long way and you can find good ones just about anywhere. I have a few go-to products in the van and Leah has a fantastic post on cleaning products here.
A few words to avoid when buying non-toxic cleaning products are:
SLS

fragrance

PEGs

Polysorbate

artificial dyes

Phenoxyethanol 
The two brands I love are Branch Basics and Dr. Bronners + we make a lot of our own cleaning products.
5 Wellness Things We Couldn't Live Without in our Van 
1. Blue Light Blockers (for night driving)
We live in a blue light toxic world. The blue light I am talking about here is not the naturally balanced blue light that comes off the sun. I am talking about blue light from tablets, phones, car screens, billboards and headlights. We have to block this light since it can wreak serious havoc on our hormones and circadian rhythm (internal clock). You have to find a brand that blocks the correct nm so, your average amazon pair won't cut it.  
2. Huut Organic Bedding
Just like the organic items above in the van feature, we have organic bedding. I mean, that stuff is touching our skin for 8-9 hours a night. There's no way I am about to spend that much of my life on chemicals and funky toxins like formaldehyde.
Best of all, organic bedding doesn't have to cost $1,000,000. I got my full queen organic percale set for less than $250! Yay for sleeping on super comfy and non-toxic bedding. One more check for our health!
3. Water Filter Bottles
As Leah talks about often, our water is filled with total junk. Chemicals upon chemicals are either intentionally added or contaminate our water supply. With ingredients like fluoride, birth control, perchlorate and PCBs found in water, we have to have a good filter! We have a pitcher and bottles, both are perfect for van life. 
You can read more about Mamavation's investigation on the best water filters here.
4. Reusable Glass Jars
If you aren't doing this already, this is a super simple swap you can make without breaking the bank. All you need to do is gather the Tupperware and all the long lost and unpaired lids and donate them or find a recycling center to drop them at. Then, you can go thrifting or look at a local marketplace for glass jars like Mason or Kerr.
I love my jars and use them for storing nuts, seeds, flours, tinctures,

seed cycle balls,

and even leftovers.

Here

is a longer list of plastic-free swaps on Simpliholistic.org!
5. Farmer's Market 
This one isn't so much a physical product but more of a great way to practice sustainability on the road. I love – so much – getting to visit the nation's farmers markets and meet the incredible people behind them. Besides the importance of supporting small farmers, you are eating with the season which is incredible for your health and overall wellness! 
Here's a list of farmer's markets by you!