Albertsons, the second largest grocery store chain in the United States, received an "F" rating on protecting their customers from toxic chemicals and having a safer chemicals policy. This means Albertsons and affiliated companies are doing a really poor job of protecting the public. Not only did they fail, but some of their private label products have toxic and endocrine disrupting chemicals linked to developmental, reproductive, metabolic and hormonal issues. Experts estimate that the United States spends over $340 BILLION dollars on health related expenses and loss of productivity because of endocrine disrupting chemicals. Does Albertsons bear some of that ethical burden since they are allowing their customers to purchase products containing chemicals of concern in their store that may cause health and developmental harm?  This week, health advocates are calling on Albertsons to ban all toxic and endocrine disrupting chemicals from their supply chain to protect their customers.
The issue of endocrine disrupting chemicals in commerce isn't new, but it's recently becoming an important issue in countries around the world. This is due to the rise of chronic disease and health care costs, tons of animal studies pointing to these chemicals as harmful and a decrease in fertility around the industrialized world. But some action is starting to happen. Countries around the world are starting to protect citizens from harm, including China banning certain phthalates and the European Union including BPA in their list of endocrine disrupting chemicals. The United States, however, is lagging far behind.  This doesn't mean that the United States government doesn't know the problem exists. In fact, they spend millions every year studying it. Most of the independent funding in the United States to study endocrine disrupting chemicals and their impact on nature and humans comes from the National Institutes of Health (NIH). And in fact, up until this year, the Environmental Protection Agency was funding a project to screen people all over the United States for levels of these chemicals in their urine and blood. This year, however, it seems the Trump Administration has decided to defund the project entirely, which is an example of "test no evil see no evil".
Albertsons is the Second Largest Grocery Chain
Albertsons is a large grocery store chain in the United States. Recently, their parent company has consolidated several additional brands under their umbrella. Albertsons merged with Safeway in 2015, making it the second largest grocery chain in the United States. They own 2,230 stores, have 27 distribution facilities, 19 manufacturing plants and employ over 250,000 employees across 34 states and the District of Columbia.
Most people have at least one of their stores in their hometown, therefore the fact that they are not protecting their customers from potentially harmful chemicals is of serious concern. Below is a listing of all the different stores they sell products in.
But Albertsons is also starting to struggle. Two years ago, Albertsons intended to go public, but they stalled and were expected to start up again right before Amazon announced they were purchasing Whole Foods. The "Amazon Effect" sent their stock racing south, and in this crowded market, no one knows what will happen right now. It's clear that investors believe the consumer wants more organic & natural food and safer consumer products. Investors are excited to see Amazon getting in the game. So what will Albertsons do? Will they give the consumers what they want OR do more of the same? In a time where our government agencies are pulling the plug on programs that were created to protect the public, I'm guessing consumers are looking to companies to showcase leadership.
Albertsons Has No Chemical Safety Policy
It's a shame that a grocery store as large as Albertsons has no chemical safety policy, but it's true. Our friends at Safer Chemicals Healthy Families have been reaching out to grocery stores for years through their Mind the Store campaign, enquiring about their safe chemical policy and what they do in their stores to safeguard the public. The information below represents most of the largest chains in the country and whether they have a safer retailers chemical policy in place. As you can see, Albertsons is disappointing.
Albertsons= Has NOT adopted a safer retailer chemicals policy
Walmart= Has adopted a safer retailers chemicals policy
Target = Has adopted a safer retailers chemicals policy
CVS = Has adopted a safer retailers chemicals policy
Walgreens = Has NOT adopted a safer retailer chemicals policy
Kroger = Has NOT adopted a safer retailer chemicals policy
Amazon = Has NOT adopted a safer retailer chemicals policy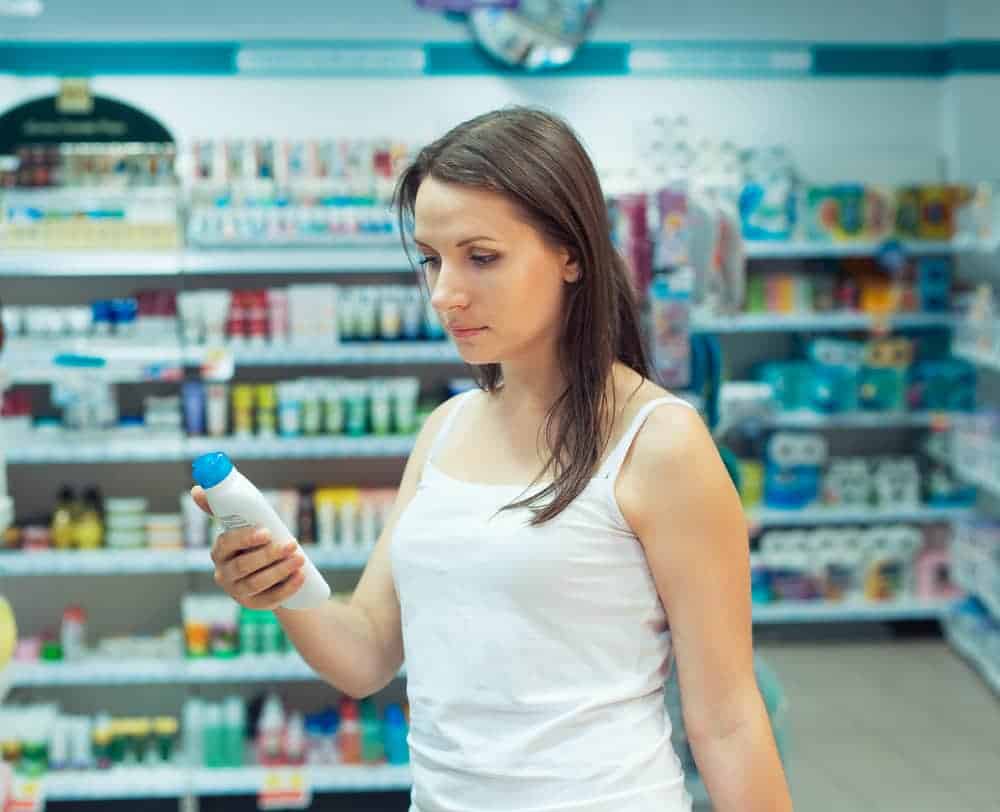 Albertsons Is Selling Products Containing Toxins and Endocrine Disrupting Chemicals
Product research from the campaign turned up some very disappointing findings. Several private label products sold by Albertsons contains chemicals and other ingredients that are considered toxic and endocrine disrupting. Some of these ingredients include fragrance potentially containing phthalates, formaldehyde releasers, lead & parabens. All of these chemicals are considered harmful to the health and development of children and adults to varying degrees.
Included above are some BBQ basting brushes testing positive for lead. Extreme caution needs to be taken with products containing lead around children, where no level of lead is considered safe. Fortunately, lead was not tested inside the brush where you would apply BBQ sauce to your food, but it still remains a threat around children if it's placed inside the mouth. Additionally, consumers could be exposed to lead from handling the brush via dermal/skin contact, and which could also come into contact with food. Below is a listing of the chemicals of concern and their potential impact on humans.
Albertsons Canned Food Tests Positive for BPA & PVC
A recent study also done by Safer Chemicals and partners found that 36% of Albertsons' private label cans contain bisphenol-A, an endocrine disrupting chemical that is linked to reproductive, developmental, metabolic harm in humans, including obesity & cancer. In addition to that, 17% of their private label cans are also testing positive for PVC, another endocrine disrupting chemical.
California has placed BPA on their Prop. 65 list, meaning it's a chemical that does reproductive harm. This is the strongest regulation against BPA in the country. In spite of this, there have been delays in getting this information to the consumer. Canned foods containing BPA were supposed to get Prop 65 label warnings, however, companies complained they needed more time to label their products, so it was pushed off until the end of 2017.  Therefore, current regulations allow for generic warning signs at registers rather than warning labels on cans until the time has ended. That allowance has hindered consumer's rights in getting information.
Target, CVS, and Walmart Are Making Progress with Endocrine Disrupting Chemicals
Target, CVS & Walmart are all examples of grocery store chains making progress in the area of consumer protection from toxic and endocrine disrupting chemicals. None of these chains received an "A", so that means there is room for improvement, but each one has chemical policies in place and is making strides to protect their customers from harm. Below are the score cards for each chain.
Target Score Card = B
Walmart Score Card = B
CVS Score Card = C
We highly recommend that if you go to the grocery store, you choose one of these chains instead, not only because you will be safer there but also to make a statement to Albertsons about their need for change.
Save
Save
Save
Save
Save
Save
Save
Save
Save
Save
Save
Save
Save
Save
Save
Save
Save
Save
Save
Save
Save