Things are a little nuts now, I know. You may be going to the grocery store and seeing zero toilet paper on the shelves and having to go to three different stores to get it. You may be thinking about rationing toilet paper and using less than you have been. But what if I told you that toilet paper was a really bad idea in the first place? The solution to your problem is getting a bidet. You've trusted Mamavation to bring you topics like best & worst toilet paper, best & worst cookware, and best & worst air purifiers, now join us for 9 reasons why you need a bidet and not more toilet paper.
Disclosure: this post contains affiliate links.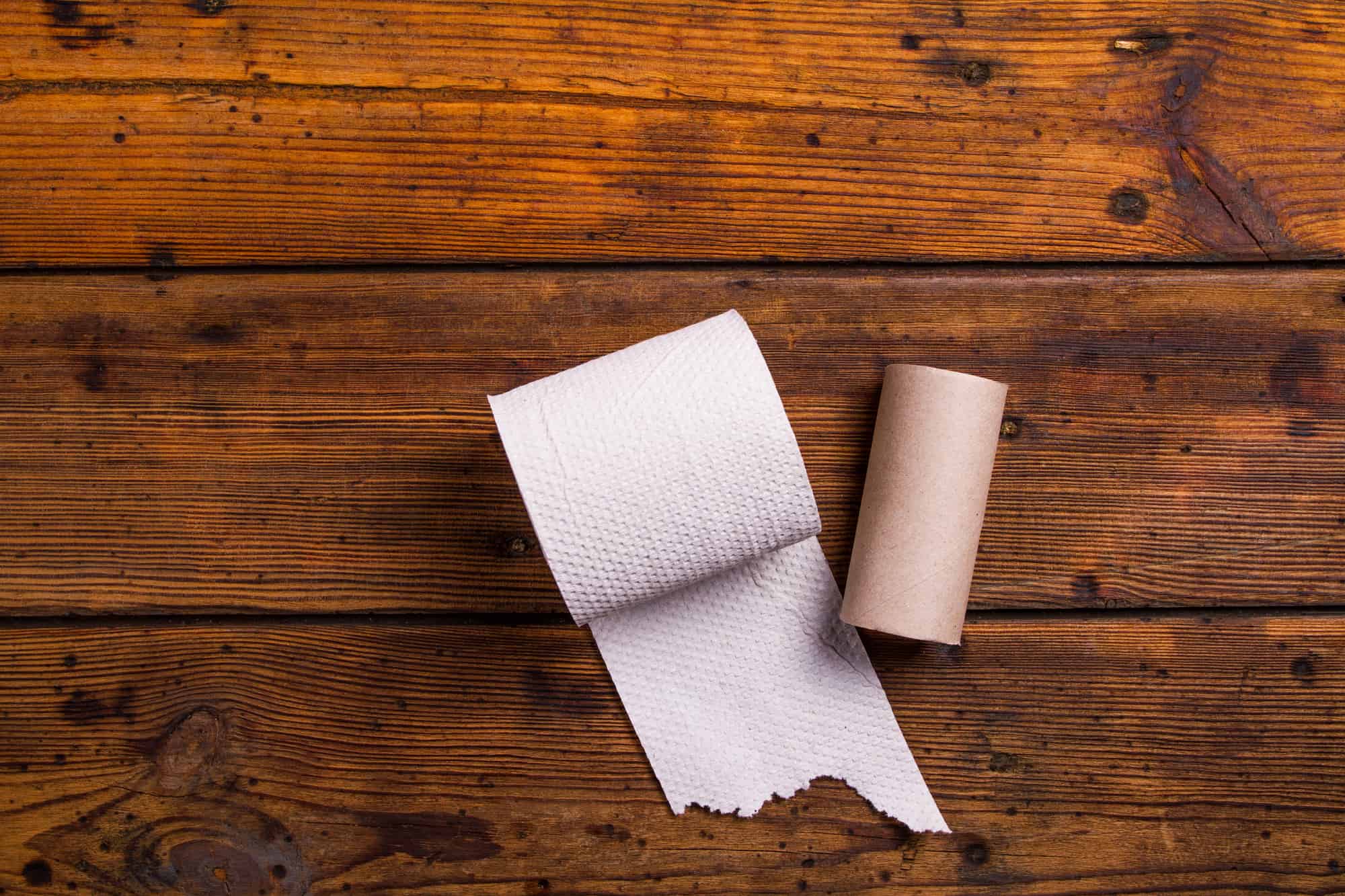 What is a Bidet? And Why Is Mamavation Telling Me to Get One?
A Bidet uses water to wash your genitals, perineum, and anus after using the toilet. It's very popular in places like Europe, Japan & South Korea. Using a stream of water to wash yourself is simply cleaner than wiping yourself with toilet paper, where fecal residue can still remain intact after you wipe.
There are two types of bidets: a porcelain-type bidet that is a separate fixture that sits next to the toilet OR an electronic bidet that is designed to attach to your existing toilet. The first requires you to get a plumber involved, but the second does not require you to get a plumber because you can attach it yourself at home using existing plumbing.
Mamavation recommends you get the electronic bidet because it's cheap and easy! So what are the ten reasons why you should get a bidet? Keep reading.
Reason #1: You Won't Need to Fight For Toilet Paper at the Grocery Store Anymore
Right now, things are stressful.  When the COVID lockdowns first happened, my girlfriend told me she witnessed a full-blown meltdown with two women over the last case of toilet paper at the supermarket. They both had the item and were yelling (obviously that's not good for droplets!) and tugging the toilet paper back and forth between them. It was like a scene out of the movies, but this was real life.
People are so stressed out, they are taking it out on others and endangering the public inside the grocery store where you are shopping for your family. So what if you just cut all that out?
When you get a bidet, you can have toilet paper, but you only need to use ONE square to lightly dab the wet area after it does its job. It's like wiping yourself down after a shower. That's not gross…and this isn't either. Or if you would like to go even more super green instead, you can use old cloths and wash them.
Reason #2: It's More Sanitary and Spreads Fewer Germs Around
Okay, here's the gross part. Not all of you are washing your hands after you go to the bathroom.
About 50-80% of feces  (minus the water) is made of bacteria. Many of the bacterium are alive, but some are dead, which are basically dead carcasses that fed on indigestible plant matter and then died as it was passing through the intestines. That poop also contains indigestible plant matter, like cellulose, intestinal lining cells and water.
This can also come into handy to avoid bladder infections. The most common cause of bladder infections is the E. coli bacteria living in your feces and the feces of others.
In fact, according to the National Kidney Foundation, 80-90% of UTI infections are caused by E. Coli. When this bacteria is allowed to stay on your skin for long periods of time, it can travel up your urinary tube, which can be very painful and spread serious infection to your kidneys and bladder over time if not treated.
Our hands have more germs present than any other part of our body. Because bidets are hands free, you spread less germs cleaning yourself than using toilet paper.
Reason #3: Toilet Paper Depletes the Largest Carbon Sink in the World–The Boreal Forest
Americans use close to 8 million tons of toilet paper per year according to Consumer Reports. Paper production like toilet paper, paper towels, baby wipes, tissue paper, coffee filters, & writing paper are incredibly toxic to the environment and depletes forests all over the world. In fact, this industry is the 3rd largest polluter. The National Resources Defense Council reports:
"The pulp and paper industry may contribute to more global and local environmental problems than any other industry in the world. Paper manufacturers reach deep into species-rich forests for virgin timber, razing trees, polluting waterways and destroying precious wildlife habitat. Pulp and paper mills that use virgin timber are major generators of hazardous air pollutants, including dioxins and other cancer-causing chemicals. And the industry is the third largest industrial emitter of global warming pollution."
One of the most important regions in the world for capturing carbon is the Boreal Forest in Canada. Your toilet paper likely started there as a tree in the largest carbon sink in the world. Cutting down on toilet paper made from wood pulp and looking for alternatives like bamboo & sugarcane helps this effort. Watch how your choice of toilet paper helps fight climate change.
According to a report by the National Resources Defense Fund, "industrial logging claims more than a million acres of boreal forest every year, equivalent to seven National Hockey League rinks each minute, in part to meet demand for tissue products in the United States." Long story short, if you want to become part of this solution, looking for alternatives would be the way to go. They are only logging the Boreal forest because we demand toilet paper made from wood pulp. Start demanding toilet paper made from bamboo & sugarcane instead. Not only is it a good thing to do for the planet, but also for your health, which we will get to now.
Reason #4: Your Toilet Paper Could Be Made of Toxic Additives
Thousands of chemicals are used to process commercial paper products like baby wipes & toilet paper. And as a woman, what I put inside me to wipe can have an impact on my health because I'm very vascular down there. One of the worst chemicals used in the processing of toilet paper is chlorine. So it's important to be cognizant of what chemicals touch our most porous area because toxic substances can easily enter into our skin and get into our bloodstream. Selecting toilet paper that does the least amount of harm to both our bodies and the environment is wise.
Toilet paper has also been suspect in chronic irritation of the vulva. In a 2010 study, they found that toilet paper may be the blame for chronic irritation of the vulva because formaldehyde was found present to improve the strength of the toilet paper. Formaldehyde is a known carcinogen.
3 key areas where toilet paper can cause you harm:
Toxic additives
Bleaching with chlorine
Recycled paper and surprise contaminants–bisphenols (BPA & BPS)
Toilet paper with scents or lotions and flushable wipes likely contain problematic ingredients.
PEGs: This was a problem with flushable wipes. Many of them contained a variety of PEG compounds.  Ethoxylated ingredients (like PEGs) on their own are of low concern to humans, however, the process of ethoxylation can leave behind trace amounts of carcinogens: ethylene oxide and 1,4-dioxane.
Undisclosed fragrances: Because there's no way to know what components are in the fragrance, we have no way to know if the ingredients are harmful or can cause an allergic reaction. Synthetic musks and phthalates typically hide in hidden "fragrance" that is undisclosed. Phthalates are potent endocrine disrupting chemicals linked to obesity, hyperactivity in children and degraded sperm quality.
Paraffin wax: This is made from petroleum by-products and can be absorbed into the skin. It may also be contaminated with carcinogens.
Reason #5: Toilet Paper Could Contain Trace Amounts of BPA or Dioxins
While recycled paper is, of course, the best option for the planet, there is one dirty little secret it is hiding–bisphenols like BPA and BPS. Bisphenols like BPA have been discovered as a hideaway inside recycled toilet paper. This is because thermal receipt paper, which is contaminated with bisphenols BPA & BPS, ends up finding its way into recycled paper products like toilet paper. Bisphenols like BPA are endocrine disruptors and studies have linked them to reproductive problems, early puberty, low sperm count, and breast cancer.
One thing to put into perspective is recycled toilet paper is likely the least worrisome exposure to bisphenols you have during the day. Alternatively, you get a whopping dose of bisphenols every time you handle a receipt. Have you ever noticed that powdery film on the top? That's a coating of powdered bisphenol powder and it easily gets on your hands and into your bloodstream. (Sign this petition to tell Target to reformulate to a bisphenol-free receipt.) It's estimated that over 90% of our exposure to bisphenols comes from handling receipts, followed by canned food, drinking canisters & then finally, toilet paper.
Bleaching is the process by which toilet paper is whitened. Most companies do this process because unbleached products are typically harsher to the touch. Bleaching often involves the use of chlorine, which can produce dioxins. Dioxins are extremely toxic, with risks including reproductive and developmental problems, damaging the immune system, acting as endocrine disruptors, and can be a carcinogen.
The best course of action is to go with the least amount of chlorine as possible, so chlorine dioxide is better. After interviewing some brands we discovered that it's not possible to avoid chlorine derivatives all the time when it comes to alternative fibers. It's just not available yet. For fibers like bamboo, manufacturers are all doing chlorine dioxide instead of the harsher elemental chlorine. Sugarcane fibers have the ability to be bleached without use of chlorine derivatives. As this becomes a more popular selection, I'm sure there will be more options. We've recognized this difficulty when making our selections.
The American Forest & Paper Association (AFPA) recognizes these ways of bleaching:
Elemental Chlorine Free (ECF): While they don't use the harsh element chlorine, they do use a chlorine derivative like chlorine dioxide. This process is far less toxic than using elemental bleach to process.
Process Chlorine Free (PCF): This process is typically used by recycled paper products that have not been re-bleached with chlorine-based compounds.
Totally Chlorine Free (TCF): No chlorine or chlorine compounds were used to bleach the pulp. Unfortunately, TCF is primarily done in China, which uses poor and unsafe standards.
Unbleached: Means it's untreated and typically very rough to the touch.
Reason #6: Save Money–Average American Family Spends Close to $500 a Year on Toilet Paper & Paper Napkins.
Americans spend about 6 billion dollars on toilet paper every year–more than any other country in the world. On average, we use about 50 lbs per year. Count that all up and we are spending about $122 per person on toilet paper and paper napkins per year, which if you multiply by 4 could be about $488 per year.
You can purchase 200 lbs or more of toilet paper for your family to use costing close to $500 per year OR you can get a bidet which will cost you about $100 or so and will last for years.
Bidets save you money!
Reason #7: The Production of Toilet Paper Disrupts Wildlife
In the National Resource Defense Council's report, "The Issue with Tissue: How Americans are Flushing Forests Down the Toilet" several wildlife are being uprooted from the logging of forests.
Boreal caribou, which has an old iconic status in Canada's national consciousness, Canada lynx, American marten, and billions of migratory birds that travel back and forth from the Americas are all having problems, but the most impacted is the caribou.
Only 50% of the habitat of the Boreal caribou remains.
Boreal caribou are declining at a rate of more than 30% every 18 years.
Only 14 of Canada's 51 Boreal caribou ranges are considered sufficient to support the self-sustaining boreal caribou population
Canada's federal and provincial governments have done almost nothing to protect the species
They have a 60% chance of long-term survival
Boreal caribou requires ranges that are at least 65% undisturbed
The more conventional toilet paper we purchase, the harder it gets for them all to survive.
Reason #8: It's a Caring Gift–Men & Pregnant Women Are The Most Satisfied Customers
We interviewed bidet company Hello Tushy some time ago and they told us that men and pregnant women were their most satisfied and most vocal customers. And sure enough, after my husband installed the bidet, he started to say "why didn't we get this forever ago?!" Today if a run on toilet paper conversation is had, he immediately thinks of how lucky he is to have his bidet and he's been vocal about it among co-workers and friends.
Pregnant women enjoy the comforts of having cool or warm water on parts of them that are stretching and getting uncomfortable. There's also the problem of not being able to comfortably reach sometimes. There are issues your mother never warned you about that pregnancy uncovers. For all these reasons, pregnant women tend to like bidets.
Reason #9: Some Of Them Can Be Hooked Up In 10 Minutes Without a Plumber
There are basically two types of bidets–one that needs a plumber and one that does not need a plumber. The difference is basically the temperature of the water.
When you get a bidet that requires a plumber to hook it up, he's tapping into warm water. They tend to be more expensive as well. Bidets that do not require a plumber can be set up within minutes, but you do not have the ability to change the temperature.
If You Are Still Not Convinced, Here Are Our Recommended Toilet Paper Brands Without Cutting Into the Boreal Forest
These brands of toilet paper were profiled in our toilet paper investigation. These brands were also sent to a lab and tested for indications of PFAS "forever chemicals" and found to be non-detect. These products are made from either a mixture of sugarcane and bamboo together or simply unbleached bamboo. Some are made from 100% recycled paper.
Caboo Tree-Free Bamboo Bath Tissue — non-detect organic fluorine (Use discount code "EHN25" for 25% off your purchase price at Caboo Products!)
ECOS Treeless Bamboo & Sugarcane Bathroom Tissue — non-detect organic fluorine
Nature Z Way Bamboo Bath Tissue — non-detect organic fluorine
Open Nature 100% Recycled Paper Bathroom Tissue — non-detect organic fluorine
Public Goods Toilet Paper (Bamboo & Cane Sugar) — non-detect organic fluorine
Seedling by Grove Tree-Free Toilet Paper (made with FSC certified bamboo)– non-detect organic fluorine
Sprouts 100% Recycled Toilet Paper — non-detect organic fluorine
Mamavation's Recommendation for an Easy Attached Bidet System
Mamavation has partnered with Hello Tushy to show you an alternative to buying all that toilet paper. But we've also profiled other brands for you below. We don't really care which one you buy, we just want you to get one for all the reasons we mentioned above.
Tushy Classic Modern Bidet Attachment can be set up in 10 minutes and doesn't need the help of a plumber! (It's typically $109, but is on sale for a limited time for $89 RIGHT NOW plus 20% off code FYBER20 making it just over $71.20).
Here's what you can look forward to:
Pressure + angle control for a targeted spray on your pooper (their words, not mine!)
Includes everything for an easy install in under 10 minutes
Requires NO electricity or plumbing
Uses the same water you brush your teeth with!
Fits on round, oval, and elongated toilets
Self-cleaning nozzle
60-day risk-free guarantee
Click here and use promo code "FYBER20" for 20% off your next bidet! 
But there are also plenty of other bidets to check out. Just make sure before you purchase one whether you want one that requires a plumber for temperature control or not.
Here are some bidets to check out to cut down on toilet paper use: