When you pick up a television from Best Buy, you probably don't think about the possibility of that television exposing your family to harmful chemicals recently banned in Europe, but that is exactly what a study just found. So what do you do if you want to live in the modern world with a television? We have those answers. You've trusted Mamavation to bring you topics like best organic mattresses, best probiotics, and safest cookware, now join us as we explore flame retardant televisions and solutions you can implement today to keep your family safe.
Disclosure: this post contains affiliate links. 

Fire Retardants Are Very Problematic To Human Health & The Environment
Beginning in the 1970's, polybrominated diphenyl ethers (PBDEs) were added to consumer products in response to a California law to protect homes from fires started by cigarettes. So they were added to furniture, children's products, electronics, carpeting, rugs, clothing, and anything plastic next to something hot. These chemicals are also known as organohalogens and they include brominated and chlorinated flame retardants.
After extensive research, scientists proved that PBDEs were persistent, toxic, and bioaccumulated in the environment. So in 2004, the European Commission and California banned the use of some of these PBDE fire retardants, while the Environmental Protection Agency negotiated a phase-out of some PBDE fire retardants with US manufacturers. However, no federal ban.
It took some time, but today PBDEs have been classified as persistent organic pollutants (POPs) under the Stockholm Convention due to their persistence, ability to undergo long-range transport, bioaccumulation potential and toxicity to both humans and wildlife.
According to the Environmental Protection Agency (EPA) "PBDEs are not chemically bound to plastics, foam, fabrics, or other products in which they are used, making them more likely to leach out of these products" therefore, they can migrate.
Flame retardant chemicals including polybrominated diphenyl ether (PBDE) and chlorinated flame retardants (CFR) have been linked to dangerous health effects like endocrine disruption, decreased fertility, immune suppression, altered sexual development, cancer, delayed brain development, lower IQ, and behavioral problems in humans. The dangers of flame retardants are so obvious that in November 2010, 145 scientists issued a joint statement documenting the health hazards of brominated and chlorinated flame retardant chemicals.
However even though PBDEs are so problematic, you'll still find them in the plastic casings of televisions. In addition to PBDEs chemicals, they also found replacement chemicals made of brominated fire retardants.
List of Most Common PBDE Chemicals
pentabromodiphenyl ether (c-pentaBDE)
octabromodiphenyl ether (c-octaBDE),
decabromodiphenyl ether (c-decaBDE).
Fire Retardants Migrate Out of Televisions & Attach Themselves to Household Dust, Making Toxic Dust
Fire retardants are not chemically bound to plastic, so they easily escape into the air and attach themselves to dust. This literally means that modern dust is toxic to inhale.
In the new study published by the Journal of Exposure Science & Environmental Epidemiology, scientists researched the exposure to 7 different flame retardants and discovered a clear reduction of exposure to these chemicals achieved through routine increased cleaning inside the home. In fact, detectable exposure to toxic flame retardants was reduced by half in as little as 1-2 weeks through routine house cleaning and handwashing!
Dusting with a damp cloth, wet mopping, and vacuuming are recommended specifically by the US Environmental Protection Agency (EPA) after assessing and confirming the distinct risks of flame retardant exposure.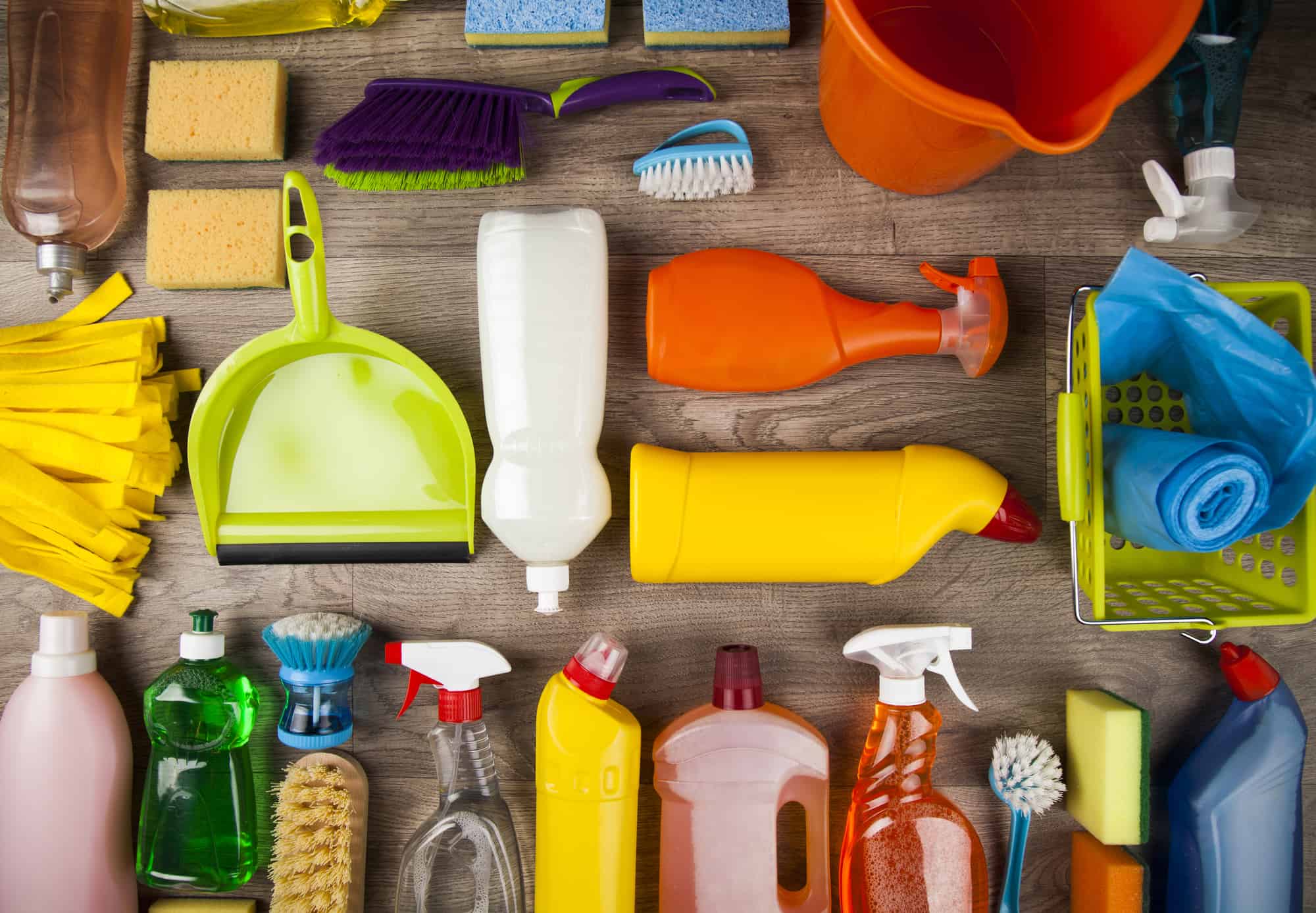 Mamavation Curated Cleaning Supplies & Products
Because we are asking you to clean more, we also wanted to make sure we gave you approved products to use. Here's a list of cleaning supplies like e-cloths, micro cloths, & non-toxic cleaning products.

Europe Bans Organohalogen Flame Retardants in Televisions
The European Commission has recently adopted a regulation to ban organohalogen flame retardants or PBDEs in televisions and other displays. This ban goes into effect in 2021, which gives European television companies just over a year to comply.
This law was created to protect Europeans from unnecessary exposure to these harmful chemicals but will serve as a new standard for preventing toxic flame retardants in a key product sector that delivers an ominous amount of fire retardants to their consumer.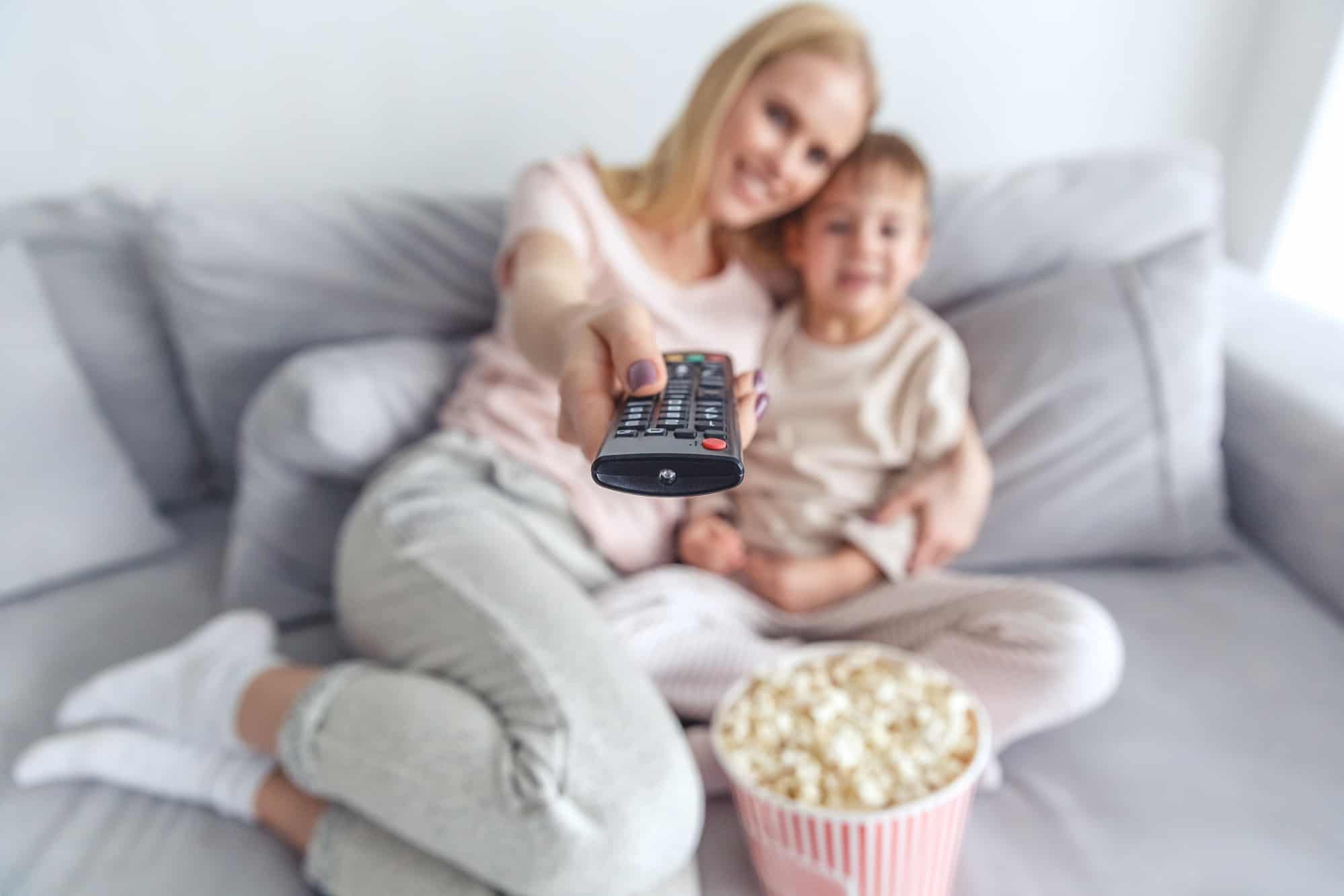 Safer Chemicals Healthy Families Found Flame Retardants in Best Buy & Amazon Televisions Recently Banned in Europe
In a study commissioned by Safer Chemicals Healthy Families and Toxic-Free Future, six leading Best Buy and Amazon brand televisions had several hormone-disrupting chemicals, some of which were banned in several states, inside the plastic casings of the televisions. These were the halogenated and phosphorus flame retardant chemicals found inside televisions at Best Buy & Amazon:
TTBP-TAZ
2,4,6-TBP
DBDPE
Deca-BDE
BAPP
TPhP
Studies show that these chemicals migrate out of electronics and attach themselves to household dust. Therefore, American families need to be more vigilant now in cleaning up their indoor air from toxic dust particles. Here are some more top-level details of what they found.
Three Best Buy Insignia Roku TVs contained organohalogen flame retardants. All Best Buy Insignia TVs contained the banned flame retardants deca-BDE, outlawed in five states, including at its purchase location in Washington State; one TV contained deca-BDE at levels above Washington's enforcement limit.
Three Toshiba (Hisense) Fire TVs, produced in partnership with Amazon, contained hazardous organohalogen flame retardants, including one closely related to the banned deca-BDE.
The television contained flame retardants at percentage levels by weight in the plastic, meaning the chemicals make up a significant portion of the product. These chemicals can migrate out of televisions and get into indoor air, household dust, and make their way into bodies, posing risks to families and pets.
Sign This Petition Telling Best Buy To Ditch Fire Retardants
Safer Chemicals is pressuring Best Buy to ditch the toxic fire retardants! Sign this petition!
"The European Union recently voted to ban toxic chemicals called organohalogen flame retardants in TV plastic casings starting April 2021. While the U.S. began to take similar action, efforts have been stalled under the Trump Administration, leaving American families vulnerable.

TVs containing hazardous flame retardants in their plastic casings can release them into the air and dust—exposing a family in their own home.

Let's tell Best Buy: No toxic TVs! Please use your power as North America's top electronics retailer to get toxic chemicals out of the TVs you sell."
Getting a Strong Air Filter and Setting it Next to the Television Can Help Clean Indoor Air
Research in Boston found that rooms with more consumer electronics products containing brominated flame retardants had higher levels of deca-BDE in the dust, which suggests that the electronics were the culprit. This is the exact fire retardant chemical also found in these televisions during this study.
Therefore, it would be wise to get a very robust air purifier and position it next to your television and other electronics. Another thing to think about is removing the television from bedrooms and just keeping media in one central location where you can concentrate more on cleaning up the dust. And always turn off the electronics when you are done with them to minimize the migration of fire retardants.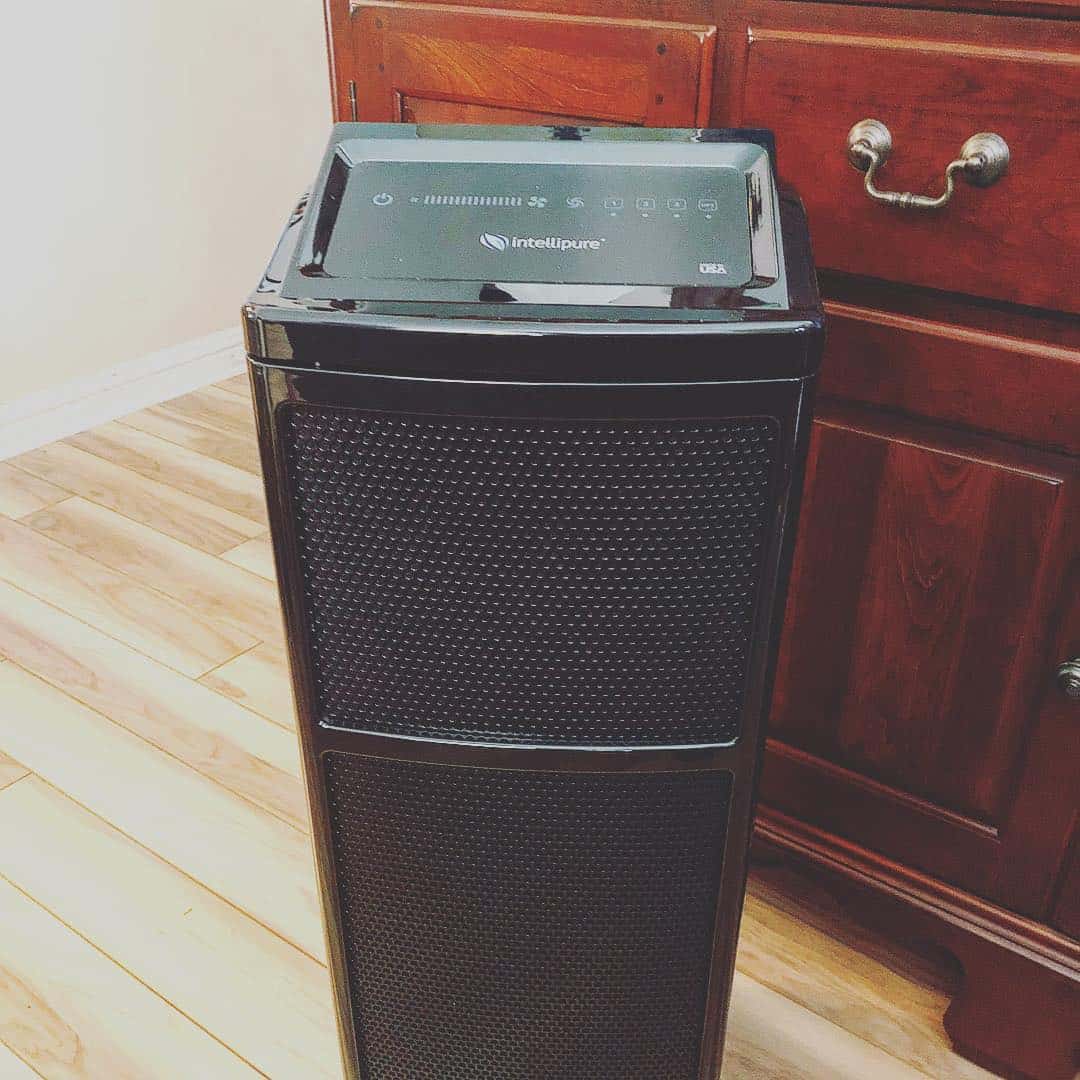 My Recommendation: The Intellipure Ultrafine 468 Air Purifier
After years of searching for an air purifier that was robust enough to help my family with pet allergens, I finally decided to make a recommendation on a system that I feel is superior in quality and quiet enough for a home–The Intellipure Ultrafine 468 which is a disinfecting filtration system (DFS).
And there is a personal story behind my decision that I think you'll enjoy. Intellipure sent me a unit to test out over a year ago. At first, I didn't think much of it. I've tested out air purifiers before and was disappointed because my husband has severe pet allergies and nothing had really helped before.
At that point, his allergies were impacting our personal lives because anytime anyone who owned a pet enters my house, my husband can't breathe for days because they leave pet dander on the couch or in the rugs. He ends up having to take medication to be able to breathe for days. And to my husband, there is no such thing as a hypoallergenic pet because he reacts to the saliva which is on all pet dander.  And that is no way to live because it seems like everyone has pets. It made it challenging for us to have friends over.
Intellipure changed our lives. Literally. After we got the Intellipure, my husband's severe allergic reactions disappeared. This system is the strongest air purifier we have ever come across and I love it. Now we can have friends over and he's not suffering for days. If this system can handle pet dander, it can handle fire retardants. We position this unit right next to the television so it picks up the dust. Here's more on how that's possible.
The Intellipure is 40x more efficient than a HEPA based filter and can pick things as small as .007 microns in size. That's teeny tiny portions. It's also extremely quiet for a robust system.
"The Ultrafine Series utilizes our patented DFS (Disinfecting Filtration System) technology, which we developed through a United States military grant. It removes 99.99% of harmful viruses, fungi, molds, and bacteria, down to 0.007 micron — that's 40 times more efficient than HEPA. This technology is currently used in hospitals, medical clean rooms, government buildings and military applications."
Special Offer on the Intellipure Ultrafine 468 For Your Home!
The Intellipure Ultrafine 468 Air Purifier retails for $999 and is ready to work within seconds after assembly. But because you are part of the Mamavation community, Intellipure is offering a special discount of 15% off a machine by using the code "MAMAVATION10" at checkout. I don't really have other recommendations of machines because no machine has had the ability to help my husband with his severe allergies…until now. If you are interested in cleaning up the air inside your home, I would highly recommend getting this unit. You'll notice a difference just like I did!

Regardless of What Air Purifier You Choose, Getting a System And Sticking It Next to the Television Would Be Wise
Getting an air purifier and sticking it next to the television would be wise. Air purifiers aren't just for the uber-sensitive and allergic. It's estimated that the average American is spending 90% of their time indoors. And with each breath, we are breathing in 45-75,000 particles of pollutants. That's a lot of pollutants. No wonder over 6.5 MILLION people die prematurely every year as a result of air pollution!
Recently, a study was published that estimated $340 BILLION each year was spent on health care expenses and loss of productivity due to endocrine-disrupting chemicals. Most of the chemicals that were analyzed in this study problematic attach themselves to common dust. And when you breathe in that dust, you are getting doused with fire retardants, which are a VERY problematic endocrine-disrupting chemical that can affect your thyroid, cause cancer, bring down the IQ of children, etc. Having an Intellipure would be a really good tool to have in your home to protect your family from teenie tiny particles of fire retardants that have attached themselves to household dust.

As a Fan of Mamavation, You Get Perks! Pick Up Your FREE Mamavation eBook–The Ultimate Guide to Cleaning Up Indoor Air In Your Home
Do you need some tips on how to clean up the air inside your home? Sign up below and we will send you our FREE eBook "The Ultimate Guide to Cleaning Up Indoor Air In Your Home."