Have you noticed it seems like every crib mattress brand is claiming to be green and sustainable somehow? Well, it's becoming such a big problem that consumers are confusing legit organic crib mattresses with conventional toxic ones. So which brands are to blame? We're naming names! You've trusted Mamavation to bring you topics like best organic mattresses, safest cookware, and best & worst air purifiers, now join us for an investigation on greenwashing in crib mattresses so you don't get caught up in marketing deception.
Disclosure: this post contains affiliate links.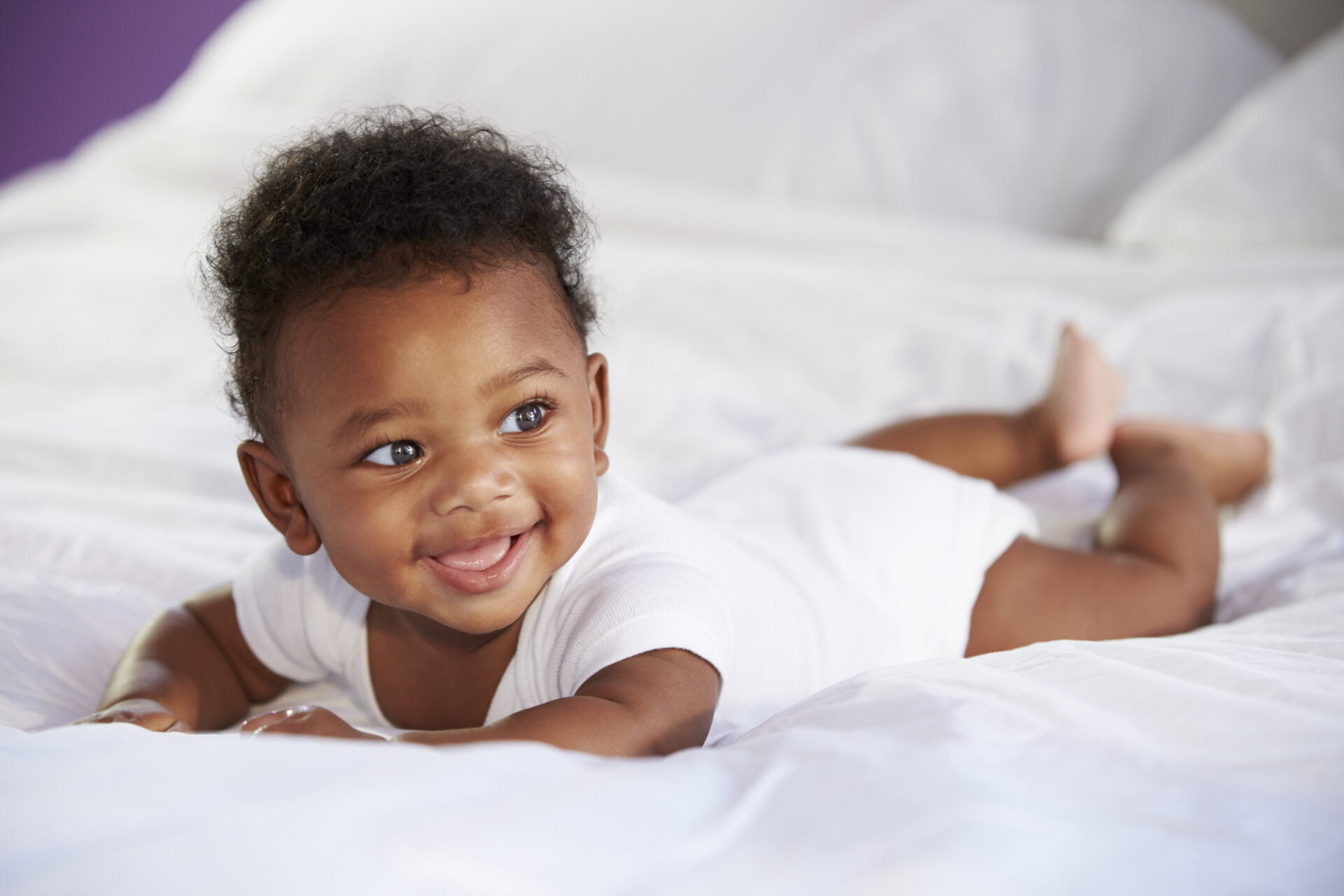 Greenwashing is a Problem in the Crib Mattress Industry & Green & Healthy New York Just Proved It
One of our partners, Clean & Healthy New York, just unleashed their latest investigation covering greenwashing in crib mattresses and we are so glad they did!
Greenwashing is defined on Clean & Healthy New York as "the use of marketing claims to over-state or misrepresent a product or company's efforts to be environmentally sound." It's a play on the term "whitewashing" which means a deliberate attempt to cover unpleasant or unlawful facts.
After doing a complete audit of each company's website looking for claims on products, they identified 10 different brands that were using greenwashing marketing that overstated the health benefits of their products. They documented their concerns through screenshots and sent dossiers of concern to each guilty brand. Two companies completely changed their marketing so they were omitted from the "bad" list.
Types of Greenwashing Claims to Watch Out For In the Crib Mattress Industry
There are several things that Clean & Healthy New York found when evaluating marketing crib mattresses that we also found in our organic mattress investigation on adult mattresses. These are the things to look out for when you are in the market for a crib mattress.
Making unverified claims that their entire product is natural or organic when only one element or a small portion of it is.
Overstating the meaning of a certification.
Creating and using their own logo graphic to appear on par with independent certifications.
Crib Mattress Brands Guilty of Greenwashing to Gain Underserved Market Share
These are the 8 brands that misrepresented their mattress to the public and were contacted with dossiers that spelled out the specifics. Some of them responded while others did not. Two brands completely changed everything on their website, so they were removed from this report. Mamavation does not recommend you purchase these crib mattresses.
L.A. Baby
L.A. Baby was the worst of the bunch. (Please let us know if you have purchased this brand in the comments because we want to know how you feel about this!)
This brand failed to respond to any of Clean & Healthy New York's outreach.
They made inaccurate or unverified claims of "natural" and "non-toxic" and "organic" and their claims did not match prior product testing.
WARNING: Testing in 2019 found PFAS, polyurethane, & acrylic. In addition, the flame barrier contained polyethylene terephthalate, nitrile, vinyl, rayon & antimony. The polyurethane foam core contained undisclosed bromine, chlorine, and phosphorus.
Babyletto
Babyletto claims to offer "non-toxic" crin mattresses without verification.
They overstated the tenents of the UL GreenGuard Gold certification.
WARNING: Testing in 2018 uncovered undisclosed modacrylic, latex, and polyethylene terephthalate. These substances are not "non-toxic."
DaVinci Baby
DaVinci Baby claims to offer "non-toxic" crin mattresses without verification.
They also overstated the tenents of the UL GreenGuard Gold certification they hold.
WARNING: Watch out because they claim their crib mattresses are "100% non-toxic" and yet they contain polyurethane foam
Delta Children
Delta Children also made the claim that their crib mattresses are "non-toxic" and
They overstated the tenents of their UL GreenGuard certification.
They changed their GreenGuard description, but they are still using "non-toxic" descriptions on their site.
They disputed the findings.
Third-party testing of this brand in 2018 found an undisclosed vinyl cover.
Nook Sleep
Nook Sleep misrepresented claims of both "natural" and "organic."
Previously, products produced by this brand with similar marketing claims tested positive for PFAS in their cover.
This brand did not respond to inquiries at all
In addition, this brand is touting Organic 100, Global Organic Textile Standard and OEKO-TEK without providing verification of these certifications.
WARNING: In 2018 when this brand was lab-tested they found undisclosed PFAS inside the cotton and PET cover. The polyurethane foam core also contained undisclosed chlorine. And the PET "air spacers" contained undisclosed neoprene and plasticizer.
Graco
Graco misused "organic" claims, made public claims at odds with previous product testing, and also misrepresented the UL GreenGuard Gold certification.
This brand did not respond to inquiries.
WARNING: testing in 2018 found antimony in this product.
Colgate Mattress
Colgate Mattress misrepresented their UL GreenGuard certification.
This brand did not respond to any inquiries.
WARNING: Despite this companies claim of not using fire retardants, prior testing found antimony and chlorine, which means that claim is very unlikely.
Dream on Me
Dream on Me also misrepresented their UL GreenGuard certification.
They disputed the findings and did not make changes.
Chemicals of Concern Found in Crib Mattresses
When it comes to infants, the crib they sleep in is of paramount importance. Fumes from mattresses can off-gas over months and that is what your baby will be breathing for the first months of their life. Here are the chemicals that Mamavation recommends you avoid in crib mattresses.
PFAS (per- and polyfluoroalkyl substances)–This class of chemicals has over 9,000 chemicals according to the EPA. They are used for waterproof mattresses and are linked to immune and thyroid problems, reproductive issues in boys, and cancer.
Flame Retardants–used in the barriers or added to foam to meet federal flammability standards, made with bromine or chlorine (called organohalogens), phosphorus or nitrogen in harmful forms, or the heavy metal antimony trioxide.
Polyvinyl chloride (PVC or Vinyl)–waterproof material or coating that requires many additives like bisphenol A and plasticizers, some of which can disrupt hormones, and some are not well studied.
Polyurethane–especially when used as a foam, contains blowing agents, fillers, additives and inputs that are not disclosed and may be harmful.
Antimicrobials–This is a general term for any product or ingredient that kills or inhibits bacteria, viruses, or molds. These chemicals are not needed inside a crib mattress and may be doing more harm than good in the long run.

Findings From The Mattress Still Matters Report in 2020 Still Relevant
These were the findings of a report that Clean & Healthy New York released in 2020 as they reviewed 227 online product descriptions from 37 crib mattresses brands.
Brands reported vinyl in 27% of their crib mattresses covers. Of the 13 tested, 6 were made of vinyl, and all six contained plasticizers.
Two-thirds of brands now report using flame barriers, and 12% of mattresses are designed without barriers or additives. Two FR barriers and two vinyl covers tested contained antimony. One company uses modacrylic barriers.
PFAS chemicals were disclosed for nine products from three companies, and testing found PFAS in mattresses from three other companies.
One company reported adding a phosphorus-based flame retardant (FRs) to their core and we confirmed that through testing. another reported an ammonium polyphosphate FR layer.
Testing identified seven mattresses that contained indications of FRs: four had combinations of bromine, chlorine, and phosphorus. Five contained antimony at relatively high levels.
Seven companies make claims about antimicrobial properties. One uses silver, one quaternium compounds, one a zinc-based solution, and four dont' say what imparts that property.

Best Crib Mattresses
The good news about this report is there are good mattresses as well. Here's the brands they checked out and passed. These brands are free from petroleum, vinyl, polyurethane foam, added flame retardants, PFAS, antimicrobials, added minerals, and other chemicals of concern.
Lifekind
Obasan
OMI
Soaring Heart
White Lotus Home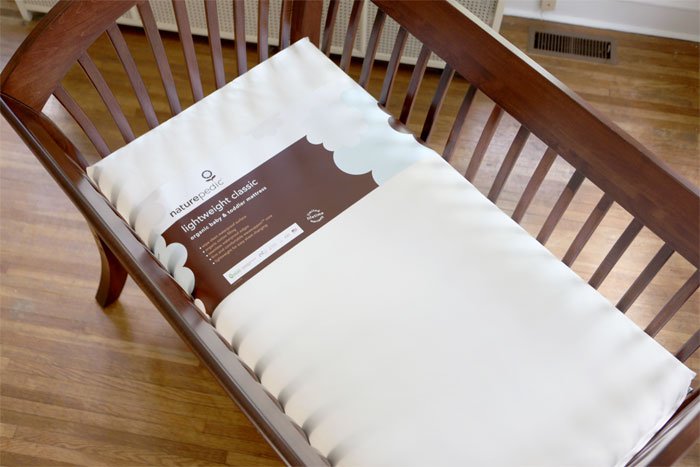 Mamavation's Recommendation For Crib Mattresses
Mamavation recommends Naturepedic for Crib Mattresses and there are so many reasons why. Two of my favorite reasons are their commitment to organic excellence, as demonstrated by all the certifications they have had forever, and the dedication to excellent craftsmanship. Here more to help you decide.
Naturepedic is a small family business producing organic mattresses right here in the United States and lobbying the industry for safer standards since 2003. Not many other organic brands can say they've been around that long and no other organic mattresses company has put in the time lobbying the industry for safer standards like Naturepedic has.
All Naturepedic mattresses are GOTS certified, yet this brand holds more certifications than most other organic mattresses brands and has an impeccable reputation.
The CEO & Founder of Naturpedic sits on several organic boards and helps the industry stay alert to fraud in the organic mattress industry.
No glues or harmful chemicals are used whatsoever. Everything is hand sewn, clipped, or heat sealed.
Many of their workers are skilled Amish craftspeople who take pride in their work, paying special attention to every detail. (During their lunch break, they have been known to watch "Larry, Moe, & Curly" on Youtube and laugh hysterically.)
So there you have it! When you decide to purchase a Naturepedic mattress, you are supporting a small family business with an impeccable reputation that has been in operation since 2003 and an entire group of Amish craftsmen (and craftswomen) who love "Larry, Moe & Curly."
Naturepedic is offering 5% off your total purchase with code MAMAVATION5. While supplies last. Cannot be used with other promo codes. Cannot be applied to past purchases. Valid one time per customer. Other restrictions may apply.