HexClad Cookware has been claiming their high-quality cookware is free from PFAS "forever chemicals" while also admitting they are coated with polytetrafluoroethylene (PTFE). PTFE is, in fact, a type of PFAS chemical according to scientists and the State of California. If you've purchased this cookware, promoted by celebrity chef Gordon Ramsay, especially if you live in California, you may want to contact an attorney if you believed their "non-toxic" and "PFAS free" claims. Not only are they possibly breaking the new California law surrounding PFAS in cookware, but it looks as if it's also possible they may be making false claims on their website and on social media. You've trusted Mamavation to cover topics like safest cookware, safest air fryers, safest indoor kitchen grills, & safest blenders, now join us for the details behind HexClad Cookware and claims on PFAS "forever chemicals."
Disclosure: This post was medically reviewed by Sondra Strand, RN, BSN, PHN. This post also contains affiliate links.
HexClad Cookware Is Coated with PTFE, a Type of PFAS "Forever Chemical," While Telling Consumers They are Not Coated with PFAS
Mamavation reached out to nonstick cookware brand HexClad Cookweare and asked them what was inside their "non-stick coating." We noticed they claimed their cookware was "PFAS-free" on Facebook. Eventually, they responded to us in public but then took down their comment and then later messaged us with information. Within that message, they admitted they were using a polytetrafluoroethylene (PTFE) coating. This is very concerning because PTFE is a type of PFAS "forever chemical."
HexClad may not be savvy enough to know that PTFE is a type of PFAS "forever chemical" commonly used in non-stick cookware, which is disappointing and possibly fraudulent, but in addition to that, they may be breaking new laws passed in California while selling cookware to Californians. California passed new cookware laws this year prohibiting brands selling to California that use any type of PFAS coatings in cookware from making statements they are PFOA-free because it's confusing to consumers. If you have purchased HexClad Cookware (especially in California) after believing statements from HexClad Cookware online claiming they are "PFAS-free" or "non-toxic," you may want to get an attorney to discuss your consumer rights.
HexClad told us via private message on Facebook they were using polytetrafluoroethylene (PTFE) chemicals while also claiming they were "free from all PFAS" and "PFOA-free." Later when we looked into their Facebook comments again, they had also taken that public comment down after we alerted them they were breaking the new California law. Did they fix all their social media? No. We have additional examples of them saying this in public on their Facebook wall. In addition, they did not fix the "PFOA-Free" claims they were making on their site because they still have a blog post up that is searchable on Google making such claims.
Here's what they messaged us privately on Facebook. This is very likely to be factually incorrect and a potentially prohibited marketing claim in the State of California. (Btw, we are also from California but have not purchased this cookware.)

California Passes New Law Making it Illegal for Cookware Companies to Make Certain Claims on PFAS Online
California passed new legislation that went into effect on January 1st, 2023 making it illegal for cookware companies to make certain statements online having to do with PFAS "forever chemicals." The purpose behind these laws is to protect consumers that are not aware there are over 12,000 PFAS "forever chemicals" in commerce. If a brand makes statements they are "PFOA-free" or "PFAS-free" and they contain at least one PFAS chemical (like PTFE), California believes that is misleading and it's now prohibited marketing speech.
What exactly does the new California law say?
The California Safer Food Packaging & Cookware Act of 2021 (the "Act") requires cookware manufacturers to disclose the presence of thousands of chemicals in their products, starting on January 1, 2023.  The legislation also restricts the types of "chemical-free" claims that companies can make in promoting their cookware products.
The Act creates two new requirements for cookware manufacturers that became effective on January 1, 2023.  The Act applies to cookware manufacturers "whose name appears on the product label, or person who the cookware is manufactured for or distributed by (as identified by the product label)."  "Cookware" includes "durable houseware items that are used in homes and restaurants to prepare, dispense, or store food, foodstuffs, or beverages.  'Cookware' includes pots, pans, skillets, grills, baking sheets, baking molds, trays, bowls, and cooking utensils."
By January 1, 2023, cookware manufacturers must disclose on the internet website for the cookware product:  (1) a list of all chemicals "intentionally added" to the cookware (i.e., chemicals that have a functional or technical effect in the product) that are also present on the Department of Toxic Substances Candidate Chemical list (of which 66 are PFAS); (2) the names of the authoritative list or lists referenced by the DTSC; and (3) a link to the internet website for the authoritative list or lists.  (Health & Saf. Code § 109012.)
Second, the Act prohibits manufacturers from advertising that a product is "free" of a chemical when other chemicals from the same chemical class are present.  (Health & Saf. Code § 109013.)  For example, a pan labeled as "PFOA-free" would be non-compliant if it contains other PFAS, such as PTFE.
The State of California defines PFAS as "Perfluoroalkyl and polyfluoroalkyl substances" or "PFAS" means a class of fluorinated organic chemicals containing at least one fully fluorinated carbon atom."
Does PTFE have at least one fully fluorinated carbon atom? Yes, it does. But don't take our word for it. Here's a quote from our scientific advisor Scott Belcher, Associate Professor with the Center for Environmental & Health Effects of PFAS at North Carolina State University. "There are many different fluoropolymers that are PFAS, this includes PTFE or Teflon."
Therefore, this law also makes it illegal for cookware companies that use PTFE chemical coatings to make claims they are "PFOA-free" because it's confusing to consumers. Is HexClad making such claims they are PFOA-free? We found several representations of this online. In addition to other examples we found in social media, we also found lots of those examples here on this HexClad blogpost. 
Is HexClad making prohibited representations according to the new law in California? You decide.
Health Effects Linked to PFAS "Forever Chemicals"
PFAS "forever chemicals" are per- and polyfluoroalkyl substances used for many decades as stain-resistant, oil-resistant, & water-resistant chemicals in commerce. These chemicals are problematic to human health and the environment. They are also considered ubiquitous, persistent, and toxic. Many of these chemicals can last for years or decades in our bodies. Therefore, it's imperative to reduce the amount of PFAS you are exposed to from food, water, and cookware like nonstick pans. 
Below are listed health impacts from exposure to PFAS in general:

What Type of Cookware Does Mamavation Recommend Instead?
Mamavation has made several recommendations on non-toxic cookware and several other types of kitchen appliances. Each one of our investigations avoids ALL PFAS "forever chemicals" and other problematic ceramic coatings like nano-titanium. The rule of thumb for cookware is a simple fact that no cookware is completely "safe" and in order to protect yourself the best course of action is to rotate between several different cooking surface types: stainless steel, glass, carbon steel, non-coated ceramic, & cast iron. However, we do not recommend you use any cookware with PFAS coatings or coatings with nano-particles present.
Here's a list of most of our cookware and small kitchen appliance investigations to help you avoid all PFAS "forever chemicals":
Here are also some additional products we have sent to an EPA-certified lab to have tested for indications of PFAS "forever chemicals" while cooking:
If you would just like to see our recommendations, we have posted them for you below.

Best Stainless Steel Cookware
The stainless steel category is an example of versatility. These cooking surfaces can handle high heat and are mostly oven-safe. They are also far safer than traditional non-stick pans because they do not have a coating that leaches. (Over time there would be concerns of hexclad pans leaching over time.)
People with sensitivities and allergies to nickel need to be aware of stainless steel. The 304 stainless steel pans are for people who are not sensitive to nickel. These pans are 5 ply and made from the best quality stainless steel. This makes them more durable and less likely to leach aluminum from the core over time. You should not have to replace them.
The 430 pans are for people with nickel allergies and sensitivities. However, because of the lack of nickel, they are less durable than the "better" category. This is the tradeoff. Eventually, you will need to replace them. These pans are considered 430 stainless steel (also referred to as 18/0 stainless steel because of it is composed of 18% chromium and 0% nickel.
Best 304 Stainless Steel (with Nickel)
This cookware is for people who are not sensitive to nickel.
Best 430 Stainless Steel (without Nickel)
This cookware is a lower quality stainless steel and should only be purchased by people with allergies or sensitivities to nickel. But if you have a sensitivity to nickel, this is your list.

Best Cast Iron Cookware
Cast iron and carbon steel both contain ferric iron (non-absorbable) vs ferrous iron (natural form in foods). They're safe to use, but be sure to rotate your pans as recommended because too much ferric iron uptake is bad for the body and can deplete vitamin C levels. Cast Iron over years becomes a very good pan for frying eggs with butter. Note that cooking acidic foods in iron cookware increases the release of iron, so be mindful of that. It may be better to use stainless steel pots if you are cooking tomato sauces.

Best Non-Coated Ceramic Cookware Brand
This brand does not contain any nano-coating and does not leach nanomaterials into food. This brand also passes California's strict consumer Prop. 65 laws with laboratory testing on heavy metals and offer sample laboratory reporting of all runs of cookware. You can view them all here. We reached out to this small business to get a discount on their products.
But what about if you want a little bit of non-stick coating but you want the least problematic types of non-stick coating? This is what Mamavation would recommend if you want the least problematic coatings on your cookware.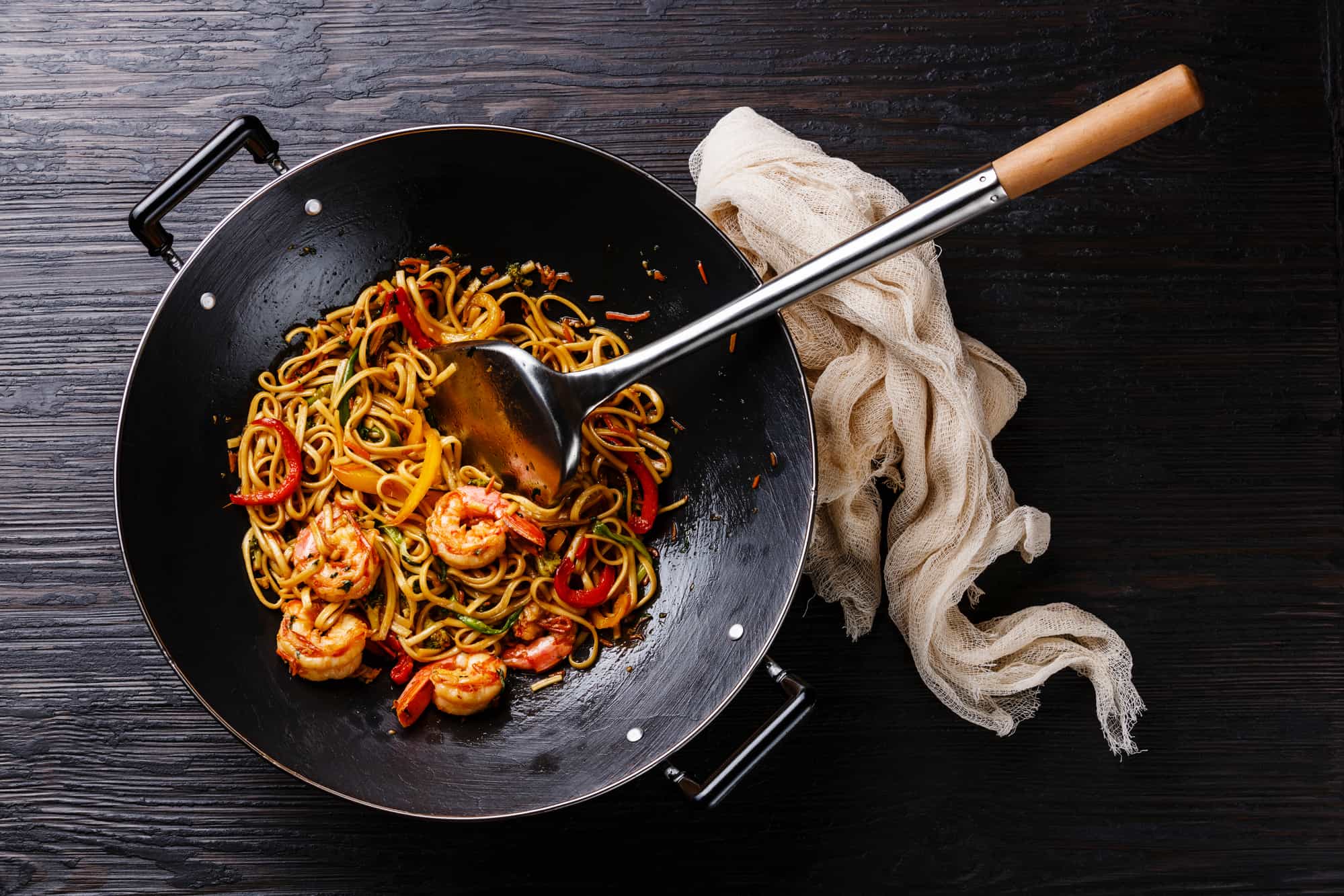 Best Carbon Steel Cookware
Carbon steel is the sister of cast iron, but despite its name contains more iron and less carbon than cast iron. It's lightweight, versatile and convenient to use, but still releases ferric iron so it should be rotated regularly between your other cookware options. Remember to avoid cooking with acidic foods in these pans. We have not done a complete investigation on this category but can make these recommendations.
IKEA Vardagen Carbon Steel Frying Pan

Glass Cookware
There is one really good cookware brand that sells products made from amber-hued glass & non-nano ceramic. This would be our recommendation to use when you are cooking with highly acidic foods like tomato sauces. However, their selections are limited. Visions cookware only sells Dutch ovens and sauce pans as of now.
Best Bakeware
Glass is an inert substance if there are no coatings or decorations on the product. As we've seen, coatings, in general, are a huge problem, and we found that non-stick nanofilms are being developed for glass bakeware so be sure to purchase only uncoated glass products.