If you live in the modern world, you've run across an array of hand sanitizer options, which are used to kill the germs on your hands. But as we learn more about bacteria, it's apparent that some brands of hand sanitizers may be doing more harm than good. Which ones are they? We're happy to tell you. You've trusted Mamavation to bring you other topics like safest cookware, safest cereals & best probiotics, now join us as we bring you our investigation on hand sanitizer. Stick around for the end as we list all the brands in order of ranking by ingredients.
We know you don't have the time needed to investigate the hand sanitizer industry, so Mamavation has done it for you! Scroll down to the very bottom for our product recommendations and if you would like to say thank you, you can donate here. 
Disclosure: this post contains affiliate links and was fact-checked by Rebecca Elizabeth Sherrick Harks, Registered Nurse. 
History of Hand Washing is Ironic & Dramatic–Including Founder Being Committed to Insane Aslymum And Dying
The history of handwashing is ironic and dark. Before the usage of proper hand hygiene in hospitals, people died all the time from diseases they picked up while at the hospital. Back in the day doctors and nurses simply went from treating one patient to the next without washing their hands. The idea of bacteria and germs were scoffed at by most, and thus the disease was instead attributed to humours and miasmas, for which treatment such as bloodletting was the norm.
In 1846, a doctor with the cumbersome name, Ignaz Philipp Semmelweis, discovered that the mortality rates previously associated to the free obstetric clinic in which he worked were sky-high –especially considering that woman who gave birth on the street or in wards with midwives instead of doctors were found to be far healthier. After puzzling over the problem (this was well before the germ theory of disease became prevalent), he decided to enact a clinic-wide trial that involved washing hands all between patients, and of course, it worked. Mortality rates plummeted.
You'd think after all that hand-washing would become regular standard care, but you'd be wrong. The idea of washing hands was knocked down and torn apart by other, more well-known doctors. They didn't like the inference they were hurting patients. He was later discredited and had to leave his practice. But he didn't give up and spent the rest of his life trying to convince other doctors to wash their hands in between patients. Ultimately, that wasn't appreciated because he was tragically committed to a mental health facility and died several weeks later from sepsis after being assaulted. The dark irony was that he died of a disease that could have been prevented had the health care workers washed their hands.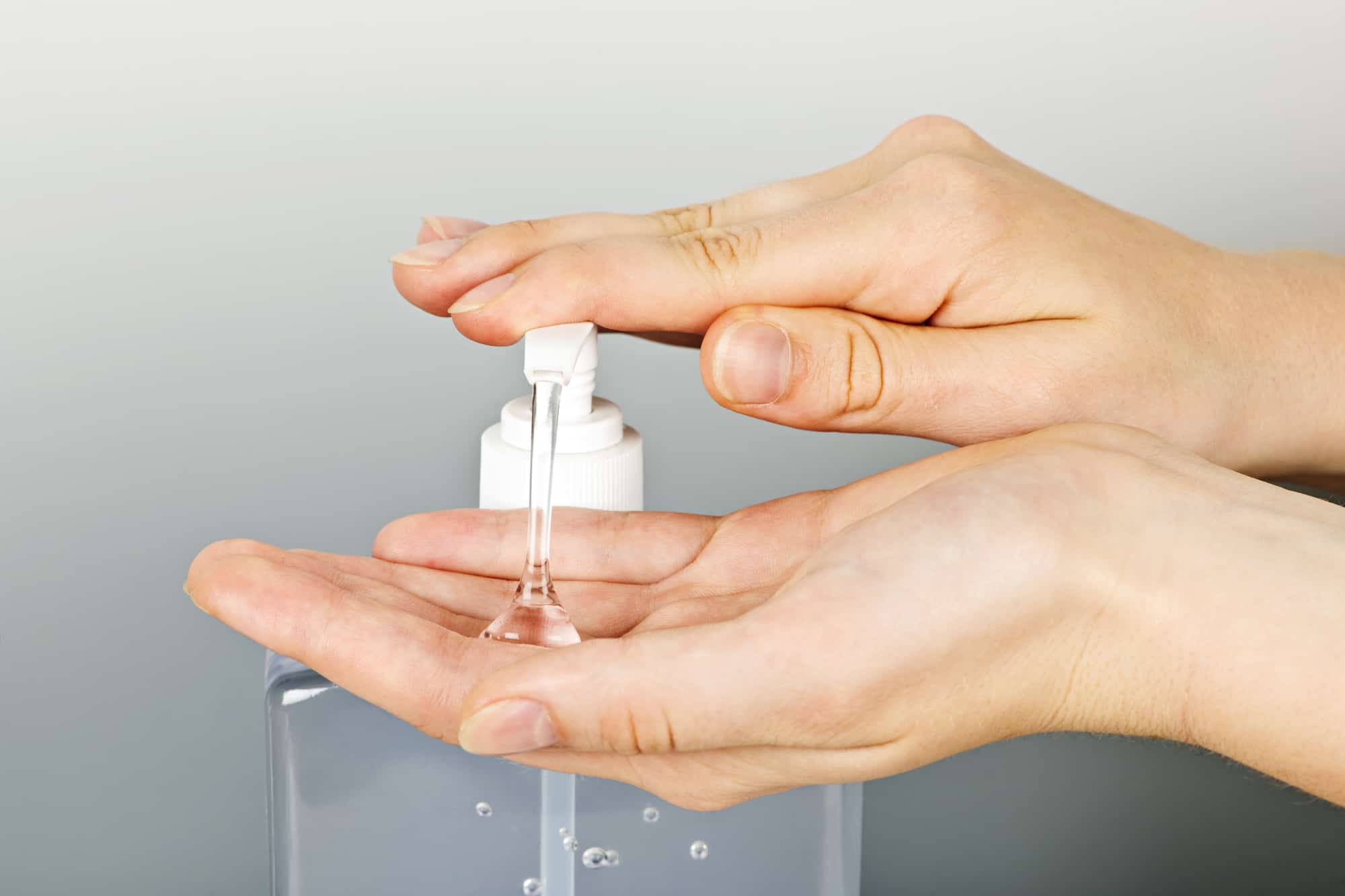 Present Day Obsession With Killing Germs & Bacteria Is Unhealthy
Today, not only do health care workers wash their hands in between patients, but they also wear gloves and use hand sanitizer. But Americans have become quite obsessed with germs, bathing, and cleanliness over the years. Today the average American showers seven times a week–like every day. This is more than five times a week for people in China, Britain, and Japan. The Spanish and the French are similar to Americans in taking a shower every day, but they don't shampoo as much as we do. The French only shampoo twice a week on average.
Research from the University of Utah suggests that Westerners are harming their microbiomes with too much showering. Bathing daily isn't healthy. Robynne Chutkan, MD, the founder of the Digestive Center for Women and author of The Microbiome Solution told ABC News that daily hygiene standards could actually be problematic because you strip away beneficial bacteria on your skin that works to protect your skin and your immunity.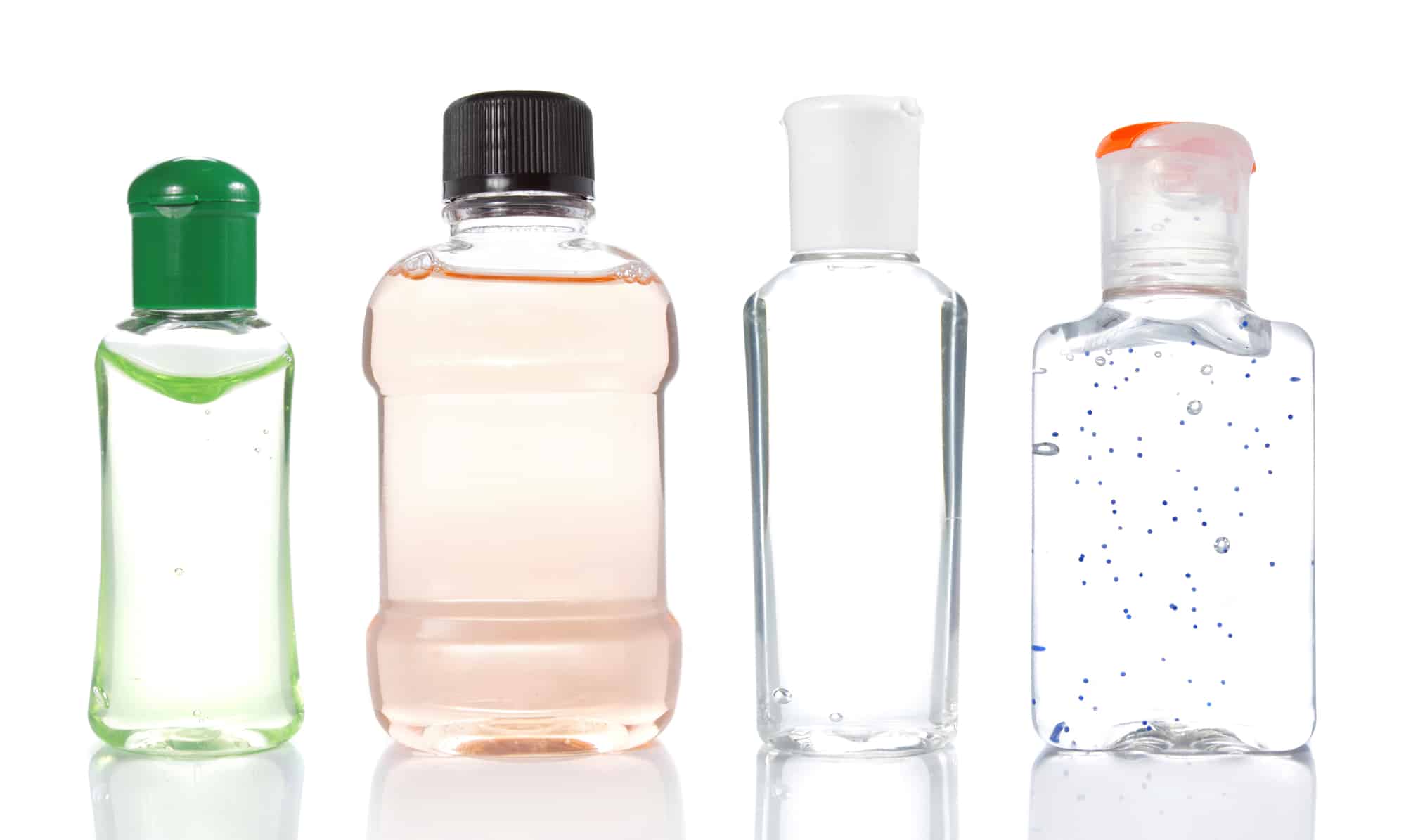 Antibacterial Products Marketed as Solution to Dirty World Linked with Rising Antibiotic-Resistant Bacteria 🤷‍♀️
Our obsession with killing germs has also lead to a rise in the commercialization of antibacterial and antimicrobial products. But the marketing in America from these products is what really convinced us to go into overdrive and thus contributing to the rise of antibiotic-resistant bacteria.
Ads for personal hygiene products like body soap and mouthwash started popping up in the early 20th century. These early manufacturers created the hygiene issues we know today just to hawk their products. Before Listerine was invented, Americans didn't know they had bad breath. And before the invention of deodorant, they had no idea they smelled.  As most of these products were designed for women, it's another example of how marketing was used to create insecurity in women and then profit off that by selling them products–similar to the cosmetic industry.
Fast forward to the late-'90s, where things like hand sanitizer sales shot up to $118 million a year, according to Nielsen. These products promise to kill 99.9% of the germs, including the good bacteria you need to fight off the bad bacteria. Soon the ugly truth starts to emerge–using these products makes you more likely to get sick. For instance, you could be more likely to get the norovirus when using hand sanitizers with anti-bacterial chemicals. The super viruses adapt, change, and then spread quicker than we can naturally adapt to them.
Now cue other products like disinfecting wipes promising to do the same for your kitchen–as in kill 99.9% of the germs. But when you live in an environment with no microbes, you can't develop a proper immune system. It's called the hygiene hypothesis and it suggests increasing the amount of beneficial bacteria to help your immune system build up strength. We actually need more bacteria, not less.
So Do Hand Sanitizers Actually Work? Only If They Have Higher Levels of Alcohol According to the CDC
There has been a lot of debate about whether or not hand sanitizers are actually a good alternative to hand washing, and here are the current CDC guidelines:
Proper Hand Washing is Still Considered To Be Best: Washing your hands with water and soap for 20 seconds (sing the ABC song twice) is still the most effective way to remove germs and other microbes from your hands.
Make Sure There's Enough Alcohol: In the event that soap and water isn't available, ensure that if you're using alcohol-based hand sanitizer that the concentration of alcohol is over 60% as alcohol-based sanitizers under that amount are not as effective.
Low Alcohol/No Alcohol Hand Sanitizers Are Not As Effective: Non-alcoholic or low alcohol hand sanitizers may not work as effectively for a couple of reasons:
Non-alcohol-based hand sanitizers may not be as efficient in killing all classes of germs on the hands. Including the norovirus – the one that causes the stomach flu.
However, the CDC cautions that these types of hand sanitizers often reduce germs growth rather than killing the germs altogether. As a result of only reducing growth, this can lead to germs that develop resistance to the hand sanitizer. Oddly, these types of hand sanitizers are actually more likely to irritate the skin.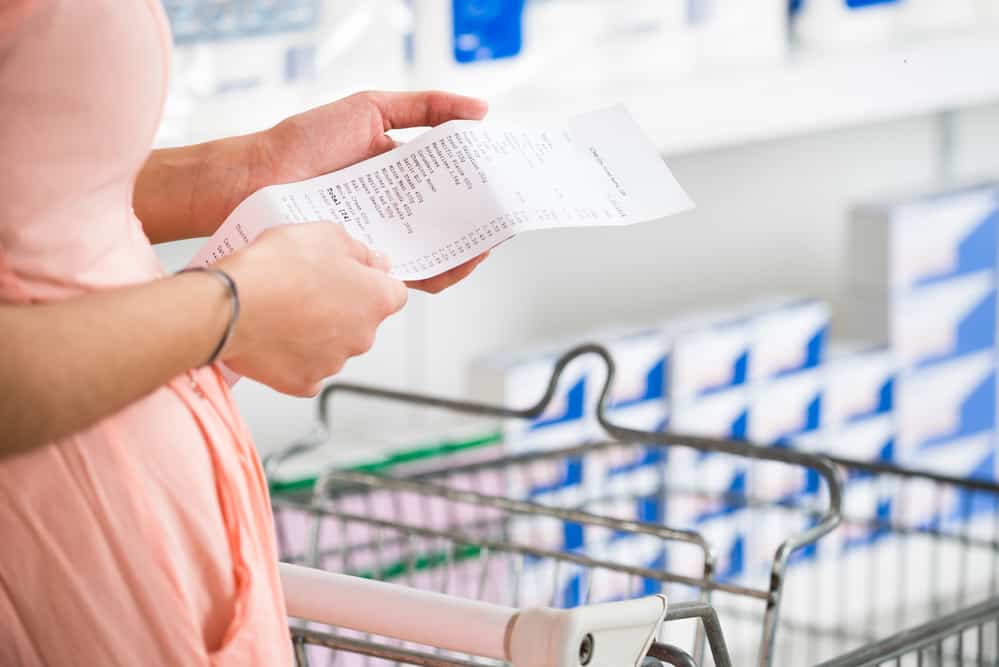 CAUTION: Alcohol Increases Absorption of Other Chemicals–Like Bisphenol (BPA) Exposure From Receipts
So you know how the Centers for Disease Control says you need hand sanitizers that are 60%+ alcohol? Be very careful what you touch AFTER applying that hand sanitizer with high levels of alcohol. What the CDC forgets to mention is that alcohol makes the skin more permeable after application. That means that its easier for other chemicals to absorb into your skin afterward. And this can become a problem if you handle thermal receipt paper frequently. (Sign our petition telling Target to reformulate to non-bisphenol receipts!)
One study found that people that used Prell hand sanitizer before handling receipts covered in bisphenol-A (BPA) had an increased absorption rate of 100 or more. Because it's very common to apply hand sanitizer before handling receipts, health experts are cautioning you to be careful what you handle after applying alcohol-based hand sanitizers.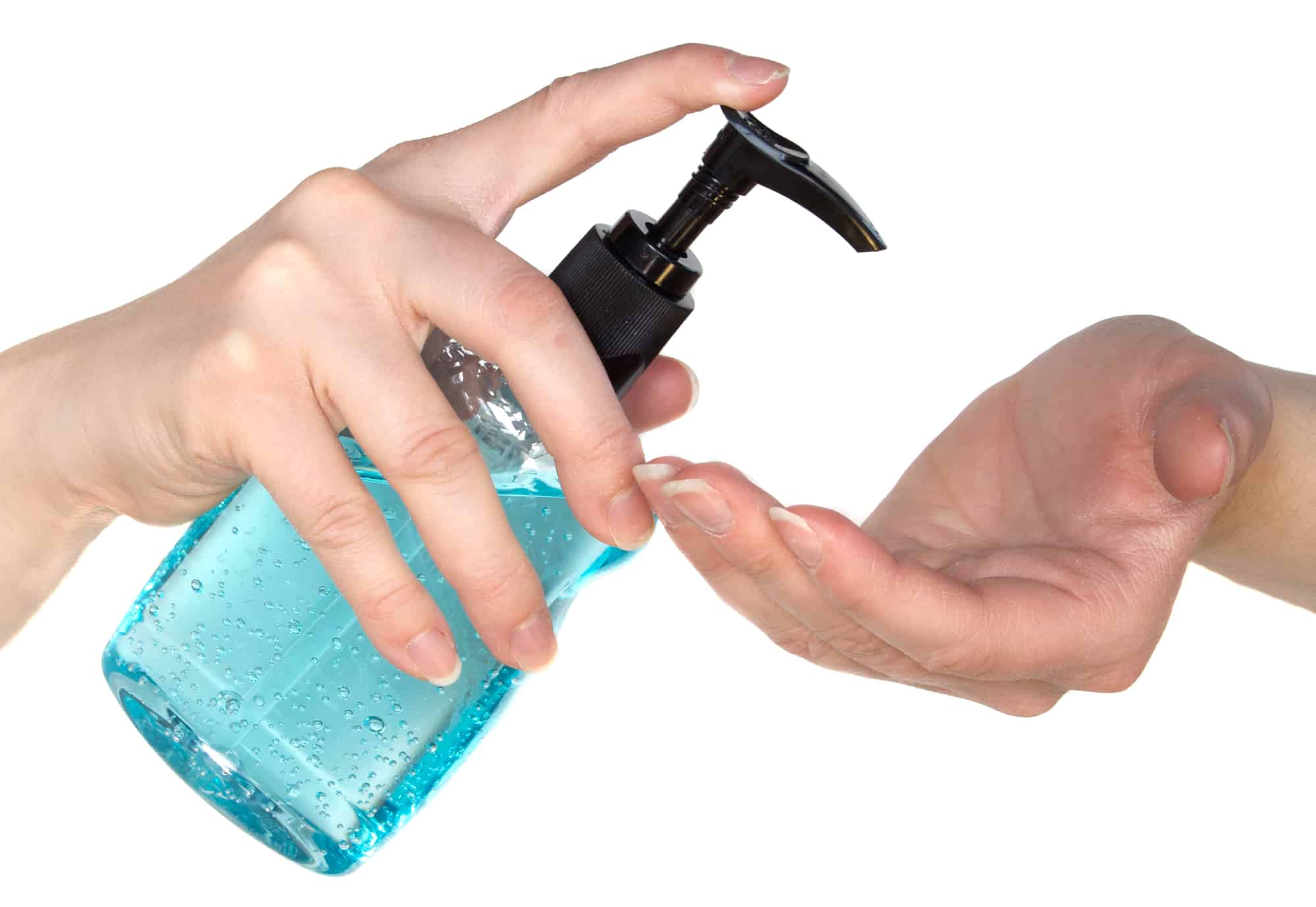 13 Ingredients to Avoid in Hand Sanitizers
Hand sanitizers have a plethora of ingredients to avoid. After analyzing close to forty different brands, this is what we found:
Triclosan: is found just about anywhere you look–clothes, toys, kitchenware, and even hand sanitizers, and is the alternative for using ethyl alcohol as an agent in hand sanitizers. According to the FDA, who has performed much research on triclosan states that it may lead to not only hormonal disruptions but also may actually work to create more and more antibiotic-resistant "Super" bacteria.

May be listed as PHENOL,  CH 3565; IRGASAN

Benzethonium Chloride is another common biocide that has many antimicrobial uses, often found in cosmetics, deodorant, and personal care products, including hand sanitizers. This is a preservative used to suspend microbial growth in the product.

It is also known BENZENEMETHANAMINIUM, CHLORIDE; AMMONIUM CHLORIDE; PHENOXY ETHOXY ETHYL DIMETHYL BENZYL; ANTI-GERM 77; ANTISEPTOL

Synthetic Colors make everything a bit easier on the eyes, it also can lead to some pretty serious issues. Made from coal tar, synthetic colors can also contain heavy metal salts that are absorbed into the skin and almost all of these, in animal studies, are carcinogenic.

Synthetic colors will be labeled as FD&C or D&C, followed by a color name and a number.

Ethyl Alcohol: is the main ingredient in hand sanitizers and can be a very major issue with children, who see the bright colored bottles and want to ingest them. Make sure children do not ingest products containing ethyl alcohol, so even our "best" brands of hand sanitizers cannot be ingested by children. The CDC advises that the ingestion of hand sanitizers by children can be incredibly dangerous including respiratory depression, seizures, and coma. It's also important to know that alcohol acts as an adjunct, so anything that gets on your skin afterward would sink inside quicker, easier and in higher quantity. Do not allow children to handle thermal receipt paper, because alcohol would increase the absorption of bisphenols within the paper.

ALCOHOL, ABSOLUTE ETHANOL; DISTILLED SPIRITS; ETHANOL, UNDENATURED; ETHYL ALCOHOL; ETHYL HYDROXIDE; UNDENATURED ETHANOL; ABSOLUTE ETHANOL; ALCOHOL DEHYDRATED; ALCOHOL, ANHYDROUS

Phthalates: Animal studies have shown that phthalates, which are found in a variety of things (including hospital tubing and IV bags) have demonstrated that phthalates are not only problematic to children, but specifically damaging to the liver, lungs, kidneys, and reproductive system.
Benzalkonium Chloride: is an antimicrobial agent often used in hand sanitizers that can lead to organ toxicity, developmental toxicity, reproductive toxicity, and human toxicity.

Avoid labels that have its other names, including AMMONIUM CHLORIDE; CHLORIDES; ALKYL DIMETHYLBENZYL AMMONIUM CHLORIDE, BAYCLEAN; BENIROL; BENZALKONIUM A.

Propylene Glycol, Propylene Oxide, Polyethylene Glycol: as the active ingredient in antifreeze, the FDA has determined that it is carcinogenic, despite being found in everything from hand sanitizers to baby products. Other possible side effects may include organ system toxicity, developmental toxicity, and reproductive toxicity.

Also known as "antifreeze" and methyletethyl glycol

Parabens are ubiquitous in the world of cosmetics and personal care products as they are able to stop bacteria and fungus from colonizing in these products, and by proxy, extend the shelf-life of these products. Unfortunately, since parabens are commonly found in things you use every day (including hand sanitizer) and are linked to some pretty major health risks such as reproductive toxicity, hormone/endocrine disruption, neurotoxicity, and cancer.

To avoid parabens, avoid ingredients ending in -paraben.

Sodium Lauryl Sulfate, Sodium Laureth Sulfate (SLS)(SLES) are a group of surfactants which are used to dissolve surface tension in many industrial workshops as a cleaner and engine degreaser. SLS has been linked to serious issues, including: organ toxicity, hormone disruption, neurotoxicity, developmental and reproductive toxicity.
Ureas: are a naturally-produced compound created by the by-product of protein metabolism that also can be produced synthetically that can lead to a number of dangerous effects, including organ toxicity and cancer

Avoid products with these on the label diazolidinyl urea, imidazolidinyl, DMDM hydantoin, sodium hydroxymethylglycinate

Scents, Fragrance, Perfume: Because so many companies refuse to disclose what exactly makes up the smell of their hand sanitizer, as it's considered a "proprietary blend," using personal care products that use scents, perfume, and fragrance can be dangerous. Without knowing exactly what is in their fragrance, usually a mixture of many, many chemicals, the risk of exposure to something toxic is great.

Avoid products that list 'fragrance' as an ingredient

Chloroxylenol is used in personal care products as a microbial and a preservative and can lead to complications such as bioaccumulation and organ toxicity.

This may also be known as 4-CHLORO-3,5-DIMETHYL- PHENOL; CHLORODIMETHYLHYDROXYBENZENE; PCMX; PHENOL; XYLENOL, ARCHLORO

1,4-Dioxane has been known to cause cancer in the California, but, because manufacturers are sneaky, it's never listed on an ingredient label, partially because it's considered a contaminant of the process known as ethoxylation process than as an actual ingredient.Avoid synthetic ethoxylated ingredients, including those with myreth, oleth, laureth, ceteareth, any other "eth," PEG, polyethylene, polyethylene glycol, polyoxyethylene, or oxynol, in their names.
Alcohol-Based Versus Non-Alcohol Based Sanitizer – Does It Matter?
With the growing number of people who use hand sanitizer – including children – it can be hard to determine which type of hand sanitizer to choose. Per the CDC guidelines, alcohol-based hand sanitizers are the best. But why? Let's compare them:
Alcohol-Based: Alcohol-based hand sanitizers are made with ethyl alcohol which comprises between 60-90% alcohol; the higher the concentration, the higher the ability to kill germs. The leading health organization in the world, The World Health Organization (WHO), states that best practices are to use alcohol-based hand sanitizers if soap and water isn't available. Additionally, per the CDC, alcohol-based hand sanitizers are more effective at killing the cold and flu viruses.
Non-Alcohol Based: In lieu of using alcohol, alcohol-free hand sanitizers instead use products with antimicrobial agents such as triclosan, chlorhexidine, iodophors or quaternary ammonium compounds. These chemicals kill germs, but they are unsafe for children.
Therefore, alcohol-based hand sanitizers are the best bet for killing germs on hands. However, soap and water is still the preferred method of cleaning dirty hands.

Mamavation's Investigation on Hand Sanitizers
Mamavation found close to forty hand sanitizer brands from recommendations in our forums on Facebook and from research on Amazon. After evaluating all the ingredients and each brand, we ranked them by ingredients below.
Worst Hand Sanitizer Brands
These brands had many bad ingredients including triclosan, artificial colors, fragrance, propylene glycol, and/or Tocopheryl Acetate. Bad brands had 3 or more bad ingredients mentioned above.
Bath and Body Works Anti-Bacterial Hand Sanitizer Sweet Pea
CVS Brand -Instant Hand Sanitizer With Aloe
Equate Hand Sanitizer with Vitamin E
Germ-X® Aloe Hand Sanitizer
Germ-X Natural Hand Sanitizer Spray, Vanilla Citrus
Melaleuca – Clear Defense
PURELL Advanced Hand Sanitizer
Solimo Hand Sanitizer with Vitamin E and Aloe, Amazon Brand
Squeaky Clean Antibacterial Hand Sanitizer with Aloe Vera.

Better Hand Sanitizer Brands
These brands were far better than the bad ones, but they still have some issues. These brands had 1-2 ingredients of concern. Please remember that once alcohol-based hand sanitizer is applied, the absorption rate of chemicals is increased so please keep them away from thermal receipt paper.
All Day Hand Sanitizer
Babyganics Alcohol-Free Foaming Hand Sanitizer
Puracy Natural Foaming Hand Sanitizer
PURELL Advanced Hand Sanitizer Naturals with Plant-Based Alcohol, Citrus Scent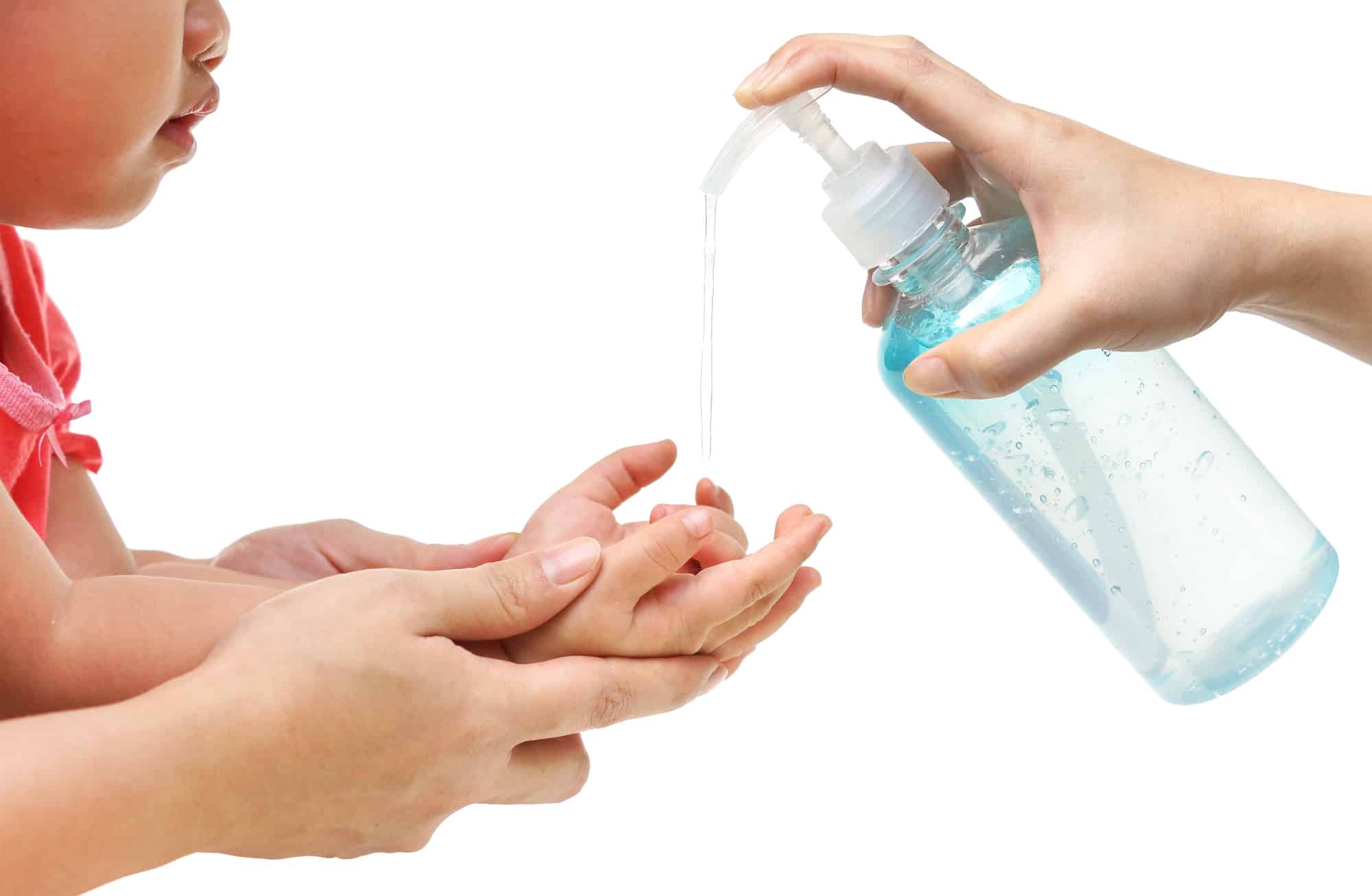 Best Brands Of Hand Sanitizers
Each brand here are alcohol-based and contain organic ingredients. Please remember that when used, be careful what your child touches aftward. Do not allow them to handle thermal receipt paper. Alcohol increases the absorption of chemicals after applied.
Ameo Hand Purifier
HandSan Organic Hand Cleanser
Hydrating Hand Sanitizer – Spray – Grove Collective
Neal's Yard Remedies (NYR) – Organic Defense Hand Spray
Poofy Organics Hand Clappers
Touchland Power Mist