Let's face it, condiments can be as important as the meal they're on. Don't believe me? Have you ever told a toddler you're out of ketchup? But which condiments are best for your family? Not all ingredients are created equal. You've trusted Mamavation to bring you best & worst salad dressings, best & worst hummus, and best and worst chips & salsa, now join us as we investigate condiments for the safest ingredients for your family.
Condiments liven up an otherwise bland meal and give you an acceptable way to play with your food. But, before you go dipping your fries into a variety of sauce options, you should probably know what's in that sauce.
Disclosure: This post contains affiliate links.
Would you like High Fructose Corn Syrup with that?
A look at the ingredients and you may be able to spot some this one right off the bat. Many ketchups and barbecue sauces contain high fructose corn syrup (HFCS). We've told you before why you should avoid HFCS at all costs. It can make you fat and even trick your brain into making you eat more. Combine that with increased cancer risk, heart disease, and that it can actually make you stupid, it's not good eats.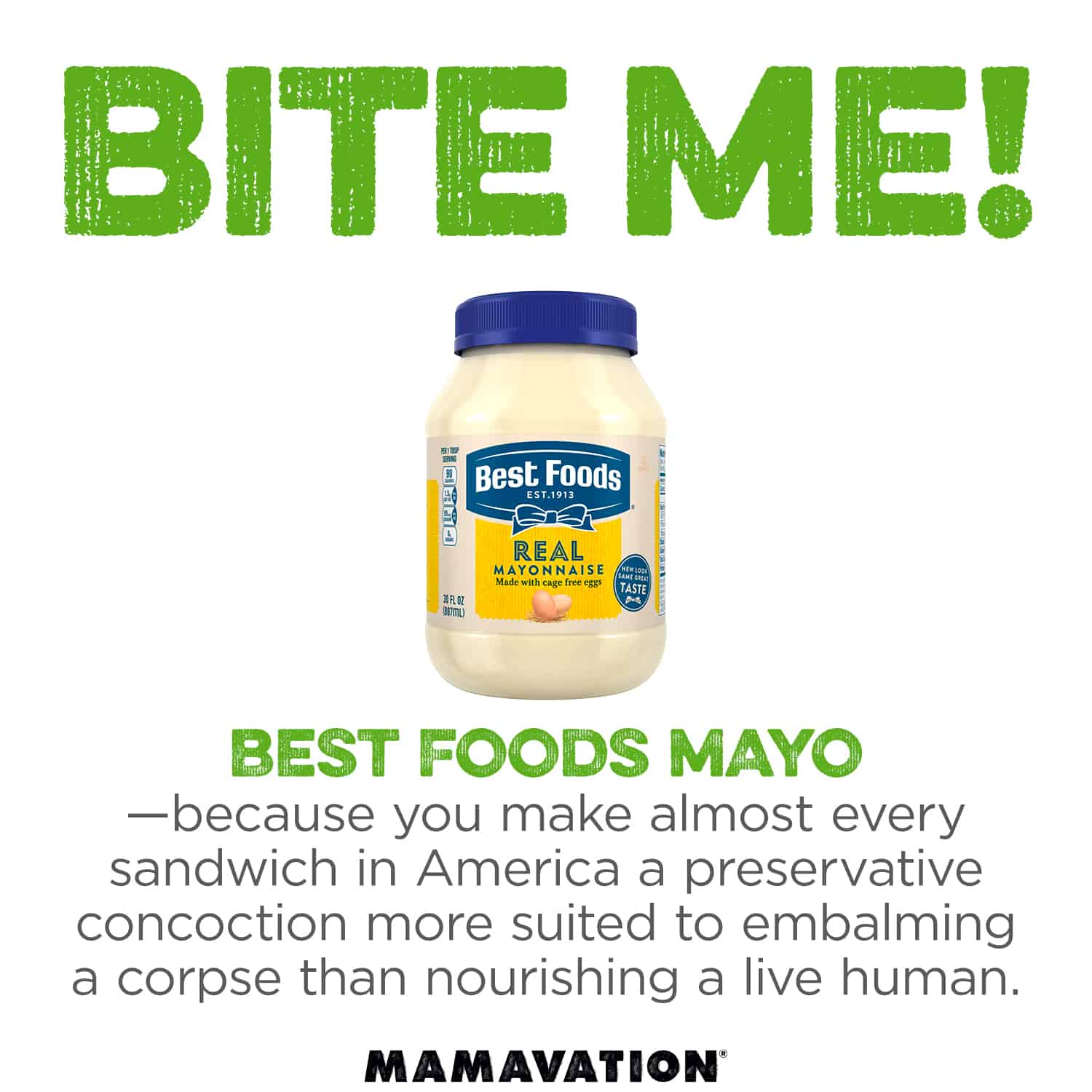 What's Inside the Secret Sauce? Preservatives & Probable Carcinogens
As you scroll through the list of ingredients, there are some that may be hiding a secret, though. Natural smoke flavor, for example, may sound harmless, but research found it to damage the stomach lining of rats and cause DNA damage. The preservative calcium disodium EDTA is linked to allergic reactions, skin rashes, and possibly even kidney damage.
Spice, natural flavoring, maltodextrin, modified food starch, and enzyme-modified egg yolk can all be hidden msg ingredients. MSG is an excitotoxin that tricks the brain into thinking food tastes better. High levels of MSG have been linked to numerous diseases, learning disorders, and even brain damage.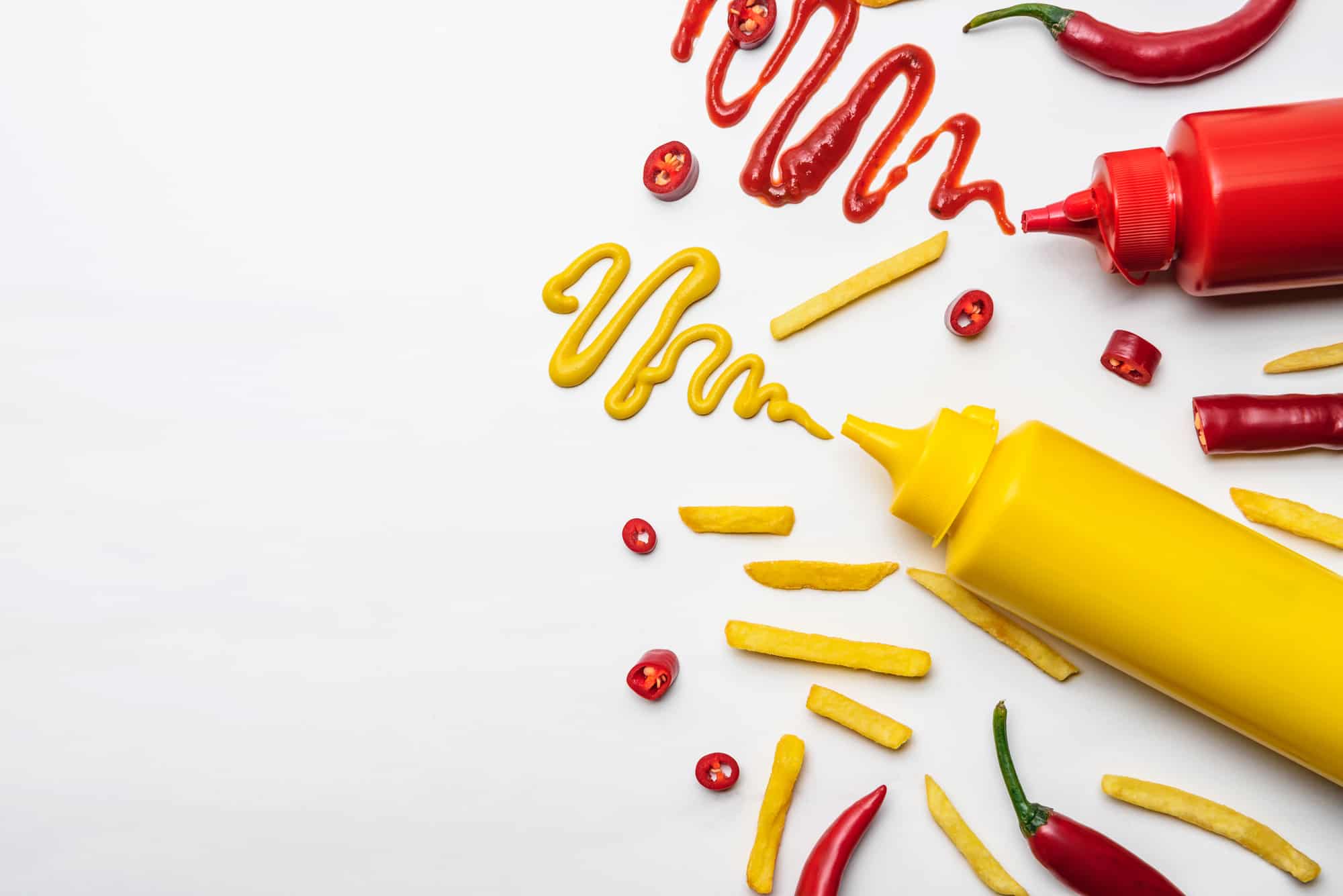 I also spotted genetically modified ingredients in many condiments. Currently, there is no mandatory labeling of GMOs required in the US, so until more brands decide to label them, it's tough to know for sure. Glyphosate, the most common pesticide sprayed on GMO crops, is a probable carcinogen according to the World Health Organization. With over 90% of corn and soybean crops grown in the US being genetically modified, it's safe to assume ingredients derived from these crops are GMO.
Therefore, condiments containing canola oil, soybean oil, corn syrup, and HFCS are all likely to contain GMOs. Even "sugar" indicated sugar from likely GM sugar beets, not cane sugar.
Put a Condiment On It
Don't fret fellow condiment lovers, there is hope. There are plenty of options that don't contain these toxic and questionable ingredients. Below you'll find some brands sorted from the bad to the best choices. Surprisingly, I found more "best" options overall, so you can squeeze as you please!
Bad Condiments
These brands are best left on the shelf. They contain high fructose corn syrup made from GMO corn, sugar from GMO sugar beets, GMO soybean oil, natural flavorings, which can be an indicator of MSG, natural smoke flavor, preservatives, and additives. Note that no mustards made this list, simply because mustard just contains less "bad stuff."
Heinz Tomato Ketchup
Hunt's Tomato Ketchup
Best Foods Real Mayonnaise
Kraft Real Mayo
Kraft Mayo with Olive Oil
Sweet Baby Rayss BBQ Sauce
Hunt's BBQ Sauce
Heinz BBQ Sauce
Kraft A1 Steak Sauce

Better Condiments
A step up from the "bad" list, these condiments are a better choice. Although some still contain preservatives like calcium disodium EDTA or the vague "natural flavors."
Heinz Simply Natural Tomato Ketchup
Hunt't 100% Natural Tomato Ketchup
French's Classic Yellow Mustard
Heinz Yellow Mustard
French's Dijon
French's Deli Mustard
Grey Poupon Dijon Mustard
Just Mayo
Bulls-Eye BBQ Sauce
Best Condiments
It's great to see so many brands made the best list. These organic and natural condiments are free from GMOs, artificial preservatives, and MSG. You can saucily accessorize that sandwich as you please, just make sure you've read up on which meat you should be buying.
O Organics Tomato Ketchup
Best Foods Organic Mayonnaise
It's important to note that ketchups and barbecue sauces tend to have high sugar content, and mayonnaise is high in fat. Take your personal dietary needs into consideration when consuming these condiments. Just because a ketchup is organic doesn't mean you should drown your poor little fries in it and too much organic mayo can still pack on the pounds. The goal here is to help you choose the least toxic products for your family, because life is about changing what we can for the better. And life without ketchup certainly isn't better.
Some of the products in our BEST category are offered at Thrive Market for 25-50% off retail. And Thrive Market is offering Mamavation community members 15% off their first purchase and one-month membership FREE. To take advantage of that offer and purchase condiments and other nonGMO foods that are better for your family click here.
Which is your favorite condiment? Did we miss any? Do you recommend any additional brands we need to check out? Please let us know in the comments.
Save