So you've opted for a salad. Good job picking a healthier meal with more fiber and nutrients. But are you pouring on an unhealthy dose of chemicals, artificial coloring, and high-fructose corn syrup on top? That certainly could be the case if you're using store-bought salad dressing. So where are all the better store-bought salad dressings and marinades? We found most of them online for you. You've trusted Mamavation to bring you topics like better cookware, better condiments, & better spaghetti sauces, now join us as we bring you the best salad dressings & marinades.
Disclosure: This post contains affiliate links to Amazon and was fact-checked by Rebecca Elizabeth Sherrick Harks, Registered Nurse.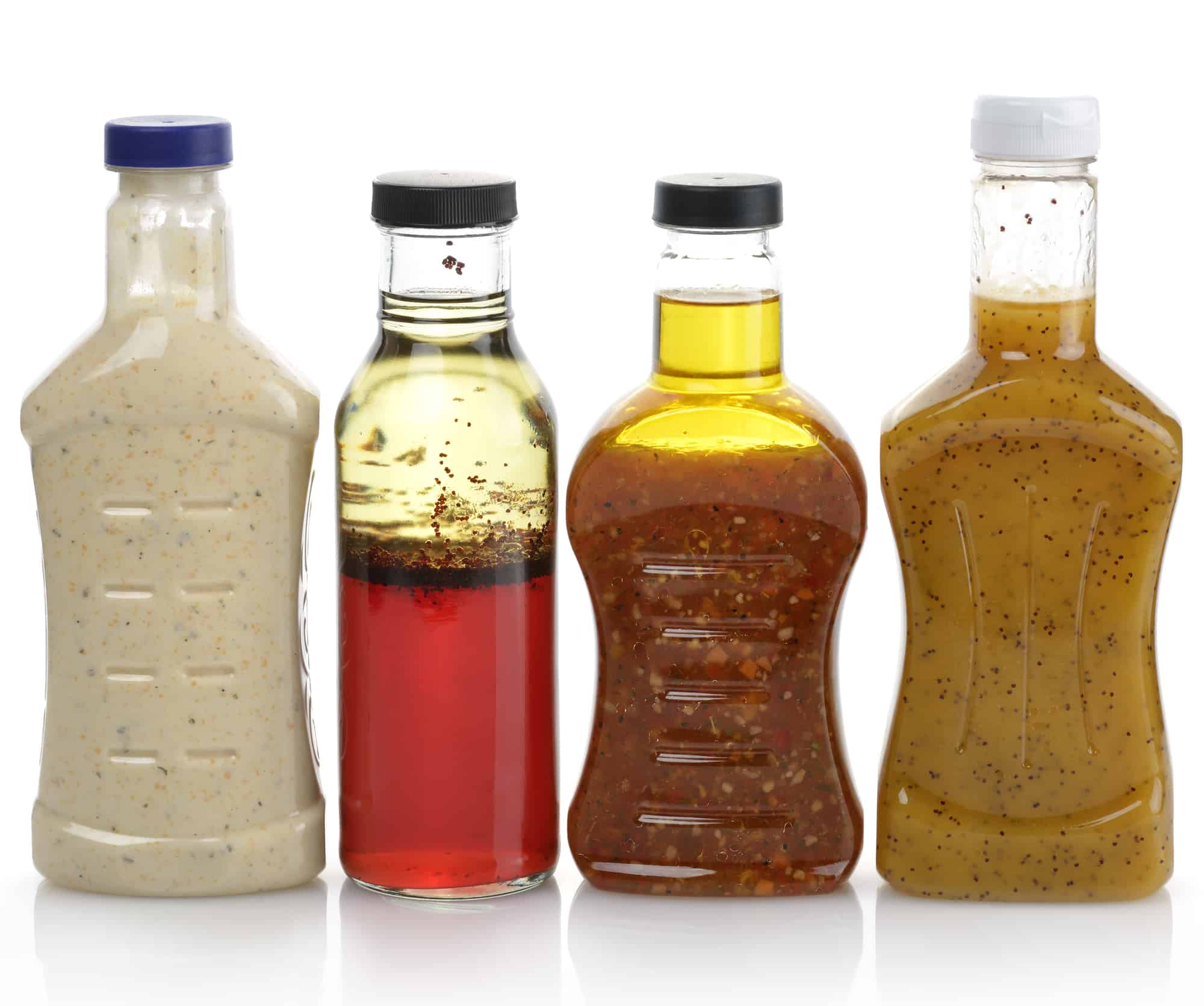 Bad Ingredients to Avoid in Salad Dressing & Marinades
After analyzing the ingredients of over 250+ salad dressings and marinades, we started to notice a very distinct pattern in problematic ingredients. There are lots of them. A simple rule of thumb started to arise–the more ingredients, the more likely they would contain some of the problematic ingredients below:
high fructose corn syrup (HFCS)
harsh preservatives like EDTA, potassium sorbate & sodium benzoate
artificial colors
propylene glycol
polysorbate 60
"natural" and artificial flavors, i.e. undisclosed ingredients
MSG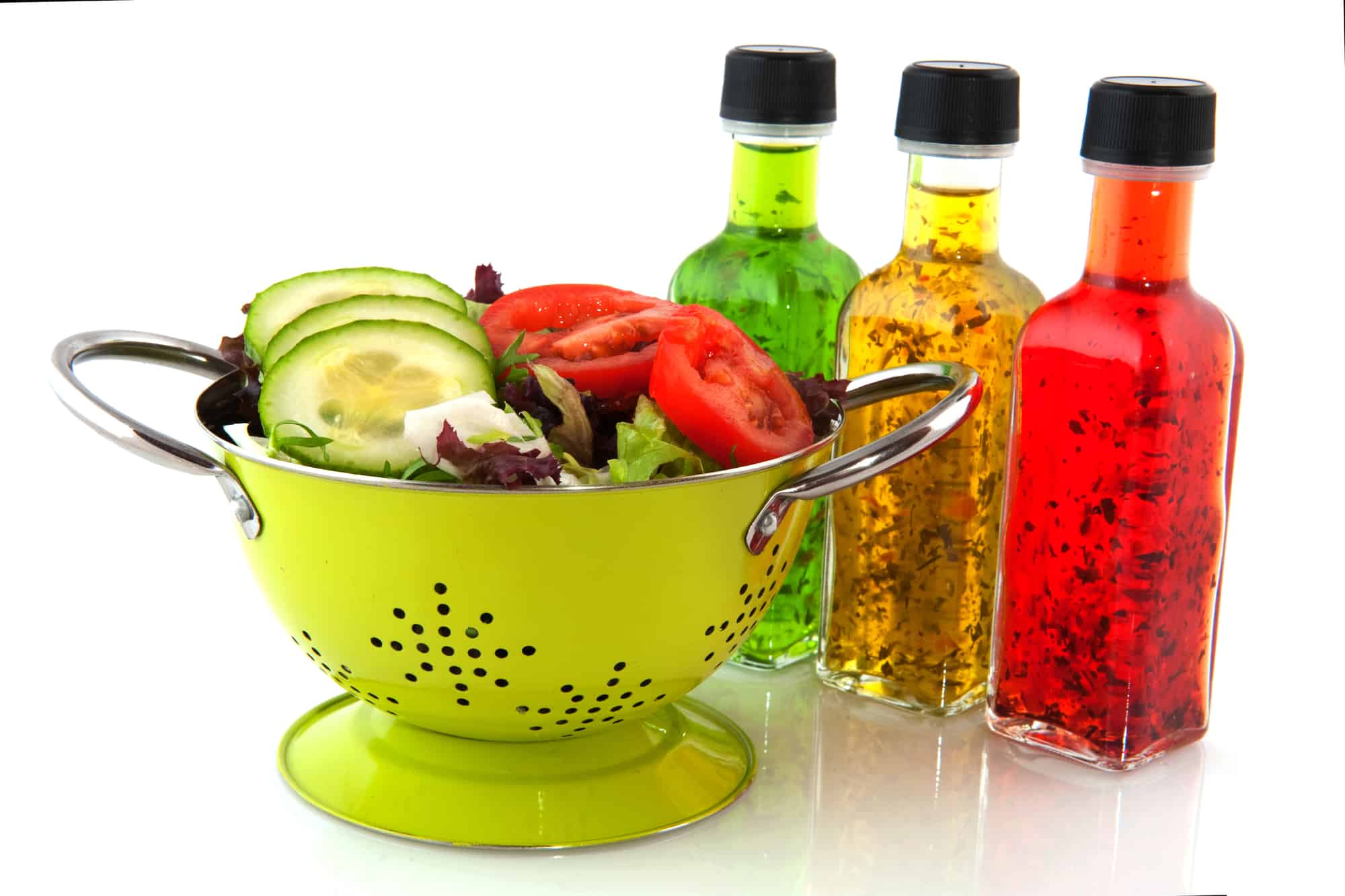 High-Fructose Corn Syrup Does Not Belong in Salad Dressing or Marinade
This should come as no surprise. We've talked about the dangers of High Fructose Corn Syrup (HFCS) for some time. It's linked to obesity and diabetes. HFCS has also been shown to alter the brain. It can impede learning abilities, memory, and is also linked to depression and Alzheimer's. Beyond that, it increases risks for various cancers and cardiovascular disease.
It's basically a nightmare.
It's also important to note HFCS is derived from genetically modified (GMO) corn which is sometimes sprayed with herbicides, such as glyphosate. In 2015, the International Agency for Research on Cancer, a part of the World Health Organization, classified glyphosate as a probable human carcinogen. Then in 2017, glyphosate was classified as a carcinogen by California's Office of Environmental Health Hazard Assessment and put on their Prop. 65 list.
Harsh Preservatives like EDTA, Sodium Benzoate & Potassium Sorbate Do Not Belong in Salad Dressing or Marinades
Harsh preservatives like EDTA, sodium benzoate and potassium sorbate are very prevalent in salad dressings and marinades, but problematic to health. These preservatives & stabilizers are prevalent in the brands that made the "bad" list.
Studies found that preservative EDTA is linked to mineral depletion in dogs and patients taking EDTA for medical reasons suffered from anemia and other symptoms. It seems to be something you could do without.
Sodium benzoate & potassium sorbate are both linked to problems like inflammation. Sodium benzoate has also been linked to things like difficulty controlling appetite and making college students more hyper. But potassium sorbate was linked to genotoxic effects, which are very concerning.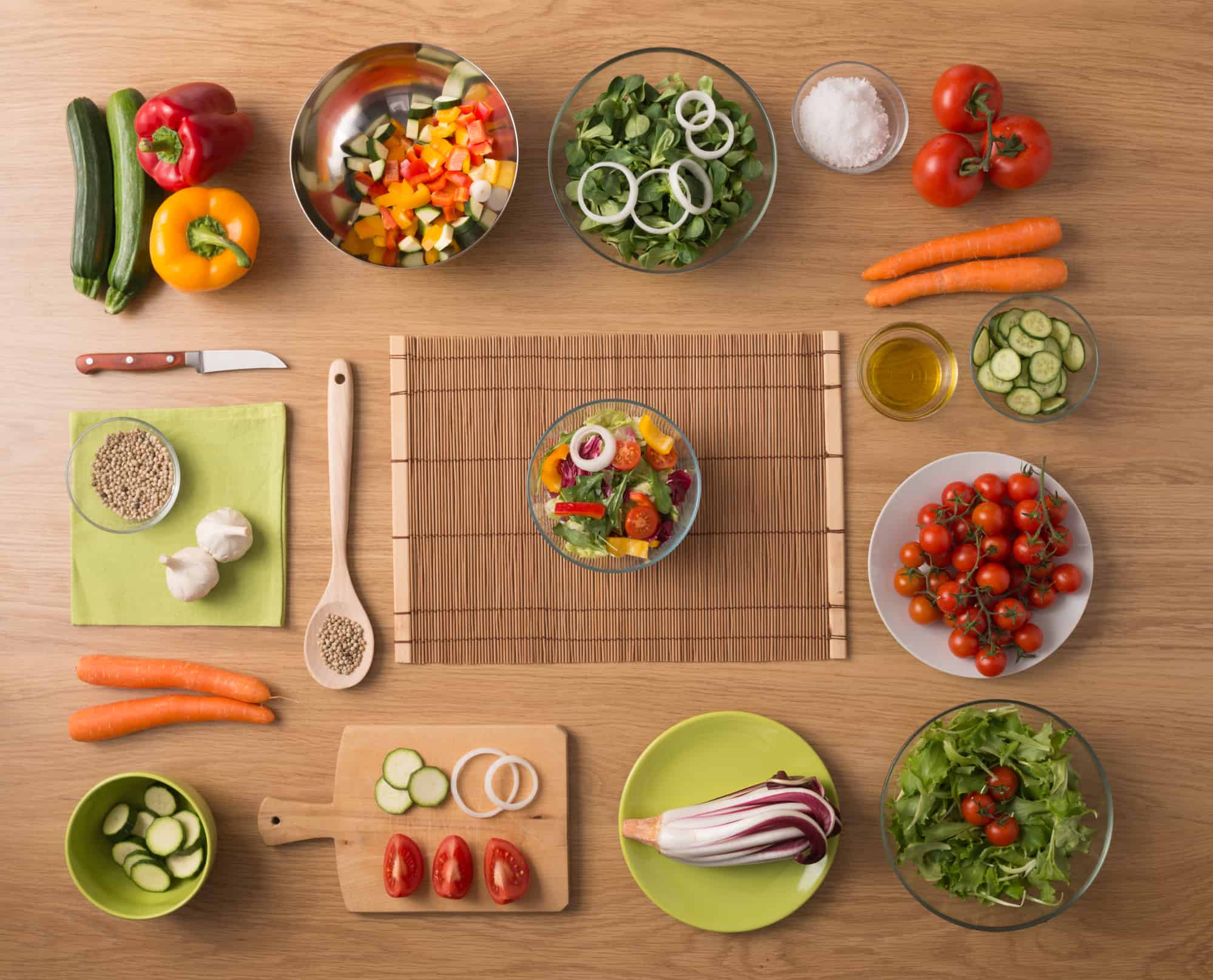 Artificial Colors Do Not Belong in Salad Dressing or Marinades
Caramel color and artificial flavors were in many of the salad dressings we looked at. If you have children and you would like to enjoy their company, don't give them artificial colors. Because when you do this, they can turn into monsters. Not the literal ones, but ones that have poor impulse control–like my son. Artificial colors are linked to hyperactivity in children and may worsen ADD or ADHD symptoms. Artificial colors are also linked to several cancers. Here are some of the colors we found inside salad dressings and marinades broken down by side effects:
Red 40: allergic reactions, such as swelling around the mouth. Linked to hyperactivity in children. Also linked to lower fertility in offspring. Dyes made from coal tars are created by mixing various fragrant smelling hydrocarbons like benzyne and toluene.
Blue 1: Blue 1 is a petroleum-derived triphenylmethane. Reactions include eczema, hives, puffy eyelids, dry skin, sneezing, recurring ear infections, congestion, and wheezing. Severe reactions include anaphylaxis. People with digestive issues report reactions such as constipation, vomiting, bloating, abdominal discomfort and diarrhea.
Yellow 6: May cause an allergic reaction such as asthma, hives, headache, skin rash and in extreme cases anaphylaxis. Also linked to hyperactivity in children.  Caution advised to those with aspirin sensitivities as reactions can occur.
Propylene Glycol & Polysorbate Do Not Belong in Salad Dressing or Marinades
We've talked about propylene glycol before when discussing e-cigarettes and personal care products. In both of those situations, this ingredient isn't something to get excited about.
Propylene glycol could be fine…or not. But certain parts of the population are more at risk such as young children, the elderly, burn patients, or patients on Ativan and diazepam. Propylene glycol is never to be taken intravenously. The World Health Organization has established the maximum amount to be ingested for adults to be 25mg/kg in a single day. Those at increased risk are at a higher risk for kidney and liver insufficiency.
Polysorbate 60 is a chemical you would find in Twinkies. Studies have linked daily consumption of emulsifiers like polysorbate to irritable bowel syndrome (IBS) symptoms in rats. Another recent study showing how emulsifiers like polysorbate affect the bacteria in the gut. According to the Journal of National Cancer Institute, polysorbate 60 can cause detrimental reproductive effects, organ toxicity and cancer in high doses.
Most brands, fortunately, are avoiding these chemicals today. But you'll find propylene glycol in salad dressings like Ken's Steakhouse Creamiest Caesar Dressing, Wishbone Russian Salad Dressing, & Wishbone Ranch Dressing. We found polysorbate 60 in Wishbone Russian Salad Dressing & Wishbone Ranch Dressing as well.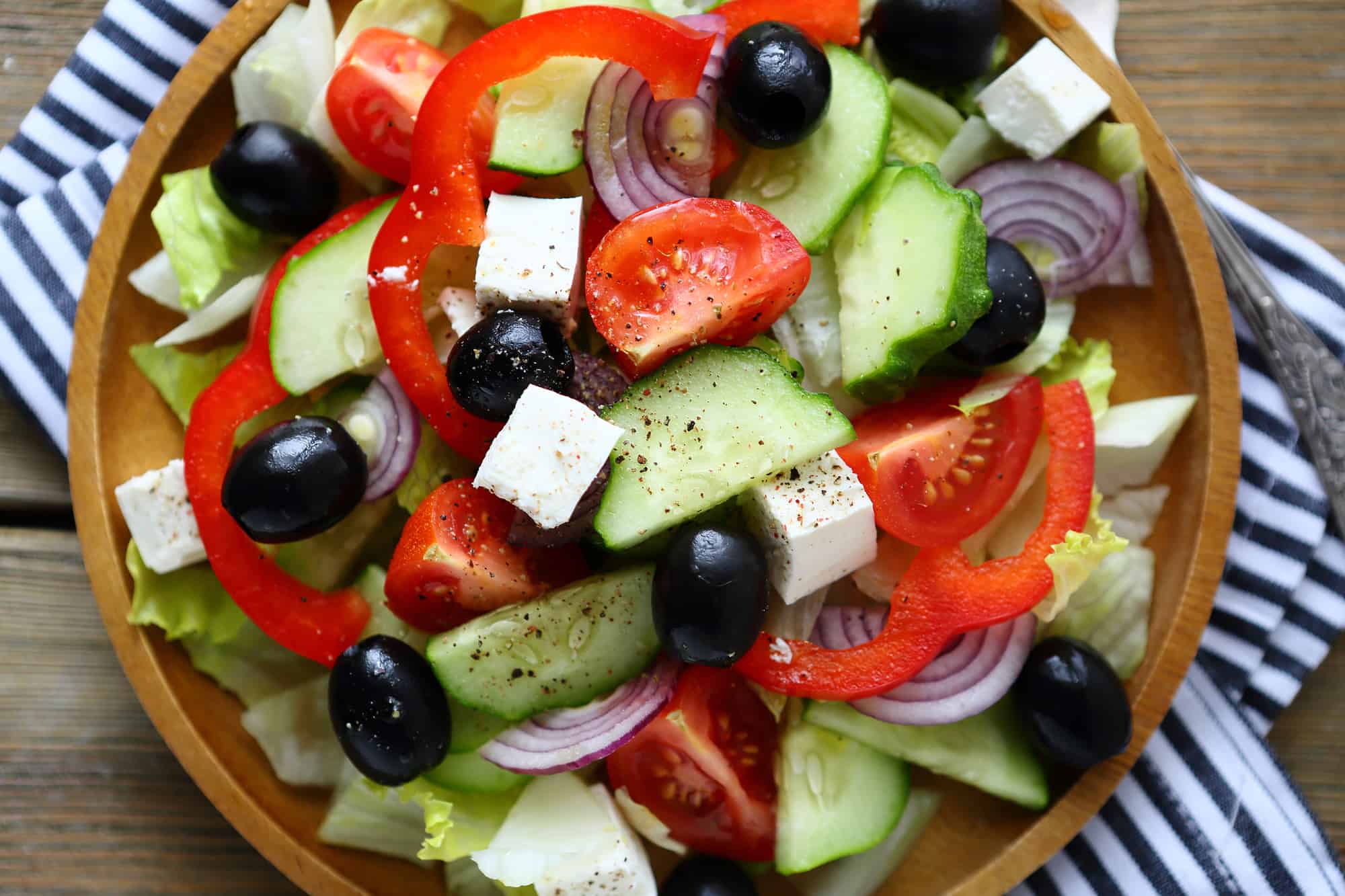 "Natural" and Artificial Flavors Do Not Belong in Salad Dressing or Marinades
Both natural and artificial flavors were abundant in bottled salad dressing & marinades. Artificial flavors can be made from over 100 possible chemicals and there's no way to know what's inside the product without them telling us. The same goes for anything "natural." Just because it's natural doesn't mean it's good for you.  Things like arsenic and asbestos are natural too, but who wants to consume that? But it's important to understand that "natural" flavoring is now made inside a laboratory. By the time you eat this salad dressing, there isn't anything natural about it anymore. And sometimes even MSG is considered natural.
Brands can use terms like "spices" or "natural flavor" or "artificial flavor" to hide ingredients from consumers. This is completely legal, but becoming increasingly problematic as the allergic community grows. This law was created to protect companies from competition stealing their formulations, but we've come a long way baby! Now, all that stuff can be reverse-engineered in a laboratory. So the law is antiquated and only serves to shield the consumer from ingredients they need to know about.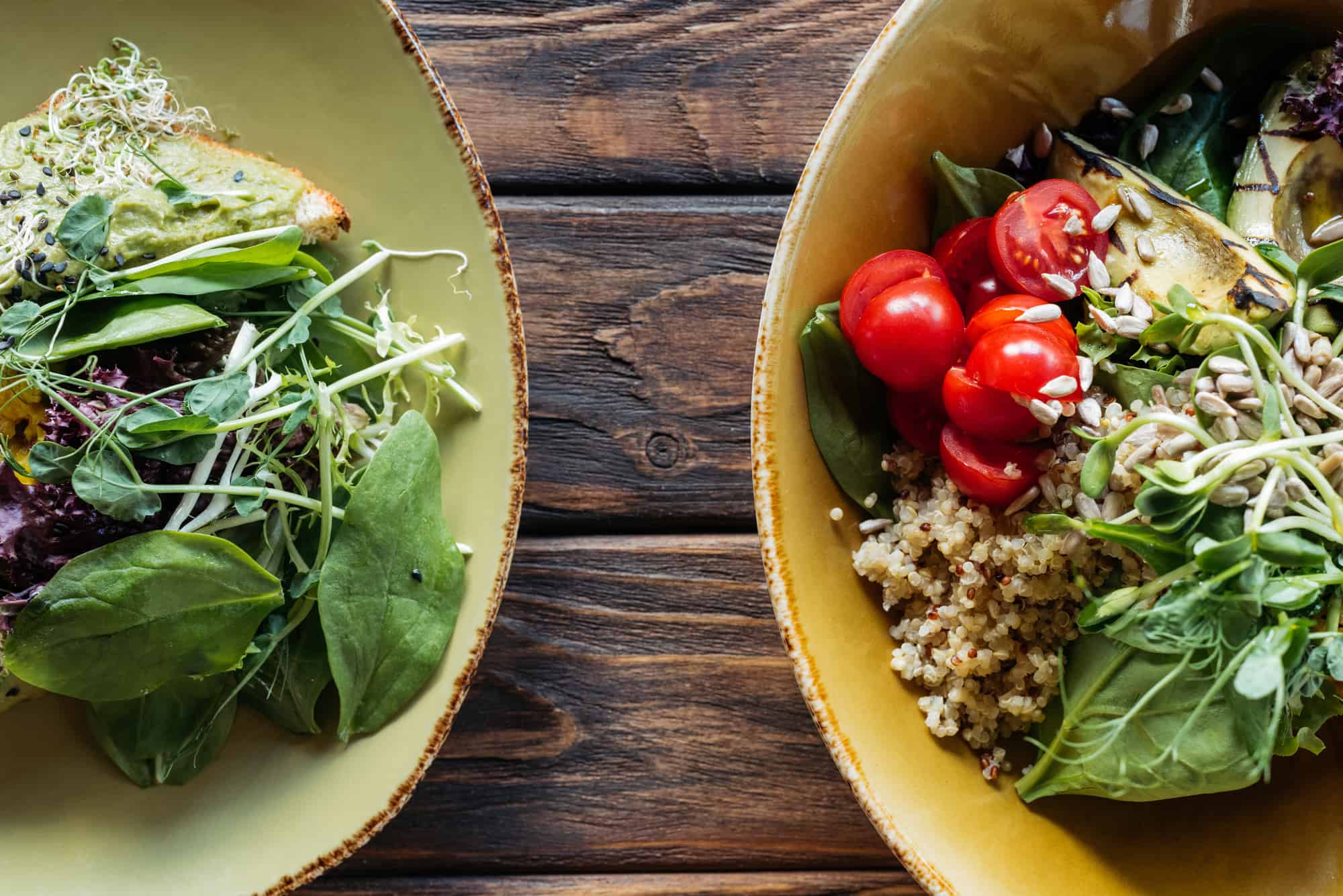 MSG Does Not Belong in Salad Dressings or Marinades
MSG is a problematic ingredient which is used as a flavor enhancer in foods. It tricks the brain into thinking the food tastes better. It also tricks the brain into wanting more of that food, which is a recipe for overeating. And finally, it's an excitotoxin, which overstimulates the nervous system.
MSG consumption has been linked to headaches, nausea, dizziness, asthma attacks, and heart palpitations and more. It can also promote cancer cell growth.
MSG is very tricky to spot. It can be listed as MSG, monosodium glutamate, or hidden under nearly 100 other names. There were a couple of brands that listed MSG right on the label, making it easy for us to spot like Wishbone Ranch Dressing, Dale's Steak Seasoning, & Hidden Valley Ranch Seasoning.
Mamavation's Investigation of Salad Dressings & Marinades
Mamavation looked at over 250+ salad dressings and marinade products from several brands. We realized very quickly that some brands had products in 2-3 different categories, so we decided to list them all as products so you can analyze them separately. Generally, we noticed the more ingredients a product had, the more likely it would end in the bad category and so on.
Bad Salad Dressings & Marinades
These brands can contain multiple ingredients to avoid, such as MSG, high-fructose corn syrup, and harsh preservatives like EDTA, sodium benzoate & potassium sorbate. They also can contain oils made from genetically engineered crops, like conventional canola, vegetable or soybean oil.
Allegro Original Marinade
Allegro Tennessee Whiskey Marinade
Allegro Raspberry Chipotle Marinade
Allegro Black Pepper Marinade
Allegro Soy & Lime Marinade
Bitten Creamy Blueberry Basil Dressing
Bitten Creamy Strawberry Dressing
Bitten Creamy Blackberry Balsamic Dressing
Bolthouse Farms Classic Coleslaw Dressing
Bolthouse Farms Cilantro Avocado Dressing
Bolthouse Farms Classic Ranch with Yogurt Dressing
Bolthouse Farms Creamy Balsamic Yogurt Dressing
Bolthouse Farms Italian Vinaigrette
Bolthouse Farms Raspberry Vinaigrette Dressing
Brianna's Blush Vinaigrette
Brianna's Creamy Cilantro Lime Salad Dressing
Brianna's Italian Vinaigrette
Brianna's New American Creamy Balsamic
Brianna's Classic Buttermilk Ranch
Brianna's Lively Lemon Tarragon Salad Dressing
Brianna's Asiago Caesar Salad Dressing
Brianna's Chipotle Ranch Salad Dressing
Brianna's Dijon Honey Mustard Dressing
Brianna's Champagne Vinaigrette
Brianna's Creamy Blue Cheese Salad Dressing
Brianna's Saucy Ginger Mandarin Dressing
Dale's Steak Seasoning
Good Seasons Italian Dressing mix
Goya Mojo Chipotle Marinade
Goya Mojo Criollo Marinade
Hidden Valley Classic Ranch
Hidden Valley Original Ranch Homestyle (popular)
Hidden Valley Original Ranch Seasoning
Ken's Steak House Creamiest Caesar Dressing
Ken's Steak House House Italian
Ken's Steak House Lite Country French Dressing
Ken's Steak House Garlic Parmesan Dressing
Ken's Steak House Balsamic Vinaigrette
Kraft dressing Catalina Dressing
Kraft dressing Fat-Free Catalina
Kraft dressing Zesty Italian
Kraft dressing Balsamic Vinaigrette
Kraft dressing Raspberry Vinaigrette Lite Dressing
Kraft dressing Classic Ranch Dressing
Kraft dressing Thousand Island Dressing
Lawry's Chipotle Molasses Marinade
Lawry's Mesquite Marinade with Lime Juice
Lawry's Hawaiian Marinade with Tropical Fruit Juices
Lawry's Herb & Garlic Marinade with Lemon Juice
Lawrys Caribbean Jerk Marinade with Papaya
Litehouse Homestyle Ranch
Litehouse Original Blue Cheese Dressing
Litehouse Light Blue Cheese
Litehouse Coleslaw Dressing
Litehouse Jalapeno Ranch
Litehouse Ranch Dressing
Litehouse Bacon Blue Cheese Dressing
Litehouse Parmesan Caesar Dressing
Litehouse Big Blue Cheese Dressing
Litehouse Chunky Blue Cheese Dressing
Litehouse Caesar Dressing & spread
Litehouse Salsa Ranch Dressing
Litehouse Buttermilk Ranch Dressing
Litehouse Honey Mustard Dressing
Litehouse Thousand Island Dressing
Litehouse Romano Caesar
Litehouse Avocado Ranch with Bacon
Litehouse Light Ranch Dressing
Litehouse Thousand Island Dressing
Litehouse Signature Ranch Dressing
Litehouse Poppyseed Dressing
Litehouse Coleslaw Dressing
Litehouse Cotija Cilantro
Litehouse Raspberry Dressing & Marinade
Litehouse Italian Dressing & Marinade
Litehouse Sweet French Dressing & Marinade
Litehouse Sesame Ginger Dressing & Marinade
Litehouse Pear Gorgonzola Dressing & Marinade
Litehouse Greek Dressing & Marinade
Litehouse Sweet Onion Dressing & Marinade
Litehouse Mango Habanero Dressing & Marinade
Litehouse Sriracha Lime Dressing & Marinade
Litehouse Cranberry Orange Apple Cider Vinaigrette
Litehouse Lemon Ginger Turmeric Vinaigrette
Litehouse Maple Apple Cider Vinaigrette
Litehouse Balsamic Dressing & Marinade
Litehouse Spiced Fig Apple Cider Vinaigrette
Litehouse Red Wine Vinegar with Olive Oil
Litehouse Pomegranate Blueberry Dressing & Marinade
Makoto Orange Ginger Dressing
Makoto Balsamic Ginger Dressing
Makoto Teriyaki Sauce
Makoto Original Ginger Dressing
Makoto Wasabi Ginger Dressing
Marzetti Balsamic Viagagrette
Marzetti Simply Dressed Lemon Dressing
Marzetti Simply Dressed Strawberry Poppyseed Vinaigrette
Marzetti Simply 60 Apple Cider Vinaigrette
Marzetti Original Slaw Dressing
Marzetti Simply Dressed Coleslaw Dressing
Marzetti Classic Ranch Dressing
Moore's Teriyaki Sauce
Moores Original Marinade
Newman's Own Balsamic Vingaraitte
Newman's Own Caesar Dressing
Newman's Own Citrus Splash Dressing
Newman's Own Classic Oil & Vinegar
Newman's Own Creamy Caesar
Newman's Own Honey Apple Cider Dressing
Newman's Own Honey Balsamic Dressing
Newman's Own Honey Dijon Mustard Dressing
Newman's Own Honey Mustard Dressing
Newman's Own Lime Vinaigrette
Newman's Own Parmesan and Roasted Garlic Dressing
Newman'sOwn Family Recipes Italian Dressing
Newman's Own Greek Vinaigrette
Wishbone Thousand Island Dressing
Wishbone Russian Salad Dressing
Wishbone Ranch Dressing
Wishbone Robusto Italian Dressing

Better Salad Dressings & Marinades
This category is about pesticide and antibiotic residue and undisclosed ingredients. These dressings may still contain some of the ingredients to avoid but are light years better than the bad brands. Brands that had great ingredients that were not organic went here. This is because conventional ingredients can contain trace amounts of pesticides & antibiotics. Another reason a brand could end up in this category would be undisclosed ingredients. They use the term "spices" or "natural flavors" to describe their ingredients without telling us what they actually are. We've marked down organic products and brands that are not 100% transparent to the consumer here and kept them in the better category. Transparency is important. But we've linked them up for you anyways to make your decisions.