When Mamavation released our collagen investigation, we mostly focused on heavy metals & processing techniques. But the more we heard about phthalates being ubiquitous in consumer products, the more we were concerned and felt like we were missing something important. So this time, we sent our recommended product, Perfect Supplements, off to the lab to check for phthalates–plasticizer chemicals linked to hormone disruption. You've trusted Mamavation to bring you topics like the safest cookware, best probiotics, & safest teas without plasticizers in the sachet, now join us for the phthalate testing results of Perfect Supplements Collagen.
Disclosure: this post contains affiliate links. 
Phthalates are Ubiquitous in Consumer Products & Food
Phthalates are a group of chemicals used to make plastics bendy, transparent, & durable. Sadly, you'll find them in lots of products you purchase around the home making them ubiquitous. According to the FDA, phthalates are inside hundreds of different products like:
toys,
vinyl flooring and wall covering,
detergents,
lubricating oils,
food packaging,
pharmaceuticals,
blood bags and tubing, and
nail polish,
hair sprays,
aftershave lotions,
soaps,
shampoos,
perfumes and "fragrance"
However many consumer products are full of phthalates, the main exposure pathway for phthalates is believed to be diet, especially animal-based products like dairy. In fact, dairy is believed to be the greatest exposure to phthalates. Why? Phthalates can migrate into food products during processing, packaging & preparation.
We do not know why the FDA does not list dairy as a contamination exposure pathway of phthalates, but they seem to be ignoring the latest studies looking at how dairy has had some problems.
According to KleanupKraft.org, which is led by the Coalition of Safer Food Processing & Packaging, they tested for phthalates in 30 cheese products and found the following:
Powdered cheese like the kind you'd find in a Mac & Cheese or cheese-flavored chips (found phthalates between 2,523 ppb and 365 ppb inside the fat)
Processed cheese that's sliced (found phthalates between 1,223 ppb and 180 ppb inside the fat)
Natural cheese like the kind sold in a block (found phthalates between 567 ppb and < 55ppb inside the fat)
According to studies, people who consume the highest amounts of high-fat meat and dairy have a two-fold increase in phthalate exposure. Therefore, because phthalates hide inside fat, Mamavation recommends low-fat or non-fat milk whenever possible. Also, make sure to buy natural cheese and do the grating yourself instead of purchasing dairy that is conveniently sliced or shredded.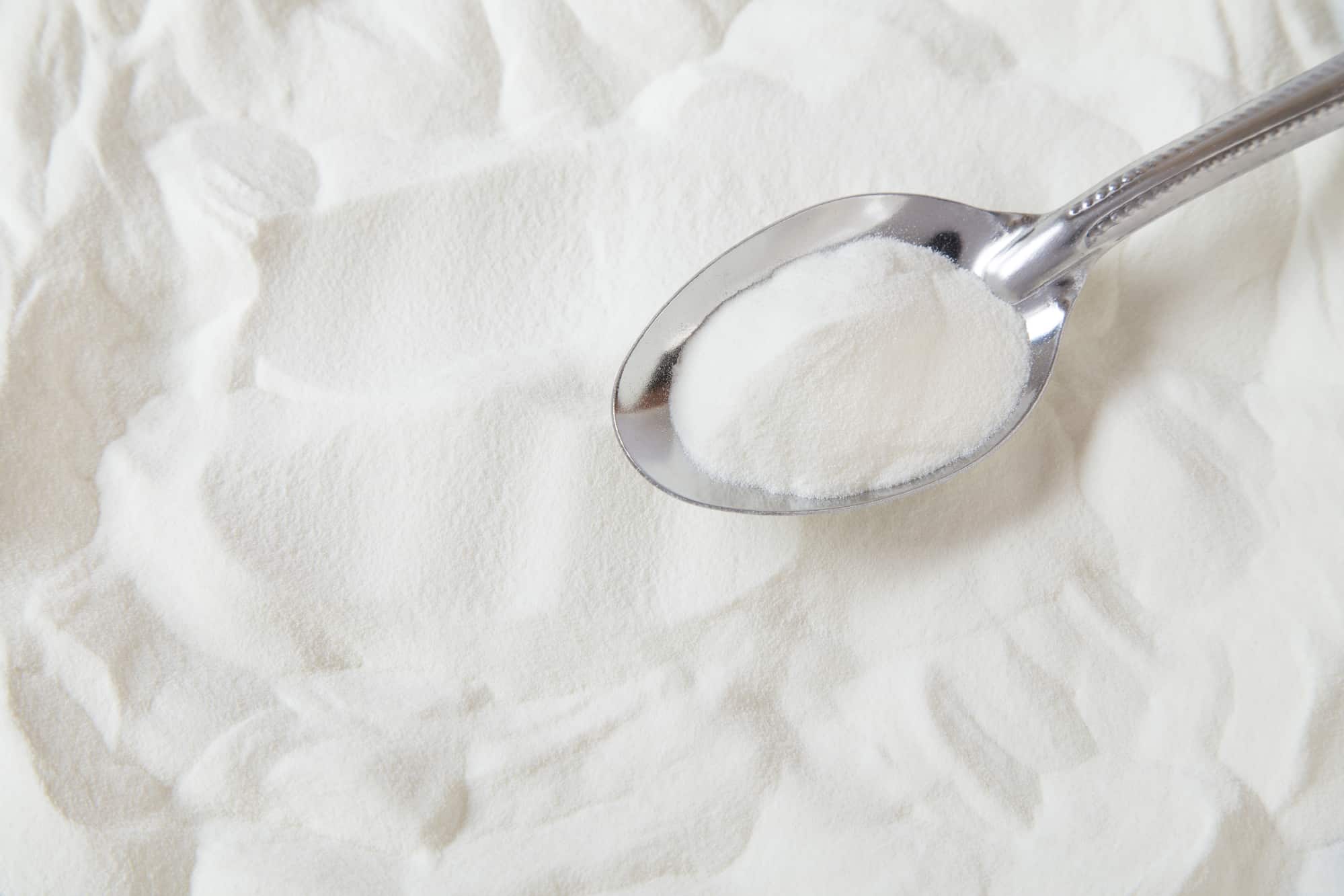 Potential Health Effects of Phthalates
Research has pointed to several health effects of phthalates. If you would like to dive deeper into phthalates, we recommend reading the book Countdown–How Our Modern World is Threatening Sperm Counts, Altering Male & Female Reproductive Development, and Imperiling the Future of the Human Race by Dr. Shanna Swan. But here are some of the health impacts via recent studies.
Because so many animal-based products have been found to be contaminated, we decided that we needed to check the collagen that was recommended by us as well. Just to be sure.
Perfect Supplement Collagen Phthalate Testing Results
Mamavation sent Perfect Supplements collagen to a lab to test for the presence of phthalates below the regulatory limit, meaning we are looking for it below the levels that the State of California would require. The lab used EPA Method 8270C SIM looking for Semivolatile Organic Compounds at 50 parts per billion (ppb), which is similar to having contaminants the size of a drop in an Olympic-sized pool. All the phthalate chemicals we tested for are listed below:
Bis(2-ethoxyethyl) phthalate
Bis(2-ethylhexyl)phthalate
Bis(2-methoxyethyl) phthalate
Bis(2-n-butoxyethyl) phthalate
Bis(4-methyl-2-pentyl) phthalate
Butyl benzyl phthalate
Di-n-butyl phthalate
Di-n-hexyl phthalate
Di-n-octyl phthalate
Diamyl phthalate
Dicyclohexyl phthalate
Diethyl phthalate
Diisobutyl phthalate
Dimethyl phthalate
Dinonyl phthalate
Hexyl 2-ethylhexyl phthalate
Diisononyl phthalate
Diisodecyl Phthalate
Results? Perfect Supplements Collagen was non-detect, meaning they could not find any of these phthalates at 50 ppb. Therefore, Mamavation feels very confident recommending this product to you and your family.
RECOMMENDED COLLAGEN BRAND: Perfect Supplement's Hydrolyzed Collagen
Perfect Supplements has passed our phthalates test! We now believe this is one of the cleanest collagen brands available in the market today!
No detection of phthalates at 50 ppb, which is VERY low.
No Prop. 65 warning required. We checked their current labs.
Only collagen brand to have "Glyphosate Residue-Free" Certification from The Detox Project
Pasture-raised cows & Grassfed certified
97% bioavailable
Dissolves in hot or cold liquids
The only brand that offered all laboratory data openly
Special Offer From Perfect Supplements
Perfect Supplements offers Mamavation Readers a Special Discount. Click here to redeem 10% off Hydrolyzed Collagen and Free Shipping on orders over $99. Use "Mamavation" at checkout.
Mamavation's Investigation Results of Most Popular Collagen Brands Categorized by Processing, Quality & Heavy Metals
Mamavation looked at the most popular collagen brands and emailed every single one to ascertain their levels of heavy metals like lead. Most collagen and gelatin products have detectable lead or other heavy metals. However, the State of California has created levels that we have followed to determine safety. Not Our Favorite brands would have the highest levels, followed by better brands, and then best brands would have the lowest levels in the industry.
Not Our Favorite Brands of Collagen & Gelatin
These brands could be using animal sourcing from a Concentrated Animal Feeding Operation (CAFO), where animals are in cramped conditions. This makes them more likely to get sick, which later increases the need for more antibiotics. These cramped situations are also known as "factory farms" when discussed. Experts say that the increase of antibiotic use in animals is linked to a rise in antibiotic-resistant bacteria which is infecting millions of Americans every year. Brands that did not respond to our inquiries on social media about lead levels also went here.
Ancient Nutrition Multi-Collagen Peptides: tested for trace levels of mercury
Beachbody Collagen Peptides
BioSil Advanced Collagen Generator
Bulletproof Collagen Protein Chocolate: Has levels of lead and cadmium above what the State of California says is safe.
Correxiko Marine Collagen, Unflavored: has tested for trace amounts of mercury
Isopure Unflavored Collagen Peptides
Orgain Grassfed Pasture Raised Collagen Peptides: This brand tested for lead amounts above what the State of California says is safe. And also had trace amounts of mercury via labs mentioned.
Organixx Collagen: This brand tested for trace amounts of mercury via labs
Picnik Collagen Creamer
Perfect Keto Collagen Peptides
Modere Collagen Peptides
Reserveage Nutrition Collagen Replenish Powder: Tested for trace amounts of mercury
Vital Proteins Unflavored Collagen Peptides: This brand tested for trace amounts of mercury. After analyzing the California Attorney General's office we noticed that Vital Proteins has numerous 60-day notices from consumer & consumer groups to the Attorney General. These notices are a precursor to a lawsuit.
Vital Proteins Beef Gelatin Powder
Youtheory Collagen Advanced Formula Tablets:  has between 0.5 ug/day and 15 ug/day of lead per their prop. 65 warning (lower lead warning)
Better Brands of Collagen & Gelatin
These brands are paying more attention to animal welfare and avoiding the need to give them antibiotics by utilizing grassfed and pastured animals. They have improved conditions so antibiotics are not needed. However, they do have lead in amounts above the public health goal in California of 0.5 ug/day. Any brand that has above 0.5 ug/day would need a Prop.65 Warning. More on Prop.65 warnings on supplements here. Some brands tested very clean but were not grassfed. We linked up brands that were very clean via testing but didn't get the highest mark.
BioTrust Nutrition Ageless Multi-Collagen Protein: Played coy when it came to transparency. Sent me a long response and another and another. But after several attempts to evade my question, they finally admitted to having a Prop. 65 warning label warning you of reproductive toxins and carcinogens. That means they have over 15 ug/day of lead in their products.
BUBS Naturals Pasture-Raised Grassfed Collagen Peptides
Bulletproof Collagen Protein Unflavored: Has between 0.5 ug/day and 15 ug/day of lead per their prop. 65 warning. (lower level of lead) (Chocolate variety tested for high levels of cadmium)
Organika Unflavored Collagen Peptides: Does not sell in California so we can't assess their lead levels. They won't share labs with us either so we put them here.
Puori CP1 Pure Collagen Peptides: Does not claim to be grassfed, but tested very clean!
Garden of Life Unflavored Collagen Peptides with Probiotics: Says they do not need a prop. 65 warning sign, however their parent company, Nestle, had a Prop. 65 violation in 2017. We put them here because of added "junk" in their formulation because we could not find a simple collagen product.
MAV Nutrition Collagen Peptides & Probiotics: didn't make top spot because it contains more than just collagen, however, it tested very clean!
SkinnyFit Super Youth Multi Collagen with Peptides: does not claim to be grassfed but tested very clean!
Sports Research Collagen Peptides: does not claim to be grassfed but tested very clean!
Best Brands of Collagen & Gelatin
These brands are made from grassfed animals on pasture and raised without use of antibiotics. They also have below 0.5 ug/day of lead and require no Prop. 65 Warning for California. We have some extensive notes to read with some specific companies down here as well to pay attention to. We linked up the brands we had verified by seeing labs.