Target has been a bit busy this year fighting battles in court about deceptive labeling of their raisins. So should you be purchasing a brand of raisins from Target that has been accused of deceptive marketing practices? Well, you may want to hear these details before you decide. You've trusted Mamavation to bring you topics like best & worst salmon brands, best & worst collagen, & best & worst cookware, now join us for a look at the Target deceptive labeling lawsuit.
Disclosure: This post contains affiliate links. 
Target Sued for Deceptive Labeling of Toxic Raisins
GMO-Free USA, a non-profit formed in 2012, filed a lawsuit against Target Corporation in Minneapolis for deceptive marketing practices.
According to the lawsuit, the "Good & Gather" raisin product contains residues of several synthetic insecticides & fungicides, with some of them being neonicotinoids, a class of pesticides that is linked with the colony collapse disorder of the honeybees. Here's what they found:
Ben-Carb-TPN (Sum)–fungicide
Bifenthrin–insecticide
Boscalid–fungicide
Chlorantraniliprole–insecticide
Clothianidin–neonicotinoid insecticide
Cyprodinil–fungicide
Fluopyram–fungicide
Flutriafol–fungicide
Imidacloprid–neonicotinoid insecticide
Methoxyfenozide–insecticide
Spirotetramat (SP)–pro insecticide
Tebuconazole–fungicide
Tetracanazole–fungicide
Thiamethoxam (Sum)–neonicotinoid insecticide
Thiophanate-methyl–fungicide
Because Target claims and prominently labels their product as "all-natural" and are also positioning themselves in the market as a brand that is safe for children, GMO-Free USA is bringing an unlawful trade practice case on behalf of itself and the general public seeking an injunction to stop Target's deceptive marketing.
Reasonable Consumers Understand Natural Foods to Be Free From Pesticides
In 2012, Consumer Reports National Research Center polled 1,000 people about their shopping habits and what they expected from terms used in food labeling. According to Consumer Reports, consumers understand the word "natural" to mean…well natural. Here's the details:
66% of average Americans understand the word "natural" to mean that you are eating food that doesn't contain pesticide residue.
About two-thirds of respondents felt that it also means a processed food has no artificial ingredients, pesticides, or genetically modified organisms.
Over 80% of respondents felt that the term natural should mean free from artificial ingredients, pesticides, and genetically modified organisms.
The Claim of "Natural" Doesn't Mean Products Are Free From Synthetic Pesticides
When you see the term "natural" on products, it doesn't really mean anything, so you can't officially count on it as a term. Officially, the Food & Drug Administration (FDA) hasn't developed a formal definition. However, they state that manufacturers can use "natural" if nothing artificial or synthetic has been added to the food, yet those same synthetic ingredients are found in many "natural" products so there's some discrepancy with how the term is actually used in marketing.
"Our findings show consumers expect much more from the 'natural' food label," says Urvashi Rangan, Ph.D., executive director of the Food Safety and Sustainability Center at Consumer Reports. "It's misleading, confusing, and deceptive."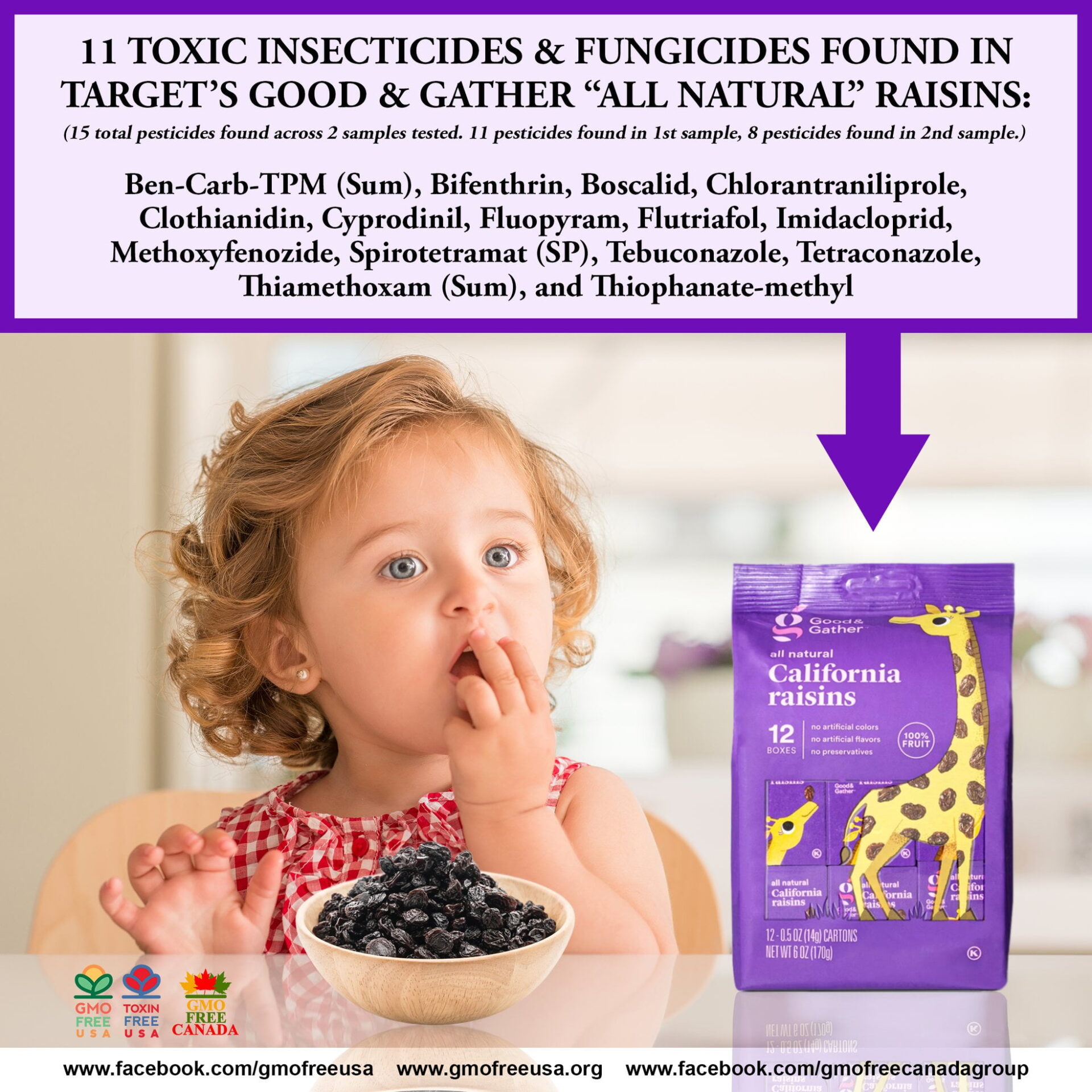 What Does Mamavation Recommend?
It's probably safe to say that most raisins that are not produced organically are going to contain some type of pesticide residue. In fact, the Environmental Working Group found that raisins are the dirtiest of all the produce in 2020. Therefore, when it comes to raisins, go organic!
Here are alternative some of the organic brands you can find online easily: