Ceramic cookware is mega-popular. After consumers got wind that per- and polyfluoroalkyl substances (PFAS) coatings like Teflon were not safe in cookware, ceramic cookware became more advantageous and demand increased. But this increase in demand for ceramic cookware has also created an industry that is unresponsive and less transparent to consumers.  So which ceramic cookware brands do we recommend? You've trusted Mamavation to bring you topics like best & worst probiotics, best & worst organic mattresses, & best & worst collagen, now join us as we bring you the best & worst of ceramic cookware.
We know you don't have the time needed to investigate the ceramic cookware industry, so Mamavation has done it for you! Scroll down to the very bottom of this page for our product recommendations and if you would like to say thank you, you can donate here.
This post contains affiliate links and has been fact-checked by Rebecca Elizabeth Sherrick Harks, RN, BSN.
It's Settled. Pretty Much All Non-Stick Cookware is Toxic.
When it comes to cookware, there are a plethora of options. In fact, Mamavation's investigation on cookware in 2019 is still one of the most popular posts on the site. When you hear "non-stick cookware" it's typically referring to cookware that has been coated with perfluorinated chemicals, or PFAS like PFOA.
The danger in PFAS chemicals is accumulation of exposures over time because it does not leave your body for quite some time. So your daily exposure to PFAS chemicals matter and should be reduced overall. To reduce exposure, look into the following products in your home that make things grease-proof, water-proof and stain-proof like :
Grease-proof food packaging (pizza boxes, cake cardboard bottoms, & french fry wrappers. Click here for a list of which grocery store chains are serving PFAS-free packing)
Stain-proof clothing
Water-proof jackets & tents (Patagonia, North Face, etc.)
Stain-proof carpeting & furniture (like StainMaster)
Non-stick cookware (Teflon & several others)
Personal care products like tooth floss
Mattresses (for stain resistance)
Some water districts located close to airports & military bases
Careful Buying Cookware Stating "PFOA-Free!" Replacement Chemicals Aren't Better.
Like we said before, non-stick cookware is in trouble. "Generation X", the replacement chemical to PFOA in Teflon, has been deemed problematic by the Environmental Protection Agency. This is bad news for all the non-stick cookware you have in your kitchen. These companies may have represented themselves as "non-toxic", but they didn't tell you the entire truth about the chemicals they replaced them with.
They forgot to mention that the "short-chain" PFAS replacement chemicals that are marketed as "non-toxic" have demonstrated problems when seriously evaluated for health and human safety.
So if you see a cookware company marketing themselves as "PFOA-free" take a closer look and ask them about other PFAS chemical replacements.

What Are These "Forever Chemicals" & Why Should I Avoid Them?
The problem with PFAS chemicals is they stick around forever, which prompted health officials to dub them "forever chemicals." Not only do these chemicals stick around for thousands of years, but they are also inside 99% of Americans.
Experts warn that PFAS chemicals, as a chemical category, are believed to have carcinogenic effects and are known as endocrine disruptors, impacting the fine balance of hormones in the body. PFAS chemicals are linked to the health ailments below:

What Do The EPA & State Officials Say?
As of this writing, the EPA has not created enforceable limits on the levels of PFOA or related chemicals (such as PFOS) in drinking water. Boo!
However, states all over the nation are considering their own health standards for PFAS in drinking water, food packaging, and grease fire fighting foam. Including Washington State, who recently banned PFAS in food packaging.
We will keep you informed as this progresses.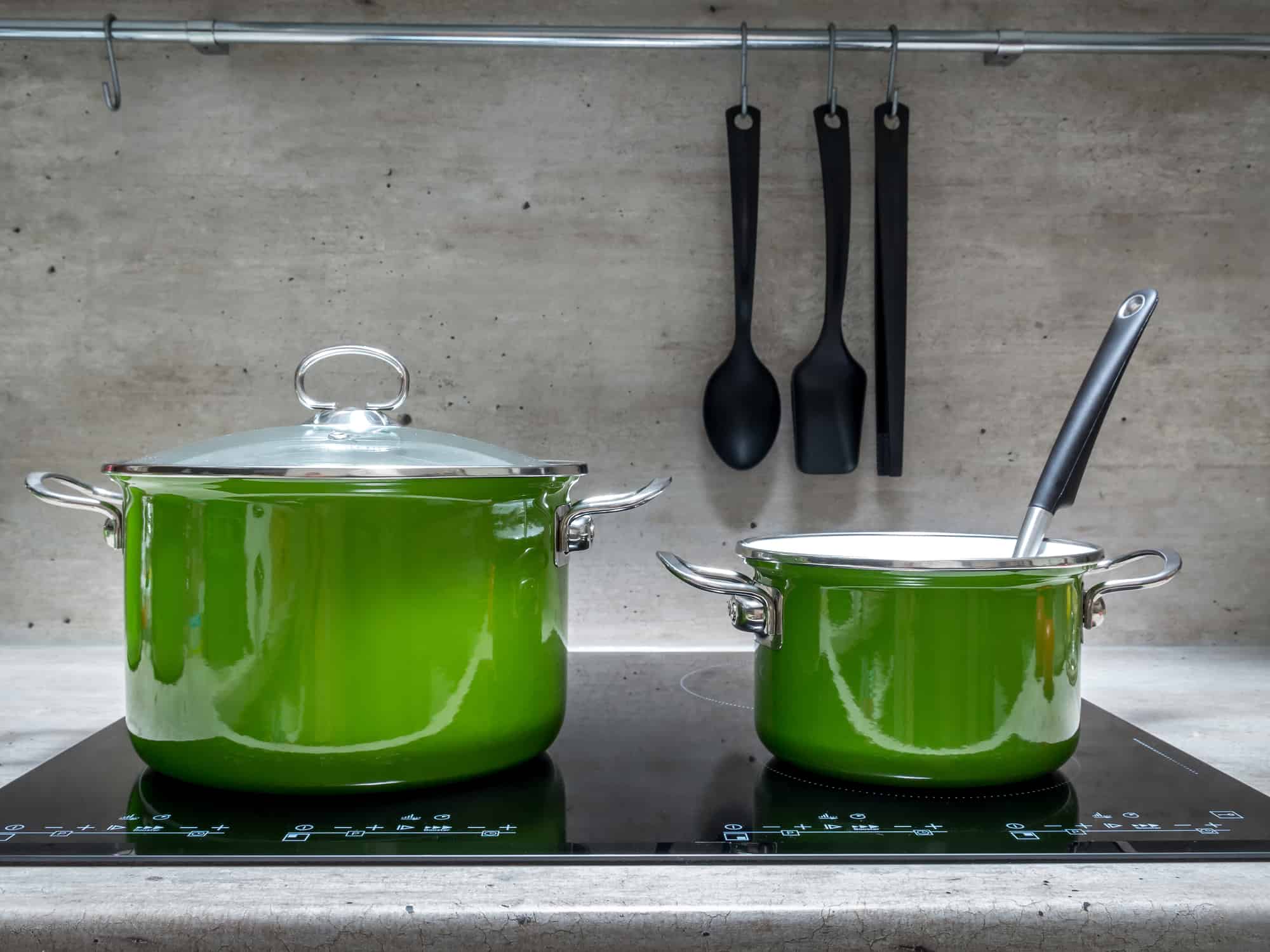 What's Up With Nanoparticles Coating Ceramic Cookware?
In ceramic cookware, you'll find lots of brands coating their cookware with a nanomaterial making it "non-stick" and easier to cook with.
Engineered nanoparticles are now being used in many industries, including medicine (for possible targeting of cancerous cells, among other purposes), in electronics, as well as being added to make certain materials – like cement – to make them both lighter and sturdier.
One of the reasons that nanoparticles might have some interesting and useful applications is because they don't always behave in the same manner as the same substances.
But we're still not sure what that will mean over long-term exposures. Additionally, the route of transmission – inhalation or ingestion – may affect any number of lung or digestive functions. Therefore, caution is warranted when it comes to purchasing cookware coated with nanomaterial.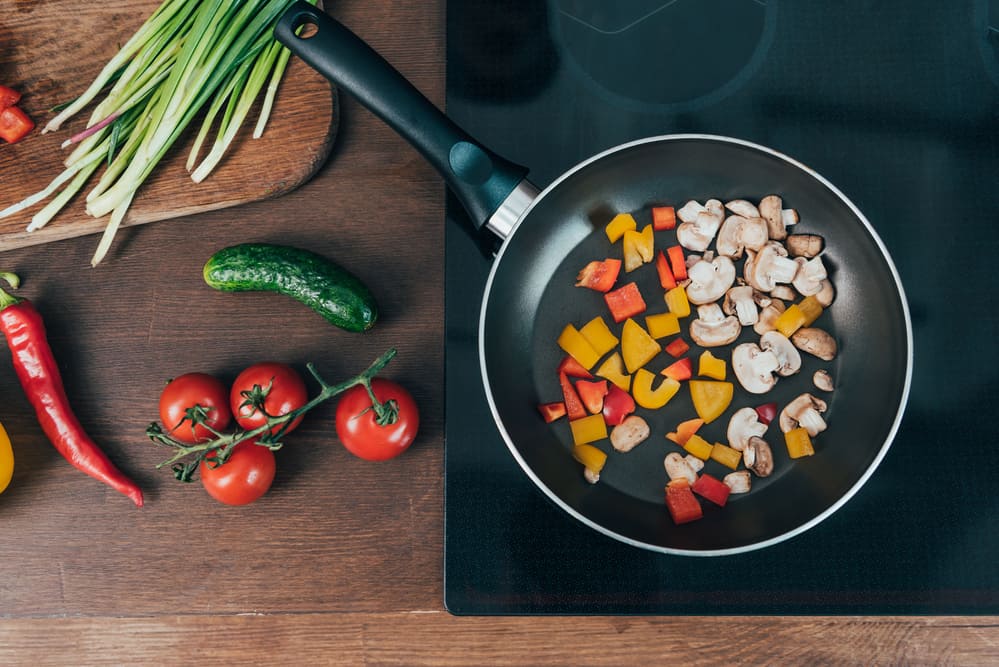 Unstudied & Potentially Dangerous: Sneaky Little Nanoparticles in Ceramic Cookware
While nanoparticles may lead the way in numerous advances in science and medicine, the long-term effects of their usage on human health have not been studied. This is really bad when you realize that we have no idea how many brands are using nanotechnology in the coating of their cookware.
To understand nanoparticles a bit more clearly (as this is an emerging technology), here are some of the things that you should keep in mind:
The size makes nanomaterials a double-edged sword. The very properties of nanoparticles – the tiny size, their ability to be manipulated, their shape, and other characteristics are the very same thing that cause concern about their interactions with the human body and our environment.
Unknown health impacts. The potential health and environmental effects of using nanomaterials are currently being studied, but unfortunately, we don't know a lot about them yet.
It's numerous in diversity and potential harm. There's no single type of nanoparticle – they vary in usage, size, shape, coating, and strength of their chemical bonds. This means that the word "nanoparticle" is a stand-in for many different types and materials – it's just a nonspecific term.
It's ubiquitous. Nanoparticles are literally everywhere. From the lining of our canned goods, to our toothbrushes, to our dietary supplements, to the very flavor in our food, to medication, to beauty products, to the very color pigments we see in our foods. They're everywhere, which is why many people are both skeptical and concerned by their extensive reach.
So what DO we know about the possible health effects of nanoparticles in our bodies? The research is both ongoing and insufficient to make any broad statements.
In Food packaging: Some of the studies being performed include the potential dangers of nanomaterials in food packaging, as many foods and goods contain nanoparticles. While no one is certain the long term effects, it appears that these nanoparticles may, with chronic exposure, alter protein profiles, microbial balance, and/or harm the immune systems found in our intestinal tracts.
Nano titanium oxide gives rats a bad day. Another study found that titanium dioxide can cross the intestinal barrier and enter the bloodstream (of rats) and migrate around the body to places like the liver and spleen, as well as causing precancerous lesions on the intestines of some of the rats.
Nano titanium oxide is found in some ceramic cookware: Some studies performed in the UK have shown that when the nanoparticle titanium oxide is used as a nonstick surface for pots and pans, the titanium oxide can migrate from the pan into our food.
High heat sets them off! One study found that heating nonstick cookware to temperatures higher than 500 degrees Celsius showed the first nanoparticle matrix to break down, releasing nanoparticles of titanium-containing compounds.
Acidic foods unleash nanomaterials. Another found that cooking with acidic foods (tomatoes, vinegar) could release nanoparticles of titanium-containing compounds.
Everyday use & scratches unleash nanomaterials. One study found that nanoparticles from cookware were released more quickly when the nonstick coating was scratched. 
Immune disruption & gut lesions. A study from January 2016 discovered that chronic oral (not aerosolized) titanium dioxide nanoparticles may lead to precancerous gut lesions as well as immune disruption.
Additionally, and most importantly, consumers need to be on the lookout for any cookware that may contain nanoparticles and avoid whenever possible.
Mamavation Investigation of Ceramic Cookware
We emailed about 30 different brands and asked questions about the presence of nanoparticles, heavy metals, PFAS coating, and proof to back up their claims. Unfortunately, the vast majority of ceramic pan brands are non-responsive to consumers and their questions. We find that troubling.
Would you like to know who is more transparent with their claims? That's why we did this campaign. But if you are wondering how we rated them, it was simple. So because there is no certification we can rely on to help us verify claims and because there is no public record of cookware testing, we had to rate them based on their responsiveness, transparency to the public, website content, some public records & reputation audits. Finally, we put them in one of these categories:
Have no ceramic coating
Have a PFAS coating,
Have a coating that contained a nanomaterial,
Have a coating with a mystery ingredient that is "proprietary" but not a nanomaterial
Have been sued for false advertizing
Not Our Favorite Brands
These brands were not responsive to consumer emails or did not answer our specific questions when asked. Brands that were not responsive, were not given a passing grade. Then other brands in this list DO contain nanoparticles and are open about that via emails. And finally, brands below could have received a letter of intent from an attorney in the State of California to sue them under Prop. 65 consumer protection laws, meaning they allegedly found something toxic during lab testing. Here are those brands:
Anolon Ceramic Cookware
BulbHead Ceramic Cookware
Calphalon Ceramic Cookware
Caraway Cookware Set
CookLover Ceramic Cookware
Cook-n-Home Cookware
Cooksmark by Americook Cookware
Cuisinart Ceramic Cookware
Equal Parts Cookware
Farberware Ceramic Cookware
Gotham Steel Cookware
GreenLife Ceramic Cookware
Hexclad Cookware
Kenmore Arlington Nonstick Ceramic Cookware
Le Creuset Ceramic Cookware
MICHELANGELO Kitchen
Neoflam Retro Ceramic Nonstick
Nutrichef Nonstick Cookware
Shineuri Diamond Hard-Anodized Cookware
Staub Ceramics
T-Fal Cookware
Vremi Cookware Set
WearEver Ceramics
Williams Sonoma
Deane and white cookware
Better Brands
This is the best of the "ceramic nonstick cookware" section. Why? All coatings have problems. These brands are telling us they contain a mystery coating of something they say is not made of nanoparticles or PFAS. However, these brands are not very transparent about what is actually inside the coating of their product. These brands, however, d0 pass California's strict consumer law, Prop. 65. This means they have low levels down to no heavy metals and other contaminants coming from their cookware. The Ecology Center released cookware testing of Green Pan, Bella Basics and confirmed they were coated with silicon dioxide ceramic (that's basically silicone) and we stuck them here. Some of these products are best budget brands while others are not. Some have easy storage while others do not. However, you'll easily be able to fry an egg with these pans, but we cannot say they will last for more than two years.

Best Ceramic Cookware Sets 
This brand does not contain any nano-coating and does not leach nanomaterials into food. This brand also passes California's strict consumer Prop. 65 laws with laboratory testing on heavy metals and offers sample laboratory reporting from all runs of cookware. You can view them all here. They have a great number of pieces, can handle high temperatures, have durability, and are oven-safe cooking utensils. You'll find ceramic pans, ceramic pots, dutch ovens, etc. These are our top picks without the toxins in the ceramic realm.
Xtrema Ceramic Cookware is offering Mamavation readers 15% off their products by using "mamavation" at checkout. 
Additional Cookware Recommended by Mamavation
You may want some other options and recommended products like a 8-inch skillet, sauté pans for eggs or dishwasher-safe pans. Mamavation is also recommending additional types of cookware like stainless steel, cast iron, carbon steel, and bakeware. The best set is coming when you scroll down. Get your stovetop ready for some non-toxic options!
Stainless Steel Cookware
This category is for people with nickel sensitivities and people without nickel sensitivities so please pay attention to the sub categories. The 304 stainless steel pans are for people who are not sensitive to nickel. These pans are 5 ply and made from the best quality stainless steel. This makes them more durable and less likely to leach aluminum from the core over time. You should not have to replace them.
The 430 pans are for people with nickel allergies and sensitivities. However, because of the lack of nickel, they are less durable than the "better" category. This is the tradeoff. Eventually, you will need to replace them. These pans are considered 430 stainless steel (also referred to as 18/0 stainless steel because of it is composed of 18% chromium and 0% nickel.
Best 304 Stainless Steel (with Nickel)
This cookware is for everyone!
All Clad D5 Polished Stainless Steel Cookware
Demeyere Atlantis with Silvinox Stainless Steel Cookware
Demeyere Industry Stainless Steel Cookware
Healthcraft 7-Ply 4-SQUARE DELUXE Waterless Cookware Set 17 Pcs Magnetic T304s
Henckels RealClad Stainless Steel 5-ply 10-piece Cookware Set
Made In Stainless Steel Cookware (NOT one in TARGET store. Brand in Target store are made of lower quality stainless steel.)
Best 430 Stainless Steel (without Nickel)
This cookware is a lower quality stainless steel and should only be purchased by people with allergies or sensitivities to nickel. But if you have a sensitivity to nickel, this is your list.
Best Cast Iron Cookware
Cast iron and carbon steel both contain ferric iron (non-absorbable) vs ferrous iron (natural form in foods). They're safe to use, but be sure to rotate your pans as recommended because too much ferric iron uptake is bad for the body and can deplete vitamin C levels. Note that cooking acidic foods in iron cookware increases the release of iron, so be mindful of that. It may be better to use stainless steel pots if you are cooking tomato sauces.
Carbon Steel Cookware
Carbon steel is the sister of cast iron, but despite its name contains more iron and less carbon than cast iron. It's lightweight, versatile and convenient to use, but still releases ferric iron so it should be rotated regularly between your other cookware options. Remember to avoid cooking with acidic foods in these pans. We have not done a complete investigation on this category but can make these recommendations.
IKEA Vardagen Carbon Steel Frying Pan
Bakeware
Glass is an inert substance if there are no coatings or decorations on the product. As we've seen, coatings, in general, are a huge problem, and we found that non-stick nanofilms are being developed for glass bakeware so be sure to purchase only uncoated glass products.
Other Mamavation Investigations Around the Kitchen
Here are our investigations on kitchen appliances & cookware: