Back to school time is here, and for frazzled moms in a hurry that often means your backup lunch solution: peanut butter and jelly sandwiches. Easy to make and easy for kids to love, this mainstay of American school lunches can be found everywhere, but peanut butter is not necessarily as good as it's cracked up to be. And if you asked most kids what's in peanut butter, they'd probably say, "mushed peanuts", but that jar of nut butter may have a few surprises in store for you, so it's time to learn about unhealthy peanut butter. You've trusted Mamavation to bring you topics like the best plant-based milks, best pasta sauces, and best cooking oils, now join us for the best (& worst) peanut butter brands.
Disclosure: This post was medically reviewed by Sondra Strand, RN, BSN, PHN. This post also contains affiliate links.
The Bad: Unhealthy Peanut Butter
First, the bad news: there's more than just peanuts in your peanut butter. Chemicals added to unhealthy peanut butter brands include items you'd rather not see on a list like this.  Here is a list of the worst offenders in popular store brands:
PFAS "Forever Chemicals": PFAS "forever chemicals" are per- and polyfluoroalkyl substances used as water-resistant, oil-resistant, and stain-resistant chemicals in commerce for decades. With over 12,000 different chemicals in their chemical class (including PFOA & PTFE), they are daunting to test and very difficult to identify. PFAS chemicals are considered ubiquitous, persistent, and toxic which is why they were dubbed "forever chemicals." When they show up in food products, they are not added on purpose but are likely present due to manufacturing or packaging contamination of some kind in the supply chain. These chemicals are often never on the ingredient list, but we've tested the most popular peanut butters and nut butters for indications of this chemical and will have those results at the bottom of this post.
Sugar: When the ingredient list says "sugar", it comes from GMO sugar beets. Cane sugar is non-GMO – so organic cane sugar is your best bet if you are using sugar at all. Skippy, Planters and Great Value peanut butter brands contain sugar from sugar beets.
Corn Syrup Solids: Essentially, this is merely dehydrated corn syrup – just sugar from GMO corn. It's not at all necessary in a good tasting peanut butter, especially if you are adding jelly or anything sweet. Found in Skippy Peanut Butter.
Hydrogenated Vegetable Oil (Cottonseed, Soybean and/or Rapeseed Oil): All three of these oils are derived from GMO crops. Rapeseed oil was formerly used for industrial purposes only. Scientists developed an edible form, better known as canola oil. As for the hydrogenated vegetable oil, partially hydrogenated vegetable oil have trans-fats, but fully hydrogenated oils are still saturated fats found in processed foods. That said, almost none of the labels I saw denoted if the hydrogenated vegetable oil was full or partial, and therefore, there's no way to know if they contain trans fats. Unhealthy peanut butter brands containing this GMO oil include Skippy, Jif, Reese's, Planters, Great Value Brand and Peter Pan. (Note that Peter Pan DOES lists both types, including Partially Hydrogenated Cottonseed Oil and therefore does have trans fats.)
Mono- and Di-Glycerides: According to LiveStrong, these are food additives that are used to combine fatty substances with other substances that contain water, since the two usually don't mix well. Think about peanut butter that you don't have to mix – additives like these are used to keep that mixture together. These additives may contain trans fats and are related to triglycerides. Found in Skippy, Jif, Reese's.
Maltodextrin: Found in Smucker's Reduced Fat Peanut Butter, this sweet additive can be derived from GMO corn in the U.S. (or rice or potato). It also has a high glycemic index.
Soy Protein Concentrate: First of all, with the non-organic brands, all soy is GMO. Processed soy hiding in your food is a problem, too, because soy can possibly wreak havoc with your estrogen levels. It's a fickle ingredient and depends on all the chemicals reactions in your body at the time you process it, which can vary. It can be good or bad for you, but the GMO version is always bad. In addition, "soy protein concentrate" can mean your product contains MSG, a neurotoxin. Found in Skippy.
Soy Lecithin: Again, a GMO product. Found in Better'n Peanut Butter.
And one note about Better'n Peanut Butter. This was an unusual case – they've attempted to make a "healthier" peanut butter by reducing the peanuts and adding processed foods, turning into one of the worst unhealthy peanut butter offenders. It also contains a number of sweeteners (vegetable glycerin, rice syrup, dehydrated cane juice, tapioca syrup), so I'd be cautious about using this product over one that has more peanuts than anything else.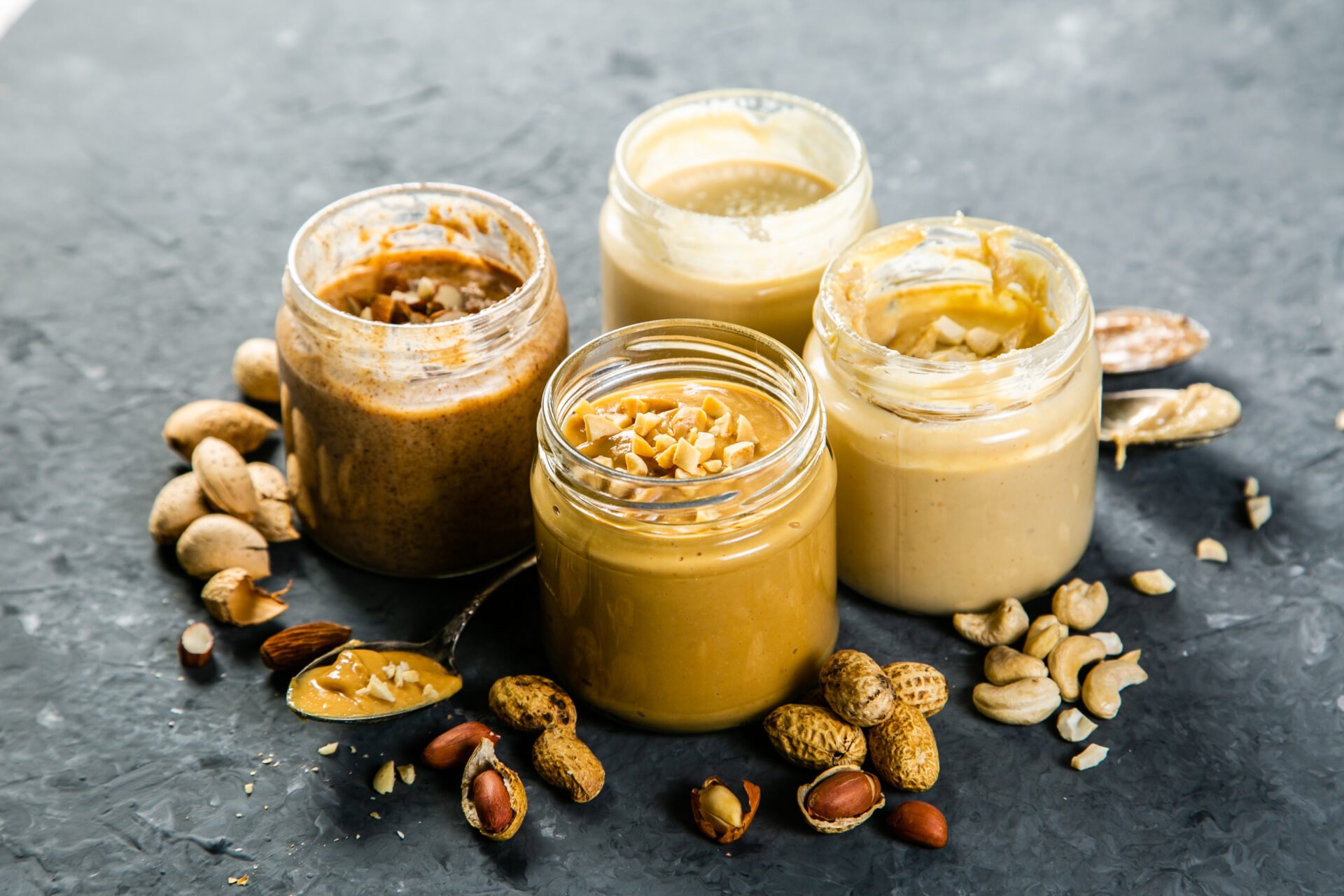 Final Results from Mamavation's Investigation on Peanut Butters & Other Nut Butters
Mamavation sent 33 different brands and products of nut butter to the lab looking for organic fluorine, a test for PFAS "forever chemicals." The products consisted of peanut butter, cashew butter, nut & seed butter, hazelnut butter, almond butter, sunflower seed butter, sesame seed butter (tahini), & pecan butter.
Mamavation's lab used marker testing to identify the potential presence of PFAS "forever chemicals" in nut butter products. Organic fluorine is a marker for PFAS because all PFAS chemicals are carbon-based compounds that contain fluorine.  The specific lab method used by Mamavation tested for total fluorine was the Determination of Total Fluorine by Oxygen Flask Combustion and Ion-Selective Electrode. If total fluorine was observed at a detection level of 10ppm, the lab did the Determination of free Fluoride Ion in the nut butter by Ion-Selective Electrode and then subtracted that from the Total Fluorine to determine the amount of organic fluorine. We then retested the same nut butters that had a detection many months later to see if they were still present.
Important note–There is currently no consensus on how to spot-check nut butter for PFAS. All methods at this point are non-validated. They nonetheless can still be used in revealing the presence of organic fluorine and spot-checking for indications of PFAS. Other contaminants that can be present in organic fluorine are fluorinated pesticides and fluorinated pharmaceuticals, both also concerning.
Scott Belcher, Ph.D. & Associate Professor with the Center for Environmental & Health Effects of PFAS at North Carolina State University says "fluoropolymers, such as polytetrafluoroethylene (PTFE) or Teflon®, are extremely common forms of PFAS that could be contributing to the organic fluorine found in food products. Methods used for detecting individual PFAS, such as PFOA or GenX, cannot directly identify PTFE. However, the analysis of total organic fluorine does account for all PFAS contaminants in food, including PTFE. Therefore, this serves as a good 'spot-check' of consumer products."
Finally, we separated the list into the following categories to help with your shopping needs:
"Not Our Favorite" list of nut butter consists of brands and products that tested for detectable organic fluorine at any time (either in 2021 or 2022) according to our lab.
"Better" products have had non-detectable results at the laboratory but are not USDA-certified organic brands.
"Best" are both USDA certified organic, but also had non-detectable results.
Not Our Favorite Peanut Butters & Other Nut Butters
Our EPA-certified lab found organic fluorine, a marker of PFAS, in these products. We do not recommend you purchase these products.
Artisana Organic Cashew Butter — 32 parts per million (ppm) organic fluorine in 2021, non-detect organic fluorine in 2022.
Nutzo Organic Chocolate 7 Seed Nut Butter — 12 parts per million (ppm) organic fluorine in 2021, non-detect organic fluorine in 2022.
Smuckers Goober Strawberry & Peanut Butter — 17 parts per million (ppm) organic fluorine in 2021, non-detect organic fluorine in 2022.
Teddie Organic Peanut Butter — 18 parts per million (ppm) organic fluorine in 2021, non-detect organic fluorine in 2022.
Better Peanut Butter & Other Nut Butters
The companies in this category had non-detect laboratory results at a detection level of 10 parts per million (ppm), yet they are not USDA organic. Because these nut butters are not organic, they can contain amounts of other toxic pesticides and contaminants that could be harmful.
Best Peanut Butter & Other Nut Butters
These brands are the ones we are recommending. The companies in this category had non-detect laboratory results at a detection level of 10 parts per million (ppm) AND they are USDA organic.

Other Mamavation PFAS Testing Projects
Mamavation has been working hard to discover where to find PFAS "forever chemicals" inside food & other products we purchase and bring inside our homes. Therefore, we have decided to commission our own consumer studies on indications of PFAS in different consumer categories and share that information with you.
We also have investigations you may like on other categories.