Which brand of bamboo flooring is free from detectable PFAS "Forever Chemicals" and is safer for families? Mamavation tested eight different bamboo flooring brands at an EPA-certified lab to find out. You've trusted Mamavation to bring you topics like safest organic mattresses without PFAS, safest period underwear sans PFAS, and safest parchment paper sans PFAS, now join us for the safest bamboo flooring without PFAS "forever chemicals" consumer investigation with lab results.
Disclosure: This post was medically reviewed by Sondra Strand, RN, BSN, PHN.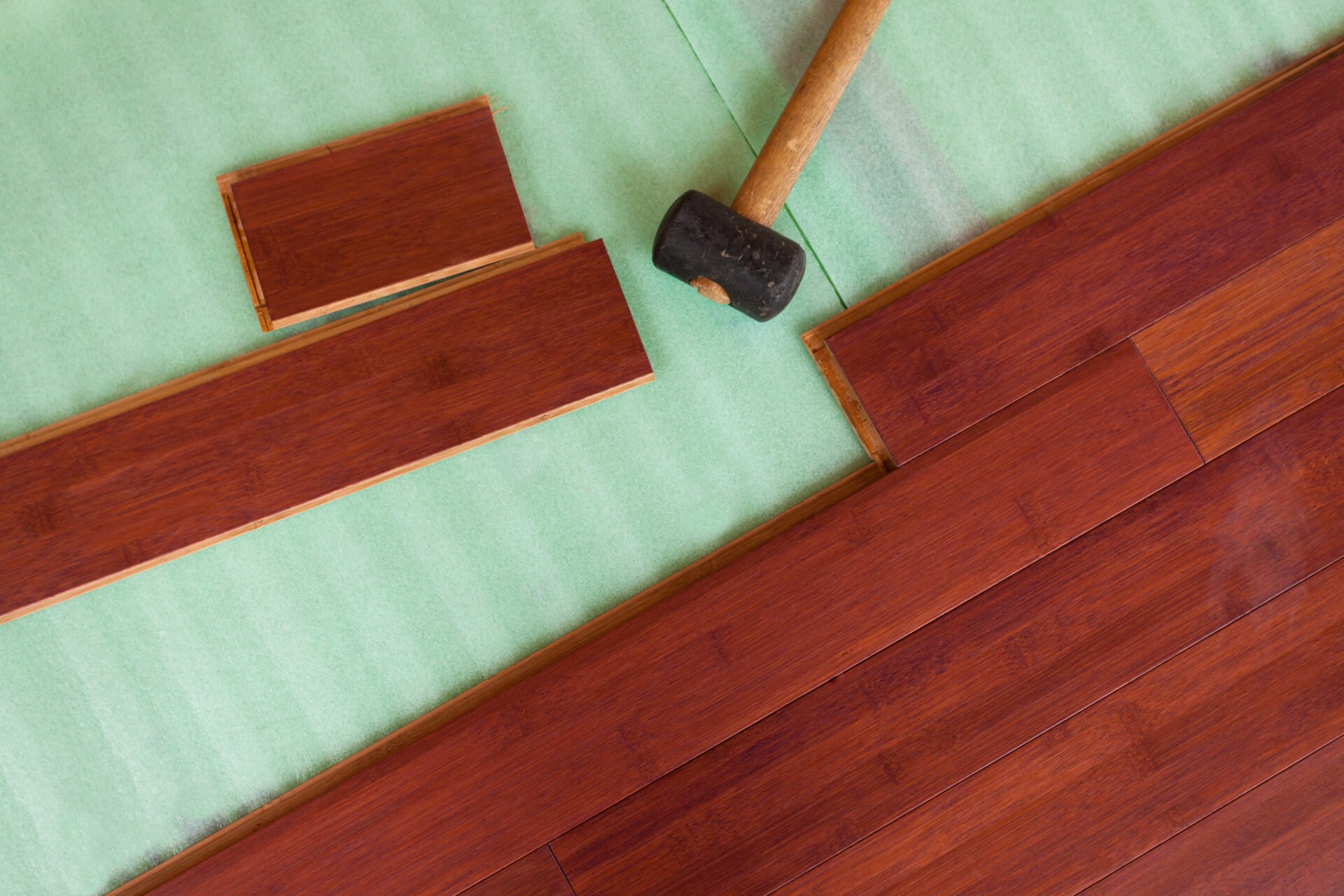 PFAS "Forever Chemicals" Are Ubiquitous Inside the Home & Common in Flooring
PFAS, otherwise known as per- and polyfluoroalkyl substances (aka PFCs or perfluorinated chemicals, including PFOA and PFOS) are added to many products we purchase to make them "stain-resistant," "grease-proof," and "water-resistant."
Here are some of the products you'll find them in:
Food packaging: they are used in popcorn bags, pizza boxes, fast food canisters & wrappers, and the flat dish on the bottom of cakes at the grocery store.
Building Materials: They are also in carpeting, flooring, artificial turf, sealants, & roofing
Fabrics & Clothing: used on clothing as "stain-proof" and "water-proof" agents & also other fabrics in your home like upholstered furniture
Cookware: You can also find them on non-stick pans
Kitchen Appliances: Some small kitchen appliances, such as most air fryers, coat PFAS on surfaces to keep food from sticking.
Personal Care: You'll find them in your personal care items like some tooth flosses, and cosmetics
Menstrual Products (like Period Underwear): You'll also find them in about 65% of period underwear, according to Mamavation's own consumer study.
Mattresses: Even your mattress can contain PFAS chemicals (but these types of mattresses we linked up do not.)
Indoor Dust: PFAS chemicals stick to dust particles so the more dust you have in your home, the more likely there is PFAS in the air you breathe.(Click here for our FREE eBook on how to clean your indoor air.)
According to a report by the Green Science Policy Institute on building materials, flooring can contain PFAS. "PFAS are sometimes used to add stain and soil repellency to resilient flooring. PFAS are more commonly used as leveling and wetting agents in after-market floor protectors, finishes, waxes, and polishes."
So we put this to the test. In terms of pre-finished hardwood flooring like Cali Bamboo, aluminum oxide is infused with polyurethane and cured under UV lights to make them more durable. Typically, this finish is recommended for more sustainable households and those who are chemically sensitive because it's close or zero-VOC.
Mamavation was wondering if this finish, known as their "Fossilized® manufacturing process" could potentially also be cured with PFAS "Forever Chemicals." Cali Bamboo touts their Fossilized® manufacturing process as being the best in the industry to save your flooring from things like dents and backs it with a 50-year warranty. So we reached out to them to ascertain whether PFAS was intentionally used in this process and they told us it was not, but we did find indications of it in laboratory testing, so we tested seven other products to see if we could find it there as well. The results are at the bottom of this investigative post.
Potential Health Effects of PFAS "Forever Chemicals"
PFAS chemicals are incredibly useful giving us stain repellency, grease repellency, and water repellency, however, they are also very problematic to the environment and human health. The biggest problem is their persistence in the environment, meaning they stay around forever, which is why they have been dubbed "forever chemicals" by scientists. According to epidemiologists, no amount of PFAS is safe because it accumulates within the body.
Here is the list of health problems (PFAS) perfluorinated chemicals are linked with.
Our government believes PFAS is so problematic, it forced one dairy farmer to euthanize over 4,000 cows that were contaminated with this chemical.
If you feel like you've been exposed to PFAS, the Agency for Toxic Substances and Disease Registry, a division of Community Health Investigations has created this fact sheet to use when talking to your doctor.
Testing for PFAS is Tricky and Close to Impossible But This is How Other Industries are Handling It
Understanding how this works is important. There are over 9,200 different PFAS chemicals in commerce, so it's not possible to test for each one individually. In fact, tests are only available for a couple dozen or so of these specific chemicals.
So instead, we test for fluorine which is the chemical they all have in common. The higher the levels of fluorine, the more likely it was intentionally added. Smaller levels can indicate contamination or processing issues.
This is the same standard the food packaging industry has created to certify what is "compostable." BPI Industries & Compost Manufacturing Alliance certifies food packaging is compostable in this way. We are using this standard because it's really the only standard out there right now to provide guidance.
Mamavation's Investigation of Bamboo Flooring for Indications of PFAS "Forever Chemicals"
In May to July of 2021, an EPA-certified laboratory conducted tests of Total Fluorine by Oxygen Flask Combustion and Ion-Selective Electrode on eight of the most popular bamboo flooring brands available online: Cali Bamboo, ReNature, Aquaseal, Home Decorators, Style Selections, Smartcore Naturals, Teragreen Flooring, & EcoFusion Flooring. Samples were ordered online and shipped to the lab. The lab scratched off a sample of the top layer of the flooring to test what consumers would be directly exposed to.
The very first brand we tested was Cali Bamboo and they found the presence of fluorine, so we kept testing until we found a brand that came back as "non-detect" before we posted our findings again.
The results we received from the lab were as follows:
Cali Bamboo (received from Cali Bamboo directly) — 13 parts per million (ppm) fluorine
ReNature (received from Lumber Liquidators) — 12 parts per million (ppm) fluorine
Aquaseal (received from Lumber Liquidators) — 30 parts per million (ppm) fluorine
Home Decorators (received from Home Depot) — 13 parts per million (ppm) fluorine
Style Selections (received from Lowe's) — 9 parts per million (ppm) fluorine
SmartCore Naturals (received from Lowe's) — 11 parts per million (ppm) fluorine
Teragren Flooring (received from Green Building Supply) — 32 parts per million (ppm) fluorine
EcoFusion Flooring (received from Green Building Supply) — non-detect
Conclusions From our Bamboo Flooring Investigation
Mamavation recommends you purchase from the brand that came up with non-detectable levels of fluorine–EcoFusion Flooring. EcoFusion Flooring can be purchased from Green Building Supply online. It's also available in various mom-and-pop stores across the country.
We reached out to EcoFusion flooring directly and they were not able to offer a discount to our audience, but Green Building Supply was able to offer a discount. Use discount code "MAMAVATION" to get between 5-10% off your EcoFusion Flooring at Green Building Supply. Specifically, there's a special deal going on right now. You can call them directly at 1-800-405-0222 or order online. Make sure to mention our website if you end up calling them for that discount which will vary based on what color and type of bamboo flooring you select.
(Mamavation is not receiving any affiliate compensation from this brand, but we wanted to make sure you had a discount anyways because flooring is always expensive.)