Chemicals found in makeup products can be toxic and completely legal to sell. That's shocking to most people when they first learn it, but it's completely true. So what are you supposed to do when your daughter is old enough to wear makeup and what about yourself? Today's investigation is all about safer cosmetics. You've trusted Mamavation to bring you topics like best & worst deodorants, best & worst face washes & moisturizers, safest & most toxic hair color brands, now join us as we take you through the makeup aisle, explain what to avoid and which brands are the safest.
We know you don't have the time needed to investigate the makeup industry, so Mamavation has done it for you! Scroll down to the very bottom for our product recommendations and if you would like to say thank you, you can donate here. 
This article has been fact-checked and researched by Rebecca Elizabeth Sherrick Harks, RN, BSN. It contains affiliate links. 
What You Need to Know About Makeup Before You Buy
I've got some bad news for you. The cosmetic industry is corrupt and putting us all in danger. As I've discussed in Green Enough: Eat Better, Live Cleaner, Be Happier (All Without Driving Your Family Crazy!), there is no government agency standing between your family and the dangerous cosmetic ingredients that can find their way into that bottle of shampoo with a picture of your child's favorite character. The United States treats chemicals innocent until proven guilty, which is great for business but bad for public health. Compare this with the European Union and their procedures, it's apparent that the United States is lagging way behind keeping consumers safe.
The European Union forces companies to "prove" their chemicals are safe before they are allowed into commerce. And the differences are vast when applied. Whereas the European Union has banned or restricted more than 1,400 ingredients from use in cosmetics, the United States FDA has only prohibited 8 ingredients.
Dangerous Makeup Myths That May Cause You Harm If You Believe Them Blindly
Myth #1: Going with natural and/or organic products is your safest bet.
Unfortunate Truth:
There is no definition of "natural" or "organic" when it comes to makeup. Just because a product is labeled natural/and organic, doesn't mean that the cosmetic doesn't contain synthetic chemicals. Natural is a buzz word these days, and it's important to know that "natural" has very little meaning beyond advertising; the FDA even tried back in 1998 to establish an official term for "natural," but nothing was ever done about it. Being "organic" doesn't mean anything either unless you see the USDA organic seal.
---
Myth #2: Makeup products stating that they're "hypoallergenic" are much safer for you and your children to use.
Unfortunate Truth:
As we learned in most of our children's product investigations, most of the marketing claims, including "hypoallergenic" are unregulated, which means that manufacturers are able to claim all kinds of things that mean nothing at all. These claims have been designed by major marketing boards to instill consumer confidence so they can sell more products, NOT make you safer.
---
Myth #3: The FDA acts promptly to recall any type of cosmetic (or other) ingredients that cause harm.
Unfortunate Truth:
As we learned in the children's supplements investigation, the FDA is slow to remove ingredients that children ingest, so you'd imagine that makeup is even more difficult. What's even uglier is the fact that the FDA has no real power to regulate the cosmetic industry at all when things go wrong, so you are basically left to your own defenses at the peril of marketers that want you to buy more.
Manufacturers don't have to report any injuries or problems to the FDA
The FDA has no right to pull makeup products off the market,
The FDA relies on the makeup conglomerates to self-report any safety issues with their products voluntarily
---
Myth #4: You can read the label on your makeup so you can avoid hazardous chemicals.
Unfortunate Truth:
Unfortunately, cosmetic ingredients are purposely not transparent. The laws in the US allow companies to omit ingredients that are problematic to human health, like the ingredients inside fragrance. When you see "fragrance" on the bottle it means the company has decided to leave you in the dark about what makes up that fragrance. And legally, it can contain over 3,000 chemicals, which don't have to be declared. None of those chemicals are required to be on the label because lobbying efforts have focused on protecting the formulation of a product and calling them "proprietary" even though modern technology can reverse engineer every ingredient inside the bottle to find out. Therefore, companies can easily steal each other's formulations by using a laboratory. So when a company refuses to be 100% transparent about their ingredients, it's not about protecting their formulation, it's about refusing to be transparent.
---
Myth #5: Because cosmetics are applied to the skin and not taken orally, they rarely get into your body. And even if they do, the levels of bad-for-you chemicals are so low that it doesn't matter.
Unfortunate Truth:
Exposure to cosmetics comes in many forms: breathing in powder, for example, swallowing bits of lipstick, and most likely, absorbing cosmetic ingredients through the largest organ in your body – your skin. Studies have found that ingredients like paraben, preservatives, triclosan, PFAS, and a whole mess of others are often found in the bodies of people of all ages. The enhancers that the industry uses often allows these (and many other nasty ingredients) to penetrate even further into the depths of the skin.
Another important point is many of these chemicals disrupt hormones, and those types of chemicals are linked to harm at very very small amounts similar to a drop in an Olympic sized pool. And what makes manners worse is hormone-disrupting chemicals are not tested at low levels. They test the chemicals at high levels and assume what will happen at low levels without ever doing the studies. But genes switch on and off at different parts of the dose-response curve, so the effects are not possible to predict. Therefore, arguing the levels are too low to harm are not backed by science. In fact, the American Academy of Pediatrics has been lobbying Congress and federal agencies for years about hormone-disrupting chemicals and their impact on public health. Saying the levels are too low to harm is simply wrong.
Regulation Of The Cosmetics Industry (Or Lack Thereof ) 
The largest trend in the makeup industry today is going "clean." This Clean Movement for cosmetics has begun due to the frustration and disgust with regulatory oversight and companies' reliance on cheaper hormone-disrupting chemicals.
See, way back in 1938, the FDA passed an act called the Federal Food, Drug, and Cosmetic Act, which gave the FDA authority to oversee the safety of food, medical devices, drugs, and cosmetics.
The act actually lists out some pretty clear definitions and penalizations, but here's the problem–The FDA doesn't actually do any of that. Instead, they've passed the buck onto a group (with no power) called the Cosmetic Ingredient Review about 30 years ago. These guys are basically people that work within the industry. And in those 30 years, they haven't really done much either.
They've only deemed 11 ingredients or chemical groups to be unsafe. (Compared with over 1,300 in Europe)
Aligned themselves with the big cosmetic companies
Their recommendations on restricting ingredients are not binding on companies, meaning no one gets in trouble when they use these ingredients or chemical groups.
Problematic ingredients typically fall into three categories: endocrine disruptors, carcinogens, and irritants and allergens. 
Problematic Endocrine Disruptors Inside Cosmetics
What? These are chemicals, substances, and compounds that may imitate our body's natural hormones, thus interfering with our body's normal, natural chemical signaling.
Ingredients on the Label: Triclosan and triclocarban, toluene, resorcinol, petroleum distillates, butylated hydroxyanisole (BHA), boric acid, sodium borate, phthalates, placenta extract, & parabens.
Science Says: While many of the studies involving these compounds did show a direct correlation between their use and hormonal dysregulation, most of these are performed in animals and at higher doses than a person would generally be exposed to as cosmetics. This is very problematic because different genes get turned on and off at different parts of the dose-response curve. (More on that here and here.) What happens at low doses can be just the opposite of what happens at high doses, but there have been several studies on humans showing an increase in these chemicals in our body and issues with hormone disruption at very low levels.
Retinol (Vitamin A): Overexposure to this naturally occurring substance can have reproductive and development effects, and has been linked to skin tumors and lesions. Because it is found in foundation, lipstick, moisturizers, cleansers and anti-aging products, as well as foods rich in this vitamin, your exposure can be high without your realizing it.
Phthalates: These are linked to breast cancer and are endocrine disrupters. These can be found in nail polish and synthetic fragrances, including those that are added to other cosmetics. Nail polish can contain a type of called dibutyl phthalate, a reproductive and developmental toxin.
Parabens: These are linked to breast cancer and are endocrine disrupters. Found in creams and lotions, and some makeup.
Octinoxate: This chemical is likely found in foundations and is linked to endocrine disruption and thyroid disorders.
Siloxanes: This ingredient is used in cosmetics to soften, smooth, and moisten things into your skin. They are disruptive to the endocrine system and reproductive system. Look for ingredients that end in -siloxane or -methicone.

Problematic Carcinogens Inside Cosmetics
What? These are compounds, substances, and chemicals that may lead to cancer.
Ingredients on the Label: Sodium laureth sulfate (SLS), PEG compounds, & chemicals ending in -eth are all potentially contaminated with 1,4-dioxane. Formaldehyde, coal tar ingredients, petroleum distillates, (-methyl, -propy, -caprylic, such as propylene glycol), & Mineral oil.
Science Says: 
Formaldehyde (quaternium-15 and other formaldehyde-releasing preservatives): This is a big one. It's been labeled as a potential carcinogen by the National Cancer Institute says its use and exposure to it has been linked to cancer formation in both animals and humans. If you're not swayed by that, you should know that formaldehyde ranks among the top 10 most common contact allergens. Look for DMDM hydantoin, BHUT (butylated hydroxytoluene), bronopol, diazolidinyl urea, sodium hydrozymethylglycinate, imidazolidinyl urea, methenamine, quarternium-15, Quaternium-18, & Quaternium-26.
Petroleum-based (-methyl, -propy, -caprylic, such as propylene glycol) and mineral oil products: Petroleum jelly comes from residue that builds up on the outside of oil rigs. It is collected, distilled and refined and used in many cosmetics such as lip-gloss. While many call these products safe, the toxicity depends on the refinement process, which is currently unregulated, and lower quality refined oil may be linked to breast cancer. You want to avoid liquid products with "shine" or make sure they are petroleum-free. You can find these ingredients in mascara, perfume, foundation and lipstick /gloss/balm. "White petroleum" however is safe
PEG compounds: Polyethylene glycols, or PEGs, are petroleum-based compounds used to thicken & soften cosmetics. They are very common in cream-based products. The number next to PEG indicates how many units of ethylene glycol they comprise and the lower the number, the quicker it absorbs into your skin. They are problematic because they are often contaminated with ethylene oxide and 1,4-dioxane.
Vinyl chloride Can cause acute toxicity, manifested by dizziness, headache, disorientation, and unconsciousness where inhaled at high concentrations. Studies also demonstrate potential carcinogenic effects. Found in cosmetic aerosol products including hair sprays
Zirconium-containing complexes Zirconium-containing complexes have been used as an ingredient in cosmetics, for example, aerosol antiperspirants. Evidence suggests that certain zirconium compounds have caused human skin granulomas and toxic effects in the lungs and other organs of experimental animals
Chloroform has been used as an ingredient in cosmetic products. Recent information may associate chloroform with carcinogenic effects.
Polycyclic aromatic hydrocarbons (PAHs): Derived from coal, some find their way into cosmetics. Found in moisturizer, lip balm, anti-aging products, cleansers and more.
Talc: The toxicity of this product is controversial, but it has been linked to respiratory issues. Found in loose powder makeup, blush, and eye shadow. However, in the time since I initially did this research, Johnson & Johnson was sued and ordered to pay $72 million to a family of a woman who died from ovarian cancer. For this ruling, the jury found that J&J had failed to warn users of the risk of using talc. Bottom line: while there is mixed evidence on this products as far as studies are concerned, this judgment should have anyone who uses talc concerned. Read more in depth at the American Cancer Society, who recommends: "Until more information is available, people concerned about using talcum powder may want to avoid or limit their use of consumer products that contain it." There is such a thing as asbestos-free talc, but most brands using talc are not paying a premium for that.
Titanium dioxide: this is a key ingredient in many sunscreens, which are then added to mineral makeup, foundations, and other cosmetics. Inhalation – which, if you're using it as powder or as a foundation –  is possibly linked to cancer. Nano titanium dioxide is really the problem here and what most brands are using. The titanium dioxide that is non-nano is fine. 
1,3-butadiene: This carcinogen lurks in many items, including foundation. Studies by the Department of Health and Human Services (DHHS), IARC, and EPA have determined that 1,3-butadiene is a human carcinogen. Studies have shown that people regularly exposed to 1,3-butadiene may have an increased risk of cancers of the stomach, blood, and lymphatic system.
Methylene chloride: This has been banned as products using methylene chloride pose a significant cancer risk to consumers. Found as an ingredient of aerosol cosmetic products, principally hair sprays.
Butylated hydroxytoluene (BHT) and butylated hydroxyanisole (BHA): Toulene based ingredients used as preservatives. Linked to cancer linked to a wide range of health concerns, including organ system toxicity, skin irritation, and more. The National Toxicology Program classifies BHA as "reasonably anticipated to be a human carcinogen."BHA has been linked to reproductive and developmental toxicity and also been identified on California's Proposition 65 list as a possible carcinogen.
Carbon black: An ingredient found in eyeliners which is linked to cancer and organ toxicity. This ingredient has many names like: arrow, arovel, arogen, channel black, pigment black 6, pigment black 7, acetylene black, froflow, atlantic, and black pearls.

Problematic Irritants and Allergens Inside Cosmetics
What? You know, the stuff that makes your body react. Not everyone reacts to irritants and allergens, but if you do react, these ingredients may be the culprit.
Ingredients on the Label: Methylisothiazolinone (MI), methylchloroisothiazolinone (MCI), vitamin A derivatives, "fragrance", petroleum distillates, mica, and formaldehyde.
Science Says: MI/MCI, fragrance, and formaldehyde are known causes of contact dermatitis, which is a nasty, painful poison ivy-like rash that can become chronic with repeated exposure. This is so common that all three have been named "Allergen of the Year" by the American Contact Dermatitis Society, in part due to the prevalence of contact dermatitis experienced when using many commonly used products.
It's important to understand that both synthetic and natural ingredients can cause irritation, so if you have sensitive skin, the ingredients below may make you react. If you do not have sensitive skin, pay closer attention to the other categories.
Common Irritants Found Inside "Fragrance": Both natural & synthetic ingredients can cause skin irritation. Some examples are: 3-Cyclohexene Carboxaldehyde, Alpha Amyl Cinnamic Alcohol, Anthemis Nobilis (Chamomile), Amyl Cinnamal, Anisyl Alcohol, Balsam of Peru (Myroxylon Pereirae), Benzaldehyde, Benzyl Alcohol, Benzyl Benzoate, Benzyl Cinnamate, Benzyl Salicylate, Butylphenyl Methylpropional, Cassia Oil, Chamomile (Anthemis Nobilis), Cinnamal, Cinnamic Alcohol, Cinnamic Aldehyde, Cinnamon Leaf Oil, Cinnamyl Alcohol, Citral, Citrus, Citronellol, Clove Oil, Cologne, Coumarin, Ethylene Brassylate, Eugenol, Evernia Furfuracea, Evernia Prunastri, Farnesol, Geraniol, Herbal Extracts, Hexyl Cinnamal, Hydroxycitronellal, Hydroxylisohexyl 3-Cyclohexene Carboxaldehyde, Isoeugenol, Isomethyl Ionone, Limonene, Linalool, Lyral, Masking Fragrance, Methyl 2-Octynoate, Oakmoss absolute, Perfume, parfum, Plant, flower, fruit, nut oils, Yarrow (Achillea Millefolium)
Bismuth Oxychloride: Bismuth oxychloride is found naturally in rare mineral bismoclite. It's used in mineral makeup to give you that matte appearance while adhering to your skin. When processed, it can be irritating. Pay close attention to heavy metal levels to ensure you are getting ingredients that are safe because this ingredient can also increase the amount of lead.
Lanolin: The contaminants found inside lanolin can cause skin irritation. This can be caused by   synthetic pesticide contamination used to treat the wool for pests. Look for: Lanolin (hydrous and anhydrous), Hydrogenated Lanolin, Lanolin Alcohol, Wool Fat, Wool Wax, Alcohols (Wool Alcohol)
Halogenated salicylanilides (di-, tri-, metabromsalan and tetrachlorosalicylanilide) These have been used as antimicrobial agents in cosmetic products. These halogenated salicylanilides are potent photosensitizers and cross-sensitizers and can cause disabling skin disorders.
Bithionol: This has been banned by the FDA as it can cause cross-sensitization and photosensitivity. Found as an antibacterial agent in cosmetic preparations such as detergent bars, shampoos, creams, lotions, and bases used to hide blemishes.
Mica: The dust left from mica has sharp edges, which can be inhaled and possibly be a respiratory irritant – or worse. The problem is there is no reliable data on this irritant. Mica has "shine," so it is often used in loose powder products that glimmer. Beautycalypse has a comprehensive article on the science (or lack of) in mineral makeup products.
Talc: The toxicity of this product is controversial, but it has been linked to respiratory issues. Found in loose powder makeup, blush, and eye shadow. However, in the time since I initially did this research, Johnson & Johnson was sued and ordered to pay $72 million to a family of a woman who died from ovarian cancer. For this ruling, the jury found that J&J had failed to warn users of the risk of using talc. Bottom line: while there is mixed evidence on this products as far as studies are concerned, this judgment should have anyone who uses talc concerned. Read more in depth at the American Cancer Society, who recommends: "Until more information is available, people concerned about using talcum powder may want to avoid or limit their use of consumer products that contain it." There is such a thing as asbestos-free talc, but most brands are not paying the premium for those ingredients.

More Ingredients to Avoid Because You Don't Need All That Negativity In Your Life, Right?
Toluene: Found in nail products, this toxin can cause confusion, memory loss, exhaustion, and impede clarity.
Lead: This a known neurotoxin is linked to learning disabilities, behavioral problems, miscarriage, infertility, and can disrupt puberty in girls. Found in nail polish, lipstick, and foundation.
Nanoparticles: When nanotechnology first entered into the world of cosmetics, most of us were pretty excited. These tiny nanoparticles range between 1-100 nanometers in diameter. That's really small. They are about 80,000 times smaller than the width of a human hair, or they are as big as 1/5,000th the thickness of a sheet of paper. Research has found some alarming problems with nanoparticles when it comes to destroying useful microorganisms in the environment & human health.

Titanium Dioxide (TiO2): While initially praised for being able to help better protect the skin from UV damage, we've learned that the titanium dioxide nanoparticles are actually more toxic than the standard size particles. While no human studies currently have concluded, mice and rats exposed to nanoparticle sized TiO2 experience major lung inflammation and significant DNA damage. Clearly, this is concerning as to whether or not this would affect humans in the same manner.
Zinc Oxide (ZnO): Studies have found that even low concentrations of ZnO may lead to damage in human skin cells. However, a review of the risks of nano-structured TiO2 and ZnO found nanoparticles of TiO2 and ZnO are unlikely to pass through the skin due to how they are bound. The researchers concluded both materials are safe to use as UV filters; however, these two types of nanoparticles are still undergoing major studies.
Silver: Nanoized silver may lead to oxidative stress and resulting cell damage. Silver nanoparticles have shown toxic effects on the male reproductive system, as research suggests that nanoparticles cross the blood-testes barrier where they can be deposited into the testes with the potential for adverse effects on sperm cells. Research shows that silver nanoparticles can bind to different tissues and can cause a number of toxic effects that gradually lead to cell death.
Fullerenes: Fullerenes are carbon tubes often used in anti-aging and eye creams that may penetrate into the top two layers of the skin (the epidermis and dermis). These nanoparticles also make the skin unusually sensitive to light, leaving cells vulnerable to the effects of UV light exposure.
Silica: Nanoized silica may lead to pregnancy complications when injected intravenously into pregnant mice as it seems that nanoized silica can cross the placenta, leading to deposits in the fetal liver and fetal brain. Nanoparticle-sized crystalline silica (SiO2) nanoparticles may cause cell damage which could cause cell mutations and creation of cancer cells with two nuclei in human in vitro cells.
Carbon Black: Nanoparticle-sized carbon black particles may alter the genetics of lung cells, lead to inflammation and inhibit the growth of cells that line the circulatory system. Research now suggests that nanoparticle-sized carbon black may lead to mutations in the lung cell of rats after a 15 month exposure time.

Synthetic Biology: Synthetic biology changes the genetic code of living entities by editing portions of their DNA. New genes are not introduced like conventional genetically modified organisms (GMOs), but instead, their DNA is changed through a gene-editing technology called CRISPR. Genes are added, removed, turned on or off, or completely rewritten. What could possibly go wrong, right? These ingredients have not been tested for safety because the Feds don't consider them chemically similar to ingredients they replace. Here are some of the ingredients you will find that will never admit to being "synbio" but we know it's a very good possibility:

Sugar cane-derived Squalane emollient
Algal oils, especially in Unilever products like Dove
"Animal-free" collagen
Blue, red, & purple pigments
Retinoids
Is There Such a Thing As Clean, Natural Or Safe Makeup? It's Complicated. 
During the last few years, the clean/natural beauty industry has been expanding significantly. As this industry is largely unregulated, all of these terms caused much confusion: the words "clean," "natural," "safe," "non-toxic," and "green" are often used interchangeably. Because the FTC (Federal Trade Commission) and the FDA (Federal Drug Administration) aren't regulating the usage of these words, they're all pretty much meaningless. Sometimes "natural" means plant-based ingredients, but by in large it's fairly nonspecific.
Even more confusing is everyone's favorite word: "organic." In cosmetics, there really is no such thing. The USDA organic seal only applies to agriculture and food, not cosmetics. So when you see the USDA organic seal that's because that brand has decided to use food-grade organic ingredients inside. Yes, you can literally eat those ingredients. But I wouldn't recommend it because it will taste nasty. But buyer beware, a company can use word "organic" in their marketing without actually having organic ingredients inside. Look for the USDA organic seal to be sure.
NEWS FLASH: Cosmetic Companies Have Paid Out Millions In Settlements. Buyer Beware!
The cosmetic industry has been rife with lawsuits in the past couple of years for good reason–harmful chemicals can destroy lives.
In 2018, industry bigwig Johnson & Johnson was ordered to pay $4.7 billion dollars to women who's use of baby powder caused ovarian cancer, which is one of those cancers that's rarely discovered before it is too late.
Later when haircare giant, Wen, settled a 26 million dollar settlement to victims of one of their hair products that was allegedly making people's hair fall out, we collectively freaked out because that was supposed to be a "natural" brand.
Unfortunately, these are prime examples of what the cosmetic industry is allowed to get away with daily because no one is monitoring them.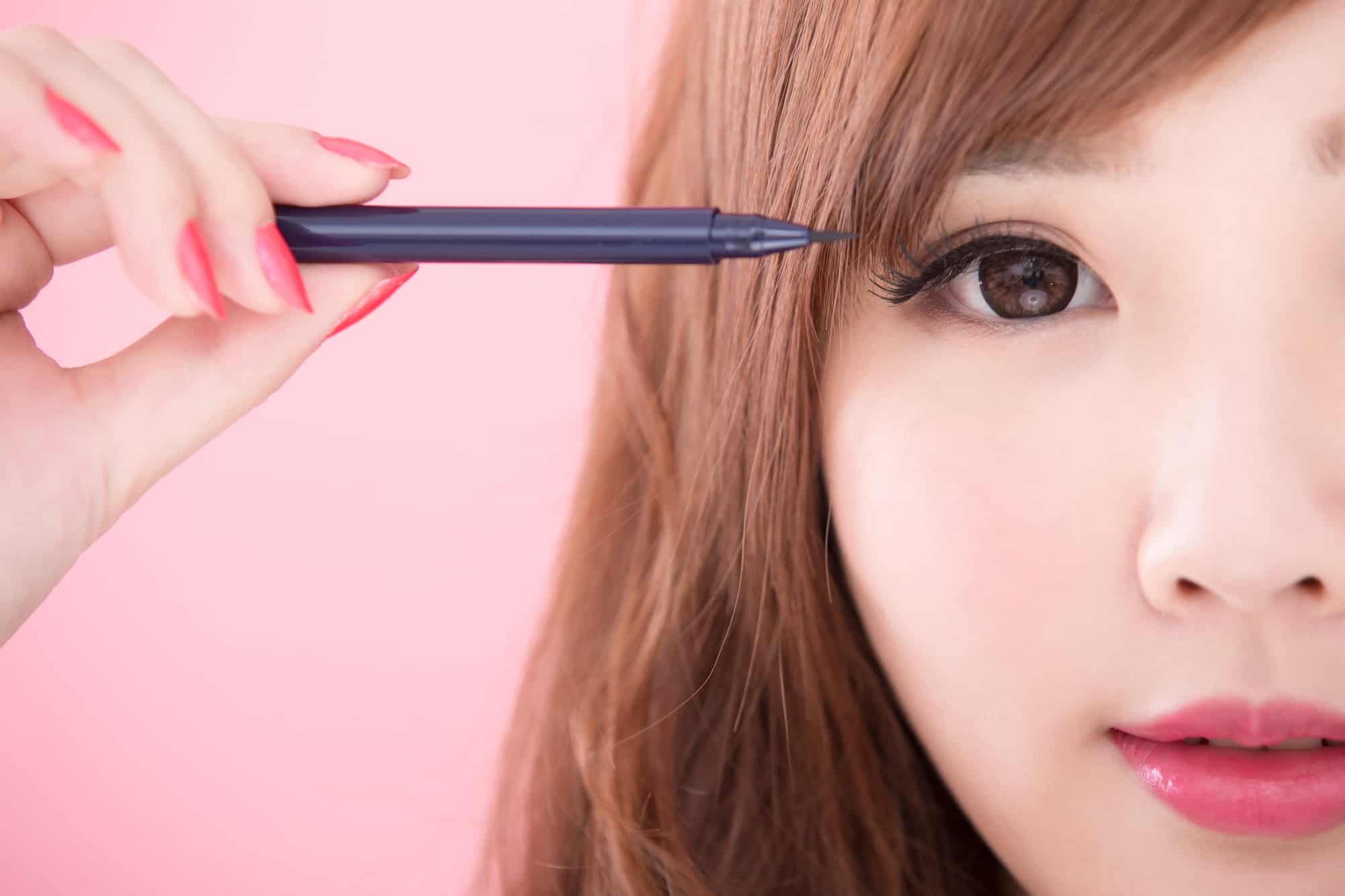 Is Mineral Makeup Really Better For You?
The short answer to that question is no. Mineral makeup has been around since early cave-dwellers wanted to put ground-up minerals onto their skin as war paint, for decoration, and perhaps even for camouflage. Unfortunately, minerals mined from the earth also contain heavy metals, which means mineral makeup exposes you to heavy metals like lead. And this is actually far more serious than mineral makeup brands are telling you.
In 2007, the Campaign for Safe Cosmetics released the report testing 33 brands of lipsticks for lead content. 61% of lipsticks contained lead, with levels ranging up to 0.65 ppm. Afterward, the FDA tested 20 lipsticks and found lead in each one ranging from 0.09 ppm to 3.06 ppm with an average of 1.07 ppm. Then in 2010, the FDA followed up more testing and found lead in 400 lipsticks tested, ranging from 0.026 ppm to 7.19 ppm with an average of 1.11 ppm.
Then in 2011, the Canadian Environmental Defense tested 49 face makeup products for the presence of arsenic, cadmium, lead, nickel, beryllium, thallium, mercury, & selenium. 7 out of 8 products had detectable levels of those heavy metals.
More recently in 2013, the University of California researchers found chromium, cadmium, aluminum, manganese, and lead in all 24 lip glosses and eight lipsticks they tested. Most of the tested lip products contained high concentrations of titanium and aluminum. All examined products had detectable manganese. But the biggest culprit was lead detected in 24 products (75%), with an average concentration of 0.36 ± 0.39 ppm.
We also found in this lengthy investigation that several brands of mineral makeup contain many of the harmful ingredients we've been trying to avoid, like antifreeze, titanium dioxide, formaldehyde, mica, and talc.
Mamavation's Makeup Investigation Focused On Heavy Metal Testing, Hormone Disrupting Chemicals & Transparency
What you're seeing below is the results of a three-month study into cosmetics and the cosmetic industry. We had over 100 different companies to take a closer peek at, and each of them had to respond to an email we sent in order for us to look closer.
We first approached this as we normally would emailing companies in September and October, stalking their websites and looking at reviews online. Out of close to 100 companies, we heard back from exactly 8. And 4 of those companies refused to tell us anything helpful stating "proprietary information" was never given.
So we regrouped and changed tactics acting as an everyday consumer instead of an investigative journalist. We prepared different emails that were a bit dumbed down and got many more responses from brands, but unfortunately, ONLY ONE BRAND was willing to share any labs with us or tells us anything about the levels by which they test.
Solutions to the Heavy Metal Problems in Makeup
One of the reasons this investigation took so long is we had lots of trouble ascertaining the level of heavy metals in products containing minerals. These companies simply did not want to tell us, even the good companies that we love. So our workaround was to highlight companies that have become certified, sold in Canada or Germany, or can prove they have lower levels of heavy metals.
Natural Health Products Sold in Canada have a limit for lead impurities of 10 ppm, Arsenic 3ppm, Cadmium 3ppm, Mercury 1ppm, Antimony 5ppm in products applied to the skin.
Cosmetics Sold in Germany have a limit of Lead 2ppm, cadmium .1ppm, mercury .5ppm, antimony .5ppm which is stricter than Canada.
Environmental Working Group verification aligns with Canadian standards of no more than 10ppm lead in products applied to the skin. (Unfortunately, they allow synthetic biology inside cosmetics.)
MADE SAFE certification aligns with German standards which are far safer than Canadian standards. Products tested need to be under the following: Lead 2ppm, cadmium .1ppm, mercury .5ppm, antimony .5ppm. (MADE SAFE does NOT allow the use of synthetic biology in their products.)
The Bad Makeup Companies
In the bad category, you'll find the following with one or more issues: brands that refused to reply or sent a reply, brands that used toxic ingredients, brands that didn't even bother putting their ingredients on their website, brands that had no FAQ section or area that addressed what's in the makeup, brands that contain nanoparticles, synthetic biology or suspected to have high levels of heavy metals. We strongly recommend that you do not purchase from any of these brands.
Almay
Amore Pacific
Armani
Avon
Benefit
BH Cosmetics
Bobbi Brown (by Estee Lauder)
Born This Way: Too Faced
Chanel
Charlotte Tilbury
Cinique (by Estee Lauder)
CoverGirl (by Cody)
E.L.F.
Essence
Estee Lauder
Farmasi
Fenty Beauty (by Rhianna)
Florence By Mills
Huda Beauty
IT Cosmetics (by Lancome)
Jeffree Star
Josie Marin Argon Oil
Kat VonD
L.A. Girl
L'Bri
L'Oreal
Lancome
Laura Mericer
M.A.C (by Estee Lauder)
Make Up For Ever
Mary Kay
Maskcara Beauty
Max Factor (by Cody)
Maybelline (by L'Oreal)
Melaleuca (by the Wellness Company)
Milani Amore Cosmetics
Motives
Neutrogena (by Johnson & Johnson)
NuSkin (NOT affiliated with Nu Skin)
Nyx (by L'Oreal)
Origins (by Estee Lauder)
Palladio Beauty
Paula's Choice
Pur Cosmetics
Revlon
Salty Girl
Signature Minerals
Sisly Paris
Smash Box (by Estee Lauder)
Smith and Colt
Stilla
Sugar Rush by Tarte
Tarte
The Body Shop
The Makeup Box
Urban Decay (by L'Oreal)
Wet N Wild
The Better Makeup Companies
In The Better Brands, you'll find that these brands were more transparent on their websites, they seem to be trying to switch from traditional to cleaner makeup, these brands may have gotten extra points for using safer synthetic combined with natural ingredients, these brands say no to chemicals like antifreeze, phthalates, parabens, nonylphenol ethoxylates, triclosan, triclocarban, and hydroquinone. Makeup is likely to have been made in the US or in Europe. Some of these brands we just couldn't verify the levels of their heavy metals so instead of sticking them in "best" we put them in "better" and marked them with a *.
Arbonne
Alina Pure Makeup
Bare Minerals
Burt's Bees (by Clorox)
Clean Lines (at Sephora) – only because this isn't a brand – it's a vast number of different makeup brands
ColorScience
Cover FX
Elate Beauty
Eminessence
Ever Skin Care
Fit Glow Cosmetics
Gabriel
Haus of Gaga
ILLA Beauty
Kosas
Lime Life by Alcone*
Max & Madeline*
Milk
Nvy Echo
Pacifica Beauty
Physician's Formula
Red Apple*
Red Aspen
Redeeming Beauty Minerals
Suzanne Somers
Thrive Cosmetics
Trestique
Tropic*
Young Living: Savvy Minerals
Younique
MAMAVATION's RECOMMENDATION–Best Beauty Brand for Young Girls, Women & the Autoimmune Compromised–BEAUTYCOUNTER
Our favorite makeup brand after evaluating over 100 different companies was…Beautycounter!
Beautycounter was the only brand that not only avoids all the problematic chemicals we are concerned with but they also were very open with us about heavy metal testing. Not only did they share their testing procedures (testing every product & batch 3x), but they also shared with us the levels by which they tested, gave us current batch testing results AND they were better than German standards. In addition to this, Beautycounter is EWG verified, which means they can prove this with 3rd party testing. They also don't use any nanoparticles or ingredients made through synthetic biology either.
And finally, one of our favorite reasons to love Beautycounter is their commitment to making your family safer regardless if you shop with them or not. Beautycounter is mostly sold through independent consultants that create an army of women storming the Capital building and lobbying for change in the cosmetic industry at each State and the Federal Level. Here are some of the ways they are fighting for your family!
US Lobbying: Over the past six years, Beautycounter has worked with lawmakers on both sides of the aisle to ensure issues like ingredient review, labeling and recalls for products that cause harm are consumer safety priorities. Consultants host hundreds of District Meetings with Members of Congress advocating for updates to laws governing personal care products. They have thus far done impressive work: more than 1,000 meetings, 10,000 calls and 100,000 emails later, and now more lawmakers than ever are placing cosmetics safety at the top of their legislative agendas.
State by State Lobbying: Individual states have led the way in passing cosmetic reform legislation, and Beautycounter have played critical roles in protecting children, workers and the public in states like Oregon, Hawaii and California. They have raised the profile of personal care product legislation, and put many into law. Looking ahead, they anticipate state action in the areas of labeling and fragrance disclosure.
Where to find Beautycounter cosmetics?
Additional Best Makeup Brands
These are the best makeup brands! In order to solve the heavy metal problem, we had to go with verification and certification to be sure about their contents since they would not tell us. They were either EWG verified, Made Safe certified, or they were sold in Germany or Canada. We also included brands that avoid minerals, which would likely mean their heavy metals would be low as well. These brands also do not contain any antifreeze, phthalates, parabens, nonylphenol ethoxylates, triclosan, triclocarban, and hydroquinone or several other chemicals mentioned above. And they have Ban Lists, which list what their products will never, ever contain.
100% Pure (Uses fruit pigments instead of minerals, this link goes directly to a small business instead of Amazon)
Annmarie Gianni (Made Safe Certified)
Anumati (Made Safe Certified)
Babu Botanicals (EWG Certified)
Beautycounter (EWG Certified, brand tests every batch 3x, independently tests safer than German standards.)
C'est Moi (EWG Certified)
Coastal Classic Creations (EWG Certified)
Crunchi (confirmed testing levels)
Drunk Elephant (confirmed testing levels about same as Canada)
GAONDODAM (EWG Certified)
Inika Organic (Made with German standards, not positive standards are same in US)
Kosmatology (Made Safe Certified)
Lili Lolo (Made with German standards, but not positive standards are same in US)
Loli Beauty (Made Safe Certified)
Maia's Mineral Galaxy (EWG Certified)
Mamaearth (Made Safe Certified)
Mineral Fusion (EWG Certified)
Paul Penders (EWG Certified)
Poofy Organics (brand tests products once a year and we confirmed testing labs we saw are Canadian friendly)
Qet Botanicals (EWG Certified)
S.W. Basics (Made Safe Certified)
Saie (EWG Certified)
Sally B Skin Yummies (EWG Certified)
Rejuva Minerals (EWG Certified)
True Botanicals (Made Safe Certified)
W3LL (EWG Certified)
Pin it!