Some of the most popular non-stick cookware and bakeware brands were recently tested in a laboratory and found to contain toxic contaminants like per- and polyfluoroalkyl substances (PFAS), also known as "forever chemicals."  So what is the safest cookware? You've trusted Mamavation to bring you topics like best & worst air purifiers, best & worst small kitchen appliances, & our 2020 non-toxic gift-giving guide, now join us for the details of what cookware & bakeware brands were tested and are known to contain toxic "forever chemicals" like PFAS and other contaminants. And stick around to the end for all the safest options.
Disclosure: This post contains affiliate links.
PFAS "Forever Chemicals" Are Problematic For Humans & Planet
Per- and polyfluoroalkyl substances (PFAS), also known as "forever chemicals," are starting to scare doctors and scientists. These man-made chemicals are used to provide stain resistance, grease resistance, and water resistance to different products. Sounds great until you find out how incredibly toxic to humans and the environment they also are. Some of the more problematic health impacts are below:
metabolic diseases like obesity & diabetes
thyroid disfunction
reduced vaccination response
ulcerative colitis
affect the growth, learning, and behavior of infants and older children
lower a woman's chance of getting pregnant
interfere with the body's natural hormones
increase cholesterol levels
increase the risk of cancer like testicular, prostate and breast cancers
Based on the persistence of this chemical inside the body, it's incredibly dangerous to be exposed throughout a lifetime because it will continue to build up. Therefore, it's important to avoid these chemicals as much as possible.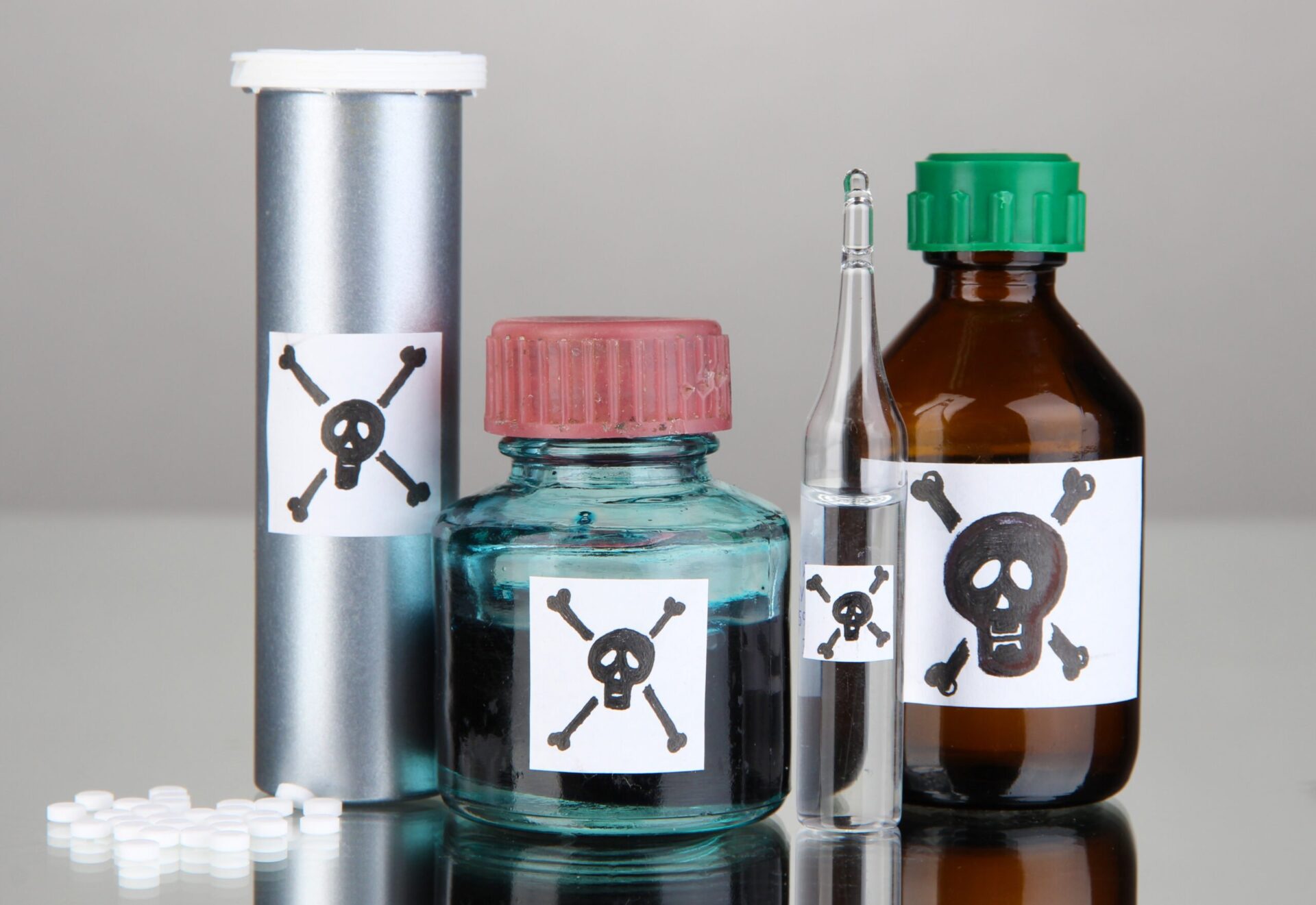 PFAS Chemicals Found In Millions of Products & Industries
Latest studies have found PFAS chemicals in numerous consumer products, and other industries where most people are exposed to them on a daily basis. This makes them ubiquitous and very likely found in the following products:
clothing, including water-resistant jackets or stain-resistant pants
protective gear for medical staff, such as surgical gowns
retardants in fire fighting foam  (although alternatives exist in other countries)
fire fighting protective gear
carpets & floor polish
laboratory equipment
leather treatment
surfing wax
cosmetics, including body lotion, foundation, concealer, eye shadow, powder
bike lubricants
drinking water close to airports & military bases or utilizing water sources that have been polluted by industry (close to 110 Americans)
crops farmed with "sewage sludge" (No worries if you eat organic because organic farmers are prohibited from using biosolids aka "sewage sludge")
This list basically goes on and on and on. In totality, note it's a ubiquitous chemical and the public is in desperate need of help to solve this problem.
PFAS Chemicals Linked With Serious COVID-19 Outcomes & Lowering Vaccine Effectiveness
The problem actually gets worse the second we have a global pandemic. The Centers for Disease Control has recently started an investigation into how PFAS chemicals could potentially impact vaccine effectiveness coming on the heels of a Danish study finding people with higher levels of certain PFAS chemicals in their body had more than twice the chance of having extreme COVID symptoms. This particular chemical could quickly become a problem as billions of people around the globe will need to be vaccinated from COVID-19 in 2021 and 2022.
Sadly this chemical has already been linked to lowering vaccine effectiveness in infants in general.
"It's probably what's in the lungs that counts because that's where the big Covid battle is fought," said Philippe Grandjean, the main author of the study.
His study involving 323 patients with COVID-19 analyzed blood samples for PFBA, a type of PFAS chemical, and other chemicals. Shockingly, PFBA was associated with severe COVID outcomes while other chemicals were not. In addition, less than 20 percent of those with mild outcomes had elevated levels of that specific chemical.
Ecology Center's Nonstick Cookware & Bakeware Study
To help the public avoid this dangerous chemical, The Ecology Center tested over 14 nonstick cooking pans and 10 nonstick baking pans that were identified as top pics by Consumer Reports Magazine and products from discount "dollar" stores. All of these products claim to have nonstick qualities, including some that claimed to be PTFE-free. The laboratory scraped bits of surface coating off each pan and tested those materials using Fourier Transform Infrared Spectroscopy (FTIR) to identify the composition of the coatings.
The following was found:
79% of the cooking pans were PTFE-coated.
20% of the baking pans were PTFE-coated.
In some cases, product claims on the packaging could lead buyers to purchase PFAS-coated pans when they think they're buying an alternative.
Some of the alternatives may also be hazardous. Surprisingly, we found undisclosed BPA-based coatings on two of the baking pans and one of the cooking pans.
Safer, more durable alternatives are readily available and provide good cooking performance. The Ecology Center suggests opting for uncoated pans made from cast iron or stainless steel or, for baking, glass or ceramic.
The worst of the brands? Remember that these trade names were identified to contain PTFE through testing: QuanTanium, Granitestone, DuPont Autograph, and Greblon. We've broken it all down below.
Brands Tested By Ecology Center & Not Recommended
These brands were tested by The Ecology Center and found to contain one of the following contaminants: PTFE fluoropolymer, BPA-based epoxy, Silicone, PET, or silicon dioxide. Silicon dioxide could be a potential source of nanotechnology (not exactly great) and there are some issues with heating silicone. Long story short, the non-stick cooking aisle is a mess.
Analon Advanced Home Hard Anodized Non-stick Indigo 8.5 in French Skillet–PTFE fluoropolymer
Calphalon Hard-Anodized Nonstick 12 in. Fry pan–PTFE fluoropolymer
Circulon Bakeware Loaf Pan 12x5in–Silicone, PET
Circulon Infinite 8″ French Skillet--PTFE fluoropolymer
Cooking Concepts Cake Pan–BPA-based epoxy
Cooking Concepts Pizza Pan–BPA-based epoxy
Cuisinart Classic Stainless Steel 8 in. Non-stick skillet–PTFE fluoropolymer
Cuisinart Green Gourmet Induction 8″ Skillet–Silicon dioxide (potential nano)
Evolution Non-stick Fry Pan Set–BPA-based epoxy
Family Chef 10 Inch Fry Pan Non-Stick–PTFE fluoropolymer
Family Chef 12 Inch Pizza Pan–Silicone, PET
Faberware Reliance Aluminum Nonstick 8 in. Skillet–PTFE fluoropolymer
G&S ProBake Nonstick 12-Cup Muffin Pan–PTFE fluoropolymer, Polyethersulfone Combination
Goodful Titanium Ceramic Non-Stick Fry Pan–Silicon dioxide (potential nano)
Grand Gourmet Brownie Pan 11 in. x 7 in.–Silicone, PET
Granitestone Diamond Nonstick Aluminum 10 in. Fry Pan–PTFE fluoropolymer
Made By Design Non-Stick 12″ x 17″ Baking Sheet–Silicone, PET
Mirro Get a Grip Pro 10 in. Fry Pan–PTFE fluoropolymer, Polyethersulfone Combination
Ozeri 8-Inch Stone Earth Frying Pan–PTFE fluoropolymer
Sunbeam Large Cookie Baking Sheet–Silicone, PET
Sunkitch Hotsun Fry Pan 20 cm–PTFE fluoropolymer
T-fal Initiatives 8 in. Fry Pan–PTFE, fluoropolymer
True Living 9 in. Round Cake Pan–PTFE, fluoropolymer, Polyethersulfone Combination
Wilton Perfect Results Premium Non-stick Bakeware Small Cookie Pan–Silicone, PET
Safest Ceramic Cookware Available (Avoid Nano & PFAS)
In 2020, Mamavation did an investigation on all the ceramic cookware companies and found only a handful of companies we were able to recommend. Several in the "better" category did not use nanomaterials or PFAS in their coatings but were not open to disclosing what those coatings were. When we drilled closer into the technology that was needed to create sol-gel coatings on cookware, we realized it was possible to do without nanomaterials. Here are two brands–one from the "best" category and one from the "better" category. (For a full list of ceramic cookware, go here.)
Safest Stainless Steel Cookware Brands Available
Stainless steel cookware releases low levels of nickel and chromium, especially when cooking acidic foods like tomatoes. The biggest concern is for people who have a nickel or chromium sensitivity, or those whose bodies are heavy metal toxic. The National Institutes of Health report that metal leaching decreases with sequential cooking cycles and appear to stabilize after the sixth cycle, though significant metal contributions to foods were still observed.
Damaged stainless steel pots and pans should be discarded and replaced to reduce potential heavy metal exposure, especially with cookware that has an aluminum core because it leaches so badly when exposed. Overall, any all stainless steel cookware is safe to use, but the amount of metal migration is dependent on stainless steel grade, cooking time, and cookware usage, so we encourage the use of high quality, surgical-grade stainless steel cookware whenever possible, and even the purchase of nickel-free cookware.
Here are the brands we recommend that offer uncoated stainless steel products:

Better Option: Stainless Steel Lined Copper Cookware
This is safer cookware as lined out in the stainless steel section above, and because the copper is a non-food contact surface, we aren't as concerned with migration.
Here are the brands Mamavation proudly recommends:

Better Option: Cast Iron Cookware
Cast iron and carbon steel both contain ferric iron (non-absorbable) vs ferrous iron (natural form in foods). They're safe to use, but be sure to rotate your pans as recommended because too much ferric iron uptake is bad for the body and can deplete vitamin C levels. Note that cooking acidic foods in iron cookware increases the release of iron.
Here are the brands Mamavation recommends:

Better Option: Carbon Steel Cookware
Carbon steel is the sister of cast iron, but despite its name contains more iron and less carbon than cast iron. It's lightweight, versatile and convenient to use, but still releases ferric iron so it should be rotated regularly between your other cookware options. Remember to avoid cooking with acidic foods in these pans.
Here are the brands we recommend:

Better Option: Glass Bakeware & Cookware
Glass is an inert substance if there are no coatings or decorations on the product. As we've seen, coatings, in general, are a huge problem, and we found that non-stick nanofilms are being developed for glass bakeware so be sure to purchase only uncoated glass products.
Here are the brands we recommend:
Safe Ceramic Bakeware–Better Option
It's very hard to find real ceramic that isn't coated with nanoparticles or PFAS chemicals. But Xtrema, the same brand that offers safe ceramic cookware, has come out with bakeware options as well. All bakeware passes California Prop. 65 standards so do not require any warnings. No bakeware at Xtrema has any coatings. We reached out to Xtrema to get you a discount in case you would like to purchase some of their non-toxic products. Use "mamavation" at checkout for an extra 15% off. Here are those options:

Clay Bakeware & Small Kitchen Appliances
Clay can be very hazardous when the geographical origins are unknown. We could locate only two brands of clay cookware that conduct testing for heavy metals commonly found in clay and glazes. Both companies do not glaze their products, so the testing reflects the makeup of the clay itself. Here are the brands we recommend:
How To Avoid PFAS "Forever Chemicals" As Much As Possible (Until We Have Strong Regulation to Protect Us!)
Mamavation has been covering PFAS for several years so we can help you find products that do not contain them. Here are some of our tips on how to rid your home of PFAS.
Phase-out the nonstick cookware in your kitchen. Here are is the best & worst cookware.
Avoid foods with packaging and make things yourself at home
Avoid fast food as much as possible, even the ones touting themselves as "better"
Purchase a reverse osmosis water system for your home. Here are the best water filters for your home.
When purchasing furniture or carpet, decline optional treatments for stain and dirt resistance.
Avoid buying clothing that bears a label indicating it's water, stain or dirt repellant. (Like Patagonia jackets…not kidding!)
Avoid buying personal care products with the phrase "fluoro" or "perfluoro" on the ingredient list. You'll find this inside lotion, pressed powders, nail polish, dental floss and shaving cream.
Dust more!  PFAS chemicals stick to dust particles so the more dust you have in your home, the more likely you will have PFAS in the air you breathe. Click here for our FREE eBook on how to clean your indoor air. 
When purchasing period underwear, here are the ones without PFAS.

About the Author
Leah Segedie is a consumer watchdog, author, entrepreneur, environmental activist, and mother of three boys. 
She wrote Green Enough: Eat Better, Live Cleaner, & Be Happier (All Without Driving Your Family Crazy!) in 2018. She's consistently been featured in the media for the past 15 years in media outlets like ABC, CBS, CNN, Yahoo, Chicago Tribune, USA Today, Reader's Digest, Ladies Home Journal, Shape Magazine, Fitness Magazine to name a few.  
Follow Mamavation on Pinterest, Facebook, Instagram, or Twitter or join the Mamavation Community Group. 
Did you like this post? Subscribe to our weekly newsletter and don't miss another investigation!