Which infant & convertible car seats are non-toxic and do not contain chemical fire retardants and PFAS "forever chemicals?" More safe car seat brands are available in infant and convertible selections. Life doesn't come with an instruction manual, but if you've trusted Mamavation to bring you topics like best non-toxic infant mattresses, safest cookware sans PFAS & nanoparticles, and safest disinfectants around babies, now you can join us as we bring you the best & worst car seats based on lab reports of indications of chemical fire retardants and PFAS "forever chemicals' from some of the most popular car seats brands for children.
Disclosure: This post was medically reviewed by Sondra Strand, RN, BSN, PHN. This post also contains affiliate links.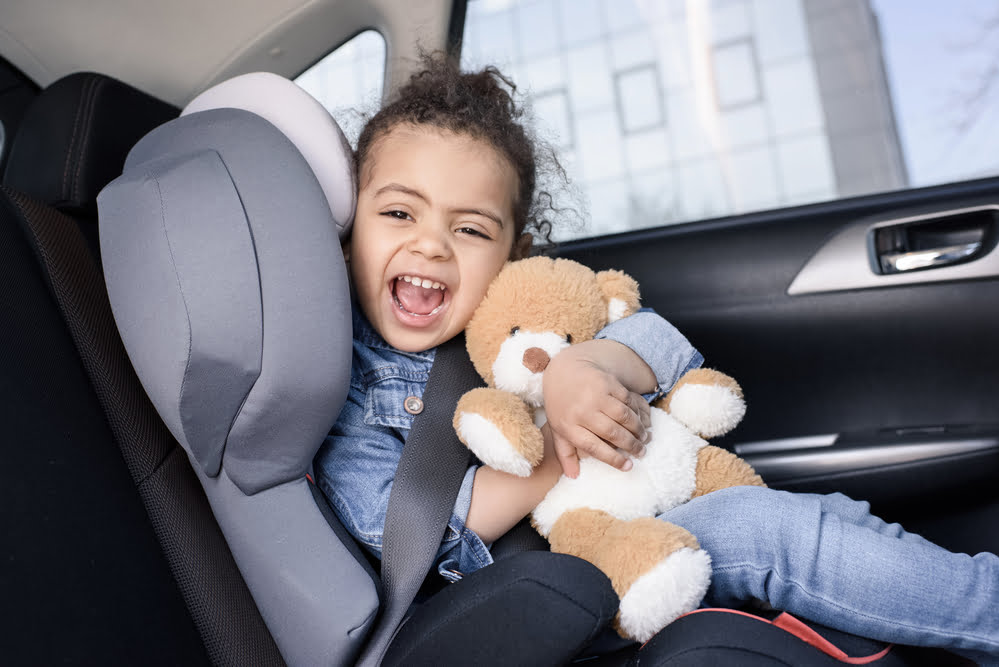 How to Select the Safest Non-Toxic Car Seat
When you are selecting the safest non-toxic car seat you must consider the physical safety of your child and the chemical exposure of the materials at the same time. This is no easy feat, so we are going to list the most important considerations then help you with what we do best — the chemical safety hazards.
Choose a reputable & reliable brand that is distributed in the United States or Canada, especially from our recommendations at the bottom of this post.
Check the height and weight limits of the car seat to ensure it's big enough for your child. You can find this information on the car seat's specifications.
Choose a car seat that you can install quickly on the go because that is how your life will be lived. In other words, that infant insert needs to be easy to use. Make sure the installation is perfect every time.
Rear-facing is recommended until your child is 2 years old according to the American Academy of Pediatrics. Forward-facing car seats are not recommended until after 2 years of age and well into toddler years.
Consider toxic materials when you are purchasing the car seat. Since this study, PBDEs and chlorinated tris have been phased out by manufacturers, but there are plenty of other chemicals to be aware of. Look for other chemical fire retardants, heavy metals, PFAS "forever chemicals," PVC (aka vinyl) plastic, and antibacterial agents like triclosan.

Ecology Center Releases Lab Testing of Infant Car Seats & Toxic Chemicals — Fire Retardants & PFAS "Forever Chemicals"
The Ecology Center released a consumer study looking at several types of infant car seats and the toxic chemicals they contain. They sent several infant car seats to an EPA-certified lab looking for the indications of chemical fire retardants and PFAS "forever chemicals." The results had some good news and bad news, but it leaves LOTS of room for improvement for the most popular brands. The brands tested were Baby Trend, Britax, Chicco, Clek, Costco, Evenflo, Graco, Maxi-Cosi, Nuna, Safety 1st, and UPPAbaby.
Here are the main findings:
Good news first! The selection of car seats free from flame retardant chemicals has grown in the last few years. Check out what was available in 2020 here vs. what we are recommending today at the bottom of this report. (This is likely a result of activism and consumer awareness combined.) Today there are about 40 car seat models from 8 companies claiming to be flame retardant free.
55% of car seats tested were reported to have indications of flame retardants in major components. This was found in 12 of 22 products tested. 12 seats contained phosphorus-based fire retardants, while 2 seats contained additional elevated levels of bromine in upholstery, and 7 also contained elevated bromine in rigid foam under the upholstery.
Flame retardant free car seats are still cost-prohibitive for most Americans. They typically cost over $200, whereas in the European Union flame retardant free car seats you can find for less.
Outdated 50 year old U.S. federal flammability standards are unnecessarily exposing lower-income children to toxic chemicals. Given the lack of evidence that the standard provides meaningful protection from vehicle fires, the Ecology Center suggests relaxing it. This rigid standard encourages companies to cut costs by adding toxic fire retardant chemicals.
Many infant car seats sold in the United States still contain flame retardants, although the type of flame retardant has changed from bromine-based to phosphorus-based fire retardant chemicals.
European Union child car seats have fewer flame retardants because they have a different set of flammability standards required by law. Ironically, affordably priced European Union car seats did not contain phosphorus-based flame retardants from the same brand in the United States.
Some car seats used PFAS "forever chemicals" for water & stain resistance
3 major companies (Graco, Evenflo, & Baby Trend) have yet to release a fire retardant free & PFAS free car seat

Why Toxic Flame Retardants Are Problematic to Human Health & Environment
Chemical flame retardants are hormone disruptors and pose a health risk to children when they are used to meet the federal flammability standards instead of using higher quality materials. Chemicals used as fire retardants, including halogenated or phosphorus-based chemicals, are either endocrine disruptors or they bioaccumulate in the environment and can pose a threat or both. Because chemical fire retardants are not strongly bonded to the fabric or foam, they easily migrate out of the car seat over time and build up in the air and dust in the car.
Halogenated flame retardants — These chemicals include chlorine or bromine and are toxic to humans, are carcinogens, developmental toxicants, and are also problematic to the environment. These chemicals can be found through marker testing of chlorine or bromine.
Phosphorus-based flame retardants — These are the replacement chemicals for halogenated fire retardants and they are more complicated and new.

Resorcinol diphenyl phosphate — was found in products in this investigation, which according to the Ecology Center shows moderate developmental and endocrine toxicity.
PMMMPs — is another phosphate-based fire retardant found in products in this investigation and does not have any research to back it's safety, so this is a potential human safety and environmental hazard. The absence of information does not mean safety.
Ammonium phosphate — was found in products in this investigation and according to the Ecology Center is considered low hazard to humans but is highly persistent in the environment.

Antimony — This is a heavy metal that are also used as fire retardant in mattresses and is incredibly toxic to humans and the environment. This chemical was not tested for in this investigation, but Mamavation has tested and found this chemical in mattresses used as a "fire barrier" inside a mattress.

If Fire Retardants are So Toxic, Why Are They Used in Infant Car Seats?
The National Highway and Traffic Safety Association (NHTSA) requires children's car seats to meet their federal flammability standards. These federal safety standards were created for the interior of the car.
Regulation FMVSS 302 states that the flammability of interior materials needs to protect the occupant from fires that are caused by cigarettes. This standard was written in 1969 and has not been evaluated since or tested as to its effectiveness in protecting the occupants. Due to the lack of relevant data to back up the claim that the exposure to the fire retardants is warranted, we cannot support this federal standard and neither does the Ecology Center. The reasoning for not supporting the flammability standard as it is written is as follows:
The federal flammability standard does not require the use of chemical fire retardants. These fire retardants have been marketed to the industry as an easy, low-cost way for manufacturers to comply with the law. The European Union has a stepped-down flammability standard and not all their low-cost car seats contain chemical fire retardants.
Automakers immediately began adding chemical flame retardants in 1969 to interior vehicle parts, such as seat cushions, seat belts, floor coverings, and padding. By 1981, car seat manufacturers were required to comply with the flammability standards as well and they started adding chemical fire retardants to their foams and fabrics.
Oddly, car seats are mandated to comply with the regulation of flammability standards, but not of standards specially created for children's products based on their vulnerable hormonal and developmental constitution. If you really wanted to protect children, wouldn't it be better to regulate them under the logic behind children's products instead?
Premium brand car seats (as seen in this consumer report) are not using chemical flame retardants to meet the flammability standards and thus this law disproportionately impacts low-income families exposure to chemical hazards.
Therefore, how can we be sure this flammability standard for car seats actually saves lives and has not been taken advantage of by chemical companies to push more toxic exposures onto lower-income families? We can't because there is no evidence anyone's life has been saved by the presence of fire retardants in a car seat. But we do know that the chemicals used are having a negative hormonal impact on children.

Expect "Water-Resistant" or "Stain-Resistant" Fabric Treatments to Contain PFAS "Forever Chemicals"
Per- and poly-fluorinated alkyl substances (aka PFAS "forever chemicals") are added to car seats for water-resistant and stain-resistant features. Expect the presence of PFAS in car seats if you see the brand using terms like "water-resistant" or "stain-resistant" in their marketing material.
PFAS can break down over time and once free pose an exposure hazard to children. Very little is known about the toxicity of the polymers used on car seat fabrics, however, lots of research has been done on other chemicals in this large PFAS chemical class. These are some of the health impacts of PFAS "forever chemicals" below:
reduced vaccination response
lower a woman's chance of getting pregnant
increase the chances of miscarriage 
Causes endocrine disruption
If you feel like you've been exposed to PFAS, especially during pregnancy, the Agency for Toxic Substances and Disease Registry, a division of Community Health Investigations has created this health advisory fact sheet to use when talking to your doctor.
While regulating authorities struggle to catch up, it would be wise to limit your daily exposure to PFAS markers within food, personal care, and other consumer products like pasta sauce or ketchup. Mamavation has been working hard behind the scenes to discover where PFAS "forever chemicals" could be hiding inside food & other products we purchase and bring inside our homes. This is why we have decided to commission our own consumer studies on indications of PFAS in different consumer categories which are listed below.
Mamavation's Investigation of Non-Toxic Infant & Convertible Car Seats
Mamavation studied the report Toxic Inequities from the Ecology Center and pulled the exact products tested from their report. We have organized it below into three different categories to help you pick out a non-toxic car seat. Some of these car seats are convertible seats, while others are for infants.
Not Our Favorite Car Seats — These car seats were found to contain fire retardants or bromine present in the upholstery. Also likely contains PFAS "forever chemicals."
Better Car Seats — These car seats were found to contain fire retardants or bromine in the upholstery, however, these products did not contain indications of PFAS at intentional levels.
Best Car Seats — These car seats were found to be free from fire retardants and PFAS "forever chemicals."
Between the use of merino wool in some versions vs. polyester in others, Greenguard gold certified vs. OEKO-TEK certified fabric, or booster seats, you get what you pay for. At this moment, the higher the price, the less likely you are to find toxic materials. However, the good news is the non-toxic selections are increasing.

Not Our Favorite Infant & Convertible Car Seats
These car seats were found to contain fire retardants or bromine present in the upholstery. Also likely contains PFAS "forever chemicals."
Baby Trend, Envy Infant Seat & Stroller ($150)
Chicco, KeyFit 30 Infant ($200)
Evenflo, Nurture Infant ($60)
Grac0, Verb Click Connect Infant Seat & Stroller ($160)

Better Infant & Convertible Car Seats
These car seats were found to contain fire retardants or bromine in the upholstery, however, these products did not contain indications of PFAS at intentional levels.
Clek, C-Zero Plus Liing Infant ($460)
Cosco, Scenera Next Convertible ($50)
Cosco, Lift & Stroll DX Infant Seat & Stroller ($140)
Safety 1st (Sold in EU), Ever Fix Convertible ($150)
Britax (Sold in EU), Romer Evolva 123 Convertible ($110)
Graco (Sold in EU), Extend Convertible ($90)

Best Non-Toxic Infant & Convertible Car Seats
These car seats were found to be free from fire retardants and PFAS "forever chemicals."

More Recommended "Best" Non-Toxic Infant, Convertible, & Booster Car Seats
The Ecology Center was not able to test every car seat on the market, but they were able to test against some claims made by the "best" brands on fabric lines. So what we have done here is pulled out the marketing claims and the rest of the selections from that line that has been cleared. Mamavation can recommend all the following infant, convertible, and booster seats.
Nuna (10 car seats available). This brand has claimed to make car seats without flame retardants since 2020. Mamavation sent 3 samples of Nuna fabric to an EPA-certified lab and can confirm they are not using any detectable PFAS "forever chemicals" on their Nuna pipa fabrics. Nuna car seats are one of the most trusted car seat brands. Nuna's car seats are all Greenguard certified. To reach flammability standards, they all use Merino wool blends which are naturally flame resistant.

Nuna Pipa. The pipa is the original infant car seat from Nuna and is their least expensive model. It comes in lightweight and regular models. The fabric on the car seat is polyester and it weighs just under 8 lbs.
Nuna Pipa RX($380)(Use discount code "Mamavation" for 10% off at checkout.) Basic pipa but comes with reclining RELX car seat base.
Nuna Pipa Lite LX($400) (Use discount code "Mamavation" for 10% off at checkout.) Lite LX model made with Merino wool and Tencel blend making it softer. Weighs 5.7 lbs. and comes with GOTS-certified organic cotton infant insert.
Nuna Pipa Lite ($350) (Use discount code "Mamavation" for 10% off at checkout.) Weighing only 5.3 lbs. and one of the lightest car seats on the market. Fabric is made from polyester, but features side-impact protection using lightweight foam. Comes with GOTS-certified organic cotton infant insert. Must be used with Pipa series base.
Nuna Pipa Lite R($400) (Use discount code "Mamavation" for 10% off at checkout.) Weighs only 5.3 lbs. but also comes with Nuna's RELX base that reclines. Also comes with GOTS organic certified infant insert.
Nuna Pipa Lite RX($500) (Use discount code "Mamavation" for 10% off at checkout.) Perfect for city living because it can be installed in a cab or airplane using the belt-path. Uses the RELX base.
Nuna Rava Convertible Car Seat($500) (Use discount code "Mamavation" for 10% off at checkout.) Plush convertible car seat that has side-impact protection, extra legroom, and easy installation. Allows for longer rear-facing.
Nuna Revv Convertible Car Seat
Nuna Exec All-in-One Car Seat($700) (Use discount code "Mamavation" for 10% off at checkout.) The Exec starts as a convertible car seat and converts to a forward-facing belt-positioning booster seat. Can be used from birth to 5 lbs. all the way to elementary school.
Nuna Aace Booster Car Seat

Britax (9 car seats). This brand has a new line of a special material called SafeWash fabric that is made without chemical fire retardants. They claim to all be free from chemical flame retardants, heavy metals, bisphenols, phthalates, and PFAS. The Ecology Center did not find any indications of PFAS in Britax SafeWash fabric products. This includes the following products:

Britax B-Safe Gen2 FlexFit+ Infant Car Seat in Jet or Otto SafeWash.
Britax B-Safe Gen2 FlexFit Infant Car Seat in Cowmooflage, Twilight, or Jet SafeWash ($259) The B-Safe Gen2 is a high-quality infant car seat with a standard anti-rebound bar, a steel frame, safe-cell impact protection technology and two layers of side impact protection. It also has a European belt guide when you need to install in a cab or airport.
Britax B-Safe Gen2 Infant Car Seat in Cobblestone, Greystone, or Eclipse SafeWash
Britax Advocate ClickTight in Otto SafeWash ($379) The most premium convertible car seat in the Britax line. It has 3 layers of side-impact protection and installs easy with Britax ClickTight technology. Use rear-facing until 40 lbs. and forward-facing till 65 lbs.
Britax Marathon ClickTight Convertible in Cobblestone, Mod Black, Mod Blue, Mod Ivory, or Mod Purple ($319) The Marathon has one layer of side impact protection. It's less bulky too.
Britax Advocate ClickTight Convertible Seat in SafeWash Otto ($369)
Britax Emblem 3-Stage in Black/Gray or Slate SafeWash ($219) This is a convertible car seat that uses LATCH connectors, which is not the ClickTight technology in more expensive models.
Britax One4Life ClickTight in Plum, Cadet, Drift, or Eclipse SafeWash ($399) This is a 10 year car seat that can last your child well into grade school. It can be used rear-facing or forward-facing harness convertible car seat and then converted into a high-back and backless booster. It also features the Britax's ClickTight technology that makes it super easy to install.
Britax Booster Grow With You ClickTight Plus in Jet or Otto SafeWash ($263 sale)
Britax Booster Grow With You ClickTight in Otto, Cobblestone, Cowmooflage 2.0 SafeWash ($329)

Clek (6 car seats). This Canadian car seat manufacturer was the first to introduce convertible car seats without flame retardants. This is designed to meet European standards. The only "non-toxic" car seats in this line are in Mammoth or Twilight/Full Moon fabrics. These are the fabrics to look for that are not made with flame retardants according to the manufacturer. The Mammoth fabric is an Oeko-Tex certified Merino wool and TENCEL blend while the fabric on Twilight is 100% Merino wool. Please note that other Clek products do contain fire retardants.

Clek Liing in Mammoth or Twilight/Full Moon ($490) (Use discount code "Mamavation" for 10% off at checkout.) This car seat includes an eneergy-absorbing metal load leg, advanced side-impact protection, 100 SPF sun canopy, LATCH install option, and recline options. It can be installed using a belt path and can be used on an airplane without it's base.
Clek Liingo in Mammoth or Twilight/Full Moon
Clek Foonf in Mammoth or Twilight/Full Moon ($600) (Use discount code "Mamavation" for 10% off at checkout.) This is the flagship convertible car seat with some more features than the Fllo.
Clek Fllo in Mammoth or Twilight/Full Moon ($470) (Use discount code "Mamavation" for 10% off at checkout.) This is a lighter convertible car seat. It can be installed with Clek's rigid LATCH system or using a belt path. Also comes with anti-rebound bar and advanced side-impact protection.
Clek Oobr Booster in Mammoth or Twilight/Full Moon ($400)(Use discount code "Mamavation" for 10% off at checkout.) This booster is a high-back booster seat that can be installed with a rigid LATCH installation. It also has a head rest with deep side wings and energy-absorbing foam layer. It can then be converted into a backless booster later and has a cup holder.
Clek Olli in Mammoth

UPPAbaby (2 car seats). Only UPPAbaby fabrics made from Henry or Jordan fabrics are made without chemical flame retardants. In fact, this was the first company to introduce a car seat that did not have flame retardants, but please note that not all car seats are free from fire retardants. Only the UPPAbaby car seats in the line are.

UPPAbaby Mesa Infant Car Seat in Henry or Jordan ($300) (Use discount code "Mamavation" for 10% off at checkout.)
UPPAbaby Knox Car Seat in Jordan

Maxi Cosi (8 car seats). Only Maxi-Cosi car seats made from PureCosi fabric are made without chemical flame retardants. You can safely choose from the following:

Maxi Cosi Mico Max XP in PureCosi ($319) This car seat is similar to the Nuna Pipa and has a number of added safety features such as side-impact protection and an anti-rotation stability leg. It also offers a belt-path installation so it can be used in a taxi or airport.
Maxi Cosi Coral XP in PureCosi
Maxi Cosi Mico 30 in PureCosi ($219) This is a more basic car seat that gets mixed reviews, but has all the non-toxic attributes.
Maxi Cosi Pria Sport in PureCosi
Maxi Cosi Romi in PureCosi
Maxi Cosi Pria All-in-One Car Seat in PureCosi ($239) Designed to be used from birth until age 10 or when child reaches 100 lbs. It converts from a rear-facing convertible car seat to a forward-facing car seat to a high back booster seat with belt positioner.
Maxi Cosi Pria Max All-in-One Car Seat in PureCosi ($349) This car seat has a chest clip that is magnetic making it easier to get your baby in and out of the car. It's slightly bulky and has similar features to the Pria.
Maxi Cosi RodiFix Booster Seat in PureCosi

Chicco (5 car seats). Only car seats made from ClearTex fabric are free from flame retardants and PFAS. You can safely choose from the following: