Apple cider vinegar is incredibly versatile and these 25 uses for it will change your life.
Sign up for our weekly newsletter for tips on how to select non-toxic products!
Did you know that It's been used as a healing elixir since 400 B.C.?
Vinegar was used by the father of modern medicine, Hippocrates – he prescribed it for up to 17 different ailments – and is just as useful today. In fact, we have 25 different ways in which you can use apple cider vinegar (ACV) – just be sure that you're getting organic apple cider as vinegar.
Be sure to always choose organic apple cider vinegar to make sure it's truly toxin-free, as apples are one of the most contaminated fruit.
This post was medically fact-checked by Rebecca Elizabeth Sherrick Hark, RN, BSN and contains affiliate links.
Home Uses
1. Non-Toxic Cleaner: Kitchen
What some people don't know about apple cider vinegar is that, in its raw unfiltered state, this vinegar contains all the bacteria-fighting benefits that many commercial vinegars lack.
To make your own cleaning solution, simply mix equal parts water and ACV, plus a little elbow grease, to get your home free of dirt, bacteria, and toxins cleaners.
Don't worry, the vinegar smell goes away as it dries.
2. Weed Killer: The Pros and Cons:
A friendly neighbor turned me on to vinegar as weed killing alternative years ago and it can be just as effective as dangerous herbicide glyphosate.
Just mix 1/2 gallon ACV, 1/4 cup salt, and 1/2 teaspoon dish soap.
3. Odor Neutralizer:
Is your home filled with an unpleasant odor that just won't go away? Crazy as it sounds, ACV acts as an order neutralizer.
Place some ACV in a dish or simmer some on your stove to  help manage offensive odors make your space smell better.
Possible Health Benefits
4. ACV May Help Control Diabetes 
Multiple studies have shown a correlation between apple cider vinegar and lower blood sugar levels.
In one study, participants took twenty grams of apple cider vinegar after dinner and had their blood tested at 30 minutes and 60 minutes after eating. The researchers noted that the apple cider vinegar did drop their post-meal blood sugar levels. 
5. Possible Links to Weight Loss:
Apple cider vinegar was a major weight loss trend throughout the 2000s. One study found that feeding obese mice and rats plain vinegar saw a modest decrease in weight as well as lower triglycerides, while another study found that vinegar makes people feel fuller (by causing nausea).
These studies were not done using apple cider vinegar, but regular vinegar – and warrants more testing with actual ACV, so the jury is still out.
But hey, if it works for you – that's fantastic!
6. Possible Links to Lower Cholesterol:
In addition to lowered blood sugar and weight loss, a study published in the Journal of Agricultural and Food Chemistry showed interesting findings about apple cider vinegar and cholesterol.
Lowered VLDL levels and lowered triglycerides were discovered in lab rats who were given apple cider vinegar alongside a high cholesterol diet.
The rats who were not given ACV did not see the same drop in cholesterol.
A similar study in humans did show that there was a decent drop in cholesterol in those who received apple cider vinegar – but more research is needed before this can be used as a standard for treatment.
7. Links to Slowing Oxidative Stress on Organs:
Apple cider vinegar can help detox your home, but it can also detox your body.
One study showed that apple cider vinegar slowed the signs of oxidative stress in kidneys and livers of rats, but this is the only study of its kind, so the results may or may not be reliable.
This has not been studied in humans.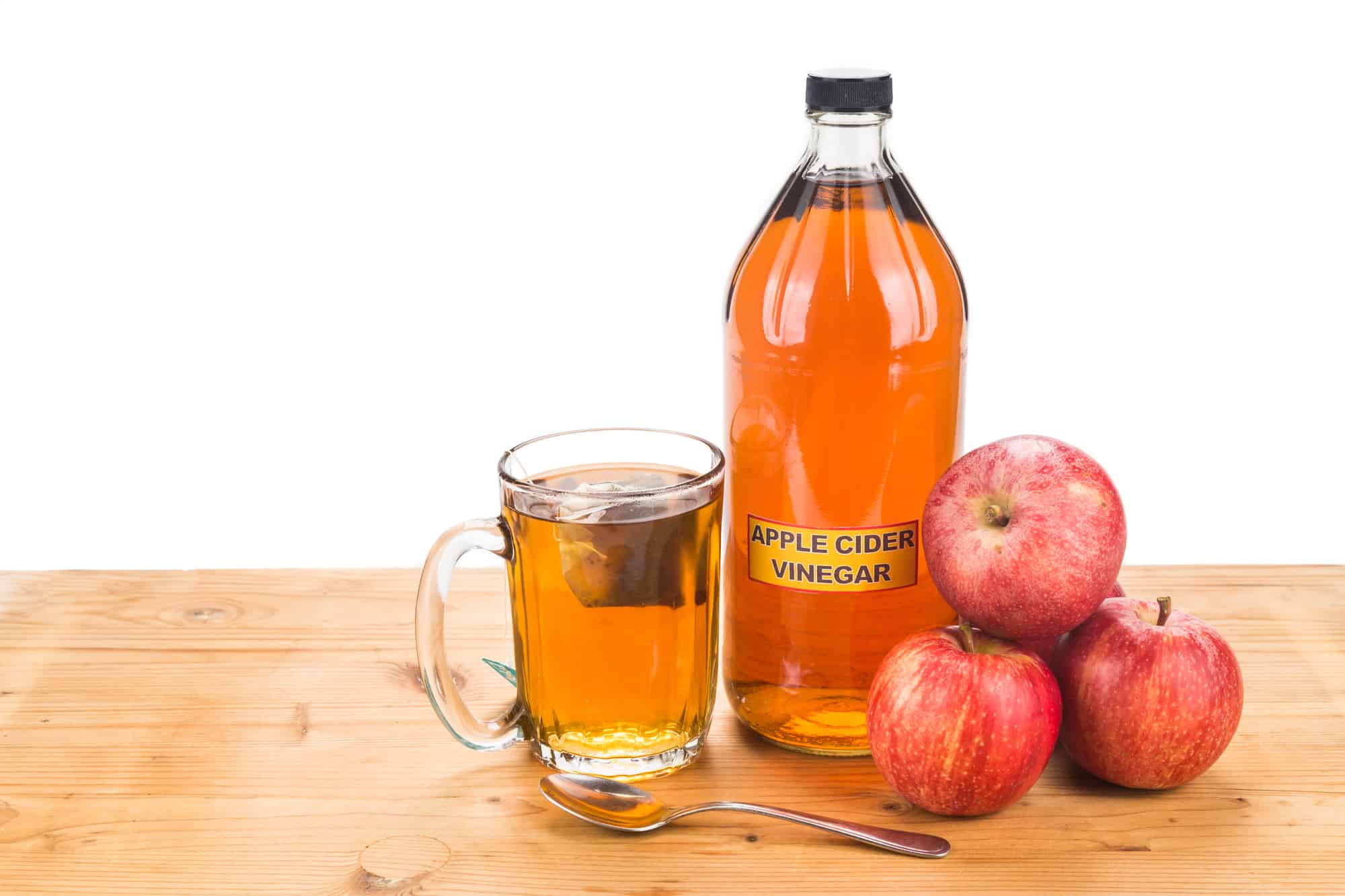 8. Can Prevent Bacterial Growth On Salads
Seems like every other day, salad and salad mixes are being recalled for one bacteria infestation or another.
Researchers have been looking into the antimicrobial benefits of apple cider vinegar and have found that mixing lemon juice and apple cider vinegar had been shown to reduce Salmonella – which is a common contaminant in salads. Plus? It tastes delicious.
9. Sore Throat:
The bacteria fighting properties of apple cider vinegar can work quite well!
Gargle equal parts warm water and apple cider vinegar at the first sign of a sore throat to keep it at bay, and repeat every hour as needed.
You can add honey and/or lemon to the mixture if you need more help with your sore throat!
10. Digestive Aid:
Having tummy troubles or know you're going to eat something that you might regret later? Some people swear that sipping diluted apple cider vinegar (such as being mixed into water or juice) can help settle your stomach. It's absolutely a personal preference as other people have noticed increased stomach issues with drinking ACV.
11. Itchy or Sunburned Skin:
Apple cider vinegar can be great for sunburned or itchy skin. Just apply right to the itchy area for some relief.
It also can work for itches caused by bug bites, poison ivy, or a jellyfish sting.
12. Sinus Infections
While you should never, ever rinse your sinuses with apple cider vinegar (unless suggested by a doctor) because it can damage the thin layer of tissue in the sinuses causing burns but inhaling the warm mist of an ACV concoction may loosen up your sinuses.
Here's what you do:
Add ACV and water to a pot – you can also add lemon – and heat until boiling. Then, put your face over the steam (not too close to the water – you don't want to get burned) and breathe in.
Uses For Beauty/Hygiene
14. Shiny, Flake Free Hair:
Apple cider vinegar can be an excellent weekly hair rinse.
Mix 1/3 a cup of apple cider vinegar into 4 cups water, rinse hair after shampooing, then rinse with cold water.
It's known to leave your  hair looking shiny and soft
The acid in the the ACV is supposed to remove product build-up in your hair
It helps to balance the pH level of your scalp.
15. Facial Toner & Cleanser:
Thanks to the antibacterial properties of apple cider vinegar, it's great for cleaning most everything, even your face.
It may even help prevent breakouts & just like your scalp, it can help balance your skin's pH levels.
16. Deodorant:
Many of the deodorants our there are harmful to your health. We at Mamavation even looked into the best, better, and worst types of deodorant available, here.
Luckily, using ACV can fight the odor-causing bacteria without the cancer-causing toxins.
Just apply a little ACV under your arms.
And you won't be left smelling like a salad once it dries.
17. Fade Bruises:
Coming from a long line of klutzes, this was the best thing I learned about apple cider vinegar.
After a bump or the appearance of a bruise, dab on some apple cider vinegar. If the bruise is bigger, you can use compress made of ACV and warm water.
It acts as an anti-inflammatory agent and will help to ease the discoloration.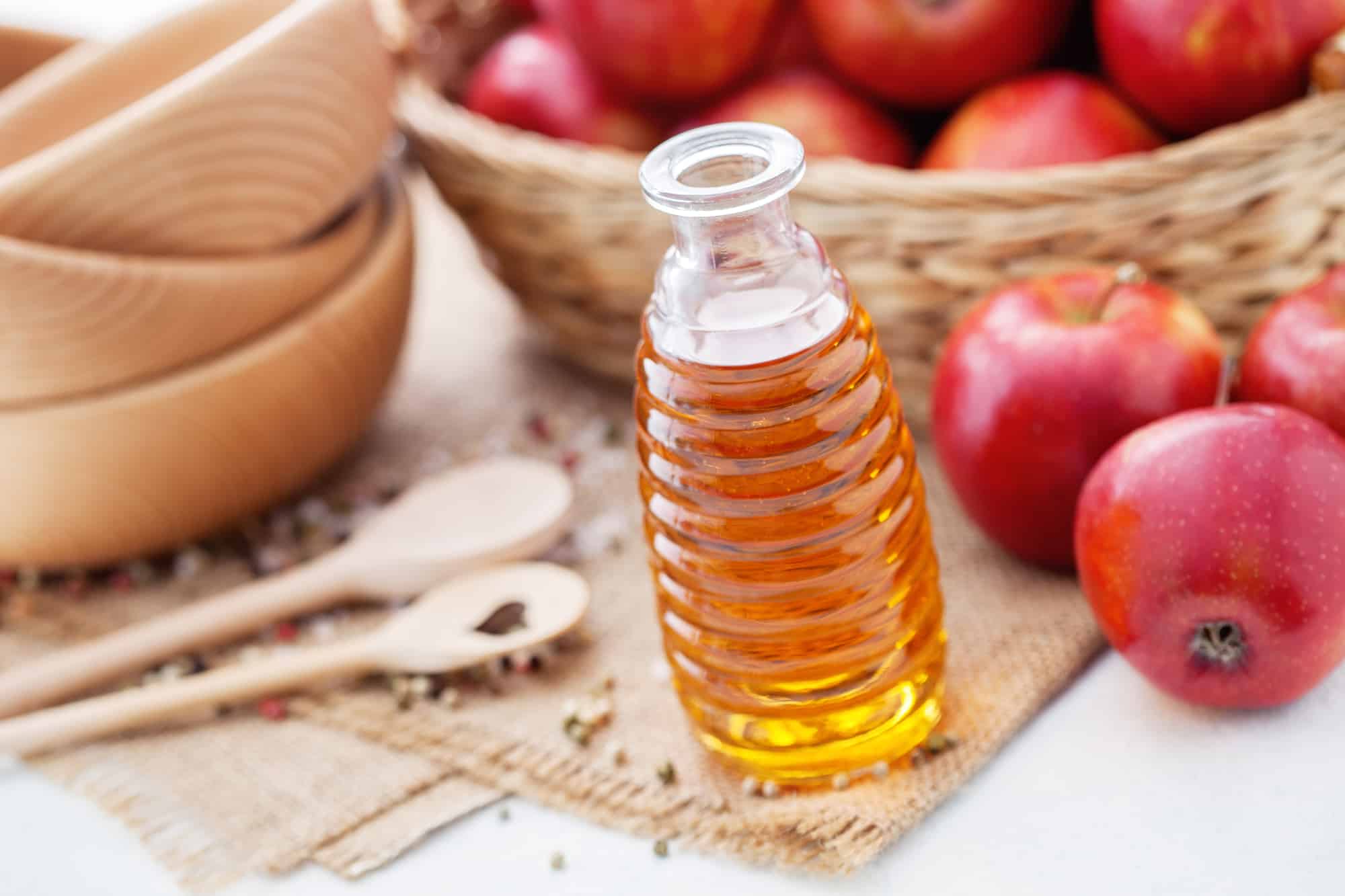 18. Whiten Teeth:
Many people swear by ACV as a natural teeth lightener – and it does work.
If this is what you're going to use as a teeth whitener, make teeth sparkle after swishing around some ACV diluted with two parts water.
Then brush as usual.
The bacteria-fighting power of ACV is an added bonus too.
19. Eliminate Bad Breath:
Use apple cider vinegar as a mouthwash, and gargle to help eliminate objectionable mouth odor. It's very effective at its job and so long as you don't use it every day, you should be safe.
ACV kills the bacteria that causes bad breath.
20. Stop Smelly Feet:
In case you haven't figured it out yet, ACV helps get rid of many, many bad smells, and one of the absolute most disgusting scents is caused by stinky feet.
Luckily, if you've (or your kid, or husband, or whomever) suffers from stinky feet, this is a great remedy.
Wipe your toes and feet down with a paper towel soaked in ACV to combat the odor.
You can also use it as a foot soak for an hour each day using a 1:2 ratio of ACV and water. You can add essential oils to make this soak smell delicious.
Uses in Food
21. Juice: 
Consuming organic raw, unfiltered ACV can assist in many health benefits (as we discussed above); however it can be dangerous in large quantities, so do ask your doctor if drinking raw, organic, unfiltered ACV is safe for you.
You can also add it to juices or smoothies if the taste is too pungent for you on its own.
22. Baking:
Fluff up your baked goods by adding apple cider vinegar.
It adds lift to cookies, cakes, and other concoctions and you won't taste it in the final product.
23. Sauces:
I use ACV for my barbecue sauce and it's perfect for that tangy but sweet flavor.
Try it in your favorite marinades or mix it into condiments that are too thick.
24. Soups:
Still, need more ways to get vinegar into your diet?
Try adding it to soups.
It can add a bit of brightness and flavor – and hey, don't worry – your soup won't end up tasting of vinegar.
25. Salads:
I think this one goes without saying, but it certainly needed to make the list.
We at Mamavation almost never buy pre-made salad dressings.
Whisk together some ACV and olive oil and your favorite additions (garlic, mustard, citrus, honey, etc) for a delicious drizzle over your organic greens.
It's even great in recipes like this Fiesta Coleslaw.
Our Recommendation on Apple Cider Vinegar Products
Our favorite apple cider vinegar is good old fashioned Braggs Organic Apple Cider Vinegar. This iconic brand is available at most grocery stores around the country and on Amazon here.
What do you use apple cider vinegar for, and what about apple cider vinegar were you most surprised to learn?
More Investigations We Know You'll Like
It's Settled. Probiotics Work & Here's 70+ Brands Ranked on Quality & Science 
Soaps & Body Wash Investigation–Best & Worst Brands
Best & Worst Organic Mattresses